Since shale gas drilling began in Pennsylvania a decade ago, the PA Democratic Party has sought to tax and regulate drilling. That all changed on June 15 when the PA State Democratic Committee voted 115—81 to support a resolution calling for a moratorium on fracking.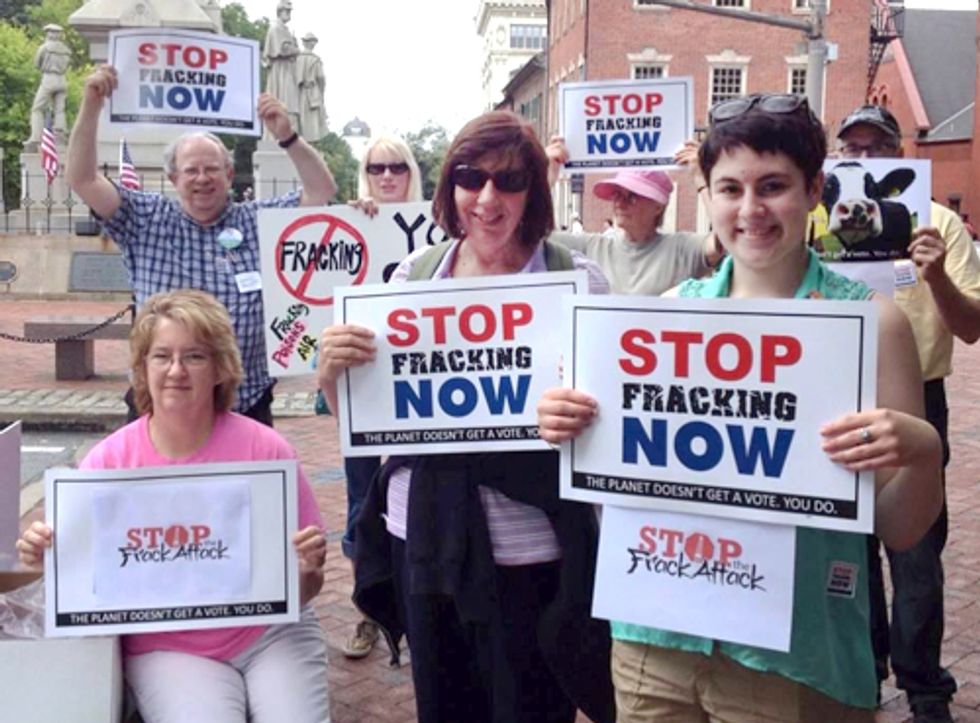 The resolution, drafted by Susan Lyons, a member of the Monroe County delegation, calls for a moratorium until fracking can be proven safe. A version of the resolution offered at the committee's last meeting was blocked from making it to the floor for a vote, so Berks Gas Truth, a grassroots community group, organized an action with co-sponsors Clean Water Action, Food & Water Watch, Gas Drilling Awareness Coalition, Lehigh Valley Gas Truth, Peach Bottom Concerned Citizens Group, Protecting Our Waters, Shale Justice and the United Sludge-Free Alliance to move the resolution forward.
"We really wanted the full committee to have an opportunity to weigh in on the resolution, but I don't think any of us expected to get it passed this time," said Karen Feridun, Berks Gas Truth's founder.
Members of Berks Gas Truth started planning to take action in May when they learned that the resolution would be up for consideration again in June. "We were discussing what we'd like to do for Stop the Frack Attack's National Month of Action when our Patti Rose realized that the Dems meeting was being held mid-month. The timing was perfect," said Feridun.
The group started by promoting the action online, inviting people to participate in conference calls where the plans were explained. The organizers encouraged registered Democrats to attend all of the sessions, meetings and social events, handing out buttons and literature. All others would protest in Lancaster's Penn Square directly across from the Lancaster Convention Center.
"We provided people with the list of committee members and told them to start calling. We told registered Dems to be sure to ask to be proxies for those who planned to miss the meeting. Proxies can not only vote, they can speak from the floor," explained Feridun who was herself a proxy, as was the Shale Justice Coalition's Wendy Lynne Lee.
"People were lining up proxies. Some even changed parties just to attend the meetings. Several people I spoke with were learning for the first time that there's such a thing as a state Democratic committee out there to lobby," says Feridun.
The committee's 59 percent to 41 percent vote mirrors the results of a recent poll by the Center for Local, State and Urban Policy at the University of Michigan, in conjunction with the Muhlenberg College Institute of Public Opinion in which nearly two-thirds of Pennsylvanians supported a moratorium on fracking. Two weeks earlier, environmental organizations led by PennEnvironment delivered 100,000 petition signatures calling for a moratorium to Gov. Corbett (R-PA). Sen. Ferlo (D-PA) announced that day that he is introducing a moratorium bill. Five Democratic legislators have signed on so far.
Most who spoke from the floor prior to the vote spoke in favor of the resolution. Rosie Skomitz, a member of the Berks Delegation and an active member of Berks Gas Truth, challenged the party to take a firm stand against fracking and pointed out that a Democratic senator was introducing a moratorium bill that had already picked up five Democratic co-sponsors.
One of the members to express her opposition was Vice-Chair Penny Gerber who said, "This bill (sic) as it currently stands says it is a moratorium on hydraulic fracturing, but it specifies that the moratorium will last until the practice can be done safely. Because no set period of time is provided it truly is a ban on fracking, and this is a thriving industry. It is for that reason I cannot support this bill (sic)." Incidentally, Gerber works as an associate for Ceisler Media & Advocacy whose clients include Chesapeake Energy, Reliant Energy and Spectra Energy.
"When I heard Gerber make the point that a moratorium until fracking can be done safely is in effect a ban, I thought, 'Right! That's our point exactly! It can never be proven safe!'" said Feridun
Visit EcoWatch's FRACKING page for more related news on this topic.
——–

Sign the petition today, telling President Obama to enact an immediate fracking moratorium:

EcoWatch Daily Newsletter
Southern Tier Residents
Southern Tier residents delivered a $202,000 giant eight by three foot fake check to Sen. Libous' (R-NY) Binghamton district office today to "buy their senator back" from pro-fracking business interest and from big oil and gas lobbyist. $202,000 is the same amount of money Sen. Libous took in campaign contributions from fracking oil and gas interests in the last two years, according to the good government group Common Cause. Community residents presented the check and demanded that Sen. Libous put science and the people's interest above oil and gas interests, that Sen. Libous stop saying "the Southern Tier supports fracking" and that he stops taking contributions from pro-fracking business interests. The bottom line: residents demanded that Sen. Libous represent his constituents, not big oil and gas industry.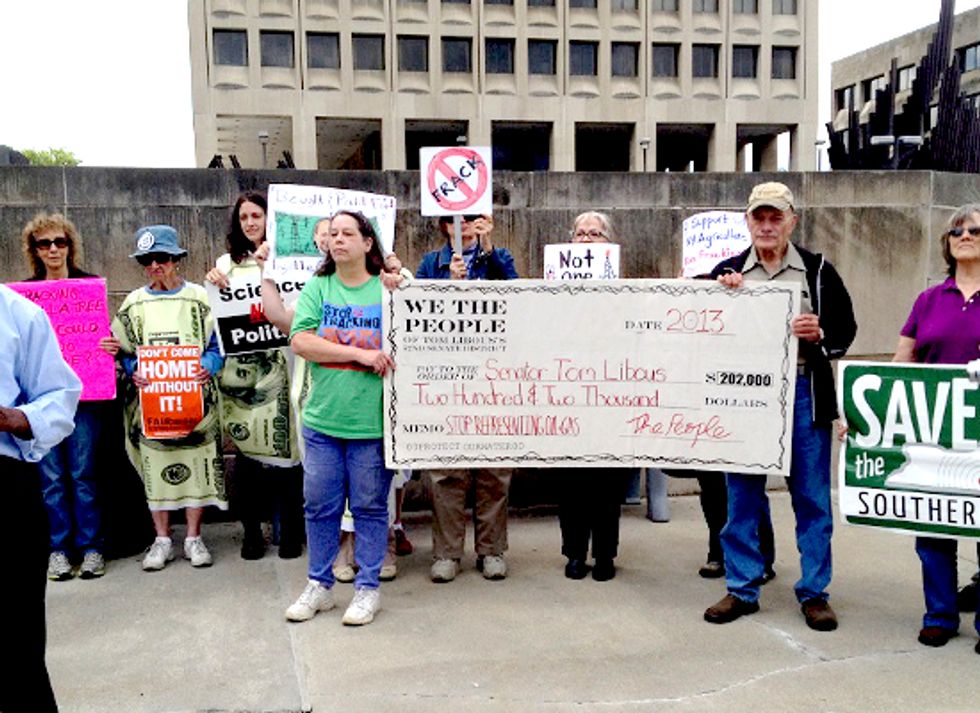 The outrageous sum of contributions from pro-fracking interests is made worse by recent revelations that Sen. Libous has questionable personal ties to companies and relationships with individuals who stand to financially benefit significantly from fracking.
For years, Sen. Libous has been a staunch proponent of fracking, advocating for it in the legislature, in the press and speaking at gas industry sponsored rallies. He claims the Southern Tier overwhelmingly supports fracking, even as the polls show that is not the case. This year, Sen. Libous vowed to prevent a moratorium bill from coming to the Senate floor for a vote.
"Southern Tier residents are fed up with Sen. Libous being a puppet of the oil and gas industry," said Isaac Silberman-Gorn of Citizen Action New York. "Sen. Libous has long misrepresented his constituents on fracking in place of his own financial ties and outrageous campaign contributions from the oil and gas lobby. The fact is that a majority of Southern Tier residents don't want fracking because the truth is that fracking threatens our health, our water, our air and our way of life."
"It's unconscionable that Sen. Libous not only acts the part of the oil and gas industry's puppet but is also undermining the values of Democracy by preventing a vote on a fracking moratorium in the senate," said Alex Harris of Democracy Matters. "Adding insult to injury, he opposes campaign finance reform which would prohibit our elected officials from being bought and sold like Sen. Libous is by the oil and gas industry."
Residents delivered the eight by three foot check for $202,000.00 to Sen. Libous' district office at 44 Hawley Street in Binghamton, NY.
"Sen. Libous has unquestionably espoused gas industry propaganda for years without giving the actual science and evidence about the harms caused by fracking a second thought," said Scott Lauffer of the Sierra Club. "The only thing Sen. Libous has represented on fracking is big oil and gas."
"This is the reality of Campaign Finance Reform in NYS. The state Assembly passed the Fair Elections Act, the Senate has two bills that have been introduced (The Fair Elections Act and The Integrity in Elections Act), the Governor introduced Campaign Finance Reform Act, this week," said Lawrence Parham, upstate campaigns manager. "Lastly, the vast majority of statewide polls show that there is bipartisan majority support for Fair Elections (72 percent Siena poll) all across the state. We need the IDC [Independent Democratic Conference] and the Senate Republicans to let the Fair Elections bills come to the floor for a vote because it will place limits on big money's influence in our state politics."
Although the gas industry's spokespeople and propaganda campaign assure the safety of fracking, New Yorkers are not buying it and remain opposed to fracking, while the truth is coming out that fracking is far from safe and that the gas industry cannot be trusted. A recent investigation by the Times Tribune in Pennsylvania revealed many cases of water contamination from fracking.
Visit EcoWatch's FRACKING page for more related news on this topic.
——–
Sign the petition today, telling President Obama to enact an immediate fracking moratorium: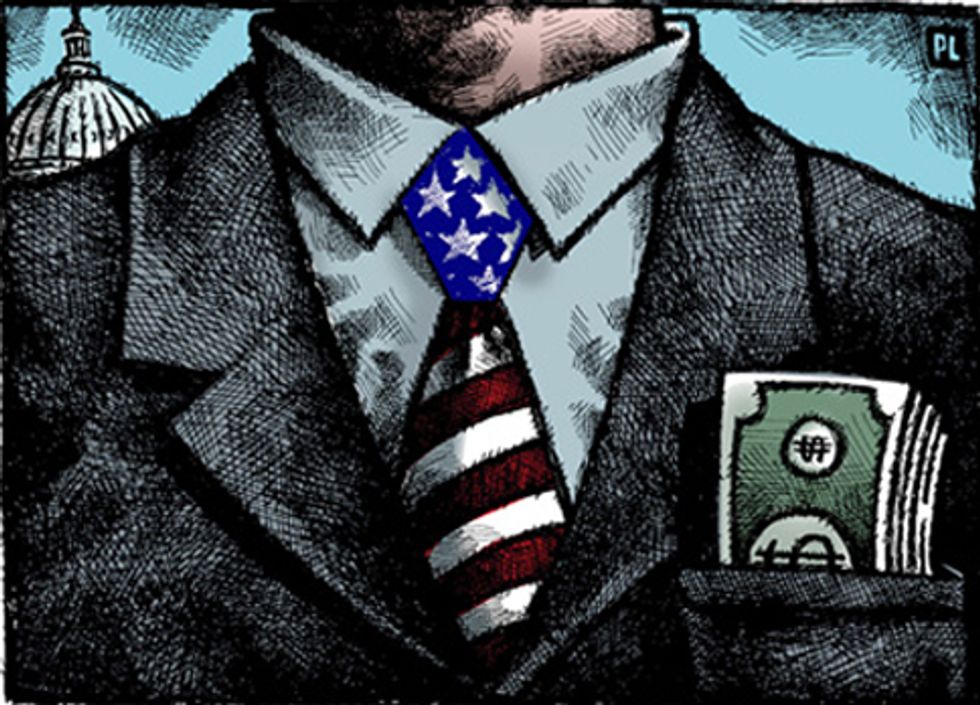 By Steve Kretzmann
What if you were in Vegas, and a friend told you there was a slot machine in the corner that was giving out $59 for every $1 that was put in? You'd think the machine was broken, and that it was rigged.
What if an investment advisor told you that he could get you $59 back for every $1 you gave him? That's a 5,800 percent rate of return. Even Bernie Madoff only promised 10.5 percent. Obviously a scam, right?
Clearly this is a scam, but if you're the oil, gas and coal industry, it's legal and business as usual in Washington. For every $1 the industry spends on campaign contributions and lobbying in Washington, D.C., it gets back $59 in subsidies.
Here's how it works:
Amount the fossil fuel industry spent during the 111th Congress (2009 & 2010) on contributions to Congress' campaigns—$25,794,747
Oil and Gas lobbying total 2009—$175,454,820
Oil and Gas lobbying total 2010—$146,032,543
Total amount spent by Big Fossil in 111th Congress—$347,282,110
2009 amount given to fossils in federal subsidies—$8,910,440,000
2010 amount given to fossils in federal subsidies—$11,578,900,000
Total amount given to fossils during 111th Congress—$20,489,340,000
(Find the original Organisation for Economic Co-operation and Development (OECD) source for subsidies by clicking here and broken down by U.S. Federal totals by clicking here)
Divide the total subsidies by the total money spent by the industry and you get 59.
$1 in. $59 out. That's a 5,800 percent return on political investment. Not bad.
For more information, click here.