Vaida Lilionyte-Manthos holds a B.A. in History and Anthropology from Vilnius University and Master's degree in Political Science from West Virginia University (WVU). Originally from Vilnius, Lithuania, she lives in Shepherdstown, West Virginia with her husband David. Mrs. Manthos is pursuing her doctorate in political science, also from WVU.
Growing up in Lithuania I had the impression that environmental problems do not exist in the U.S., or at least they were not as severe as they are in countries like mine that were once occupied by the mighty Soviet Union. I became interested in environmental problems around 1998 when the Lithuanian statesman Valdas Adamkus returned to Lithuania to run for president. Adamkus had worked for U.S. Environmental Protection Agency in the U.S. for many years, and upon coming back to Lithuania he made caring for the environment one of his priorities.
As a teenager I truly believed that America is the perfect country where everyone cares for their environment and uses all their natural resources wisely. However, my opinion changed radically when I came to Western Maryland and then West Virginia to study. I could not understand why some of the streams are so suspiciously orange and without any fish or aquatic plants; but soon I learned that this "suspicious color" comes from the acidic drainage of old coal mines.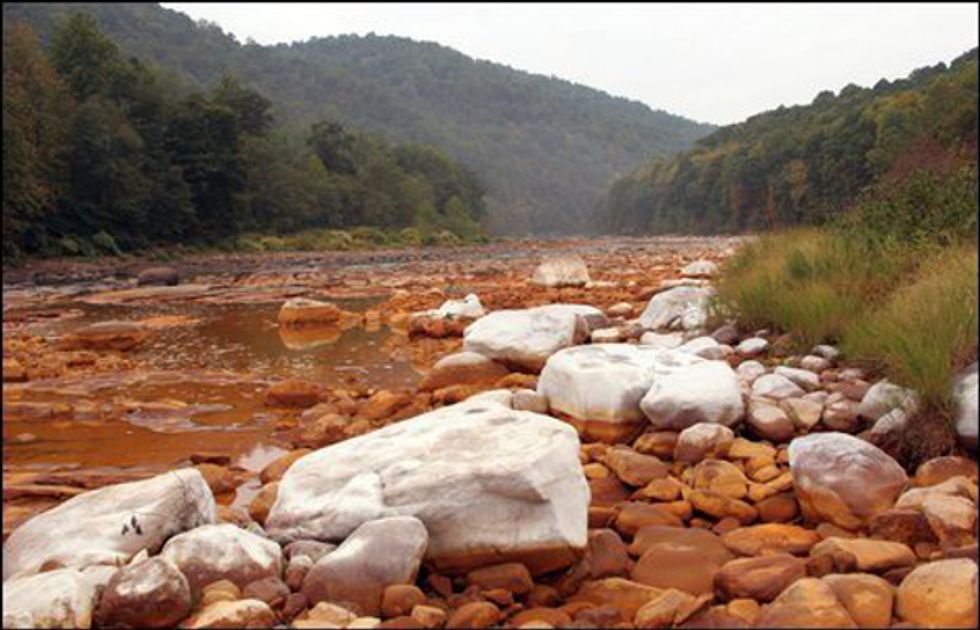 The Cheat River in North Central WV, though significantly improved now, ran rust-red for years after a mine blowout in the 1990s.
I was surprised to learn Appalachia was plagued by a wide range of environmental issues and problems which have never been properly addressed. Failing to learn from history, the region loses its iconic ridges to mountaintop removal strip mining and suffers from a resurgence of black lung disease while disasters keep repeating year after year: from the Upper Big Branch Mine disaster that claimed 29 lives in 2010 to the Elk River chemical spill in 2014 that poisoned the water supply of 300,000 people in nine counties.
I study Political Science at West Virginia University and once I moved to West Virginia I realized how important the coal industry had been to this state, at least in the peoples' mind and their rhetoric. It seems that any anti-coal speech in WV equates to political suicide. Natalie Tennant, the Democratic nominee for U.S. Senate understands this, and in a recent TV ad, she defends the coal industry by threatening to figuratively cut off power to the White House and accusing Obama of not supporting hard working coal miners. This West Virginia Democrat's accusation is strange because President Obama, who is pushing for stronger coal-fired power plant regulations, is also a Democrat.
Recent numbers show that the coal industry only employs about 87,000 people, while clean energy industries employ about 360,000 nationwide (Nesbit, US News; June 3, 2014). Additionally, coal only accounted for 18.1 percent of the total domestic power supply in 2013 (US Energy Information Administration; June 2, 2014), meaning that coal is no longer the main energy source in the U.S., and it has cleaner and safer alternatives.
The question arises why people in coal-producing states are so supportive of this industry despite the fact that coal does not create as many jobs as it claims? As a political scientist I could suggest that this support of the coal industry is related with the strong legacy of natural resource extraction or big industries lobbying influential politicians. However, I believe that the tendency to hold onto the past is much stronger than the actual legacy of natural resource extraction.
I was born and raised under the Soviet Union and I remember what quality of life we had then: empty stores, scarcity of necessary goods, only four car models to choose from, and you had to get permission from the local government to buy one! People did not have the right to free speech, were not allowed to travel abroad, nor could they proclaim religion without consequences. Buying a simple one-room (literally, one room; not just one bedroom!) apartment could be a great challenge, and my list could go on and on. Surprisingly, despite all the hardships under Communist rule, some people in Lithuania and other post-communist countries wish the Soviet Union would come back.
Their explanation is simple: under Soviet rule everyone had a job, regardless the pay, quality or necessity of these jobs. The government controlled every aspect of life. People lived in their little low quality apartment and fought for better food in the stores, but their lives were stable. However, the situation changed once Lithuania became an independent country. Many people were not able to adjust to a changing world, learn new skills or adapt to the free market, so they refuse to accept the collapse of the Soviet Union.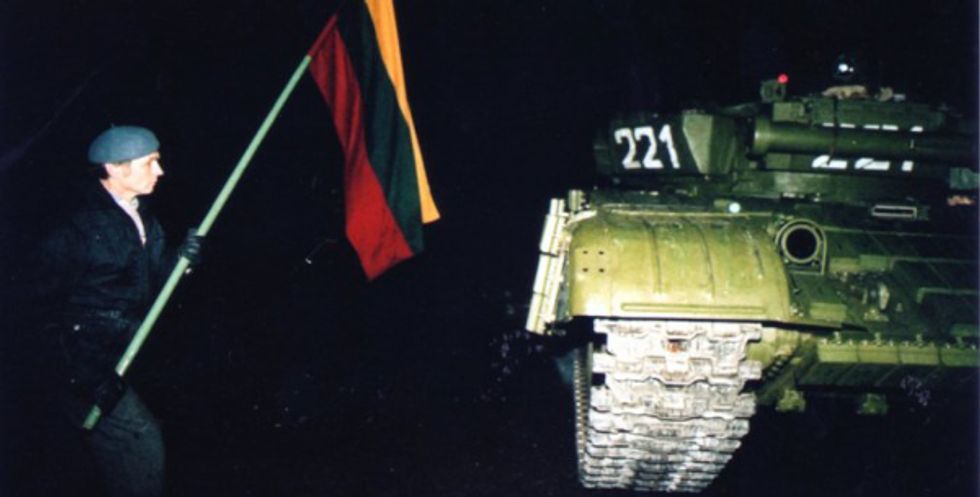 Lithuanian protestor in front of a Soviet tank in the final days of our struggle for independence. But not everyone agrees this was progress. Image: Wikipedia
In a similar way, I think people in coal-producing states hold on to the memories of the great industries that coal supported and the days when jobs were bountiful. Notwithstanding the lives lost in the coal mines, lungs turned black from coal dust and the air and water polluted by the mines and power plants; coal provided stable jobs and a way of life. And just as many believe that coal made America great, there are still people who believe that the Soviet era was Lithuania's "Golden Age."
I believe that just because coal or the Soviet Union did some "good" in the past does not mean that we can ignore the harm. It was only after the fall of the Soviet Union that we understood the harm which had been done by the Communist regime. In a similar way, thanks to science, new technologies, research and environmental organizations, we have a better understanding of the consequences of mining and burning coal, for streams, rivers, for public health and for the climate. We should look forward for new ideas and technologies, which brings real progress, instead of pining for the past.
You Might Also Like
5 Things You Need to Know About Obama's Clean Power Plant Rule
Another Coal Chemical Spill Pollutes Public Waterway, This Time in Kentucky
Supreme Court Rejects Coal Industry Lawsuit, Defends EPA Veto of Mountaintop Removal Mine
EcoWatch Daily Newsletter
By Dave Levitan
As municipal food composting programs spread across North America and Europe, no city faces a more daunting task than New York. Its Department of Sanitation collects more than 10,000 tons of trash every day, and another 1,700 tons of recyclable materials. A large portion of that waste, though, may soon have a future other than the landfill: Food scraps and other "organics" have long been just a part of New York's trash pile, but a pilot program in the city is aimed at rolling out collection of that material and composting it, a far more environmentally friendly method.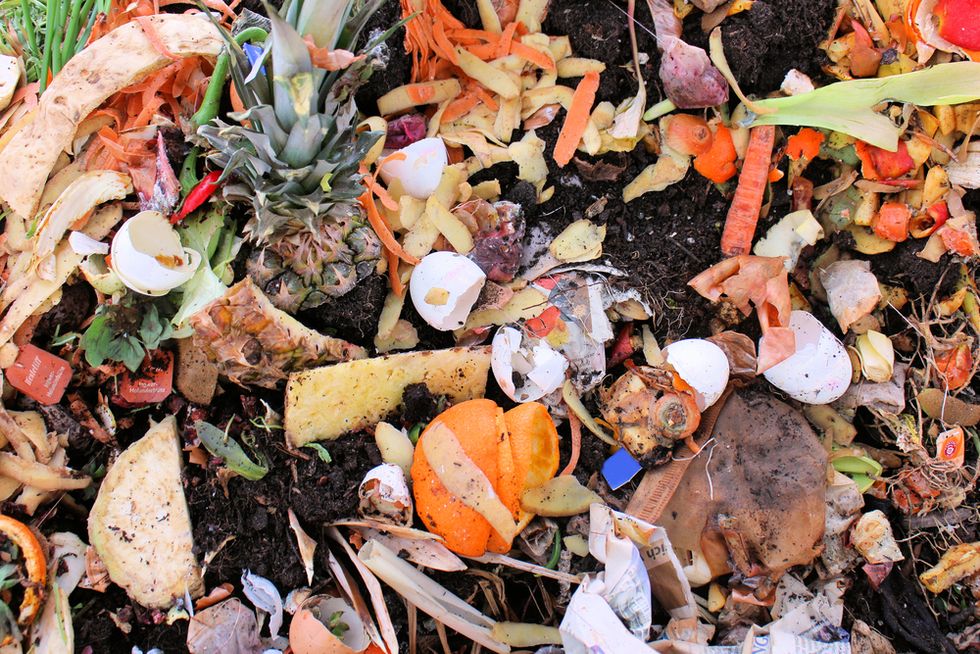 Photo courtesy of Shutterstock
"It's the next new thing in terms of municipal waste handling in the 21st century," says Eric Goldstein, a senior attorney with the Natural Resources Defense Council (NRDC) in New York. "Right now ... there are over 150 communities throughout the United States that are collecting organics at curbside. It's a national trend. It's revolutionary."
Many of those programs are still voluntary, and the bulk are in small cities and towns. But larger cities in North America—including San Francisco, Seattle, San Antonio, Toronto and Portland, OR—are moving rapidly ahead. And municipal composting efforts in many European countries are far advanced and steadily growing. In 2011, the 27 states in the European Union composted on average 15 percent of municipal waste, with Austria composting 34 percent, the Netherlands 28 percent, and countries like France, Spain, and Germany each composting about 18 percent.
In New York Mayor Michael Bloomberg's State of the City address this past February, he called food waste the city's "final recycling frontier," which holds true for the rest of the U.S., as well. According to the U.S. Environmental Protection Agency (EPA), the country as a whole produced 250 million tons of municipal solid waste in 2011, and compostable materials—which include yard trimmings, paper and paperboard, as well as food waste—comprised the largest component of that at 56 percent.
The environmental benefits of recycling that material are significant. As it decomposes in landfills, food and other organic waste produces methane, a greenhouse gas 25 times more powerful than carbon dioxide. According to the EPA, landfills are the third-largest source of methane in the U.S., behind industry and agriculture. Shipping waste long distances from cities to landfills produces even more greenhouse gas emissions. Composting, meanwhile, takes that waste and turns it into something usable: fertilizer. If cities like New York want to cut emissions, cut waste and even cut costs, composting is a proven way to go about it.
The good news is that of the 87 million tons of "recovered" waste in the U.S. in 2011—meaning waste that did not end up in a landfill—organic material accounted for the largest component. But most of that material was paper; food waste accounted for only 1.6 percent of the recovered total versus 14.5 percent of the generated total, the EPA says. The U.S. does a reasonably good job of keeping paper out of landfills thanks to recycling programs, but food almost universally still goes where it shouldn't.
New York is trying to change that with its new program. So far, compost collection is being offered in one neighborhood of Staten Island, and city officials say that after only a few months participation rates are above 40 percent. Contamination rates—meaning, the presence of non-compostable material in the compost bin—are at 1 percent or below. In Manhattan, about 100 city schools are also participating, with a goal of spreading to 400 schools by the end of the year. Two high-rise apartment buildings are included as well, with more to follow this fall.
"We spend over $85 million a year sending food waste to landfills, so there's a major cost," said Ron Gonen, New York City's deputy commissioner for recycling and sustainability, who heads up the composting program. He said so far the program is collecting at a pace on the order of "tens of thousands" of tons per year. "It's growing every day," said Gonen. "We're going to continue to expand, in all five boroughs." By 2014 the program will cover around 100,000 households.
Goldstein says that if New York demonstrates the economic and logistical viability of its program it could be a "bellwether" in the push to expand composting nationwide. But a few cities—in general, the green, progressive ones you might expect—have already taken the lead over the last decade. San Francisco—the second-densest large city in the U.S. after New York—is considered the frontrunner, thanks to legislation in 2002 that set a goal of diverting 75 percent of its waste from landfills by 2010 and achieving "zero waste" by 2020.
San Francisco's composting program began with restaurants and other businesses, and in 2009 an ordinance made it mandatory for all residents to separate organic material for collection. Instead of two bins to set out on the curb for trash and recyclables, there are now three. The green compost bins can include all food scraps, no matter how spoiled, along with vegetation from yards like leaves and flowers, and solid paper products including coffee cups, waxy paper, milk cartons and related items. The city collected its millionth ton of organic waste for composting last fall. Overall, 78 percent of San Francisco's waste is now diverted from landfills.
Seattle has a similar program, as does Portland; the latter went a step further and scaled back residential garbage pickup to only once every two weeks when the weekly compost pickup began.
Despite some early resistance and confusion—much of it related to every-other-week garbage collection—a survey in Portland found that 66 percent of residents rated the city's recycling and composting program as "good" or "very good" after one year, with another 20 percent neutral on the issue. Along with the positive reception, there has been clear progress. In the 12-month period prior to the October 2011 start of the composting program, 94,100 tons of garbage were collected. In the following 12 months, that figure fell to 58,300 tons. Meanwhile, collections of compostable material rose from 30,600 tons to 85,400 tons, a figure that includes yard waste.
There were questions early on about vermin, but moving the scraps from the garbage can to the compost bin doesn't change much, said Bruce Walker, Portland's solid waste and recycling program manager. The organic material in Portland travels to one of two facilities that are 15 and 90 miles from downtown. Walker said regular garbage gets trucked much farther, about 140 miles from the city, so the environmental savings are compounded. The composting facilities produce fertilizers that are sold to farms, tree nurseries and to the general public.
In Europe, the European Landfill Directive requires European Union member states to reduce "biodegradable municipal waste" sent to landfills to 35 percent of 1995 amounts by 2016. In the EU, 40 percent of waste is now composted or recycled, with 23 percent incinerated and 37 percent landfilled. Norway, Sweden, the Netherlands, Denmark, Switzerland, Belgium, Austria and Germany now send less than 3 percent of their waste to landfills. Copenhagen, one of the greenest cities in the world, stopped sending organic waste to landfills as far back as 1990.
Other European countries lag far behind, with Greece and eastern European nations such as Bulgaria, Lithuania and Romania doing almost no composting. Still, some of the swiftest progress has come from some former eastern bloc countries like Estonia. The capital city of Talinn has been collecting biodegradable kitchen waste separately since 2007, part of the reason why landfill rates in Estonia have dropped from close to 100 percent 15 years ago to below 60 percent today. Europe is also much farther along than the U.S. in using anaerobic digestion, a process that takes organic waste and turns it into biogas, which can be used to generate electricity.
In New York, the question of where to bring collected organic material is unresolved. The city has a request for proposals to build a new composting plant in or close to the city, but until then there aren't nearby facilities that can handle large amounts. Goldstein, of the NRDC, said that one possibility is to site facilities outside the city or partner with farms in the Catskills—sending the material 75 miles or so is still a huge improvement on the current system, which involves exporting to landfills sometimes many states and hundreds of miles away.
"The city has been really slow in terms of going through this process," said Christine Datz-Romero, co-founder and executive director of the Lower East Side Ecology Center, which has worked on composting in New York for two decades. "If we wanted a facility here in New York City we should have started that process a long time ago. For building a facility we're talking years. I see that as the biggest stumbling block because right now we have very limited capacity."
Should New York and numerous other U.S. cities and towns establish vibrant composting programs, the environmental benefits will be enormous, advocates say. "Ultimately, there's going to be very little left in the traditional garbage can," said Goldstein.
Visit EcoWatch's FOOD page for more related news on this topic.
——–
waterlust.com / @tulasendlesssummer_sierra .
Each product featured here has been independently selected by the writer. If you make a purchase using the links included, we may earn commission.
The bright patterns and recognizable designs of Waterlust's activewear aren't just for show. In fact, they're meant to promote the conversation around sustainability and give back to the ocean science and conservation community.
Each design is paired with a research lab, nonprofit, or education organization that has high intellectual merit and the potential to move the needle in its respective field. For each product sold, Waterlust donates 10% of profits to these conservation partners.
Eye-Catching Designs Made from Recycled Plastic Bottles
waterlust.com / @abamabam
The company sells a range of eco-friendly items like leggings, rash guards, and board shorts that are made using recycled post-consumer plastic bottles. There are currently 16 causes represented by distinct marine-life patterns, from whale shark research and invasive lionfish removal to sockeye salmon monitoring and abalone restoration.

One such organization is Get Inspired, a nonprofit that specializes in ocean restoration and environmental education. Get Inspired founder, marine biologist Nancy Caruso, says supporting on-the-ground efforts is one thing that sets Waterlust apart, like their apparel line that supports Get Inspired abalone restoration programs.
"All of us [conservation partners] are doing something," Caruso said. "We're not putting up exhibits and talking about it — although that is important — we're in the field."
Waterlust not only helps its conservation partners financially so they can continue their important work. It also helps them get the word out about what they're doing, whether that's through social media spotlights, photo and video projects, or the informative note card that comes with each piece of apparel.
"They're doing their part for sure, pushing the information out across all of their channels, and I think that's what makes them so interesting," Caruso said.
And then there are the clothes, which speak for themselves.
Advocate Apparel to Start Conversations About Conservation
waterlust.com / @oceanraysphotography
Waterlust's concept of "advocate apparel" encourages people to see getting dressed every day as an opportunity to not only express their individuality and style, but also to advance the conversation around marine science. By infusing science into clothing, people can visually represent species and ecosystems in need of advocacy — something that, more often than not, leads to a teaching moment.

"When people wear Waterlust gear, it's just a matter of time before somebody asks them about the bright, funky designs," said Waterlust's CEO, Patrick Rynne. "That moment is incredibly special, because it creates an intimate opportunity for the wearer to share what they've learned with another."
The idea for the company came to Rynne when he was a Ph.D. student in marine science.
"I was surrounded by incredible people that were discovering fascinating things but noticed that often their work wasn't reaching the general public in creative and engaging ways," he said. "That seemed like a missed opportunity with big implications."
Waterlust initially focused on conventional media, like film and photography, to promote ocean science, but the team quickly realized engagement on social media didn't translate to action or even knowledge sharing offscreen.
Rynne also saw the "in one ear, out the other" issue in the classroom — if students didn't repeatedly engage with the topics they learned, they'd quickly forget them.
"We decided that if we truly wanted to achieve our goal of bringing science into people's lives and have it stick, it would need to be through a process that is frequently repeated, fun, and functional," Rynne said. "That's when we thought about clothing."
Support Marine Research and Sustainability in Style
To date, Waterlust has sold tens of thousands of pieces of apparel in over 100 countries, and the interactions its products have sparked have had clear implications for furthering science communication.
For Caruso alone, it's led to opportunities to share her abalone restoration methods with communities far and wide.
"It moves my small little world of what I'm doing here in Orange County, California, across the entire globe," she said. "That's one of the beautiful things about our partnership."
Check out all of the different eco-conscious apparel options available from Waterlust to help promote ocean conservation.
Melissa Smith is an avid writer, scuba diver, backpacker, and all-around outdoor enthusiast. She graduated from the University of Florida with degrees in journalism and sustainable studies. Before joining EcoWatch, Melissa worked as the managing editor of Scuba Diving magazine and the communications manager of The Ocean Agency, a non-profit that's featured in the Emmy award-winning documentary Chasing Coral.