Halogen light bulbs. Getty Images
Halogen lightbulbs will soon flicker out in Europe after the European Union's ban on the sale of the bulbs comes into effect on Sept. 1.
Households are expected to switch to LED lights, which tend to be more expensive up front, but usually last longer, consume less energy and can save on electricity bills in the long term compared to halogens. Lighting manufacturer Philips estimated to the Guardian that consumers can save up to £112 ($144) a year from the switch.
The EU directive banned less efficient light sources with the goal of cutting carbon emissions. Proponents tout electricity savings across the EU of up to 93 terawatts each year by 2020, or the equivalent of Portugal's annual electricity usage.
Phasing out inefficient lights will "save 15.2 million tons of CO² emissions by 2025," Anna-Kaisa Itkonen, European Commission spokeswoman for climate action and energy, told CNN. "This is the equivalent to the emissions generated by around 2 million people per year. This is a significant contribution to the fight against climate change."
Itkonen added that the ban will also help reduce oil imports to the European Union by nearly 75 million barrels a year.
Wikimedia Commons
EU member states announced the measure in 2009. The initial plan was to phase out halogen bulbs by Sept. 1, 2016, but the initiative was delayed until this year to allow EU citizens more time to transition to LED.
Halogen lights will not immediately disappear, as shops are still allowed to sell remaining stock, but they will not be able to order more after the start of next month. An exception will be allowed for oven lights that are halogens as well as some capsule, linear and low-voltage reflector bulbs, according to the Guardian.
Not everyone is happy about the switch, including Brexit advocates who say LED bulbs are too costly and are an example of the European Union's "relentless nanny state intervention," The Sun reported.
"The EU's attempt to ban halogen bulbs is wrong because consumers will suffer financially and it's always the poorest who suffer most from these kinds of policies," Jonathon Bullock, UKIP energy spokesman in the European parliament, told the Guardian.
From Your Site Articles
Related Articles Around the Web
EcoWatch Daily Newsletter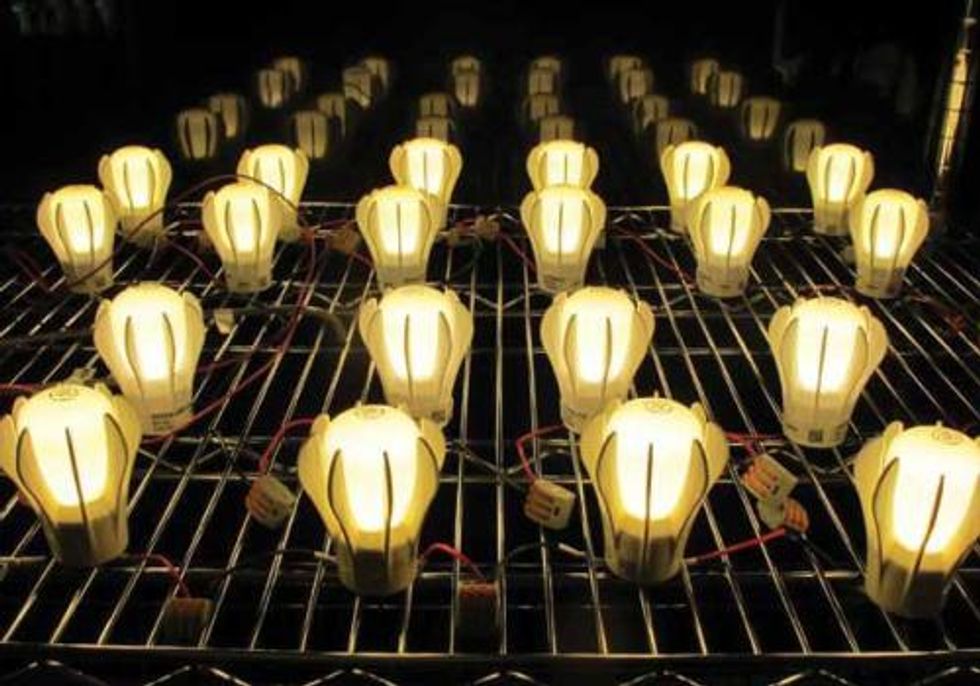 A century after the seeds for the development of the incandescent bulb were planted in Ohio and GE began operations in Nela Park, a new report shines a spotlight on the state's burgeoning advanced lighting industry that is leading global energy efficiency innovations. With more than 4 billion screw-based bulbs being transitioned to new technologies in the United States alone, Ohio's economy stands to gain significantly from the companies leading the change. The state already boasts 1500 manufacturing jobs from the industry with potential for many more to come. The new report Better Bulbs, Better Jobs, released today by the Natural Resources Defense Council, highlights the potential with case studies of large and small job producers across the state.
"If you weren't watching, it might be a surprise to learn that Ohio is a world leader in developing energy efficient lighting," said Dylan Sullivan, staff scientist at the Natural Resources Defense Council and a co-author of the report. "There is huge potential for this industry, but we need to retain Ohio's smart policies to secure future growth. Rolling back the policies that strengthen the market for these innovative products means rolling back jobs just starting to come online all over the state."
The report outlines federal and state policies that are helping to create a market for advanced lighting technologies and includes seven case studies of Ohio companies driving the industry. TCP Lighting in Aurora (near Cleveland) has been central to the development of CFL bulbs, and is now poised to open a manufacturing facility in Ohio. Cincinnati's LSI LED created the fixtures used to light New York's landmark George Washington Bridge. Smaller companies like J&M Electrical Supply and J's Lighting Services, both in Cambridge, are helping manufacturing businesses reduce costs and stay in Ohio by making the transition to more efficient lighting.
In Ohio, the state's existing energy efficiency standard has been hugely impactful. The technologies put in place in 2009 and 2010 as a result of the efficiency standards will save customers over $350 million over their lifetime. And the transition to advanced lighting offers huge benefits outside of Ohio too. The nationwide transition to more efficient lighting means:
• Electric bill savings of more than $12.5 billion per year
• Energy savings equivalent to 30 large power plants
• Reduced pollution, including a 60 percent reduction in mercury emissions from power plants and prevention of approximately 100 million tons of carbon dioxide pollution per year
For more information and to read the full report, click here.
--------
The Natural Resources Defense Council (NRDC) is an international nonprofit environmental organization with more than 1.3 million members and online activists. Since 1970, our lawyers, scientists and other environmental specialists have worked to protect the world's natural resources, public health and the environment. NRDC has offices in New York City, Washington, D.C., Los Angeles, San Francisco, Chicago, Livingston, Montana and Beijing. Visit us at www.nrdc.org.
waterlust.com / @tulasendlesssummer_sierra .
Each product featured here has been independently selected by the writer. If you make a purchase using the links included, we may earn commission.
The bright patterns and recognizable designs of Waterlust's activewear aren't just for show. In fact, they're meant to promote the conversation around sustainability and give back to the ocean science and conservation community.
Each design is paired with a research lab, nonprofit, or education organization that has high intellectual merit and the potential to move the needle in its respective field. For each product sold, Waterlust donates 10% of profits to these conservation partners.
Eye-Catching Designs Made from Recycled Plastic Bottles
waterlust.com / @abamabam
The company sells a range of eco-friendly items like leggings, rash guards, and board shorts that are made using recycled post-consumer plastic bottles. There are currently 16 causes represented by distinct marine-life patterns, from whale shark research and invasive lionfish removal to sockeye salmon monitoring and abalone restoration.

One such organization is Get Inspired, a nonprofit that specializes in ocean restoration and environmental education. Get Inspired founder, marine biologist Nancy Caruso, says supporting on-the-ground efforts is one thing that sets Waterlust apart, like their apparel line that supports Get Inspired abalone restoration programs.
"All of us [conservation partners] are doing something," Caruso said. "We're not putting up exhibits and talking about it — although that is important — we're in the field."
Waterlust not only helps its conservation partners financially so they can continue their important work. It also helps them get the word out about what they're doing, whether that's through social media spotlights, photo and video projects, or the informative note card that comes with each piece of apparel.
"They're doing their part for sure, pushing the information out across all of their channels, and I think that's what makes them so interesting," Caruso said.
And then there are the clothes, which speak for themselves.
Advocate Apparel to Start Conversations About Conservation
waterlust.com / @oceanraysphotography
Waterlust's concept of "advocate apparel" encourages people to see getting dressed every day as an opportunity to not only express their individuality and style, but also to advance the conversation around marine science. By infusing science into clothing, people can visually represent species and ecosystems in need of advocacy — something that, more often than not, leads to a teaching moment.

"When people wear Waterlust gear, it's just a matter of time before somebody asks them about the bright, funky designs," said Waterlust's CEO, Patrick Rynne. "That moment is incredibly special, because it creates an intimate opportunity for the wearer to share what they've learned with another."
The idea for the company came to Rynne when he was a Ph.D. student in marine science.
"I was surrounded by incredible people that were discovering fascinating things but noticed that often their work wasn't reaching the general public in creative and engaging ways," he said. "That seemed like a missed opportunity with big implications."
Waterlust initially focused on conventional media, like film and photography, to promote ocean science, but the team quickly realized engagement on social media didn't translate to action or even knowledge sharing offscreen.
Rynne also saw the "in one ear, out the other" issue in the classroom — if students didn't repeatedly engage with the topics they learned, they'd quickly forget them.
"We decided that if we truly wanted to achieve our goal of bringing science into people's lives and have it stick, it would need to be through a process that is frequently repeated, fun, and functional," Rynne said. "That's when we thought about clothing."
Support Marine Research and Sustainability in Style
To date, Waterlust has sold tens of thousands of pieces of apparel in over 100 countries, and the interactions its products have sparked have had clear implications for furthering science communication.
For Caruso alone, it's led to opportunities to share her abalone restoration methods with communities far and wide.
"It moves my small little world of what I'm doing here in Orange County, California, across the entire globe," she said. "That's one of the beautiful things about our partnership."
Check out all of the different eco-conscious apparel options available from Waterlust to help promote ocean conservation.
Melissa Smith is an avid writer, scuba diver, backpacker, and all-around outdoor enthusiast. She graduated from the University of Florida with degrees in journalism and sustainable studies. Before joining EcoWatch, Melissa worked as the managing editor of Scuba Diving magazine and the communications manager of The Ocean Agency, a non-profit that's featured in the Emmy award-winning documentary Chasing Coral.