(L) Selma Three Stone Engagement Ring. (R) The Greener Diamond Farm Project. MiaDonna
By Bailey Hopp
If you had to choose a diamond for your engagement ring from below or above the ground, which would you pick … and why would you pick it? This is the main question consumers are facing when picking out their diamond engagement ring today. With a dramatic increase in demand for conflict-free lab-grown diamonds, the diamond industry is shifting right before our eyes.
EcoWatch Daily Newsletter
Sea Shepherd small boat assists the Liberian Coast Guard to chase down the F/V Hai Lung. Sea Shepherd
A notorious Antarctic and Patagonian toothfish poaching vessel, famous for plundering the Antarctic, was arrested on March 13 in waters belonging to the West African state of Liberia by the Liberian Coast Guard, with assistance from the marine conservation group Sea Shepherd.
The F/V Hai Lung, known to the Commission for the Conservation of Antarctic Marine Living Resources (CCAMLR) by its previous name "Kily," was transiting through Liberian waters when it was boarded and inspected by a Liberian Coast Guard team working alongside Sea Shepherd crew on board Sea Shepherd's patrol vessel M/Y Sam Simon.
Operating under a long list of different names, including "Yele," "Ray," "Kily," "Constant," "Tropic" and "Isla Graciosa," the F/V Hai Lung is an infamous fishing vessel that has been blacklisted by several regional fisheries management organizations including CCAMLR, SEAFO and NEAFC.
As a result, the vessel has been denied port access in Togo and Angola, and unofficial sources state that it was detained in Nigeria for entering Nigerian waters without authorization last year.
Once on board the F/V Hai Lung, the Liberian Coast Guard boarding officer was presented with forged documentation alleging that the F/V Hai Lung was flagged to the Republic of Indonesia as a fishing vessel.
The Certificate of Nationality was allegedly issued on Aug. 8, 2017 in Jakarta, Indonesia by a senior Ministry of Transportation official who had long since been transferred to another government position. The Indonesian Ministry of Maritime Affairs and Fisheries has no record of the vessel in their databases.
The forged Certificate of Nationality makes the F/V Hai Lung a vessel "without nationality," subject to seizure anywhere, including on the High Seas.
"On those grounds, including a long list of other violations, not least of all suspected absconsion from justice in Nigeria through bribing Maritime Security Police, the Liberian Coast Guard has decided to arrest the F/V Hai Lung, detaining it at the Liberian Coast Guard Base in the Port of Monrovia pending further investigation," said Daniel Ziankahn, Liberian minister of national defense.
The owner of the F/V Hai Lung is believed to be Argibay Perez of Spain, a notorious toothfish poacher belonging to the "Galician Mafia" who has been convicted of crimes in both La Réunion (France) and Australia. In 1999, the Supreme Court of Western Australia, on fining Mr. Perez, concluded that "the applicant committed six offences that are of a serious nature and where the level of criminality was high."
Perez is also linked to the F/V Viking, a vessel that was issued an Interpol Purple Notice in 2013 before being arrested and sunk by the Indonesian Navy in 2016.
"On board the F/V Hai Lung, the Liberian Coast Guard team uncovered a contact registry that included over a dozen infamous toothfish poachers including two of the rouge toothfish poachers known as "the Bandit Six": F/V Viking and the F/V Thunder, both subjects of Interpol Purple Notices before they were destroyed. The latter was a vessel that my crew and I chased for 110 days before it sank in the Gulf of Guinea in April of 2015. Since Indonesia has been a world leader in cracking down on illegal fishing, it is equal parts audacious and insulting, that the F/V Hai Lung attempted to forge Indonesian documents," said Sea Shepherd global director of campaigns Peter Hammarstedt.
About Operation Sola Stella
Since February 2017, under the name Operation Sola Stella, Sea Shepherd has been assisting the Government of Liberia to tackle IUU fishing by providing the use of a civilian offshore patrol vessel and crew operating in Liberian waters, under the direction of the Liberian Ministry of National Defense. Operation Sola Stella has resulted in the arrest of eleven vessels for illegal, unreported and unregulated (IUU) fishing. Developing countries are particularly vulnerable to IUU fishing, which accounts for up to 40 percent of the fish caught in West African waters.
In 2016 Sea Shepherd partnered with the government of Gabon for Operation Albacore, resulting in more than 80 fishing vessel inspections at sea and the subsequent arrest of five IUU Congolese fishing trawlers and one Spanish longliner.
In 2018, Sea Shepherd began Operation Jodari with patrols against IUU fishing in the waters of Tanzania in partnership with the Tanzanian Deep Sea Fishing Authority, Tanzanian Navy, Tanzanian Drug Enforcement Agency, the Multi-Agency Task Team (MATT) and Fish-i Africa.
Operation Sola Stella is a continuation of Sea Shepherd Global's commitment to work actively with national governments and their law enforcement agencies in the fight against IUU fishing. Read more about the campaign here: https://www.seashepherdglobal.org/our-campaigns/operation-sola-stella/
Only 30 Left in the Wild: Saving the Nearly Extinct Vaquita https://t.co/juHLPGXtiR @seashepherd @LeoDiCaprio @CoveGuardians @seashepherd_uk

— EcoWatch (@EcoWatch)1498575723.0
From Your Site Articles
Related Articles Around the Web
waterlust.com / @tulasendlesssummer_sierra .
Each product featured here has been independently selected by the writer. If you make a purchase using the links included, we may earn commission.
The bright patterns and recognizable designs of Waterlust's activewear aren't just for show. In fact, they're meant to promote the conversation around sustainability and give back to the ocean science and conservation community.
Each design is paired with a research lab, nonprofit, or education organization that has high intellectual merit and the potential to move the needle in its respective field. For each product sold, Waterlust donates 10% of profits to these conservation partners.
Eye-Catching Designs Made from Recycled Plastic Bottles
waterlust.com / @abamabam
The company sells a range of eco-friendly items like leggings, rash guards, and board shorts that are made using recycled post-consumer plastic bottles. There are currently 16 causes represented by distinct marine-life patterns, from whale shark research and invasive lionfish removal to sockeye salmon monitoring and abalone restoration.

One such organization is Get Inspired, a nonprofit that specializes in ocean restoration and environmental education. Get Inspired founder, marine biologist Nancy Caruso, says supporting on-the-ground efforts is one thing that sets Waterlust apart, like their apparel line that supports Get Inspired abalone restoration programs.
"All of us [conservation partners] are doing something," Caruso said. "We're not putting up exhibits and talking about it — although that is important — we're in the field."
Waterlust not only helps its conservation partners financially so they can continue their important work. It also helps them get the word out about what they're doing, whether that's through social media spotlights, photo and video projects, or the informative note card that comes with each piece of apparel.
"They're doing their part for sure, pushing the information out across all of their channels, and I think that's what makes them so interesting," Caruso said.
And then there are the clothes, which speak for themselves.
Advocate Apparel to Start Conversations About Conservation
waterlust.com / @oceanraysphotography
Waterlust's concept of "advocate apparel" encourages people to see getting dressed every day as an opportunity to not only express their individuality and style, but also to advance the conversation around marine science. By infusing science into clothing, people can visually represent species and ecosystems in need of advocacy — something that, more often than not, leads to a teaching moment.

"When people wear Waterlust gear, it's just a matter of time before somebody asks them about the bright, funky designs," said Waterlust's CEO, Patrick Rynne. "That moment is incredibly special, because it creates an intimate opportunity for the wearer to share what they've learned with another."
The idea for the company came to Rynne when he was a Ph.D. student in marine science.
"I was surrounded by incredible people that were discovering fascinating things but noticed that often their work wasn't reaching the general public in creative and engaging ways," he said. "That seemed like a missed opportunity with big implications."
Waterlust initially focused on conventional media, like film and photography, to promote ocean science, but the team quickly realized engagement on social media didn't translate to action or even knowledge sharing offscreen.
Rynne also saw the "in one ear, out the other" issue in the classroom — if students didn't repeatedly engage with the topics they learned, they'd quickly forget them.
"We decided that if we truly wanted to achieve our goal of bringing science into people's lives and have it stick, it would need to be through a process that is frequently repeated, fun, and functional," Rynne said. "That's when we thought about clothing."
Support Marine Research and Sustainability in Style
To date, Waterlust has sold tens of thousands of pieces of apparel in over 100 countries, and the interactions its products have sparked have had clear implications for furthering science communication.
For Caruso alone, it's led to opportunities to share her abalone restoration methods with communities far and wide.
"It moves my small little world of what I'm doing here in Orange County, California, across the entire globe," she said. "That's one of the beautiful things about our partnership."
Check out all of the different eco-conscious apparel options available from Waterlust to help promote ocean conservation.
Melissa Smith is an avid writer, scuba diver, backpacker, and all-around outdoor enthusiast. She graduated from the University of Florida with degrees in journalism and sustainable studies. Before joining EcoWatch, Melissa worked as the managing editor of Scuba Diving magazine and the communications manager of The Ocean Agency, a non-profit that's featured in the Emmy award-winning documentary Chasing Coral.
In 2001, the Ford Foundation granted $280 million—the largest single donation in the Foundation's history—to a new initiative called the Ford International Fellowships Program (IFP). IFP set out to prove that an international scholarship program could help build leadership for social justice and thus contribute to broader social change. What followed was the creation of a fellowship that provided access to higher education for talented leaders from marginalized communities, giving them an opportunity to further develop their skills and capacities and serve as better agents for social change.
Over the past decade, the program enabled a total of 4,314 emerging social justice leaders from Asia, Russia, Africa, the Middle East, and Latin America to pursue advanced degrees at more than 600 universities in almost 50 countries. Many Ford International Fellows have become leaders in the fields of environmental leadership, protection, and research. Over the next several weeks, Ecowatch will be profiling some of these incredible graduates, sharing their stories and global environmental impact.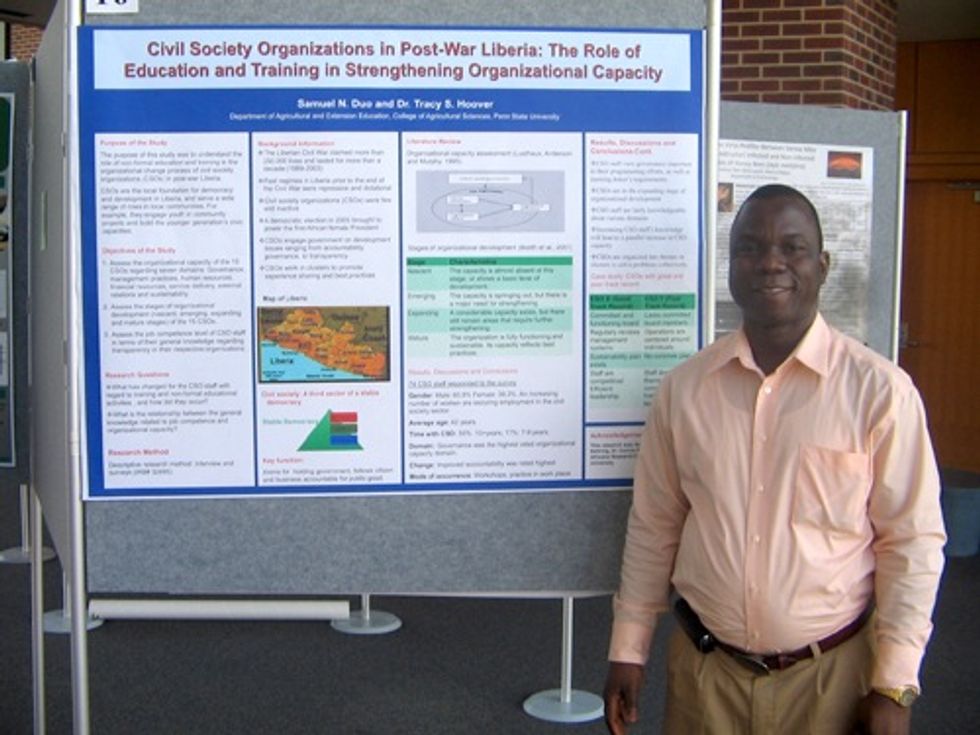 Samuel Duo, like many Liberians in the 1990s, was forced to flee his home country and seek refuge in Ghana to escape the terrors of the First Liberian Civil War. The civil war displaced over a million Liberians like Duo into refugee camps in neighboring countries. Entire villages were emptied as people fled. The war destroyed a once-viable economic infrastructure, and spread to Liberia's neighbors, destabilizing a region that already was one of the world's most marginal. To make matters worse, the war severely damaged the nation's agricultural sector. Productivity plummeted, especially as people fled their homes, and agricultural value chains were left under-developed.
Duo was determined to return to Liberia and help solve the many problems that were left in the wake of the civil war. During his time in Ghana, he worked to develop his leadership skills and involved himself heavily in the burgeoning community of refugees. Yet amidst the turmoil and poverty that permeated the entire region, he struggled to find ways to put his talent and passion to use.
All of that changed when Duo was selected to be a Ford IFP fellow. He traveled to the U.S. where he completed a master's degree in Agriculture at Penn State University. Duo showed such promise throughout his studies that Penn State offered him a doctoral award to pursue a PhD in Agricultural and Extension Education, with an emphasis on Leadership Development.
When Duo completed his PhD in May, 2011, he returned to Liberia, where the state of the economy was abysmal. Most businessmen had fled the country and few enterprises were intrepid enough to do business with the struggling country. Liberia could not produce the food it needed to feed its population, and relied heavily on expensive imports, leaving the country exceedingly vulnerable to high food prices and fluctuations in the global market. Monrovia, the nation's capital, was the hardest hit of any during the civil war, with its business infrastructure all but destroyed. 
Duo applied his new knowledge and professional networks to help establish the Liberia branch of the Social Enterprise Development (SEND) Foundation of West Africa through the assistance of SEND West Africa CEO Siapha Kamara, whom Duo considers his mentor. During this period, Duo secured United Nations Development funding for capacity development and project management in communities, with the goal of helping Liberians drive their own development agenda.
Envisioning Liberia as a country where people's rights and well-being are guaranteed, SEND's mission is to promote good governance and the equality of men and women by approaching development issues holistically. For example, Liberian citizens will not make rational and informed decisions or be civically-engaged when they are unable to sustain a basic livelihood for their families. With women constituting a majority of the labor force in the subsistence agriculture sector, SEND provides micro-finance with reproductive health education support to more than a thousand women in the Nimba, Bong and Lofa Counties. This support has helped many of them keep their children in school and provide food for their family.
Duo oversaw SEND-Liberia as they worked on developing a local civil society organization. The SEND management team targeted their efforts specifically to poor, rural communities and sought out women to lead the charge in creating new economic opportunities. Duo led many of these communities in initiating the production of soybeans, an important environmental cash crop in regions where people cannot afford to buy fish and meat to balance their diets.
He also trained district development committee (DDC) members in Nimba County in project cycle management, community action planning, gender analysis and rural appraisals. Totaling fourteen people, the DCC members are comprised of youth representatives, women and community elders who have been selected to help identify and drive their district development agendas. The Liberian government considers the committee as paramount in decentralizing development efforts.
Recently, Duo joined the faculty at the College of Agriculture and Forestry at University of Liberia, where he focuses on youth development and civic engagement in Liberian society at large. He also works to train graduates and help them find research-related jobs that enable them to build their own capacities for development through the Center for Applied Research and Training, where he serves as chairman of the board.
As a leadership development specialist, Duo is engaged in a multi-faceted approach to addressing crucial social issues in his home country, where he believes that women and young people are the key to a more promising future. "My study with IFP was transformative," he says of the impact of his Ford fellowship. "That learning experience greatly informs the work I do today."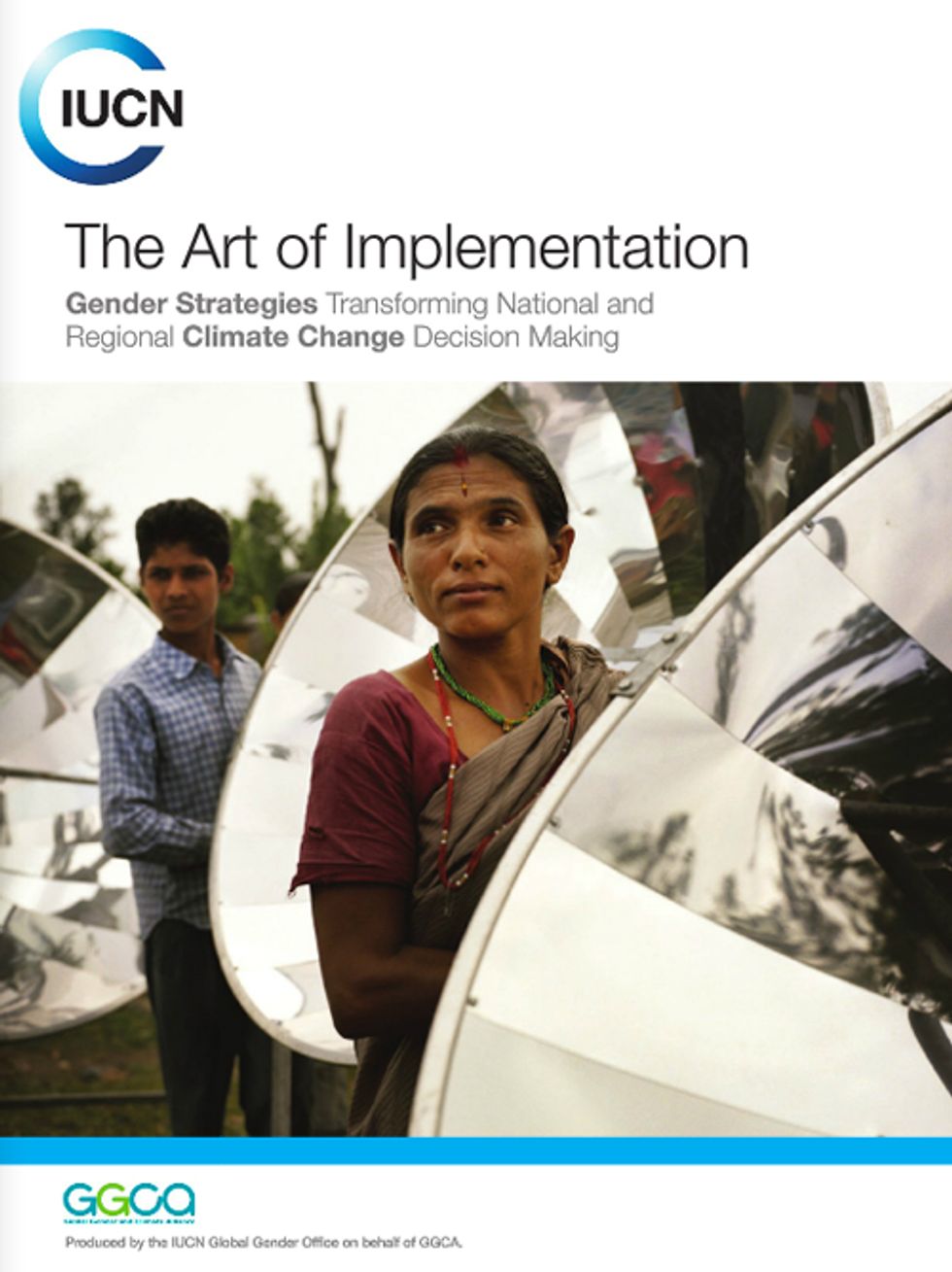 A new International Union for Conservation of Nature (IUCN) publication outlining action plans for women to help them adapt to climate change and minimize its impact has been launched at the 18th Conference of the Parties to the United Nations Framework Convention on Climate Change in Doha, Qatar.
A water taxi network owned and operated by women on the Nile that reduces emissions and provides fast, reliable public transport in a gridlocked Cairo transport system; a recycling project that empowers women as green entrepreneurs in Kathmandu; women-environmental whistleblowers on the coast of Liberia that assist the government in the collection of meteorological data to forecast the weather, acting as an early-warning system for storms and reporting environmental offenses; a carbon-footprint program run by community women and poetry singers in temples in Jordan and Nepal that communicate climate change messages. These are just a few innovative examples included in the book.
The Art of Implementation: Gender Strategies Transforming National and Regional Climate Change Decision Making focuses on the development of climate change and gender action plans—steps to be taken by women to adapt to climate change and minimize its impact. The publication includes a synthesis of strategies and action plans developed by the IUCN Global Gender Office on behalf of the Global Gender and Climate Alliance (GGCA) in Mozambique, Jordan, Egypt, Tanzania, Nepal, Haiti, Panama, Costa Rica, Liberia, the Arab League of States and the Central American Region. It also outlines the methodology used by IUCN.
"A critical step in the development of these action plans is the need to anchor global agreements within national contexts so as to take action on climate change at the local and national level, whilst harnessing the power of women in the process," says Lorena Aguilar, IUCN's Senior Global Gender Adviser. "The strategies and action plans represent a country's intention to empower and respond to the needs of the often invisible 'other half' of the population in the context of climate change. They link national and global policy in a concrete manner, communicate the importance of gender in climate action and frame women as agents of change—and not merely as a 'vulnerable' group."
The book outlines actions designed to adapt to climate change and minimize its impact that can be taken by women and other players in a variety of sectors covering topics as diverse as agriculture and food security, forests and REDD+, water, energy, health, urbanization, integrated coastal management, waste management, tourism, land use and disaster risk management. Each section also includes clear objectives, actions and indicators and identifies the specific institutions responsible for their implementation and delivery.
The action plans provide a comprehensive framework for the development of projects and their implementation, which has been agreed on by governments, UN institutions, contributing country partners, academia, the private sector and civil society, among others.
"Climate change will undermine the very foundation of socioeconomic development and will increase inequality and poverty," says Tarja Halonen, Former President of Finland and main funding partner to the project. "It will have a serious impact on the livelihoods of poor women in developing countries, as the increasing droughts and storms will affect agriculture and water resources, which are often the responsibility of women."
Until recently, policy responses at the global or national level did not reflect this reality. For more than twenty years, gender equality was absent from the United Nations Framework Convention on Climate Change (UNFCCC) and in decision-making by its Conference of the Parties and Subsidiary Bodies. Few National Adaptation Programs of Action (NAPAs) or national communications submitted by Parties to the UNFCCC addressed gender issues in a comprehensive manner, and some did not mention gender considerations at all.
Following several years of advocacy, capacity building, and building awareness, governments have now agreed multilaterally that gender equality is a key component in achieving climate change goals. Since 2008, more than 60 official gender references have entered the UNFCCC negotiation text, and the final outcomes of the Cancun (2010) and Durban (2011) conferences included eight and seventeen references to gender, respectively.
With these global mandates in place, the urgent next step is to turn them into action and determine how to design climate change policies that address these issues.
Visit EcoWatch's CLIMATE CHANGE page for more related news on this topic.