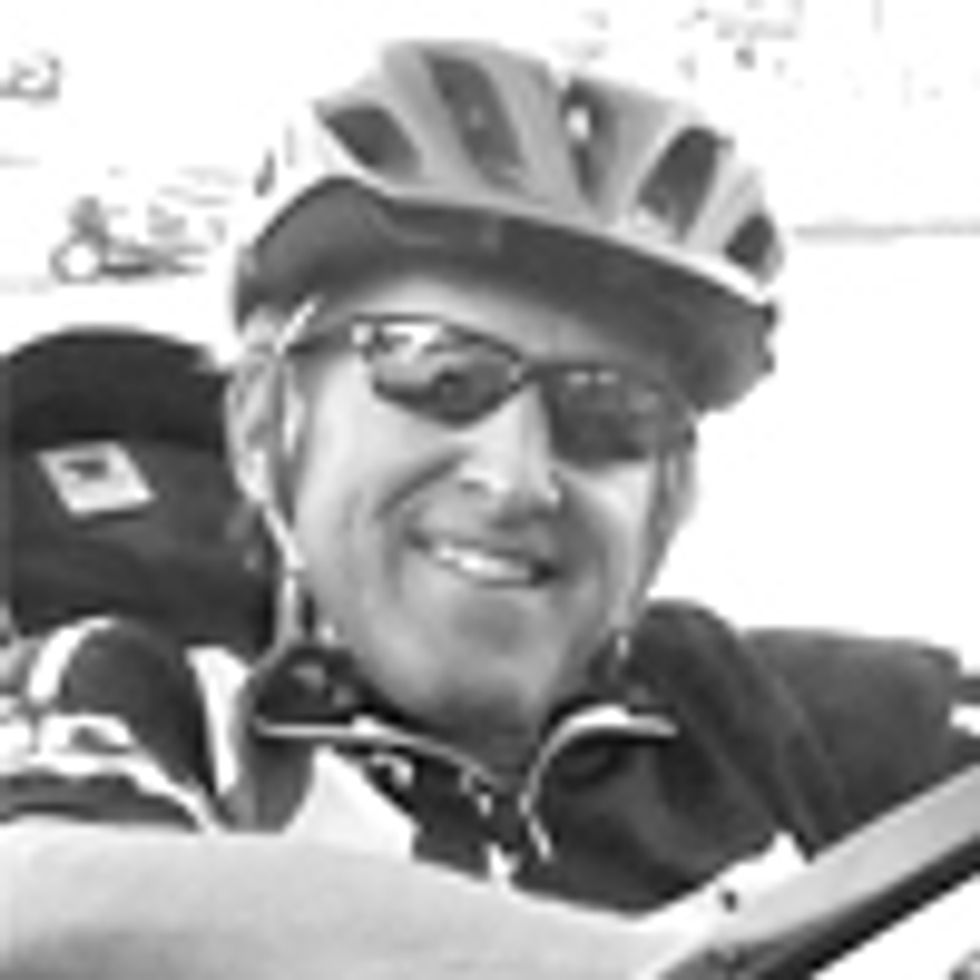 "Those that fail to learn from history, are doomed to repeat it."  – Winston Churchill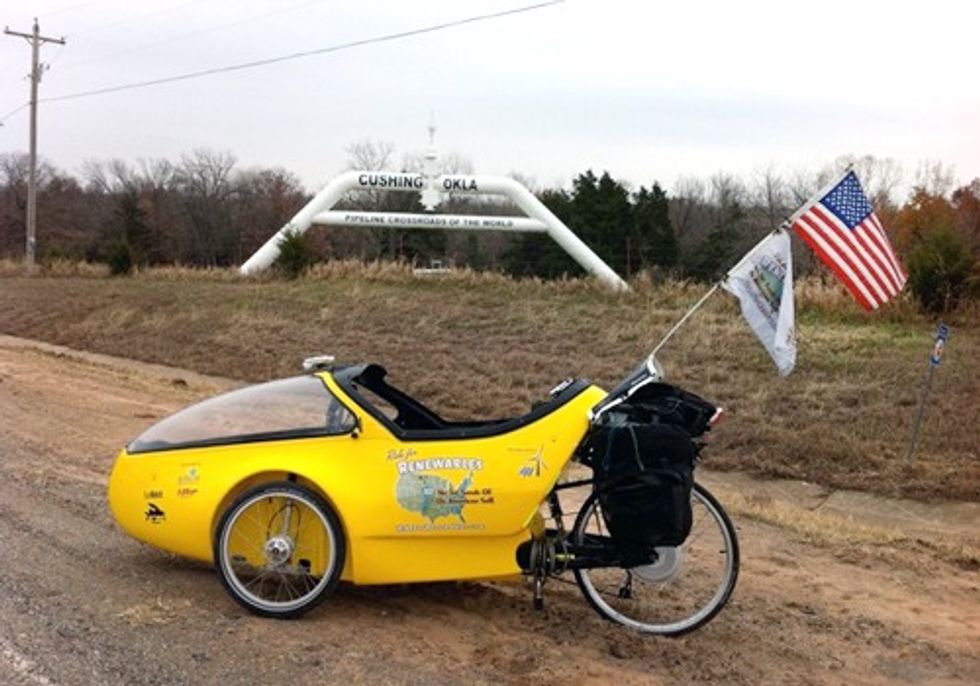 It is time to acknowledge what has long been obvious: President Obama wants Keystone XL built. He won't tell us this until after Election Day, for fear of alienating his Democratic base, but his actions speak for themselves. The President's high profile visit to Cushing, OK a week ago today to expedite construction of the pipeline's southern leg ("Keystone Lite") only further exposes his true intentions, which are as transparent as the Obama camp's attempt to change the channel by renaming it the "Cushing pipeline." Governor Romney, who mistakenly assumes Republican voters don't care, at least tells us he would approve the toxic tar sands pipeline on "day one" of his presidency.
Both candidates fail to grasp the depth of revulsion this un-American, gas price raising, job threatening, land grabbing, water polluting, export pipeline has generated in the six Great Plains states it would cross. For many of the front line farmers, ranchers and tribal community members I had the honor of meeting on my 2,150-mile "Tour of Resistance" last fall, Keystone XL is not an abstract game of political football, but a matter of deathly importance. More than a few are ready to lay in front of the bulldozers to keep this toxic pipeline off their land. In Pine Ridge, South Dakota, home of the Oglala Sioux Tribe, the peaceful resistance has already begun.
How did we get to this point and what have we learned to strengthen us for the fight to come? Recent history provides the lessons.
My personal involvement began last winter and spring, when after first learning about Keystone XL, I shared my plans to ride the pipeline route with environmental groups leading the fight against it. That summer, a group of prominent climate activists led by Bill McKibben invited people to Washington, DC for a mass show of civil resistance against Keystone XL. There were 1,253 people that responded by getting arrested in front of the White House, but it was actor/activist Daryl Hannah's high-profile arrest that turned Keystone into a household word. The following day, Al Gore endorsed the protest and Nebraska's Republican Governor went on record opposing the proposed route through Nebraska. Nine Nobel Peace Prize laureates, including the Dalai Lama, soon followed suit by weighing in against Keystone XL. Activists began hounding Obama at public appearances around the country, with Vice President of Oglala Lakota Nation Tom Poor Bear the first person to spur the President to address Keystone XL publicly. A subsequent call to action by Bill's group resulted in 12,000 people encircling the White House in early November.
Under excruciating pressure to deny TransCanada's presidential permit, Obama pulled a fast one by announcing he was delaying a decision on Keystone XL until after the 2012 election. My reaction was to label it an act of political cowardice. Others similarly saw through the political ploy, including eco-visionary, Paul Hawken, who called the move "dangerous." But most of the well-intentioned environmental movement embraced the false victory, showering the President with praise for his "courage" and "leadership." Keystone XL was prematurely declared dead and actions planned at Obama campaign offices in 50 states were called off. Front line pipeline fighters felt like the rug had been pulled out from under them.
Lesson #1: When you have your opponent staggered and against the ropes, you don't back off, you keep on coming until you've landed the knock out punch.
Then in January, backed into a corner by congressional Republicans, the President announced he was denying TransCanada's permit, which sounded pretty good until you got to paragraph two of the White House Statement, where he offered to partner with TransCanada on the southern (OK-TX) leg of Keystone XL. Calls for Obama to be taken to task for this subterfuge were largely ignored, while most of the environmental movement did another victory dance, again declaring Keystone XL dead. This despite the President's own written words to the contrary and an administration that never stopped publicly telegraphing its support for the tar sands project. Their ploy to break the project up into bite-sized pieces had worked like a charm. This time, it was landowners in Texas and Oklahoma feeling like collateral damage for Obama's reelection campaign.
Lesson #2: When the President of the United States tells you he supports building a leg of Keystone XL, take him at his word, and respond accordingly.
Since then, Republicans in Congress have been scheming to revive Keystone in a way that will damage President Obama politically. At the same time, congressional Democratic leaders like Senate Majority Leader Harry Reid (D-NV) and House Democratic Whip, Steny Hoyer (D-MD), inch closer to supporting Keystone XL, while others like U.S. Senator Clair McCaskill (D-MO) and former president Bill Clinton embrace it outright. The congressional tar sands bandwagon recently grew larger when 11 Democratic Senators backed a GOP provision to fast-track construction of Keystone XL. To their credit, the environmental movement has rallied valiantly to beat back each new legislative assault, but they keep losing ground to Democrats. A movement that rarely misses an opportunity to criticize Republicans for fronting for Big Oil fails to treat well-oiled Democrats, including President Obama, the same at it's own peril.
Lesson #3: Partisanship, whether real or perceived, is toxic to building winning social movements.
We are not winning. TransCanada is. Obama, ever the quintessential politician, has played the environmental movement masterfully. But this time, he may have gone too far. By making such a public spectacle of backing "Keystone Lite," Obama betrayed his lack of respect for the movement. Maybe he doesn't believe large numbers of patriotic Americans will lay their bodies on the line to nonviolently repel this foreign pipeline invasion, but he is about to find out.
The 2012 election demands an honest national conversation not only about Keystone XL, but about how we're going to keep the planet habitable for future generations. Climate-destabilizing emissions have already exceeded safe levels, and continue to rise, yet there is no serious response from government. To the contrary, leaders of both major political parties seem hell bent on accelerating the cycle of destruction by pushing for the development of even more fossil fuels. The refusal of Obama and Romney, in particular, to fight for the future of their children should alarm every parent in America. Instead of championing obvious solutions—like a U.S.-led green industrial revolution that will reenergize our economy and put millions of unemployed Americans back to work—both men compliantly do the bidding of Big Oil, while clinging to the dinosaur economy.
Early last year, an unprecedented coalition of environmental, religious and renewable energy leaders called for a "wartime-like mobilization" to cut carbon emissions 80 percent by 2020. We urged the President to declare a "global climate emergency" by publicly acknowledging the need to reduce carbon emissions to 350 parts per million in the atmosphere, the level top climate scientists say is safe for humanity. Along with nixing Keystone XL, I can think of no better demand to be made of whoever wants to occupy the Oval Office for the next four years.
EcoWatch Daily Newsletter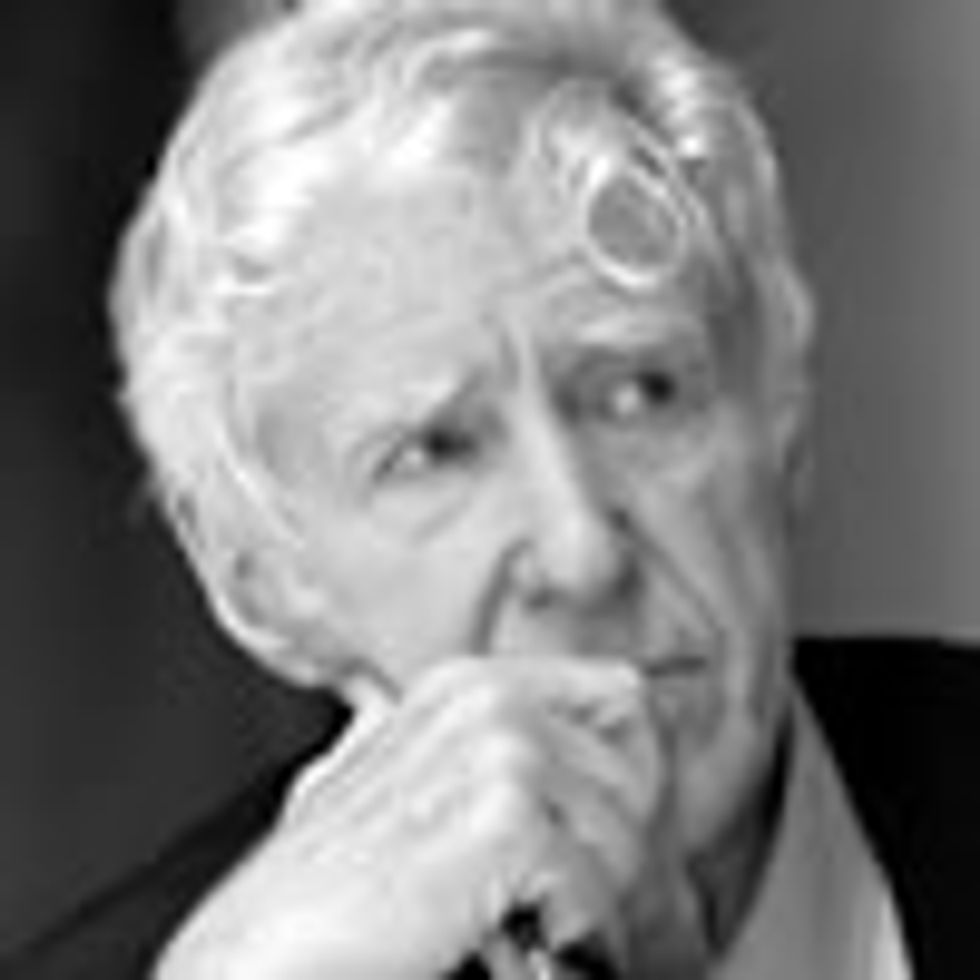 We distort reality when we omit the health and environmental costs associated with burning fossil fuels from their prices. When governments actually subsidize their use, they take the distortion even further. Worldwide, direct fossil fuel subsidies added up to roughly $500 billion in 2010. Of this, supports on the production side totaled some $100 billion. Supports for consumption exceeded $400 billion, with $193 billion for oil, $91 billion for natural gas, $3 billion for coal and $122 billion spent subsidizing the use of fossil fuel-generated electricity. All together, governments are shelling out nearly $1.4 billion per day to further destabilize the earth's climate.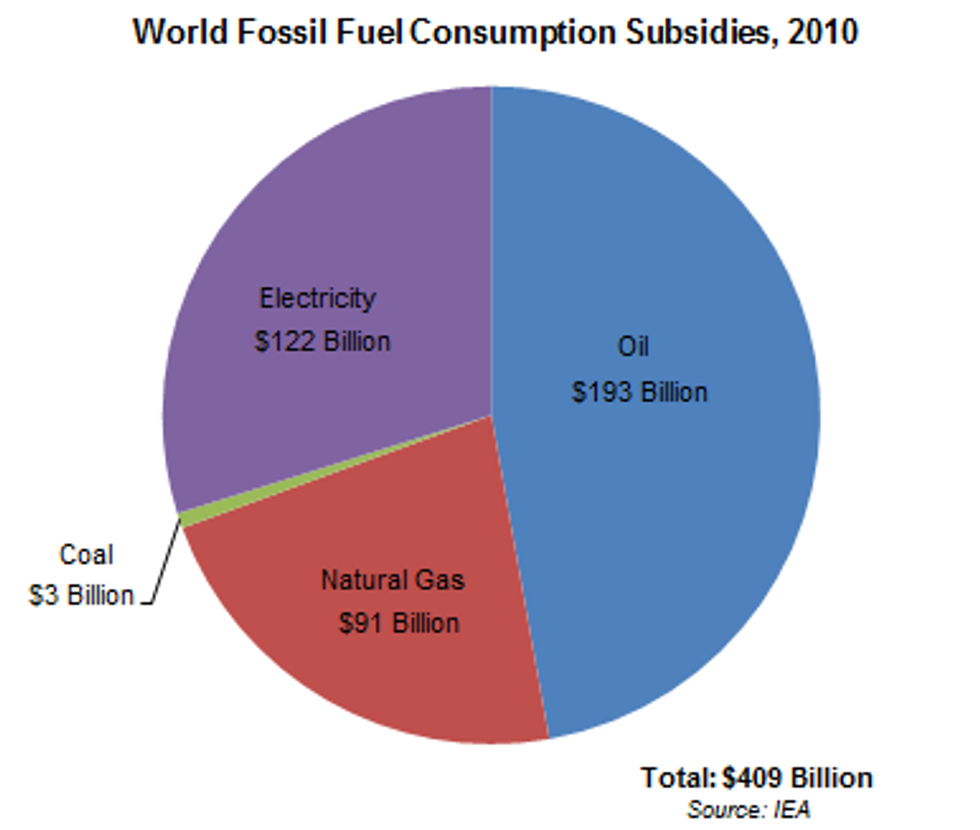 The government of Iran spent the most on promoting fossil fuel consumption in 2010, doling out $81 billion in subsidies. This equaled more than 20 percent of the country's gross domestic product. Saudi Arabia was a distant second at $44 billion. Rounding out the top five were Russia ($39 billion), India ($22 billion) and China ($21 billion).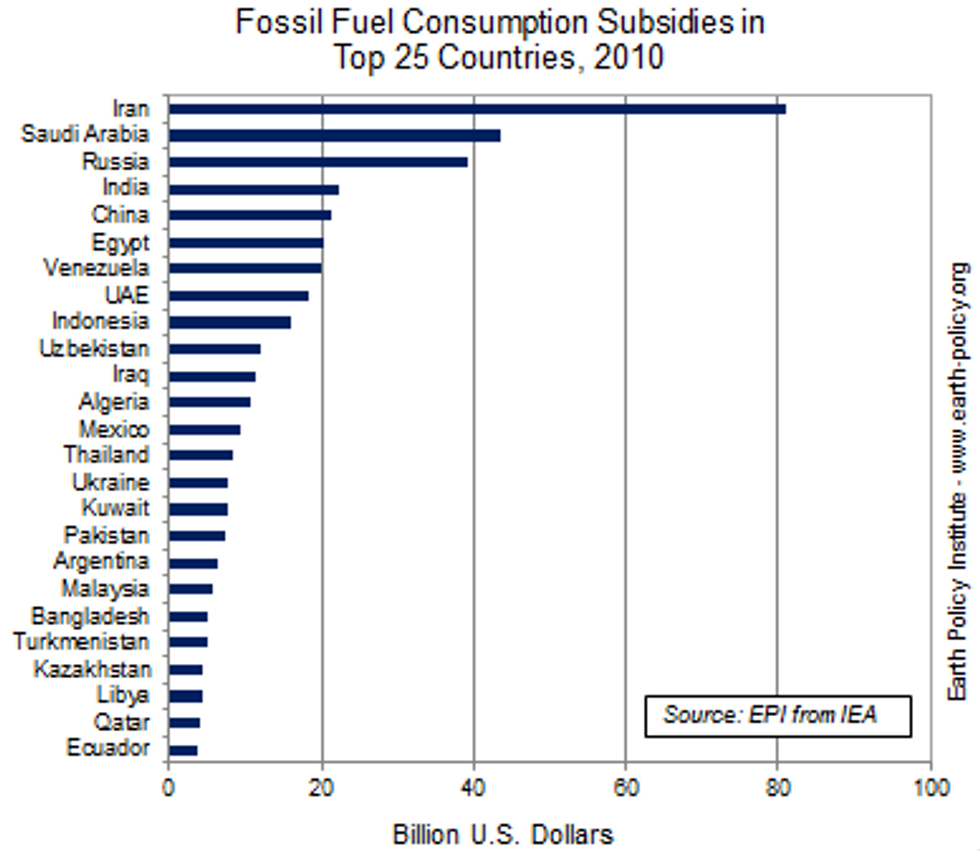 Kuwait's fossil fuel subsidies were highest on a per capita basis, with $2,800 spent per person. The United Arab Emirates and Qatar followed, each spending close to $2,500 per person.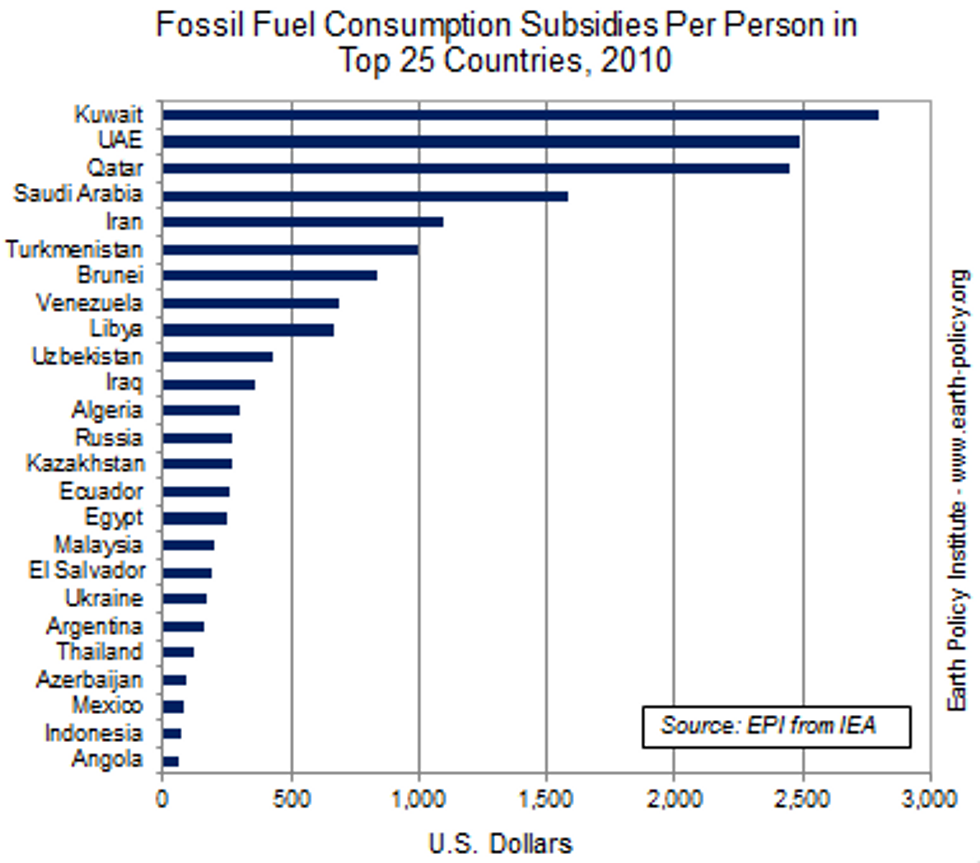 Carbon emissions could be cut in scores of countries by simply eliminating fossil fuel subsidies. Some countries are already doing this. Belgium, France and Japan have phased out all subsidies for coal, for example. As oil prices have climbed, a number of countries that held fuel prices well below world market prices have greatly reduced or eliminated their motor fuel subsidies because of the heavy fiscal cost. Among those reducing subsidies are China and Indonesia. Even Iran, which was pricing gasoline at one fifth its market price, dramatically reduced its gasoline subsidies in December 2010 as part of broader energy subsidy reforms.
In contrast to the $500 billion in fossil fuel supports in 2010, renewable energy received just $66 billion in subsidies—two thirds for electricity generation from wind, biomass and other sources, and one third for biofuels. Not only do fossil fuel subsidies dwarf those for renewables today, but a long legacy of governments propping up oil, coal and natural gas has resulted in a very uneven energy playing field.
A world facing economically disruptive climate change can no longer justify subsidies to expand the burning of coal and oil. The International Energy Agency projects that a phaseout of oil consumption subsidies by 2020 would cut oil use by 3.7 million barrels per day in that year. Eliminating all fossil fuel consumption subsidies by 2020 would cut global carbon emissions by nearly 5 percent while reducing government debt. Shifting subsidies to the development of climate-benign energy sources such as wind, solar and geothermal power will help stabilize the earth's climate.
--------
This data highlight is adapted from World on the Edge by Lester R. Brown. For more data and discussion, see the full book at www.earth-policy.org.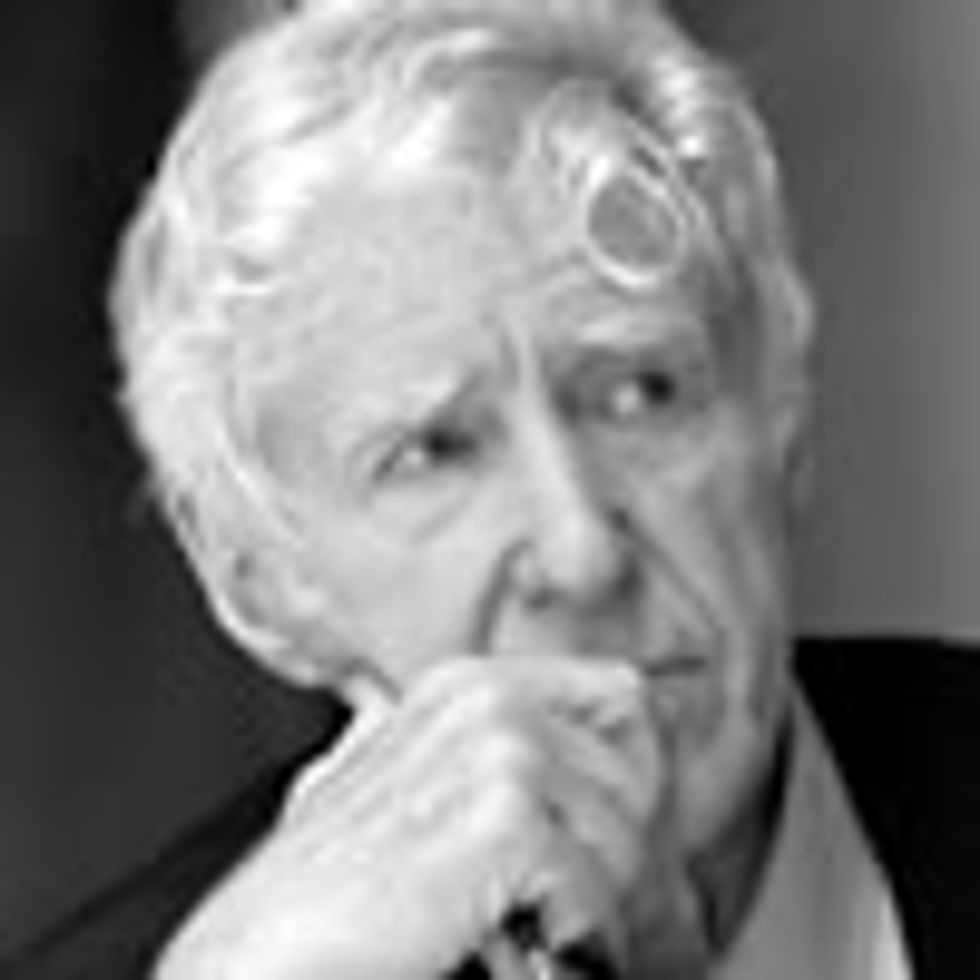 The pace of solar energy development is accelerating as the installation of rooftop solar water heaters takes off. Unlike solar photovoltaic (PV) panels that convert solar radiation into electricity, these "solar thermal collectors" use the sun's energy to heat water, space or both.
China had an estimated 168 million square meters (1.8 billion square feet) of rooftop solar thermal collectors installed by the end of 2010—nearly two thirds of the world total. This is equivalent to 118,000 thermal megawatts of capacity, enough to supply 112 million Chinese households with hot water. With some 5,000 Chinese companies manufacturing these devices, this relatively simple low-cost technology has leapfrogged into villages that do not yet have electricity. For as little as $200, villagers can install a rooftop solar collector and take their first hot shower. This technology is sweeping China like wildfire, already approaching market saturation in some communities. Beijing's goal is to reach 300 million square meters of rooftop solar water heating capacity across the country by 2020, a goal it is likely to exceed.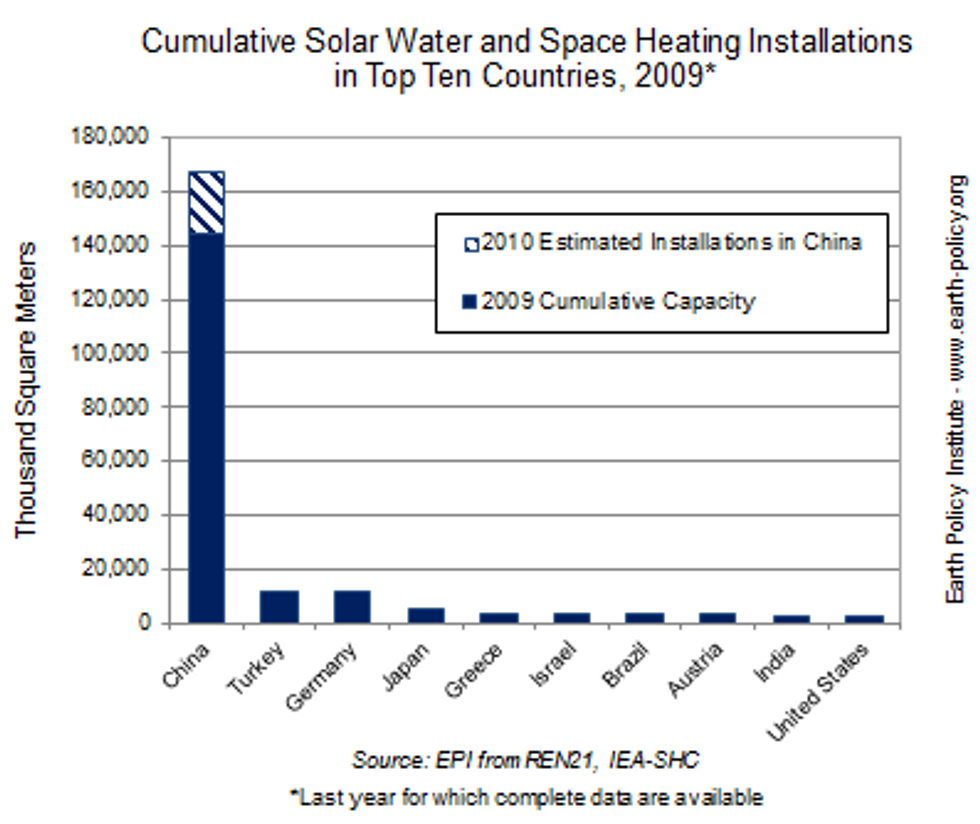 Other developing countries such as India and Brazil may also soon see millions of households turning to this inexpensive water heating technology. Once the initial installment cost of rooftop solar water heaters is paid back, the hot water is essentially free.
In Europe, where energy costs are relatively high, rooftop solar water heaters are also spreading fast. In Austria, 15 percent of all households now rely on them for hot water. Germany is also forging ahead. Some 2 million Germans are now living in homes with rooftop solar systems. Roughly 30 percent of the installed solar thermal capacity in these two countries consists of "solar combi-systems" that are engineered to heat both water and space.
The U.S. rooftop solar water heating industry has historically concentrated on a niche market—selling and marketing more than 9 million square meters of solar water heaters for swimming pools between 1995 and 2005. Given this base, the industry was poised to mass-market residential solar water and space heating systems when federal tax credits were introduced in 2006. Led by Hawaii, California and Florida, annual U.S. installations of these systems have more than tripled since 2005.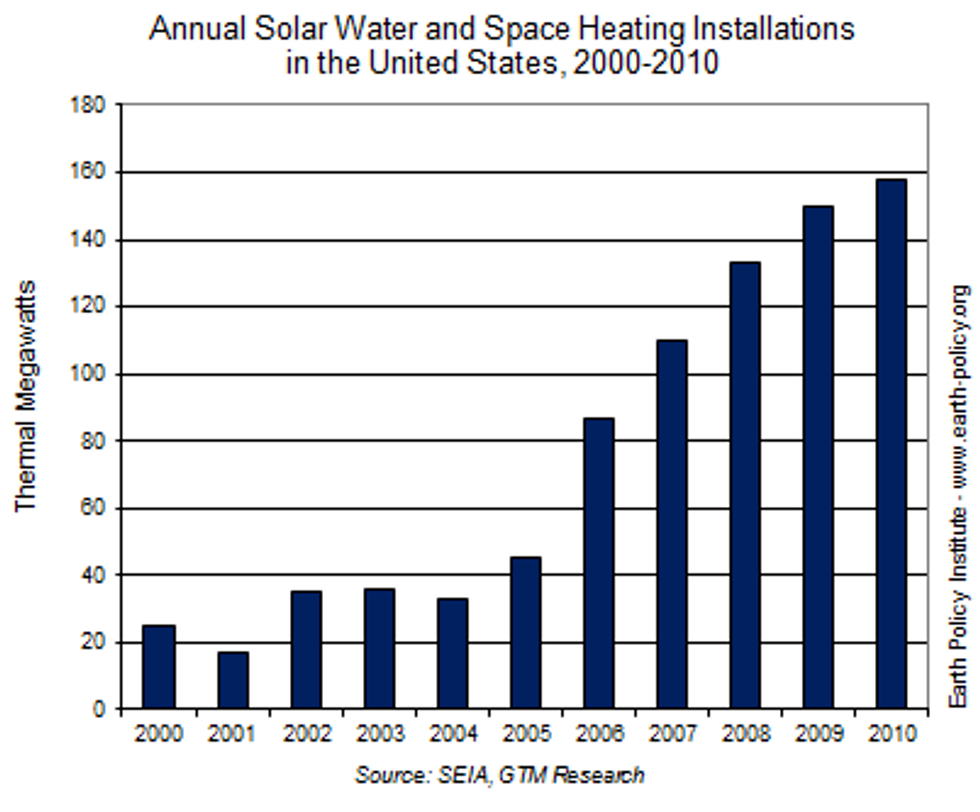 Despite the recent growth in U.S. installations, the country ranks 36th in installed capacity relative to its population, with just 0.01 square meters installed per person. Cyprus, on the other hand, currently leads the world in solar water heater area on a per capita basis, with 0.79 square meters per person. Israel ranks second with 0.56 square meters per person.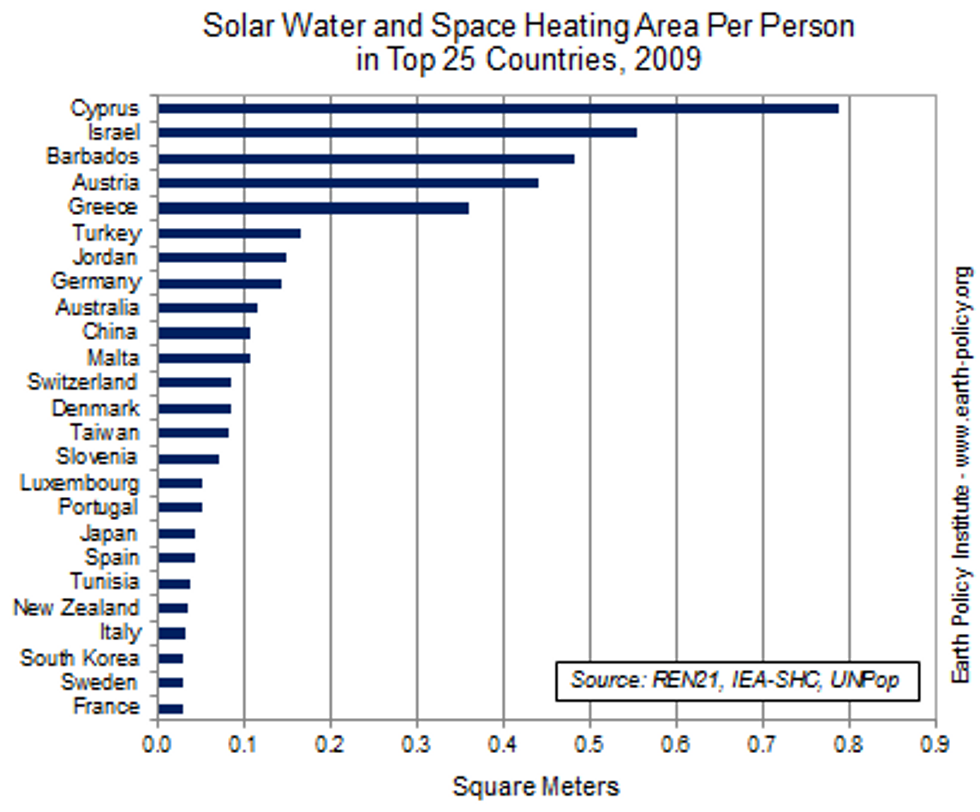 Inspired by the rapid adoption of rooftop water and space heaters in Europe in recent years, the European Solar Thermal Industry Federation (ESTIF) has established an ambitious goal of one square meter of rooftop collector for every European by 2020. Over the long term, ESTIF estimates that solar thermal has the potential to meet most of the region's low-temperature heating needs.
Numerous policies promoting renewable energy use for water and space heating exist around the world. Some governments have gone a step further, passing laws requiring solar water heaters in new construction. For a quarter-century, Israel was the only country to have a national mandate for solar hot water in buildings. Then in 2006, Spain began requiring that solar collectors be installed on all new or renovated buildings. Portugal followed quickly with its own mandate. In the U.S., Hawaii now requires that all new single-family homes have them.
Solar water and space heaters in Europe and China have a strong economic appeal, often paying for themselves from electricity savings in less than 10 years. With the cost of rooftop heating systems declining and more countries implementing favorable policies, the shift from fossil fuels to solar energy for heating water and space will likely accelerate.
For more data and information on the rapid growth of renewable energy worldwide, see World on the Edge by Lester R. Brown at www.earth-policy.org.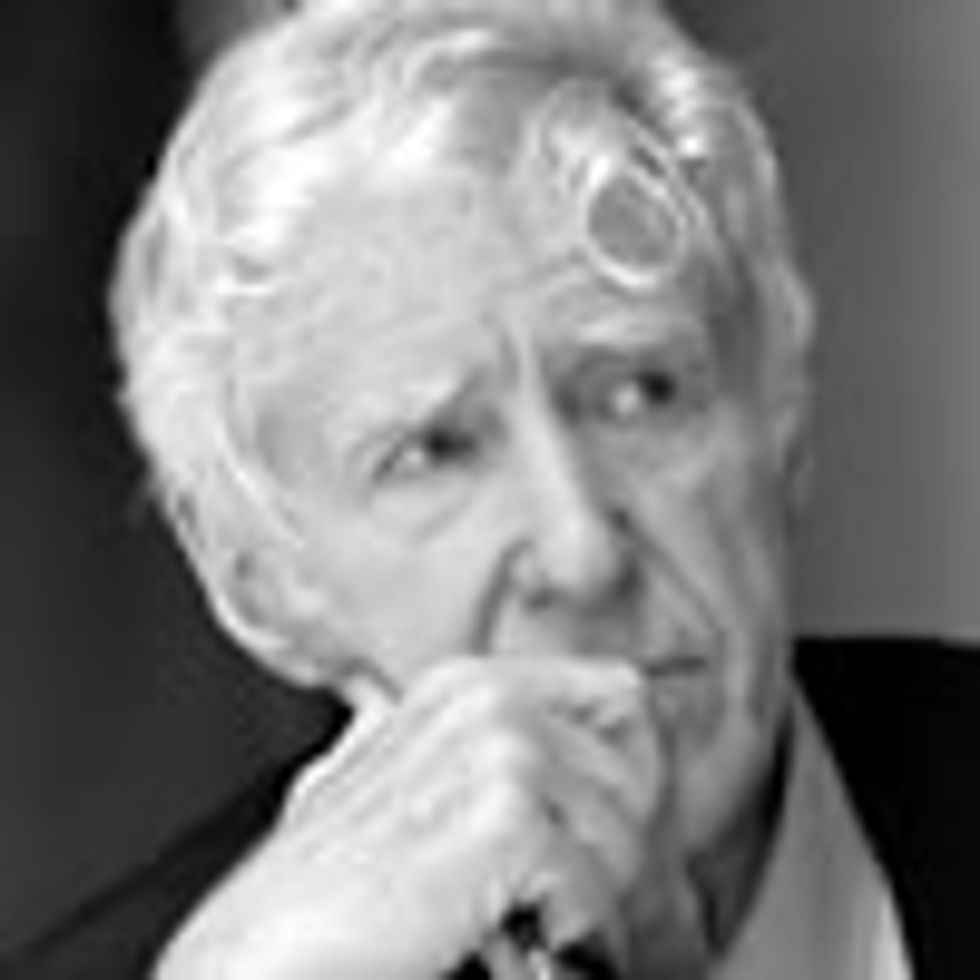 World consumption of animal protein is everywhere on the rise. Meat consumption increased from 44 million tons in 1950 to 284 million tons in 2009, more than doubling annual consumption per person to more than 90 pounds. The rise in consumption of milk and eggs is equally dramatic. Wherever incomes rise, so does meat consumption.
As the oceanic fish catch and rangeland beef production have both leveled off, the world has shifted to grain-based production of animal protein to expand output. With some 35 percent of the world grain harvest (760 million tons) used to produce animal protein, meat consumption has a large impact on grain consumption and therefore global food security.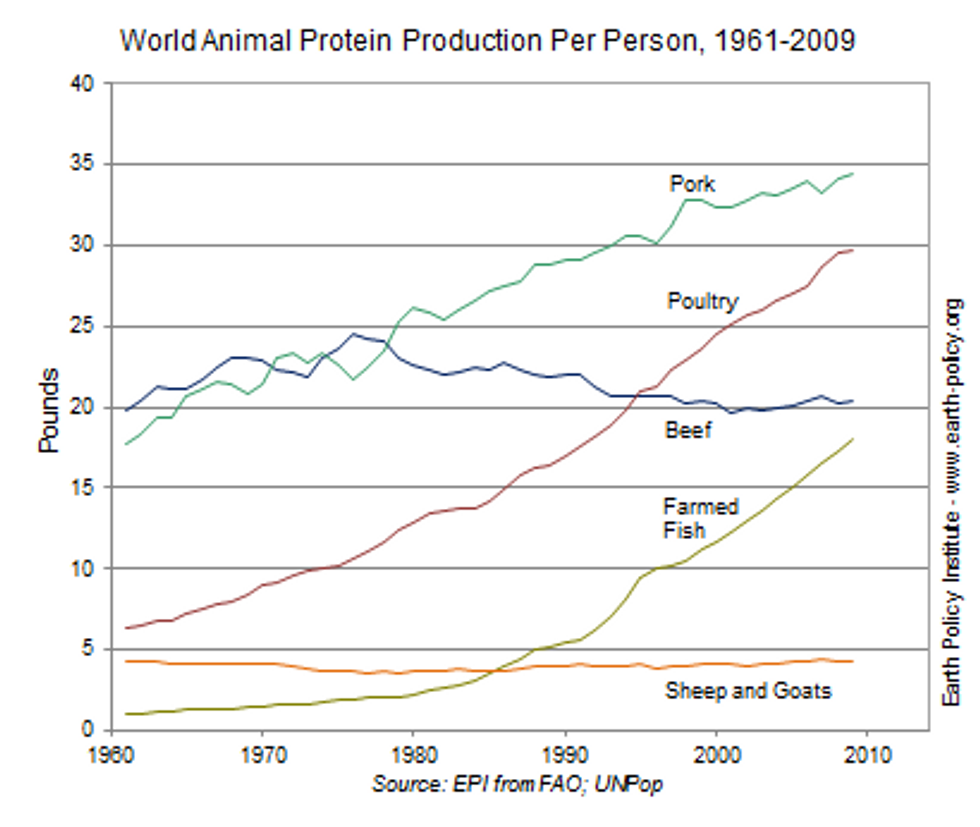 The efficiency with which various animals convert grain into protein varies widely. Grain-fed beef is one of the least efficient forms of animal protein, taking roughly 7 pounds of grain to produce a 1-pound gain in live weight. Global beef production, most of which comes from rangelands, has grown by about 1 percent a year since 1990.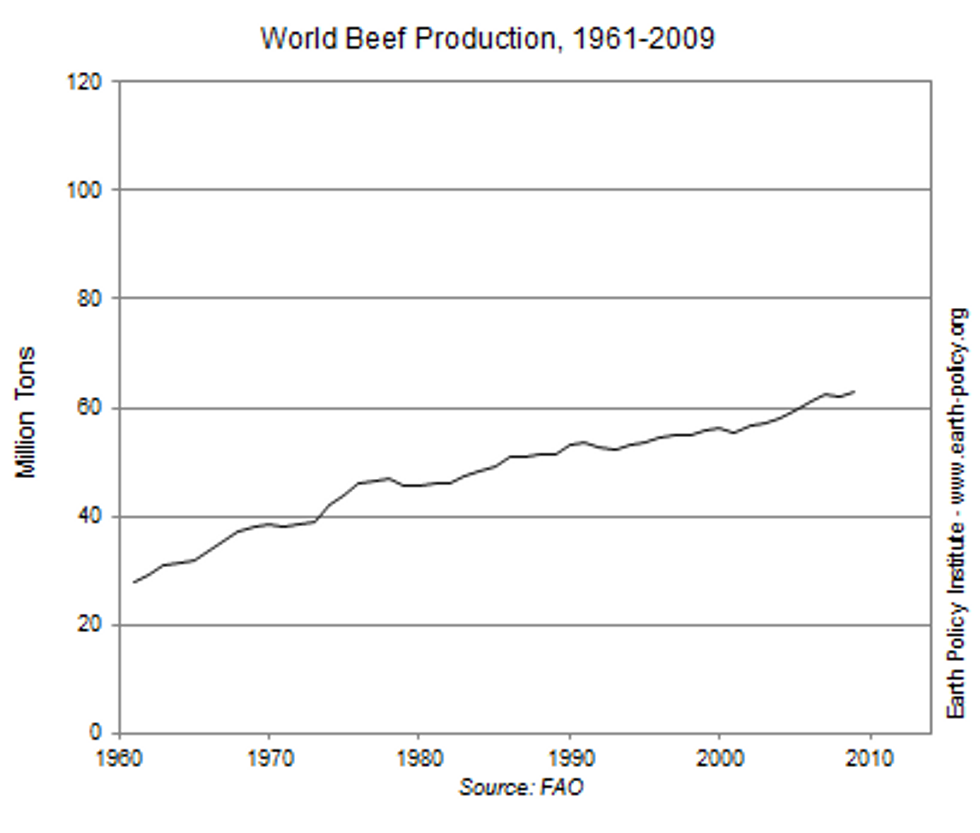 Pork production has grown by 2 percent annually since 1990. World pork production, half of it now in China, overtook beef production in 1979 and has widened the lead since then. It requires more than 3 pounds of grain to produce each 1-pound gain in live weight.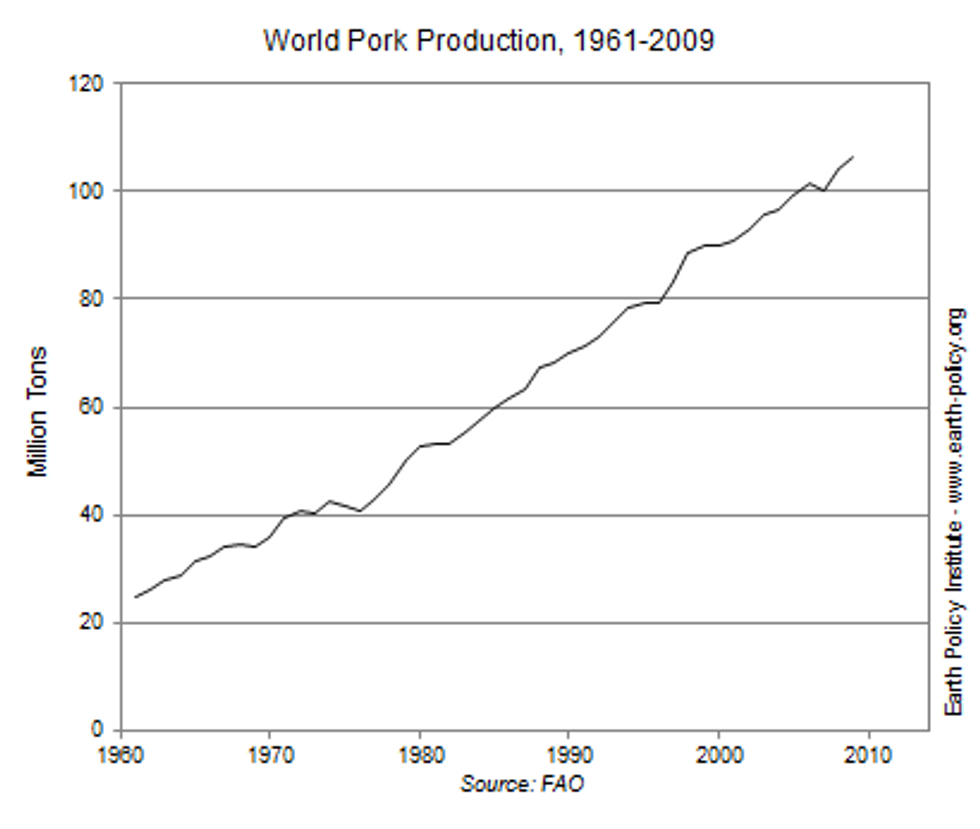 Poultry production has grown even more quickly: 4 percent annually in recent decades. It eclipsed beef in 1995, moving into second place behind pork. Poultry is even more efficient, requiring just more than 2 pounds of grain to produce a 1-pound gain in live weight.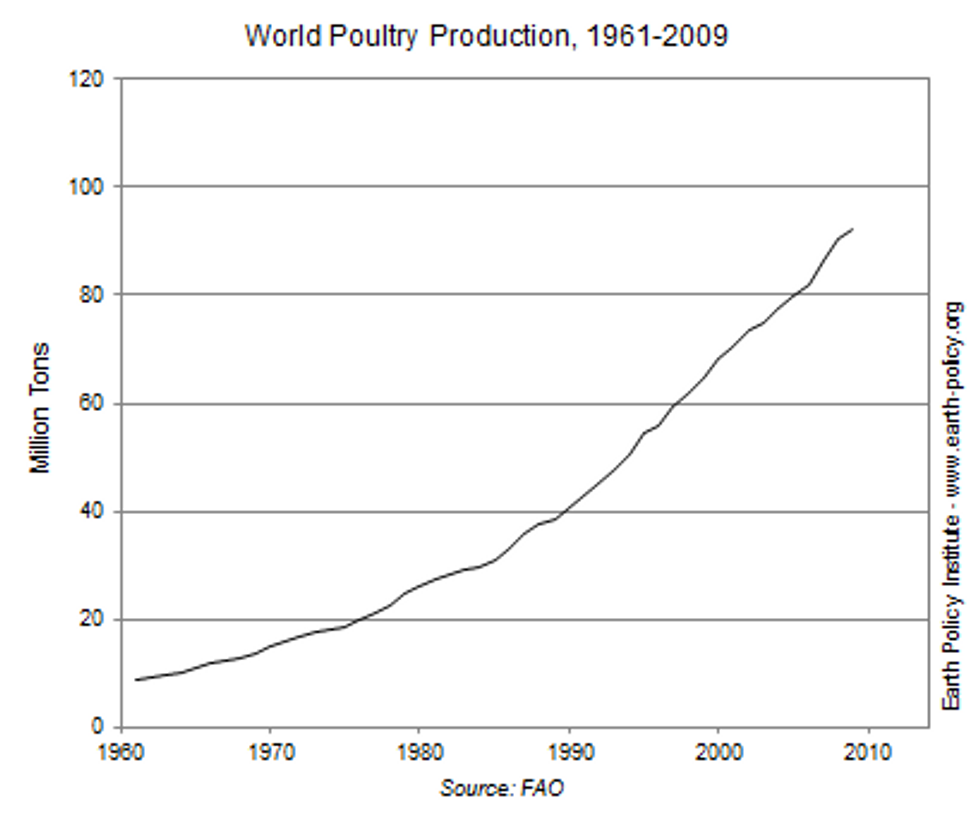 Fish farm output may also soon overtake beef production. In fact, aquaculture has been the fastest-growing source of animal protein since 1990, expanding from 13 million tons to 56 million tons in 2009, or 8 percent a year. For herbivorous species of farmed fish (such as carp, tilapia and catfish), less than 2 pounds of grain is required to produce a 1-pound gain of live weight. Although farming carnivorous fish such as salmon can be environmentally disruptive, worldwide aquaculture is dominated by herbivorous species. This represents great growth potential for efficient animal protein production.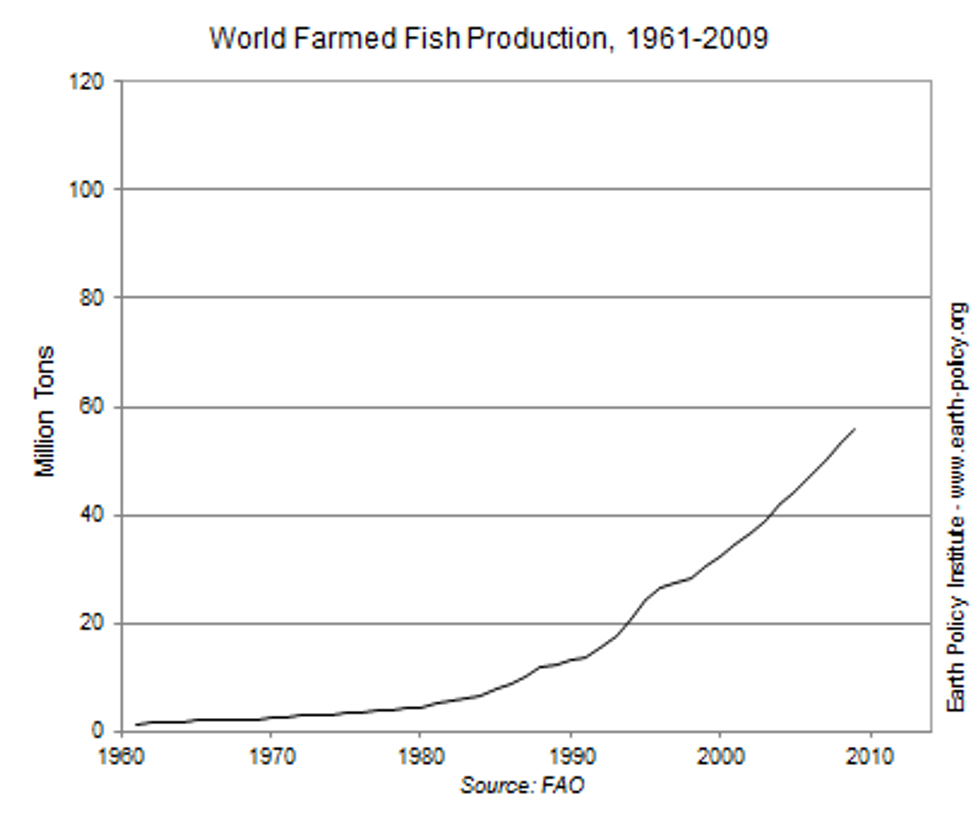 There are a number of ways to make animal protein production more efficient. Combining protein-rich soybean meal with grain dramatically boosts the efficiency with which grain is converted into animal protein, sometimes nearly doubling it. Virtually the entire world, including the three largest meat producers—China, the U.S. and Brazil—now relies heavily on soybean meal as a protein supplement in feed rations. Promising new livestock and dairy systems based on roughage rather than grain, such as India's cooperative dairy model, boost both land and water productivity.
Achieving food security depends on changes on the demand side of the equation as well as the supply side. Along with moving to smaller families to curb population growth, this means cutting individual consumption by eating less grain-intensive livestock products and eliminating waste in the food system. An American living high on the food chain with a diet heavy in grain-intensive livestock products, including red meat, consumes twice as much grain as the average Italian and nearly four times as much as the average Indian. By adopting a Mediterranean diet, Americans can cut their grain footprint roughly in half, improving health while increasing global food security.
--------
This data highlight is adapted from World on the Edge by Lester R. Brown. For more data and discussion, see the full book at www.earth-policy.org.