Julia Olson, executive director and chief legal counsel at Our Children's Trust, stands with some of the youth plaintiffs from the landmark lawsuit Juliana v. United States. Photo credit: Robin Loznak
The Trump administration filed a motion Tuesday seeking an appeal to the Ninth Circuit Court of Appeals on a federal judge's Nov. 10, 2016 order in Juliana v. United States. The Trump administration also filed a motion to delay trial preparation until after its appeal is considered.
Kids Name Trump as Defendant in Landmark Climate Case https://t.co/ONB3XOIRo5

— Robert F. Kennedy Jr (@Robert F. Kennedy Jr)1486750403.0
Further, the Trump administration asked for expedited review of both motions, arguing the plaintiffs' Jan. 24 letter requesting the government to retain records relating to climate change and communications between the government and the fossil fuel industry was overly burdensome. The excerpt from the government's stay motion said:

"Plaintiffs … intend to seek discovery relating to virtually all of the federal government's activities relating to control of CO2 emissions ... Compounding the United States' burdens, Plaintiffs have indicated that their intended discovery has a temporal scope of more than sixty years ... Absent relief, there will most certainly be depositions of federal government fact witnesses ... that will explore the extraordinarily broad topic of climate change and the federal government's putative knowledge over the past seven decades."
Yet, in another complex case regarding the Deepwater Horizon oil spill and BP, the U.S. produced more than 17 million pages of documents from April to September of 2011. Plaintiffs maintain that their requests are limited, reasonable and aimed at getting to trial this fall.
Appeals typically do not occur until a trial court has issued final rulings following the presentation of evidence, but the Trump administration is asking federal Magistrate Judge Coffin to exercise his discretion to allow the case to proceed to the Court of Appeals before final judgment.
Attorneys representing fossil fuel industry defendants are expected to file papers supporting the government's motions on Friday.
"The Trump administration argues that this is a big case and so the burdens of preserving government documents warrant an expedited review," Julia Olson, plaintiffs' counsel and executive director of Our Children's Trust, said. "They're right. It is a big case. We have a classic example of the government's misplaced priorities: They prefer to minimize their procedural obligations of not destroying government documents over the urgency of not destroying our climate system for our youth plaintiffs and all future generations?"
In the government's answer to the youth plaintiffs' complaint, they admitted that "the use of fossil fuels is a major source of [carbon dioxide] emissions, placing our nation on an increasingly costly, insecure and environmentally dangerous path."
The case was brought by 21 young plaintiffs who argue that their constitutional and public trust rights are being violated by the government's creation of climate danger. Judge Ann Aiken's November order denied motions to dismiss brought by both the Obama administration and fossil fuel industry defendants.
"This request for appeal is an attempt to cover up the federal government's long-running collusion with the fossil fuel industry," Alex Loznak, 20-year-old plaintiff and Columbia University student, said. "My generation cannot wait for the truth to be revealed. These documents must be uncovered with all deliberate speed, so that our trial can force federal action on climate change."
Victory for America's Youth: Federal Judge Rules Climate Lawsuit Can Proceed https://t.co/iXxiZvf5Nf @climatecouncil @energyaction

— EcoWatch (@EcoWatch)1478913606.0
Other pre-trial developments

During Wednesday's telephonic case management conference between attorneys for the parties and Magistrate Judge Thomas Coffin, the U.S. Department of Justice (DOJ) took the view that the Trump administration, will have the opportunity to use executive privilege to prevent the release of evidence in the possession of the National Archives and Records Administration (NARA).
DOJ attorneys said they recently informed the White House that NARA was in the process of gathering documents requested by the plaintiffs. It is the DOJ's view that former Presidents George H. W. Bush, Bill Clinton and George W. Bush, will have the opportunity to bar release of the records of their respective administrations, but President Trump will ultimately have the authority to bar release of any and all NARA records.
The next Juliana v. United States case management conference with Judge Coffin is scheduled for April 7 and will be telephonic.
Attorneys for youth plaintiffs are in the process of compiling a list of prospective witnesses to be deposed, including Secretary of State Rex Tillerson and expect to provide that list to defendants next week.
Youth Seek Testimony From Exxon's Rex Tillerson in Federal Climate Lawsuit https://t.co/c8kaz4lKkM @ClimateDesk @globalgreen

— EcoWatch (@EcoWatch)1483066833.0
Juliana v. United States is one of many related legal actions brought by youth in several states and countries, all supported by Our Children's Trust, seeking science-based action by governments to stabilize the climate system.

EcoWatch Daily Newsletter
Four of the country's largest chemical companies have been accused of selling billions of dollars worth of harmful isocyanate chemicals but intentionally concealing their dangers to consumers and the U.S. Environmental Protection Agency (EPA) over the past several decades.
BASF Corporation, Bayer Material Science LLC, Dow Chemical Company and Huntsman International LLC have been named in a False Claims Act (FCA) lawsuit brought by New York law firm Kasowitz, Benson, Torres & Friedman LLP on behalf of the U.S. government.

EcoWatch learned that the recently unsealed whistleblower lawsuit was served on the chemical companies on Wednesday. The lawsuit was originally filed under seal in federal court in Northern California.
Kasowitz brought this action on behalf of itself and the federal government to recover more than $90 billion in damages and penalties under the FCA, which imposes penalties for concealing obligations to the government.
According to a copy of the lawsuit seen by EcoWatch, "Each of these companies is separately liable to the United States Government for billions of dollars in civil reporting penalties, which continue to accumulate by tens of thousands of dollars daily, and for billions of dollars in similarly increasing breach of contract damages."

In the suit, the law firm said that the defendants manufacture and sell isocyanate chemicals such as methylene diphenyl diisocyanate (MDI), polymeric MDI (PMDI) and toluene diisocyanate (TDI). These raw materials make up polyurethane products such as liquid coatings, paints and adhesives; flexible foam used in mattresses and cushions; rigid foam used as insulation; and elastomers used to make automotive interiors.
Occupational Safety and Health Administration (OSHA) states that exposure to isocyanate can irritate the skin and mucous membranes, cause chest tightness and difficult breathing. Isocyanates also include compounds classified as potential human carcinogens and is known to cause cancer in animals.

As alleged in the complaint, the defendants, the isocyanate industry and the EPA have long known that inhalation of isocyanates, including MDI, PMDI and TDI, can cause harm to human health.

Kasowitz believes that the chemical giants obtained scientific evidence that their widely used isocyanate chemicals can cause serious health injuries in ways not known to the EPA or the public, but failed to disclose this information to the EPA, thereby breaching their obligations under the Toxic Substances Control Act.

"Between at least 1979 and 2003, each defendant obtained and developed discrete and separate items of scientific and medical information that TDI, MDI and PMDI can cause and had caused permanent respiratory injury in humans when inhaled at levels below applicable inhalation exposure limits (low-level inhalation)," the lawsuit states.

The lawsuit further states that "Each defendant also knew during this time period that a very small quantity of TDI, MDI or PMDI on the skin—as little as one drop or 50 microliters—could cause respiratory injury in humans.

"Defendants knew that this information reasonably supported the conclusion that TDI, MDI and PMDI presented a substantial risk of injury to health, that the EPA was not adequately informed of that information, and that TSCA therefore required that they (each defendant) immediately report the substantial risk information to the EPA."

According to Andy Davenport of Kasowitz, "The defendants' cover-up implicates major human health concerns. Thankfully, the whistleblower law allows us to assist the federal government in holding these companies responsible for their actions while we alert regulators and the public to the serious undisclosed hazards of these chemicals."

waterlust.com / @tulasendlesssummer_sierra .
Each product featured here has been independently selected by the writer. If you make a purchase using the links included, we may earn commission.
The bright patterns and recognizable designs of Waterlust's activewear aren't just for show. In fact, they're meant to promote the conversation around sustainability and give back to the ocean science and conservation community.
Each design is paired with a research lab, nonprofit, or education organization that has high intellectual merit and the potential to move the needle in its respective field. For each product sold, Waterlust donates 10% of profits to these conservation partners.
Eye-Catching Designs Made from Recycled Plastic Bottles
waterlust.com / @abamabam
The company sells a range of eco-friendly items like leggings, rash guards, and board shorts that are made using recycled post-consumer plastic bottles. There are currently 16 causes represented by distinct marine-life patterns, from whale shark research and invasive lionfish removal to sockeye salmon monitoring and abalone restoration.

One such organization is Get Inspired, a nonprofit that specializes in ocean restoration and environmental education. Get Inspired founder, marine biologist Nancy Caruso, says supporting on-the-ground efforts is one thing that sets Waterlust apart, like their apparel line that supports Get Inspired abalone restoration programs.
"All of us [conservation partners] are doing something," Caruso said. "We're not putting up exhibits and talking about it — although that is important — we're in the field."
Waterlust not only helps its conservation partners financially so they can continue their important work. It also helps them get the word out about what they're doing, whether that's through social media spotlights, photo and video projects, or the informative note card that comes with each piece of apparel.
"They're doing their part for sure, pushing the information out across all of their channels, and I think that's what makes them so interesting," Caruso said.
And then there are the clothes, which speak for themselves.
Advocate Apparel to Start Conversations About Conservation
waterlust.com / @oceanraysphotography
Waterlust's concept of "advocate apparel" encourages people to see getting dressed every day as an opportunity to not only express their individuality and style, but also to advance the conversation around marine science. By infusing science into clothing, people can visually represent species and ecosystems in need of advocacy — something that, more often than not, leads to a teaching moment.

"When people wear Waterlust gear, it's just a matter of time before somebody asks them about the bright, funky designs," said Waterlust's CEO, Patrick Rynne. "That moment is incredibly special, because it creates an intimate opportunity for the wearer to share what they've learned with another."
The idea for the company came to Rynne when he was a Ph.D. student in marine science.
"I was surrounded by incredible people that were discovering fascinating things but noticed that often their work wasn't reaching the general public in creative and engaging ways," he said. "That seemed like a missed opportunity with big implications."
Waterlust initially focused on conventional media, like film and photography, to promote ocean science, but the team quickly realized engagement on social media didn't translate to action or even knowledge sharing offscreen.
Rynne also saw the "in one ear, out the other" issue in the classroom — if students didn't repeatedly engage with the topics they learned, they'd quickly forget them.
"We decided that if we truly wanted to achieve our goal of bringing science into people's lives and have it stick, it would need to be through a process that is frequently repeated, fun, and functional," Rynne said. "That's when we thought about clothing."
Support Marine Research and Sustainability in Style
To date, Waterlust has sold tens of thousands of pieces of apparel in over 100 countries, and the interactions its products have sparked have had clear implications for furthering science communication.
For Caruso alone, it's led to opportunities to share her abalone restoration methods with communities far and wide.
"It moves my small little world of what I'm doing here in Orange County, California, across the entire globe," she said. "That's one of the beautiful things about our partnership."
Check out all of the different eco-conscious apparel options available from Waterlust to help promote ocean conservation.
Melissa Smith is an avid writer, scuba diver, backpacker, and all-around outdoor enthusiast. She graduated from the University of Florida with degrees in journalism and sustainable studies. Before joining EcoWatch, Melissa worked as the managing editor of Scuba Diving magazine and the communications manager of The Ocean Agency, a non-profit that's featured in the Emmy award-winning documentary Chasing Coral.
Shenanigans at the front door of the U.S. Chamber of Commerce yesterday reveal that the Chamber has dropped its lawsuit against The Yes Men, the activist duo famous for their elaborate prime-time pranks against Dow Chemical, Chevron, World Trade Organization and other giant entities known for putting their profit margins before people and the planet.
The Yes Men went to the Chamber yesterday morning in attempts to convince the business front group not to drop the lawsuit. Here's some footage of the announcement and confusion over who does and doesn't work for the Chamber:
That's right. The Yes Men want to be sued by the U.S. Chamber of Commerce. According to their press release:
"Just as their case against us was finally heating up again, the Chamber decided to drop it," said former defendant Andy Bichlbaum of The Yes Men. "The Chamber knew this was our chance to challenge their silly claims and, since they claimed we had 'damaged' them, investigate the details of their finances through the discovery process. It's the height of rudeness to deprive us of this great opportunity."

"The Chamber's lawsuit represented the only time in 17 years that anyone has been stupid enough to sue us," said former defendant Mike Bonanno. "This was the chance of a lifetime, and we profoundly deplore the Chamber's about-face."
Apparently, revenge isn't a strong enough reason for the Chamber to to cough up information on their secret financial backers or their obstruction on solving the critical issue of global climate change, the issue which sparked the original Yes Men parody press event and ensuing lawsuit.
The Chamber sued The Yes Men in 2009 for holding a press conference at the National Press Club on the Chamber's behalf, announcing a reversal on the Chamber's efforts to block climate change legislation. The false event was interrupted by an actual Chamber official named Eric Wohlschlegal, who told attending press, "This guy is a fake! He's lying!" See this video:
The stunt threw the Chamber off balance as it had to clarify it would not stop obstructing national climate change policy. The following lawsuit was unprecedented for Yes Men hijinks. Even Dow Chemical didn't sue them, despite losing $2 billion worth of stock when Yes Man Andy Bichlbaum posed as a Dow official on a live BBC interview and took responsibility for the Bhopal chemical disaster—which Dow still won't own up to despite the death of 20,000 people).
Yes Lab has a summary of the announcement at the Chamber's front steps in Washington, DC, including a list of questions The Yes Men wish the lawsuit's discovery process could have answered:
Some of the things we could have asked in court had they not withdrawn their lawsuit:
PolluterWatch has more on the U.S. Chamber of Commerce and its anti-environmental practices.
Visit EcoWatch's CLIMATE CHANGE page for more related news on this topic.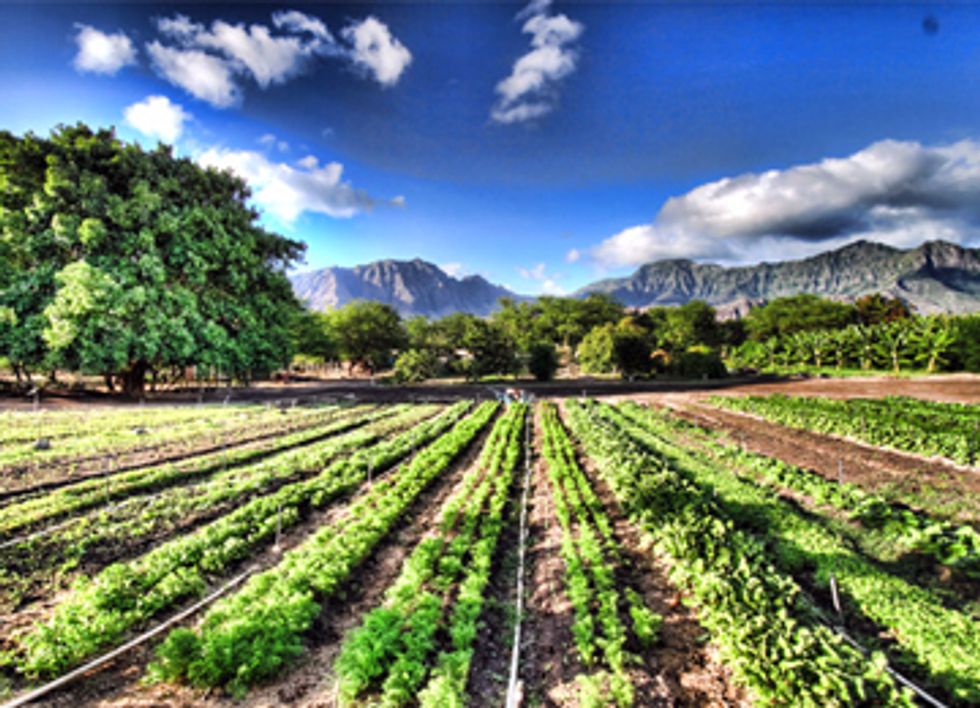 A three-judge panel at the Court of Appeals for the Federal Circuit ruled yesterday that a group of organic and otherwise non-genetically modified organism (GMO) farmer and seed company plaintiffs are not entitled to bring a lawsuit to protect themselves from Monsanto's transgenic seed patents "because Monsanto has made binding assurances that it will not 'take legal action against growers whose crops might inadvertently contain traces of Monsanto biotech genes (because, for example, some transgenic seed or pollen blew onto the grower's land).'"
 
In the ruling issued yesterday in the case Organic Seed Growers and Trade Association (OSGATA) et al. v. Monsanto, the Court of Appeals judges affirmed the Southern District of New York's previous decision that the plaintiffs did not present a sufficient controversy to warrant adjudication by the courts. However, it did so only because Monsanto made repeated commitments during the lawsuit to not sue farmers with "trace amounts" of contamination of crops containing their patented genes.
Plaintiffs' attorney, Dan Ravicher of the Public Patent Foundation (PUBPAT), views the decision as a partial victory. "Before this suit, the Organic Seed plaintiffs were forced to take expensive precautions and avoid full use of their land in order to not be falsely accused of patent infringement by Monsanto," said Ravicher. "The decision today means that the farmers did have the right to bring the suit to protect themselves, but now that Monsanto has bound itself to not suing the plaintiffs, the Court of Appeals believes the suit should not move forward."
The plaintiff farmers and seed companies began their legal battle in March of 2011, when they filed a complaint against agricultural giant Monsanto asking for a declaration that Monsanto's patents on genetically engineered seed were invalid or unenforceable. The plaintiffs were compelled to file the suit because Monsanto's patented seed can contaminate neighboring fields through various means including wind and insects, and the owners of those fields, such as plaintiffs, can then be sued by Monsanto for patent infringement.
 
The Organic Seed plaintiffs' complaint detailed Monsanto's abusive business and litigation tactics that have put several farmers and independent seed companies out of business. They also detailed Monsanto's history of ruthless patent enforcement, going so far as investigating as many as 500 farmers each year for patent infringement by trespassing onto their land. The plaintiffs further detailed the harms caused to society by Monsanto's GMO seed, including the proliferation of herbicide-resistant "superweeds" and environmental pollution. The plaintiffs set forth in their legal filings how the patents were legally deficient in several ways including that the covered technology has no beneficial social use and that the dozens of patents issued to Monsanto have illegally extended and entrenched its monopoly.
"Even though we're disappointed with the Court's ruling not to hear our case, we're encouraged by the court's determination that Monsanto does not have the right to sue farmers for trace contamination," said Maine organic seed farmer Jim Gerritsen, president of lead plaintiff OSGATA. "However, the farmers went to court seeking justice not only about contamination, but also the larger question of the validity of Monsanto's patents. Justice has not been served."
 
While the court is relying on Monsanto's promise not to sue farmers for unintentional contamination, a growing number of America's farmers and consumers are concerned about genetic contamination of our food supply by Monsanto's transgenic crops. While this lawsuit seeks to protect contaminated farmers from being accused of infringing Monsanto's patents, the decision today allows farmers who are contaminated to sue Monsanto and Monsanto's customers for the harm caused by that contamination without fear of a retaliation patent infringement claim against them by Monsanto.
 
"Today's ruling may give farmers a toehold in courts regarding the unwanted contamination of their crops, but it does not protect our food supply from the continued proliferation of Monsanto's flawed technology," said Dave Murphy, founder and executive director of Food Democracy Now!, a co-plaintiff in the lawsuit. "The real threat of continued contamination of our nation's food supply was only highlighted last week when Monsanto's unapproved GMO wheat was discovered in an Oregon farmer's field more than 10 years after it was legally planted in that state."
The discovery of GMO contamination sent shockwaves through the Western wheat growers community and resulted in Japan and South Korea temporarily halting the acceptance of American wheat imports.
 
Despite the Court of Appeals' Decision today the plaintiffs still have the right to ask the Supreme Court to review the Court of Appeals decision and ultimately reinstate the case. Ravicher said the plaintiffs are considering doing so. Complete background on the full lawsuit is available on the OSGATA website.
Visit EcoWatch's GENETICALLY ENGINEERED FOODS page for more related news on this topic.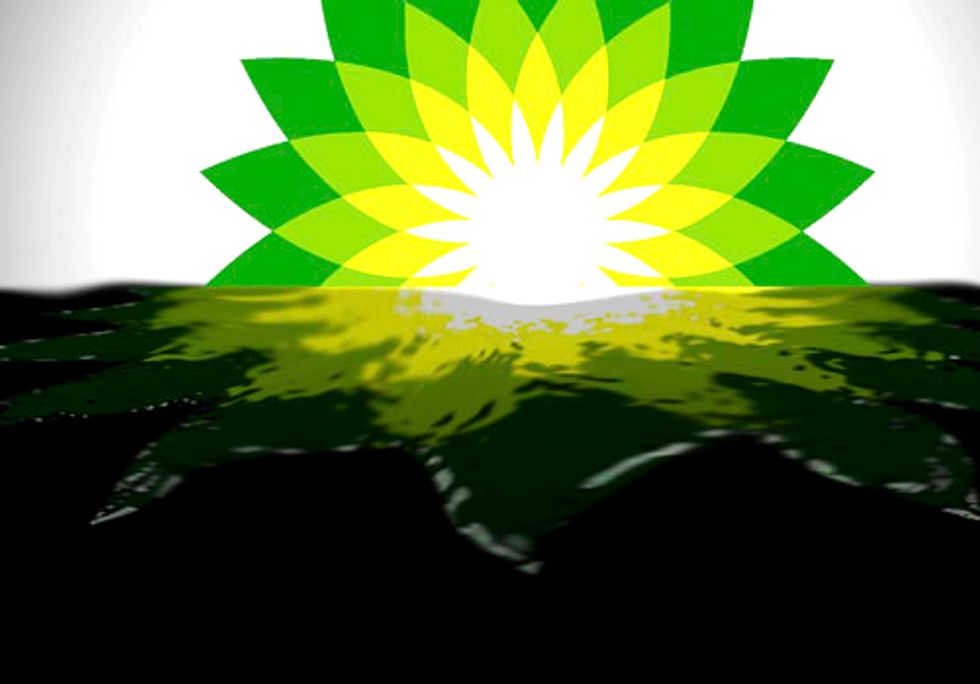 By Andy Rowell
So the trial of the century may not happen after all.
On the morning of Feb. 27, lawyers representing more than 116,000 plaintiffs had been due in court in New Orleans to begin the trial against BP and other defendants resulting from the Deepwater Horizon.
The trial could have lasted two years. Documents in the case run to more than 72 million pages—that makes a pile of paper four-and-a-half miles high.
But the Financial Times is reporting that the two sides could be "close to a possible settlement."
Bloomberg is also reporting that the settlement could be in the region of $14 billion, which is in line with analysts' expectations.
Late Feb. 26, the judge agreed to postpone the trial for a week to see if a pre-trial deal could be done. In a joint statement, BP and the 90 or so plaintiff lawyers said they "working to reach agreement to fairly compensate people and businesses affected by the Deepwater Horizon accident and oil spill."
The trial is now due to begin on March 5th  if no deal is reached.
So is it better for the plaintiffs to try and settle or go to trial? On the one hand, the lesson of history is not great.
Remember the Exxon Valdez? In the decades it took for the case to grind through the court, through numerous appeals it took so long that a third of the original plaintiffs died. At the end they had to settle for about $15,000. In the immediate aftermath of the disaster, Exxon had offered them $50,000.
So the real winner was Exxon (and its fat-cat lawyers), who dragged litigation out for 20 years or so.
However, many industry analysts and experts say a quick settlement is in BP's best interest, especially if it was a "super settlement" that settled all claims including those from the U.S. government and Gulf states. This would free up BP to expand drilling in the U.S. again.
So could a global deal be close that would end the claims together? "Before today, I had almost given up on the possibility of a global settlement before a trial began," Edward Sherman, a professor at Tulane University Law School and specialist in complex litigation told Reuters. "Now, with an extra week, it seems to improve the chances."
What we do know is that the lawyers have already got rich and will get a whole lot richer. For the defendants' lawyers, the case is already a "well-fed cash cow", with BP's legal costs some $1.73bn. The plaintiffs' lawyers who have already racked up a bill that could be higher, looks set to earn billions if there is a settlement, as they receive 30-40 per cent of the damages.
But settling may not be in the interests of the ordinary plaintiffs, who could be denied proper justice and to hear the truth of what really happened on that fateful day.
There is really good reason to go to trial, to determine why the rig exploded, who was at fault, how much oil was really spilled and the real extent of the environmental damage.
One person who intends to be in court if the trial goes head is Sheryl Revette, whose husband husband, Dewey, was one of the 11 rig workers killed in the disaster.
I think she deserves her day in court to see BP in the dock and to find out why her husband died.
For more information, click here.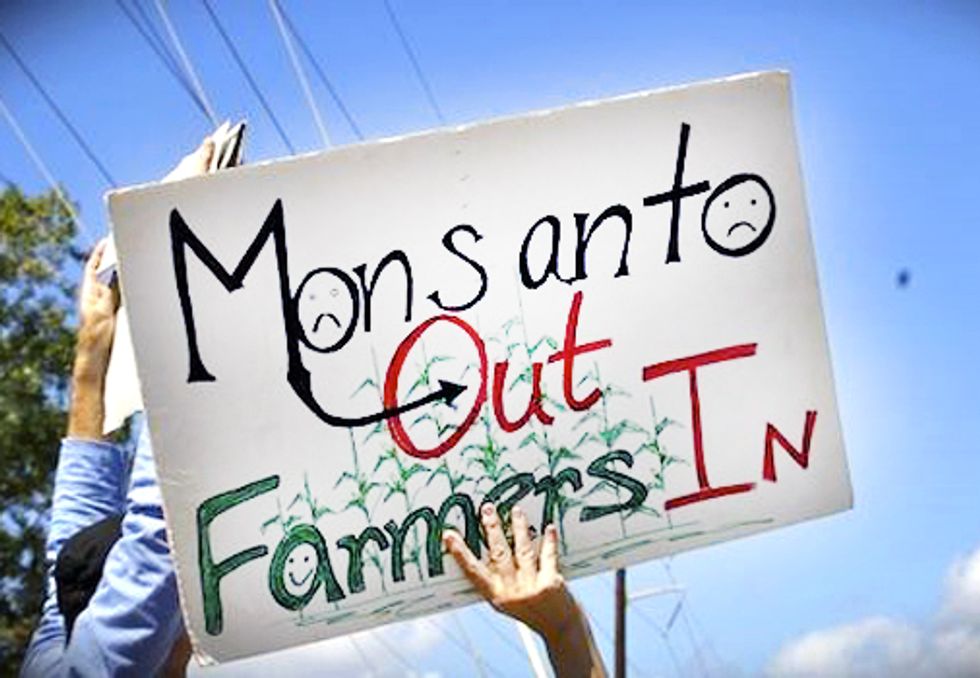 On Jan. 31 family farmers from across the country took part in the first phase of the Organic Seed Growers and Trade Association (OSGATA) et al. v. Monsanto court case. The case was filed to protect farmers from genetic trespass by Monsanto's genetically modified (GMO) seed, which can contaminate organic and non-GMO farmers' crops and open farmers up to abusive lawsuits.
About 200 supporters met at Foley Square in Manhattan the morning of Jan. 31. In total, more than 300,000 people are represented by 83 plaintiffs from 36 organizations in the case against Monsanto.
As a result of aggressive lawsuits against farmers with contaminated crops, Monsanto has created an atmosphere of fear in rural America and driven dozens of farmers into bankruptcy. Farmers now have the opportunity to fight back and have their voices heard in a court of law.
The Federal District Court judge has agreed to hear oral arguments in this landmark case to decide whether or not the case will move forward. The judge has until March 31st to make a decision.
Occupy Wall Street Food Justice, Occupy Big Food and Food Democracy Now! assembled at Foley Square in solidarity with farmers on the front lines of the struggle against corporate domination of the nation's food system.
To learn more about the details of the case, click here.
For more information, click here.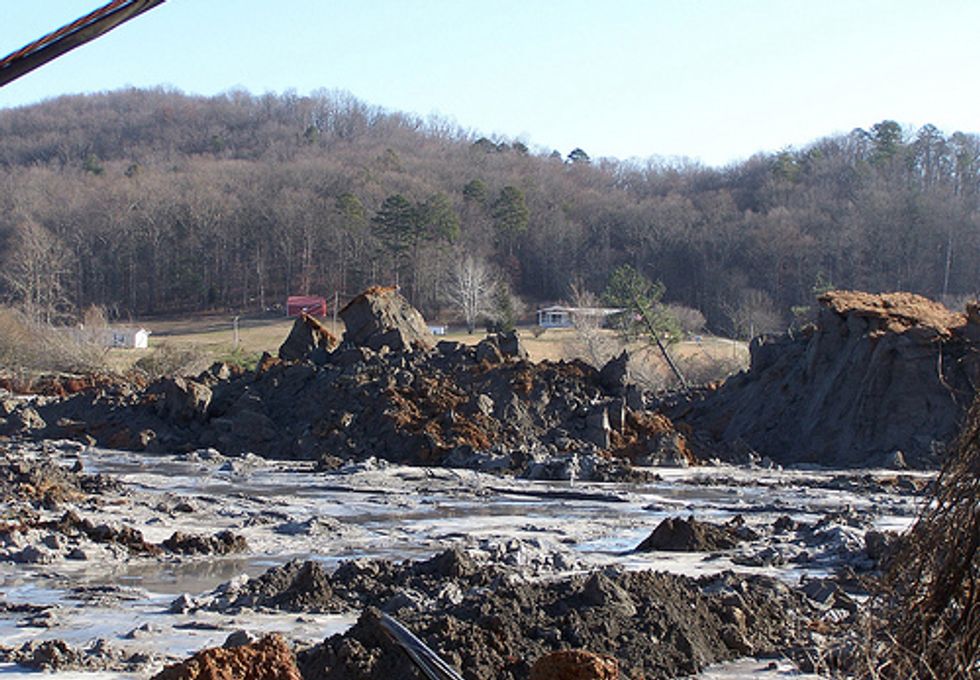 Environmental and public health groups announced their intent to sue the U.S. Environmental Protection Agency (EPA) in federal court Jan. 18 to force the release of long awaited public health safeguards against toxic coal ash. The EPA has delayed the first-ever federal protections for coal ash for nearly two years despite more evidence of leaking ponds, poisoned groundwater supplies and threats to public health.
Earthjustice, on behalf of Appalachian Voices (N.C.), Chesapeake Climate Action Network (Md.), Environmental Integrity Project, French Broad Riverkeeper (N.C.), Kentuckians For The Commonwealth (Ky.), Moapa band of Paiutes (Nev.), Montana Environmental Information Center (Mont.), Physicians for Social Responsibility, Prairie Rivers Network (Ill.), Sierra Club and Southern Alliance for Clean Energy (Tenn.), sent the EPA a notice of intent to sue the agency under the Resource Conservation and Recovery Act (RCRA). The law requires the EPA to ensure that safeguards are regularly updated to address threats posed by wastes. However, the EPA has never undertaken any action to ensure safeguards address the known threats posed by coal ash, a toxic mix of arsenic, lead, hexavalent chromium, mercury, selenium, cadmium and other dangerous pollutants that result from burning coal at coal-fired power plants.
A copy of the Notice of Intent to Sue letter sent to the EPA is available here.
Following a spill of more than a billion gallons of coal ash at a disposal pond in Harriman, Tenn., in December 2008, EPA Administrator Lisa Jackson announced in 2009 plans to set federal coal ash regulations by year's end. In May 2010, the EPA proposed a hybrid regulation to classify coal ash either as hazardous or non-hazardous waste. After eight public hearings across the country and more than 450,000 public comments, the agency decided to delay finalizing the rule amid intense pressure from the coal and power industries.
The following video shows the devastating results of the Harriman, Tennessee coal ash spill:
Despite numerous studies showing the inadequacy of current federal coal ash safeguards to protect public health and the environment as well as documented evidence by the EPA and environmental groups showing coal ash poisoned aquifers and surface waters at 150 sites in 36 states, the EPA continues to fail to adopt federal safeguards. The Jan. 18 lawsuit would force the EPA to set deadlines for review and revision of relevant solid and hazardous waste regulations to address coal ash, as well as the much needed and overdue changes to the test that determines whether a waste is hazardous under RCRA.
"Politics and pressure from corporate lobbyists are delaying much needed health protections from coal ash," said Earthjustice attorney Lisa Evans. "The law states that the EPA should protect citizens who are exposed to cancer-causing chemicals in their drinking water from coal ash. As we clean up the smokestacks of power plants, we can't just shift the pollution from air to water and think the problem is solved. The EPA must set strong, federally enforceable safeguards against this toxic menace."
"It's well past time for the EPA to do something about this hazardous waste," said Anne Hedges, program director of the Montana Environmental Information Center. "Our biggest coal ash ponds in Montana are leaking and have been leaking for decades."
"For far too long the Tennessee Valley Authority has been allowed to ignore the dangers of coal ash, resulting in the 2008 Kingston disaster, one of the worst environmental catastrophes of our time," said Josh Galperin, policy analyst and research attorney for Southern Alliance for Clean Energy. "Despite the lessons of Kingston and an explicit congressional mandate, coal ash continues to be unregulated by the EPA. We are taking action today to drive EPA to follow-through on its legal duty to protect Americans from this toxic waste."
"Data on groundwater at coal ash disposal sites is now available, and the results in Illinois and many other states are grim," said Traci Barkley, water resources scientist with Prairie Rivers Network. "State regulators found high levels of coal ash pollutants in groundwater at all 22 sites in our state. Seeing that our state's rules have not protected our residents and our clean water, we need to know that the EPA will get the job done."
"Right now our organization is involved in several lawsuits against old, leaking coal ash landfills in Maryland," said Diana Dascalu-Joffe, staff attorney with Chesapeake Climate Action Network. "Dangerous coal ash is leaching into waterways that hurt the Chesapeake Bay and could be threatening the health of Maryland citizens. The EPA has a responsibility to issue a uniform, strong rule to address coal ash so groups like ours don't have to fight to clean them up, facility by facility, at the state level."
"With a state legislature bent on weakening the ability to protect public health, North Carolinians are calling on the EPA to demonstrate political leadership by providing strong and consistent federal guidelines for coal ash disposal and storage," said Sandra Diaz, North Carolina campaign coordinator for Appalachian Voices.
"With many coal ash dumps located in populated areas, the public depends on the EPA to do everything possible to protect our health and keep our communities safe," said Mary Love, member of Kentuckians For The Commonwealth. "We need strong standards so we can not only clean up communities that have already been poisoned but make sure these toxic chemicals never again leak into our homes and communities."
"The EPA promised to set standards for coal ash disposal sites more than a decade ago," said Eric Schaeffer, executive director at Environmental Integrity Project. "Are we going to have to wait for another disaster before EPA finally keeps that promise?"
"The toxic threat that coal ash poses to human health is severe," said Dr. Maureen McCue, MD, PhD, of Physicians for Social Responsibility. "Coal ash contains contaminants that can cause cancer and can damage the intestines, liver, kidney, lungs, heart, peripheral nervous system and brain. It's unthinkable that the EPA allows this toxic stew to get into drinking water. It doesn't get much dirtier than this."
"Our children are losing more than their health because of the power plants; they're losing their culture, too," said William Anderson, chairman of the Moapa Band of Paiutes in southeastern Nevada. "We used to hunt ducks and geese on our land—but no longer. The birds land in the coal wastewater ponds. We used to harvest medicinal plants, but not anymore. The plants have been contaminated over the years by the plant's coal ash dust, soot and other pollutants."
"Two of the nation's 49 high hazard coal ash dams sit on the banks of the French Broad River. These ponds pose a looming threat to the health and safety of the surrounding community, as well as the French Broad River," said Hartwell Carson, French Broad Riverkeeper. "The dams also hold back toxic coal ash that pollutes the groundwater and surface water every day. It is time for the EPA to act to protect the French Broad River and the hundreds of similarly impacted rivers and communities around the country."
"The EPA must act and they must act soon," said Bruce Nilles, senior campaign director for the Sierra Club's Beyond Coal Campaign. "Millions of tons of toxic waste from coal plants—coal ash containing arsenic, lead, mercury and other dangerous pollution—are dumped across the country each year, often without basic safety protections. Even though the EPA has identified more than four dozen highly dangerous coal ash sites around the country they have still failed to safeguard the health and well being of those living near the dumping grounds. We urge the EPA to take definitive action to protect American families and communities."
For more information, click here.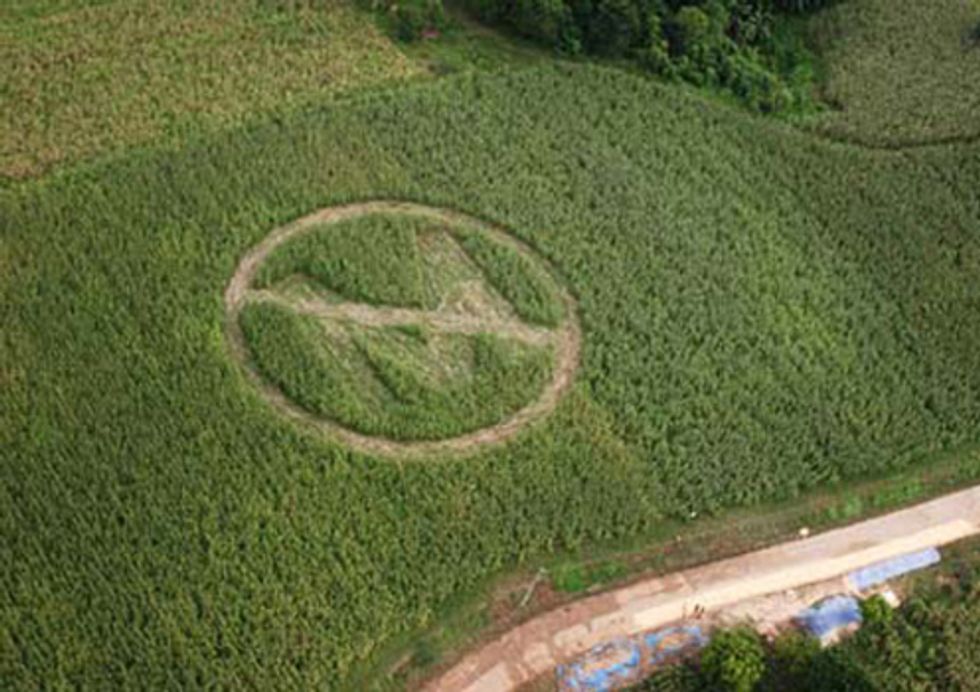 The Organic Seed Growers and Trade Association (OSGATA) invites citizens to assemble outside the Manhattan District court on Jan. 31 in an effort to present the message to family farmers that millions of Americans stand behind them as they seek their day in court. In the past two decades, Monsanto's seed monopoly has grown so powerful that they control the genetics of nearly 90 percent of five major commodity crops including corn, soybeans, cotton, canola and sugar beets. This has resulted in onerous costs to farmers through high technology patent fees for seeds as well as burdensome litigation costs in defending themselves against lawsuits asserted by Monsanto.
In many cases organic and conventional farmers are forced to stop growing certain crops in order to avoid genetic contamination and potential lawsuits. Between 1997 and April 2010, Monsanto filed 144 lawsuits against American farmers in at least 27 different states, for alleged infringement of its transgenic seed patents and/or breach of its license to those patents, while settling another 700 out of court for undisclosed amounts. As a result of these aggressive lawsuits, Monsanto has created an atmosphere of fear in rural America and driven dozens of farmers into bankruptcy.
The lawsuit OSGATA et al vs. Monsanto was filed on behalf of 300,000 organic and non-GMO (genetically modified organisms) farmers and citizens to seek judicial relief in "protect[ing] themselves from ever being accused of infringing patents on transgenic (GMO) seed." The judge has requested and agreed to hear oral argument in order to make a decision of whether or not to allow the farmers' cases to move forward in the courts after Monsanto filed a motion to dismiss the lawsuit.
"We are family farmers and we are headed to court in New York City on Jan. 31 to let the judge know that our survival as farmers depends on this lawsuit," said Jim Gerritsen, OSGATA president. "We're not asking Monsanto for one penny. We just want justice for our farmers and we want court protection from Monsanto."
"I don't think it's fair that Monsanto should be able to sue my family for patent infringement because their transgenic seed trespasses onto our farm and contaminates and ruins our organic crop," said Bryce Stephens, of Stephen's Land and Cattle Co. "We have had to abandon raising corn because we are afraid Monsanto wouldn't control their genetic pollution and then they would come after us for patent infringment. It's not right."
We are encouraging supporters of farmers' rights to grow food without fear and intimidation to assemble outside the courtroom in a peaceful manner to support the farmers in their claims, recognizing that these injustices affect us all and that this case is deserving of the court's time and attention on Jan. 31, 2012.
Due to limited space, only a small number of individuals will be able to enter the courtroom and listen to the proceedings. We respectfully ask that farmers and plaintiffs in the case be given priority to hear this case in person as each plaintiff will have traveled many miles and put a great deal on the line to be a part of this case.
In the spirit of peaceful assembly and respect for the courts, we request that you adhere to the following principles:
Principles for Citizens' Assembly
1. Assemble outside the court in a show of support for family farmers and their right to grow food without the threat of intimidation, harassment or loss of income.
2. Assemble peacefully to present a positive message that America's citizens stand behind family farmers and support their rights of legal protection under the Constitution.
3. Bring signs that portray messages of:
Hope
The positive impacts of sustainable and organic agriculture
Solutions to our current crisis in food, agriculture and society
Support for farmers who seek justice in the courts
4. Be respectful of court security requests and follow them faithfully.
5. Maintain a respectful distance from the court entry on Pearl Street, making sure not to block access for foot traffic or vehicles.
6. Maintain a tone of respect for the court and the sanctity of our legal process as the judge hears the merits of this important case.
7. Cell phones, cameras and tape recorders are prohibited inside the courthouse. Those who enter the courthouse must conform to court security protocols.
8. No signs, t-shirts with slogans or other disruptions, visual or otherwise, are appropriate or allowed in the courtroom.
9. No chanting or loud noises allowed outside the courthouse as all must maintain their conduct in ways that are respectful to the judicial process and in accordance with the seriousness of the case.
10. Follow the instructions of designated assembly captains who will continue to update you as the events of the day unfold.
As advocates for farmers and supporters of a citizen-based democracy we greatly appreciate your support for family farmers and your agreement to act in accordance with these principles in order to guarantee farmers' rights to grow food without fear and intimidation.
Location to Hear Plaintiffs and Attorney Comment After Hearing
Once oral arguments are heard in the court, farmers, plaintiffs and Lead Attorney Dan Ravicher of the Public Patent Foundation will be available for comments to supporters and the media, at the Southwest Corner on 500 Pearl Street, at Pearl Street and Cardinal Hayes Place.
For those planning on assembling at 9 a.m., Pearl Street has been recommended to gather respectfully and overflow can gather at Foley Square.
Find a link to a map of the location by clicking here.
To RSVP to the event, click here.
To sign a petition supporting farmers in the case against Monsanto, click here.
For more information, click here.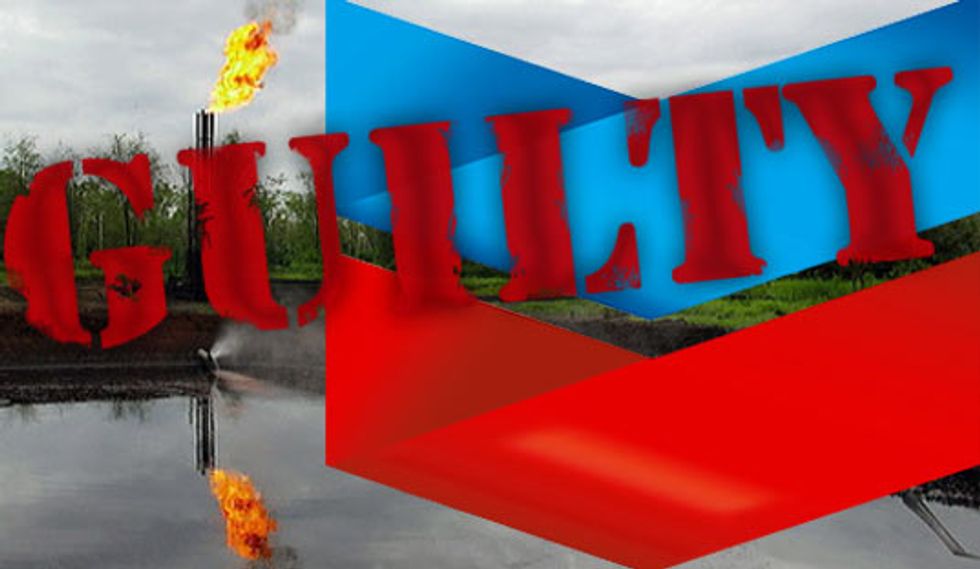 An Ecuadorian appellate court upheld a historic $18 billion award Jan. 2 against Chevron for the company's deliberate contamination of the Ecuadorian Amazon. The decision is the largest environmental award ever handed down and the result of an 18-year legal battle brought by some 30,000 indigenous peoples and farmers seeking a clean-up of contaminated sites, clean drinking water and health care.
 
Amazon Watch and Rainforest Action Network, which have spent years fighting on the side of the Ecuadorians in their effort to hold Chevron accountable for these egregious environmental crimes and human rights abuses, released the following statement in response to the verdict:
"For a second time, in a jurisdiction of its own choosing, Chevron was found guilty of widespread oil contamination in Ecuador's Amazon. It is a historic triumph for the thousands of victims who have suffered for over four decades from Chevron's drill-and-dump practices.
"Yesterday's ruling, based in large part on Chevron's own evidence, once again proves that the company is responsible for deliberately dumping billions of gallons of toxic waste sludge into local streams and rivers, which thousands depend on for drinking, bathing and fishing, and created a public health crisis in the rainforest region.
 
"Chevron has spent more than a decade and hundreds of millions of dollars in a vain attempt to evade accountability and in doing so exacerbating the suffering of thousands of rainforest residents. The company says it will continue deploying its armies of lawyers with yet more legal stonewalling tactics, still hoping that its unlimited resources can outspend and outlast the course of justice. But the guilty verdict sends a loud and clear message—It is time for Chevron to clean up the Ecuadorian Amazon."
 
The Ecuador decision comes at a time when Chevron also faces criminal charges and fines up to U.S. $11 billion in Brazil for its negligence in its operations.  If convicted, the company will be permanently banned from doing business in the South American country.
For more information, click here.
——————
Rainforest Action Network runs hard-hitting campaigns to break North America's fossil fuels addiction, protect endangered forests and Indigenous rights, and stop destructive investments around the world through education, grassroots organizing, and non-violent direct action. For more information, click here.