This website uses cookies to ensure you get the best experience while browsing it. By clicking 'Got It' you're accepting these terms.


The best of EcoWatch, right in your inbox. Sign up for our email newsletter!
Hondoranian activist Berta Cáceres, who was murdered in 2016 because of her opposition to a hydroelectric project, is the type of person the new treaty aims to protect.
The people on the front lines of protecting the environment need some protection as well.

According to a Feb. 2 report by Global Witness and The Guardian, 197 activists were killed in 2017 for defending their communities and natural resources against agribusiness, mining companies, infrastructure projects and poachers.
Power of Positivity
By Mike Gaworecki
Last Thursday, at the UN climate talks in Bonn, Germany (known as COP23), the World Resources Institute (WRI) announced that $2.1 billion in private investment funds have been committed to efforts to restore degraded lands in the Caribbean and Latin America.
The investments will be made through WRI's Initiative 20×20, which has already put 10 million hectares (about 25 million acres) of land under restoration thanks to 19 private investors who are supporting more than 40 restoration projects.
EcoWatch Daily Newsletter
By Nicole Figueiredo de Oliveira
Earlier this month in Argentina, the people gave another big step in the fight against fracking in the country: legislators, church and civil society representatives, environmental experts, climate scientists, trade unions and human rights activists, along with indigenous and community leaders from various countries met in Buenos Aires to discuss the threats posed by the use of fossil fuels in Argentina and Latin America.
Uruguay Sen. Carol Aviaga; Ignacio Zavaleta, Assembly of Territories Free of Fracking; Juliano Bueno de Araújo of 350.org; Argentina Congresswoman Alcira Argumedo; Nicole Oliveira of 350.org; and Juan Pablo Olsson of 350.org.COESUS / 350.org Latin America
In a full room at the National Congress, the speakers were unanimous: There are no benefits that the fossil fuels industry can bring now or in the future. In the South of Argentina fracking has been polluting the water and the air, damaging the economy, harming people's health and destroying the environment. It's wrecking a whole region and the only way to stop it starts by taking local action together.

Victories against fracking are already coming from many places. In Brazil, for example, more than 200 cities have already prohibited fracking in their territories and the state of Paraná has just placed a ban on this technique for the next 10 years.
The conference in Argentina was the second event organized by the No Fracking Coalition Latin America, emphasizing the need and the will for alliance and collective actions throughout the continent. Participants expressed a shared regional concern for the preservation of the Guarani aquifer, exchanged experiences and vowed to unite forces across Latin America to prevent the expansion of hydraulic fracturing and foster a just transition to 100 percent renewable energy for all.
Fracking tower in the midst of an apple orchard near the city of Allen, in the province of Neuquén.COESUS / 350.org Latin America
There is still a lot more to do to make Argentina and Latin America fracking free, but the event showed that communities are organized, strong and keeping the pressure on this deadly industry.

Fighting fracking is just one side of a major battle against the fossil fuel industry. During the last UN Climate Summit in Marrakech, more than 375 nongovernmental organizations delivered a letter to global leaders with an urgent yet simple new demand for climate action: no new fossil fuel development.
With climate impacts hitting hard communities all over the world, and the recent announcement that 2016 is probably going to be the warmest year ever recorded and the potential carbon emissions from reserves in currently operating oil and gas fields alone, even with no coal, are enough to take the world beyond 1.5 C.
Stopping mining, digging and investing in fossil fuels are fundamental steps to keep the planet from warming. Countries need to meet the promises they made to the whole world with the Paris climate agreement—and that includes Argentina and Latin American countries.
Following the conference, the coalition headed to Neuquén and Vaca Muerta, in the North of Patagonia, where the fracking industry is leaving it's mark of great destruction. Fracking wells can be found right in the middle of natural reserves and fruit plantations.
Fracking well by the Mari Menuco dam, in Argentina's Neuquén province.COESUS / 350.org Latin America
In the words of the president of the fruit growers association in Allen, the apple and pear orchards of that region have become "expendable," as the produce are no longer apt for export due to the contamination from the fracking wells that have been installed by their fields.

If we want to keep the planet from warming 1.5 C there is no more room for fossil fuels in the energy mix. And we need to freeze any sort of fossil fuel investments if we want to prevent the devastating impacts of climate change.
The core talking points for the supporters of TransCanada's Keystone XL pipeline center around U.S. domestic energy security and economic growth. However, Keystone is an "export pipeline" that will take tar sands oil from Alberta, Canada, and pump it down to a tax-free zone in Texas and out to foreign markets.
In other words, the European Union, China and Latin America get the oil, the foreign-owned oil companies get the cash and North Americans get a few jobs and oil spills!
It's a complicated issue for sure, so I've tried to break out the main points in an infographic. Please feel free to download and share it, use it and tear it apart. All the information has been fact-checked and verified by energy policy experts.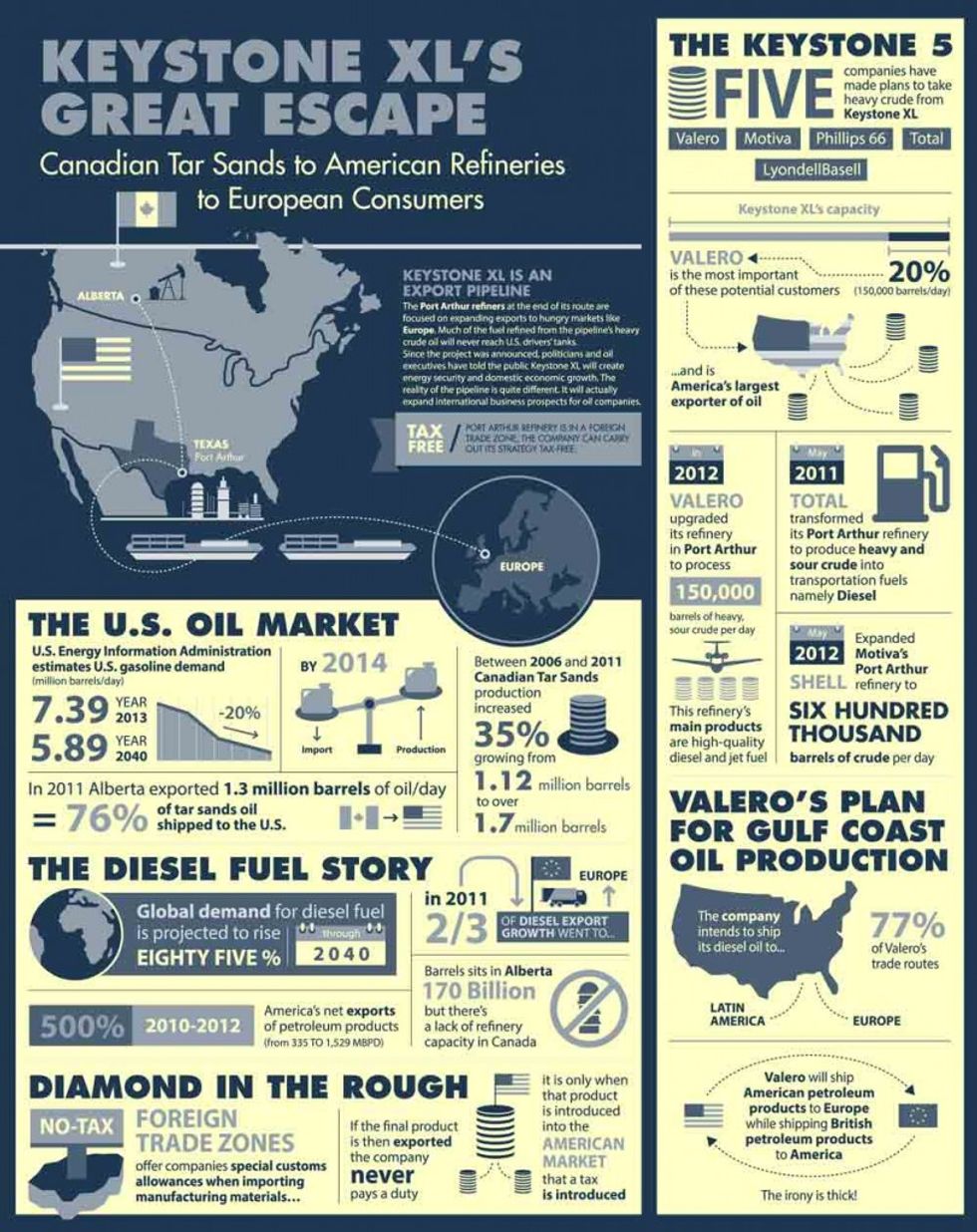 Taking into account the fundamental data from the U.S. and global oil markets, the end location of the Keystone XL, the infrastructure being built at refineries processing the bitumen and the commitment of oil companies to selling their product for the best price, it is easy to see Keystone XL offers greater energy security and economic growth, just not in America.
Europe and Latin America will have more energy security thanks to a massive fuel pipeline they can tap as long as they're willing to pay.
Additionally, oil companies will have a new bounty of profit to play with. Yes, some of that will fall back into American hands, but not as much as it would if the majority of the products to be processed in Port Arthur were sold in America, or if the refineries were not located in a Foreign Trade Zone and had to pay a tax on their products.
As for the promise of new jobs, there is a short-term influx on cash for constructing the pipeline, but the latest estimates find that there will only be about 35 permanent jobs over the long term. These pipelines, once built, demand very little maintenance. That is, of course, until there is an oil spill.
In making the final decision on whether to approve the Keystone XL pipeline, it comes down to whether President Obama is comfortable with making more cash for foreign oil companies—that are already the most wealthy companies in the world—for the long-term pay off of 35 permanent jobs and the oil spills that will inevitably occur.
Seems like a no-brainer to me.
Visit EcoWatch's KEYSTONE XL page for more related news on this topic.
——-

By Janet Cotter and Eric Darier
Shockwaves are being felt across the world's wheat markets following the first-ever discovery of unauthorized genetically engineered (GE) wheat growing on a U.S. farm—a development that gives further proof that GE crops cannot be controlled.
The discovery of Monsanto's GE wheat, confirmed by U.S. authorities, sparked alarm among Washington D.C.'s trading nations, pushed wheat prices lower and is threatening U.S. exports. It should not be seen, however, as totally unexpected.
The GE wheat is a herbicide tolerant wheat (probably MON 71800) that Monsanto tested in fields across 16 states between 1998 and 2005. The wheat was never authorized and never commercialized because Monsanto withdrew its application in May 2004 following massive global opposition from farmers, consumers and environmentalists.
So what happened between the last field tests in 2005 and the announcement of a contamination in Oregon eight years later? How did it get there? Who is responsible? Who will pay for the decontamination? Is the contamination limited to one farmer's field in Oregon or is it only the tip of the iceberg of a wider problem? Will Canada, where the GE wheat was also tested, be affected by the contamination?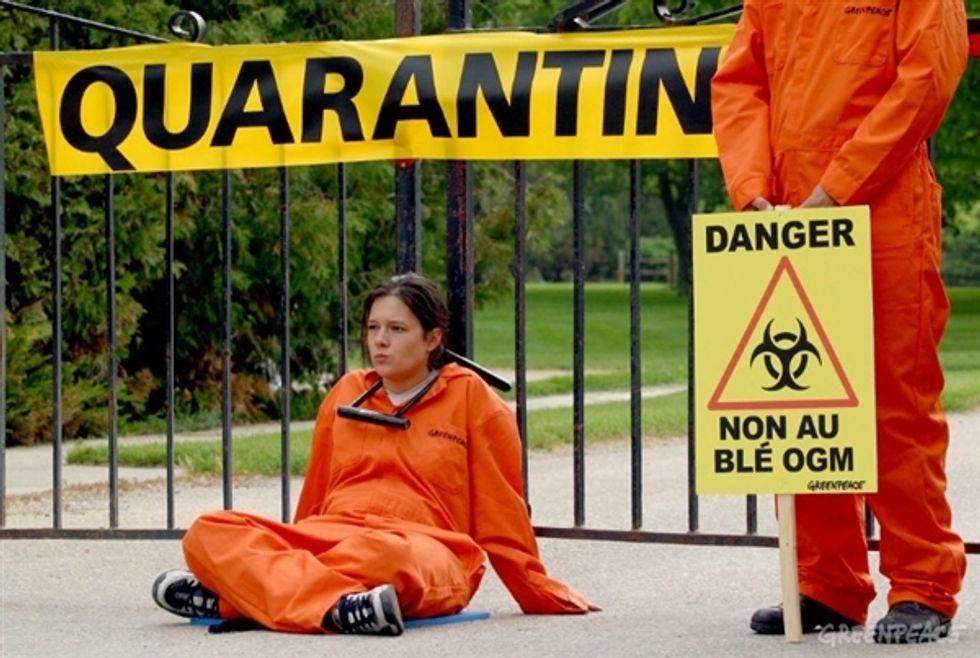 About 90 percent of Oregon wheat production is exported mainly to Asian countries. This contamination will hit commodity trade as more Asian governments start testing for GE contamination and require guarantees from the U.S. (and possibly from Canada) that wheat imports are not contaminated with this GE wheat. According to figures from the U.S. Wheat Associates, out of the 11.4 million tons of wheat exported by Oregon, 50 percent is sold to East Asia (China, Japan and South Korea), 28 percent to South East Asia, nine percent to Latin America and nine percent to the Middle East.
Greenpeace and other nongovernmental organizations have been warning about contamination of our food and the environment from GE crops for several years. GE contamination threatens farmers' incomes and consumer choice. It can threaten the environment and pose risks to human health.
There have been already too many incidents of contamination in the past and GE contamination is simply not worth the risk.
U.S. authorities claim that this GE wheat is "safe" based on what Monsanto told them; that "this wheat variety is not materially different in composition, safety or any other relevant parameter from wheat now grown, marketed and consumed." But why should they trust Monsanto, which has great commercial interests at stake, to provide rigorous and impartial scientific data on its own product? It looks like a case of the fox guarding the hen house.
The developers of GE wheat and government authorities have repeatedly said that GE wheat will not contaminate conventional or organic wheat because it is predominantly self-pollinating—the pollen does not spread very far, unlike cross-pollinating crops such as maize and oilseed rape.
Despite this, contamination from GE wheat has happened. Like other GE contamination, the route of contamination isn't clear. For example, Bayer said the massive contamination of U.S. rice in 2006 with an unapproved, experimental variety of rice called LL601 was an "act of God."
Early this year the European Environmental Agency (EAA) published a report, Late lessons from Early Warnings: Science, Precaution, Innovation, that documented "how damaging and costly the misuse or neglect of the precautionary principle can be." The EEA reviewed extensively the problems with GE crops as obstacles to and a distraction from ecological farming solutions.
The Monsanto GE wheat contamination shows again that governments and industry measures to prevent contamination are failing. The only permanent solution is to immediately ban the field testing of GE crops.
More fundamentally, the world urgently needs to switch to ecological farming and get out of the chemical heavy, GE industrial agriculture treadmill and the environmental risks it represents.
Visit EcoWatch's GENETICALLY ENGINEERED FOODS page for more related news on this topic.