Today, grassroots leaders in Ohio called out state leaders for failing to protect Ohioans from solid radioactive waste from hydraulic fracturing (fracking). According to local citizens groups, Gov. Kasich's budget bill will provide inadequate protection from low-level radioactive waste (LLRW), and therefore constitutes a handout to the oil and gas industry. They are asking the state to require the oil and gas industry to properly dispose of LLRW.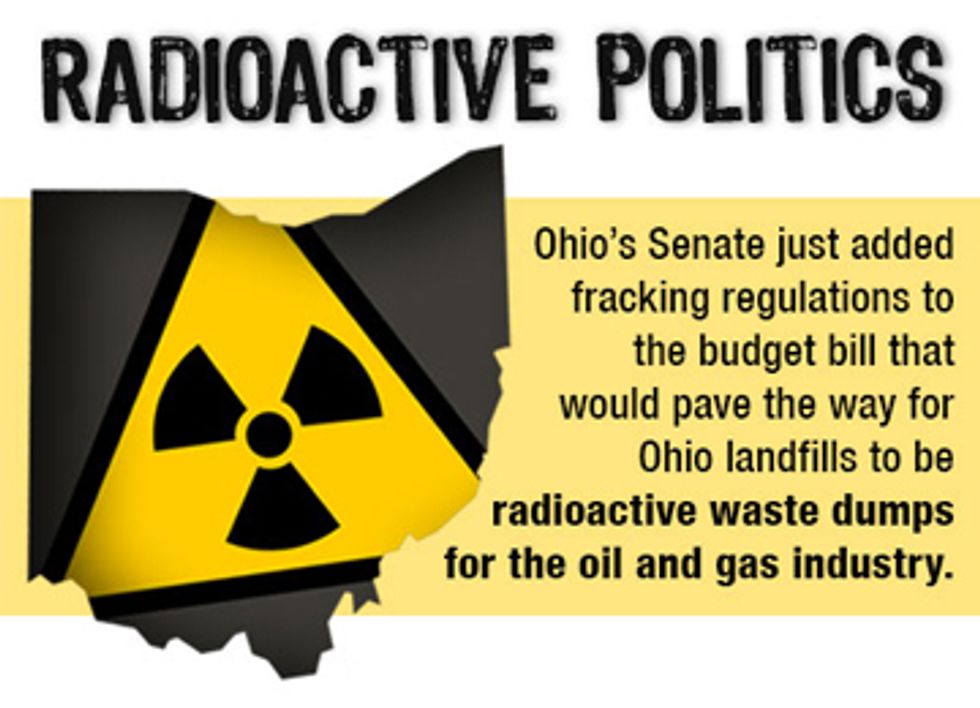 "The regulations represent yet another concession to the oil and gas industry at the expense of Ohioans' health and safety," says Alison Auciello, an organizer for Food & Water Watch. "Governor Kasich and our regulators are billing the proposal as a way to monitor and keep radioactive waste from landfills. But the legislation will indeed do the opposite of the claims made by the administration. Even worse, it gives a false sense of security that we are being protected. Disposal of radioactive waste should be considered a grave matter, not an ill-informed side note to the budget bill."
 
"The General Assembly is playing a word game to remake lethally radioactive waste into 'drilling cuttings' in order to allow drillers to dump their mountain of garbage on the cheap," said Terry Lodge, an attorney for the opposition working group. "They're replacing scientific fact with magical thinking and endangering public health, water, land and air—all for profit. By implementing these standards, they will violate federal standards. This will not stand."
 
"The radiation inherently present in shale gas drilling waste is a very serious concern. Whether disposed via injection wells, dumped into landfills or discharged into our Ohio surface waters from waste water plants, our state appears to be targeted as a regional radiation sacrifice zone," asserted Chris Borello, for Concerned Citizens of Stark County. "But once let out into our environment, this carcinogenic and long-lived toxin will leave Ohioans at risk forever. The proposal in the Ohio budget is an outdated, substandard criteria misleadingly contrary to what the National Academy of Science, the U.S. EPA [Environmental Protection Agency] and what 37 other states cite as the protective definition concerning this form of radiation. If enacted, Ohio will recklessly allow much of this radiation to be swept under the rug, posing an ongoing threat to the health of residents."
 
"Through the chosen definitions, this legislation exempts much radioactive and toxic material from any testing or tracking. Add oil-based substances, like benzene, to this concoction and the Governor and Ohio regulators think this waste can be used for 'any manner authorized as a beneficial use.' This is bad policy and endangers the health of Ohioans," said Vanessa Pesec, president of the Network for Oil and Gas Accountability and Protection.
 
"Ohio learned an important lesson in the 1990s when we were considering placing a low level radioactive waste landfill in the state for medical and research waste. We learned that if you take a small amount of radioactive waste and mix it with a large volume of regular wastes, you end up with a large volume of radioactive waste," said Julie Weatherington-Rice, senior scientist at Bennett & Williams Environmental. "Somehow, our legislature and our administration have forgotten this vital, basic radiological lesson. Water soluble wastes like radium, uranium and radon gas just leach out anyway, leaving behind the rest of the radioactive elements to contaminate wherever our current government chooses to put them. You either learn from history, or you repeat the mistakes again and again."
Visit EcoWatch's FRACKING page for more related news on this topic.
——–
Sign the petition today, telling President Obama to enact an immediate fracking moratorium:

EcoWatch Daily Newsletter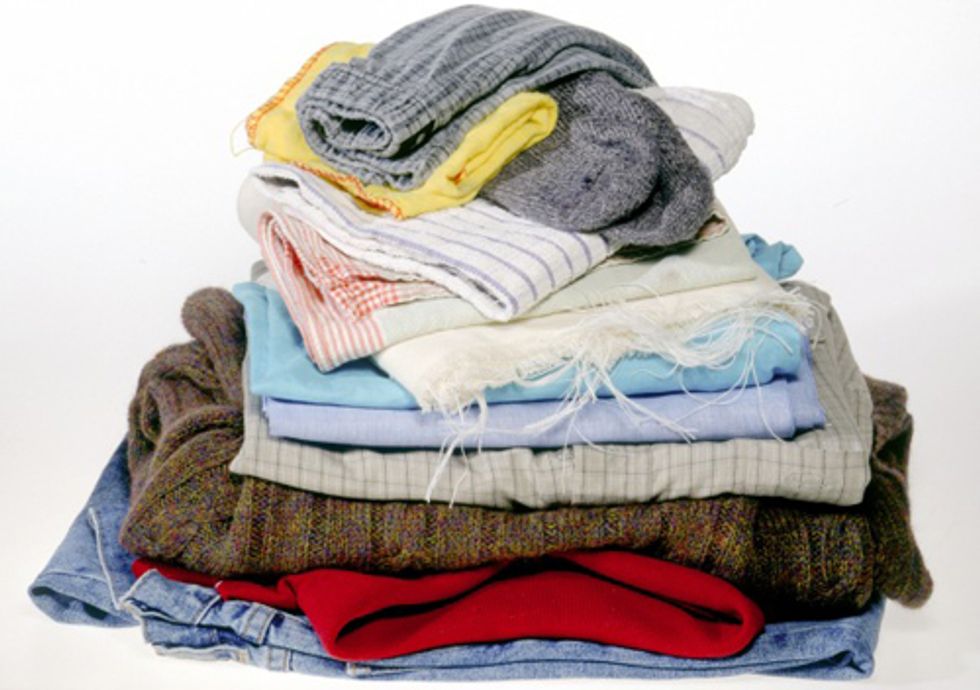 For the first time ever, clothing brands, retailers, consumers, municipalities, charitable organizations, academics and recyclers are joining forces to promote the recycling of clothing and textiles. The Council for Textile Recycling (CTR) recently released its new website aimed at educating the public on the importance of recycling all clothing and textiles, not just those that are "gently worn."
The council's new website mirrors the organization's slogan—Wear. Donate. Recycle. "Our goal is to have zero post-consumer textile waste going into landfills by 2037," says Eric Stubin, CTR chairman of the board. "In the United States the average person discards 70 pounds of their old clothing, shoes and household textiles in their local landfill each year. We're educating people that clothing and textiles are among the most recyclable items in their home."
In the U.S., the U.S. Environmental Protection Agency estimates more than 25 billion pounds of clothing and textiles including clothing, linens, belts and shoes are generated annually. The agency also reports more than 21 billion pounds (70 lbs. per person) of post-consumer textile waste ends up in landfills every year with only 15 percent of all post-consumer textiles enter the recycling stream.
"For the first time ever, all segments of the clothing industry including consumers, manufacturers, charities, retailers and recyclers have been brought together," says Stubin. "I am active in many organizations that promote sustainable clothing manufacturing and green initiatives in the apparel industry and it's exciting to finally have an organization representing all of the stakeholders as we strive  to bring wide scale awareness to a very solvable problem. If consumers, municipalities and the apparel industry implement, promote and market, "Wear. Donate. Recycle," we will significantly divert more post consumer textile waste in the years to come."
Studies conducted at both the federal and state level show clothing and textiles make up more than 5 percent of all materials going into local landfills. "Consumers don't realize 95 percent of all clothing and textiles is recyclable," says Jackie King, executive director of the Secondary Materials and Recycled Textiles Association and member of the Board of Directors of the Council for Textile Recycling. "As long as items are clean and dry, even those that are stained or torn, they can be processed by textile recyclers extending the end-of-life of the material."
Consumers are encouraged to visit the council's new website to learn more and to join the organization. The Council for Textile Recycling will be compiling a resource library for consumers, municipalities, apparel and footwear brands and retailers interested in developing clothing and footwear recycling programs. A database of end-users including charities and private sector recyclers from all aspects of the industry will also be available to members of the Council for Textile Recycling.
For more information, click here.
—————
The Council for Textile Recycling is a 501(c)(3) nonprofit, tax exempt organization incorporated in the State of Maryland. The CTR is not involved in the collection of textile waste in any form and is entirely devoted to creating more awareness about keeping post-consumer textile waste out of our solid waste stream.
Like many other plant-based foods and products, CBD oil is one dietary supplement where "organic" labels are very important to consumers. However, there are little to no regulations within the hemp industry when it comes to deeming a product as organic, which makes it increasingly difficult for shoppers to find the best CBD oil products available on the market.
<p>Here you can learn about the importance of organic hemp oil, why it's better for the environment, and which CBD companies actually make trustworthy products with sustainable farming processes. origins which weigh heavily on many consumers who want to buy a product that's produced in the best way possible for not only themselves to ingest, but for the environment as well through sustainable farming methods. </p><h2>What Is CBD Oil?</h2><p>First things first, CBD stands for cannabidiol, and it's a cannabinoid found within cannabis sativa plants. This plant compound is believed to have many potential benefits, and it is primarily derived from hemp plants via a CO2 extraction process. </p><p>Since CBD is extracted from industrial hemp, which contains only trace amounts of THC (the psychoactive component in cannabis plants), this means that CBD won't make you feel high like marijuana, which has much higher levels of THC that causes psychoactive effects. Instead, the effects of CBD are much more subtle and promote a general sense of calm and relaxation in most users.</p><h2>What Makes a CBD Oil Organic?</h2><p>In terms of organic labels, perhaps the most important (and prominent) certification comes from the United States Department of Agriculture (USDA). This government organization has been labeling foods as "organic" for many years, but what exactly does this certification entail? Essentially, a label indicating that a product is "USDA Organic" or "Certified Organic" means that at least 95% of the ingredients are obtained from organic sources.</p><p>For a crop to be considered organic by the USDA, it must be grown without the use of industrial solvents, irradiation, genetic engineering (GMOs), synthetic pesticides, or chemical fertilizer. Instead, farmers rely on natural substances and <a href="https://www.usda.gov/media/blog/2012/03/22/organic-101-what-usda-organic-label-means" rel="noopener noreferrer" target="_blank">mechanical, physical, or biologically based farming</a> techniques to cultivate healthy and organic crops.</p><p>Before the passage of the 2018 Farm Bill, no hemp-derived products could be dubbed as "certified organic" since the hemp plant and its extracts were still categorized as a Schedule I Controlled Substance. However, it's still difficult for CBD companies to obtain a USDA certified organic label for their products due to the legal grey area that still surrounds CBD extracts. </p><p>Because of these challenges, and due to the fact that industrial hemp has only recently become an agricultural crop, very few CBD oils are USDA certified organic. Rather, many CBD products contain hemp extracts from plants that were grown in organic conditions but may not be federally certified.</p><h2>What are the Best Organic CBD Oil Brands?</h2><p><em>Each product featured here has been independently selected by the writer. If you make a purchase using the links included, we may earn commission.</em></p><em><br></em>