Chicago skyline on July 22 as high winds continue to push the waters of Lake Michigan over the top of the pedestrian and bike trail along the lakefront in Chicago. Raymond Boyd / Michael Ochs Archives / Getty Images
Every fall, I take my environmental studies class camping at Sleeping Bear Dunes National Lakeshore on Lake Michigan. Some years the beach extends more than three meters to the water. This year, in many spots, there was no beach at all.
The story is the same throughout the Great Lakes. During my summer research trip to Lake Ontario and the St. Lawrence River, I lost track of the number of submerged docks and buildings; swimming near the shore of Lake Huron was a bad idea because of the high risk of electrocution from inundated boathouses that still had the juice flowing.
Water levels in the Great Lakes have always fluctuated. But climate change is throwing past patterns out of whack. Almost every Great Lake reached record levels in 2019. And the latest studies predict that levels might reach even higher in 2020.
But instead of engineered solutions, we should be concentrating on getting out of the way.
Biggest Impacts
My research looks at the ways that Canada and the U.S., along with the bilateral International Joint Commission, have tried to understand and control water in the Great-Lakes St. Lawrence River Basin for well more than a century.
Both countries have made large diversions in and out of the Great Lakes, such as the Chicago Sanitary and Ship Canal, as well as numerous smaller diversions and canals.
In the 1950s, dams along the St. Lawrence transformed this gigantic river into a hydropower pool and navigation channel and, controversially, to help regulate water levels in Lake Ontario. Control works in the St. Marys River partially regulate Lake Superior. Niagara Falls is treated like a tap to generate both hydropower and beauty. Then there is the 100-plus years of perpetually dredging channels and harbours for navigation.
Lake Michigan's high water levels consumed beaches at Sleeping Bear Dunes National Lakeshore in 2019. Daniel Macfarlane / Author provided
Cumulatively, these anthropogenic interventions have likely changed water levels on the lakes by less than one meter.
Meanwhile, communities have steadily encroached on the water. We turned seasonal sandbars into subdivisions. Metropolises like Toronto and Chicago extended their footprints hundreds of meters into the lake.
And it's not only large dams, diversions and cities that have impacts. Thousands of small individual actions add up, such as the breakwalls, retaining walls and the rip-rap (graded stone or crushed rock) property owners erect to protect boathouses, cottages and other structures.
Collectively, we might be the proverbial fool who built our house on sand — often literally.
These engineered interventions have myriad ecological impacts and unintended consequences, such as invasive species and impaired water quality. They've also instilled a societal hubris that we can — and should — control water on a large scale in the Great Lakes-St. Lawrence system.
Natural Supply
However, natural forces — rain, snow, ice cover, temperature, evaporation — are the biggest determinant of water levels in the Great Lakes.
As long as humans have kept records, Great Lakes water levels have oscillated. Depending on which of the Great Lakes one considers, the maximum range of water level fluctuations has been about one to two meters in the past 150 years. For example, very high water occurred in the early 1950s, early 1970s, mid-1980s and mid-1990s.
Now, pushed by a changing climate, the swings in levels that used to take several decades are occurring in half a decade. Instead of a gradual rise and fall, the lakes are going from extreme to extreme.
High water levels inundate a waterfront home on the St. Lawrence River in May 2017.
Mike Beauregard / Flickr / CC BY
For example, Lakes Michigan and Huron hit record lows in 2013, and docks on Georgian Bay didn't reach the water. To compensate, the U.S. Army Corps of Engineers proposed putting riffles, basically water speed bumps, on the bottom of Lake Huron's outflow at the St. Clair River.
Now Lake Huron is close to record high levels and docks are under water. If those St. Clair riffles had been installed, the water levels on Lakes Huron and Michigan would be even higher today. This is the type of short-sighted thinking we need to avoid.
Moving Back
Water needs breathing space. We need to move out of the way, rather than try to move water out of our way.
Humans have removed, impaired or destroyed many of the lakes' natural buffers, which accommodate fluctuating water. We've eradicated shoreline wetlands and beaches and covered them with concrete.
If a property along the Great Lakes is getting wet now, it will almost certainly be wetter in the future. While there is some scientific uncertainty about exactly what climate change will do to water levels, the extreme highs and lows will get worse. Volatility is the new normal.
Like climate change, when it comes to addressing Great Lakes levels, the biggest hurdles aren't scientific — they are political, economic and social.
Any new infrastructure along Great Lakes shorelines must be flexible, adaptable and resilient.
But we must also realize that the answer isn't more infrastructure. Infrastructure is too often the cause of our environmental issues.
We need to remove structures entirely and avoid building anything near the water's edge. This will have the added benefit of making more of the Great Lakes accessible to everyone. Since governments zoned vulnerable areas for construction, government funding should be provided.
We should use the opportunity to restore natural shorelines and wetlands. These provide many benefits for both water quality and water quantity. In terms of the latter, they can serve as water retention areas, while wetland plants provide erosion control.
This is all going to be very hard for many people to hear — there will be major resistance. But not moving is going to cost more in the long run. We think we can control water levels, but we need to think differently.
Reposting with permission from our media associate The Conversation.
EcoWatch Daily Newsletter
A U.S. Steel plant in Portage, Indiana spilled nearly 300 pounds of a cancer-causing chemical into Burns Waterway last month, documents from the Indiana Department of Environmental Management (IDEM) revealed.
The release of hexavalent chromium was 584 times the daily maximum limit allowed under state law, the Times of Northwest Indiana reported, citing the documents. The plant is permitted to release only a maximum of 0.51 pounds daily.
The toxic industrial byproduct was made infamous by the environmental activist and 2000 movie of the same name, "Erin Brockovich."
The leak occurred between April 11 and April 12 and forced the closure of several Lake Michigan beaches and Indiana American Water's intake in Ogden Dunes. Burns Waterway is a tributary that flows into Lake Michigan, a drinking water source for nearby Lake, Porter and LaPorte counties.
Following the spill, U.S. Steel has committed to sampling and monitoring lake water on a weekly basis to ensure it is safe through the swimming season, a U.S. Environmental Protection Agency (EPA) spokesperson said. The discharge was reportedly caused by a pipe failure.

Sam Henderson, a staff attorney for the Hoosier Environmental Council, denounced the spill.

"If U.S. Steel had set up its system responsibly, it wouldn't have been possible for a single mechanical failure to dump nearly 300 pounds of hexavalent chrome into Lake Michigan," Henderson told the Times of Northwest Indiana.
"Spills like this show that U.S. Steel isn't taking that responsibility seriously. Industry needs to step up."
The chemical spill highlights concerns over the Trump's administration's proposed cuts to abolish the Integrated Risk Information System, the EPA office working on hexavalent chromium standards in drinking water. The cuts would also affect funding for scientific reviews of toxic chemicals and decrease the EPA's enforcement of environmental laws.

Henderson noted that IDEM's budget "has been slashed to the bone, and we see the consequences of that in accidents like these." IDEM is Indiana's agency charged with protecting the state's environment and human health.
"Now we face the risk that EPA will be severely cut back as well," Henderson said. "If those cuts go through, nobody will be minding the store. And if nobody's minding the store, it's inevitable that spills like this will become more common."

Cindy Skrukrud, clean water program director for Sierra Club Illinois, added that U.S. Steel's spill "illustrates the need we have for a robust EPA to prevent and respond to situations like this."
"We cannot bear cuts to the EPA staff and to its programs that protect the Great Lakes from pollution and cleanup legacy contamination sites. We are all depending on the EPA as we seek answers to the remaining questions about the impacts of the spill on the aquatic life in Burns Waterway," Skrukrud continued. "As potential penalties are considered, they should include funding for restoration projects in and near the impacted areal."
U.S. Steel said last month it takes all incidents "very seriously" and are "fully committed to researching and taking corrective actions to prevent a future occurrence."
The beaches and water intake reopened on April 17 after EPA water samples detected no levels of hexavalent chromium.
However, last month the National Park Service staff said they were concerned about the long-term potential impacts to beach users' health, wildlife and other park resources.
"Lake currents and waves have the ability to move this hazardous material onto park beaches at a later date," the park service said in a news release.
Officials said that periodic beach patrols will be looking for evidence of fish kills or other environmental damage.
waterlust.com / @tulasendlesssummer_sierra .
Each product featured here has been independently selected by the writer. If you make a purchase using the links included, we may earn commission.
The bright patterns and recognizable designs of Waterlust's activewear aren't just for show. In fact, they're meant to promote the conversation around sustainability and give back to the ocean science and conservation community.
Each design is paired with a research lab, nonprofit, or education organization that has high intellectual merit and the potential to move the needle in its respective field. For each product sold, Waterlust donates 10% of profits to these conservation partners.
Eye-Catching Designs Made from Recycled Plastic Bottles
waterlust.com / @abamabam
The company sells a range of eco-friendly items like leggings, rash guards, and board shorts that are made using recycled post-consumer plastic bottles. There are currently 16 causes represented by distinct marine-life patterns, from whale shark research and invasive lionfish removal to sockeye salmon monitoring and abalone restoration.

One such organization is Get Inspired, a nonprofit that specializes in ocean restoration and environmental education. Get Inspired founder, marine biologist Nancy Caruso, says supporting on-the-ground efforts is one thing that sets Waterlust apart, like their apparel line that supports Get Inspired abalone restoration programs.
"All of us [conservation partners] are doing something," Caruso said. "We're not putting up exhibits and talking about it — although that is important — we're in the field."
Waterlust not only helps its conservation partners financially so they can continue their important work. It also helps them get the word out about what they're doing, whether that's through social media spotlights, photo and video projects, or the informative note card that comes with each piece of apparel.
"They're doing their part for sure, pushing the information out across all of their channels, and I think that's what makes them so interesting," Caruso said.
And then there are the clothes, which speak for themselves.
Advocate Apparel to Start Conversations About Conservation
waterlust.com / @oceanraysphotography
Waterlust's concept of "advocate apparel" encourages people to see getting dressed every day as an opportunity to not only express their individuality and style, but also to advance the conversation around marine science. By infusing science into clothing, people can visually represent species and ecosystems in need of advocacy — something that, more often than not, leads to a teaching moment.

"When people wear Waterlust gear, it's just a matter of time before somebody asks them about the bright, funky designs," said Waterlust's CEO, Patrick Rynne. "That moment is incredibly special, because it creates an intimate opportunity for the wearer to share what they've learned with another."
The idea for the company came to Rynne when he was a Ph.D. student in marine science.
"I was surrounded by incredible people that were discovering fascinating things but noticed that often their work wasn't reaching the general public in creative and engaging ways," he said. "That seemed like a missed opportunity with big implications."
Waterlust initially focused on conventional media, like film and photography, to promote ocean science, but the team quickly realized engagement on social media didn't translate to action or even knowledge sharing offscreen.
Rynne also saw the "in one ear, out the other" issue in the classroom — if students didn't repeatedly engage with the topics they learned, they'd quickly forget them.
"We decided that if we truly wanted to achieve our goal of bringing science into people's lives and have it stick, it would need to be through a process that is frequently repeated, fun, and functional," Rynne said. "That's when we thought about clothing."
Support Marine Research and Sustainability in Style
To date, Waterlust has sold tens of thousands of pieces of apparel in over 100 countries, and the interactions its products have sparked have had clear implications for furthering science communication.
For Caruso alone, it's led to opportunities to share her abalone restoration methods with communities far and wide.
"It moves my small little world of what I'm doing here in Orange County, California, across the entire globe," she said. "That's one of the beautiful things about our partnership."
Check out all of the different eco-conscious apparel options available from Waterlust to help promote ocean conservation.
Melissa Smith is an avid writer, scuba diver, backpacker, and all-around outdoor enthusiast. She graduated from the University of Florida with degrees in journalism and sustainable studies. Before joining EcoWatch, Melissa worked as the managing editor of Scuba Diving magazine and the communications manager of The Ocean Agency, a non-profit that's featured in the Emmy award-winning documentary Chasing Coral.
A U.S. Steel plant in Portage, Indiana has spilled wastewater containing a potentially cancer-causing chemical into Burns Waterway, a tributary about 100 yards from Lake Michigan.
The leak prompted the closure of four beaches and a riverwalk at the Indiana Dunes National Lakeshore, and Indiana American Water in Ogden Dunes—the nearest municipal water source—to shut down its water intake and switch to a reserve water supply, the U.S. Environmental Protection Agency (EPA), which is overseeing the spill, announced.
U.S. Steel reported the leak on Tuesday morning. The company informed the EPA that its release has been stopped at the source. The amount of spilled wastewater is still unknown.
The wastewater discharge, apparently caused by a pipe failure, contains hexavalent chromium (chromium-6), which is used for industrial processes. The toxic chemical was made famous by the environmental activist and 2000 movie of the same name, "Erin Brockovich."
Incidentally, as Chicago Tribune pointed out, President Donald Trump's administration has proposed a budget that would quash efforts to crack down on the dangerous pollutant nationwide:

"Trump's proposed budget would abolish the Integrated Risk Information System, the EPA office working on hexavalent chromium standards in drinking water, as well as sharply reduce funding for scientific reviews of toxic chemicals and cut back on the agency's enforcement of environmental laws."

Low levels of the chemical were found in Lake Michigan near the mouth of Burns Waterway, Sam Borries, a branch chief for Region 5 of the EPA's emergency response program, told Chicago Tribune.

Borries said that it is unclear whether or how far the chemical has spread down the shoreline. He added that officials have taken 100 samples along the waterway east and west of its entry point to the lake and results are expected Thursday.
Wednesday morning footage from NBC Chicago's Sky5 shows a dark substance spreading into the Great Lake. The EPA says the substance is sediment, not chromium-6.
According to the Associated Press, a U.S. Steel preliminary investigation determined that an expansion joint failed Tuesday in a pipe at the Portage facility. This allowed wastewater from an electroplating treatment process containing chromium-6 to escape into the wrong wastewater treatment plant at the complex. That wastewater eventually flowed into the Burns Waterway.
Andy Maguire, the EPA's on-scene coordinator, told the AP that testing is continuing at the intake areas and other nearby points, but hexavalent chromium from the spill has so far not been found in Lake Michigan.
Chromium-6 is used in chrome plating, wood and leather treatments, dyes and pigments and the water in cooling towers of electrical power plants.
The chemical has long been known to cause lung cancer when airborne particles are inhaled. Recent science has also shown that, when ingested, it can cause stomach cancer. A 2008 study by the National Toxicology Program found chromium-6 in drinking water caused cancer in rats and mice.
The Environmental Working Group (EWG) released an analysis last year finding that hexavalent chromium is in the tap water of more than 218 million Americans.
California is the only state that has set an enforceable legal limit for chromium-6 in drinking water. The state's public health goal is 0.02 parts per billion of chromium-6 in drinking water, yet the state's legal limit is 500 times higher.
The current federal drinking water standard is 100 parts per billion for total chromium, a measurement that includes the toxic chromium-6 and chromium-3, which is an essential human dietary element.
Health groups are pushing for federal regulators to set national drinking water standards.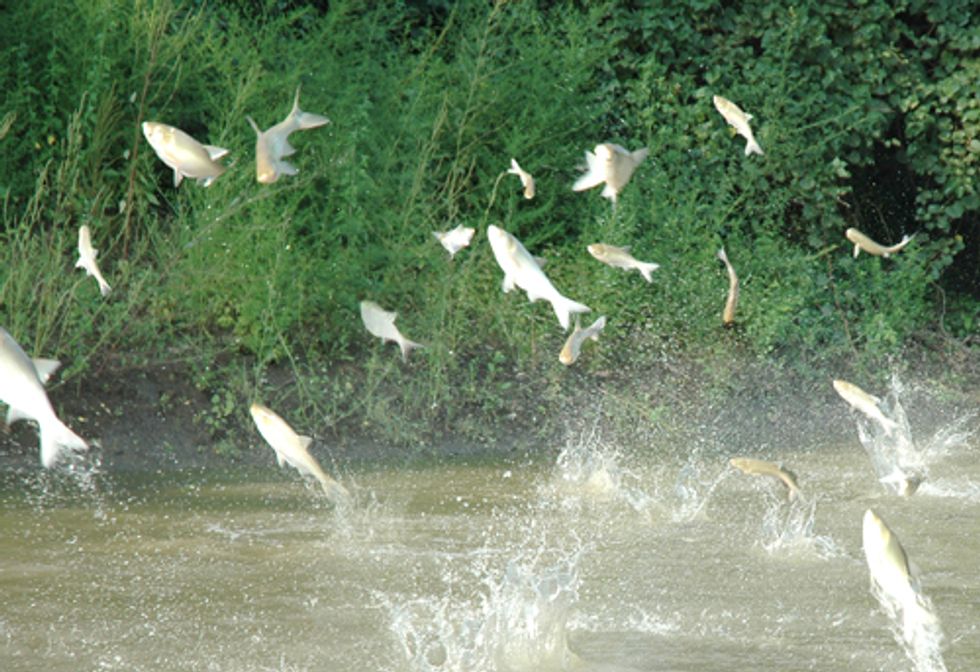 By Jeff Alexander
The federal government is winning the battle to keep Asian carp from reaching the Great Lakes, according to an Obama administration official.
Cameron Davis, the Obama administration's point person on Great Lakes issues, told a group of conservation leaders this week that the government has stopped the advance of Asian carp, which—depending on whom you believe—are either 50 miles from Lake Michigan or already in the lake.
"We're winning the war on Asian carp," Davis said on Feb. 29 during a White House Great Lakes Summit, which was held in conjunction with Great Lakes Days in Washington, D.C.
Government crews are "beating back" the advance of Asian carp in the Chicago Waterway System, the network of manmade canals that form an artificial link between the Mississippi River and Lake Michigan, Davis said.
His claim was met with a stunned silence from the group of scientists and conservation leaders (including several from National Wildlife Federation) who were invited to participate in the Great Lakes Summit.
The reason—Researchers have repeatedly found traces of Asian carp DNA in Chicago-area waters with direct connections to Lake Michigan. Those findings suggest Asian carp have breached an electric fish barrier in the Chicago Waterway System and reached the southern fringe of Lake Michigan.
Faster action needed on separating Great Lakes, Mississippi River basins
The Obama administration has spent more than $100 million over the past two years to fight Asian carp and plans to spent another $50 million this year. That level of support is commendable.
Asian carp—which eat like hogs, breed like mosquitoes and leap out of the water when disturbed by the sound of boat motors—could decimate the $7 billion Great Lakes fishery and pose potentially lethal hazards to boaters in the region.
If the president wants to pull out all the stops in the fight against Asian carp, he must speed up efforts to separate Lake Michigan from the Mississippi River basin.
The U.S. Army Corps of Engineers is currently moving at a snail's pace as it studies how best to prevent Asian carp in the Mississippi River system from invading the Great Lakes. The Corps plans to study the issue for at least three more years before recommending solutions.
Experts have said that separating Lake Michigan from the Mississippi River is the only sure way to prevent Asian carp and other harmful invasive species from moving between the two basins.
The Great Lakes Commission produced a report in January that offered three options for breaking the artificial connection between Lake Michigan and the Mississippi River basin.
The looming threat
Currently, there are no reproducing populations of Asian carp in the Great Lakes. But individual Asian carp have been found in Lake Erie, Lake Huron and Chicago-area waters connected to Lake Michigan.
Given the mounting evidence of Asian carp lurking in southern Lake Michigan, it's premature for government officials to claim they are winning the war against this menacing species of fish. Worse, it's tempting fate.
For more information, click here.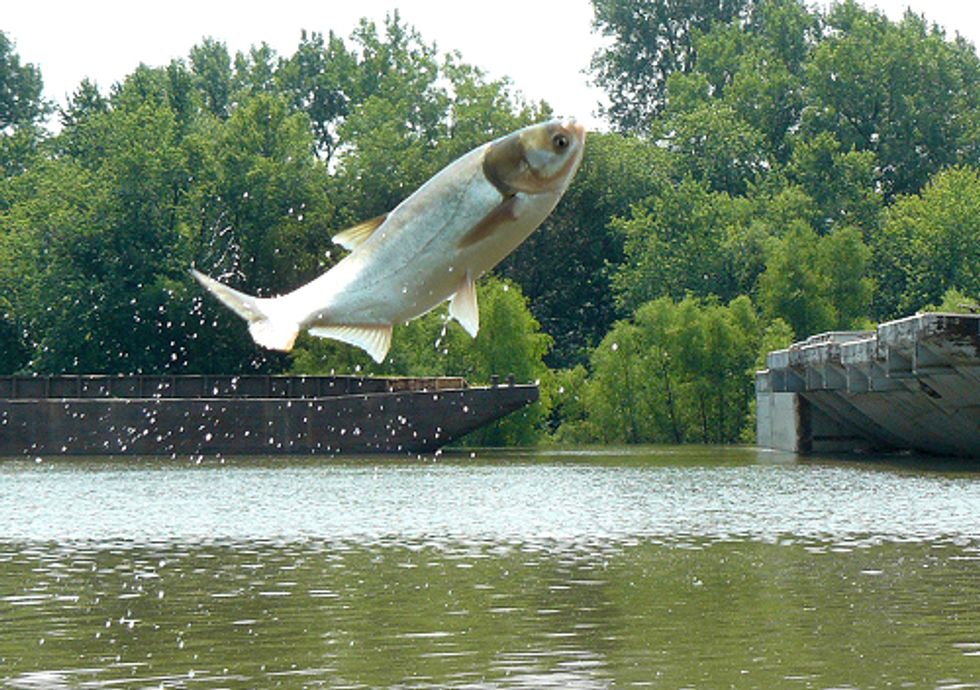 A much-anticipated study says separating the Great Lakes and Mississippi River basins to prevent the spread of Asian carp and other invasive species is not only possible, but a natural step toward much-needed action to improve Chicago's water infrastructure.
Great Lakes environmental groups reacting to the study, released Jan. 31 by the Great Lakes Commission and Great Lakes-St. Lawrence Cities Initiative, commended the authors' factual analysis concluding that separation is possible and that it must include essential upgrades to sewage, flood control and waterborne transportation while preventing the transfer of invasive species.
"The study is unprecedented in its scope and ambition, re-envisioning the Chicago Area Waterways System (CAWS) as a system that not only prevents invasive species from devastating the Great Lakes and Mississippi River and all their tributaries, but also makes sorely-needed improvements to core functions like moving people and goods, managing stormwater and maintaining water quality," the partner groups said in a statement.
The study refocuses the Great Lakes region on a long-term permanent solution and away from stopgap measures that, on their own, will ultimately fail to stop the Asian carp's march to Lake Michigan.
The authors note that restoring the natural divide between the Great Lakes and Mississippi River basins at Chicago can coordinate with efforts already under way by the city of Chicago, the state of Illinois and the Metropolitan Water Reclamation District to improve water quality and reduce flooding.
The marauding bighead and silver carp are the poster fish for the ecological and economic havoc in the offing when invading species travel between the Great Lakes and Mississippi. Research estimates that the annual cost to the Great Lakes region from invasive species introduced by shipping is upwards of $200 million per year.
"Tens of thousands of constituents have spoken to their members of Congress through a postcard campaign asking for immediate action to stop the Asian carp," said Cheryl Mendoza, associate director for Freshwater Future. "This study provides decision makers with the path to the permanent solution Great Lakes citizens have been asking for."
Since 2009, multiple hits of Asian carp DNA have been found lakeward of an electric barrier in the CAWS meant to keep the fish out of Lake Michigan and the Great Lakes. More recently, carp DNA has been reported in waters open to Lake Michigan.
Joel Brammeier, president and CEO of the Alliance for the Great Lakes, says the study is the most specific evaluation to date of what it would take to achieve hydrologic separation at the CAWS. "Chicago and Illinois have been under a spotlight as the carp close in on Lake Michigan," says Brammeier. "This report shines that light in a new direction—toward the transformation of the Chicago waterway into a resource of which everyone in the city, the state and the country can be proud."
Since 2008, environmentalists have called for separating the artificially conjoined Great Lakes and Mississippi River basins—the only permanent solution on the table and one that has come to be embraced by states, cities and members of Congress alike.
"Separation is a modern 21st century solution for a 21st century problem," says Jennifer Nalbone, director of Navigation and Invasive Species for Great Lakes United. "This study points the way to a solution that not only benefits the Great Lakes states, but also Canadian and Mississippi River stakeholders. Most of North America will ecologically and economically benefit from separating the two basins."
The GLC-GLSLCI study clearly demonstrates that separation is possible, providing detailed background on three separation options that allow elected officials and community leaders to move the discussion to the next level. As any separation is intrinsically tied to the multiple uses of the waterway system, it is imperative the Chicago region be an engaged partner.
"The study has the potential to be a game-changer in the effort to restore and protect the Great Lakes," says Jeff Skelding, director of the Healing Our Waters-Great Lakes Coalition. "It proves we have affordable solutions to the Asian carp crisis that benefit both our environment and economy. This report should put an end to excuse-making and foot-dragging and light a fire under the U.S. Army Corps of Engineers to do its job so the nation can move forward on a solution to protect the Great Lakes and the jobs that depend on them."
To that end, the partner groups stress that the study is a beginning, not an end, and should not be interpreted as a strict set of policy recommendations. Until separation is complete, they say strong interim protections must be implemented to protect against an Asian carp invasion, and note the study includes such measures within its long-term vision for separation. The groups also urge Congress to pass the Stop Asian Carp Act.
A plodding U.S. Army Corps of Engineers' study of the problem—the Great Lakes and Mississippi River Interbasin Study—could be expedited by incorporating findings from the GLC-GLSLCI study and starting separation planning now, the groups say.
"The study is a revelation. It puts solutions on the table that are both feasible and affordable," says Marc Smith, senior policy manager with the National Wildlife Federation. "The onus is clearly now on the U.S. Army Corps of Engineers to expedite its own study so the nation can stop talking about 'if' a solution is possible, and instead focus on 'when' people can be put to work to solve this problem once and for all."
Thom Cmar, attorney for the Natural Resources Defense Council, concurs. "We have a unique opportunity here because we know the invasion is under way and we know how to stop it.
"Not only can a barrier stop the spread of Asian carp and the rest of the harmful invasives moving on the waterway, it can also help revitalize the festering mess on the Chicago River—but only if we have the political will to act quickly, before it's too late," says Cmar, author of a 2010 study examining potential impacts of anti-invasive species barriers on Chicago's waterways.
Around the Basin:
More Reaction from Great Lakes Organizations
"Minnesota's waters are currently threatened by Asian Carp from many directions. We have to fight them on all fronts because once they are here we have no safe, effective way to deal with them. The protection of Minnesota's waters depends on shutting the door on the Asian Carp at the Chicago Area Waterway System (CAWS)."
—Darrell Gerber, program coordinator, Clean Water Action Minnesota
"This study shows that the separation of the Great Lakes and Mississippi River basins can be a win-win for Chicago and Ohio. Lake Erie's prized sportfish, Ohio jobs and $10 billion in economic revenue to Ohio from travel and tourism is all at risk from an Asian carp invasion. Ohio's congressional members need to work with leadership to ensure the U.S. Army Corps of Engineers expedite its plan so our children and grandchildren can enjoy the lakes as we do today."
—Kristy Meyer, director of agricultural & clean water programs, Ohio Environmental Council
"Canada's Department of Fisheries and Oceans completed an Asian Carp Risk Assessment in 2004 and found these voracious silver and bighead carp that spawn several times a year will invade nearly all of the Canadian Great Lakes shorelines and then travel up our rivers to get into our lakes. The Great Lakes are bi-national waters and we do not want these invasive carp in our waters. Sierra Club has a bi-national policy for all our nine Great Lakes Chapters that calls for 'urgent implementation of a plan to install permanent barriers to separate the hydrological connections at Chicago of the Great Lakes to the Mississippi River.' Sierra Club appreciates this GLC-GLSLCI report that should get construction started soon rather than wait another five years for the USACE to study the problem. The time to act is now!"
—Mary Muter, chair, Great Lakes Section, Sierra Club Ontario
For more information, click here.