This website uses cookies to ensure you get the best experience while browsing it. By clicking 'Got It' you're accepting these terms.
The Lady K tow boat kicks up a wake full of green algae a few hundred feet from the city of Toledo's Water Intake on Lake Erie, for testing on Monday, Aug. 4, 2014. Ty Wright / The Washington Post / Getty Images
By Valerie Vande Panne
In February, the voters of Toledo, Ohio, passed a ballot initiative that gives Lake Erie and those who rely on the lake's ecosystem a bill of rights. The idea is to protect and preserve the ecosystem so that the life that depends on it — humans included — can have access to safe, fresh drinking water.
Small ephemeral waterfall flows into Lake Erie on Kelley's Island. Perry's Victory and International Peace Memorial on Ohio's South Bass Island is on the background. Posnov / Moment / Getty Images
By Julia Conley
Tired of receiving notices warning that their drinking water may have been compromised and having little recourse to fight corporate polluters, voters in Toledo, Ohio on Tuesday approved a measure granting Lake Erie some of the same legal rights as a human being.
Sixty-one percent of voters in Tuesday's special election voted in favor of Lake Erie's Bill of Rights, which allows residents to take legal action against entities that violate the lake's rights to "flourish and naturally evolve" without interference.
EcoWatch Daily Newsletter
Water Online
As harmful algal blooms become more widespread, it's important to understand the dangerous impacts these toxic organisms can have on people, planet and even your pets.
Ohio governmental officials will be releasing an updated report about a two-square-mile toxic blob at the bottom of Lake Erie that might be spreading perilously close to a water intake pipe that supplies drinking water for the city of Cleveland.
Lake Erie's toxic sediment is a potential threat to city of Cleveland's drinking water.Stefanie Spear
According to The Plain Dealer, the new report is expected for release later this fall and is based on new tests taken nearby a section of the lake bottom known as Area-1, located about nine miles off the coast. Prior Ohio Environmental Protection Agency (EPA) tests of the tainted plot from 2014 and 2015 revealed levels of PCBs (polychlorinated biphenyls) and PAHs (polycyclic aromatic hydrocarbons) that were much higher than elsewhere in Lake Erie. These highly toxic chemicals can harm or kill aquatic life and can cause cancer in humans.
Lake Erie's toxic blob is the result of the U.S. Army Corps of Engineers' dumping of dredged and untreated sludge from the polluted Cuyahoga River shipping channel in the 1970s. The disposal took place before the Clean Water Act of 1972 was enacted.
The mass is located about five miles from an intake valve for the Nottingham Water Treatment Plant, which supplies drinking water to parts of Cuyahoga County—Ohio's most populous county. It is unclear how fast the blob is moving or if it will actually reach the pipe.
Two-square-mile blob sitting at the bottom of Lake Erie could be spreading.Ohio EPA / The Plain Dealer
The Ohio EPA said in May that the city's water is being monitored and is safe.
Kurt Princic, chief of EPA's Northeast Ohio District, said PCBs or PAHs have not been detected so far at the Nottingham water plant, The Plain Dealer reported.
However, this doesn't mean that the situation won't change.

"I'm no more satisfied now than I ever was that we have dispelled the fact that we have toxic sediment moving toward our drinking water," Ohio EPA Director Craig Butler told The Plain Dealer. "We need conclusive evidence. We need more samples so that we will know, once and for all, whether this substance is moving."
"We need the U.S. EPA's help to develop an analysis and a strategy to determine if it is migrating and whether it is a threat to drinking water," Princic added.

Former Army Corps Brigadier General Richard Kaiser denies claims that the toxic sediment is spreading or that it's a threat to the city's drinking water. He told The Plain Dealer that Army Corps scientists assured him that waves cannot influence sediment 60 feet underwater except during extreme storm events, adding that the EPA's testing methods and reports were "critically flawed."
However, Butler has refuted this view, citing EPA's tests indicating that the toxic sediment has indeed spread from the original dumping site from wind currents and storms.
By Karen Chapman

For a month now, South Florida Atlantic beaches have been blanketed by a sickly green, toxic algae sludge that has kept tourists away and businesses reeling.
Florida has a bigger headache this summer than most states, but algae blooms are hardly unique.
Last week, more than 100 people were sickened by toxic algae in a Utah lake fed by agricultural runoff and treated sewage water. Algae-soiled beaches are a perennial health threat in China and the Baltic region. And just two summers ago, an outbreak in Lake Erie forced the City of Toledo to ban city water for nearly half a million residents.
We know that climate change is further exacerbating our algae problem—but also that there are ways to reduce the runoff that causes water quality issues and kills marine life, year after year.

Algae blooms can be minimized and maybe even prevented if we scale up existing efforts to improve fertilizer use and soil health management—practices that can also save farmers money and boost their yields.
Two Efforts to Curb Runoff Ready to Scale
Two initiatives and private-sector partnerships are making significant headway today. If these efforts are replicated at scale, they could have a national—and even international—impact.
Thanks, in large part, to Walmart's demand for more sustainable grains, food companies such as Campbell's Soup, Unilever, Smithfield Foods and Kellogg's are helping the farmers in their supply chain to reduce fertilizer runoff through a rapidly growing program called SUSTAIN.
Spearheaded by the ag retail cooperative United Suppliers, the plan is to have 10 million acres of farmland using best practices for fertilizer management and soil health by 2020.
Precision agriculture tools can help farmers meet the growing demand for sustainably grown grains, but it's difficult to tell which tools perform as advertised. That's why we developed NutrientStar, an independent program that assesses the fertilizer efficiency claims of products on the market.
What Will It Take?
Supply chains are a powerful tool for igniting change. Companies can signal that fertilizer efficiency and good soil management are not just good for the environment, but also for improving water quality, protecting aquatic species and helping a farmer's yields and bottom line.
But to get a handle on our growing algae problem in the U.S. and overseas, there is no one silver bullet.
We need more food companies to embrace sustainable sourcing, ag retailers to replicate the SUSTAIN model in order to reach millions of growers and farmers to use NutrientStar to understand how tools perform in the field. Agricultural policies must also align with and accelerate, adoption of conservation best practices.
To turn these initiatives into tangible environmental improvements, we must work with and not against farmers and agribusiness. The people who feed our rapidly growing population—and the companies that support them—are and must be, our most important allies.
By Codi Kozacek
A year after the most intense bloom of toxic algae on record engulfed Lake Erie, the lake is set to get a reprieve this summer. Federal forecasters at the National Oceanic and Atmospheric Administration predict this year's bloom will register a 5.5 in severity, about half the level recorded last year and significantly less than the bloom in 2014 that shut down water supplies for nearly half a million people in Toledo, Ohio.
A satellite image captured on July 15, 2016 shows the beginning of an algal bloom. Forecasters predict this summer's bloom will be much smaller than the record-setting bloom last year.MODIS / NOAA CoastWatch
Still, work to rid the shallowest Great Lake from the annual blooms that contaminate drinking water, close beaches and create aquatic "dead zones" is far from over, warned researchers and water managers gathered at Ohio State University's Stone Laboratory last week. Hundreds of metric tons of phosphorus, a nutrient contained in fertilizer, manure and sewage, continue to wash down the Maumee River each year into Lake Erie's western basin, where the influx fuels the bloom of blue-green algae.
The small size predicted for this year's bloom is more a function of dry weather in the Maumee Basin rather than big reductions in phosphorus. Just as record rains in the basin last year triggered a massive bloom, dry conditions this spring meant less water to carry phosphorus off the land and into the lake. As a result, total "loads" of the type of phosphorus that can be used by algae are expected to be about one-third the amount washed into the lake last year.
"The reality is that rain is really driving our loads at this point in time," said Laura Johnson, director of the National Center for Water Quality Research at Heidelberg University, which tracks the nutrients flowing into Lake Erie.
That means one dry year with a small algal bloom does not indicate the problem is solved. It will take a 40 percent reduction in the amount of phosphorus flowing down the Maumee and other Lake Erie tributaries to control the blooms in the long-run, according to new targets adopted in February by the U.S. and Canada. Further, the blooms in Lake Erie are just one facet of the burgeoning nutrient pollution problem across the nation and the globe. Attention this year is focused on the noxious blooms along Florida's Treasure Coast, where the state's governor declared a state of emergency in June. But blooms also plague Green Bay in Lake Michigan, Lake Taihu in China and the Murray-Darling River in Australia. The oxygen-depleted aquatic dead zones created when blooms die regularly form in Lake Erie, the Gulf of Mexico and the Baltic Sea.

Spurred by the poisoning of Toledo's drinking water supply in 2014—and a history of algal blooms dating to the mid-20th century—the research and management efforts being implemented in the Lake Erie watershed to curb phosphorus runoff are an important guidepost for these other systems.
"This is a state, country and global issue," said Chris Winslow, interim director of Stone Laboratory. "We're at the cutting edge of many of these studies right now. A lot of this is going to inform what a lot of people do throughout the country."
A Plan for Lake Erie
Over the past year and following decades of study, the Great Lakes states and provinces took their first concrete steps toward curbing phosphorus pollution and algal blooms in Lake Erie. An agreement signed between the premier of Ontario and the governors of Ohio and Michigan last June set an ambitious goal to cut phosphorus flowing into western Lake Erie by 40 percent by 2025. It also set the interim goal of a 20 percent reduction by 2020. The state-level commitment was followed by the adoption in February of 40 percent reduction targets under the Great Lakes Water Quality Agreement (GLWQA). While there is no timeline under the GLWQA, it does require the U.S. and Canada to develop domestic action plans by 2018 outlining how they will make the phosphorus cuts.
To meet those goals, land and water managers will need to focus on reducing runoff from farms in the Maumee River Basin, according to a study led by researchers at the University of Michigan. While stormwater runoff, discharges from municipal wastewater plants and septic systems can all contribute phosphorus, scientists estimate nearly 85 percent of the phosphorus flowing into Lake Erie from the Maumee comes from farm fertilizers and manure.
The study, released in April, analyzed a variety of agricultural management scenarios using watershed models to estimate how the practices would affect phosphorus discharges. In general, it found that agricultural practices meant to trap phosphorus on land will need to be widely adopted and that better results occur when those practices are targeted on land that currently releases high levels of phosphorus.
University of Michigan
Specifically, only two scenarios achieved the new targets outlined under the GLWQA. The first would require the conversion of 50 percent of cropland to uncultivated grassland and is considered highly unrealistic.
The second would require the subsurface application of phosphorus fertilizers on half of the cropland that currently loses the most phosphorus. That prevents the fertilizer from sitting on top of the soil, where it can be washed off by rain. The scenario also calls for the use of rye cover crops and the installation of "medium quality" buffer strips on 50 percent more cropland than implements these practices now. Cover crops store the phosphorus in their roots and leaves, keeping it out of the soil so it cannot wash away, while "buffer" strips of vegetation slow the rain running off of fields, filtering out phosphorus before it reaches streams. As of 2013, approximately 8 percent of farms in the Maumee watershed used a rye cover crop and 35 percent of farms used buffer strips.
In a demonstration of agriculture's important role in reducing phosphorus, the study also examined a scenario in which all point sources of phosphorus—those that come out of a pipe, such as from a municipal wastewater plant—were eliminated completely. In that scenario, total phosphorus was reduced by just 5 percent and dissolved reactive phosphorus—the kind most usable by algae—was reduced by 10 percent.
"The 40 percent [target] is doable, but it's going to be a heavy lift," said Gail Hesse, director of the National Wildlife Federation's Great Lakes Water Program, speaking at the Stone Laboratory event. "It's going to need a steep investment and a steep ramp-up in our efforts to reach that target."
Codi Kozacek is a news correspondent for Circle of Blue based out of Hawaii. She writes The Stream, Circle of Blue's daily digest of international water news trends. Her interests include food security, ecology and the Great Lakes.
This article was reposted with permission from our media associate Circle of Blue.

Florida's algae problem is the latest reminder that we must act now to protect our waters and combat climate change.
Popular
It's as thick as guacamole, but you don't want it near your chips. You don't want it in your water, either, but that's exactly where it is, a sprawling mat of toxic algae the size of Miami, spreading out across Florida's storied Lake Okeechobee and from there along major rivers to the state's Atlantic and Gulf Coasts.

Lake Okeechobee's blue-green algae bloom is visible from space.National Aeronautics and Space Administration
Fish are dying. Beaches are closing. People are getting sick.

"The smell is so bad it will make you gag," Mary Radabaugh told officials at a town hall meeting last week near Palm Beach. "We have red eyes and scratchy throats."
Gov. Rick Scott has declared a state of emergency in affected areas and is pleading with Washington for assistance to cope with widespread threats to the environment and public health.
"South Florida is facing a crisis," Sen. Bill Nelson, D-FL, wrote in a letter July 6 to U.S. Senate leaders. "Beaches and waterways that would normally have been crowded this past Fourth of July weekend were empty as families and vacationers heeded warnings to avoid the toxic blue-green and brown algae blooms that have formed along the waterways and even out into the Atlantic Ocean."
The algae blooms that have thrown the Sunshine State into crisis are telling us three things. First, we need to protect our waters from the pollution that breeds these toxic blooms. Next, we need to fight the climate change that brings warmer temperatures that amp up algae growth. And finally, we need to demand real action on both fronts from our elected leaders at every level.

Algae blooms are a national problem. In recent years, we've seen them in water bodies as large as Lake Erie. There are a perennial problem near the mouth of the Mississippi River, where algae blooms strip oxygen from the water, creating a dead zone that threatens shrimp, fish, crabs and other marine life across a span of ocean the size of Connecticut in the rich fisheries of the Gulf of Mexico. They're a growing threat to our environment and health.
The immediate cause of the blooms can vary, but the common basics are these: Rains wash pollution from farms, septic tanks and other sources into our waters—from small streams and wetlands to great rivers and lakes—and municipal sewage systems add waste to these waters. These pollutants then supercharge the waters with nutrients like nitrogen and phosphorus. That feeds a population explosion for algae that feast on these nutrients. Warmer temperatures accelerate the growth.
Algae blooms, though, are toxic. Cyanobacteria is what scientists call them and they can cause skin and respiratory ailments as well as gastrointestinal and liver illness. In large doses, they can even threaten the nervous system. Humans can be affected by coming in direct contact with the algae; swallowing water at the lake, river or ocean; or even breathing water spray in which algae are growing.
These toxins threaten marine life, birds and other wildlife as well. In addition, when algae die they decay, a process that robs water of oxygen, which can cause mass fish kills. Finally, a mat of algae like the one covering much of Lake Okeechobee starves underwater plant life of needed sunlight, in turn denying food to fish and other species dependent on those plants.
The fix is to set commonsense limits that keep pollution out of our waters and then to enforce those limits. That means requiring cities and towns to do a better job treating sewage and keeping it from entering the watershed after heavy rains. It means stopping large, concentrated animal feeding operations from dumping massive amounts of waste into our waters. It means applying standards to prevent industrial agricultural operations from polluting our waters with fertilizer that runs off their fields. And it means fighting the climate change that is warming our waters, helping to turn modest seasonal algae growth into crisis-level blooms.
We just wrapped up the hottest June ever recorded in the contiguous U.S.—a blistering 3.3 degrees Fahrenheit above the 20th-century average. Last year was the hottest year globally since record keeping began in 1880 and this year's first five months have been even hotter. Nineteen of the hottest years on record have occurred in the past 20 years.
Turning this around means shifting away from the dirty fossil fuels that are driving global climate change and investing in cleaner, smarter ways to power our future without imperiling the planet. The algae blooms in Florida are a reminder of how much this matters and how urgently we must act.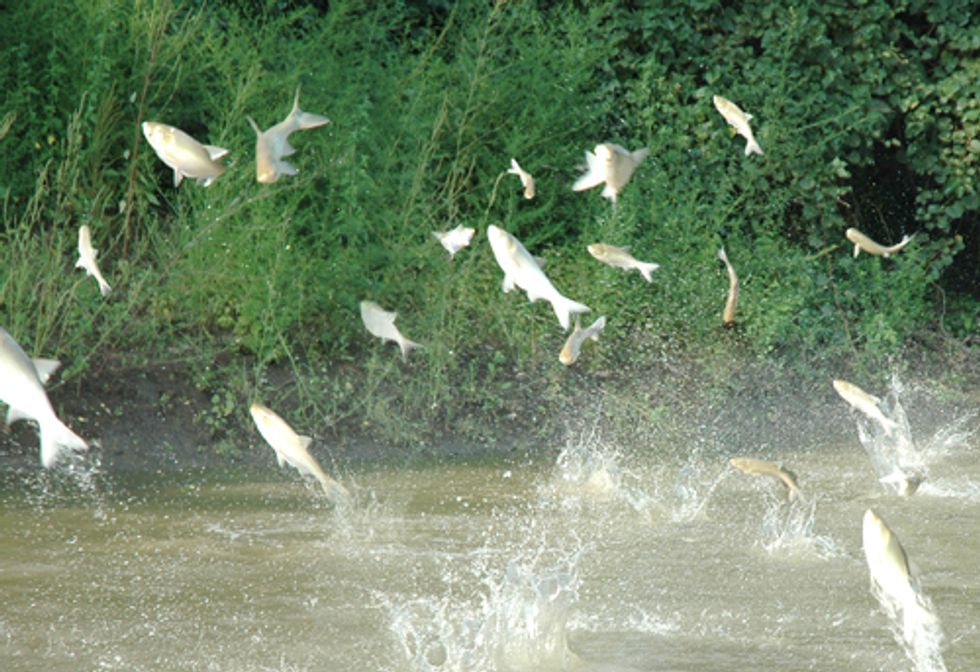 By Jeff Alexander
The federal government is winning the battle to keep Asian carp from reaching the Great Lakes, according to an Obama administration official.
Cameron Davis, the Obama administration's point person on Great Lakes issues, told a group of conservation leaders this week that the government has stopped the advance of Asian carp, which—depending on whom you believe—are either 50 miles from Lake Michigan or already in the lake.
"We're winning the war on Asian carp," Davis said on Feb. 29 during a White House Great Lakes Summit, which was held in conjunction with Great Lakes Days in Washington, D.C.
Government crews are "beating back" the advance of Asian carp in the Chicago Waterway System, the network of manmade canals that form an artificial link between the Mississippi River and Lake Michigan, Davis said.
His claim was met with a stunned silence from the group of scientists and conservation leaders (including several from National Wildlife Federation) who were invited to participate in the Great Lakes Summit.
The reason—Researchers have repeatedly found traces of Asian carp DNA in Chicago-area waters with direct connections to Lake Michigan. Those findings suggest Asian carp have breached an electric fish barrier in the Chicago Waterway System and reached the southern fringe of Lake Michigan.
Faster action needed on separating Great Lakes, Mississippi River basins
The Obama administration has spent more than $100 million over the past two years to fight Asian carp and plans to spent another $50 million this year. That level of support is commendable.
Asian carp—which eat like hogs, breed like mosquitoes and leap out of the water when disturbed by the sound of boat motors—could decimate the $7 billion Great Lakes fishery and pose potentially lethal hazards to boaters in the region.
If the president wants to pull out all the stops in the fight against Asian carp, he must speed up efforts to separate Lake Michigan from the Mississippi River basin.
The U.S. Army Corps of Engineers is currently moving at a snail's pace as it studies how best to prevent Asian carp in the Mississippi River system from invading the Great Lakes. The Corps plans to study the issue for at least three more years before recommending solutions.
Experts have said that separating Lake Michigan from the Mississippi River is the only sure way to prevent Asian carp and other harmful invasive species from moving between the two basins.
The Great Lakes Commission produced a report in January that offered three options for breaking the artificial connection between Lake Michigan and the Mississippi River basin.
The looming threat
Currently, there are no reproducing populations of Asian carp in the Great Lakes. But individual Asian carp have been found in Lake Erie, Lake Huron and Chicago-area waters connected to Lake Michigan.
Given the mounting evidence of Asian carp lurking in southern Lake Michigan, it's premature for government officials to claim they are winning the war against this menacing species of fish. Worse, it's tempting fate.
For more information, click here.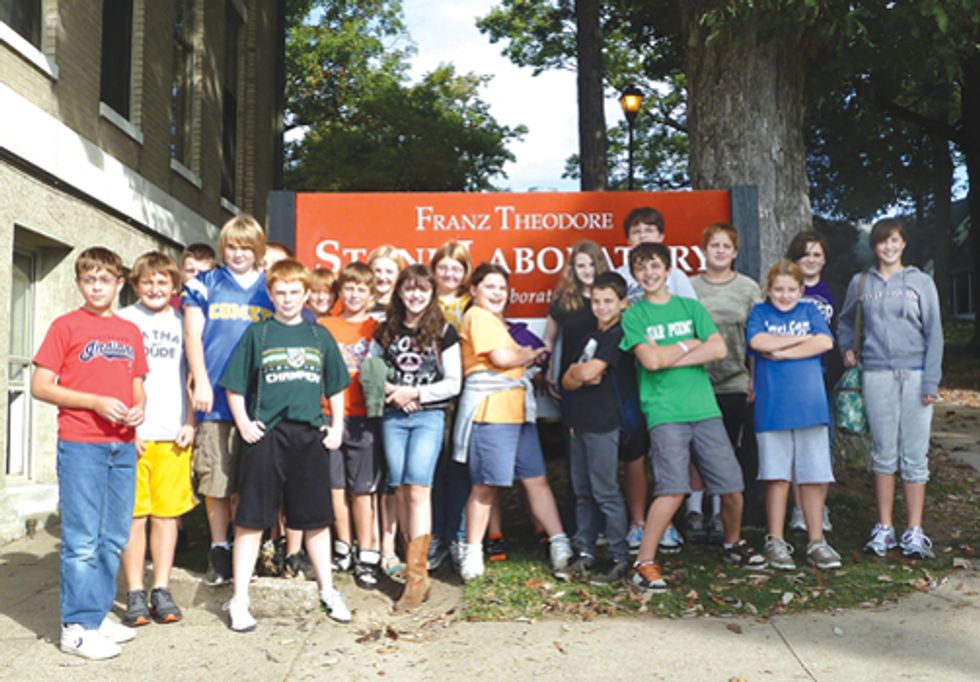 The summer 2011 algal bloom outbreak in the western section of Lake Erie was the worst ever recorded according to a new report by the National Wildlife Federation. Researchers have different opinions on what caused this "perfect storm" of algal growth this summer, but all agree that immediate action must take place to prevent this from happening again.
Akron's Coventry Middle School students have been studying this environmental catastrophe through their Disney Planet Challenge project, What is an algal bloom?...You are about to enter the Dead Zone! Disney's Planet Challenge (DPC) is a project-based learning environmental competition for classrooms across the U.S. DPC teaches kids about science and conservation while empowering them to make a positive impact on their communities and planet.
Coventry students have been working with Ohio Environmental Protection Agency (EPA) Surface Water Division and participating in several labs on nutrient overloading. Community involvement will include "storm drain marking" on a minimum of 25 storm drains throughout the village.
The students held a fishing derby at the Division of Wildlife Fish Hatchery in Portage Lakes. Student Adam Marsh attended the derby with his mother and 2 siblings, stating that the reason he participated in the event "was to have fun and enjoy the outdoors in a clean and safe environment." The students visited the Ohio State's Aquatic Research Facility on Gibraltar Island observing the algal bloom first hand and completing water quality testing and stream monitoring.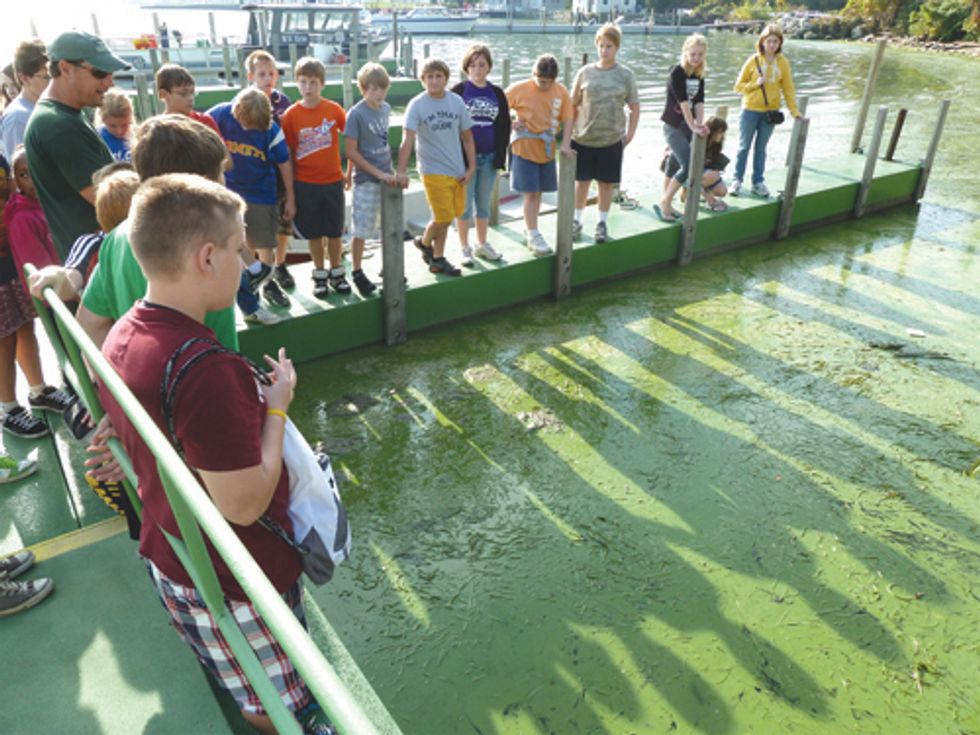 Middle School students realize the economic and recreational significance of Lake Erie and hope to bring this ecological disaster to the forefront of environmental issues. Teachers Chris Lorence and Jim Trogdon are the coordinators of the project. Trogdon states, "The first step in solving any problem is to make people aware of the current situation and then take action. This is the goal of our project." Coventry Middle School students are actively working with a variety of resources including the Ohio Division of Wildlife, Cuyahoga Valley National Park, Ohio State's Aquatic Research Center, Stone Lab, Underwriter's Laboratories and Ohio EPA Surface Water Division of Summit County.
Alec McClellan, President of Good Nature Organic LawnCare, partnered with Coventry Middle School to help promote the students' Disney Project. Good Nature will donate $30 to the school's outdoor education program for anyone who signs up for a full lawncare program. For more information, call Good Nature Organic Lawncare at 216-285-1881.
Best of luck to these young environmentalists as they continue their work.
Disney's Planet Challenge is a free, project-based environmental program that empowers students to make a difference in school, at home and in their local communities.
For more information, click here.