Companies and organizations opposed to labeling foods that contain genetically engineered (GE) ingredients disclosed $9 million in lobbying expenditures that made reference to GE labeling in the first quarter of 2014—nearly as much as they spent in all of 2013.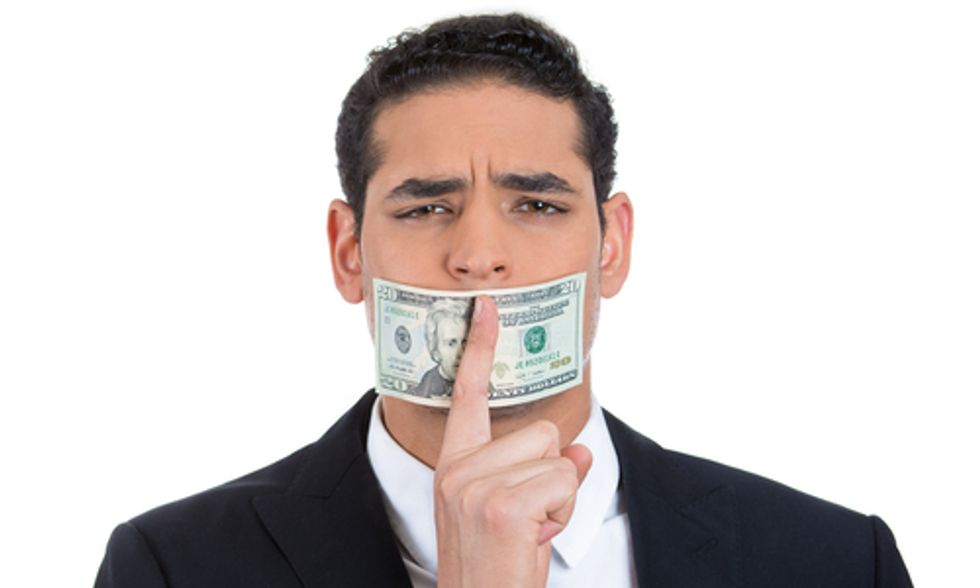 Food industry lobbying in Congress dwarfed that of supporters of GE labeling. Photo courtesy of Shutterstock
The burst of lobbying by food and biotechnology companies was partly designed to muster Congressional support for legislation that would block states from requiring GE labeling on food packages. That bill, dubbed the Deny Americans the Right to Know (DARK) Act by advocates of GE labeling, was introduced on April 9 by Rep. Mike Pompeo (R-Kan.).
In May, Vermont became the first state to enact legislation to require GE labeling, although industry has filed suit in an effort to block it. Connecticut and Maine have passed GE labeling laws that would go into effect if other northeastern states pass similar legislation.
Oregon and Colorado voters will consider GE labeling ballot initiatives this fall, and labeling bills have been introduced in 30 other states in 2013 and 2014.
Food and biotechnology companies and organizations disclosed $9.3 million in lobbying expenditures in 2013 that made reference to GE labeling and $9 million in the first quarter of 2014 alone. The forms cite lobbying on GE labeling as well as other policy issues.
In particular, the Grocery Manufacturers Association disclosed $1.2 million in lobbying expenditures that made reference to GE labeling in the first quarter of 2014. The Association's member organizations separately disclosed another $4.3 million in lobbying expenditures that made reference to GE labeling in the first quarter, including $3.9 million by beverage giants Coca-Cola and Pepsi.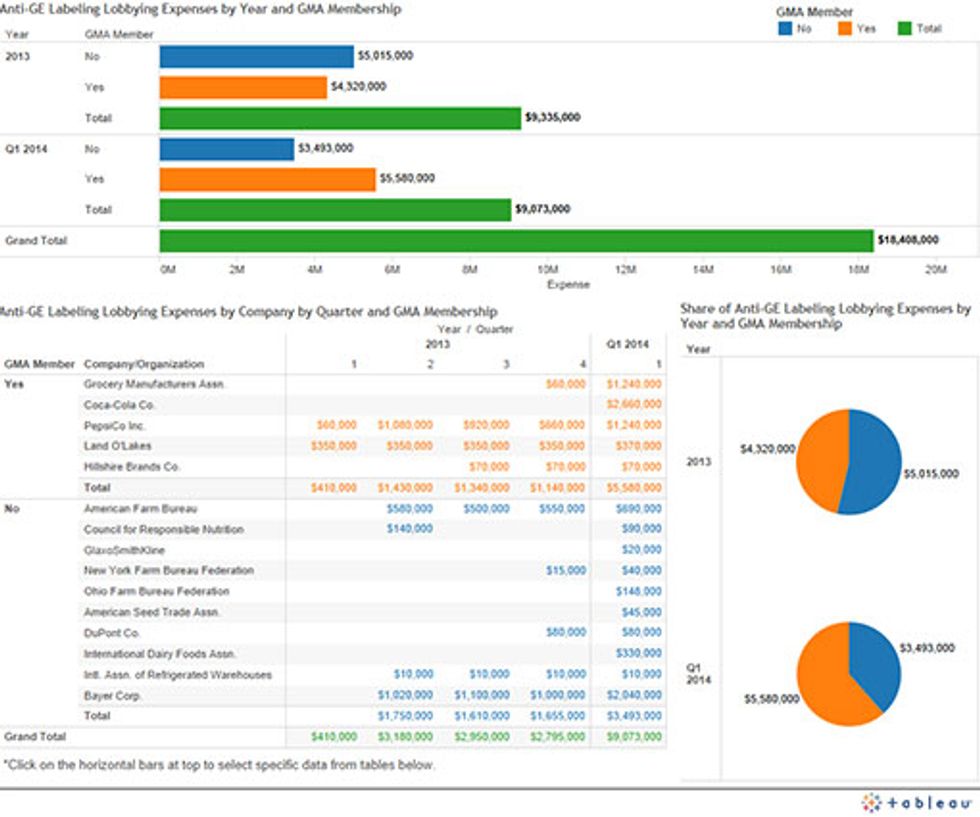 Food industry lobbying in Congress dwarfed that of supporters of GE labeling, who disclosed $1.6 million in lobbying expenditures that made reference to GE labeling in 2013 and just over $400,000 in the first quarter of this year—just one-eighth as much as the opponents. Advocates of GE labeling are supporting legislation introduced by Rep. Peter DeFazio (R-Ore.) and Sen. Barbara Boxer (D-Calif.) that would require GE labeling nationwide.
Several companies that produce genetically engineered seeds and herbicides—including Monsanto, Syngenta and Dow AgroSciences—did not report lobbying specifically on either piece of legislation on their 2013 disclosure forms or in the first quarter of 2014. Instead, their reports cited general advocacy on "biotechnology and biotech product issues," "biotech innovation and regulation" and "biotechnology acceptance." This language could easily include GE labeling, but that wouldn't be obvious to the general public.
Lobbying expenditures for the second quarter of 2014 were due July 21, and the new data will be available by the end of July.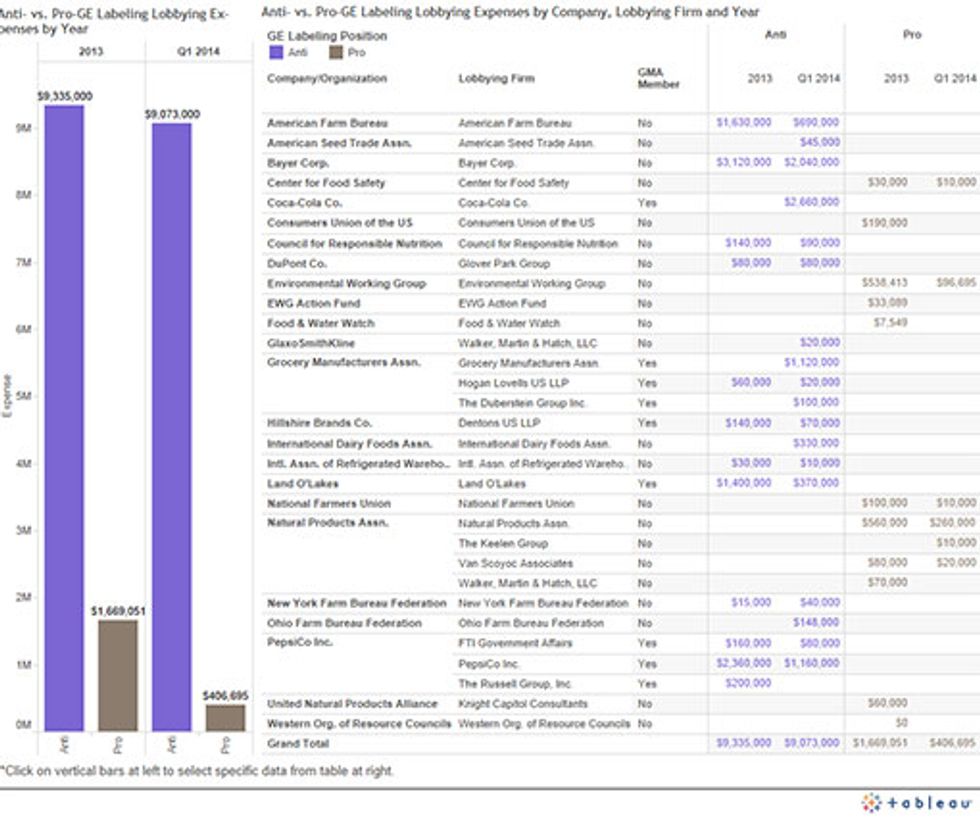 Food and biotechnology companies' political action committees also reported giving $221,345 in campaign contributions to Pompeo and 22 of the 26 members of Congress who co-sponsored the DARK Act (as of July 9). Eight of them, including Pompeo, serve on the House Energy and Commerce Committee, which has jurisdiction over GE labeling.
Pompeo was the second-largest recipient of these campaign contributions, and Monsanto's own PAC was the most generous PAC contributor.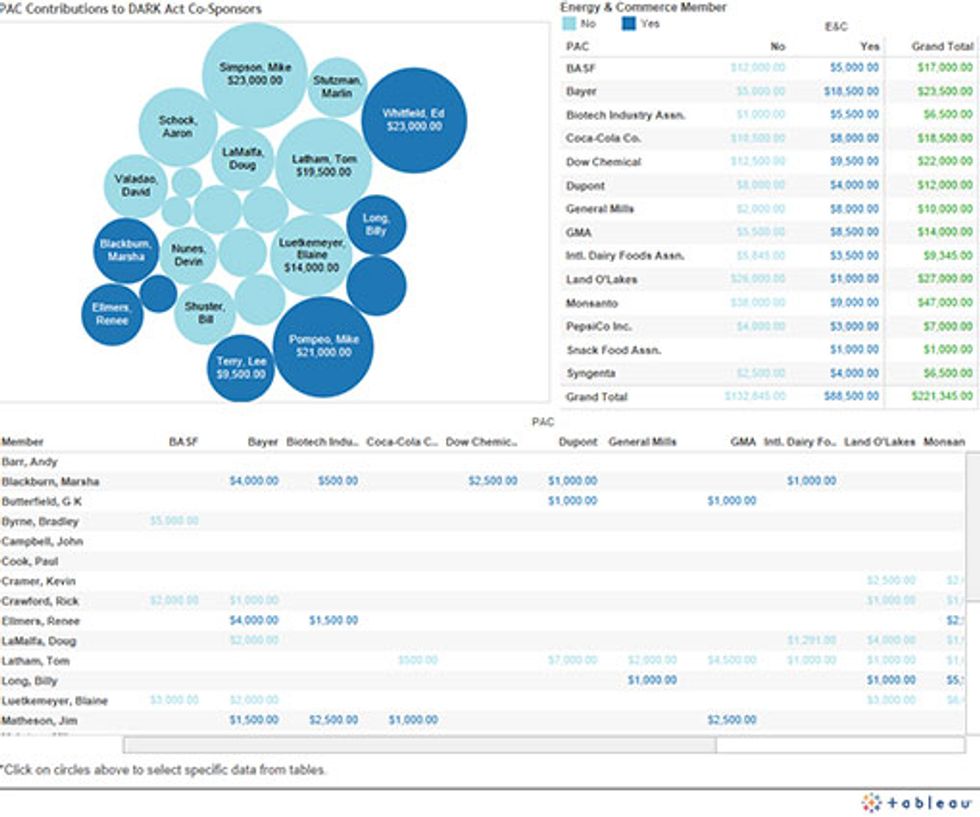 In addition to disclosing $18.4 million in lobbying expenditures that made reference to GE labeling in 2013 and the first quarter of 2014, GE labeling opponents spent $67.9 million to defeat ballot initiatives in California and Washington. Environmental Working Group did not tally funds expended to lobby state legislatures.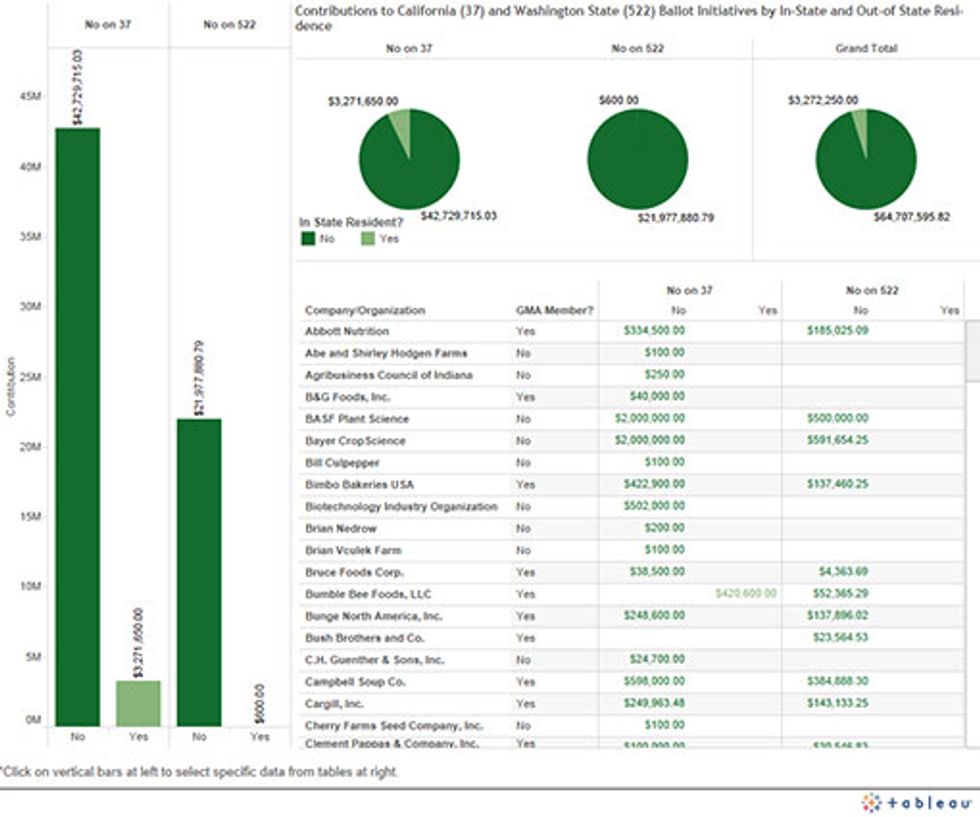 The DARK Act would block any state from requiring GE labels on packaged foods. In addition, it would also allow foods containing genetically engineered ingredients to be labeled as "natural" and limit the Food and Drug Administration (FDA)'s ability to mandate GE labeling nationally.
Instead, the DARK Act would codify existing FDA rules that permit voluntary GE and non-GE labels. To date, no food manufacturer has voluntarily disclosed the presence of GE ingredients in its products.
Americans overwhelmingly support the right to know whether there are genetically engineered ingredients in their food, and recent polls in Oregon and Colorado found that more than three-quarters of voters in those states feel the same way.
You Might Also Like
'Big Food' Ready for Costly Battle as States Consider GMO Labeling Bills
GMO Grass: Coming to a Lawn Near You?
Wave of GMO Labeling Victories Emboldens Movement to Take Back Food Democracy
EcoWatch Daily Newsletter
There is a growing demand for product labeling to protect our health and environment, from genetically engineered foods to flame retardants in baby products. 
The latest call for transparency through labeling? Tackling seafood fraud.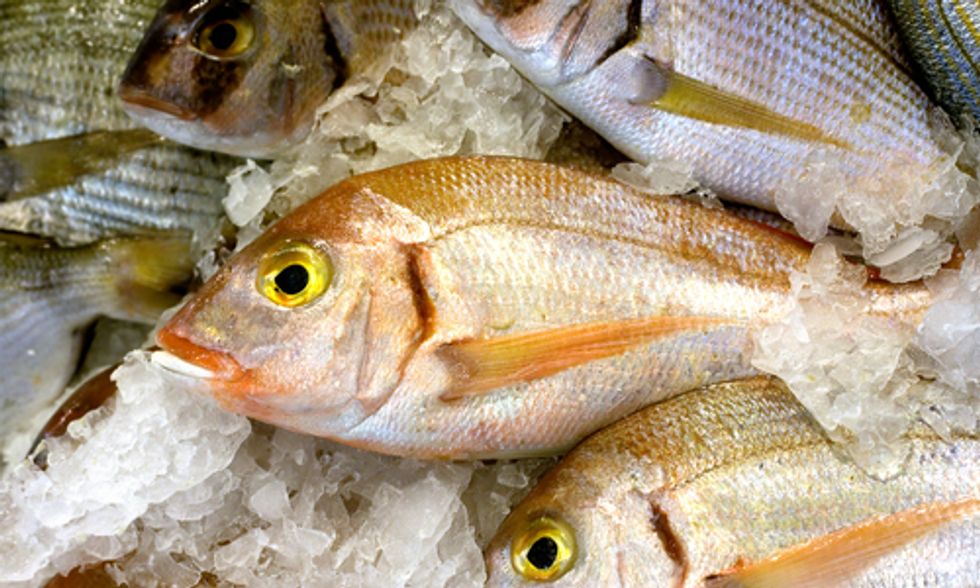 Photo courtesy of Shutterstock
Yesterday the California Senate unanimously passed seafood labeling legislation, SB 1138. The bill, authored by Sen. Alex Padilla (D-Pacoima), requires all shellfish and fish be correctly and accurately labeled with their common names.
"SB 1138 will address the growing problem of seafood mislabeling. To protect our health, economy and oceans it is essential that seafood be labeled accurately," said Sen. Padilla. "Honesty is always the best policy."
Oceana, the bill sponsor, conducted an extensive worldwide investigation between 2010 and 2012, which entailed collecting more than 1,200 seafood samples from sushi venues, restaurants and grocery stores in 21 states to check for honesty in labeling.
The results were shocking. DNA testing revealed 33 percent of samples analyzed were mislabeled. For example, 93 percent of red snapper in the study was mislabeled; 28 different species were identified out of 120 samples of "red snapper" tested; and 17 of the samples weren't even in the snapper family. California scored among the worst in the country.
Fraud cheats honest fishermen and all those along the seafood supply chain who play by the rules, as well as consumers.
"Seafood fraud can undermine conservation efforts aimed at preventing overfishing, eliminating illegal fishing and reducing impacts from damaging fishing gears," according to Geoff Shester, California campaign director for Oceana. "Combating seafood fraud will give seafood consumers more confidence in making positive choices for a healthy ocean ecosystem."
With 1,700+ species of global seafood for sale in the U.S., SB 1138 will arm consumers with the information they need to make decisions to protect their health and the ocean, and will begin to turn the tide on seafood fraud.
The bill will be sent to the Assembly where it must receive a full vote to be considered by the governor.
——–
YOU MIGHT ALSO LIKE
5 Things to Consider When Ordering Seafood
Seafood Mercury Levels Trigger Federal Lawsuit Against FDA
Canadian 10th Grader Discovers Radioactive Imported Seafood Long After Government Stopped Testing
——–
Like many other plant-based foods and products, CBD oil is one dietary supplement where "organic" labels are very important to consumers. However, there are little to no regulations within the hemp industry when it comes to deeming a product as organic, which makes it increasingly difficult for shoppers to find the best CBD oil products available on the market.
<p>Here you can learn about the importance of organic hemp oil, why it's better for the environment, and which CBD companies actually make trustworthy products with sustainable farming processes. origins which weigh heavily on many consumers who want to buy a product that's produced in the best way possible for not only themselves to ingest, but for the environment as well through sustainable farming methods. </p><h2>What Is CBD Oil?</h2><p>First things first, CBD stands for cannabidiol, and it's a cannabinoid found within cannabis sativa plants. This plant compound is believed to have many potential benefits, and it is primarily derived from hemp plants via a CO2 extraction process. </p><p>Since CBD is extracted from industrial hemp, which contains only trace amounts of THC (the psychoactive component in cannabis plants), this means that CBD won't make you feel high like marijuana, which has much higher levels of THC that causes psychoactive effects. Instead, the effects of CBD are much more subtle and promote a general sense of calm and relaxation in most users.</p><h2>What Makes a CBD Oil Organic?</h2><p>In terms of organic labels, perhaps the most important (and prominent) certification comes from the United States Department of Agriculture (USDA). This government organization has been labeling foods as "organic" for many years, but what exactly does this certification entail? Essentially, a label indicating that a product is "USDA Organic" or "Certified Organic" means that at least 95% of the ingredients are obtained from organic sources.</p><p>For a crop to be considered organic by the USDA, it must be grown without the use of industrial solvents, irradiation, genetic engineering (GMOs), synthetic pesticides, or chemical fertilizer. Instead, farmers rely on natural substances and <a href="https://www.usda.gov/media/blog/2012/03/22/organic-101-what-usda-organic-label-means" rel="noopener noreferrer" target="_blank">mechanical, physical, or biologically based farming</a> techniques to cultivate healthy and organic crops.</p><p>Before the passage of the 2018 Farm Bill, no hemp-derived products could be dubbed as "certified organic" since the hemp plant and its extracts were still categorized as a Schedule I Controlled Substance. However, it's still difficult for CBD companies to obtain a USDA certified organic label for their products due to the legal grey area that still surrounds CBD extracts. </p><p>Because of these challenges, and due to the fact that industrial hemp has only recently become an agricultural crop, very few CBD oils are USDA certified organic. Rather, many CBD products contain hemp extracts from plants that were grown in organic conditions but may not be federally certified.</p><h2>What are the Best Organic CBD Oil Brands?</h2><p><em>Each product featured here has been independently selected by the writer. If you make a purchase using the links included, we may earn commission.</em></p><em><br></em>