This website uses cookies to ensure you get the best experience while browsing it. By clicking 'Got It' you're accepting these terms.


The best of EcoWatch, right in your inbox. Sign up for our email newsletter!
View of the UN Bonn Campus on May 16, 2017. UNclimatechange / Flickr
As the 2018 climate talks kick off under the auspices of the UN next week, "business unusual" must be the mantra delegations need heard resoundingly in Bonn, said the World Wildlife Fund (WWF).
Speaking ahead of the start of the meeting, Manuel Pulgar-Vidal, WWF's global climate and energy programme leader, said the window of opportunity to keep global temperature rise below 1.5°C is fast closing.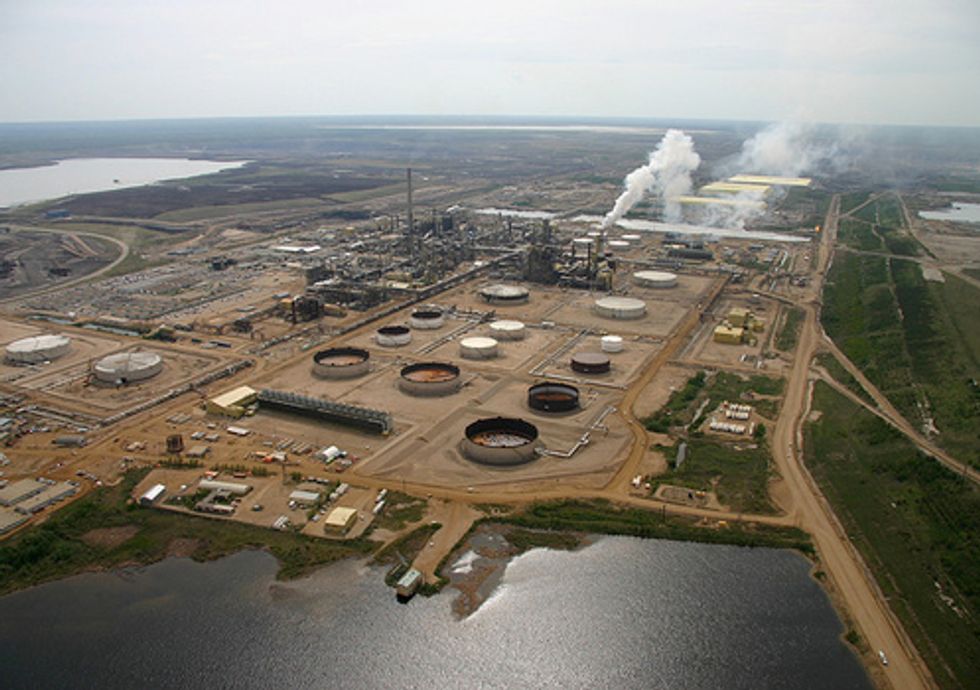 By Tony Iallonardo
There was a time when Canada, symbolized by the maple leaf, was a "green," environmentally conscientious neighbor. Remember, in the 1980s, Canada came knocking on America's door, rightfully demanding that the U.S. curb the sulfur dioxide emissions causing the acid rain that was killing Canada's lakes and streams.
But today, alarms are going off up north. Increasing capture by polluter interests, Canada's sliding into shades of gray. Experts say Ontario could lose its beloved polar bears because of a warming climate. World polar bear expert Ian Stirling, from the University of Alberta, citing Arctic ice loss at 10 percent per decade since 1979, says it's unlikely this iconic animal will survive on the Ontario and Manitoba shores of Hudson Bay in 20 to 30 years.
Another study predicts trouble for caribou. Some of Canada's caribou face the possibility of local extinction because of industrial development in northeastern Alberta and the lack of effective habitat protection. Woodland caribou is listed as a threatened species, provincially and federally. "The recently released draft recovery strategy allows for 95 percent of woodland caribou habitat in northeastern Alberta to be lost in order to promote oil sands development," the Pembina Institute has warned.
Then there's cod. Canada had to impose a moratorium on cod fishing off the coast of Newfoundland because the cod fishery collapsed, some say because of lax government oversight, poorly-managed over-fishing and exploitation.
Is Canada asleep? No, Canada is in fact very much awake and very busy working on behalf of polluters.
Climate Blind
First let's look at climate change.
Canada is one of the world's biggest emitters of greenhouse gas pollutants. "After committing to targets in Copenhagen, Environment Canada's projections show that Canada's current federal and provincial policies will achieve only a quarter of the reductions needed by 2020—leaving 75 percent of the work as a question mark," said P.J. Partington, a climate and policy analyst with Pembina Institute.
Canada ranks 54th out of 61 countries internationally—two points lower than the U.S.—earning a "very poor performance" label in the Dec. 6 global climate performance assessment of world governments' efforts to curb climate change.
In the negotiations in Durban, South Africa, Canada pulled out of the Kyoto Protocol on climate change Dec. 12 to worldwide denunciation, citing the country's previous commitment as a mistake. Environment Minister Peter Kent said, "It's now clear that Kyoto is not the path forward to a global solution to climate change. If anything it's an impediment." China, once recalcitrant, agreed to limits on greenhouse gas emissions and called Canada's decision "an excuse to shirk responsibility."
Oozing with Oil
Then there's Canada's warm embrace of Big Oil. The country is on a no-holds-barred trajectory to becoming a petro-state. It is the sixth largest oil producing country in the world at 3.5 million barrels per day in 2010, according to the CIA World Factbook. Imperial Oil head Bruce Marsh has said that Canada represents half of the global oil reserves that are open for private investment. "That is an enormous driver," he told a reporter. (Let's not forget that the energy-gobbling U.S. is Canada's main oil export market.)
The latest chapter in Canada's Big Oil binge is big bad bitumen, Canada's exploitation of tar sands oil, one of the most polluting, highest-carbon, greenhouse-gas-causing fuels on the planet.
TransCanada and partners propose to build the Keystone XL pipeline, a 1,700-mile pipeline through five midwestern U.S. states from Alberta to Texas and ship 700,000 barrels of tar sands oil a day for refinement into products likely to be exported.
According to Oregon Sen. Ron Wyden, who asked the Federal Trade Commission to investigate because it could lead to higher energy prices for Americans, the Keystone corporate interests are Canadian Natural Resources Limited, Conoco Phillips Canada Marketing & Trading ULC, EnCana Corporations, Shell Trading Canada, Total E&P Canada Ltd and Trafigura Canada General Partnership.
The environmental havoc already underway from extraction in Alberta is no secret. To produce one barrel, extractors level the forest, dig up four tons of earth, consume two to four barrels of fresh water, burn large amounts of natural gas and create toxic sludge holding ponds. Alberta's booming tar sands production is polluting the Athabasca River and converting forests and farmlands to wastelands.
The Keystone XL pipeline will increase production of this dirty fuel by 50 percent. Some will argue that Canada only produces less than two percent of the world's greenhouse gas emissions, but by producing, shipping and exporting tar sands oil at an ever-escalating pace, Canada is promoting a dirty fuel to the rest of the world to burn, thus increasing emissions multi-fold worldwide.
Keystone's tentacles are embedded far and wide. Former U.S. ambassador to Canada, David Wilkins, lobbied for Keystone XL when working for the Canadian Association of Petroleum Producers.  At least 42 lobbying firms and companies are roaming the back halls and underground passageways of the U.S. Congress and U.S. federal agencies, trying to sweet-talk approval of this scheme. Koch Industries is funding Americans for Prosperity, which is busy lobbying in Washington and Nebraska for the pipeline permit. Valero, a Keystone XL supporter and one of the world's largest refiners, appears to be getting ready to receive, refine and export the Keystone tar sands oil, according to the Wall Street Journal, Nov.10, 2011.
Pro-pipeline pals in Congress have crafted legislative riders to usurp and overrule President Obama, established review processes and science. Canada's Prime Minister, Stephen Harper, even got President Obama's ear at the White House in early December and made his case for what he dubbed a "no-brainer."
Talk about pulling out all the stops. Let's get that oil flowing as the oil lobbyists oil the Washington skids.
And to rub yet more salt into the wounds, on Dec. 8, the Canadian government approved yet more tar sands production by giving the go-ahead for the construction of the $8.9 billion Joslyn North Mine in northern Alberta.
And there's more to come. Imperial Oil CEO Bruce Marsh said that his company, an Exxon subsidiary, is planning to start the Kearl oil sands mining project in Canada in 2012, and they expect to produce 110,000 barrels a day and maybe up to the 345,000 barrels a day the Canadian government has approved.
As they say on TV commercials—Wait, there's more.
Environment Canada has not implemented its long-term scientific research plan, a plan that undergirds the country's work to mitigate air and water pollution and other environmental risks, charged Commissioner Scott Vaughan, of Canada's Office of the Auditor General in early December—and the department has stopped issuing many environmental reports. So they don't know what the problems are or the effectiveness of their policies?
Vaughan also issued a recent audit showing that Environment Canada's enforcement program is not ensuring adequate compliance with environmental regulations and is failing to target the biggest polluters.
Vaughan also found that several Canadian government agencies do not enforce safety regulations for shipping chemicals on highways and railroads and for pumping oil and gas in the country. He reported an average of two accidents a week involving the transport of dangerous materials across Canada. He concluded, for example, "Management has not acted on long-standing concerns regarding inspection and emergency plan review practices," for transporting dangerous goods.
Accompanying a map of numerous approved and proposed oil and gas pipelines across Canada, Vaughn wrote, "These pipelines, which are located in both rural and urban areas and across different terrains, require ongoing surveillance and maintenance to ensure that they continue to operate according to the National Energy Board Act, its regulations, and standards such as the Canadian Standards Association's Oil and Gas Pipeline Systems standard. Pipeline incidents, such as gas leaks and oil spills, have occurred across Canada." Exhibit 1.4 shows more than 50 pipeline incidents. This comes against a backdrop of confident assurances from TransCanada that the Keystone pipeline would traverse the U.S. safely.
A Graying Canada
Canada, the second largest country in the world after Russia, has vast landscapes—three oceans, the tundra, plains, mountains, boreal forests, wetlands, rivers, lakes and coastline. Given its bounty, Canada should be proud and protective of its natural resources. National motto—From Sea to Sea.
But somewhere along the way, Canada has lost its conservation conscience, as it propels itself into an oil-producing, carbon-crazy frenzy.
Polar bears and caribou on the road to extinction. Cod struggling to thrive in the north Atlantic.  Does Canada care? Does Canada prefer gray to green?
For more information, click here.
EcoWatch Daily Newsletter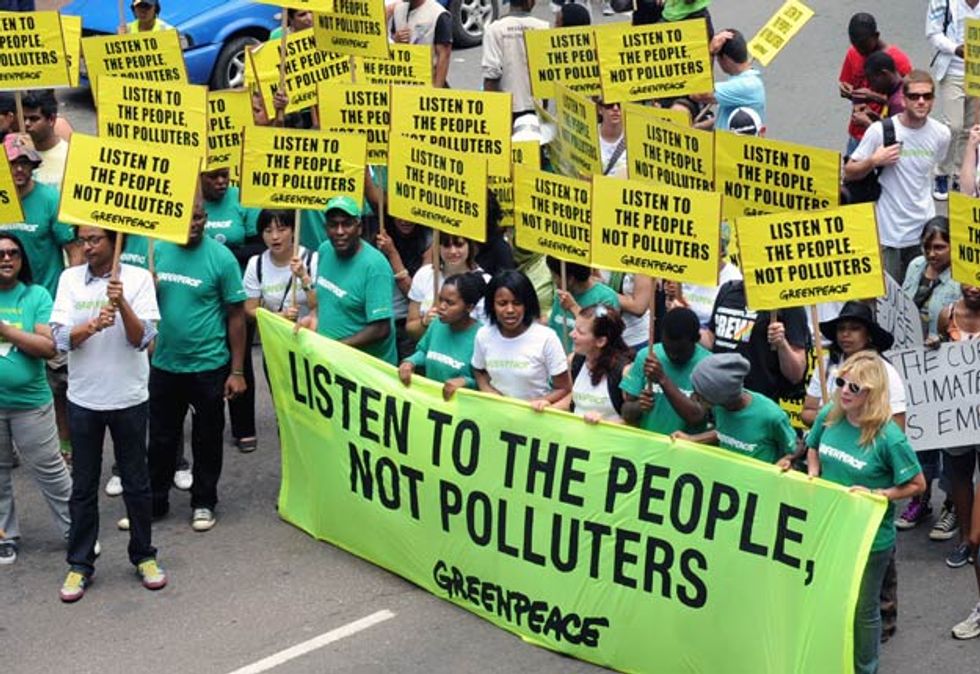 On the closing of the latest round of United Nations (U.N.) climate talks in Durban, South Africa, Greenpeace declared that it was clear that our governments this past two weeks listened to the carbon-intensive polluting corporations instead of listening to the people who want an end to our dependence on fossil fuels and real and immediate action on climate change.
"The grim news is that the blockers lead by the U.S. have succeeded in inserting a vital get-out clause that could easily prevent the next big climate deal being legally binding. If that loophole is exploited it could be a disaster. And the deal is due to be implemented from 2020 leaving almost no room for increasing the depth of carbon cuts in this decade when scientists say we need emissions to peak," said Kumi Naidoo, Greenpeace International executive director.
"Right now the global climate regime amounts to nothing more than a voluntary deal that's put off for a decade. This could take us over the two degree threshold where we pass from danger to potential catastrophe.
"Our atmosphere has been loaded with a carbon debt and the bill, carrying a Durban postmark, has been posted to the world's poorest countries. The chance of averting catastrophic climate change is slipping through our hands with every passing year that nations fail to agree on a rescue plan for the planet."
Background Brief
For these talks to have been deemed a success, governments in Durban needed to:
Ensure a peak in global greenhouse gas emissions by 2015.
Coming out of Cancun, Mexico last year, governments were to agree to 2015 targets for global emissions reduction and global peak year for emissions, and they have done neither.
Governments did promise to develop a workplan to close the gap between the science and the government pledges to reduce emissions. However, the lack of ambition is not caused by lack of plans, but rather a lack of political will.
Ensure that the Kyoto Protocol continues and provide a mandate for a comprehensive, legally binding instrument.
Governments did decide that there will be another time frame where governments sign up to deal with emissions under the Kyoto protocol, but postponed putting it into action until next year. On the issue of a new, legally binding agreement, the proposal was watered down substantially to the point where governments have only committed to talking and producing more documents—not actually committing to a new legally binding protocol.
India's role in the negotiations around the new, legally binding agreement was unconstructive and lacked foresight while both the island states and the least developed countries pushed hard for the urgent adoption of a new and ambitious protocol.
In Durban, parties agreed to adopt a second commitment period as well as launch negotiations on a new protocol under the convention to include all parties. With the survival of nations on the line, only the strongest terms—legal terms—are acceptable. Where governments failed was on the timeline. The amendment to the protocol will only be adopted at COP18 (2012) in Qatar, while the new protocol is to be adopted no later than 2015, but only be implemented from 2020.
Deliver the necessary finance to tackle climate change.
Governments in Durban spent an inordinate amount of time talking about technical details of the Green Climate Fund. What was needed was not only an agreement on the fund but more importantly how this empty fund could be filled. The goal for developed countries is 100 billion USD per year by 2020. So not only do we face a gap between what the science says is needed and what these governments are prepared to do to avoid catastrophic climate change, we also face a massive gap in finance required and what is available, to mitigate and adapt to climate change.
Set up a framework for protecting forests in developing countries.
Rather than providing necessary guidance and security to civil society, donors and investors, on how best to meet the Cancun Agreement on Reducing Emissions from Deforestation and Forest Degradation (REDD) to "slow, halt and reverse" deforestation in a socially responsible way, the decisions adopted in Durban have increased the environmental and social risks associated with the Cancun objective. Rather than protecting the rights of the people responsible for protecting the forest, the decision opens the doors for the irresponsible companies who profit from forest destruction. An entire year's worth of negotiations has been wasted.
Ensure international transparency in assessing and monitoring country commitments and actions.
This should be about governments being open about how they are implementing the agreed rules for action, but in Durban there has been no agreement on how this action will be reported on, by whom or by when.
Also for this to work, there has to be global agreement on how to measure action, but the U.S. refuses to accept that oranges should be compared with oranges.
One bright moment came from China's participation in Durban. Given where China came in—which was not buying into this process at all—they have shifted their position to allow movement on reporting of how they're implementation of this convention is proceeding. This while the U.S. has gone nowhere.
On the decision to include carbon capture and storage (CCS) in the Clean Development Mechanism (CDM):
CCS on coal has never been shown to work on a large scale, but U.N. approval increases the risk that new coal power plants will be built, with a dangerous CO2 legacy left for future generations. It is illogical that this technology could now get financing under the Clean Development Mechanism of an agreement that should be saving the climate.
For more information, click here.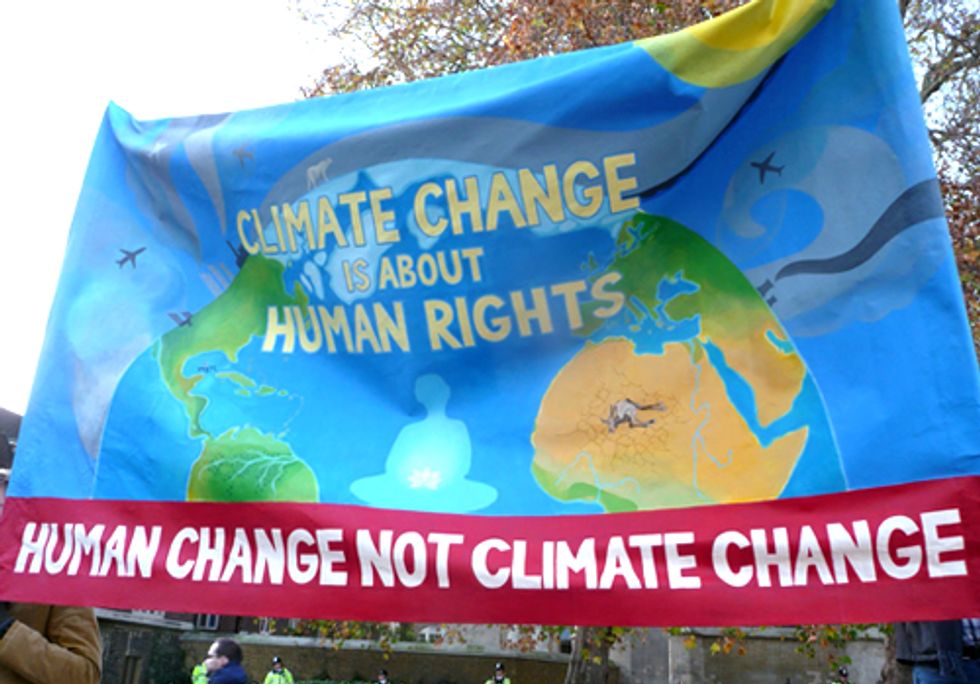 Decisions resulting from the United Nations 17th Conference of the Parties (COP17) climate summit in Durban, South Africa, constitute a crime against humanity, according to Climate Justice Now!, a broad coalition of social movements and civil society. Here in South Africa, where the world was inspired by the liberation struggle of the country's black majority, the richest nations have cynically created a new regime of climate apartheid
"Delaying real action until 2020 is a crime of global proportions," said Nnimmo Bassey, Chair of Friends of the Earth International. "An increase in global temperatures of 4 degrees Celsius, permitted under this plan, is a death sentence for Africa, Small Island States, and the poor and vulnerable worldwide. This summit has amplified climate apartheid, whereby the richest 1 percent of the world have decided that it is acceptable to sacrifice the 99 percent."
According to Pablo Solón, former lead negotiator for the Plurinational State of Bolivia, "It is false to say that a second commitment period of the Kyoto Protocol has been adopted in Durban. The actual decision has merely been postponed to the next COP, with no commitments for emission reductions from rich countries. This means that the Kyoto Protocol will be on life support until it is replaced by a new agreement that will be even weaker."
The world's polluters have blocked real action and have once again chosen to bail out investors and banks by expanding the now-crashing carbon markets—which like all financial market activities these days, appear to mainly enrich a select few.
"What some see as inaction is in fact a demonstration of the palpable failure of our current economic system to address economic, social or environmental crises," said Janet Redman, of the Washington-based Institute for Policy Studies. "Banks that caused the financial crisis are now making bonanza profits speculating on our planet's future. The financial sector, driven into a corner, is seeking a way out by developing ever newer commodities to prop up a failing system."
Despite talk of a "roadmap" offered up by the European Union, the failure in Durban shows that this is a cul-de-sac, a road to nowhere. Spokespeople for Climate Justice Now! call on the world community to remember that a real climate program, based on planetary needs identified by scientists as well as by a mandate of popular movements, emerged at the World People's Summit on Climate Change and Mother Earth in Bolivia in 2010. The Cochabamba People's Agreement, brought before the United Nations but erased from the negotiating text, offers a just and effective way forward that is desperately needed.
ADDITIONAL BACKGROUND
On Technology
"The technology discussions have been hijacked by industrialized countries speaking on behalf of their transnational corporations," said Silvia Ribeiro from the international organization ETC Group. Critique of monopoly patents on technologies, and the environmental, social and cultural evaluation of technologies have been taken out of the Durban outcome. Without addressing these fundamental concerns, the new technology mechanism will merely be a global marketing arm to increase the profit of transnational corporations by selling dangerous technologies to countries of the South, such as nanotechnology, synthetic biology or geoengineering technologies."
On Agriculture
"The only way forward for agriculture is to support agro-ecological solutions, and to keep agriculture out of the carbon market," said Alberto Gomez, North American Coordinator for La Via Campesina, the world's largest movement of peasant farmers. "Corporate Agribusiness, through its social, economic, and cultural model of production, is one of the principal causes of climate change and increased hunger. We therefore reject Free Trade Agreements, Association Agreements, and all forms of the application of Intellectual Property Rights to life, current technological packages (agrochemicals, genetic modification) and those that offer false solutions (biofuels, nanotechnology, and climate smart agriculture) that only exacerbate the current crisis."
On REDD+ and Forest Carbon Projects
"REDD+ threatens the survival of Indigenous Peoples and forest-dependent communities. Mounting evidence shows that Indigenous Peoples are being subjected to violations of their rights as a result of the implementation of REDD+-type programs and policies," declared The Global Alliance of Indigenous Peoples and Local Communities against REDD and for Life. Their statement, released during the first week of COP17, declares that "REDD+ and the Clean Development Mechanism promote the privatization and commodification of forests, trees and air through carbon markets and offsets from forests, soils, agriculture and could even include the oceans. We denounce carbon markets as a hypocrisy that will not stop global warming."
On the World Bank and the Global Climate Fund
"The World Bank is a villain of the failed neoliberal economy," says Teresa Almaguer of Grassroots Global Justice Alliance in the U.S. "We need a climate fund managed by participatory governance, not by an anti-democratic institution that is responsible for much of the climate disruption and poverty in the world." "The Green Climate Fund has been turned into the Greedy Corporate Fund," said Lidy Nacpil, of Jubilee South. "The fund has been hijacked by the rich countries, on their terms, and set up to provide more profits to the private sector"
On the Green Economy
"We need a climate fund that provides finance for peoples of developing countries that is fully independent from undemocratic institutions like the World Bank. The Bank has a long track record of financing projects that exacerbate climate disruption and poverty" said Lidy Nacpil, of Jubilee South. "The fund is being hijacked by the rich countries, setting up the World Bank as interim trustee and providing direct access to money meant for developing countries to the private sector. It should be called the Greedy Corporate Fund!"
Climate policy is making a radical shift towards the so-called "green economy," dangerously reducing ethical commitments and historical responsibility to an economic calculation on cost-effectiveness, trade and investment opportunities. Mitigation and adaption should not be treated as a business nor have its financing conditioned by private sector and profit-oriented logic. Life is not for sale.
On Climate Debt
"Industrialized northern countries are morally and legally obligated to repay their climate debt," said Janet Redman, Co-director of the Sustainable Energy & Economy Network at the Institute for Policy Studies. "Developed countries grew rich at the expense of the planet and the future all people by exploiting cheap coal and oil. They must pay for the resulting loss and damages, dramatically reduce emissions now, and financially support developing countries to shift to clean energy pathways."
Developed countries, in assuming their historical responsibility, must honor their climate debt in all its dimensions as the basis for a just, effective and scientific solution. The focus must not be only on financial compensation, but also on restorative justice, understood as the restitution of integrity to our Mother Earth and all its beings. We call on developed countries to commit themselves to action. Only this could perhaps rebuild the trust that has been broken and enable the process to move forward.
On Real Solutions
"The only real solution to climate change is to leave the oil in the soil, coal in the hole and tar sands in the land," said Ivonne Yanez, Acción Ecologica, Ecuador
For more information, email Mike Dorsey at mkdorsey@professordorsey.com or call +27 (0)79 863 8756 or +1-734-945-6424, or email Nick Buxton at nick@tni.org or call +27(0)81 589 8564 or +1 530 902 3772.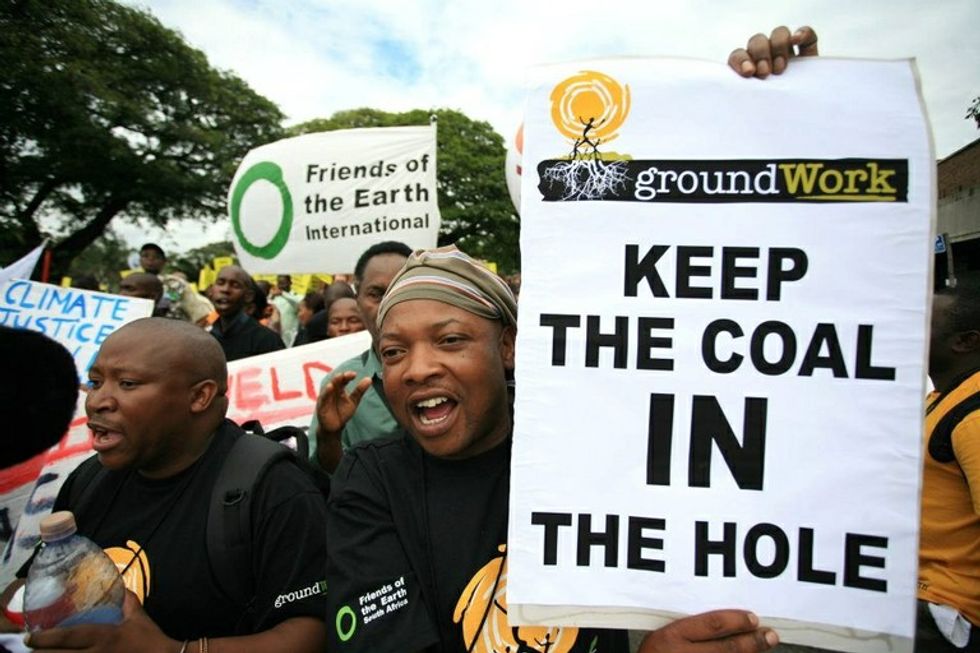 Friends of the Earth International has issued strong warnings against climate inaction at the United Nations (U.N.) climate talks in Durban, South Africa, and blamed industrialized countries like the U.S., Canada, Japan and European countries for seeking to unravel existing agreements under the guise of a new mandate for the climate negotiations.
As global leaders arrived Dec. 7 for the final three days of talks, the international grassroots environmental organization has pointed to the highly destructive agenda of developed countries, including the E.U., which have so far failed in Durban to propose any ambitious emission reductions and any suitable finance and technology support to developing countries.
Friends of the Earth International has called on developing countries to resist the push from the rich industrialized world to tear up existing commitments. A new mandate—which means not implementing existing obligations—would lock in ten years of inaction and set the world squarely on a course for climate catastrophe.
"Rich countries must hear loud and clear that Africa won't pay for their crisis. Developed countries are trying to kill the Kyoto Protocol. They want to turn back the clock to 1997 and shift responsibility for the climate crisis they created onto the developing countries already bearing the brunt of climate change. Anything less than strong legally-binding emissions reductions for developed countries under a second commitment period of the Kyoto Protocol must be understood for what it is—a mandate to burn Africa and our people," said Nnimmo Bassey, chair of Friends of the Earth International.
"This talk of a new treaty is a ruse to distract the world from the failure of developed countries to deliver on their existing commitments to cut emissions. We don't need a new mandate, a mandate already exists. A new mandate will open the door to climate deregulation where polluters continue to pollute, speculators profit from pollution, and the rest of the world carries the burden of the climate crisis," said Meena Raman of Friends of the Earth Malaysia.
The E.U. has driven the call for a new mandate but it is advancing a wider agenda of rich industrialized countries like the U.S., Japan and Canada to escape from the current system of legally-binding emissions reduction targets for those countries which have caused the climate crisis—and shift responsibility onto developing countries. Meanwhile, countries are using the international climate negotiations to drive forward false and dangerous solutions to climate change like the expansion of carbon trading.
"It is clear what is driving this agenda. More and more countries are coming to the international climate talks with one objective in mind—to defend and advance the economic interests of their polluting industries and multinational corporations and resist the global effort for a strong and fair agreement to tackle climate change. Many civil society groups are calling Durban a conference of polluters. We cannot let the polluters win and lock in a decade of inaction on the climate crisis. Africa must stand strong on behalf of the people of Africa and the people of the world," said Bobby Peek of Friends of the Earth South Africa.
For more information, click here.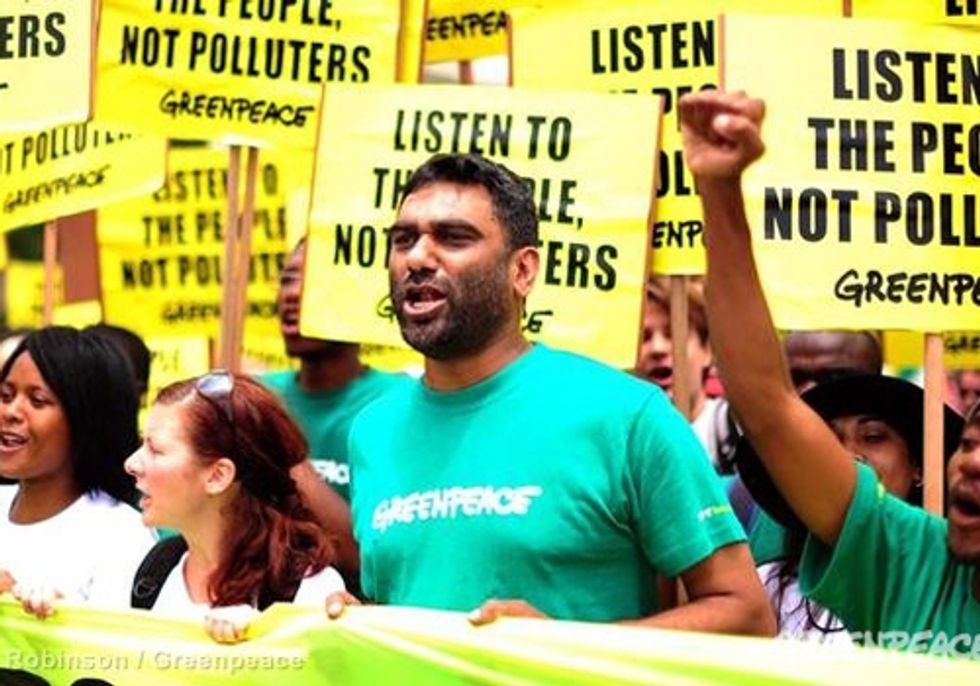 For a week now government negotiators working on the plan for 'Long Term Co-operative Action' on climate change have been scattered across a conference center in Durban, South Africa negotiating over the wide range of issues not covered by the rules of the Kyoto Protocol. This includes two questions central to the success of these talks. The first is how to fund renewable energy and forest protection measures in developing countries, and how to support people living in those countries to adapt to climate change. The second is the question of whether or not countries will agree to sign a new comprehensive legally binding treaty by 2015.
This morning all of the different viewpoints of the countries here were brought together in a single document – the draft text that will now be haggled over in the second week of these talks.
The document presented is 131 pages long, which in itself shows how complex the negotiations will be over the coming days, and how far we still have to go to reduce them to the few pages that ministers can sign up to in the final hours.
There are areas where progress has been made and agreement is close, for example on technology co-operation. There are other areas where countries have been negotiating for years and have made little progress in reducing the divergent options on the table (an example of this is the text on long-term finance—how much money goes into the Green Climate Fund and where it comes from).
Green Climate Fund
Developing countries are growing tired with the delay in delivering on the $100 billion dollars first pledged in the run up the Copenhagen. One option to bring these delays to an end would be to decide on a so-called 'work programme' on sources of finance with a clear deadline set for the 18th Conference of the Parties (COP18) next year. This would mean that countries who pledged the money would have to focus on its delivery—and could free up other parts of the negotiations which are currently blocked because it is not certain if that money will come.  A positive move, and one which shows that new alliances are beginning to emerge between progressive developed and developing countries, South Africa put forward proposals to raise money through levies on the aviation and shipping sectors. More progress on long-term finance will be required before there is the possibility of a deal being done here in Durban.
But when will we have a deal?
One important thing was revealed upon publication of the draft text—some areas are so sensitive that whilst intense political discussions are going on behind the scenes, there aren't yet a series of clear options on the table for negotiators to discuss. One of these issues—one central top these talks—is the question of whether or not there will be a mandate to negotiate a new treaty by 2015. In reaction to the text published, the U.S. chief negotiator Jonathan Pershing indicated that his country doesn't even accept that it's in a negotiation about this issue. Yet at the same time, China was indicating in a public statement that it is now open to the possibility of taking on legally binding emissions cuts—a potentially important step towards a wider agreement on a treaty.
Forests
Meanwhile, in another part of the building efforts were being made to finish talks in what are normally considered to technical, rather than highly political, issues. But today there was an outbreak of politics in the discussions on tropical forests. In a hard-won victory last year in Cancun, progressive countries achieved agreement on a series of safeguards to make sure plans to cut emissions from forest loss would also protect biodiversity and the rights of indigenous peoples. But today the original opponents to strong safeguards (including Brazil) restarted the battle, by arguing that they shouldn't have to supply information about how they're actually applying those safeguards in their own countries. In other words, they don't want to be forced to reveal if they've broken the rules.
Brazil is at risk of losing its previous reputation as a relatively robust defender of tropical forests because right now, back in Brazil, plans are going forward to deconstruct their national laws for protecting the Amazon with the new Forest Code. The new code would make it legal for agribusiness to cut down much larger areas—risking a rapid increase in forest loss and carbon emissions.
Meanwhile, outside of the UN talks, thousands of activists marched on Dec. 3 in Durban during a 'Global Action Day' to step up the pressure on the government negotiators. Greenpeace was there, demanding governments listen to the people not the polluting corporations and take action on climate change.
For more information, click here.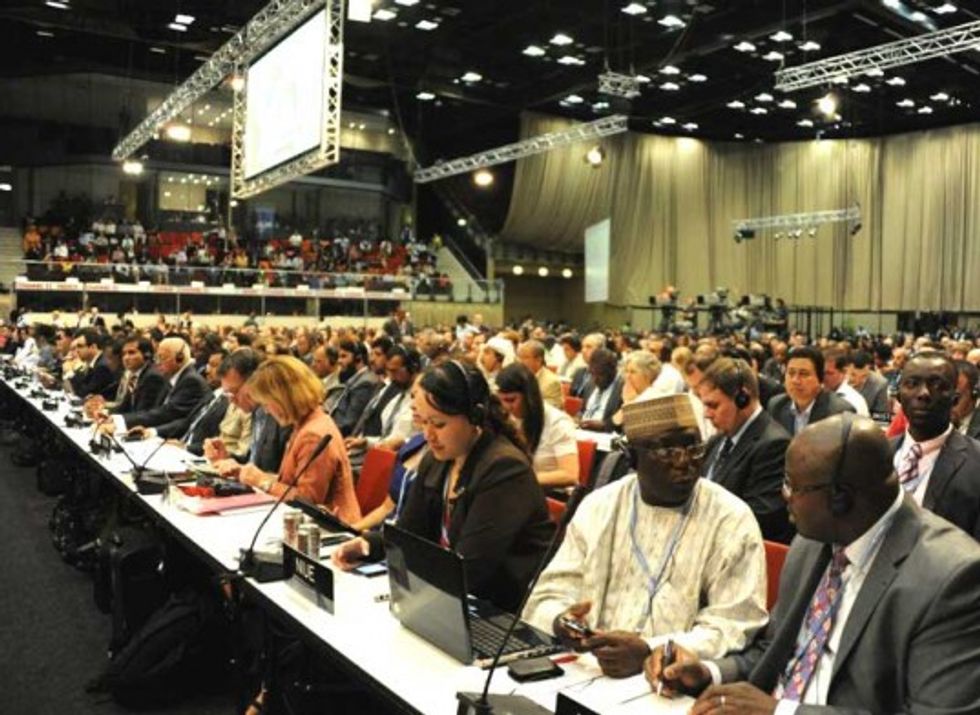 Continued strong and united leadership by African governments is essential at the United Nations (U.N.) climate talks in Durban, South Africa if the world is to have a chance of avoiding catastrophic climate change, Friends of the Earth International warned Dec. 2.
The global grassroots environmental federation condemned the inaction and intransigence of the industrialized world at the Durban climate talks, and the developed countries' tactic of trying to escape their responsibilities for climate action by unraveling previous agreements and calling for a new mandate for the U.N. climate negotiations.
Friends of the Earth International's assessment of the talks so far is:
Led by the U.S., Canada and Japan, developed nations are trying to shift their responsibilities for deep and drastic emissions cuts onto developing countries in Africa and elsewhere. Developing countries are suffering the most from the climate crisis and have done the least to cause the problem.
Developed countries are trying to kill the existing framework for legally binding emissions reductions—the Kyoto Protocol—and replace it with a disastrous bottom-up voluntary approach. The European Union (EU) has joined this push with a proposal for a so-called "new mandate" this week in Durban.
Developed countries are trying to carve out new business opportunities for their financial elites and multinational corporations to access funds earmarked for climate action by developing countries. These funds are supposed to go towards sustainable development and urgently needed measures to protect poor and vulnerable communities from the devastating impacts of climate change.
Only the Africa group of countries—one of the regions already facing the worst impacts of the climate crisis—is showing leadership in the negotiations and holding industrialized countries to their previous commitments.
"We are already one week into the talks and still there has been no discussion on the most important issue here in Durban—when and with what level of urgency the rich industrialized countries who are responsible for the climate crisis are going to reaffirm their commitment to legally binding emissions cuts in line with science and equity.
"So far, developed countries acted in the interests of their multinationals and financial elites. The world's eyes are now on the governments of Africa to show leadership where the rich governments have abjectly failed," said Nnimmo Bassey, chair of Friends of the Earth International.
"On Saturday thousands of people will march on the streets of Durban to demand climate justice. African leaders must hear their call and stand strong in the interests of our peoples and the people of the world," he continued.
"Developed countries are busy trying to rearrange the deckchairs as the planet is about to sink. By opening the door to a deregulation of the U.N. climate agreement, they will begin a race to the bottom whose first victims will be the billions of people in the poorest and most vulnerable countries of Africa and the small islands," said Asad Rehman of Friends of the Earth England, Wales and Northern Ireland.
"The EU must ensure that Durban does not lock the world into an ineffective global agreement that will give a green light to polluters to continue putting their economic interests before the people and the planet. The EU must stop its talk of new mandates and deliver in Durban under the existing mandate it is committed to—the continuation of the Kyoto protocol and its binding emissions cuts," he added.
"South African President Jacob Zuma must stand with Africa and be uncompromising on what Africans have agreed must happen if our continent is not going to burn. We need deep and drastic binding emissions cuts by the rich countries and real, public climate finance, not a mandate for a new wave of financial colonialism through a private sector facility in the new Green Climate Fund," said Bobby Peek of Friends of the Earth South Africa.
For more information, click here.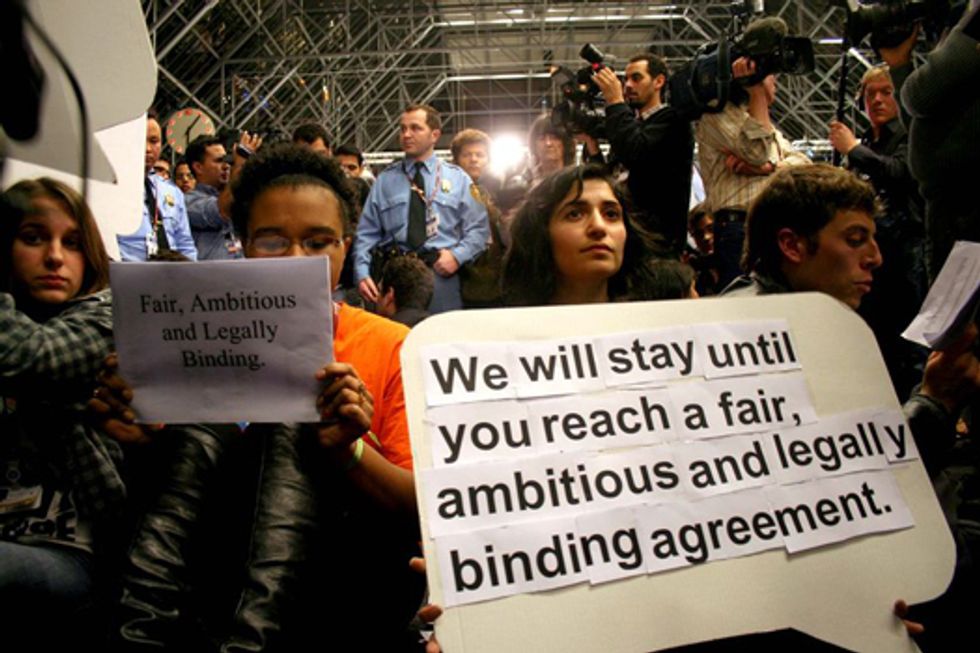 Annual United Nations (U.N.) climate treaty talks taking place between Nov. 28 and Dec. 9 in Durban, South Africa, represent "a crucial fork in the road" for negotiators, according to Alden Meyer, director of strategy and policy at the Union of Concerned Scientists (UCS), who has been attending these negotiations for more than 20 years.
"With the Kyoto Protocol's first emissions-reduction commitment period ending next year, countries face a stark choice," Meyer said. "They can preserve Kyoto's legally binding architecture and commit to build on it by negotiating a more comprehensive and ambitious treaty over the next few years that includes commitments for the U.S., China and other major emitting countries. Or they can fail to act, let countries make emissions cuts as they see fit, and just hope that those reductions will be enough to prevent the worst impacts of climate change."
A number of countries already have announced they will make specific emissions cuts under the Copenhagen Accord, which was established at the annual U.N. climate conference two years ago. Those promised reductions, however, would not be enough to prevent average world temperatures from rising more than 2 degrees Celsius above pre-industrial levels, an increase that many scientists say would ensure some of the worst consequences of climate change. Consequently, the 190 nations participating in the ongoing talks have made a commitment to avoid a 2-degree Celsius temperature increase.
"The world has the best chance of staying within that threshold by establishing a binding climate treaty," said Meyer. "There's always the chance that countries will make enough progress on some important issues—namely reducing deforestation and providing funds to help developing countries reduce their emissions and adapt to climate change—that it buys negotiators another year to continue talks. But even under that scenario, key sticking points likely would remain."
One of the primary hurdles is the United States' refusal to negotiate a new treaty unless major developing countries, such as China, India and Brazil, agree upfront that they will accept the same kind of legally binding commitments as the U.S.
"The U.S. position on developing countries and binding commitments is not realistic," said Meyer, "These countries may be willing to make binding commitments at the end of negotiations a few years from now, but only if their concerns about the level of industrialized country actions to cut emissions and ramp up financial and technology assistance to developing countries are meaningfully addressed.
The U.S. knows its preconditions for new negotiations are non-starters, and will serve only to block progress in Durban," he added. "We need more flexibility on this issue from the United States to get to 'yes' by the end of the talks."
Meanwhile, the European Union has agreed to abide by its Kyoto Protocol emission-reduction commitment beyond 2012 if other major carbon emitters, including the U.S., China, India and Brazil, agree to work toward a treaty. Japan, Russia and Canada have stated that they will not maintain commitments under Kyoto beyond next year under any circumstances, but there would be pressure on them to reconsider this stance if delegates reach an agreement on negotiating a broader treaty.
Climate Finance and the Green Climate Fund
The other big issue in Durban will be climate finance—how to ramp up financial assistance for a developing country to deploy clean technologies, reduce deforestation and adapt to the rapidly mounting impacts of climate change. Specifically, negotiators will try to make progress on establishing the Green Climate Fund that delegates supported at last year's climate talks in Cancun, Mexico, and will discuss options for meeting the commitment made by developed countries two years ago in Copenhagen to mobilize $100 billion a year by 2020 for developing country actions on climate.
The U.S. is an obstacle to progress on this front as well, joining Saudi Arabia in blocking consensus at a preparatory meeting in Cape Town, South Africa last month on recommendations for setting up the Green Climate Fund, and objecting to holding discussions on ways to meet the long-term climate finance goal.
"No one is expecting the United States to put specific pledges on the table in Durban," Meyer said. "But there needs to be progress on the finance issue, or developing countries will justifiably question whether the commitments made in Copenhagen and Cancun are real." He pointed out that other donor countries, such as the European Union, support starting a process in Durban to identify sources of long-term finance that can help meet the $100-billion goal.
Reducing Emissions from Deforestation
Treaty negotiators also will focus on producing a plan that would help developing countries reduce their emissions from tropical deforestation, which is responsible for about 15 percent of global warming pollution.
"Brazil has its own version of this plan and it's proven successful," said Doug Boucher, director of climate research and analysis at UCS. "With financial help from Norway, Brazil reduced tropical rainforest destruction by two-thirds between 2005 and 2010. This year's data, which will be released within the next few weeks, likely will show a slight increase but still at the same low levels.
"Thanks to the country's deforestation plan, since 2005, Brazil emitted about a billion tons less global warming pollution per year than what it emitted between 1996 and 2005," he added. "To put that into perspective, that's nearly the same amount of reductions that last year's U.S. Senate climate bill would have brought about between 2005 and 2020."
Negotiators in Durban will discuss the deforestation level each country should use to gauge its reductions. They also will consider ways to ensure indigenous communities and biodiversity are protected under a prospective deforestation plan.
"Also on the table is the question of who will provide funding to help developing countries reduce their deforestation rates and where the funding will come from," said Boucher. "It could come from governments, like Norway's multibillion-dollar funding that helped Brazil make such a huge dent in its deforestation rate, or from a carbon market, such as the one California is setting up."
Technology Sharing to Reduce Emissions and Enhance Adaptation
In Cancun, countries agreed to establish a "technology mechanism" to encourage countries to share technology and know-how to reduce emissions and help countries cope with the impacts of climate change.
"Negotiations at Durban should ensure that this technology mechanism becomes fully operational in 2012," said Rachel Cleetus, a senior climate economist at UCS. "A rapid global transition to clean, renewable energy sources is critical to addressing the challenge of climate change. Communities at risk from the impacts of climate change, some which are already happening, also need technologies that will help them build resilience and adapt.
"The big question is where the funding for the technology mechanism will come from, so we will be waiting to see what happens at Durban with the Green Climate Fund," she said. "That said, negotiators can make key decisions about the technology mechanism's governance, structure and work program independent of the fund, and they should push for the most ambitious outcome possible."
For more information, click here.
—————
The Union of Concerned Scientists is the leading U.S. science-based nonprofit organization working for a healthy environment and a safer world. Founded in 1969, UCS is headquartered in Cambridge, Massachusetts, and also has offices in Berkeley, Chicago and Washington, D.C.