Billionaire oil barons Charles and David Koch are reaching into their deep pockets to fund Republican candidates in the tight Senate races in Ohio and Nevada, two states that have seen powerful political and corporate interests block progress in renewable energy.
The Koch brothers's Super Pac is spending millions in ads to help Ohio Senator Rob Portman (top left) and Nevada Representative Joe Heck (bottom left) win their respective Senate races.
According to NBC News, the Koch Super PAC Freedom Partners Action Fund has announced it will buy $2.7 million television and digital ads to help Ohio Republican incumbent Sen. Rob Portman defeat Democrat Ted Strickland in the key swing state. The candidates are currently locked in a dead heat with each polling at 42 percent.

This news comes after the Super PAC's announcement last week that it is spending $1.2 million on advertising to boost Nevada Republican Rep. Joe Heck's race against Democrat and former Nevada Attorney General Catherine Cortez Masto to replace Senate Minority Leader Harry Reid. That race is also pretty much tied.
The Koch brothers have notoriously dumped wild sums of money on conservative causes and campaigns, with more than $88 million in traceable funding to groups attacking climate change science, policy and regulation. According to NBC News, the two latest $3.7 million ad buy brings the Super PAC's spending to $19.3 million in an effort to control the Senate.
So who are the Koch-approved Senate choices for Ohio on Nevada?
Rob Portman, who has been in office since 2011, is a pro-business conservative who has a prominent track record of choosing fossil fuel interests over environmental protection. As Cinncinati.com reported, he was a vocal opponent to the Obama administration's regulations to reduce carbon dioxide emissions from power plants and has introduced an amendment that would let states opt out of those clean power rules.
While he doesn't completely deny global warming, he has played the "not a scientist" card when it comes to whether or not human activity causes climate change, saying, "I'm not going to quantify it because scientists have a lot of different views on that." In March 2015, when Democrats tried to pass an amendment that specified that human action contributed "significantly" to climate change, Portman voted no because of the single word, "significantly."
And, if this tells you anything, George W. Bush will stump for Portman later this summer and Portman's name has been floated as a potential VP pick for Donald Trump (FYI: Portman isn't interested in running with Trump, who the Kochs have basically rejected).
The Sierra Club's Ohio branch observed that "over the course of his career, Portman has received more than $1.7 million from the energy and natural resources sector, including $761,000 from oil and gas, according to the Center for Responsive Politics. Marathon Petroleum, FirstEnergy and American Electric Power were among his Top 20 contributors in 2013-14."
The Koch's non-profit foundation Americans for Prosperity has given Portman an 89 percent score for 2015-16 for his support of Senate Joint Resolution 24 to disapprove of President Obama's Clean Power Plan, a plan supported by over two-thirds of Ohioans, the Sierra Club said.
The League of Conversation Voters (LCV) on the other hand has given Portman a mere 8 percent for 2015 for his anti-environment voting record on the LCV's National Environmental Scorecard. He has a lifetime score of 20 percent.
As for Joe Heck, who has represented Nevada's 3rd congressional district since 2011, the LCV has given him a terrible lifetime score of just 8 percent and a lower score of 6 percent for the year 2015. The group has even named Heck as the first member of its trademark Dirty Dozen program for the 2016 cycle.
"Joe Heck is a poster child for the Dirty Dozen, a climate change denier who would rather fight the expansion of clean renewable energy than protect the health of our families," said Nevada Conservation League executive director Andy Maggi. "Nevadans know how critical it is that our next senator prioritize protecting our clean air and water and help make Nevada a solar energy leader, and Joe Heck just doesn't fit the bill—he would rather represent big polluters, no surprise when they have funded his campaigns to the tune of over $400,000 dollars."
You'd think that Nevada, which enjoys nearly 300 days of sunshine, would lead states on solar energy generation. However, in December 2015, the Republican-appointed Public Utilities Commission overhauled a net-metering program in favor of the state's utilities (such as Warren Buffett's NV Energy) and effectively killed Nevada's rooftop solar industry. Solar providers SolarCity and Sunrun Inc. have since left the state.
The Americans for Prosperity have rated Heck with a 77 percent lifetime score and a current score of 85 percent.
Additionally, NBC News reported that the Koch's Super PAC is now aiding Florida's Sen. Marco Rubio's reelection campaign and has reserved television airtime beginning Aug. 31. As it happens, the Koch brothers are leading the efforts to stifle solar energy in Florida as well.
Koch Brothers Continue War on Solar in Sunshine State https://t.co/KvzgdX113N @solarfeeds @SolarEnergyNews

— EcoWatch (@EcoWatch)1446066952.0
YOU MIGHT ALSO LIKE

'Three Amigos' Vow to Get Half Their Electricity From Clean Power by 2025
GOP Blocks Pentagon Climate Plan
Jill Stein to Bernie Sanders: Run on the Green Party Ticket
Trump to Obama in 2009: "If We Fail to Act Now … There Will Be Catastrophic and Irreversible Consequences for Humanity and Our Planet"
EcoWatch Daily Newsletter
The core talking points for the supporters of TransCanada's Keystone XL pipeline center around U.S. domestic energy security and economic growth. However, Keystone is an "export pipeline" that will take tar sands oil from Alberta, Canada, and pump it down to a tax-free zone in Texas and out to foreign markets.
In other words, the European Union, China and Latin America get the oil, the foreign-owned oil companies get the cash and North Americans get a few jobs and oil spills!
It's a complicated issue for sure, so I've tried to break out the main points in an infographic. Please feel free to download and share it, use it and tear it apart. All the information has been fact-checked and verified by energy policy experts.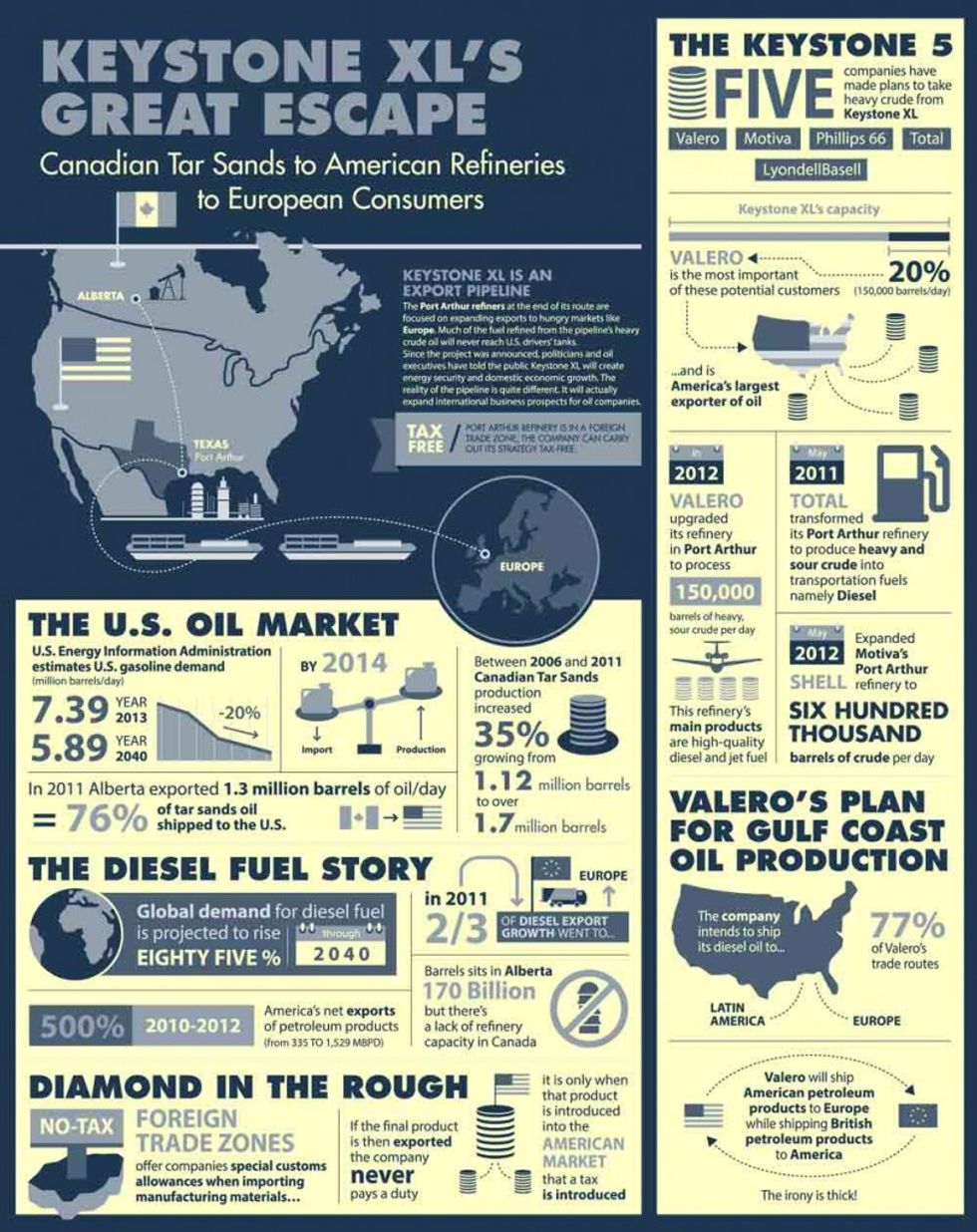 Taking into account the fundamental data from the U.S. and global oil markets, the end location of the Keystone XL, the infrastructure being built at refineries processing the bitumen and the commitment of oil companies to selling their product for the best price, it is easy to see Keystone XL offers greater energy security and economic growth, just not in America.
Europe and Latin America will have more energy security thanks to a massive fuel pipeline they can tap as long as they're willing to pay.
Additionally, oil companies will have a new bounty of profit to play with. Yes, some of that will fall back into American hands, but not as much as it would if the majority of the products to be processed in Port Arthur were sold in America, or if the refineries were not located in a Foreign Trade Zone and had to pay a tax on their products.
As for the promise of new jobs, there is a short-term influx on cash for constructing the pipeline, but the latest estimates find that there will only be about 35 permanent jobs over the long term. These pipelines, once built, demand very little maintenance. That is, of course, until there is an oil spill.
In making the final decision on whether to approve the Keystone XL pipeline, it comes down to whether President Obama is comfortable with making more cash for foreign oil companies—that are already the most wealthy companies in the world—for the long-term pay off of 35 permanent jobs and the oil spills that will inevitably occur.
Seems like a no-brainer to me.
Visit EcoWatch's KEYSTONE XL page for more related news on this topic.
——-

Shenanigans at the front door of the U.S. Chamber of Commerce yesterday reveal that the Chamber has dropped its lawsuit against The Yes Men, the activist duo famous for their elaborate prime-time pranks against Dow Chemical, Chevron, World Trade Organization and other giant entities known for putting their profit margins before people and the planet.
The Yes Men went to the Chamber yesterday morning in attempts to convince the business front group not to drop the lawsuit. Here's some footage of the announcement and confusion over who does and doesn't work for the Chamber:
That's right. The Yes Men want to be sued by the U.S. Chamber of Commerce. According to their press release:
"Just as their case against us was finally heating up again, the Chamber decided to drop it," said former defendant Andy Bichlbaum of The Yes Men. "The Chamber knew this was our chance to challenge their silly claims and, since they claimed we had 'damaged' them, investigate the details of their finances through the discovery process. It's the height of rudeness to deprive us of this great opportunity."

"The Chamber's lawsuit represented the only time in 17 years that anyone has been stupid enough to sue us," said former defendant Mike Bonanno. "This was the chance of a lifetime, and we profoundly deplore the Chamber's about-face."
Apparently, revenge isn't a strong enough reason for the Chamber to to cough up information on their secret financial backers or their obstruction on solving the critical issue of global climate change, the issue which sparked the original Yes Men parody press event and ensuing lawsuit.
The Chamber sued The Yes Men in 2009 for holding a press conference at the National Press Club on the Chamber's behalf, announcing a reversal on the Chamber's efforts to block climate change legislation. The false event was interrupted by an actual Chamber official named Eric Wohlschlegal, who told attending press, "This guy is a fake! He's lying!" See this video:
The stunt threw the Chamber off balance as it had to clarify it would not stop obstructing national climate change policy. The following lawsuit was unprecedented for Yes Men hijinks. Even Dow Chemical didn't sue them, despite losing $2 billion worth of stock when Yes Man Andy Bichlbaum posed as a Dow official on a live BBC interview and took responsibility for the Bhopal chemical disaster—which Dow still won't own up to despite the death of 20,000 people).
Yes Lab has a summary of the announcement at the Chamber's front steps in Washington, DC, including a list of questions The Yes Men wish the lawsuit's discovery process could have answered:
Some of the things we could have asked in court had they not withdrawn their lawsuit:
PolluterWatch has more on the U.S. Chamber of Commerce and its anti-environmental practices.
Visit EcoWatch's CLIMATE CHANGE page for more related news on this topic.