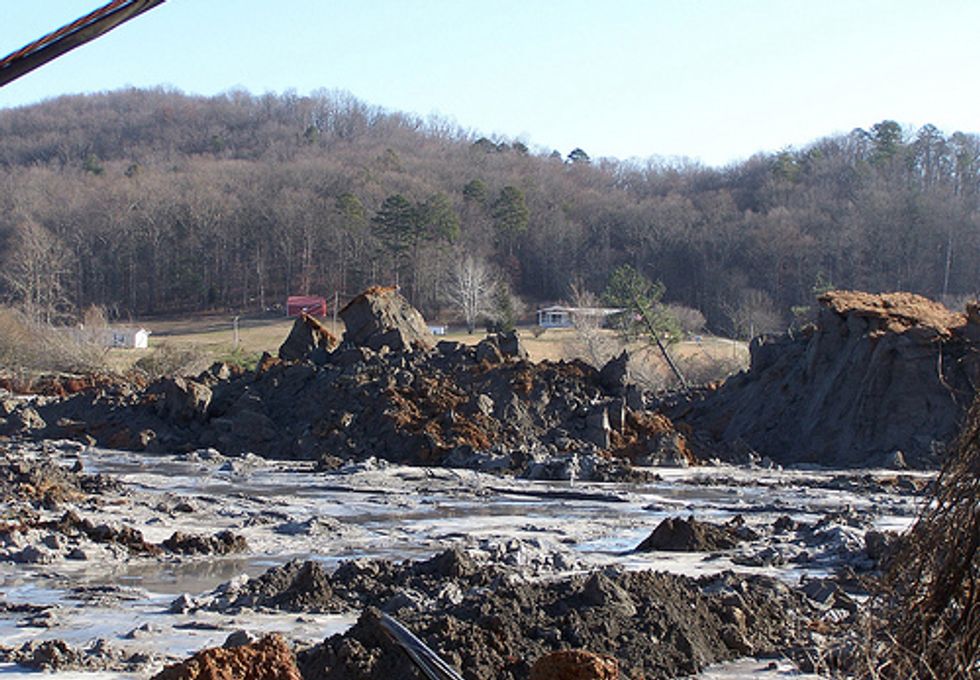 Environmental and public health groups announced their intent to sue the U.S. Environmental Protection Agency (EPA) in federal court Jan. 18 to force the release of long awaited public health safeguards against toxic coal ash. The EPA has delayed the first-ever federal protections for coal ash for nearly two years despite more evidence of leaking ponds, poisoned groundwater supplies and threats to public health.
Earthjustice, on behalf of Appalachian Voices (N.C.), Chesapeake Climate Action Network (Md.), Environmental Integrity Project, French Broad Riverkeeper (N.C.), Kentuckians For The Commonwealth (Ky.), Moapa band of Paiutes (Nev.), Montana Environmental Information Center (Mont.), Physicians for Social Responsibility, Prairie Rivers Network (Ill.), Sierra Club and Southern Alliance for Clean Energy (Tenn.), sent the EPA a notice of intent to sue the agency under the Resource Conservation and Recovery Act (RCRA). The law requires the EPA to ensure that safeguards are regularly updated to address threats posed by wastes. However, the EPA has never undertaken any action to ensure safeguards address the known threats posed by coal ash, a toxic mix of arsenic, lead, hexavalent chromium, mercury, selenium, cadmium and other dangerous pollutants that result from burning coal at coal-fired power plants.
A copy of the Notice of Intent to Sue letter sent to the EPA is available here.
Following a spill of more than a billion gallons of coal ash at a disposal pond in Harriman, Tenn., in December 2008, EPA Administrator Lisa Jackson announced in 2009 plans to set federal coal ash regulations by year's end. In May 2010, the EPA proposed a hybrid regulation to classify coal ash either as hazardous or non-hazardous waste. After eight public hearings across the country and more than 450,000 public comments, the agency decided to delay finalizing the rule amid intense pressure from the coal and power industries.
The following video shows the devastating results of the Harriman, Tennessee coal ash spill:
Despite numerous studies showing the inadequacy of current federal coal ash safeguards to protect public health and the environment as well as documented evidence by the EPA and environmental groups showing coal ash poisoned aquifers and surface waters at 150 sites in 36 states, the EPA continues to fail to adopt federal safeguards. The Jan. 18 lawsuit would force the EPA to set deadlines for review and revision of relevant solid and hazardous waste regulations to address coal ash, as well as the much needed and overdue changes to the test that determines whether a waste is hazardous under RCRA.
"Politics and pressure from corporate lobbyists are delaying much needed health protections from coal ash," said Earthjustice attorney Lisa Evans. "The law states that the EPA should protect citizens who are exposed to cancer-causing chemicals in their drinking water from coal ash. As we clean up the smokestacks of power plants, we can't just shift the pollution from air to water and think the problem is solved. The EPA must set strong, federally enforceable safeguards against this toxic menace."
"It's well past time for the EPA to do something about this hazardous waste," said Anne Hedges, program director of the Montana Environmental Information Center. "Our biggest coal ash ponds in Montana are leaking and have been leaking for decades."
"For far too long the Tennessee Valley Authority has been allowed to ignore the dangers of coal ash, resulting in the 2008 Kingston disaster, one of the worst environmental catastrophes of our time," said Josh Galperin, policy analyst and research attorney for Southern Alliance for Clean Energy. "Despite the lessons of Kingston and an explicit congressional mandate, coal ash continues to be unregulated by the EPA. We are taking action today to drive EPA to follow-through on its legal duty to protect Americans from this toxic waste."
"Data on groundwater at coal ash disposal sites is now available, and the results in Illinois and many other states are grim," said Traci Barkley, water resources scientist with Prairie Rivers Network. "State regulators found high levels of coal ash pollutants in groundwater at all 22 sites in our state. Seeing that our state's rules have not protected our residents and our clean water, we need to know that the EPA will get the job done."
"Right now our organization is involved in several lawsuits against old, leaking coal ash landfills in Maryland," said Diana Dascalu-Joffe, staff attorney with Chesapeake Climate Action Network. "Dangerous coal ash is leaching into waterways that hurt the Chesapeake Bay and could be threatening the health of Maryland citizens. The EPA has a responsibility to issue a uniform, strong rule to address coal ash so groups like ours don't have to fight to clean them up, facility by facility, at the state level."
"With a state legislature bent on weakening the ability to protect public health, North Carolinians are calling on the EPA to demonstrate political leadership by providing strong and consistent federal guidelines for coal ash disposal and storage," said Sandra Diaz, North Carolina campaign coordinator for Appalachian Voices.
"With many coal ash dumps located in populated areas, the public depends on the EPA to do everything possible to protect our health and keep our communities safe," said Mary Love, member of Kentuckians For The Commonwealth. "We need strong standards so we can not only clean up communities that have already been poisoned but make sure these toxic chemicals never again leak into our homes and communities."
"The EPA promised to set standards for coal ash disposal sites more than a decade ago," said Eric Schaeffer, executive director at Environmental Integrity Project. "Are we going to have to wait for another disaster before EPA finally keeps that promise?"
"The toxic threat that coal ash poses to human health is severe," said Dr. Maureen McCue, MD, PhD, of Physicians for Social Responsibility. "Coal ash contains contaminants that can cause cancer and can damage the intestines, liver, kidney, lungs, heart, peripheral nervous system and brain. It's unthinkable that the EPA allows this toxic stew to get into drinking water. It doesn't get much dirtier than this."
"Our children are losing more than their health because of the power plants; they're losing their culture, too," said William Anderson, chairman of the Moapa Band of Paiutes in southeastern Nevada. "We used to hunt ducks and geese on our land—but no longer. The birds land in the coal wastewater ponds. We used to harvest medicinal plants, but not anymore. The plants have been contaminated over the years by the plant's coal ash dust, soot and other pollutants."
"Two of the nation's 49 high hazard coal ash dams sit on the banks of the French Broad River. These ponds pose a looming threat to the health and safety of the surrounding community, as well as the French Broad River," said Hartwell Carson, French Broad Riverkeeper. "The dams also hold back toxic coal ash that pollutes the groundwater and surface water every day. It is time for the EPA to act to protect the French Broad River and the hundreds of similarly impacted rivers and communities around the country."
"The EPA must act and they must act soon," said Bruce Nilles, senior campaign director for the Sierra Club's Beyond Coal Campaign. "Millions of tons of toxic waste from coal plants—coal ash containing arsenic, lead, mercury and other dangerous pollution—are dumped across the country each year, often without basic safety protections. Even though the EPA has identified more than four dozen highly dangerous coal ash sites around the country they have still failed to safeguard the health and well being of those living near the dumping grounds. We urge the EPA to take definitive action to protect American families and communities."
For more information, click here.
EcoWatch Daily Newsletter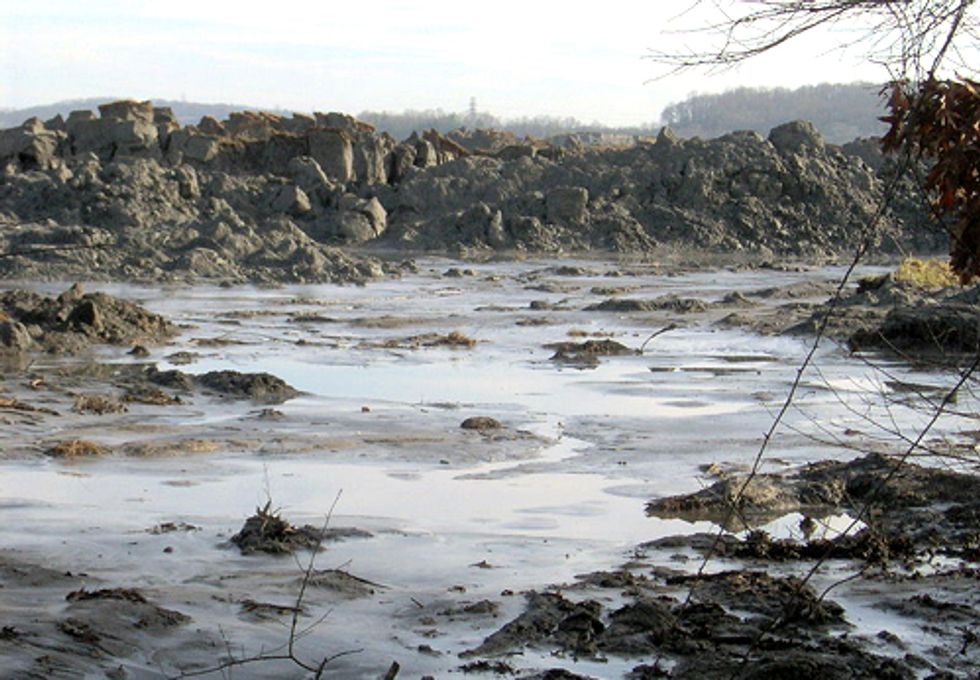 Three years after the coal ash spill in Kingston, Tn., the U.S. has not yet established standards to curb the threat to public health and waterways posed by unstable or leaking ash ponds at coal-fired power plants. Meanwhile, the volume of toxic metals in the ash that power plants dumped in ponds rose 9 percent in 2010, the most recent year for which information is available.
According to an analysis by the Environmental Integrity Project (EIP)—"… the most recent data from the U.S. Toxics Release Inventory show that disposal in these big ponds was higher in 2010 than it has been since 2007, the year before the TVA (Tennessee Valley Authority) spill.  Yet EPA's proposal to set standards for safe disposal—which included a plan to close down ash ponds within five years—has gone nowhere."
In 2010, power plants reported using coal-ash pond dump sites to dispose of wastes containing 113.6 million pounds of toxic metals or metal compounds, a category that includes arsenic, chromium, lead, and other pollutants that are hazardous in small concentrations and difficult to remove from the environment once released. That reflects a 9 percent increase in pond disposal since 2009, and is higher than the total reported in 2008.
In an indication of how power plants vary when it comes to coal-ash dump sites, EIP found that 20 facilities account for more than half (57 million pounds) of the toxic metals contained in power plant waste and disposed of in surface impoundments in 2010. Four of these are in Alabama, three in Georgia, and two in Missouri.  Just ten states accounted for three quarters of total pond disposal in 2010, including (from lowest to highest)—Alabama, Georgia, Illinois, Kentucky, Missouri, Ohio, Indiana, North Dakota, Minnesota and Michigan.
"Not only are coal ash impoundment levels rising, rather than dropping, but we are seeing efforts by some in Congress to thwart EPA efforts to protect the health of Americans from toxic coal ash dump sites," said EIP Director Eric Schaeffer. "EPA proposed in June of 2010 to require the closure of surface impoundments within five years. If the agency manages to issue a final rule before the end of 2012, that ban would take effect at the end of 2017, a full nine years after the TVA spill. In view of the hazards these ash ponds present, that seems long enough."
The concentration of arsenic or other metals in ash or scrubber sludge can vary, based on the source of the coal and the effectiveness of air pollution control devices in removing these contaminants from stack gases. An increase in reported disposal volumes for these metals can mean either a rise in concentration of toxic metals in coal combustion waste, or an increase in the volume of waste containing these metals, or both.
Most surface impoundments are unlined, which means that the toxins in the ash are more likely to seep through the bottom of these ponds and into groundwater or nearby rivers and creeks. The limited amount of monitoring data shows that this is already happening at many sites that have used surface impoundments for ash disposal for decades.
On Dec. 13, 2011, EIP released monitoring data from state files showing that a total of 20 additional coal ash dump sites causing groundwater and soil contamination in 10 states—Florida, Georgia, Illinois, Indiana, Iowa, Kentucky, Nevada, South Carolina, Tennessee and Texas—have been uncovered around the U.S. Previous EIP reports identified similar contamination at 70 other sites across the country.
The full text of the new EIP analysis is available online by clicking here.
For more information, click here.
—————
The Environmental Integrity Project is a nonpartisan, nonprofit organization established in March of 2002 by former EPA enforcement attorneys to advocate for effective enforcement of environmental laws. EIP has three goals—(1) to provide objective analyses of how the failure to enforce or implement environmental laws increases pollution and affects public health; (2) to hold federal and state agencies, as well as individual corporations, accountable for failing to enforce or comply with environmental laws; and (3) to help local communities obtain the protection of environmental laws.
waterlust.com / @tulasendlesssummer_sierra .
Each product featured here has been independently selected by the writer. If you make a purchase using the links included, we may earn commission.
The bright patterns and recognizable designs of Waterlust's activewear aren't just for show. In fact, they're meant to promote the conversation around sustainability and give back to the ocean science and conservation community.
Each design is paired with a research lab, nonprofit, or education organization that has high intellectual merit and the potential to move the needle in its respective field. For each product sold, Waterlust donates 10% of profits to these conservation partners.
Eye-Catching Designs Made from Recycled Plastic Bottles
waterlust.com / @abamabam
The company sells a range of eco-friendly items like leggings, rash guards, and board shorts that are made using recycled post-consumer plastic bottles. There are currently 16 causes represented by distinct marine-life patterns, from whale shark research and invasive lionfish removal to sockeye salmon monitoring and abalone restoration.

One such organization is Get Inspired, a nonprofit that specializes in ocean restoration and environmental education. Get Inspired founder, marine biologist Nancy Caruso, says supporting on-the-ground efforts is one thing that sets Waterlust apart, like their apparel line that supports Get Inspired abalone restoration programs.
"All of us [conservation partners] are doing something," Caruso said. "We're not putting up exhibits and talking about it — although that is important — we're in the field."
Waterlust not only helps its conservation partners financially so they can continue their important work. It also helps them get the word out about what they're doing, whether that's through social media spotlights, photo and video projects, or the informative note card that comes with each piece of apparel.
"They're doing their part for sure, pushing the information out across all of their channels, and I think that's what makes them so interesting," Caruso said.
And then there are the clothes, which speak for themselves.
Advocate Apparel to Start Conversations About Conservation
waterlust.com / @oceanraysphotography
Waterlust's concept of "advocate apparel" encourages people to see getting dressed every day as an opportunity to not only express their individuality and style, but also to advance the conversation around marine science. By infusing science into clothing, people can visually represent species and ecosystems in need of advocacy — something that, more often than not, leads to a teaching moment.

"When people wear Waterlust gear, it's just a matter of time before somebody asks them about the bright, funky designs," said Waterlust's CEO, Patrick Rynne. "That moment is incredibly special, because it creates an intimate opportunity for the wearer to share what they've learned with another."
The idea for the company came to Rynne when he was a Ph.D. student in marine science.
"I was surrounded by incredible people that were discovering fascinating things but noticed that often their work wasn't reaching the general public in creative and engaging ways," he said. "That seemed like a missed opportunity with big implications."
Waterlust initially focused on conventional media, like film and photography, to promote ocean science, but the team quickly realized engagement on social media didn't translate to action or even knowledge sharing offscreen.
Rynne also saw the "in one ear, out the other" issue in the classroom — if students didn't repeatedly engage with the topics they learned, they'd quickly forget them.
"We decided that if we truly wanted to achieve our goal of bringing science into people's lives and have it stick, it would need to be through a process that is frequently repeated, fun, and functional," Rynne said. "That's when we thought about clothing."
Support Marine Research and Sustainability in Style
To date, Waterlust has sold tens of thousands of pieces of apparel in over 100 countries, and the interactions its products have sparked have had clear implications for furthering science communication.
For Caruso alone, it's led to opportunities to share her abalone restoration methods with communities far and wide.
"It moves my small little world of what I'm doing here in Orange County, California, across the entire globe," she said. "That's one of the beautiful things about our partnership."
Check out all of the different eco-conscious apparel options available from Waterlust to help promote ocean conservation.
Melissa Smith is an avid writer, scuba diver, backpacker, and all-around outdoor enthusiast. She graduated from the University of Florida with degrees in journalism and sustainable studies. Before joining EcoWatch, Melissa worked as the managing editor of Scuba Diving magazine and the communications manager of The Ocean Agency, a non-profit that's featured in the Emmy award-winning documentary Chasing Coral.