The Army Corps of Engineers told the Standing Rock Sioux tribe that Dakota Access Pipeline protesters must vacate the property effective Dec. 5, citing escalating violence and harsh winter conditions. Protesters have vowed not to leave the premises despite the order and the Army Corps has said it wouldn't forcibly remove them.
Watch the Facebook live video of the Standing Rock press event held Saturday afternoon in response to the eviction letter:
As a New York Times Sunday front page article investigates the potential global conflicts of interest with Donald Trump's presidency and his businesses, including plans to build a flood-prevention sea wall for his Irish golf course, Trump's holdings in the pipeline's parent company, Energy Transfer Partners (ETP), have also garnered scrutiny, especially as it becomes clear that the conflict over the pipeline may extend into his administration.
Trump's Personal Investments Ride on Completion of Dakota Access Pipeline https://t.co/p6Kzdh6kjY @wwwfoecouk @globalactplan

— EcoWatch (@EcoWatch)1478946627.0
The AP reports that, according to the most recent federal disclosure forms filed in May, Trump has up to a $50,000 investment in ETP and up to a $250,000 investment in Phillips 66, which has a one-quarter share of Dakota Access. Trump's camp told the Washington Post that the president-elect sold the ETP shares this summer.
Trump also supports the Keystone XL pipeline and has said that the pipeline has no environmental impact. "I would absolutely approve it, 100 percent," Trump said in May.
Army Corps: NBC News, New York Times, CNN, LA Times, TIME, Washington Post, Bismarck Tribune, The Hill, InsideClimate News, NPR, EcoWatch, Minnesota Public Radio News, Buzzfeed
Trump Finances: Washington Post, AP, RT, Mic
Commentary: New York Times editorial; Intercept, Alleen Brown analysis; Vox, Alli Moran interview
For more climate change and clean energy news, you can follow Climate Nexus on Twitter and Facebook, and sign up for daily Hot News.
EcoWatch Daily Newsletter
By Lukas Ross, Friends of the Earth Action

The same day TransCanada sued the U.S. government for $15 billion, the Democratic Party's platform drafting committee met in Missouri. Between the two, there is a lesson to be learned about free trade and the climate crisis.
The lawsuit was the anticipated result of President Obama rejecting the Keystone XL pipeline.Using a notorious provision in the North America Free Trade Agreement (NAFTA), the Canadian oil giant is hoping to claim $15 billion in lost future profits by dragging the U.S. before an international tribunal. These sorts of extra-judicial forums, where corporations can sue governments for enforcing their own laws, are a hallmark of established free trade deals like NAFTA and looming ones like the Trans Pacific Partnership (TPP).
Forty environmental groups signed a letter urging Congress to reject the TransPacific Partnership. Dylan Petrohilos / Think Progress
The meeting in Missouri was to finalize a draft of the 2016 Democratic Party platform, a usually sleepy and symbolic process that this year has exploded into a proxy fight between presumptive nominee Hillary Clinton and Sen. Bernie Sanders. Pipelines like Keystone XL and free trade writ large were both on the agenda—and the votes cast reflect a growing divide between the party establishment and the grassroots.

Within hours of TransCanada filing its lawsuit under NAFTA, the platform committee had the chance to officially oppose the proposed Trans Pacific Partnership, a Pacific Rim trade deal that would allow hundreds of new fossil fuel companies access to provisions similar to those used by TransCanada. The motion was rejected. Despite both candidates being on record opposing the current TPP, the motion was rejected in a 10-5 vote. It was supported by appointees from Sanders and opposed by appointees from Clinton and the Democratic National Committee. Compromise language was offered instead, calling for trade deals that protect workers and the environment without mentioning the TPP by name.
Talking about responsible trade but refusing to be clear about the TPP isn't a good look, for the DNC or anyone else. If the TPP and its European counterpart, the Transatlantic Trade and Investment Partnership, were both enacted, it would radically expand the power of fossil fuel companies to sue the U.S. for laws and regulations that hurt their expected future profits. The power to launch lawsuits like TransCanada's would be put on steroids and everything fromlocal fracking bans to renewable energy mandates could be litigated in trade tribunals run overwhelmingly by corporate lawyers.
Besides missing the boat on trade, the committee managed a few other favors for the TransCanadas of the world. Jane Kleeb, the founder of Bold Nebraska and the newly elected Chair of Nebraska Democrats, supported a motion calling for ending the use of eminent domain in support of fossil fuel projects. It was unceremoniously voted down. Another rejected motion was an endorsement of the so-called "climate test," the principle that infrastructure and other projects shouldn't be approved if they worsen carbon emissions. Applying this standard was what led President Obama to reject Keystone XL in the first place.
In fact, Friday turned out to be a bad night for serious climate policy all around. Motions pushed by Sanders's appointee Bill McKibben supporting a carbon tax and a national frackingban were both rejected. So too was a motion to keep fossil fuels in the ground by ending new leasing on our public lands and waters.
Even the ambitious energy target supported by both Clinton and Sanders—100 percent clean energy by 2050—wasn't an unqualified success. The language is vague enough that it could include everything from wind and solar to dangerous false solutions like biomass, carbon capture and sequestration and nukes.
The concern about what exactly counts as clean energy isn't unfounded. If Bill McKibben was chosen by Sanders as a progressive voice on climate, his alter ego appointed by Clinton is Carol Browner, a one-time Environmental Protection Agency administrator who splits her time these days between professional lobbying and pro-nuclear advocacy.
The good news is that Missouri isn't the end. The platform still needs to be approved by the full platform committee next month in Orlando and after that by the full convention in Philadelphia. When it comes to pushing back on trade and climate, there are still two more shots.
As philosopher Dr. Cornel West, another Sen. Sanders appointee, said as he abstained from the final vote, "Take it to the next stage."
YOU MIGHT ALSO LIKE
Oakland Bans Coal Exports, Huge Win for Local Residents
Kochs Dump Trump to Fund Climate-Denying Senators in Ohio and Nevada
'Three Amigos' Vow to Get Half Their Electricity From Clean Power by 2025
DNC Platform Calls for Fossil Fuel Investigations, 100% Renewable Energy
After 16 long days, the government shutdown has finally come to an end. It is relief to know that hundreds of thousands public servants can return to work and that critical programs protecting our health and the environment will fully function once again. But any sense of reassurance is tempered by two simple facts: we never should have been here in the first place, and we could easily be in the same position again in January.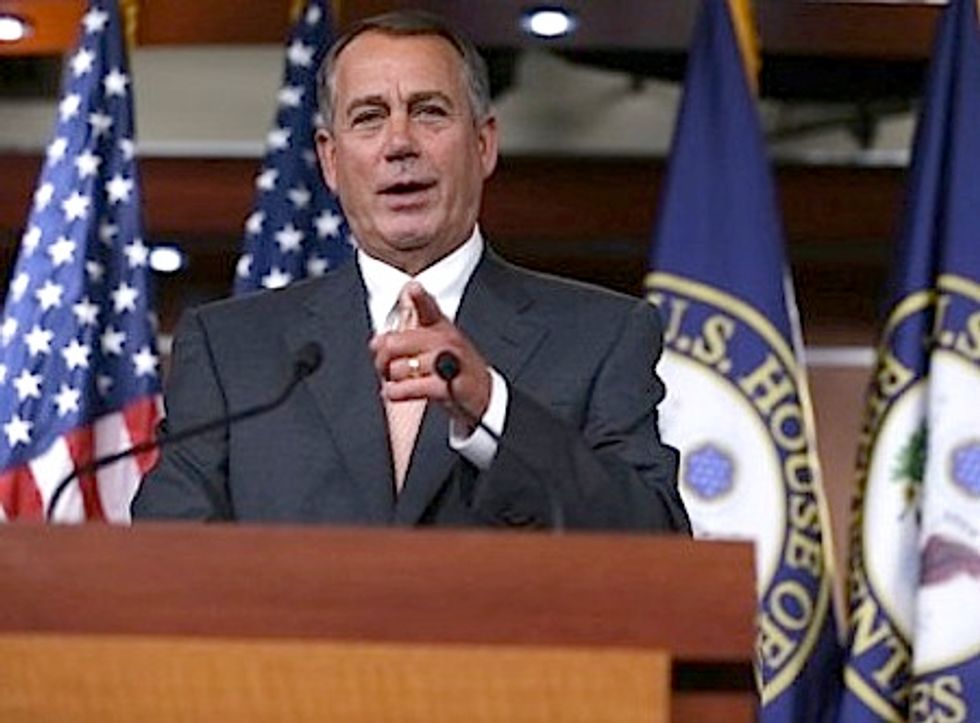 Political extremists pushed our nation to the brink out of sheer obstinance. House Speaker Boehner (R-OH) could have ended this days ago by simply letting the full House vote on reopening the government. Instead, he declared himself a willing hostage to the radical wing of his party. The shutdown caused real damage. It undermined critical efforts to protect the air we breathe, the water we drink and the places we love.
The reopening of the government and avoiding default are obviously good news. But the deal that allowed it to happen should be a signal to the environmental community to gird for the battles ahead.
The deal puts off the big fights for just a couple of months. House Republicans had a long list of anti-environmental provisions they threatened to add to the debt limit before the Affordable Care Act became their single-minded focus, and they could be part of the brinksmanship next time around. These destructive riders include approving the Keystone XL pipeline for dirty tar sands oil and requiring all coastal waters to be leased for offshore drilling. There's also the proposal to destroy the regulatory system by requiring Congressional approval for all new environmental and other safeguards.
We could also face another battle over spending. House Republicans have voted this year for draconian cuts in environmental programs and for continuing the "sequester" that eats away at the capabilities of all agencies. GOP lawmakers are likely to push these bad ideas going into the upcoming budget talks. The federal budget should not be balanced by slashing the services the public depends upon.
People who care about health and the environment must be vigilant in the coming months. We have to let lawmakers know how much we value government programs that safeguard the air we breathe, the water we drink and the places we love.
The past 16 days revealed just how critical those efforts are and how quickly they can be undermined. Here is a brief list how the government shutdown eroded environmental protection.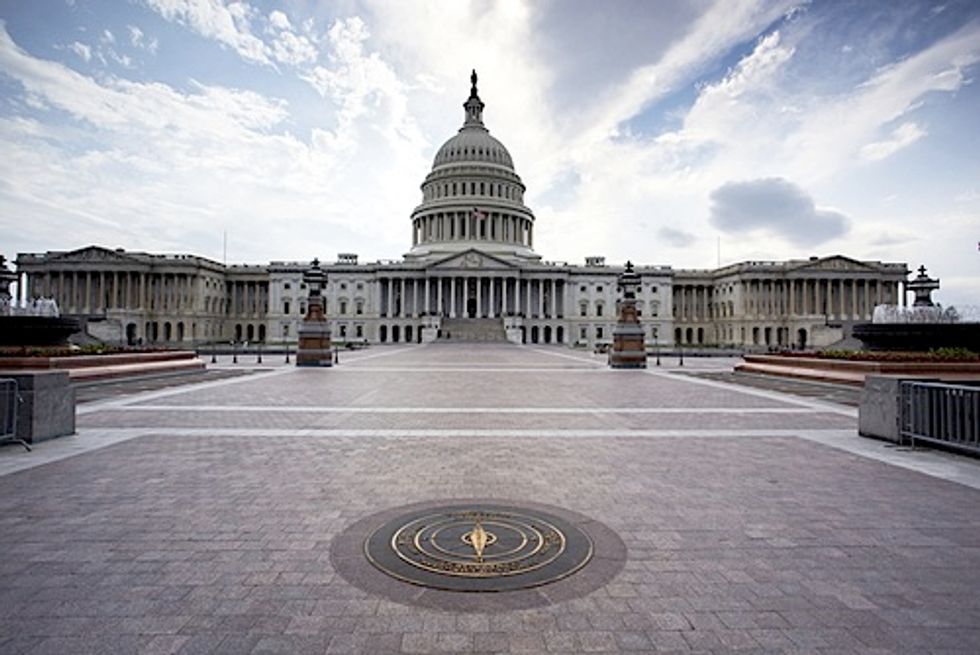 Photo courtesy of Shutterstock
Tainted Chickens Come Home to Roost
One week into the shutdown, the government issued an alert that a major salmonella outbreak that had already struck nearly 300 people in 18 states. While the Agriculture Department's Food Safety and Inspection Service remained largely on the job, furloughs hit the national foodborne detection services at the Centers for Disease Control and Prevention (CDC) hard. Indeed, CDC experts had to be called back to cope with the outbreak. At the Food and Drug Administration, all inspections of imported food stopped during the shutdown, despite the fact that the U.S. imports about 80 percent of the seafood and more than 20 percent of produce Americans eat.
Cleanup of Toxic Chemicals at Superfund Sites Halted
Cleanup work on many of the 800 contaminated federal Superfund sites stopped during the shutdown. Now countless people will have to put up with toxic waste longer. People like those living in Lockport, NY, where the U.S. Environmental Protection Agency (EPA) is finalizing a plan to relocate homeowners because of PCB, lead and other contaminants. Or Doylestown, PA, where residents are waiting for soil excavation to begin at the contaminated ChemFab property, which polluted nearby well water with TCE, a chemical linked to liver, kidney and lung cancer.
National Parks and Wildlife Refuges Put Off Limits
The shutdown prevented Americans from visiting our public lands in parks and refuges across the country. It will be easy to reopen those iconic places, but it will be nearly impossible to recover the ruined family vacations, the once-in-a-lifetime rafting trips down the Colorado River and the lost economic activity from hundreds of thousands of tourists, hunters and fishermen. Visitors typically spent $13 billion a year within 60 miles of the national parks, but gateway communities got very little business during the shutdown—which for many fell right during their peak season.
Nuclear Safety Personnel Furloughed; What Could Go Wrong?
The Nuclear Regulatory Commission (NRC), had to send all but about 300 of its 3,900 workers home. It cancelled all emergency preparedness exercises and routine inspections of nuclear materials and waste licensees, among many functions. Among the ongoing projects put on hold by the shutdown: the NRC's oversight of safety upgrades to nuclear power plants that were ordered after the 2011 nuclear disaster in Fukushima, Japan. That accident involved meltdowns and radioactive releases from multiple reactors that are similar in design to many U.S. reactors.
Shutdown Forced the EPA to Hit the Brakes
The agency charged with keeping pollution out of our air and water nearly ground to a halt when about 94 percent of its staff was furloughed. That meant permits couldn't be issued, no one was checking to ensure environmental laws are being followed at factories and other industrial facilities, and work on safeguards came to a standstill.

Three Nebraska landowners will finally see their day in court as the lawsuit they filed against the state is finally moving forward. The suit challenges the constitutionality of the LB 1161 the law used by the state legislature and Gov. Heineman (R-NE) for approving eminent domain and the Keystone XL pipeline route in Nebraska. The State Department must put on hold any review of the pipeline.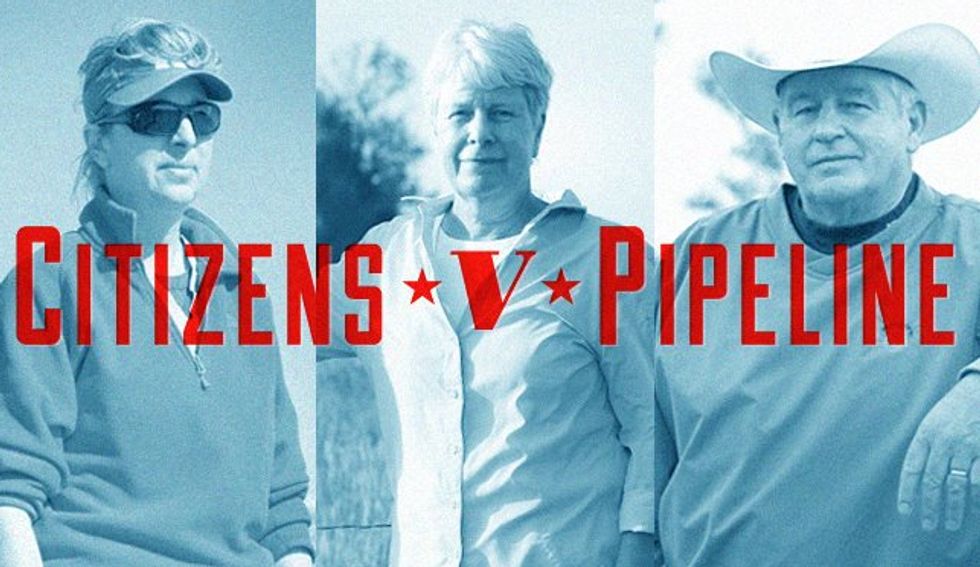 After multiple attempts at delay by state officials, Nebraska Judge Stacy announced today that the lawsuit will be heard on September 27. This news has significant implications on the broader national debate on the permit process for TransCanada's Keystone XL tarsands pipeline. With the entire Nebraska route in question, the State Department should not finalize the Environmental Impact Statement (EIS) until the court decision and the Public Service Commission, goes through the extensive routing process laid out for pipelines.
"If we are successful in our lawsuit TransCanada will have to start the Keystone XL siting process over again through the Nebraska Public Service Commission, so it would be premature for the State Department to issue a final EIS when the route across Nebraska remains very much in question," said one of the plaintiff landowners, Randy Thompson. "As citizens, we are asking the State Department to respect the legal process and our state's constitution."
"Completing an environmental review of a tarsands pipeline requires Nebraska have a final route that was lawfully determined," stated Brian Jorde, lawyer with Domina Law Group. "With the Nebraska route in doubt, pending resolution of the constitutional challenges to the law that led to its approval, it would be irresponsible to approve a national route when nearly 200 miles are still in question. We encourage our government to honor our legal process and give Nebraska its day in court."
"This lawsuit has given hope to scores of landowners who have refused to negotiate easements with TransCanada," said Susan Dunavan, another landowner plaintiff. "Landowner's rights have been taken from us by delegating eminent domain authority to the Governor."
"No one in the State of Nebraska should be threatened by a corporation, foreign or domestic. This lawsuit will ensure that our landowner's rights are upheld and our state constitution followed. Eminent domain must not be used for private gain. This pipeline is not for Nebraska. It is not for the U.S. It is solely for the benefit of Canada and the oil industry," Dunavan concluded.
Thompson, Dunavan and Susan Luebbe are standing up for citizens across the state, and are calling into question the environmental impacts the Keystone XL pipeline would have on Nebraska. Landowners are not accepting a threat to their land, water and livelihood without a fight.
Visit EcoWatch's KEYSTONE XL page for more related news on this topic.
——–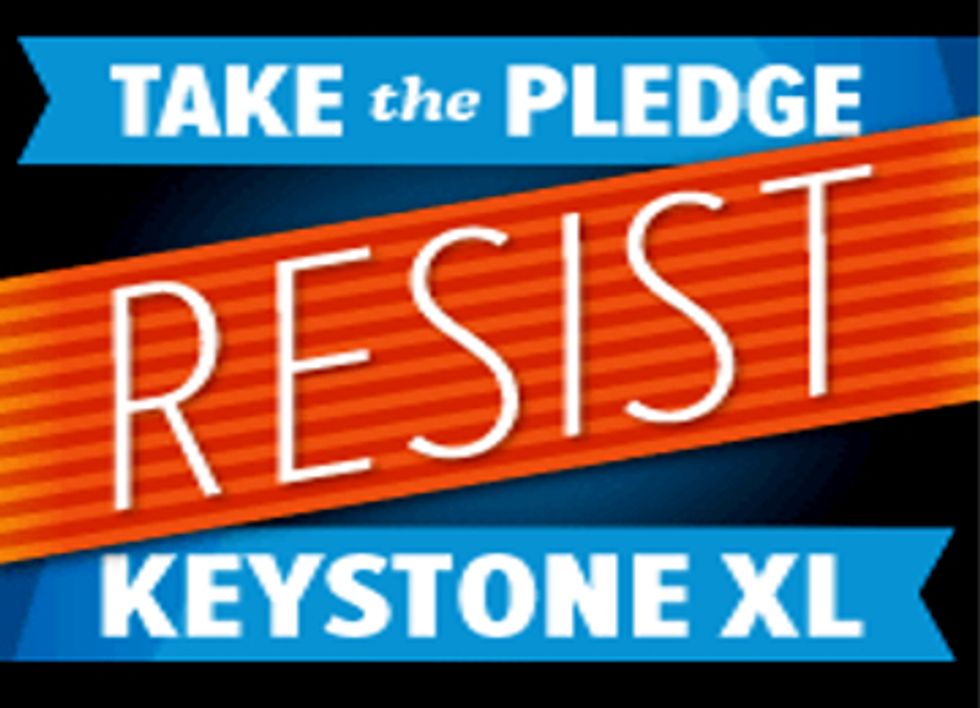 More than 69,000 Americans are pledging to risk arrest to halt the construction of the 1,700-mile Keystone XL pipeline. In a stand of solidarity with those living along the pipeline's path, residents from across the U.S. are vowing to take part in historic acts of civil disobedience aimed directly at shutting down Keystone XL.
The actions are expected to come in many forms, including mass sit-ins at strategic locations along the route and other large-scale actions in major U.S. cities. The protests are expected to be unleashed when—and if—the State Department gives a nod of approval for the pipeline's construction.
If the State Department recommends approval of the TransCanda pipeline, President Obama will have two weeks before a decision will be made.
During that time, those living along the pipeline route—and their supporters throughout the country—are going to let President Obama know they're not going to grin and bear it. It's not the first time anti-Keystone advocates have taken their demonstrations to the next level. In February, roughly 50 demonstrators were arrested outside the White House during a sit-in against Keystone.
Standing up Against the Giant
"Most events will be outside Washington DC, because this decision will affect all of us, where we live," a post by Credo Action regarding the pledge states. "So we want to see the beautiful sight of actions across the nation—including a wide variety of symbolic targets like State Department offices, TransCanada corporate lobbies, Obama Organizing for Action meetings, banks that are financing tar sands oil development, areas ravaged by Superstorm Sandy and along the pipeline route."
In March, the State Department released a report indicating approval of the Keystone pipeline would not contribute to global climate change, using the rationale that the extraction of Alberta tar sands—the source of carbon emissions—will continue with or without America's involvement with Keystone XL.
In June, President Obama delivered a nationwide climate change address, stating that the pipeline could be approved only if it did not result in a net increase in carbon emissions. This wasn't taken as a good sign for anti-Keystone advocates—but for those fighting for their land, the fight isn't over until it's over.
"I am a firm believer in President Obama and his words to the people that we need to stand up and we need to show how a democracy works, and when you don't agree about something and feel strongly about something, you need to stand up and speak out," Abbi Harrington-Kleinschmidt, a Nebraska farmer whose land sits along the proposed Keystone route, told Mint Press News. "I feel it's what President Obama is asking us to do."
The united front against the Keystone pipeline is layered in emotion. The concerns among activists are vast, ranging from issues of climate change to problems that could arise from pipeline spills. There's also the issue of whether a foreign corporation should have eminent domain authority to take Americans' land.
For those living in the midst of the battle, the pledge to keep Keystone out of America is rooted in all these concerns, but protection of their own land takes the struggle to a personal level.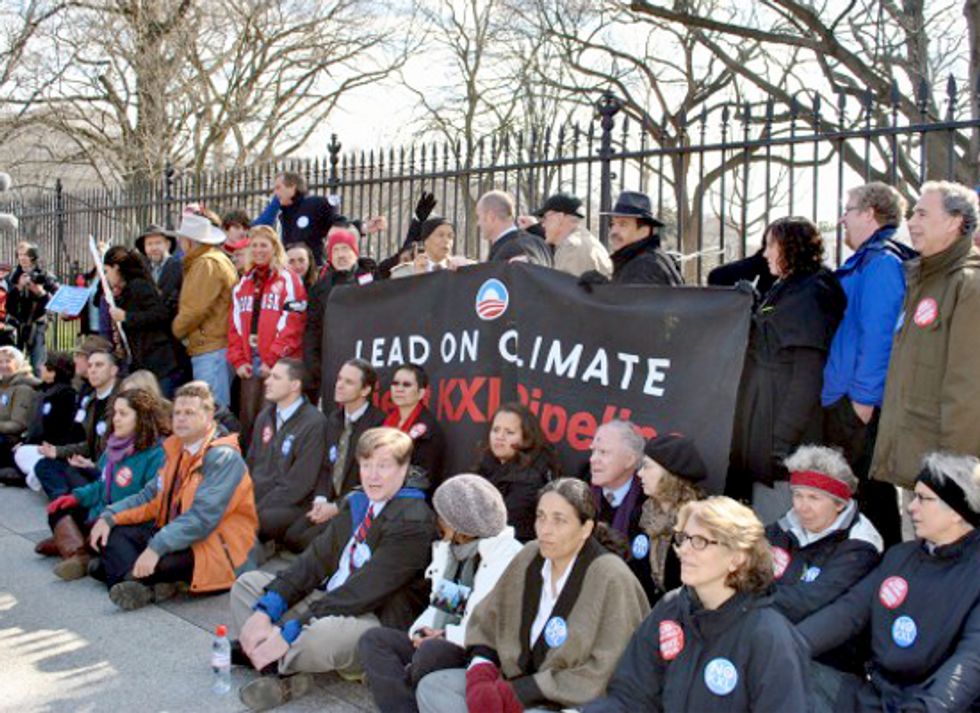 Standing in Solidarity with American farmers
Harrington-Kleinschmidt's farmland in Nebraska's York County dates back five generations. After her father passed away, more than 2,000 acres of farmland was passed down to her and her three sisters, who now manage the farm.
Like other Nebraska farmers, Harrington-Kleinschmidt learned about Keystone XL when TransCanada submitted its first pipeline route proposal. During that time, the map didn't impact her area—but it did impact her brother-in-law's land, located roughly 20 miles north of her property.
"He was wrestling with TransCanada for two or three years," she told Mint Press News. "I was aware that he was having these issues, but I felt like, well, it doesn't affect me, so I didn't learn any more about it at the time."
That all changed when TransCanada changed its proposal, settling on a route that went directly through her farmland. Unlike other farmers in Nebraska, Harrington-Kleinschmidt has refused to sign any agreements with TransCanada. Instead, she's relied on the legal counsel of the Nebraska Easement Action Team, which provides free assistance to farmers battling TransCanada and their lengthy, complicated easement proposals.
From her work with the team, Harrington-Klein learned a thing or two about the easements presented by TransCanada and discovered it wasn't in the best interest of her or her family to sign.
"It's a very dangerous thing," she told Mint Press News. "It's a perpetual easement. TransCanada would own that easement forever. They offer a one-time payment to the landowner to put that dirty thing in the ground, and it's not like they're going to pay you every year."
Harrington-Klein's land hosts corn and soybean crops, which she rotates every year to keep the soil healthy. In her eyes, it's the most valuable farmland in the nation, if not the world, as it's flat, sits in the midst of an area known for its fertile soil, and is near the Ogallala Aquifer, which the Sierra Club considers one of the world's largest supplies of groundwater.
She's concerned about the impact Alberta tar sand extraction has on global climate change, and she doesn't like the idea of more than 800,000 barrels of thick tar sand oil running under her property every single day—not only because of what it represents, but because of the threat it poses to her land.
For Harrington-Klein and her neighbors, it's a not a matter of if a spill will occur, but when. Aside from contaminating farmland and fertile soil, there's concern over contamination of the Ogallala, which provides water to eight states for drinking, irrigation and livestock watering purposes, according to the U.S. Geological Survey, as noted in the Journal Star.
"It just goes right to my core, probably because of the legacy that ties to my family for five generations," she said, "and knowing that my ancestors who worked so hard—and my sisters and I, who have shed a lot of blood, sweat and tears on that farm too. What's so upsetting is that a foreign corporation can threaten to come and take your land from you with such a dangerous pipeline."
Will America Pull Through with Pledge?
The organizations that have paired with Credo Action to initiate the pledge are now attempting to draw the faint of heart into the nationwide campaign of peaceful civil disobedience.
"You shouldn't make this pledge lighty," the Credo post states. "We certainly don't ask lightly. We ask in the belief that there are tens of thousands of people out there who feel as strongly about this as we do; who believe that these circumstances call for extraordinary action, and want to be part of that action in their community."
Credo is joined by Bold Nebraska, the Rainforest Action Network and 350.org, among other environmental advocacy organizations. To prepare residents throughout the country for what's expected to be a two-week campaign, Credo is partnering with Rainforest Action Network and The Other 98% to host local activist training sessions, where those taking part in the pledge will learn how to lead and organize local civil disobedience actions.
As of July 12, more than 750 people throughout the U.S. had signed up to lead local actions and take part in trainings, according to a press release issued by Credo. The trainings aren't geared toward longtime environmental activists. Rather, the people who have taken interest in the pipeline debate are those who have sympathized with their friends, family members and fellow Americans who live along the route.
Harrington-Klein has a second cousin who lives in New York City. While far from the pipeline, the stories of Nebraska's fight remain heightened in her cousin's heart. More than 1,300 miles from York County, a sign opposing the Keystone pipeline sits in her yard.
"After all, we are the conservatives, standing up for a safe and secure future for our families. It is those we protest, those who profit from radically altering the chemical composition of our atmosphere—and the prospects for survival of humanity—they are the radicals," the Credo pledge states.
Visit EcoWatch's KEYSTONE XL page for more related news on this topic.
——–
SHARE YOUR THOUGHTS BELOW: What action will you take to show your opposition to the Keystone XL pipeline?
——–

By Steve Horn
A recent DeSmogBlog investigation reveals that Robert Bauer, former White House Counsel and President Obama's personal attorney, works at the corporate law firm Perkins Coie LLP, which does legal work for TransCanada's South Central Liquified Natural Gas (LNG) Project, formerly known as Alaska Gas Pipeline Project.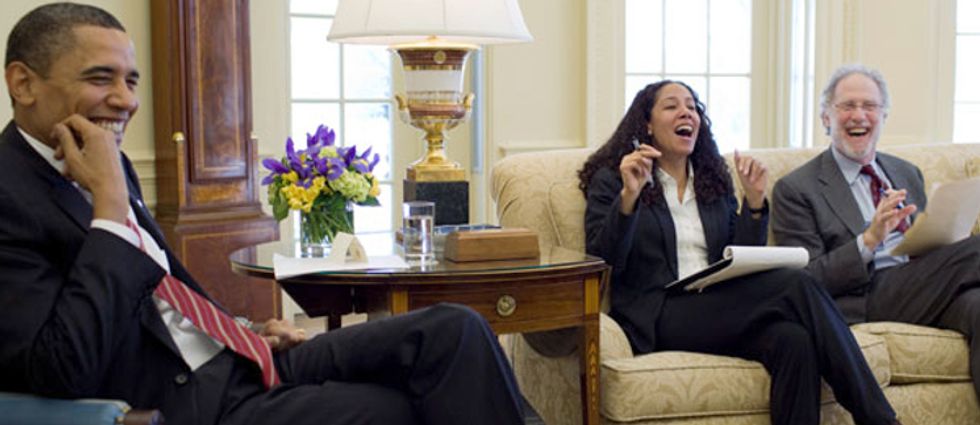 Furthermore, Dan Sullivan, current Commissioner of Alaska's Department of Natural Resources, and former Alaska Attorney General and former Assistant Secretary of State in the Bush Administration, is also a former Perkins attorney. 
These findings come in the immediate aftermath of a recent investigation revealing the contractor hired by Obama's U.S. State Department to do the Supplemental Environmental Impact Statement for the northern half of TransCanada's Keystone XL tar sands export pipeline—Environmental Resources Management, Inc. (ERM Group) —lied on its June 2012 conflict-of interest filing. ERM Group checked the box on the form saying it had no current business ties to TransCanada.
In fact, ERM—a member of the American Petroleum Institute, which has spent more than $22 million lobbying on tar sands and Keystone XL since 2008—does maintain business ties to TransCanada, the investigation revealed. This includes an ongoing consulting relationship with South Central LNG, co-owned by TransCanada, ExxonMobil, BP and ConocoPhillips.
Under 18 U.S.C. § 1001, making a "materially false, fictitious, or fraudulent statement or representation...[to the] executive, legislative or judicial branch of the Government of the U.S." is a crime punishable by up to five years in jail. 
On top of his job at Perkins Coie, Bauer—a well-known architect of bending campaign finance law to allow more corporate money to flood into electoral races—served as general counsel to President Obama's 2012 re-election campaign. He also serves as general counsel to the Democratic National Committee and did electoral law work for John Kerry's 2004 presidential campaign. 
His wife, Anita Dunn is the co-owner of SDKnickerbocker, and former Obama Communications Director, was senior advisor for Obama's 2012 re-election campaign and is the former communications director for the Democratic Senatorial Campaign Committee under then-Senator Kerry. She's met with top Obama administration officials more than 100 times since leaving in 2009, according to a recent New York Times investigation. 
Dunn currently does public relations work on behalf of TransCanada and freight rail industry lobbying group, American Association of Railroads. The tar sands pipeline boom comes alongside a freight rail boom to carry tar sands crude and fracked oil from North Dakota's Bakken Shale.
"ERM lied on its conflict of interest disclosure form, and State was either asleep at the wheel or chose to look the other way," Friends Of the Earth's Ross Hammond told The Washington Post in a recent piece commenting on ERM's "Pinocchio moment."
Given the myriad ties that bind, "looking the other way" appears more plausible. 
Perkins Coie's Legal Bidding for Democrats, TransCanada Alaska Gas Pipeline Project
Perkins Coie is a global firm with 19 offices worldwide and maintains close ties to the Democratic Party above and beyond Bob Bauer. Bauer's colleague Mark Ellis, for example, does legal work on behalf of the "Democratic Senatorial Campaign Committee, the Democratic Congressional Campaign Committee, the Democratic Governors Associations and numerous U.S. senators and representatives and their campaigns," according to his Perkins Coie biography.
The Oil and Gas legal work portion of Perkins' website highlights its legal work in Alaska, "in Alaska, our lawyers have long represented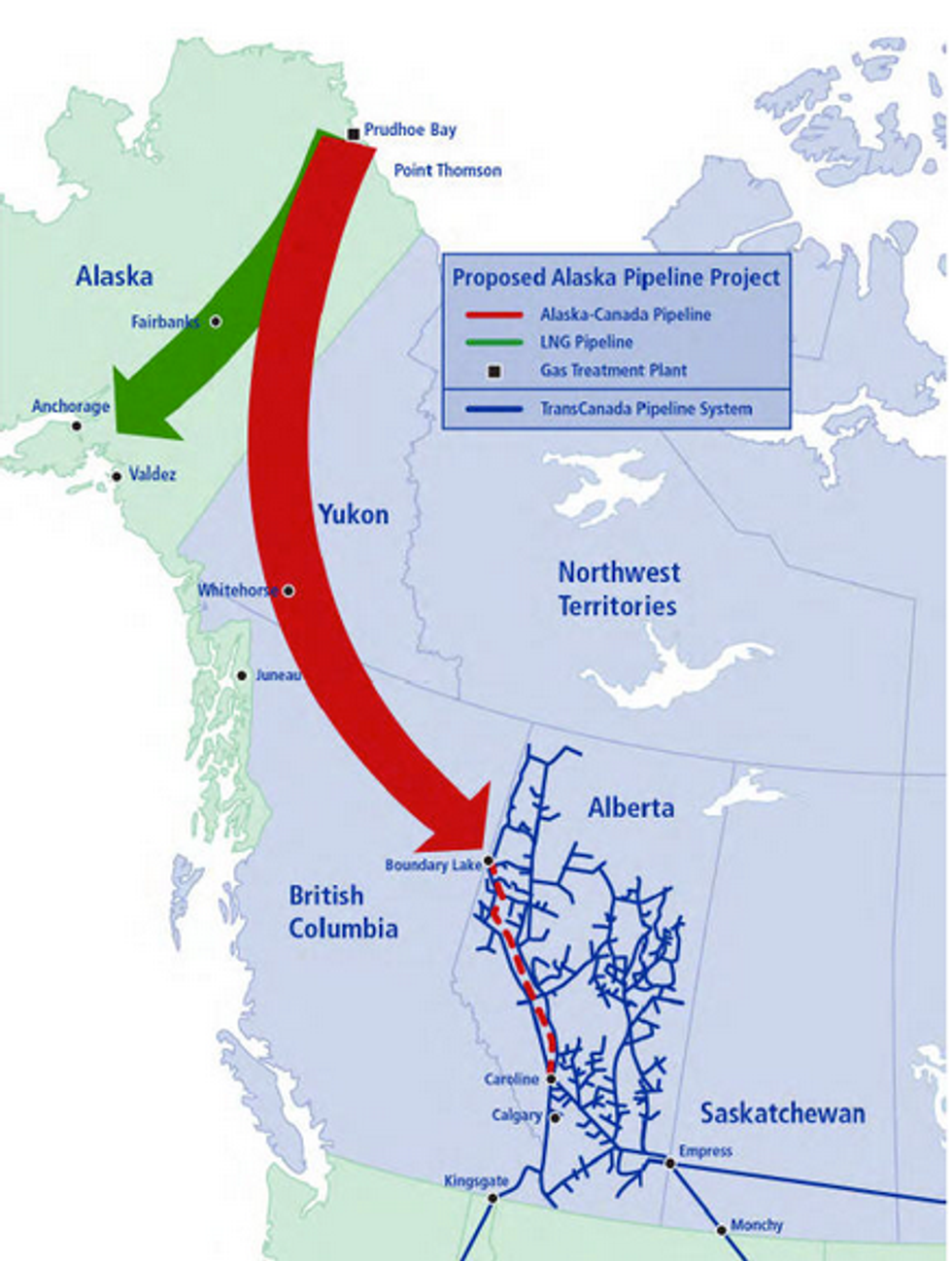 leading oil and gas companies on the North Slope and the Cook Inlet...We are extensively involved in efforts to develop the Point Thomson field and commercialize Alaska's natural gas resources with a pipeline to Lower 48 markets." 
The "efforts to...commercialize Alaska's natural gas resources with a pipeline to Lower 48 markets" that Perkins' website refers to is the South Central LNG Project co-owned by TransCanada.
"The project is designed to connect Alaska's North Slope natural gas resources to new markets and deliver a reliable and secure source of clean burning energy for decades to come," explain TransCanada and ExxonMobil on the original Alaska Gas Pipeline Project website. "TransCanada and ExxonMobil have the expertise, experience and financial capability to develop what would be one of the largest privately funded energy projects in the history of North America."
Before providing legal aide to South Central LNG, Perkins helped the Trans-Alaska Pipeline System (TAPS)—co-owned by Koch Industries, ExxonMobil, BP, ConocoPhillips and Chevron and often referred to as the Alyeska Pipeline—get up and running. TAPS takes oil from the Alaska North Slope to the Valdez Marine Terminal, home of the Exxon Valdez spill. 
Perkins' legal aide, in fact, made TAPS a reality according to an interview appearing online with Perkins' veteran attorney Guy Martin. Martin was instrumental in opening Perkins' office focusing on Alaska in Washington DC. 
"I actually took a little, first-floor townhouse on Capitol Hill, and opened what was really a two-or three-person office. It was the first state office, and we worked pretty much exclusively on the pipeline," said Martin. "The Trans-Alaska Pipeline Act was passed as the direct result of the passing of the Settlement Act." 
Perkins Coie attorney L. John Iani—former Region 10 (which includes Alaska) Environmental Protection Agency administrator from 2001-2004 under President George W. Bush—also formerly lobbied for the Alaska Gas Pipeline Project working for TransCanada from 2005-2008, Congressional lobbying disclosure records show. He did so while working for Van Ness Feldman from 2004-2010, a firm that today lobbies on behalf of TransCanada's Keystone XL. 
Perkins still does legal work on behalf of TAPS and defended it in the 2010 case Alyeska Pipeline Service Company v. Pipeline and Hazardous Materials Safety Administration. 
Alaska Department of Natural Resources Run by Former Perkins Attorney 
Alaska Department of Natural Resources (DNR) Commissioner Dan Sullivan formerly worked at Perkins Coie from 1996-2006. His task as head of Alaska's DNR, by law, is to serve as an oil and gas industry watchdog. As such, he will aid in overseeing whether South Central LNG becomes a reality. Sullivan—it's important to remember—was named Attorney General by former Alaska Republican Gov. Sarah Palin of "drill baby, drill" fame in June 2009.
Prior to his appointment as Attorney General, Dan Sullivan served as Assistant Secretary of State during the Bush administration, reporting to Secretary of State Condoleezza Rice. Sullivan's full title was Assistant Secretary for Economic, Energy and Business Affairs. 
Wikileaks diplomatic cables reveal that while at the State Department, Sullivan helped negotiate oil and gas deals with Kazakhstan, Azerbaijan, Turkey, Norway, the United Arab Emirates, Pakistan, Turkmenistan and France.    
It was also under Bush and during Sullivan's time at the State Department that the original TransCanada Keystone tar sands pipeline was approved in March 2008. Three months later, in June 2008, TransCanada proposed Keystone XL to the State Department. 
In March 2012, President Obama issued an Executive Order to expedite the building of Keystone XL's southern half from Cushing, OK to Port Arthur, TX. It is the northern, border-crossing half whose final destiny is now in the hands of President Obama and Secretary of State John Kerry.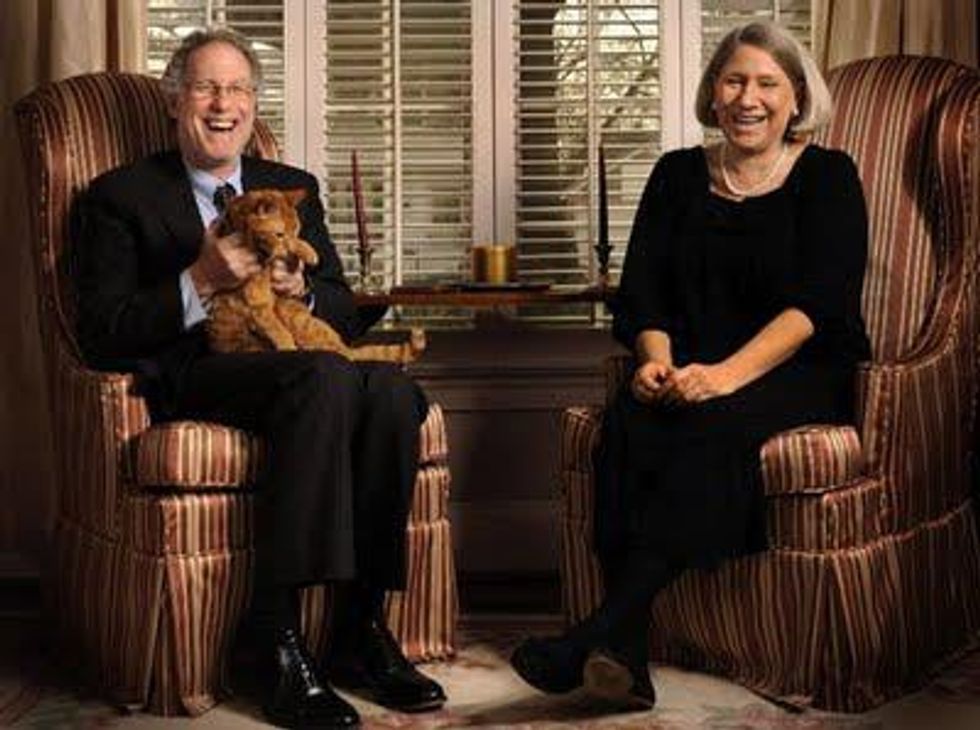 "Americans Know a Rat When They Smell One" 
Anita Dunn will likely be working overtime in the coming weeks and months using her insider/outsider status to ensure its approval on behalf of the client she shares with her husband's law firm, TransCanada. 
"Only in the ethically-challenged world of K Street lobbyists could it be considered OK for a power couple like Dunn & Bauer to exploit their White House connections to promote the interests of a foreign corporation like TransCanada," Hammond told DeSmogBlog in an interview.
"Beltway insiders may yawn at the fact that TransCanada has hired people so close to President Obama and Secretary Kerry to push their dirty and dangerous pipeline, but ordinary Americans know a rat when they smell one."
Visit EcoWatch's PIPELINES and KEYSTONE XL pages for more related news on this topic.
——-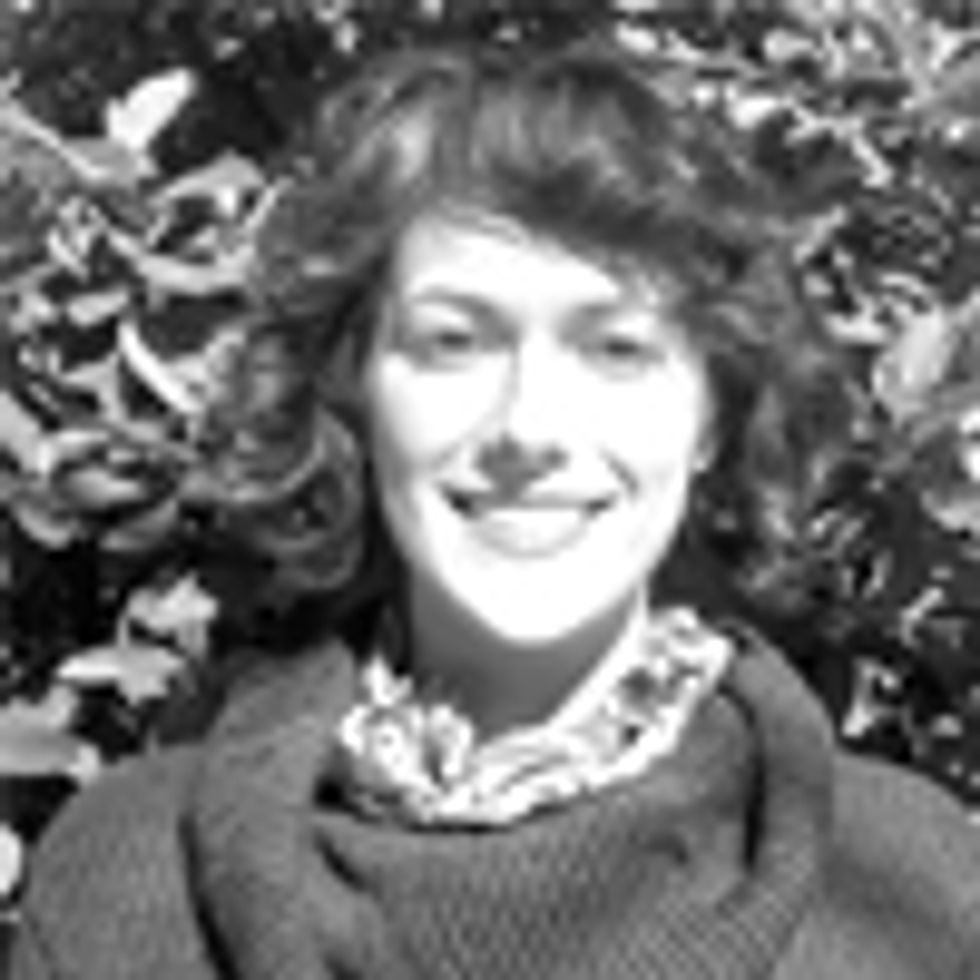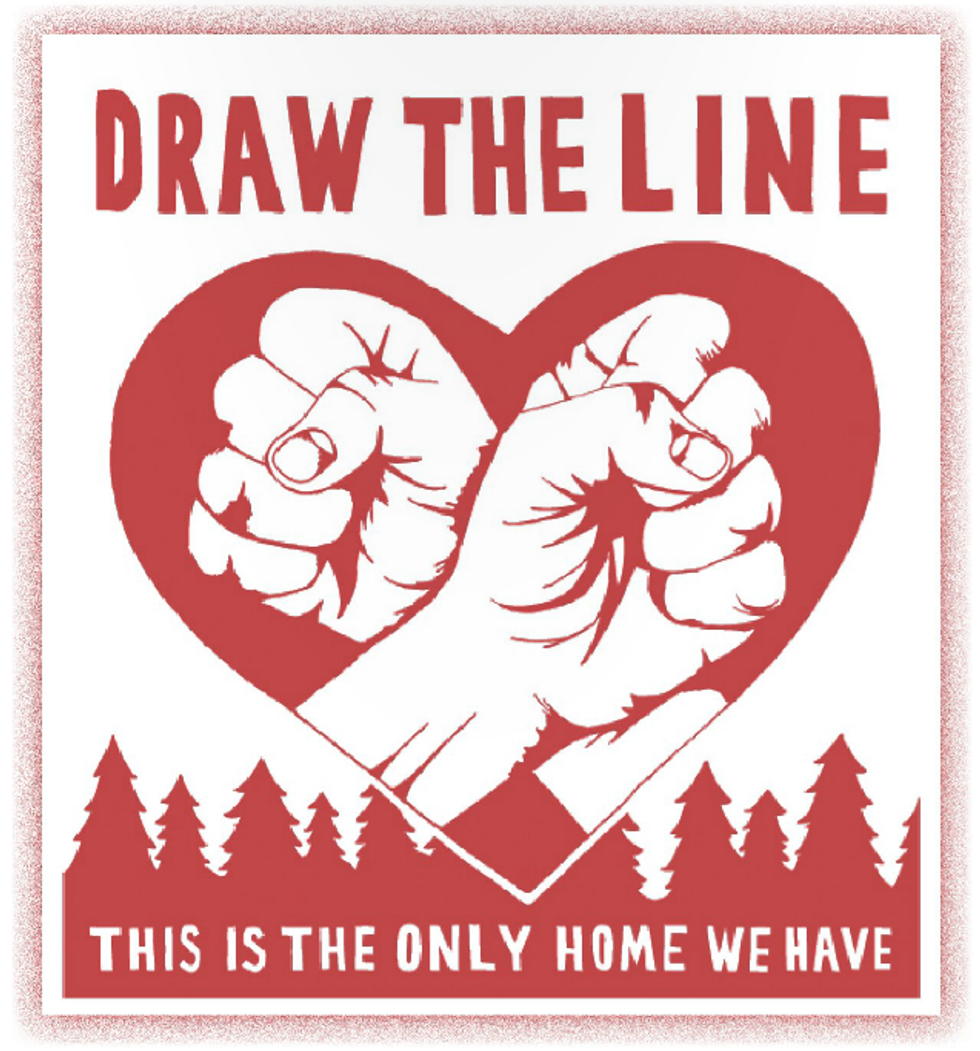 As the summer heats up, awareness is quickly escalating across the world as different direct action campaigns target a common denominator: the fossil fuel industry.
Earlier this year, organizers including 350.org launched the Summer Heat and Fearless Summer campaigns, calling for a global uprising to "peacefully but firmly" stand up to the industry that is wrecking our future.
As people are joining together to embrace non-violent direct action on behalf of the climate, 350.org  published the Creative Action Cookbook to encourage cohesive thoughtful action based on the variety of resources and skill sets of those involved. As humanity faces the uncertainties of the damage already done by pollution, this tenacious movement is focused on building a world that values the principles of "empathy, mutual aid and love."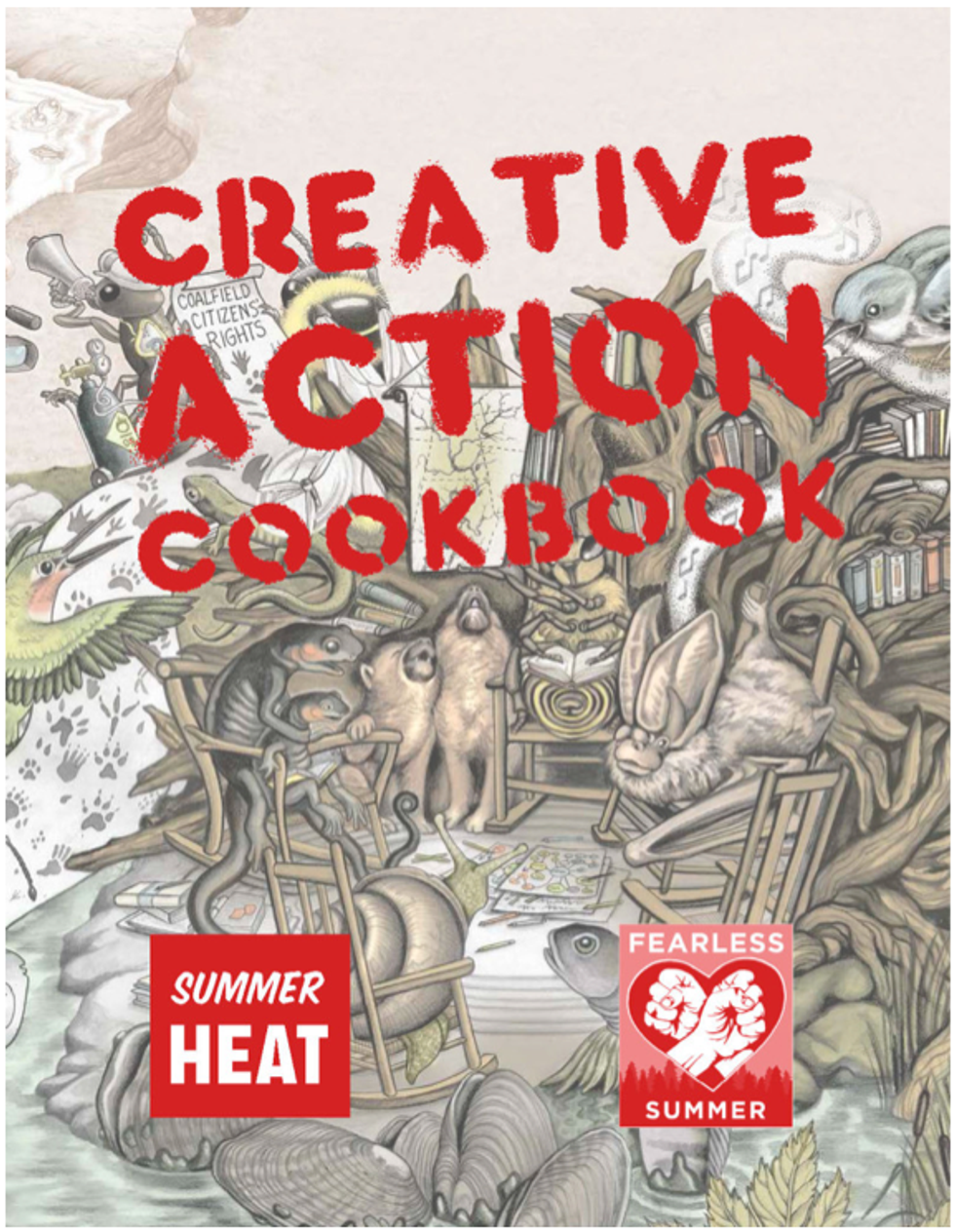 Over the past several weeks, direct actions challenging fossil fuel infrastructure have brought to light some of the most imminent hazards of this dangerous industry, while at the same time promoting a sustainable and renewable future.
According to Tar Sands Blockade, Swamp Line 9, a group dedicated to keeping Enbridge from modifying their 240,000 barrel/day Line 9 pipeline to carry tar sands bitumen, kicked off the first day of summer with a powerful action at a pump station on Haudenosaunee Six Nations land near Hamilton, Ontario, Canada.
Blockaders occupied the site and held strong for six days as activists with Great Plains Tar Sands Resistance in Oklahoma were disrupting the construction of another pump station for the controversial Keystone XL pipeline the same week. On the dramatic final day of the Swamp Line 9 blockade, four people who were locked to machinery and 16 others were arrested.
The action kicked off Idle No More's Sovereignty Summer with a righteous display of the movement's strength and determination, highlighting the involvement and solidarity of First Nations whose lands are being targeted as "energy sacrifice" zones across North America.
On June 29, Greenpeace, Friends of the Earth International, Sierra Club and other organizational allies demonstrated during an international day of solidarity with the youth activists attending Global Power Shift. Actions all over the world were calling for an end to the age of coal and promoting a clean energy future just days after four people locked themselves outside the UBS headquarters in Connecticut to protest the bank's continued funding of mountaintop removal coal mining.
On Canada Day, more than 500 gathered in Southampton, Ontario, to oppose a proposed nuclear waste dump less than a mile from the shores of Lake Huron, bringing this grave issue some necessary attention.
Other early Fearless Summer actions across the U.S. include a blockade that stopped trucks attempting to dump tar sands waste alongside the Detroit River; a flash mob that included activists from Occupy Wall St and Occupy the Pipeline protesting the Spectra and Rockaway fracked gas pipelines during lunchtime in one of Manhattan's busiest neighborhoods; and a confrontation by the Utah Tar Sands Resistance of road construction crews who are in the process of clear cutting, leveling and paving the way for tar sands, oil shale and fracking across the Colorado River Basin.
A week and a half before the tragic train explosion in Quebec last Saturday, 350 Maine and Maine Earth First! teamed up to bring attention to the hazards of transporting fracked oil by blockading a train carrying 70,000 barrels of crude coming from the Bakken oil fields in North Dakota.
Earlier this week, hundreds of Earth First! activists and allies brought attention to Momentive (headquarterd in Columbus, OH), one of the largest suppliers of fracking fluids, by blockading the shipping entrance to one of their facilities in North Carolina and successfully shutting down operations for the day.
Yesterday, Greenpeace activists bravely scaled Europe's tallest skyscraper in London to bring attention to the Shell's plans to drill in the Arctic.
As the number of direct actions grow across the Earth, communities are uniting to pressure their elected officials and other entities to acknowledge that we must divest from the fossil fuels and move toward a renewable energy future. This fearless movement to defend our future is just getting started—with much more to come.
Visit EcoWatch's CLIMATE CHANGE page for more related news on this topic.
——–
SHARE YOUR THOUGHTS BELOW: After reading the Creative Action Cookbook, what inspires you to act?
——–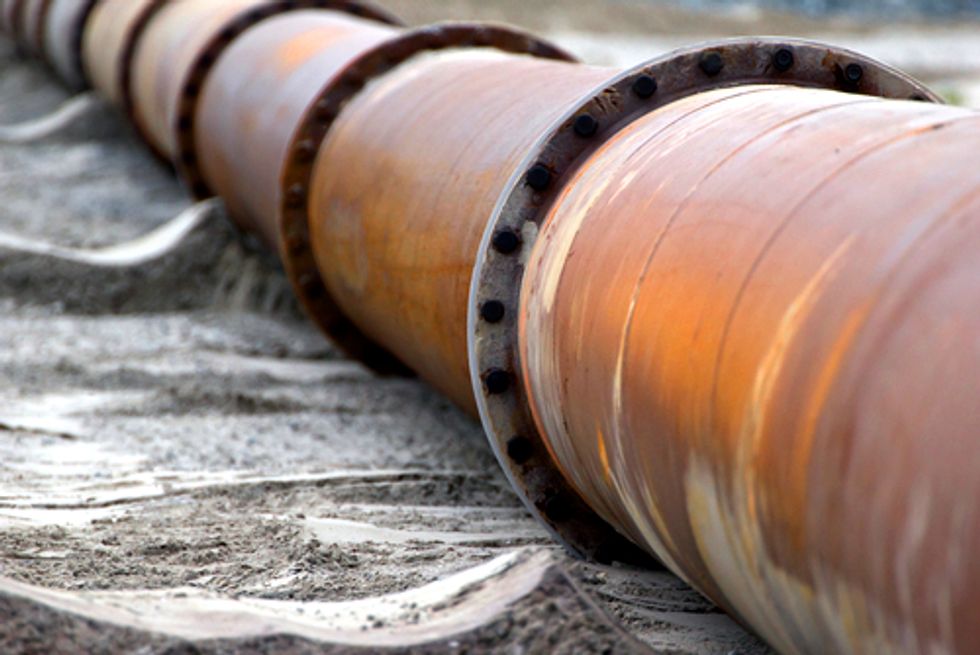 Photo courtesy of Shutterstock
Today Rep. Waxman (D-CA) and Sen. Whitehouse (D-RI) submitted a detailed letter to the State Department urging it to correct significant mistakes in the analysis of the climate impacts of the Keystone XL tar sands pipeline. In their letter, they noted that the agency's draft Supplemental Environmental Impact Statement (SEIS) underestimated the cost of transporting tar sands by rail and ignores the views of numerous market experts.
The Congressional leaders observed that the administration's own estimates of the social costs of carbon show that the additional carbon pollution from Keystone XL will impose $71 billion in costs. Waxman and Whitehouse concluded that a 'thorough, unbiased and comprehensive" analysis of the tar sands pipeline "would show that the Keystone XL pipeline fails the test the President set forth and must be denied."
Their letter compiles an enormous body of evidence demonstrating the fatal flaws in the analysis that led the State Department to ignore Keystone XL's significant climate impacts. The Congressmen note the recent rejection of the proposed Northern Gateway pipeline by British Columbia and the growing public opposition to tar sands pipelines throughout Canada demonstrates that tar sands expansion isn't inevitable.
Waxman and Whitehouse pointed out the significant obstacles to moving tar sands by rail, noting that there are significant economic and logistical obstacles which make moving large volumes of heavy tar sands by rail an unworkable option. The department ignored many of these differences and assumed that tar sands producers could replicated the light crude by rail boom seen in North Dakota's Bakken producers. The Congressmen observed this was an apples to oranges comparison, citing analysis by the International Energy Administration (IEA):
"After discussing the boom in moving Bakken oil by rail, IEA discussed the prospects for using rail to transport tar sands product. We do not, however, expect rail boom on a similar scale than in [the] case of U.S. [light tight oil] as most Alberta crude production is in the form of bitumen."
They also showed that the State Department's misinterpretation of industry data led it to paint an inaccurate picture of how much heavy crude is actually moving by rail:
"The State Department cited two analyses that projected 200,000 or 250,000 barrels of tar sands would be moved by rail to the Gulf by the end of this year. But according to the Reuters analysis, the State Department misinterpreted one of those analyses, and the other one is being reevaluated in light of the fact that the numbers are nowhere near that high now, halfway through the year. Goldman Sachs estimates that no more than 30,000 to 60,000 barrels of tar sands and other Canadian heavy crude, combined, will move by rail to the U.S. this year."
Waxman and Whitehouse also observed that the energetic actions of Canadian officials, the Alberta government and oil industry representatives give lie to the argument that Keystone XL isn't necessary for tar sands expansion. 
The Congressmen go on to show that once the additional emissions from co-products of tar sands besides gasoline and diesel where considered, the increased emissions from replacing conventional crude in the Gulf with tar sands from Keystone XL would amount to 24.3 million metric tons of carbon dioxide equivalent (MMTCO2e) each year. Over the project's minimum lifetime, that amounts to 1.2 billion MMTCO2e. The legislators noted:
"Finally, if the climate change effects of the Keystone XL pipeline are not considered to be significant, it is unclear whether there is any individual project in the U.S. that would ever be considered significant."
Rep. Waxman and Sen. Whitehouse concluded:
"We request the State Department to acknowledge that the Keystone XL tar sands pipeline would have significant consequences for climate change. The harm from climate change is mounting, and the need to act becomes ever more urgent. Given the multiplicity of sources of greenhouse gases and the size of reductions needed from current levels, stopping a single project alone could never be sufficient to avoid a dangerous degree of climate change. Yet in the absence of comprehensive economy-wide action, there is no choice but to combat climate change on a project-by-project basis. The alternative is business-as-usual rising carbon pollution that would doom us to devastating climate disruption."
Visit EcoWatch's KEYSTONE XL and CLIMATE CHANGE pages for more related news on this topic.
——–

In recent weeks, we've been calling on President Obama to show the "courage of his convictions" when it comes to fighting climate change. In his speech last week, he agreed to take some essential steps in saving our planet, most notably cutting carbon pollution from power plants.

This is the right thing for our country. This is the way that America shows its leadership. And in taking these important steps toward a national plan for climate action, the President is showing his leadership.
Power plants are the largest source of carbon pollution in the U.S., and right now, those plants can spew an unlimited amount of carbon into our air and account for about 40 percent of our carbon footprint. When America's new climate plan takes on power plants, it will strike a blow against the climate chaos that threatens us all.
With the Clean Air Act, we can limit this source of climate pollution. In fact, under a plan the Natural Resources Defense Council (NRDC) has proposed, the Environmental Protection Agency (EPA) could develop safeguards under which each state would have its own carbon reduction target, tailored to its specific energy mix. We can even take on carbon pollution from power plants in a way that is affordable for utilities and actually means a cost savings of up to $700 a year for consumers on their electric bills. That's real money for our families.
Without question, we're facing a climate crisis. And it is taxpayers who are bearing the high costs. Just last year, taxpayers spent nearly $100 billion on crop losses, wildfires and disaster relief from Hurricane Sandy. Our coastal communities are under siege. The Great Plains are suffering drought for the third year in a row. Our people are hurting—and they're demanding action.
That's why the second significant pronouncement of the President is also critical. Simply put, President Obama gave a climate test to the proposed Keystone XL pipeline that would bring the climate destroying tar sands from Canada to the Gulf Coast across our waters and farms.
The President said he is not going to approve the Keystone XL pipeline if it harms the climate because doing so would not serve the national interest. I applaud him on this and I know tens of thousands of other do as well. We know that we cannot fully address climate change while facilitating expansion of the tar sands. That's why the Keystone XL tar sands pipeline is a bad idea. This pipeline will drive expansion of tar sands and its climate pollution. It's not in our national interest and could never pass a climate test. It needs to be denied. Our climate, our waters and our communities depend on it.
The need to keep moving forward with climate action on all fronts is imperative. Which is why it is incumbent upon us, in the months to come, to communicate with both the President and the American public about some of the more misguided parts of the plan. Specifically those that continue to support substantial expansion of the use of fossil fuels through natural gas fracking in the U.S. and building overseas markets for it, as well as pursuing "clean coal" technology.
The President is doing what's right for the country by limiting carbon pollution from power plants and establishing a national plan for climate action. And I hope he maintains the courage of his convictions next, by denying the Keystone XL tar sands pipeline, and continuing to fully engage in this multifaceted and most profound challenge of our times.
Visit EcoWatch's CLIMATE CHANGE page for more related news on this topic.
On Saturday activists from Climate First! entered, in succession and without incident, two TD Bank branches in Washington, DC, attempting to initiate discussions with the bank about its investments in the Keystone XL pipeline.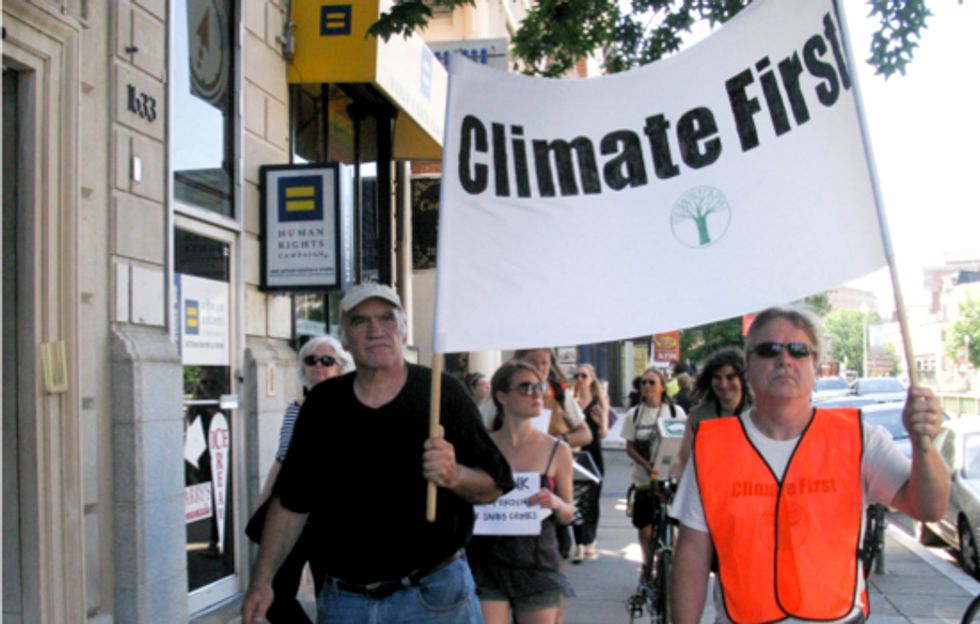 The action was taken one day after a TD Bank press release was issued—later discovered to be a clever prank by the environmental group, Tar Sands Blockade. The fake press release announced that the bank intended to sell all of its shares in TransCanada, the company seeking to build the pipeline in the U.S., due to the stock's financial risk, as well as the beating that the bank's "green" reputation has been receiving. Activists were surprised that neither bank manager showed any reluctance to speak with them.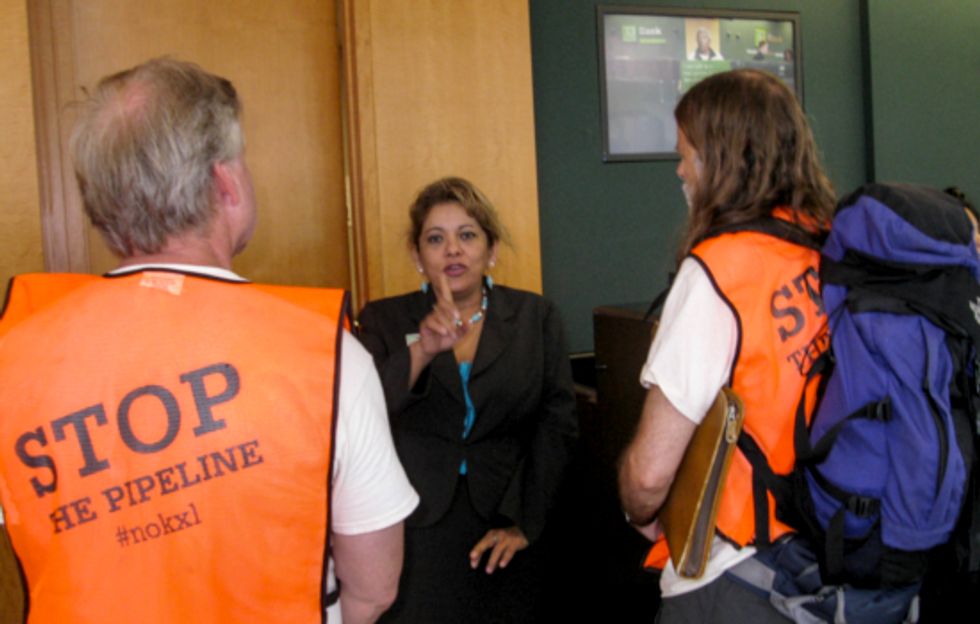 Ted Conwell and Brian Higgins of Climate First! conversed with both employees, asking why TD Bank had invested in carbon intensive fuels that many experts say could lead to climate instability if they all were burned for energy. Predictably, both managers responded that they were not authorized to speak on behalf of the bank regarding such matters, but would provide contact information for individuals who could respond. Climate First! will attempt to contact these individuals early this week in an effort to further the discussion.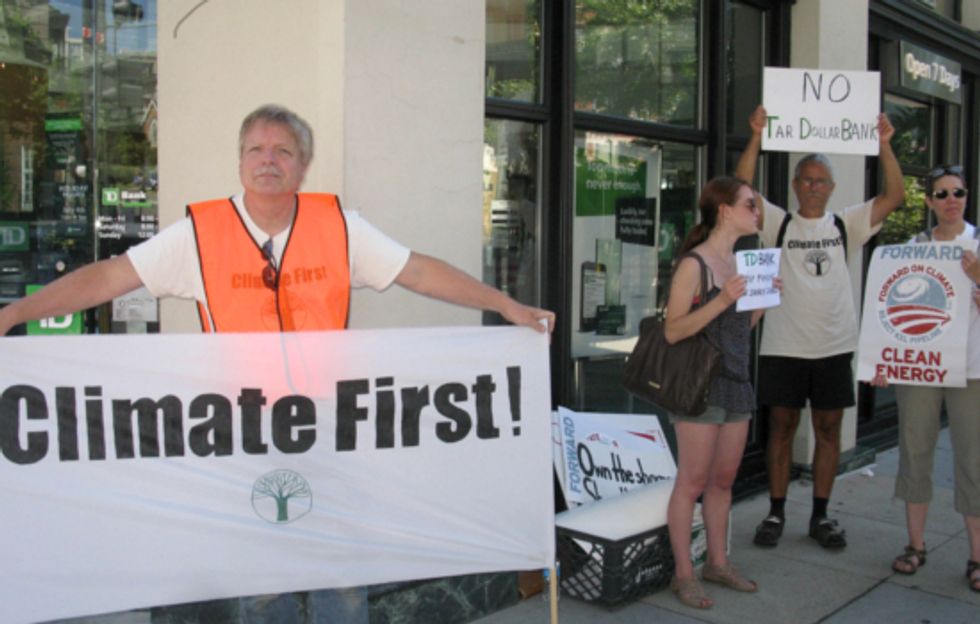 Visit EcoWatch's KEYSTONE XL and TAR SANDS pages for more related news on this topic.

Michael Bishop
My name is Michael Bishop and I am a landowner in Douglass, TX in Nacogdoches County. I have been fighting TransCanada's Keystone XL pipeline for almost five years now and, except for a handful of good Americans, was told there was no interest in eminent domain cases or that I "couldn't win a case against TransCanada." For the record, I contacted environmental group after environmental group since the beginning of this fight and I begged for legal assistance from, literally, dozens of attorneys specializing in Constitutional law, eminent domain and civil law, to no avail. In my own state of Texas, I contacted a national nonprofit group that was not only negative about me fighting this company, but was actually rude and unwilling to even discuss the argument I was trying to make in support of litigation against TransCanada Keystone XL Pipeline, LLC. I also called a well-known environmental group in Austin that talked a good game, but, in the end, did not deliver and ended up aligning themselves with individuals who brought shame to that group through unscrupulous actions and comments against suffering landowners.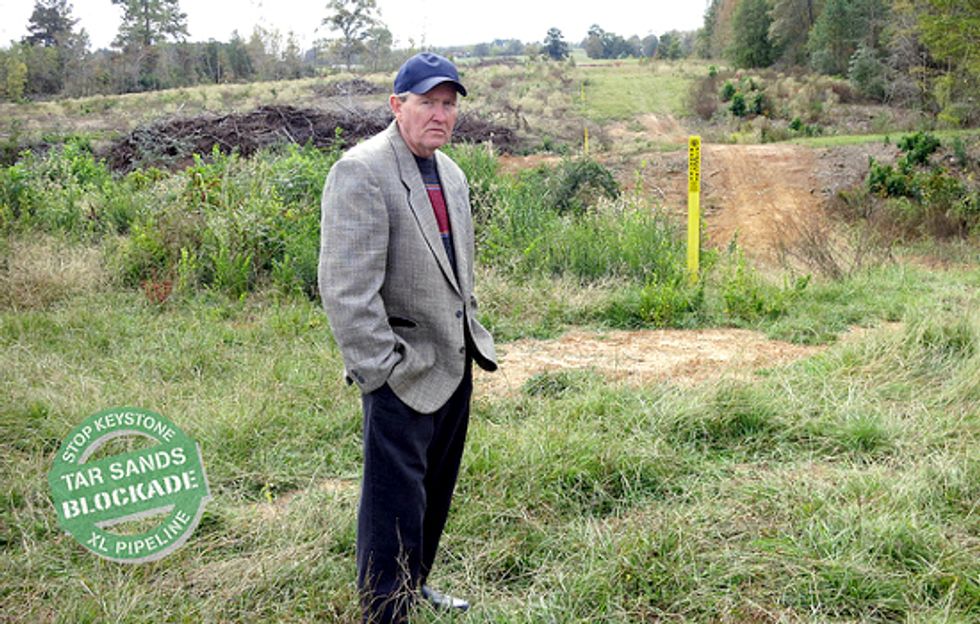 I called local county commissioners and my county judge who refused to put me on the agenda to bring them a five minute presentation as to why my county should oppose this pipeline and to show them that a legislative tool or existing law gave them the authority to stop construction. I was not allowed to make such a presentation. This is sad, given that this same commissioner's court gave TransCanada representatives over four hours of "updates" and "information" sessions and actually entered into agreements with this firm. A private citizen, taxpayer and landowner was denied the right to present information to the leaders of the county while representatives of a foreign, privately owned corporation were  given the "key to the county." I contacted multiple state agencies that are mandated by law to protect and represent the public interest in environmental matters only to be told they were unable to assist me and that they had no "legal authority," although this was, and is, clearly not the case.
What I find further disturbing during my research in the cases I have filed against TransCanada, the Texas Railroad Commission and the U.S. Army Corps of Engineers, is the level of corruption I have uncovered and witnessed in our judiciary and legislative representatives. Sadly, this allegation goes all the way to the White House. During my fight against this illegal foreign land grab, I have seen many good people in Texas and other states destroyed by the actions of TransCanada Keystone XL Pipeline, and their dreams (along with mine) for the future of their children and grandchildren shattered by greed, lies, propaganda  and bullying tactics of a private, foreign corporation that has the complete and overwhelming support of these corrupt local leaders, politicians and judges. It is time for change.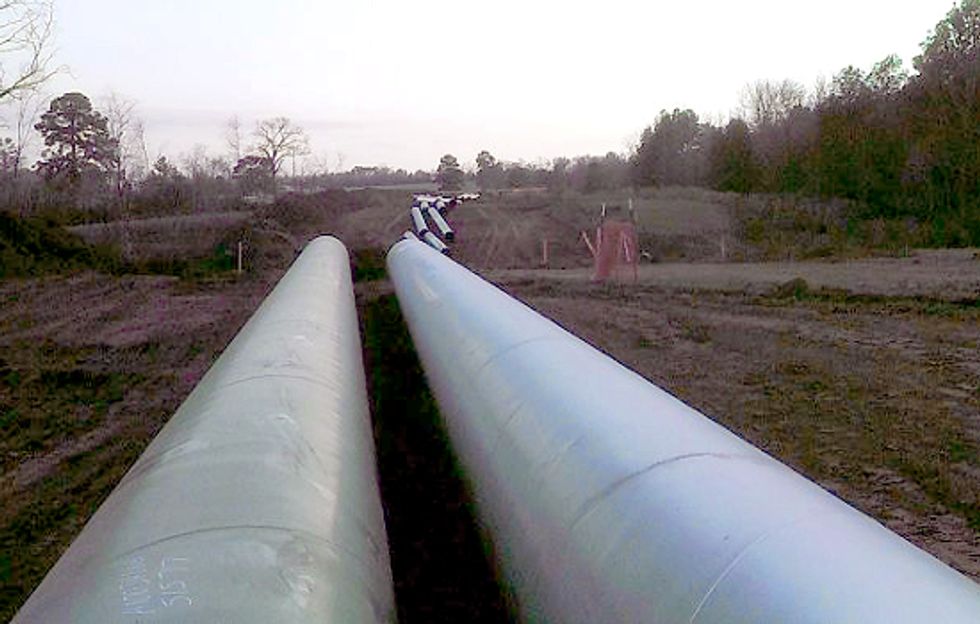 I am sick of the rhetoric of politicians who speak out of both sides of their mouths: they support stopping climate change while approving this pipeline; they support "property rights" while refusing to support reform of eminent domain laws that violate the Constitutional rights of citizens. I am tired of individuals who "praise and support" our efforts to stop the pipeline but have a selfish agenda that is counter-productive to the on-going fight. Daddy used to tell me that people are basically driven by four things: power, sex, money or all of the above. I have witnessed, firsthand, in my fight against TransCanada Keystone XL Pipeline, individuals and groups that are not team players, do not support or have not supported those landowners in need and continue to get their names in the news as "key players" in this fight, when in fact, they do not support, have not supported and have not contributed one original idea, one cent or one original strategy to this serious war we are engaged in. In fact, some of them are actually guilty of plagiarism and giving misleading and misinformed statements to the media. It is time to put away self-serving agendas and concentrate on the few legitimate fights that are currently going on out here in the real world. With the exception of dedicated environmental news outlets and real journalists, the mainstream media has fallen prey to the propaganda machine of TransCanada and the U.S. government  information "puppets." They are not reporting the true stories of landowners who have stood firm and are fighting this illegal pipeline and in spite of multiple lawsuits, Heartland America is not aware of our plight. The media is controlled and has no interest in truth and this is also a sad reality of our current society.
For months I have thought about what to write and the answer is clear: unity. We are all aware of the universal fact that the government, concerned about "eco-terrorists," have embedded agents in the various groups opposed to the TransCanada Keystone XL Pipeline and it is also no secret that there are "double agents" paid by TransCanada to infiltrate these various organizations opposed to the pipeline and provide them with information regarding anti-pipeline activities. I can name at least four major groups that are receiving massive amounts of money to protest and fight TransCanada from private investors or "funders" as well as several nonprofit foundations. What has this funding achieved? Nothing. Julia Trigg Crawford, to my understanding, has waged her legal battle, for the most part, with her own funding. The Texas Rice Farmers group, my own legal battles and other landowners have not been able to raise money to assist in these legal battles, although there are groups out there receiving substantial sums of money. The race for "headlines," the urgency to make a name for themselves and the struggle for power and recognition have blinded these individuals and groups to the real legal battles that are currently on-going in Texas. This is sad and it must end.
As a U.S. Marine, I learned and learned well the absolute requirement for working as a team and performing as a cohesive unit. It is time for individuals and groups that have separate political agendas and financial motives to reassess their actions, review the work that myself and other landowners have accomplished thus far and join in to help us. Without this support and absolute unity, TransCanada will prevail and the "twin" pipeline that has already been planned and proposed will follow this Southern segment of the KXL. This will become a reality in another year or two and we will then be in double jeopardy.
I urge everyone to consider this letter and to join the few of us that are out here fighting for the future of our children and grandchildren and not vying for political or financial advancement. If you are not part of the solution, you are part of the problem. I hope that this call to unity will give those who are guilty pause for consideration and that they will join us and stop working against us in this honorable and real fight against TransCanada's Keystone XL Pipeline.
Michael Bishop previously provided EcoWatch with a four-part firsthand account of what happens when a company like TransCanada claims eminent domain on one's property and begins building a tar sands pipeline—the southern leg of the Keystone XL. Read Part I, Part II, Part III and Part IV.
Visit EcoWatch's KEYSTONE XL page for more related news on this topic.
——-
Recipients of the Nobel Peace Prize are calling for the rejection of the Keystone XL tar sands pipeline. A letter from 10 Nobel Peace Prize winners addressed to both President Obama and Secretary of State Kerry announced by the Nobel Women's Initiative was inspired by the Laureates' concern for the rapidly expanding Canadian tar sands.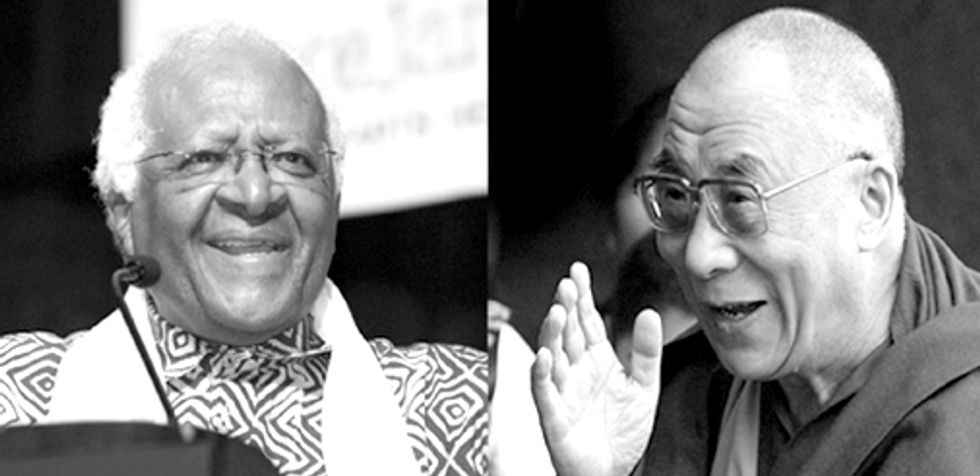 As wildfires burn out of control in Colorado adding to record-breaking weather across the nation, the Laureates said "as leaders who have spoken out strongly on these issues, we urge you, once again, to be on the right side of history and send a clear message that you are serious about moving beyond dirty oil."
The letter sent today followed an earlier letter sent in 2011 also calling for a rejection of Keystone XL. When the great moral leaders of our time, including Archbishop Tutu, call for a rejection of tar sands in the face of catastrophic climate change, it is time for the U.S. to reject the Keystone XL tar sands pipeline, a linchpin enabling the tripling of expansion of this dirty oil. 
Like millions of others, we were buoyed by words in the President's second inaugural address: "We will respond to the threat of climate change, knowing that failure to do so would betray our children and future generations." Mr. President and Secretary Kerry, this is an opportunity to begin to fulfill that promise. While there is no one policy or action that will avoid dangerous climate change, saying "no" to the Keystone XL pipeline is a critical step in the right direction. Now is the time for unwavering leadership.—Nobel Laureates Letter, 2013
The climate impacts of a world that accommodates tar sands expansion are unimaginable. If industry and the Canadian and Albertan governments had their way we would be on track for six degrees centigrade of global warming—triple the two degree limit that the President has promised to avoid.
The International Energy Agency, among many other respected bodies, has found that in order to prevent catastrophic global warming of over two degrees centigrade we must leave two thirds of fossil fuels in the ground.—Nobel Laureates Letter, 2013
In addition to the climate pollution, the tar sands are doing irreversible damage to water, air, land, animals and communities in Northern Alberta and along their pipeline routes where the question of a spill is not if but when.
Recent tar sands oil spills in Kalamazo, MI, and Mayflower, AR, have served as a harsh reminder that shipping the world's dirtiest oil will never likely be safe enough for human health and the environment. —Nobel Laureates Letter, 2013
President Obama and Senator Kerry have both been clear about the urgency and importance of dealing with climate change, and recognizing that as the world's largest polluter, the U.S. is a critical player in ensuring a safe future for generations to come. The Keystone XL tar sands pipeline debate has illustrated the two pathways we face as a country. One locks us into decades of dirty fossil fuels, taking us down a path of negatively affecting millions of lives and livelihoods. And on other pathway we build real energy security based on clean and renewable energy that will protect our economy, our people and future generations.
The Laureates acknowledged the President was under pressure to approve Keystone XL, especially by big oil interests.
We also recognize the pressure from forces in your own country. The Keystone XL pipeline will not benefit or improve the lives of Americans, but nevertheless we understand that the politics of action on climate are not easy. We believe you are the kind of leaders who can stand up to those interests when necessary, to do what is right for the world and for future generations. —Nobel Laureates Letter, 2013
The decision on the Keystone XL tar sands pipeline has emerged as an issue of international interest. It is about standing up to big oil and rejecting the expansion of some of the dirtiest oil on earth. President Obama and Secretary Kerry: It is time to say no to the Keystone XL tar sands pipeline once and for all.
Visit EcoWatch's KEYSTONE XL page for more related news on this topic.
——-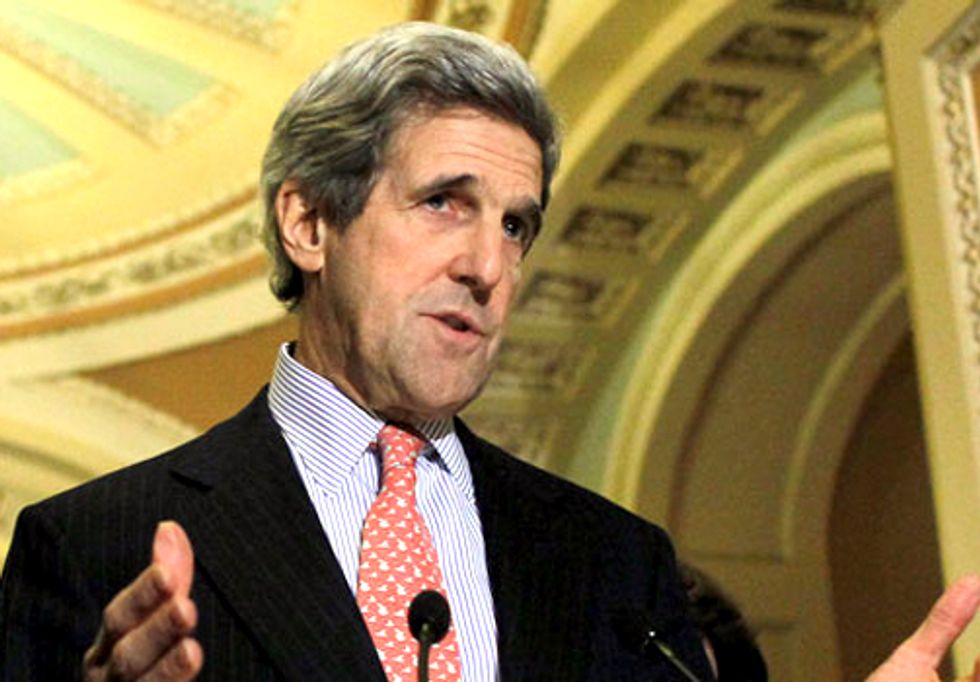 Environmental leaders hosted a press call today to call for a State Department Investigator General investigation of the State Department's flawed Keystone XL review process and to call on Secretary Kerry to halt the review process until that investigation is complete.
The Sierra Club also announced that it had filed a lawsuit in federal court yesterday under the Freedom of Information Act asserting that the State Department is withholding key documents related to the latest Keystone XL Environmental Impact Statement (EIS) and potential conflicts of interest with Environmental Resources Management.
When Secretary Kerry was confirmed as Secretary of State, he inherited a flawed Keystone XL review process. To move forward with the flawed process would contradict Secretary Kerry's long history as a proponent of good government and transparency.
"For decades John Kerry has been a strong defender of good governance," said 350.org Executive Director May Boeve. "We know that as he learns more about how the Keystone environmental analysis was written, he will step in and put a stop to this corrupted process."
Nearly 73,000 people signed petitions asking Secretary Kerry to postpone the final EIS until the Investigator General completes a thorough review of conflict of interest in the State Department's environmental review process of the proposed pipeline. Sierra Club, Friends of the Earth, Oil Change International and Bold Nebraska all contributed signatures to the petition total.
"For the State Department to let Big Oil consultants tell us Keystone XL is safe is like the Surgeon General letting Big Tobacco tell us cigarettes are safe," said Robin Mann, past president of the Sierra Club. "Secretary Kerry can continue to live up to his legacy as a climate champion by demanding a fair report on Keystone XL and urging the President to reject this dirty and dangerous project."
"The State Department should be an honest broker on Keystone XL, not a cheerleader for TransCanada," said Friends of the Earth President Erich Pica. "Secretary Kerry needs to halt the review process and find out how a paid member of the American Petroleum Institute was allowed to write such a critical report and why State Department employees have tried to cover up this company's ties with the oil industry."
"The only way the State Department could produce even a remotely favorable review of this dirty and flawed pipeline is by getting Big Oil's friends to write it for them," said Steve Kretzmann, Oil Change International executive director and founder. "The tens of thousands of people who have joined this campaign are making it clear that we won't stand for this. Secretary Kerry has a key opportunity to reject bad process, to reject Big Oil influence and to reject this dirty pipeline."
ERM, the company contracted by Department of State and paid by TransCanada to draft the EIS, is a member of the American Petroleum Institute and has worked for the oil industry which should have precluded it from getting hired.
"The United States must help lead the world in combating global warming and reducing greenhouse gas emissions," said Sen. Bernie Sanders (I-VT). "It would be incomprehensible to give approval to a tar sands oil project when producing tar sands oil creates more carbon emissions than conventional oil, and when it poses the risk of extremely damaging oil spills."
Visit EcoWatch's KEYSTONE XL page for more related news on this topic.
——-