This website uses cookies to ensure you get the best experience while browsing it. By clicking 'Got It' you're accepting these terms.


The best of EcoWatch, right in your inbox. Sign up for our email newsletter!
Protest against the Dakota Access Pipeline.
Fibonacci Blue / Flickr / CC BY 2.0
Facing mounting protests and lawsuits from environmental groups and property owners, backers of the natural gas pipeline industry are seeking help from the U.S. government to help push their projects through, Reuters reported.
This week, environmentalists called on the State Department to reopen the Keystone XL tar sands pipeline environmental review process. New information from the Department of Energy, the International Energy Agency, industry analysts and refining executives offers new evidence that Keystone XL will, in fact, directly contribute to increased tar sands development, U.S. greenhouse gas emissions and pollution at U.S. refineries, calling into question the original State Department findings.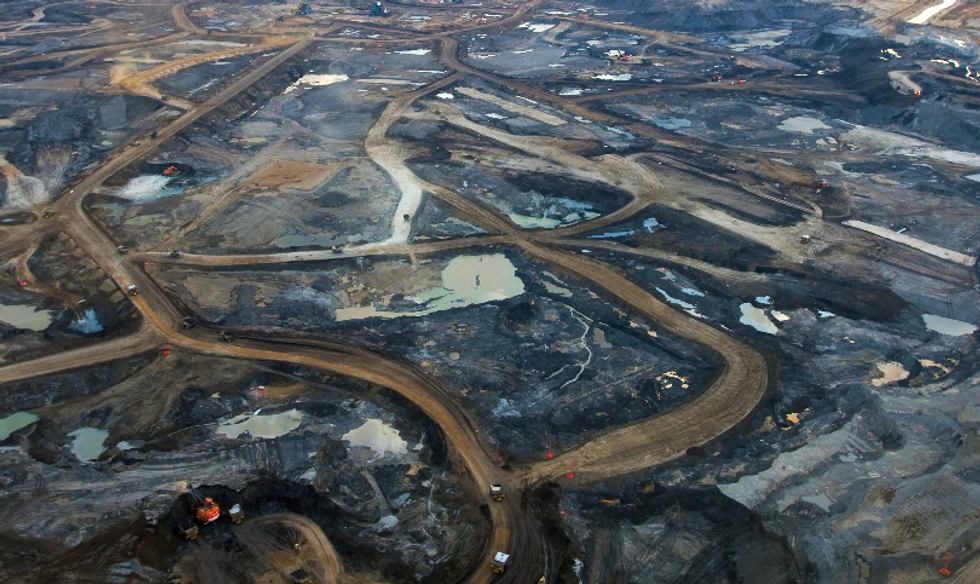 "Since the close of the comment period, evidence of inaccuracies and bias in the State Department's review of Keystone XL has been steadily mounting," says Doug Hayes, Sierra Club attorney. "This new information demonstrates that the review relies on an overly-simplistic, outdated view of a rapidly-changing oil market."
The new data contradicts three primary conclusions by the State Department:
Increased rail shipments of crude oil have the potential to completely replace the capacity of Keystone XL if the pipeline were rejected.
Increasing domestic production of oil will not affect the demand for heavy Canadian crude oil in Gulf Coast refineries.
Canadian crude will not be exported from the Gulf Coast if the pipeline is built.
"The State Department is alone in its conclusion that the Keystone XL pipeline is not fundamental to the prospects of the dirty tar sands industry," says Lorne Stockman, research director at Oil Change International and coauthor of the letter. "State needs to take a careful look at the new evidence that we've compiled in the past several weeks and they will reach the same conclusion that we do: that the Keystone XL pipeline is crucial to the expansion of the tar sands, and that expansion is not in the public interest."
President Obama said his administration will weigh the pipeline's impact on the climate and it will be approved only if "this project does not significantly exacerbate the problem of carbon pollution." Evidence that Keystone XL is the lynchpin for tar sands development detailed in the letter includes:
A Goldman Sachs report that says that rail shipments of tar sands could not replace the proposed pipeline logistically and economically.
Royal Bank of Canada's estimate that denial of Keystone XL would jeopardize $9.4 billion in tar sand development.
U.S. EPA estimates that Keystone XL will add 18.7 million metric tons of carbon pollution per year. And a new U.S. government report increases the estimated social cost of this pollution—related to human health, sea level rise and other natural disasters—by as much as double.
"This recent information paints a clear picture," said Anthony Swift, Natural Resources Defense Council attorney. "The Keystone XL tar sands export pipeline would significantly increase climate emissions while providing few benefits to the United States—it really is an all risk and no reward proposition for the American people."
According to the groups, the State Department is obliged by federal law to analyze and respond to this new data.
Groups who have signed on to the letter include Bold Nebraska, Center for Biological Diversity, National Wildlife Federation, Natural Resources Defense Council, Oil Change International and the Sierra Club.
Visit EcoWatch's KEYSTONE XL page for more related news on this topic.
——-
EcoWatch Daily Newsletter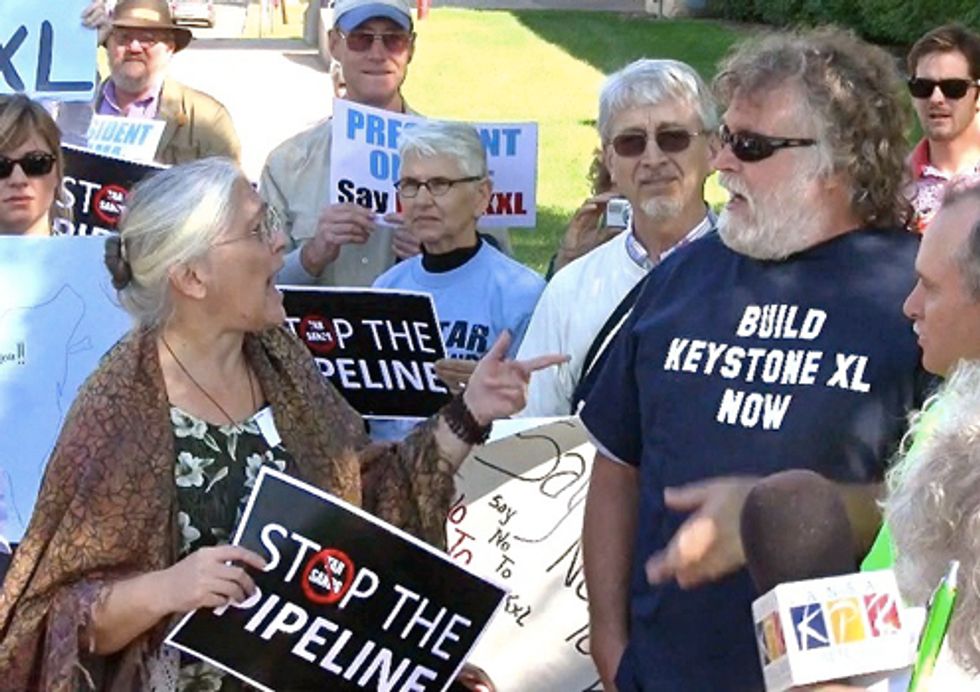 By Andy Rowell
On Jan. 30 the Republican Sen. John Hoeven (R-ND) will try to introduce legislation seeking to bypass President Obama and empower Congress to approve the highly controversial Keystone XL pipeline.
Sen. Hoeven's bill, that would seek to take control of the Keystone decision, looks like a political non-starter. To become law it would have to be approved by the Democratic-controlled Senate.
And for some crazy reason, if this does happen, the president himself would still have to approve it.
But still Hoeven is pushing ahead. "We've been working with (the Republican) leadership in the Senate and all our colleagues, and we believe Sen. Hoeven's bill has support from a lot of people in the Senate," said Ryan Bernstein, an energy advisor to Hoeven.
One of the main reasons the pipeline is rapidly becoming a key election issue is over jobs. The oil industry and its friends in the GOP maintain that the pipeline is a huge job creator, but the pipeline's critics have always maintained that those figures are highly inflated and misleading.
And now Greenpeace has upped the game in this department and written to the Chairman of the U.S. Securities and Exchange Commission (SEC) alleging that TransCanada "is using false or misleading statements about the proposed Keystone XL pipeline project," especially in relation to the numbers of jobs the pipeline would create.
The letter argues that TransCanada has "has consistently used public statements and information it knows are false in a concerted effort to secure permitting approval of Keystone XL from the U.S. government. In the process, it has misled investors, U.S. and Canadian officials, the media, and the public at large in order to bolster its balance sheets and share price."
Greenpeace is arguing that TransCanada's statements violate U.S. securities disclosure laws. The environmental group maintains that TransCanada has asserted that each mile of the pipeline constructed in the U.S. would create American jobs at a rate that is 67 times higher than job creation totals given by the company to Canadian officials for the Canadian portion of the pipeline.
"These false and misleading job creation numbers are part of TransCanada's lobbying and public relations campaign designed to create congressional pressure on the U.S. government to issue a Presidential Permit approving construction of Keystone XL," argues Greenpeace, which has asked the SEC to make TransCanada correct its figures.
At the heart of the jobs propaganda is a report commissioned by TransCanada from economist Ray Perryman, entitled The Impact of Developing the Keystone XL Pipeline Project on Business Activity in the U.S. Based on Perryman's report, TransCanada has claimed that the pipeline would create more than 20,000 high-wage manufacturing jobs and construction jobs in 2011-2012 and more than 118,000 "spin-off" jobs.
But Greenpeace argues these "claims are false and in conflict" with TransCanada's own filings to Canadian and U.S. regulators, and is exaggerated by possibly more than 350 percent.
The Greenpeace letter concludes that it is "clear that TransCanada has consistently used public statements and information it knows are false in a concerted effort to secure permitting approval of KXL from the U.S. government. In the process, it has misled a large number of people—investors, U.S. and Canadian officials, state officials, the media, and the public at large—in order to bolster its balance sheets and share price. This is a direct violation of SEC public disclosure regulations and must be addressed."
Greenpeace and many others will be watching closely to see how the SEC responds.
For more information, click here.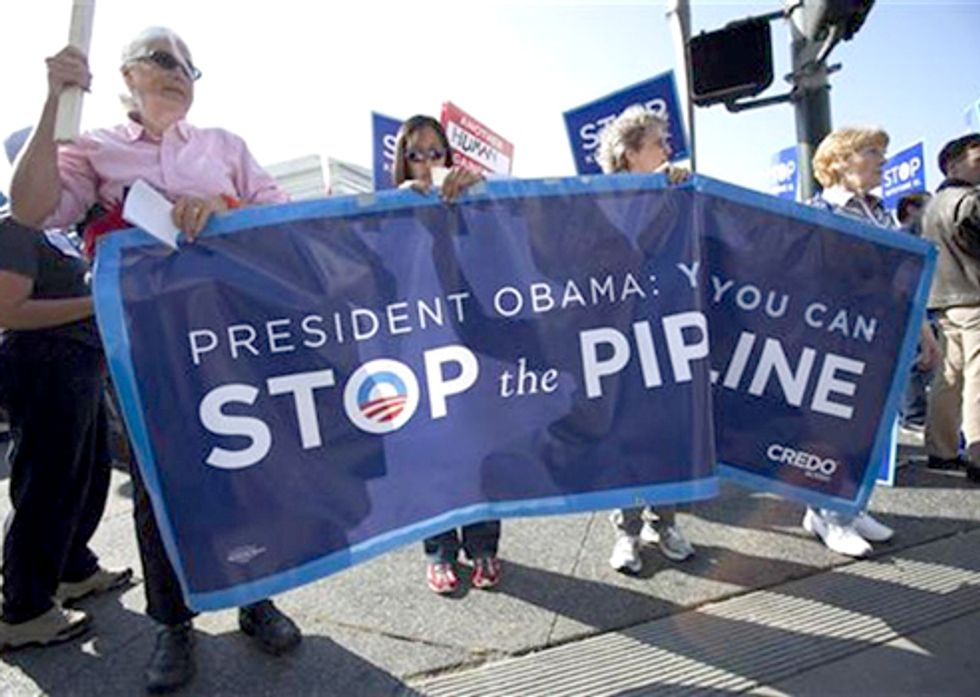 Just in case you thought there was anything subtle about the Keystone battle, you need to hear what Jack Gerard, president of the American Petroleum Institute—the oil industry's #1 front group—said Jan. 5. If the president doesn't approve the project there will be "huge political consequences."
That's as direct a threat as you're ever going to hear in Washington D.C., and it shows just how mad you made the oil industry last year by exposing Keystone for the climate-killing danger it is. And the oil industry can obviously make good on their threats—they've got all the money on Earth, and thanks to Citizens United they can use it without restriction in our elections. They're not used to ever losing.
So far the Obama administration is standing firm in the face of Big Oil's bullying—the White House made it completely clear last month that if the oil industry and its harem in Congress forced a speeded-up review, it would lead to an outright rejection of the permit for the pipeline. We expect they'll keep their word.
Here's what I think we need to do.
1. Let the president know you've got his back when he rejects the pipeline. Tell him that addressing climate change is the key to our future, and that you're glad he's not bending.
2. Take the offensive against the oil industry. If they're going to try and ram Keystone down our throats, we're going to try and take away something they hold dear, the handouts that Congress gives them each and every year. They're the richest industry on earth, they're doing great damage to the planet—and they expect us to pay for it with our tax dollars.
Can you send a quick note to President Obama covering those two key points?
To send a message to President Obama, click here.
Here's the note I'm sending:
President Obama,
Thank you for opposing the rushed Keystone XL pipeline permit. Responding to climate change is critical to preserving our collective future, and I hope this is a first step towards the dramatic changes we need to avoid catastrophe. P.S.—Please take handouts for the fossil fuel industry out of next year's budget. There are people in America who need that money more.
There's lots more to be done, of course. In the slightly longer run, we've got to take on the greatest subsidy of all—the special privilege that Congress gives the fossil fuel industry to use the atmosphere as an open sewer into which to dump its carbon for free.
But today—right now, in the face of this kind of straight-up bullying—it's time to punch back. We're nonviolent, but we're not wimps.
For more information, click here.