This website uses cookies to ensure you get the best experience while browsing it. By clicking 'Got It' you're accepting these terms.
A well operated by Anadarko Minerals Inc. spilled a "substantial" amount of oil in the central region of the Fort Peck Reservation in northeast Montana, according to local media.
An estimated 600 barrels of oil and 90,000 barrels of brine (production water) leaked from the well, the Glasgow Courier reported, citing officials with the reservation's Office of Environmental Protection and the Bureau of Land Management.
Release area of Amherst incident. TransCanada
TransCanada's Keystone crude oil pipeline leaked 9,700 barrels (407,400 gallons) on rural farmland near the city of Amherst last year—nearly twice the original estimate of 5,000 barrels (210,000 gallons), a company spokeswoman told the Aberdeen American News.
The Nov. 16 incident was already considered the largest spill in South Dakota, but its new estimate makes it the seventh largest inland spill in the whole U.S. since 2010, the South Dakota publication noted.
EcoWatch Daily Newsletter
shannonpatrick17 / Flickr
TransCanada's existing Keystone pipeline has already leaked a significant amount of oil three times in less than seven years. That's a much higher rate than the company predicted in its risk assessments provided to regulators, Reuters reported.
Since the 2,147-mile pipeline began operating in 2010, it has gushed 5,000-barrels just this month in Marshall County, South Dakota, and about 400 barrels each in Hutchinson County, South Dakota in 2016 and in Sargent County, North Dakota in 2011.
TransCanada's permit to operate its Keystone tar sands pipeline in South Dakota could be revoked if an investigation into last week's 210,000-gallon leak determines that the pipeline operator violated its license, Reuters reported.
State regulators expressed concern that the Nov. 16 spill in Marshall County was not the first from the controversial pipeline.
This week, environmentalists called on the State Department to reopen the Keystone XL tar sands pipeline environmental review process. New information from the Department of Energy, the International Energy Agency, industry analysts and refining executives offers new evidence that Keystone XL will, in fact, directly contribute to increased tar sands development, U.S. greenhouse gas emissions and pollution at U.S. refineries, calling into question the original State Department findings.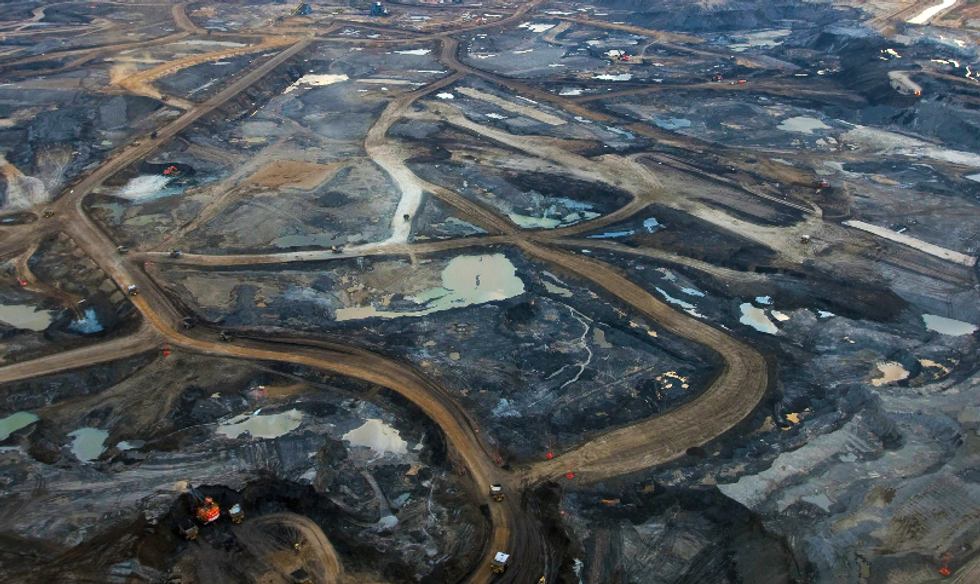 "Since the close of the comment period, evidence of inaccuracies and bias in the State Department's review of Keystone XL has been steadily mounting," says Doug Hayes, Sierra Club attorney. "This new information demonstrates that the review relies on an overly-simplistic, outdated view of a rapidly-changing oil market."
The new data contradicts three primary conclusions by the State Department:
Increased rail shipments of crude oil have the potential to completely replace the capacity of Keystone XL if the pipeline were rejected.
Increasing domestic production of oil will not affect the demand for heavy Canadian crude oil in Gulf Coast refineries.
Canadian crude will not be exported from the Gulf Coast if the pipeline is built.
"The State Department is alone in its conclusion that the Keystone XL pipeline is not fundamental to the prospects of the dirty tar sands industry," says Lorne Stockman, research director at Oil Change International and coauthor of the letter. "State needs to take a careful look at the new evidence that we've compiled in the past several weeks and they will reach the same conclusion that we do: that the Keystone XL pipeline is crucial to the expansion of the tar sands, and that expansion is not in the public interest."
President Obama said his administration will weigh the pipeline's impact on the climate and it will be approved only if "this project does not significantly exacerbate the problem of carbon pollution." Evidence that Keystone XL is the lynchpin for tar sands development detailed in the letter includes:
A Goldman Sachs report that says that rail shipments of tar sands could not replace the proposed pipeline logistically and economically.
Royal Bank of Canada's estimate that denial of Keystone XL would jeopardize $9.4 billion in tar sand development.
U.S. EPA estimates that Keystone XL will add 18.7 million metric tons of carbon pollution per year. And a new U.S. government report increases the estimated social cost of this pollution—related to human health, sea level rise and other natural disasters—by as much as double.
"This recent information paints a clear picture," said Anthony Swift, Natural Resources Defense Council attorney. "The Keystone XL tar sands export pipeline would significantly increase climate emissions while providing few benefits to the United States—it really is an all risk and no reward proposition for the American people."
According to the groups, the State Department is obliged by federal law to analyze and respond to this new data.
Groups who have signed on to the letter include Bold Nebraska, Center for Biological Diversity, National Wildlife Federation, Natural Resources Defense Council, Oil Change International and the Sierra Club.
Visit EcoWatch's KEYSTONE XL page for more related news on this topic.
——-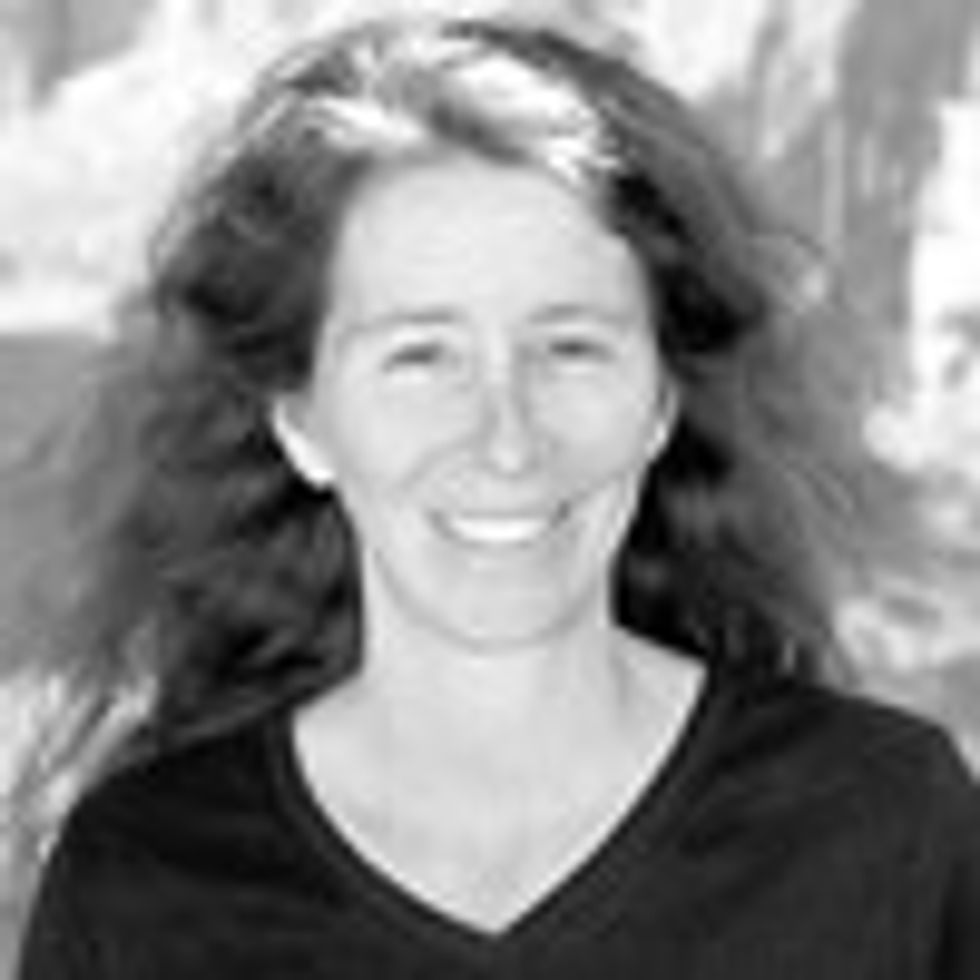 "Enough is enough," said Michael Bishop during our phone conversation Saturday morning after he found out TransCanada and its vendor, Michels, are planning to dig up buried pipe, part of the 485-mile southern segment of the Keystone XL pipeline, on his property in the east Texas rural community of Douglass.
The representative for Michels, who showed up on Bishop's property last week, said he was there to mark the utility lines prior to the crews "coming out next week to replace the anomalies." Bishop asked if they were going to dig up portions of the line they just laid and the representative responded, "Yes, those sections where anomalies are."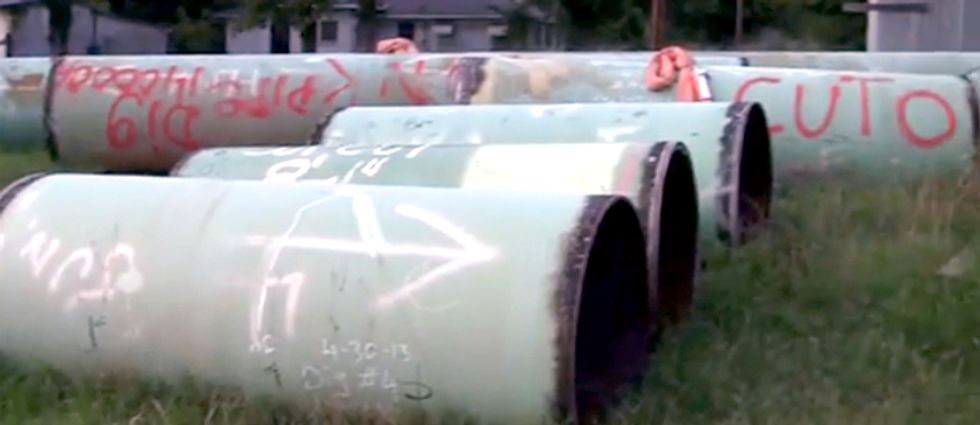 Last month, it was reported that TransCanada was in damage control mode concerning flaws in the newly laid southern leg of the Keystone XL pipeline after dozens of anomalies, including dents and welds, were identified along a 60-mile stretch north of the Sabine River in Texas.
As if Bishop and his neighbors haven't been through enough with the invasion of this Canadian company taking their property via eminent domain and then bulldozing their land. Now they watch as Michels digs up and rebuilds dozens of sections of the southern segment of the Keystone XL pipeline.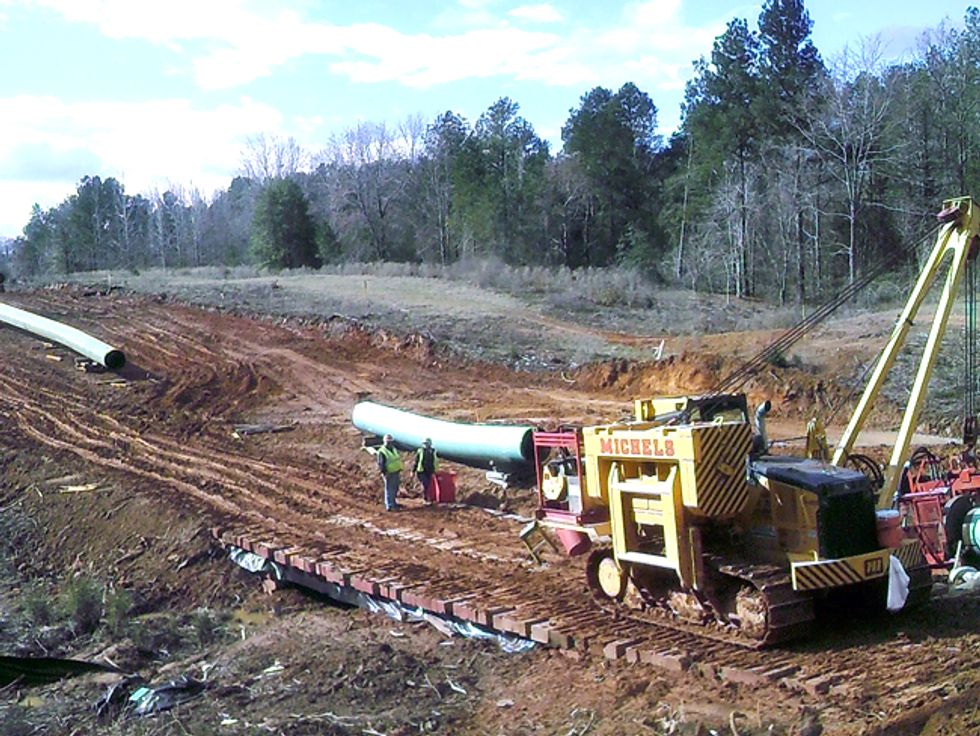 Property owners along the pipeline route have been concerned about potential leaks even before the pipeline construction began. TransCanada's Keystone 1 pipeline, which runs from Canada to the U.S. Midwest, experienced 12 spills in the first year after it began operation in June 2010—the highest spill rate of any oil pipeline in U.S. History.
Now Texas and Oklahoma residents are even more outraged with the news of the pipeline anomalies and the ExxonMobil Pegasus pipeline rupture on March 29 that spewed Canadian tar sands oil in a suburban community in Mayflower, AR, where residents are still complaining of health problems and the impact on wildlife and the environment.
"I have said from the beginning of this fight that stopping the pipeline is going to be a legal, not political solution and that it is not a matter of if, but a matter of when this line will leak," said Bishop.
"When it does, it will be devastating to not only the area it crosses, but to the groundwater. The fact that this controversy has become a political football is sad and it is even sadder that in spite of laws on the books protecting the public, that politicians from both parties have allowed this to continue under the false pretenses of national security, independence from foreign oil and the creation of jobs."
Watch this exclusive video taken last week showing excavated pipe just outside of Wells, TX, and footage taken just south of Jacksonville, TX, at a PUP—pulled up pipe—yard where pipe has been deemed inadequate:
Bishop had a lot to say after watching this video for the first time yesterday:
The video clearly shows that this is a bigger problem than what the TransCanada propaganda machine is saying publicly. This is the smoking gun.
My sources tell me that the so called 'anomalies' total over a mile in a short, 60-mile section of north Texas including Wood County. Additionally, it is apparent that inspector oversight during the welding process, as well as deficiencies in the trenching and laying of the pipe, occurred.
I have been told that the minimum segment allowable by law is eight feet, but the video clearly shows segments being replaced that are much less, including one segment that is three feet or so in length.
When the new segments are welded up, how can the public be assured that the work will not be a repeat of the shoddy, prior performance that has brought them back to our properties? If we were concerned about leaking before construction began, how can we have confidence in TransCanada at this point?
Additionally, if this is allowed to be put into service, the federal government is going to be complicit in a criminal act when this leaks and destroys our land and groundwater, forcing the permanent evacuation of hard working landowners who might be compensated but will never fulfill their dreams or leave a legacy for their children and grandchildren. PHMSA [Pipeline Hazardous Materials Safety Administration] must act and permanently shut this project down now.
Landowners Against TransCanada, an organization formed to provide assistance to landowners in the U.S. to legally fight the TransCanada Keystone XL pipeline, launched a petition today telling PHMSA to perform its legal duties to protect human health and the environment, and immediately investigate the anomalies and stop further construction of the southern segment of the Keystone XL pipeline.
"The truth is, this is the taking of land from sovereign citizens and taxpayers for the benefit of a private, foreign corporation. It is against every tenet of our beliefs and understanding of the Constitution of the United States of America," said Bishop.
"This pipeline will be stopped, eventually. We the people will prevail in this battle. We have had enough of leaks, spills and deceptions to last us a lifetime. If you are not part of the solution, you are part of the problem."  
Visit EcoWatch's KEYSTONE XL page for more related news on this topic.
A complete overview of Bishop's fight against the pipeline is outlined in a four-part series he wrote for EcoWatch in February.
——-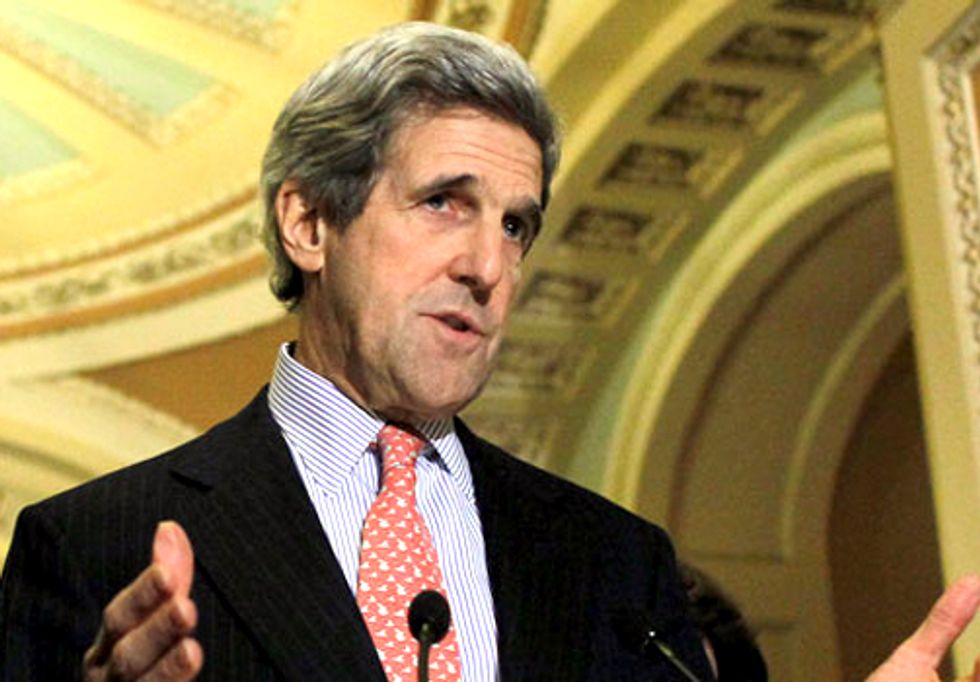 Environmental leaders hosted a press call today to call for a State Department Investigator General investigation of the State Department's flawed Keystone XL review process and to call on Secretary Kerry to halt the review process until that investigation is complete.
The Sierra Club also announced that it had filed a lawsuit in federal court yesterday under the Freedom of Information Act asserting that the State Department is withholding key documents related to the latest Keystone XL Environmental Impact Statement (EIS) and potential conflicts of interest with Environmental Resources Management.
When Secretary Kerry was confirmed as Secretary of State, he inherited a flawed Keystone XL review process. To move forward with the flawed process would contradict Secretary Kerry's long history as a proponent of good government and transparency.
"For decades John Kerry has been a strong defender of good governance," said 350.org Executive Director May Boeve. "We know that as he learns more about how the Keystone environmental analysis was written, he will step in and put a stop to this corrupted process."
Nearly 73,000 people signed petitions asking Secretary Kerry to postpone the final EIS until the Investigator General completes a thorough review of conflict of interest in the State Department's environmental review process of the proposed pipeline. Sierra Club, Friends of the Earth, Oil Change International and Bold Nebraska all contributed signatures to the petition total.
"For the State Department to let Big Oil consultants tell us Keystone XL is safe is like the Surgeon General letting Big Tobacco tell us cigarettes are safe," said Robin Mann, past president of the Sierra Club. "Secretary Kerry can continue to live up to his legacy as a climate champion by demanding a fair report on Keystone XL and urging the President to reject this dirty and dangerous project."
"The State Department should be an honest broker on Keystone XL, not a cheerleader for TransCanada," said Friends of the Earth President Erich Pica. "Secretary Kerry needs to halt the review process and find out how a paid member of the American Petroleum Institute was allowed to write such a critical report and why State Department employees have tried to cover up this company's ties with the oil industry."
"The only way the State Department could produce even a remotely favorable review of this dirty and flawed pipeline is by getting Big Oil's friends to write it for them," said Steve Kretzmann, Oil Change International executive director and founder. "The tens of thousands of people who have joined this campaign are making it clear that we won't stand for this. Secretary Kerry has a key opportunity to reject bad process, to reject Big Oil influence and to reject this dirty pipeline."
ERM, the company contracted by Department of State and paid by TransCanada to draft the EIS, is a member of the American Petroleum Institute and has worked for the oil industry which should have precluded it from getting hired.
"The United States must help lead the world in combating global warming and reducing greenhouse gas emissions," said Sen. Bernie Sanders (I-VT). "It would be incomprehensible to give approval to a tar sands oil project when producing tar sands oil creates more carbon emissions than conventional oil, and when it poses the risk of extremely damaging oil spills."
Visit EcoWatch's KEYSTONE XL page for more related news on this topic.
——-
Watch this powerful video from Great Plains Tar Sands Resistance, Our Back is Against the Wall, featuring Ponca elders Carter Camp and Casey Camp-Horinek describing the devastating legacy of oil exploitation in their communities in present day Oklahoma. Expanding tar sands mining in Alberta, Canada, through the Keystone XL is the latest threat to indigenous sovereignty and traditional homelands.
Join us for a front line nonviolent direct action training on Lakota Territory on the Cheyenne River Territory in Bridger, SD, June 14-16.
Visit EcoWatch's KEYSTONE XL and TAR SANDS pages for more related news on this topic.
——–
[Editor's note: The U.S. State Department could release as early as today a long-awaited draft environmental assessment of the Keystone XL pipeline. Stay tuned to EcoWatch for the latest updates.]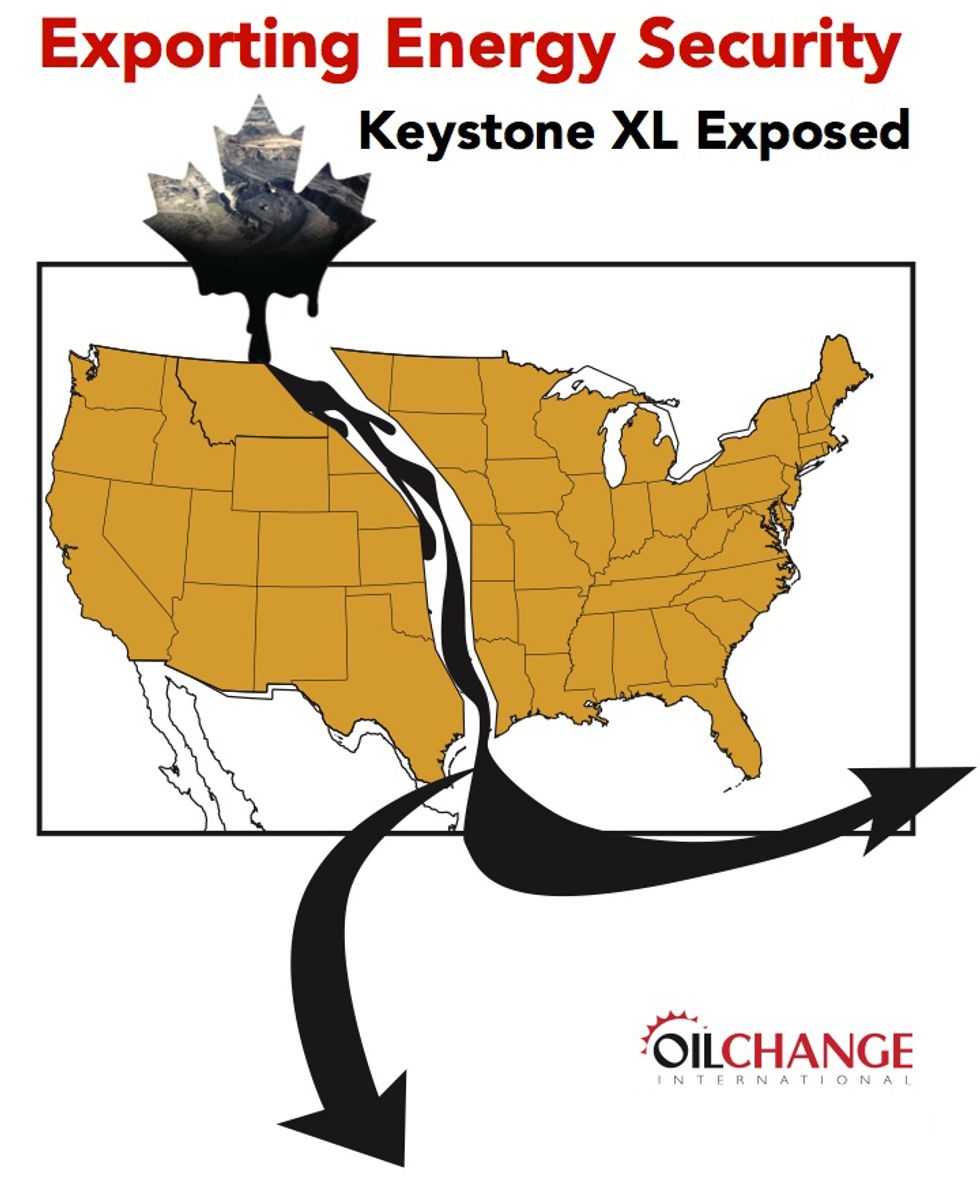 Talk of U.S. crude exports apparently reached new heights this week at the Platts North American Crude Oil Marketing Conference, which ends today in Houston.
It has been a familiar cry at such shindigs for the past year or so, with the industry increasingly confident to come out in public with the controversial message that crude exports, which are currently only allowed under special license, are necessary to keep the current oil boom going.
It has also become common knowledge—since we published our report on Keystone XL (KXL) exports in September 2011—that the Gulf Coast refineries set to process KXL oil export a large proportion of the petroleum products they produce. Therefore the pipeline will effectively enable Canadian tar sands exports beyond the U.S. via these Gulf Coast refineries.
But Ed Morse, former Deputy Assistant Secretary of State for Energy Policy under Jimmy Carter and currently Global Head of Commodities Research at Citigroup, has raised the temperature on the KXL exports debate significantly this week with statements he made in a speech at the Platts conference.
According to Platts' "The Barrel Blog" Morse declared that, "Canadian crudes will be exported from the U.S. Gulf Coast before the end of 2014." He apparently went on to suggest that a Canada-South Korea free trade agreement could result in Canadian crudes being exported via the Gulf Coast through a soon-to-be-widened Panama Canal.
Morse's timing may be a little bit out as the Panama Canal widening project was recently reported to be behind schedule, with the latest estimate for opening to the large tankers that crude exporters favor set at June 2015.
However, the prospect of Canadian tar sands crude exports from the Gulf Coast is very real. The U.S. crude oil export ban would arguably not affect Canadian crudes if the Canadian crude is not blended with any U.S. crudes. The Bureau of Industry and Security's Export Administration Regulations for crude oil state that the BIS will approve license applications for:
"Exports of foreign origin crude oil where, based on written documentation satisfactory to BIS, the exporter can demonstrate that the oil is not of U.S. origin and has not been commingled with oil of U.S. origin."
U.S. crude exports, which Morse and the industry more generally are now pushing hard for will be trickier, but the pressure is now on.
Morse said that, "Washington needs to come to grips with what to do with this surplus (…) the current restrictions will be the focus of a major debate."
The surplus he's referring to is currently speculative but relates to the abundance of light sweet oil primarily coming out of the fracked oil fields of North Dakota and Texas.
U.S. refining capacity, particularly on the Gulf Coast, is configured to process large quantities of heavy oil, a result of speculation that Canadian tar sands oil would abundantly flow to the Gulf Coast by now. The refineries have a limited capacity to process this light sweet oil. Therefore producers are taking a hit on price and starting to worry about where they will sell the increasing quantities of this oil that they expect to produce should the oil boom continue at its current pace over the next decade.
The call to lift the US crude export ban has been going on within industry circles and likely at lobby events in Washington for some time. It recently burst more overtly into the public realm with an op-ed in the Financial Times by the head of the IEA, Maria van der Hoeven.
That Keystone XL will become an export pipeline is getting clearer every day. The refineries in the Gulf Coast refining region known as PADD 3 exported 37 percent of their production in 2012, up from under 30 percent in 2011. (Figures calculated from EIA data here)
The State Department must make a National Interest Determination in deciding whether to approve the Keystone XL pipeline. What is now abundantly clear is that the pipeline is only in the interest of tar sands oil producers, who desperately need to access new markets beyond America, to raise the price they fetch for their dirty product and support the currently threatened growth of the tar sands industry.
Visit EcoWatch's KEYSTONE XL page for more related news on this topic.
——–
Today, during President's Day weekend, more than 35,000 people marched to the President's doorstep to support immediate action to contain climate change. People from more than 30 states across the country whose land, homes and health is being threatened by the climate crisis, as well as students, scientists, indigenous community members and many others are participating in this largest climate rally in U.S. history.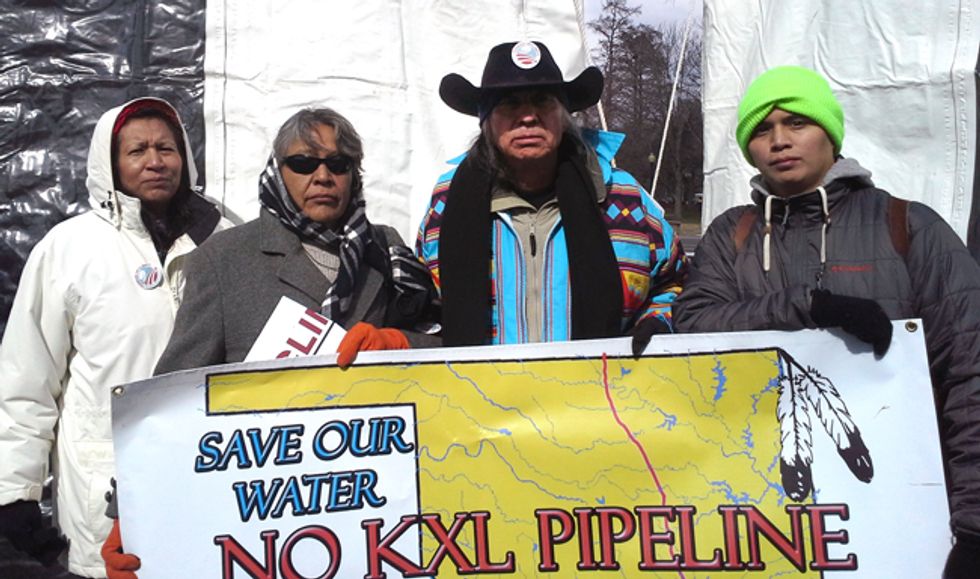 "For 25 years our government has basically ignored the climate crisis: now people in large numbers are finally demanding they get to work. We shouldn't have to be here—science should have decided our course long ago. But it takes a movement to stand up to all that money," said 350.org founder Bill McKibben.
Rally participants are calling on President Obama to reject the Keystone XL tar sands pipeline and put limits on dangerous carbon pollution from the nation's dirtiest power plants. Much of President Obama's legacy will rest squarely on his response, resolve and leadership in fighting the climate crisis. Rally participants are looking for him move forward on his recent State of the Union address declaration when he said, "For the sake of our children and our future, we must do more to combat climate change."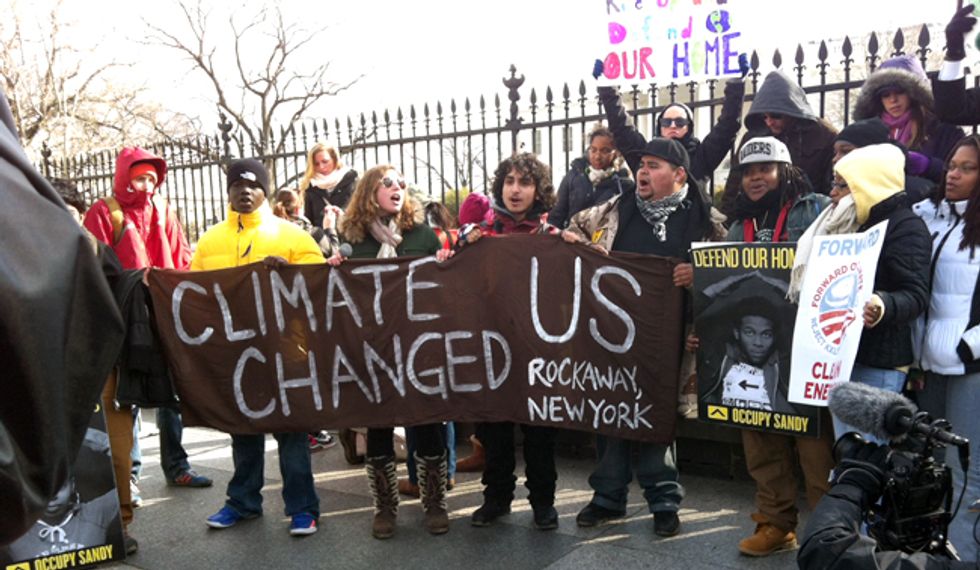 "Twenty years from now on President's Day, people will want to know what the president did in the face of rising sea levels, record droughts and furious storms brought on by climate disruption," said Michael Brune, executive director of the Sierra Club. "President Obama holds in his hand a pen and the power to deliver on his promise of hope for our children. Today, we are asking him to use that pen to to reject the Keystone XL tar sands pipeline, and ensure that this dirty, dangerous, export pipeline will never be built."
The Keystone XL tar sands project would pipe some of the dirtiest oil on the planet through the breadbasket of America to be shipped overseas through the Gulf of Mexico. It would be a disaster for our climate, producing tar sands crude that kicks out two or three times as much carbon pollution as producing conventional crude oil.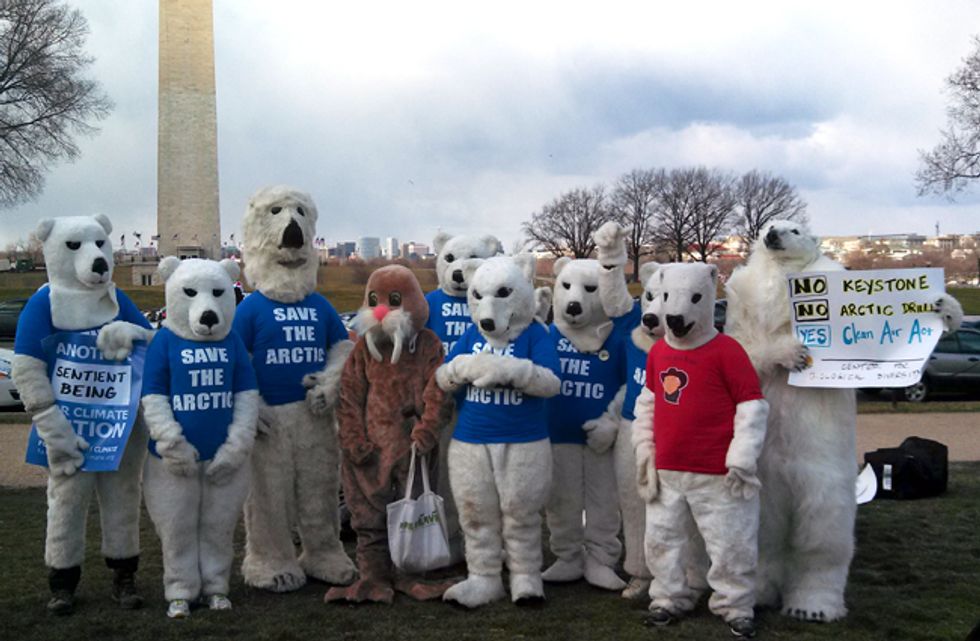 "The Yinka Dene Alliance of British Columbia is seeing the harm from climate change to our peoples and our waters," said Chief Jacqueline Thomas, immediate past Chief of the Saik'uz First Nation in British Columbia and co-founder Yinka Dene Alliance ("People of the Earth"). "We see the threat of taking tar sands out of the Earth and bringing it through our territories and over our rivers. The harm being done to people in the tar sands region can no longer be Canada's dirty secret. We don't have the billions of dollars that industry has. But we do have  our faith that people will do the right thing to protect Mother Earth. The Forward on Climate Rally shows that we are not alone in the fight to stop tar sands expansion and tackle climate change."
In addition, right now, the president has the authority and responsibility under the Clean Air Act to cut the amount of dangerous carbon pollution emitted from dirty power plants. These power plants are the biggest contributors to climate disruption, but are currently allowed to pollute without limits.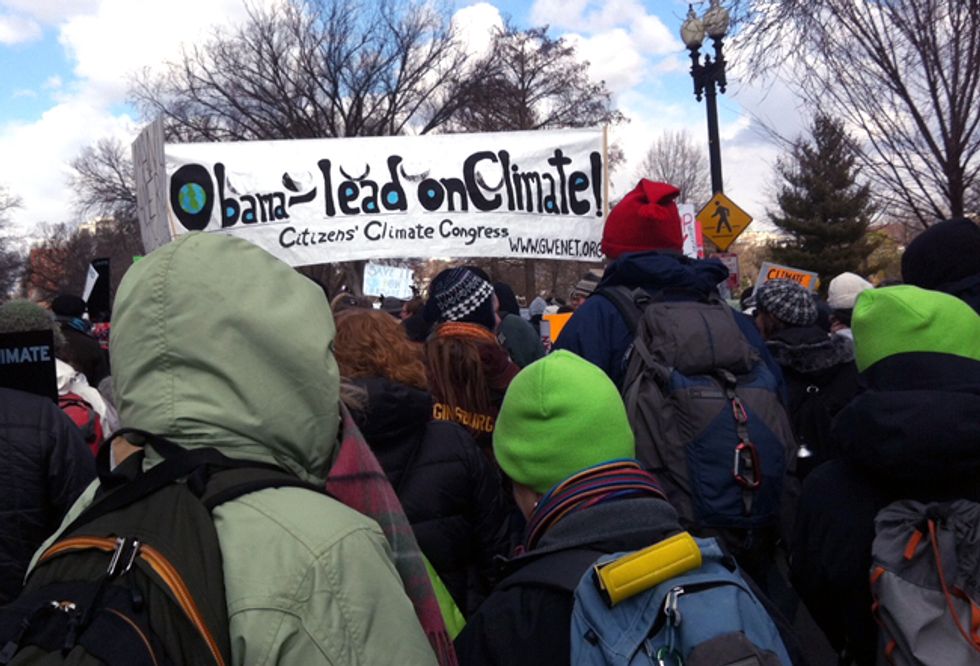 "This President has the power to achieve the single biggest carbon reduction ever, by holding our biggest carbon polluters—dirty power plants—accountable for what they dump into the air, said Van Jones, Natural Resources Defense Council trustee and president Rebuild the Dream. "Cleaning up this pollution and using more clean energy will provide jobs to thousands of Americans, save families real money when it comes to electricity bills and, most important, will make a real difference in our health and the health of our children."
Today's historic rally to call for climate leadership reflects Americans' recognition of the threats of climate change and their support for meaningful action now. Study after study has shown strong public support for climate solutions, including polling conducted by Public Policy Polling (PPP) immediately after the President's State of the Union address. That PPP poll found that 65 percent of Americans think that climate change is a serious problem and a substantial majority of Americans support President Obama using his authority to reduce its main cause, dangerous carbon pollution.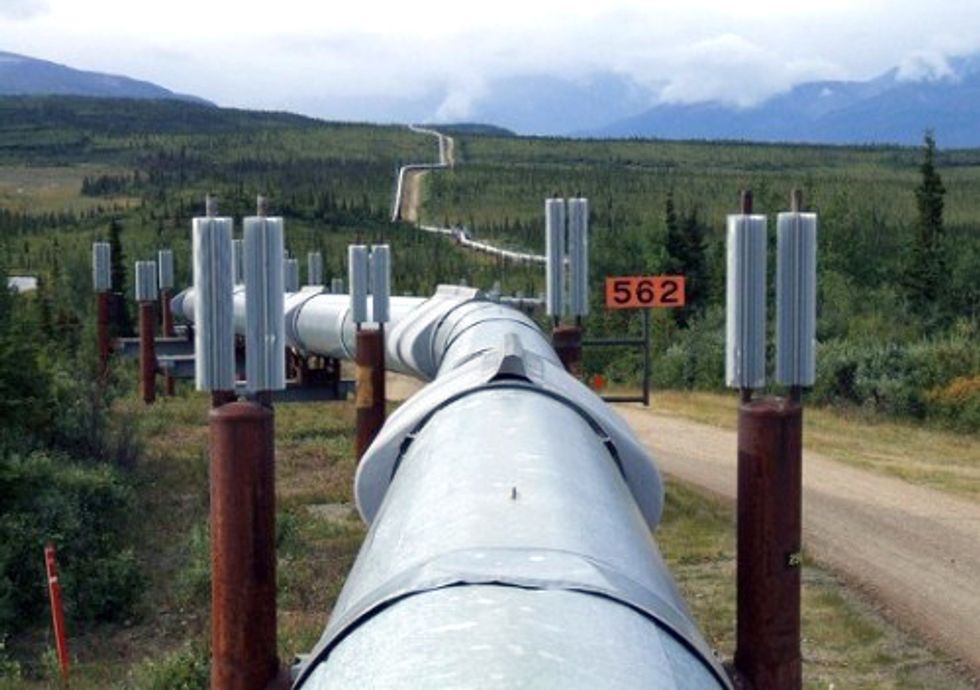 In last night's town hall debate, Governor Romney suggested that the President was wrong in rejecting "that pipeline from Canada." Governor Romney was referring to the proposed Keystone XL tar sands pipeline that benefits the oil industry by linking tar sands to the deepwater ports of the Gulf Coast while putting our climate, fresh water and lands at risk. But it was the governor who was wrong in equating this tar sands pipeline to attaining North American energy independence. 
Putting energy use in the rest of North America aside, the reality is that neither this tar sands pipeline, nor drilling on our public and private lands and off our coasts, is going to deliver the U.S. "energy independence." As the president rightly said the path to energy independence is found in reducing our demand for fossil fuels. Only by reducing our demand for fossil fuels—using energy efficiently—and growing our use of clean, homegrown energy can we come closer to energy independence. Relying on a dirty tar sands oil pipeline from Canada is nothing but a pipedream. And here's why:
1) Keystone XL and tar sands oil will not make the U.S. more energy independent:  Governor Romney implied that bringing the tar sands pipeline down from Canada will make us more energy independent. But the reality is that, as long as we are dependent on oil, we will be vulnerable to the price and political volatility of this globally traded commodity. That is why military leaders, like Retired General Steven Anderson, General Petraeus' right hand in Iraq, have said that this pipeline will do nothing to increase U.S. energy security. Additionally, it will allow, for the first time, large quantities of tar sands oil to reach the global market through the Gulf of Mexico. Once it reaches the Gulf, the oil industry has made its desire clear to export tar sands all over the world, undercutting the argument that this as a new source of oil for the U.S.
2) Keystone XL will not provide the nation-wide jobs essential to a sustained recovery:  Governor Romney referred to "energy independence" as a key piece of his plan for economic recovery. The reality is that for this pipeline project he is using highly inflated job figures. The pipeline company itself has estimated that there would be 6,000 jobs created in building the pipeline and only a few hundred in maintaining it. And even those numbers are overstated. Studies by Cornell University found that there would be 2500-4650 jobs created in construction (many of which have already been created in laying the pipe and other preparations) and that the risks of spills could wipe out many more jobs in agriculture, tourism and other sectors. Orders of magnitude more jobs are being created in clean energy—The Peri Institute at U. Mass estimates 2 million jobs can be created with programs to boost private and public investment in retrofitting buildings, improving energy efficiency, expanding mass transit and freight rail, constructing 'smart' electrical grid transmission systems, and investing in wind, solar and next-generation biofuels.
3) Keystone XL will not lower gas prices and may even increase them:  Governor Romney implied that the Keystone XL tar sands pipeline would bring our gas prices down. But analysts like Michael Levi of the Council on Foreign Relations has repeatedly stated that the pipeline will do nothing to change the global price of oil or our gas prices. The reality is that the price of oil is set on the global market.  When gas prices spike, Canada does not give the U.S. a break on the price of oil. So relying on a pipeline from Canada to reduce gas prices makes little sense. In fact, leading oil economists predict that the pipeline will actually increase gas prices by diverting oil from the Midwest to the Gulf.  Tar sands oil sells for less than lighter crudes in the Midwest because of the cost of refining it. By moving it to the Gulf,  gas prices will actually increase in the Midwest. And once it gets to an international port in the Gulf, the price will be determined by the highest bidder. In other words, savings in the pockets of Midwesterners today will be profits in the pockets of the oil industry tomorrow.
The president made it clear last night that the issue isn't about building one more pipeline, saying we've built enough pipelines to wrap around the entire earth once. He said the real focus should be on the kind of energy policy makes us more secure and that helps create high paying jobs in the manufacturing sector—referring to the thousands of jobs building wind turbines in Colorado and Iowa. The president underscored that this is an energy future we need to win.
Building "that pipeline from Canada," as Governor Romney has promised to approve on day one, won't deliver the 21st century energy policy we need, it will take us dangerously backwards, putting that energy future we need to win at risk.
Visit EcoWatch's KEYSTONE XL page for more related news on this topic.