By Molly Dorozenski
At a time when Secretary Clinton should be strengthening her progressive policies, it does not make sense to pick an industry insider who supports fracking to lead her transition team. Unfortunately, that's the exact move that Clinton made this week in appointing former Interior Secretary Ken Salazar to that post.
A flare burns near a hydraulic fracturing drilling tower in rural Weld County in northern Colorado, the most intensively fracked area in the U.S. Image of fracking site in Colorado: © Les Stone / Greenpeace
Though not an official lobbyist, Salazar took a job as partner at WilmerHale after leaving the Department of the Interior in 2013, a law and lobbying firm working on energy and environmental issues amongst other things. Salazar's track record has illustrated time and time again that he is on the side of big industry, and not the people. He is pro-Trans Pacific Partnership (TPP), pro-fracking and pro-Keystone XL pipeline. If Clinton plans to effectively tackle climate change, the last thing her team needs is a fossil fuel industry friend like Salazar.
A NASA study released this week identified fracking as responsible for a methane "hot spot" in the Four Corners region of Colorado, New Mexico, Arizona and Utah, the largest concentration of the potent greenhouse gas in the country. Methane, the primary component of natural gas, is 84 times more potent than carbon dioxide, yet Salazar has actually made the statement that "there's not a single case where hydraulic fracking has created an environmental problem for anyone." The truth is fracking is devastating his home state of Colorado, yet he has chosen to side with industry.
Most recently, Salazar came out in opposition to ballot initiatives to restrict fracking in Colorado. Communities throughout the state spent months collecting signatures for the ballot measures that would establish setbacks for drilling operations from schools and hospitals and empower communities to vote on fracking. Organizers on the ground were fought tooth and nail by the industry, which spent more $75 million since 2014 on PR firms and front groups intent on defeating the ballot measures. Earlier this month, people power overcame its first major hurdle by gathering enough signatures to submit the ballot measures to the Colorado Secretary of State. The office is now officially counting the signatures for qualification for the ballot in November.
A massive fight remains for Colorado activists in the months leading into November. As more oil and gas money flows into the state to mislead voters on the ballot initiatives, it is more important than ever for Secretary Clinton to pick the side of the people over the industry and its mouthpieces. Clinton has indicated support for local control over fracking, but picking an industry insider like Salazar who is fighting against the people's will sends the wrong message about which side she is truly on.
If Secretary Clinton wants to be the environmental leader that she claims to be in campaign speeches, she has to put the people before industry insiders.
Molly Dorozenski is the campaign director for Greenpeace Democracy.

EcoWatch Daily Newsletter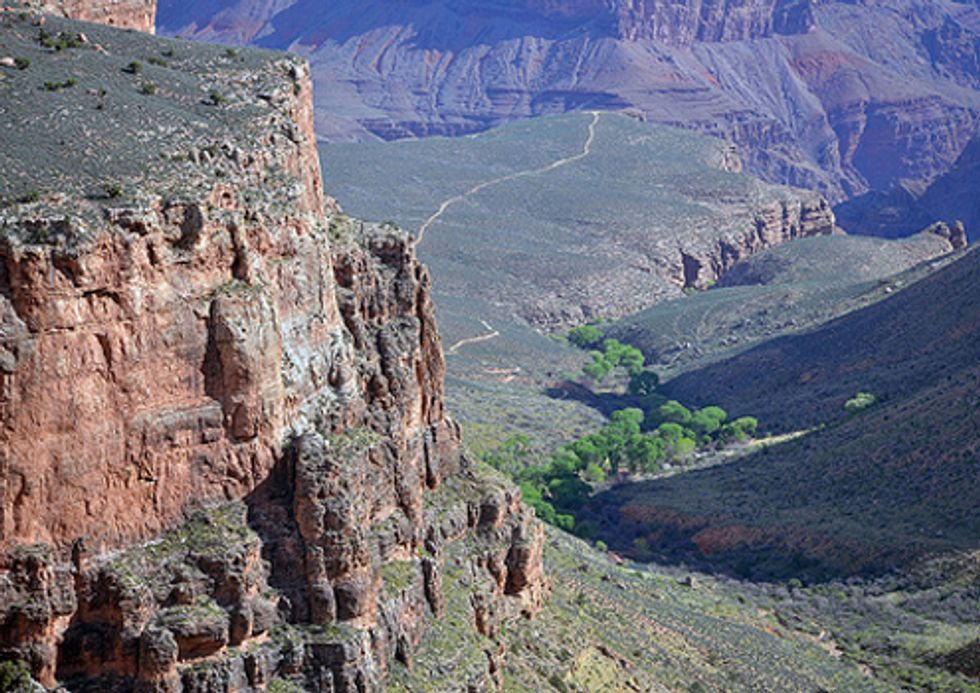 The Wilderness Society urged the U.S. House of Representatives on Feb. 14 to reject Amendment 133 to the American Energy and Infrastructure Jobs Act of 1012 (H.R. 7). The proposed amendment would overturn the Department of the Interior's decision to ban uranium mining on more than 1 million acres of federal public lands and National Forests in northern Arizona for the next 20 years.
The amendment—offered by Reps. Trent Franks (R-AZ-2), Jeff Flake (R-AZ-6), and Paul Gosar (R-AZ-1)—is a mirror of H.R. 3155, the "Northern Arizona Mining Continuity Act of 2011." The legislation would better be called the "Mining the Grand Canyon Act," for it would allow threatening, industrialized activity near the Grand Canyon. The Wilderness Society has profiled this bill, in addition to other threats, in a new report—Wilderness Under Siege.
"The American people, President Obama and  Secretary Salazar understand the historic and natural values of the Grand Canyon and have all worked together to protect this treasure," said David Moulton, senior director of legislative affairs at The Wilderness Society. "America has a long history of protecting iconic places against short-term gains like mining. We should not start on a dangerous path that would open our lands to corporate polluters at the expense of current and future generations of Americans. On Valentine's Day, these members need to show more love for America's Grand Canyon than they do."
If passed, Amendment 133 would prevent the protection of the Grand Canyon, flanking the park with new roads, mines, exploration drilling, power lines and truck traffic. This activity would damage wildlife habitat and popular hunting grounds and increase pollution in the Grand Canyon watershed. Additionally, it would harm Arizona's tourism and recreation economy. The outdoor recreation business in Arizona annually supports 82,000 jobs, generates almost $350 million in state tax revenue, and stimulates about $5 billion in retail sales and services. The Grand Canyon National Park alone generates an estimated 10,000 jobs and $420 million in economic activity by attracting more than 4 million visitors annually. Furthermore, a recent bi-partisan poll in Arizona found that "70 percent of voters say that the impact of mining on land and water is a serious problem in Arizona."
To learn more about the "Mining the Grand Canyon Act" and Wilderness Under Siege, click here.
For more information, click here.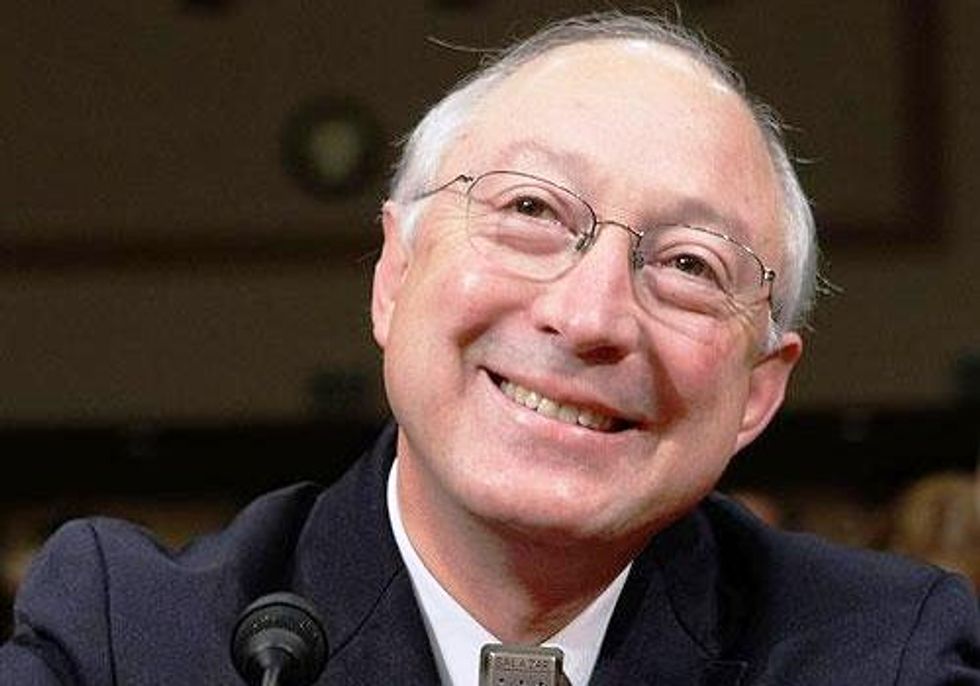 WHAT: Building a Comprehensive Energy Portfolio forum with Ken Salazar, United States Secretary of the Interior
WHEN: Feb. 14, 12 p.m.
WHERE: Sammy's Metropolitan Restaurant and Ballroom, 925 Euclid Ave., 21st Floor, Cleveland, Ohio 44115
Since being confirmed as Secretary of the Interior in 2009, Ken Salazar has been a champion of developing our nation's domestic energy resources in a safe and responsible way, including onshore and offshore oil and gas resources. Building a renewable energy economy is a top priority for President Barack Obama and Salazar's office has approved the first-ever solar energy projects on public lands and recently approved moving forward with the development of offshore "wind energy areas" in Delaware, Maryland, New Jersey and Virginia.
As a U.S. Senator, Salazar was also involved in building a comprehensive energy portfolio. He was involved in every major bipartisan legislative effort on energy since 2005, including helping craft the Renewable Fuels, Consumer Protection, and Energy Efficiency Act of 2007. Salazar also tackled the challenge of providing affordable health care by fighting to broaden the Children's Health Insurance Program and by working to improve health care for older Americans.
Ken Salazar, a fifth-generation Coloradan, was confirmed as the 50th secretary of the U.S. Department of the Interior on Jan. 20, 2009, in a unanimous vote by the U.S. Senate.
Tickets: $35 - Individuals; $500 - table of eight. All prices include lunch. Reservations and cancellations are required at least 24 hours in advance of the event.
For more information and to make a reservation, click here or call 216-621-0082.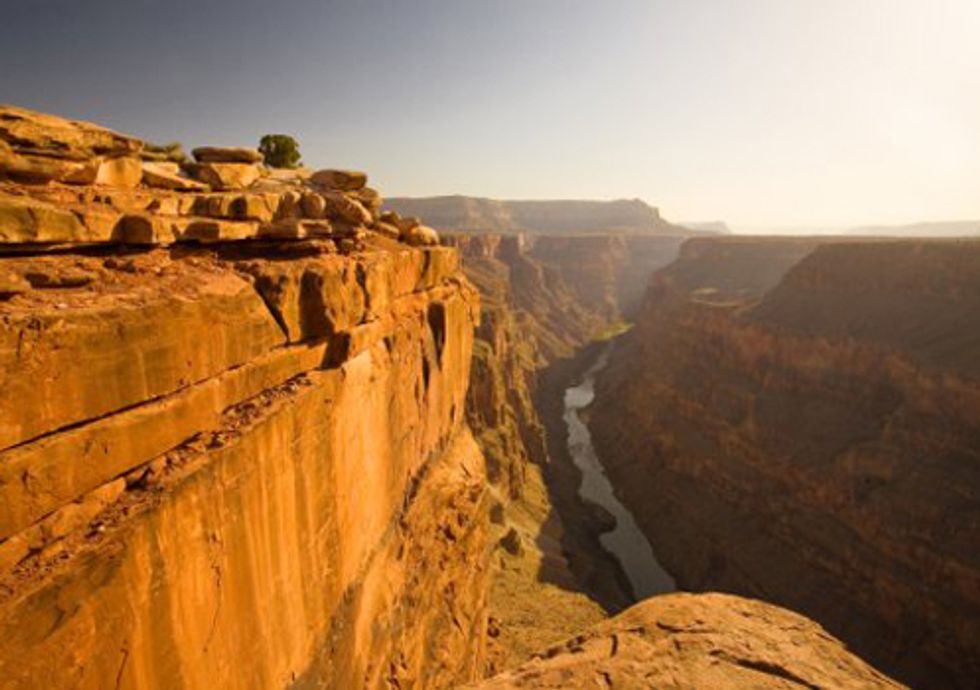 U.S. Secretary of the Interior Ken Salazar is scheduled to release a final determination Jan. 9 to withdraw 1 million acres around the Grand Canyon from new mining claims for 20 years, and Center for American Progress' (CAP) Public Lands Project released its Top Five Winners and Losers of Secretary Salazar's Decision to Protect 1 Million Acres Around the Grand Canyon.
In praising the announcement, Christy Goldfuss, director of the Public Lands Project, noted, "This is the best call to protect a national treasure. After taking a time-out to study the impacts of excessive uranium mining on the Grand Canyon, the administration came to a fact-based conclusion. The real winners of this decision are American families that will continue to enjoy one of our country's most beautiful locations, the outdoor recreation industry that supports the conservation economy, and the millions of people that drink the water that flows through the region."
To respond to the inevitable attacks from enemies of conservation in Congress, the Public Lands Project outlines the top five winners and losers of the decision. The winners include:
The losers include:
Related links:
For more information, click here.
—————
The Center for American Progress Action Fund is the sister advocacy organization of the Center for American Progress. The Action Fund transforms progressive ideas into policy through rapid response communications, legislative action, grassroots organizing and advocacy, and partnerships with other progressive leaders throughout the country and the world. The Action Fund is also the home of the Progress Report.