By Michele Simon and Andrew Kimbrell
You may have noticed the impressive grassroots movement gathering steam lately over the labeling of genetically engineered (GE) foods. Recently, Connecticut became the first state in the nation to enact a law to require such labels, and 26 other states have introduced similar bills this year. Millions of Americans are demanding more transparency in the food supply and our elected officials are finally responding, after decades of work by groups like Center for Food Safety (CFS).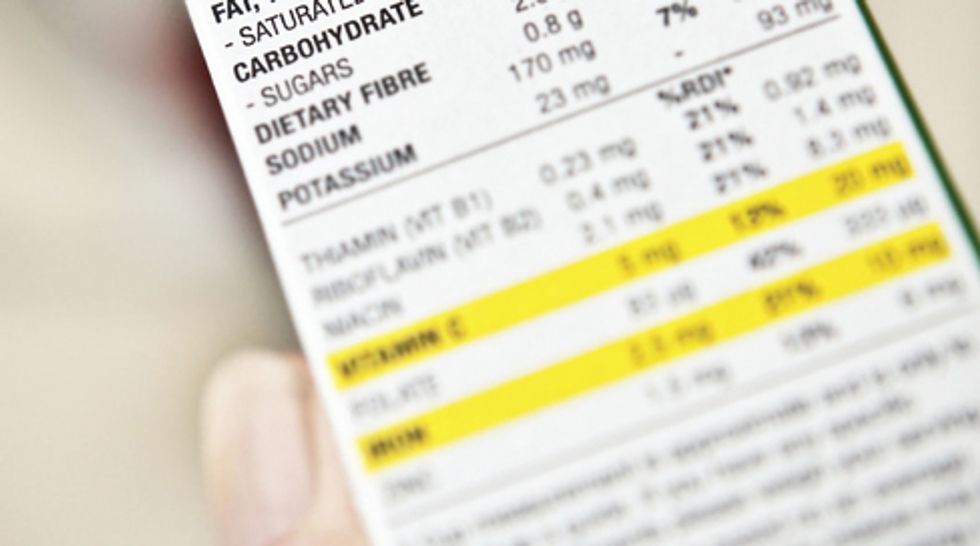 But one advocacy group, Center for Science in the Public Interest (CSPI), often seen as a leader in nutrition policy, stands virtually alone in its continued opposition to labeling GE foods. This stance is troubling and confusing given how outspoken CSPI has been for decades on food labeling and consumer information.
CSPI's position, explained in this recent news interview, boils down to three claims:
GE foods do not present either safety or nutrition concerns;
Processed GE foods do not contain genetically-engineered material;
Non-GE labels are "misleading" because they imply a safer or superior food.
Let's take these one by one.
GE Food Safety is an Open Question
First, CSPI claims that genetically engineered food labeling is "not a food safety or a nutritional issue—it's not like allergens or trans fats."
This is a pretty bold statement to make given how little information is available on the safety of GE foods. The U.S. Food and Drug Administration (FDA) does not require or conduct safety studies on GE foods, nor does it approve GE foods as safe. Instead, there is only confidential consultation between industry and FDA, where GE food developers decide what summary information to provide the agency; and even that is voluntary. So we are essentially taking the biotech industry's word that GE food is not hazardous. CSPI itself acknowledges that the government isn't doing its job, calling on FDA to "require a mandatory pre-market approval process" and "formally approve that the crop is safe for human and animal consumption." How can CSPI on the one hand admit we need more rigorous oversight, while on the other claim there is no safety issue? 
Further, while obviously no substitute for adequate food safety oversight, mandatory labeling of GE foods will allow the detection of adverse health effects of consuming such foods. Without labeling, anyone who gets sick from eating a GE food has no way of identifying the cause.
It's also odd that CSPI would distinguish allergens from GE foods, given that allergic reactions, which can be life-threatening, are the most widely accepted health threat posed by GE organisms. As Michael Hanson, senior scientist with Consumers Union, noted in his testimony in support of the Connecticut GE labeling bill in March:
"The human safety problems that may arise from GE include introduction of new allergens or increased levels of naturally occurring allergens, of plant toxins and changes in nutrition."  
He also testified in regards to the GE salmon moving closer to federal approval (despite overwhelming public opposition):
"Company data suggest that it may exhibit increased allergenicity."
And although the federal government has approved numerous pesticides genetically engineered into corn and cotton, in 2009 they also funded research to better determine if they can trigger food allergies. In the meantime, the allergy risk from GE food justifies a safety-based label similar to those warning that a food contains nuts.
Many Food Labels Are Not About Safety
In addition, safety is not the defining factor for requiring food labels. We label all sorts of things not based on safety concerns per se. Take basic ingredient labeling, which CSPI supports. We don't question the safety of every single ingredient that foods contain, but each is still required to appear on the label, because consumers have the right to know what is in their food.
Similarly, we don't require the listing of fat, sugar, salt, vitamins and minerals because we think those items are dangerous; rather, we require them because it helps the consumer make more informed choices, a concept with which CSPI appears to agree. To make its case for requiring chain restaurants to post calorie counts and other nutrition information, CSPI argues that, without such information, "it's difficult to make informed and healthy choices."
Why is labeling GE food any different? It isn't. Think about it this way: if we know a food ingredient is dangerous, we don't merely label it, we remove it from store shelves. 
Even Processed Foods Often Contain GE Material
CSPI also claims:
"... the great majority of foods that contain highly purified oils, corn sugars and cornstarch ingredients made from GE crops contain essentially no genetically modified DNA or protein."
First, CSPI's cleverly worded statement applies to a minority of foods, mainly sodas containing high-fructose corn syrup, as well as corn and soybean oil. But it excludes those foods most likely to have substantial amounts of GE ingredients: corn-based cereals, tortillas, tacos, corn chips, corn flour, corn grits, etc. For example, an important report called Cereal Crimes from the Cornucopia Institute in 2011 listed several cereal brands (labeled "natural") that tested positive for high levels of GE ingredients, "sometimes as high as 100 percent." Those products included well-known brands such as Kellogg-owned Kashi's GoLean and General Mills' Kix, a children's cereal.
In addition, numerous lawsuits are being filed against food makers using the "natural" label on products containing genetically engineered ingredients. To make their case, lawyers are conducting independent testing of products such as Frito-Lay snacks and finding genetically engineered proteins. In fact, according to the industry lobby, Grocery Manufacturers Association, an estimated 70 percent of products on supermarket shelves contain soy or corn ingredients likely to be derived from GE crops.
People Want to Know if Food is Genetically Engineered for Many Reasons
Moreover, consumers care about GE labeling for more than just health reasons. For example, many people know that growing GE crops is an unsustainable practice that harms the environment. The vast majority of genetically engineered crops are designed to withstand herbicides, and therefore promote indiscriminate herbicide use. As a result, genetically engineered crops have increased herbicide use by a substantial 527 million pounds in the 16 years from 1996-2011. Most of this increase is attributable to glyphosate, the active ingredient of Roundup herbicide, sprayed on Monsanto's "Roundup Ready" crops. This heavy use of glyphosate is known to harm plants and wildlife, and some studies suggest harm to farmers as well. Further, the glyphosate onslaught has triggered an epidemic of glyphosate-resistant weeds that in turn lead to greater use of more toxic herbicides. People should have the choice to avoid foods that lead to such environmental harms (a concern CSPI appears to share), as they do with other types of "eco" or "green" labels.
Non-GE Claims Are Not Misleading, the Absence of GE Labeling Is
Finally, CSPI also alleges that "non-GMO label claims are misleading, since they falsely imply that food made without GE ingredients is safer or superior in some other way."
But it is no more misleading to label a food as non-GMO than it is to label "orange juice from concentrate." Neither statement is about safety. These are strictly factual and non-controversial disclosures. (Same is true for a label disclosing that a food or ingredient is genetically engineered.) Far from misleading consumers, such a label would empower those who want GE foods to purchase them, and enable others to avoid them. If anything is misleading, it's the lack of mandatory labeling of GE foods. CSPI again entirely misses the point that food labeling is not only about safety or being superior, but about informed choice.  
CSPI is Out of Step with Democracy
Finally, CSPI is in a dwindling minority in its position. Numerous polls indicate that Americans want GE food labeling, with most results topping 90 percent. What other issue can you get 90 percent of Americans to agree upon? Last fall, six million Californians voted for GE food labels, despite a $45 million campaign of lies and dirty tricks to stop Proposition 37 from passing, just narrowly.
Moreover, 1.2 million people have now endorsed a Center for Food Safety legal petition from 2011 demanding FDA require the labeling of GE food. In addition, 64 other nations already require GE labels, including Japan, Australia, Brazil, China, Russia, and the entire European Union. It is only a matter of time before we see required labeling of genetically engineered food in the U.S. Meanwhile, having an organization such as CSPI speak out against GE food labeling is counterproductive. We hope they soon join the growing chorus of voices and support our right to know.
Visit EcoWatch's GE FOODS page for more related news on this topic.
———
SHARE YOUR THOUGHTS BELOW: Should genetically engineered foods be labeled or should they be banned?
———

EcoWatch Daily Newsletter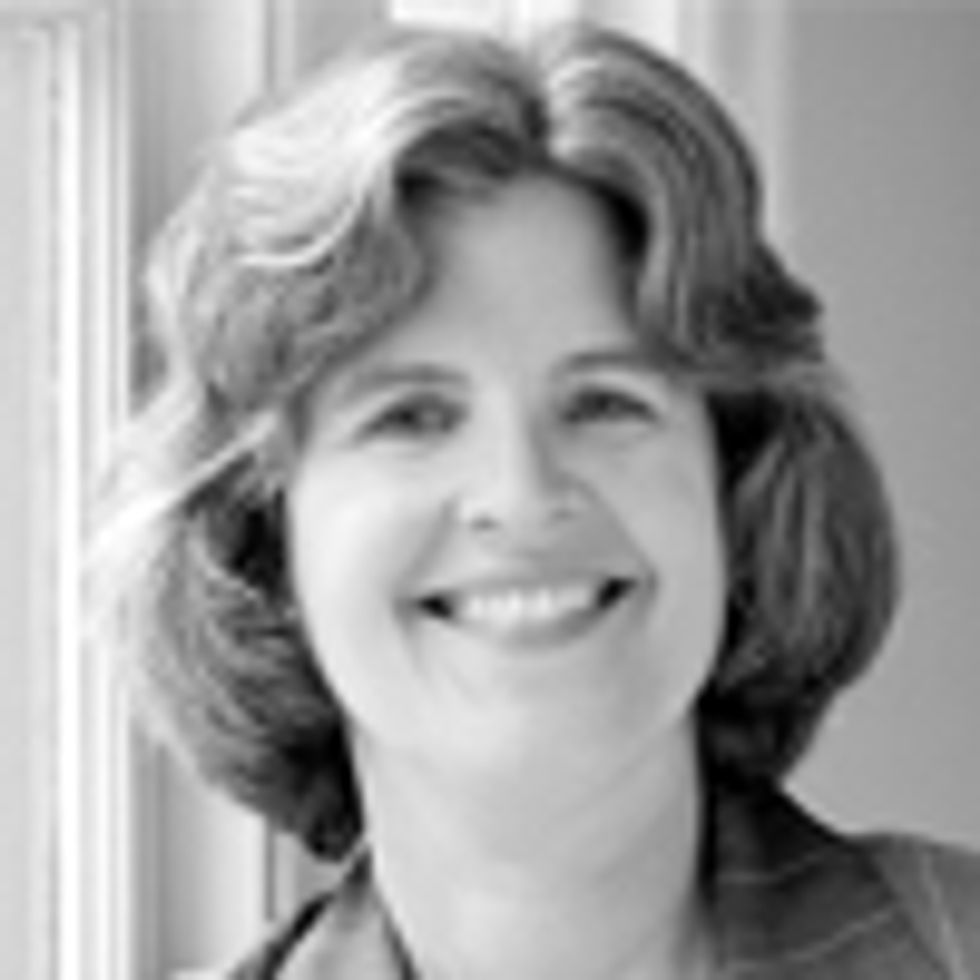 In response to the public outcry over the negative impacts of junk food marketing to children, food companies have started using popular media characters to market "healthy" foods to children. These products include fruits and vegetables, as well as processed food. So we now have Campbell's Disney Princess "Healthy Kids" soup, Kellogg's Scooby-Doo! cereal (with less sugar) and others.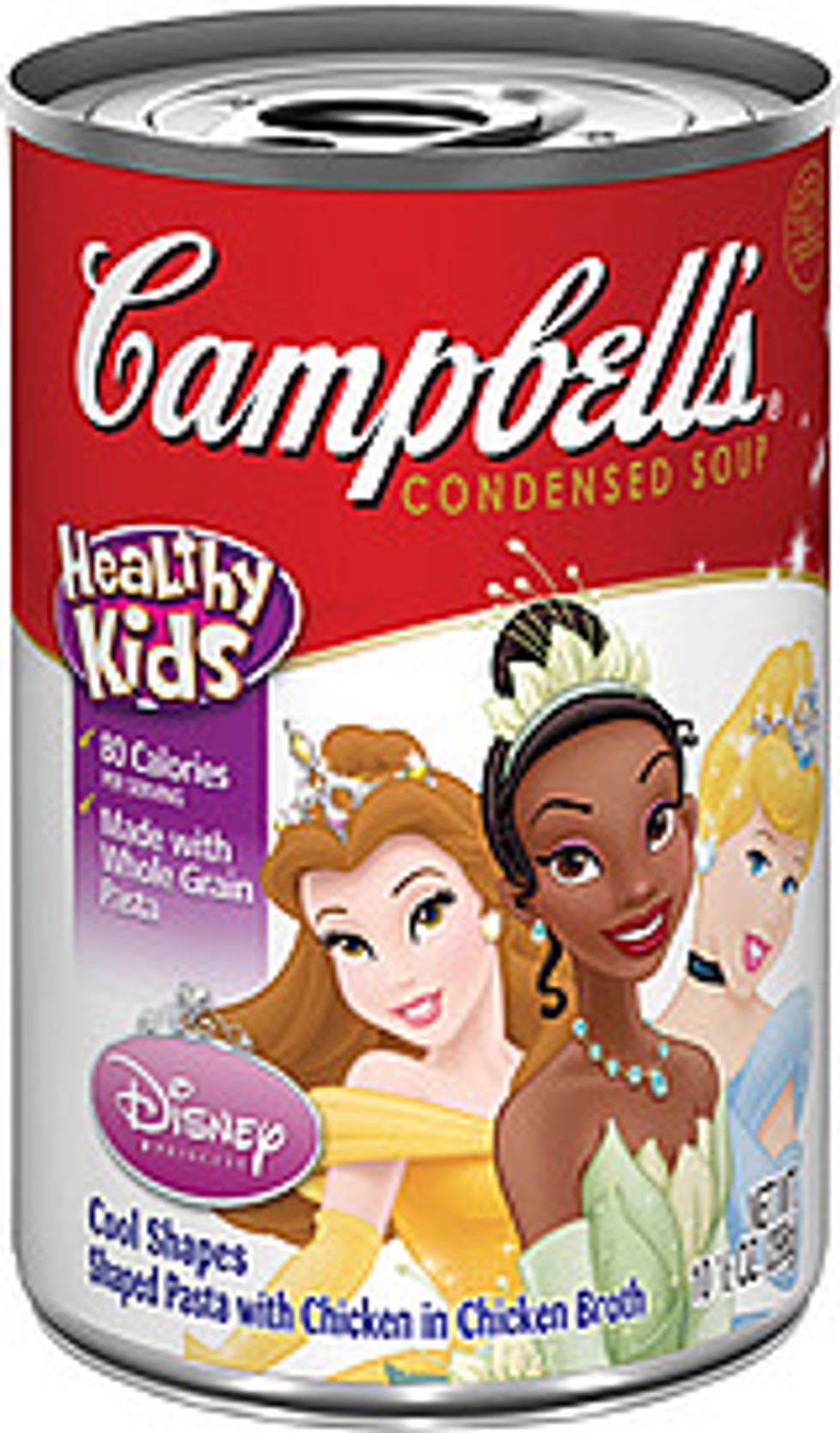 But is this really progress?
The developmental vulnerabilities of children, along with the legal, ethical and political pitfalls of encouraging the food industry to target kids, make marketing food to children harmful regardless of nutritional content.
Children are Especially Vulnerable to Advertising
Researchers and advocates for children's health agree that advertising junk food to children is effective. One 30-second commercial can influence the food preferences of children as young as age two. For young children, branding even trumps taste. Preschool children report that junk food in McDonald's packaging taste better than food in plain wrapping—even if it's the same food. Similar studies show the same results for food packaging featuring media characters.
Research demonstrates that marketing any product to children under age 12 is inherently deceptive. Unlike adults, young children do not have the cognitive capacity to fully understand the purpose of advertising. Very young children cannot even distinguish between a TV program and a commercial. Until the age of about eight, they don't really understand the concept of selling and they tend to believe what they see.
Moreover, only 40 percent of 11 and 12 year olds have a full understanding of persuasive intent—that every aspect of advertising is designed to convince them to do things they might not do otherwise. This makes children especially vulnerable to deception by hyperbole, puffery and other common advertising techniques.
Marketing Healthy Food Undermines Healthy Child Development
Some advocates argue that deceiving children to eat healthy food is good strategy. But such tactics are actually harmful. A primary goal for advocates should be for children to develop a healthy relationship to food. Foisting character-branded products on children undermines that effort. Marketing to children does more than sell products—it inculcates habits and behaviors. Marketing branded produce such as Kung-Fu Panda Edamame to children instills the unhealthy habit of choosing food based on marketing cues such as celebrity, rather than on a child's own innate hunger, taste or good nutrition.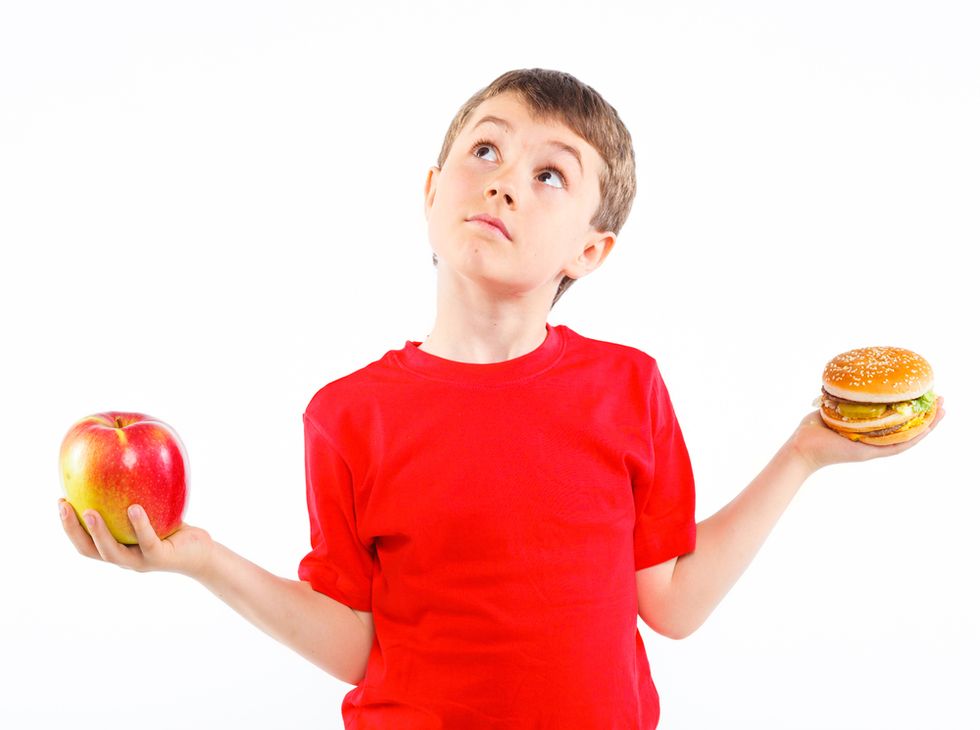 Photo courtesy of Shutterstock
Children's health depends on more than diet—their social, emotional and cognitive nourishment are also important. Popular media icons used to sell kids veggies also market myriad other products, including junk food, junk toys and screen media. Research shows that, among other harms, such commercialism inhibits children's creative play—the foundation of learning, creativity, constructive problem solving and the capacity to initiate and complete tasks and projects—which is essential to a truly healthy childhood. And excessive screen time is linked to problems ranging from unhealthy eating, sleep disturbance and poor school performance.
All Marketing to Children is Inherently Misleading
While the food industry claims it has a First Amendment right to advertise to children, the law says otherwise. Free speech is not a blank check; it has limits. Current federal law actually prohibits unfair or deceptive advertising. Similarly, false or misleading advertising is not allowed under most state consumer protection statutes.
Marketing to children does not get First Amendment protection because it is inherently misleading. If a young child cannot even understand the purpose of an ad, then marketing anything to that child is both unfair and deceptive. The nutritional content of the product being marketed is irrelevant.
With enough political will, lawmakers could pass new laws banning marketing to children without running afoul of the First Amendment. Such policies are in effect in several other countries, and have not caused the economic sky to fall.
Calling for governmental endorsement of marketing "healthy" food to children potentially undermines these legal theories, which we need to preserve as we build a larger movement of advocates to protect children in a more effective and meaningful way.
We Can't Beat the Food Industry at its Own Game
Finally, the food industry is happy to play along when advocates call for the marketing of "healthier" food to children. Corporate lobbyists have invented a voluntary self-regulation scheme to convince politicians and the public they've got it covered with nutrition standards that allegedly protect children.
But as many of these same advocates have rightly pointed out again and again, this non-system is a dismal failure. Even the federal government couldn't persuade the food industry to improve its voluntary guidelines.
By begging and pleading with the food industry to improve how it markets to children, instead of working to end food marketing to children entirely, we are continuing to endorse a failed system in which industry gets to set the rules, break them whenever it pleases, and then take credit for doing the right thing. The CEO of McDonald's recently claimed with a straight face that his company does not market to children. To bolster his case, he pointed to milk and apple slices in Happy Meals. This is just the sort of twisted logic that results from advocates asking industry to set nutrition standards for food marketing to children.
Less sugar in Scooby-Doo cereal and more apple slices in Happy Meals will not make children healthier. Instead of settling for such crumbs, advocates should take a stronger stand to protect children and demand that corporations stop engaging altogether in the unethical practice of marketing to children. Yes, this is a Herculean task and yes, it will take a massive movement to accomplish. Let's get to work. The cost to children is too high if we don't.
Visit EcoWatch's FOOD and HEALTH pages for more related news on this topic.

Like many other plant-based foods and products, CBD oil is one dietary supplement where "organic" labels are very important to consumers. However, there are little to no regulations within the hemp industry when it comes to deeming a product as organic, which makes it increasingly difficult for shoppers to find the best CBD oil products available on the market.
<p>Here you can learn about the importance of organic hemp oil, why it's better for the environment, and which CBD companies actually make trustworthy products with sustainable farming processes. origins which weigh heavily on many consumers who want to buy a product that's produced in the best way possible for not only themselves to ingest, but for the environment as well through sustainable farming methods. </p><h2>What Is CBD Oil?</h2><p>First things first, CBD stands for cannabidiol, and it's a cannabinoid found within cannabis sativa plants. This plant compound is believed to have many potential benefits, and it is primarily derived from hemp plants via a CO2 extraction process. </p><p>Since CBD is extracted from industrial hemp, which contains only trace amounts of THC (the psychoactive component in cannabis plants), this means that CBD won't make you feel high like marijuana, which has much higher levels of THC that causes psychoactive effects. Instead, the effects of CBD are much more subtle and promote a general sense of calm and relaxation in most users.</p><h2>What Makes a CBD Oil Organic?</h2><p>In terms of organic labels, perhaps the most important (and prominent) certification comes from the United States Department of Agriculture (USDA). This government organization has been labeling foods as "organic" for many years, but what exactly does this certification entail? Essentially, a label indicating that a product is "USDA Organic" or "Certified Organic" means that at least 95% of the ingredients are obtained from organic sources.</p><p>For a crop to be considered organic by the USDA, it must be grown without the use of industrial solvents, irradiation, genetic engineering (GMOs), synthetic pesticides, or chemical fertilizer. Instead, farmers rely on natural substances and <a href="https://www.usda.gov/media/blog/2012/03/22/organic-101-what-usda-organic-label-means" rel="noopener noreferrer" target="_blank">mechanical, physical, or biologically based farming</a> techniques to cultivate healthy and organic crops.</p><p>Before the passage of the 2018 Farm Bill, no hemp-derived products could be dubbed as "certified organic" since the hemp plant and its extracts were still categorized as a Schedule I Controlled Substance. However, it's still difficult for CBD companies to obtain a USDA certified organic label for their products due to the legal grey area that still surrounds CBD extracts. </p><p>Because of these challenges, and due to the fact that industrial hemp has only recently become an agricultural crop, very few CBD oils are USDA certified organic. Rather, many CBD products contain hemp extracts from plants that were grown in organic conditions but may not be federally certified.</p><h2>What are the Best Organic CBD Oil Brands?</h2><p><em>Each product featured here has been independently selected. If you make a purchase using the links included, we may earn commission.</em></p>