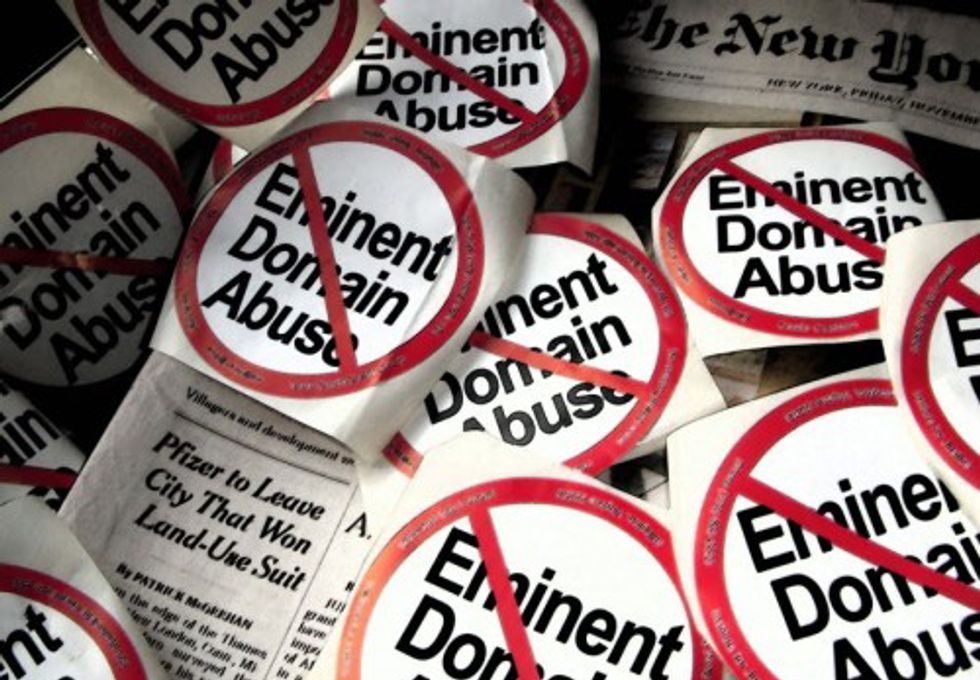 As Republicans in Congress try to use any means possible to do the bidding of their Big Oil backers and construct the Keystone pipeline at any cost, they seem to be losing many of their Tea Party constituents to eminent domain concerns. On the morning of Feb. 17, Texas Tea Party groups joined environmental activists in protest of TransCanada's eminent domain claims to land for the Keystone XL tar sands pipeline.
Texas landowner Julia Trigg Crawford has been at the center of eminent domain issues—but isn't letting go of her land without a fight. On Monday, Feb. 13, Ms. Crawford obtained a restraining order against TransCanada to protect her property. Within 24 hours, TransCanada in turn filed for the restraining order to be dissolved. Judge Bill Harris held a hearing in Paris, Texas on Feb. 17—but not before hundreds of activists from both sides of the aisle had time to rally in support of Ms. Crawford and her right to private property.
The groups demonstrated their Texas pride at the rally and hearing with their boots on and their Texas and American flags held high telling this private, foreign company—"Don't Mess with Texas." The message from both Tea Party members and landowners was clear—this is private property, and you can't take it without our permission.
"This is a private company taking land for private use and foreign profit. They are cloaking themselves in common carrier regalia and exercising eminent domain against Texas citizens but there is no evidence that they have the legal authority to seize property in Texas," said Debra Medina, former Republican gubernatorial candidate and director of We Texans.
Though TransCanada's permit was denied, the company continues to bully landowners and execute eminent domain condemnation proceedings. Groups are questioning this company's right to take land via eminent domain. The Railroad Commission has stated that it does not have the authority to grant the power of eminent domain to TransCanada.
"Everyone wants to know, by what authority or permit does this private, foreign company have the right to condemn property and start construction? We are going to tell TransCanada, don't mess with Texans, don't mess with our landowners," said Linda Curtis of Independent Texans.
For more information, click here.
EcoWatch Daily Newsletter
stocknroll / Getty Images
More and more Americans are retrofitting their bathrooms with high-end bidets, allowing them to enjoy cleanliness and hygiene without creating as much paper waste. Not all bidets are created equal, however, and before deciding on a particular brand, it's important to do your homework. Take a look at our comprehensive Toto bidet review, and our reviews of Tushy and Omigo, to learn more about all of their options.

<h2>Toto overview</h2><p>Toto is a company that has been around for over 100 years. They aim to improve people's quality of life, and they do that specifically by focusing on bathrooms. To that end, Toto is known for high-quality products including toilets, faucets, showers, bathtubs, and bidets. </p><p>Toto has also expressed an admirable commitment to ecological stewardship. As <a href="https://www.totousa.com/about-toto/toto-way" target="_blank">their corporate website</a> notes, they strive to "protect the global environment by conserving finite natural resources and energy." One example of this is their donation of any imperfectly fired porcelain products for recycling and reuse as porcelain floor tile. Their <a href="https://www.totousa.com/about-toto/living-toto-library/smart-sustainable-packaging-solution" rel="noopener noreferrer" target="_blank">packaging</a> uses differing levels of recycled post-consumer paper products while their forklifts operate using <a href="https://www.totousa.com/about-toto/living-toto-library/plant-based-hydraulics" rel="noopener noreferrer" target="_blank">plant-based hydraulics</a> made from soybean oil instead of traditional hydraulic oil.</p><p>Toto is definitely a company with a superior reputation when it comes to bathroom accessories in general, and bidets in particular. Here are reviews of some of the specific products in the Toto line.</p><h2>Toto bidet reviews</h2><p>There are two different bidet product families available from Toto: standalone bidets and bidet seat attachments. Their standalone models include the Piedmont bidet, the Lloyd bidet, and the Clayton bidet, while their bidet toilet seat offerings include a wide selection in the popular Washlet line. Here are details on the three standalone options and three of the most popular bidet seat attachments.</p><p><em>Each product featured here has been independently selected by the writer. If you make a purchase using the links included, we may earn commission.</em></p><h3>Toto standalone bidets</h3><h4></h4>
<h3>Toto bidet seats</h3>