Black Warrior River Named One of America's Most Endangered
Pollution caused by coal mining near Alabama's Black Warrior River has landed the river on the list of America's Most Endangered Rivers—which is compiled each year by the conservation group American Rivers.
The Black Warrior River and its tributaries are a major source of drinking water for Birmingham and surrounding communities. The headwaters of the Black Warrior River include the federally designated Wild and Scenic Sipsey Fork, which, along with the river's Mulberry and Locust Forks, is rated among the top two percent of United States streams by the National Park Service. The river, known for fishing, boating, commercial navigation, recreation and wildlife, also runs through the Warrior Coal Field where most of Alabama's coal reserves are found.
For many years, the U.S. Army Corps of Engineers (Corps) has allowed the majority of the Black Warrior River watershed's approximately 95 active coal mines to operate under a general permit known as Nationwide Permit (NWP) 21. NWP 21 does not take local wetland and stream conditions into account, study the possible impacts of the mines or provide for public input. This situation contrasts with the process in other Appalachian states, where the Corps last year suspended the use of NWP 21 to require more careful consideration of a mine's impacts on water resources and the environment.
"The U.S. Army Corps of Engineers has wisely closed this dangerous mining loophole across the Appalachian coal mining region – except for Alabama," said Gerrit Jobsis, American Rivers' Southeast Regional Director. "It's time to give Alabama's people, water and wildlife the protection they deserve."
Eva Dillard, staff attorney for Black Warrior Riverkeeper, agrees: "Under NWP 21, the Corps has allowed numerous mines to operate in our watershed with no consideration of their cumulative impacts on water quality or the environment. With NWP 21 up for possible renewal in 2012, now is the time to tell the Corps to end the use of this rubber stamp in Alabama."
"Our wetlands and headwater tributary streams are critical conveyors of clean water, controllers of runoff and flooding, and providers of fish and wildlife habitat," said Black Warrior Riverkeeper Nelson Brooke. "Their loss under NWP 21 hurts the river, local communities, fishermen and sportsmen, and ultimately the state."
Black Warrior Riverkeeper and American Rivers are calling on the Corps to discontinue the use of NWP 21 and to include Alabama in all protective guidance and regulations that apply to Appalachian region mining. Ending the use of NWP 21 in Alabama would force the Corps to consider the cumulative impact of mines on the Black Warrior River and allow local people to voice their concerns.
The two groups also called on the Alabama Department of Environmental Management and Alabama Surface Mining Commission to strengthen coal mining permits and enforcement efforts. Additionally, these agencies should collaborate with the Corps to address the cumulative effects of mining on the river.
Judge Stands Up for Salmon
Klamath Riverkeeper and allies won a landmark ruling from a San Francisco Superior Court judge that a program allowing ranchers to divert water from the Shasta and Scott Rivers is illegal. The judge ruled that the program, run by the California Department of Fish and Game (CDFG), failed to adequately consider the harm to protected Coho salmon caused by diverting water for farm irrigation from both rivers. The two rivers, both tributaries of the Klamath River, often run dry in summer months due to the water diversion. Both support dwindling populations of state and federally protected Coho salmon.
Permits to divert river water were recently required after years of unregulated water diversions and the widespread loss or "incidental take" of endangered salmon. 
Klamath Riverkeeper and its partners, which included the Pacific Coast Federation of Fisherman's Associations, the Quartz Valley Indian Reservation and the Sierra Club, challenged the permit program, alleging violations of the California Endangered Species Act and other laws.
"Fish and Game needs to take the court's ruling seriously and modify the permit program so enough water is left in the rivers for the salmon to survive," said Wendy Park, attorney for the public interest law firm Earthjustice, which represented the environmental groups. "Though the Department of Fish and Game claimed that the program would do some good things for fish habitat, CDFG undermined their own success from the beginning by ignoring the fact that water diversions are making the rivers go completely dry at some points in the year," said Klamath Riverkeeper Erica Terence. "The simple fact is that fish need water."
"This ruling tells the state and ranchers that band-aid solutions, such as installing fish screens and ladders on diversion ditches and dams or revegetating stream banks, are not an acceptable substitute for leaving water in the river," Terence continued.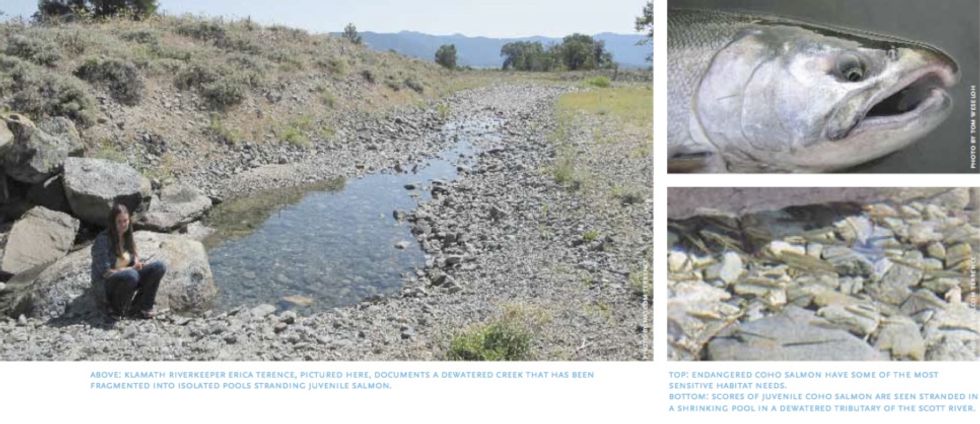 In his decision, issued in late April, Judge Ernest Goldsmith found that the Department of Fish and Game's permits were based on an erroneous assumption that ongoing water diversions couldn't be restricted and would harm Coho salmon regardless of whether CDFG permitted the diversions or not.
The court further ruled the permit program violated the California Endangered Species Act (CESA) because the Department of Fish and Game didn't quantify how many fish deaths the water diversions would cause, didn't show the sufficiency of mitigation measures to protect and restore Coho, and didn't seek public input on whether the program would further jeopardize the salmon.
"Such a permit program can do a lot of good for the salmon, if properly constructed," said Glenn Spain of the Pacific Coast Federation of Fisherman's Associations, whose member's fishing industry jobs are directly affected by salmon declines in these rivers. In December of 2009, CDFG scientists reported that two out of three generations of Coho salmon in the Shasta River are "functionally extinct." Coho salmon have a three-year life cycle that results in three distinct generations of Coho in any given year. The only viable generation spawned in fall of 2010, and the resulting juvenile hatched and emerged from the gravels to face their odds this past spring.  However, salmon populations are likely to rebound if adequate water is left in the rivers.
Georgia Court Rules for Clean Water for the Chattahoochee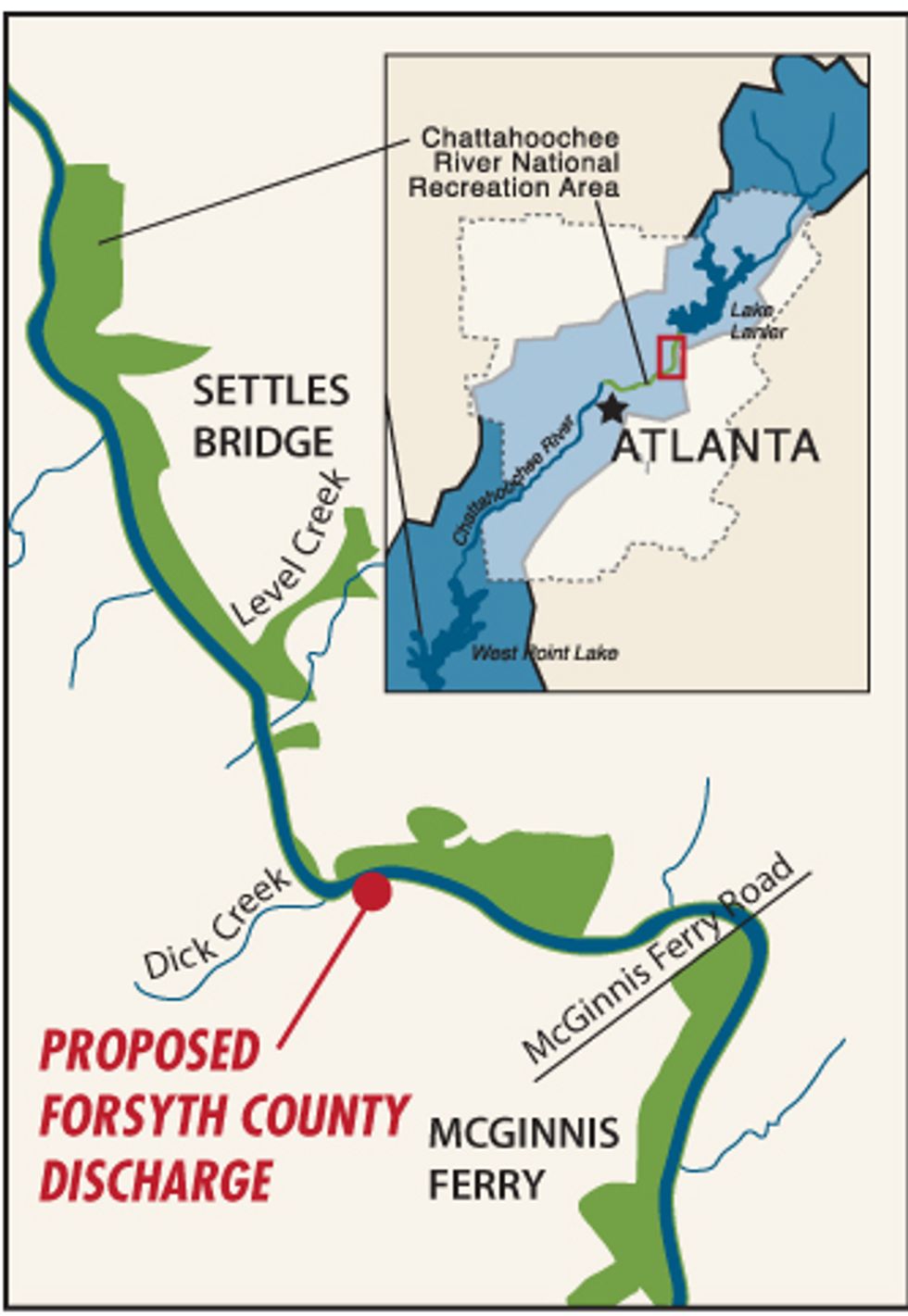 In a precedent-setting decision, an Administrative Law Judge ruled in favor of Upper Chattahoochee Riverkeeper, finding that a wastewater discharge permit issued for the Chattahoochee River National Recreation Area would unnecessarily degrade water quality. Upper Chattahoochee Riverkeeper appealed the permit, which was issued by the Georgia Environmental Protection Division (EPD) to Forsyth County. The permit would have allowed six million gallons of treated sewage with high levels of phosphorous and fecal coliform bacteria into the primary drinking water source for more than 3.5 million people.
Judge Kristin Miller, of the Office of State Administrative Hearings, found, after a technical and economic analysis of alternative levels of treatments, that the County can treat its wastewater and discharge significantly less pollution at minimal additional cost. Thus, the permit issued by EPD violated state and federal water-quality laws that prohibit the lowering of water quality unless it is necessary for important social or economic development.
The permit, issued to Forsyth County in August 2010, allowed discharges of fecal coliform bacteria and phosphorous as much as 100 times higher than in other recently issued permits in the watershed. Fecal coliform bacteria indicate the presence of contamination from human or animal waste. As a result, microbiological organisms such as pathogenic bacteria and viruses can cause illnesses in humans. Phosphorous is a nutrient that, when discharged in wastewater into a water body, can cause, among other problems, algal blooms and the reduction of oxygen needed to support fish and aquatic organisms. Increased phosphorous, therefore, would threaten the important trout fishery in the Chattahoochee- the southernmost reproductive trout fishery in the United States. In her decision, Judge Miller called the river "an important economic, recreational, and environmental resource for the state of Georgia and metropolitan Atlanta in particular."
Upper Chattahoochee Riverkeeper was represented by Andy Thompson and Steve O'Day, attorneys with Smith, Gambrell, and Russell, LLP. Thompson described Judge Miller's decision as "thorough, well- reasoned and detailed," and one in which she recognized "that the Fowler/Shakerag permit violated the clear language of the state and federal antidegradation rules."
Watershed Center Awarded $2.2 Million for Great Lakes Restoration
The Watershed Center Grand Traverse Bay, the parent organization of Grand Traverse Baykeeper John Nelson, has been awarded three grants totaling $2.2 million in Great Lakes Restoration Initiative funding from the U.S. Environmental Protection Agency. Two of the grants will install stormwater filtration measures to decrease bacterial contamination at local beaches and clean up stormwater pollution in Grand Traverse Bay. The third will help manage sediment on the Boardman River as two large dams are being removed.
"This is big news for The Watershed Center and Grand Traverse Baykeeper," said John Nelson. "These are the largest grants we've ever been awarded!" 
More than 95 percent of this funding will be invested in projects in local communities. "These are critically needed funds," said Andy Knott, executive director of the Watershed Center. "Grand Traverse Bay and its 1,000 square-mile watershed are the foundation of our region's economy and our Up North quality of life."
The Suttons Bay project involves working with the Village of Suttons Bay to install three runoff drain systems using green infrastructure techniques. "By managing runoff from the three largest storm drains in Suttons Bay, we hope to drastically decrease public health risks at local beaches associated with runoff," said Sarah U'Ren, program director for the Watershed Center.
The Traverse City project involves working with the City of Traverse City to install a runoff filtering system at East Bay Park to reduce bacterial contamination at the beach.
The Boardman Dams project will manage sediment to protect aquatic habitat during removal of Brown Bridge and Sabin dams. Removing the two dams, part of a larger project that involves removing a third dam and modifying a fourth, will restore 184 acres of wetlands and 32 acres of upland habitat.
All three grant applications cited community collaborations as important factors for these projects. "More than 12,000 citizens crafted the Grand Vision, which includes protecting our magnificent natural resources as a guiding principle," said Knott.
Waterkeepers Demand Action From Maryland Legislators
In late May, a flotilla of small craft landed at the City Dock in Annapolis, Maryland's state capitol, bringing with them citizen groups demanding that Maryland state legislators deliver leadership, action and results on the cleanup of the state's major rivers and coasts, and Chesapeake Bay.
Eighteen affiliated Chesapeake Waterkeeper groups, made up of concerned citizens, including farmers, watermen, business owners and families from throughout the Chesapeake Bay region, charged that the state legislature had deferred critical environmental work and failed to address the state's mounting water pollution problems.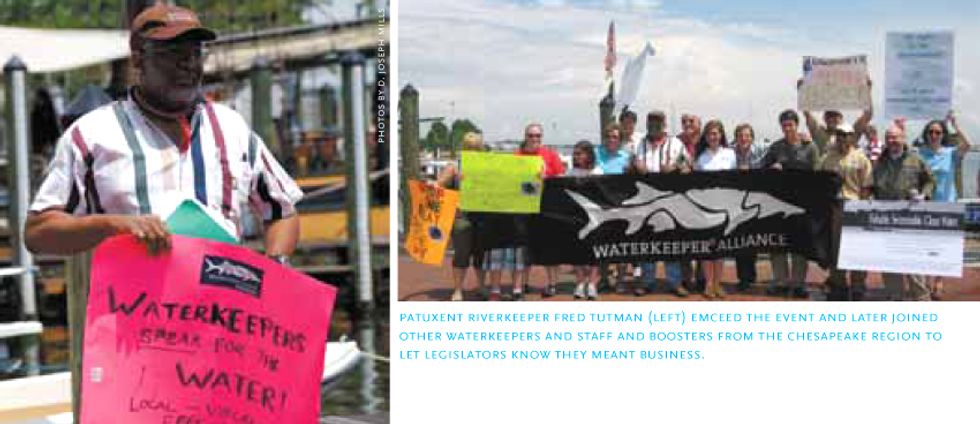 "At a time when the need for environmental leadership has never been greater, Marylanders were forced to suffer through a 'do-nothing' state legislature," said Fred Tutman, the Patuxent Riverkeeper. "All of us have a responsibility not to let history repeat itself."
The flotilla arrived at City Dock to insist that lawmakers make good on campaign promises to clean up the area's waterways. Concerned Marylanders joined the Waterkeepers at the event, demanding that elected leaders act during the next session. The flotilla was made up of Waterkeepers and their boats, a symbol of the ever- vigilant presence that Waterkeepers provide throughout their individual watersheds.
"With the clock ticking and water quality rapidly declining, the lost economic value, jobs and quality of life present real suffering for people and communities," said Kathy Phillips, Assateague Coastkeeper.
"Waterkeepers and the people of Maryland whom we represent decry our state legislature's failure to live up to promises made by its constituent lawmakers," said Drew Koslow, the Choptank Riverkeeper. "Maryland sets the tone for Chesapeake Bay cleanup, and so Maryland's inaction calls into serious question the credibility and sincerity of our elected officials, particularly because it will now be much more difficult for Maryland to meet the Bay Pollution standards set by EPA for the Bay States."
The protesters were concerned in particular with the Chesapeake Bay, which is in precipitous decline, with increasing dead zones. Few if any of the rivers and creeks draining into the bay have managed to achieve a scorecard grade that rises above a "D" from the University of Maryland Center for Environmental Studies. The Maryland Coastal Bays Program, an EPA National Estuary Program, has not been able to issue a grade above "C+" for the Coastal Bays on the Eastern Shore. The Legislature is tasked with passing laws that curb pollution from sources such as pesticides, agricultural runoff, including arsenic in chicken manure, natural gas fracking, plastic bags, problems associated with overdevelopment and the increasing problem of stormwater runoff.
One of the most important bodies of water in the United States from the standpoint of economics and diversity of marine life, Chesapeake Bay has a heavy concentration of Waterkeepers, most of whom patrol a tributary that drains into the bay. The local Waterkeeper movement includes people working in Maryland, Delaware, Virginia, West Virginia, Pennsylvania and the District of Columbia, and has emerged as the eyes, ears and voice of waterways and communities that are struggling to turn the tide.
Ultimatum on Cleaning Up the Anacostia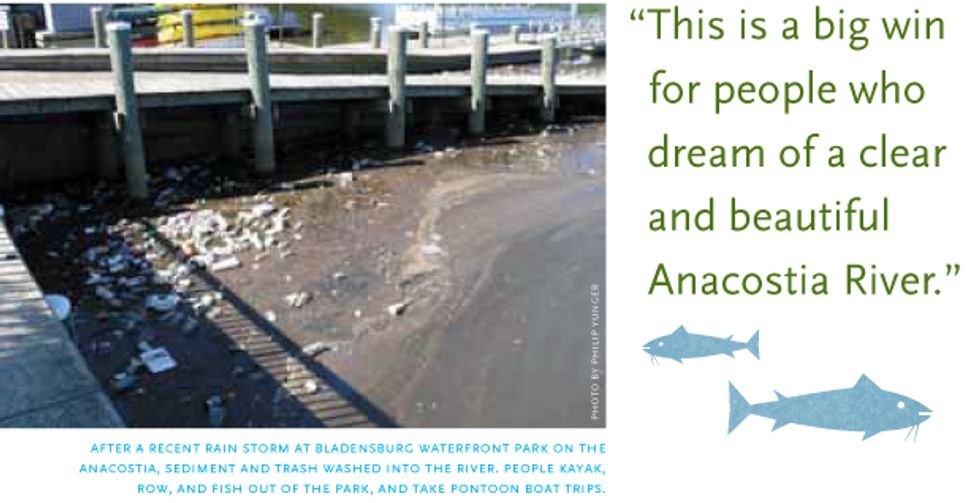 A federal court ruled in July that the U.S. Environmental Protection Agency, the District of Columbia, and Maryland had failed to set pollution caps adequate to assure cleanup of the trash and assorted debris polluting the Anacostia River. Decrying years of delay and "deliberate indifference" to cleaning up the river, Judge Royce Lamberth of the U.S. District Court for the District of Columbia set a one-year deadline for adopting caps adequate to make the river fit for recreational use and aesthetic enjoyment.
The ruling came in a suit brought by Earthjustice on behalf of the Anacostia Riverkeeper and Friends of the Earth. The suit argued that existing caps for sediment pollution in the Anacostia were too weak to clean up the trash that often mars the river's appearance.
"This is a big win for people who dream of a clear and beautiful Anacostia River," said Earthjustice attorney Jennifer Chavez. "The Court ruled that pollution caps need to make the river clean enough for enjoyment by people who walk along its shores and boat its waters. The EPA, the District, and Maryland will now have to address head on the visible filth that mars the Anacostia for much of the year."
The Court rejected EPA's argument that the pollution caps only needed to be strong enough to protect the growth of submerged vegetation, holding that the Clean Water Act also required protection of the river's recreational and aesthetic values. The Court said that it "will not countenance" the failure by the EPA, the District, and Maryland to provide all the required protections.
"We must improve the river for aquatic and human life," said former Anacostia Riverkeeper Dottie Yunger. "While the Anacostia has recovering wildlife, it remains extremely unsafe for fishing and swimming. This is unacceptable anywhere, but a travesty here in the backyard of the nation's capital."
The sediment pollution caps at issue were adopted in 2007, only after years of litigation by Earthjustice to force their issuance. As the Court noted, "the District and EPA spent 20 years ignoring [their] obligations and fighting attempts to compel them to act."
The sediment caps, called "total maximum daily loads" or "TMDLs," are required to set a daily limit on the amount of sediment allowed in the river. Once these caps are in place, the District and Maryland have to require pollution controls adequate to ensure the caps are met.
More than 5 billion gallons of stormwater and sewage pollution drain into the Anacostia River each year, carrying with it the trash, silt, and chemical residue from the river's 176-square mile watershed. Efforts to clean up this pollution have been slow and half-hearted, Anacostia Riverkeeper and Earthjustice contend.
Nuking the Nolichuck: Suit Charges Damages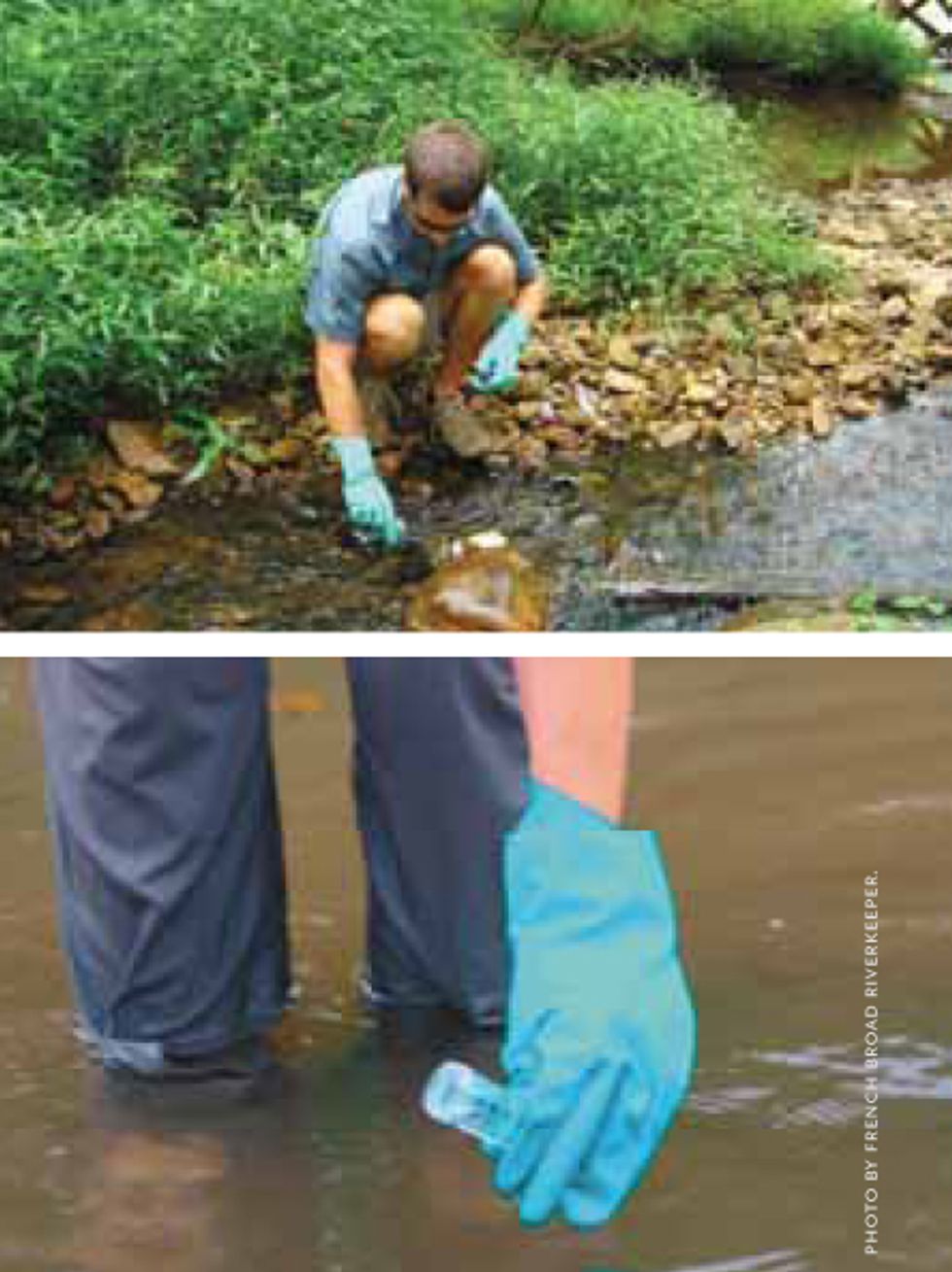 As the Nolichucky River snakes and tumbles out of the Blue Ridge Mountains in North Carolina, it is confronted by more than 100 miles of contamination, all the way to its confluence with the French Broad River in northwestern Tennessee. The French Broad Riverkeeper has claimed that the source of this pollution is Nuclear Fuel Services (NFS) in Erwin, Tennessee, which reprocesses nuclear weapons into nuclear fuel and consistently discharges nuclear waste from this conversion process into the Nolichucky, a drinking-water source for numerous communities along its banks and a major tributary of the French Broad River.
The rural communities along the Nolichucky have long complained about NFS's disregard for safety and environmental standards, and fretted about the health problems thought to be associated with the radioactive waste. Many believe that the river's polluted waters have been a cause of cancer in the area. But an environmental assessment by the Nuclear Regulatory Commission concluded that there was no significant impact from the plant, and this finding was used to justify NFS's unprecedented attempt to secure an additional 40- year license for the plant.
In 2010, however, samples obtained by the French Broad Riverkeeper, and analyzed pro bono by University of North Arizona Biochemistry Professor Michael Ketterer, documented widespread contamination of surface water, ground water, and air deposition throughout the watershed from highly enriched uranium and plutonium. These findings led some of the leading litigation firms in the country, based in Tennessee, South Carolina and New York, to initiate a class- action lawsuit in June against NFS and six other companies, charging gross negligence and seeking compensation for medical and death expenses, as well as other damages, to residents along the Nolichucky.
After years in which the communities' concerns have mounted and been ignored, impacted residents will finally have their day in court.
--------
Reprinted with permission from Waterkeeper Magazine. To read the winter issue of the Waterkeeper Magazine, click here.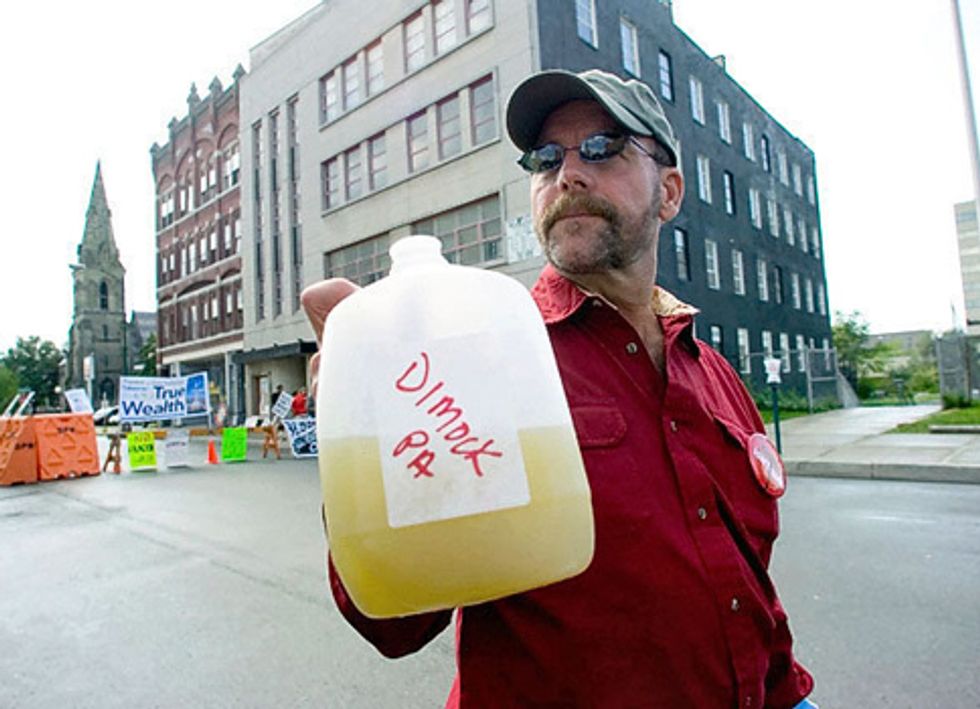 Eleven families in the tiny rural town of Dimock, Pa., 30 miles south of Binghamton, N.Y., have received the most basic of holiday gifts—clean drinking water.
Four pallet-loads of bottled water will provide some relief from the bleach-treated pond water the families have been using for drinking, cooking and bathing since natural gas leached into their wells and poisoned them—a result of hydrofracking.
The bottled water is from Keeper Springs Natural Spring Water, in partnership with Riverkeeper, the watchdog organization that protects the Hudson River and its tributaries.
"Dimock has become the template for the cataclysmic costs of hydrofracking to America's communities, our water supplies and our environment," said Robert F. Kennedy, Jr., founder of Riverkeeper and of Keeper Springs, which donates 100 percent of its profits to protecting America's waterways.
"Imagine turning on your faucet to find water so contaminated that you can light it on fire. This is the condition that the people of Dimock face every day," Kennedy said. "Their plight underscores the costs of hydraulic fracturing operations in communities across our country."
Paul Gallay, president and Hudson Riverkeeper, who appealed for help to Keeper Springs, said, "The balance between public good and private gain here is so out of whack as to be ludicrous. How can you deprive an entire community of what should be a basic right? We are grateful to the Keeper Springs people for their generosity, in making life a little better in Dimock, at least for the time being."
The water supply in Dimock was destroyed in 2008 when Cabot Oil & Gas began hydrofracking in search of natural gas. The water is now a toxic brew of methane gas, heavy metals, radioactive material and chemicals such as ethylene glycol, known as antifreeze.
Cabot, which the Pennsylvania Department of Environmental Protection had found at fault for the contamination, had been delivering clean water to the families but abruptly stopped on Nov. 30, with the department's approval.
For more information, click here.
—————

Riverkeeper is a member-supported, watchdog organization dedicated to defending the Hudson River and its tributaries and protecting the drinking water supply of nine million New York City and Hudson Valley residents. For more information, please visit www.riverkeeper.org.
Founded in 1999, Keeper Springs Natural Spring Water was launched by environmental lawyer and advocate, Robert F. Kennedy Jr., and two friends, John Hoving and Chris Bartle, with one mission: to help support, protect and restore our nation's waterways by donating 100 percent of profits to this cause. The brand Keeper Springs is named to honor the keepers of the Waterkeeper® Alliance, environmental heroes who fight to protect waterways all over the world from polluters and degradation. To date, Keeper Springs is proud to have raised more than $1 million to support America's waterways.
Keeper Springs uses only 100 percent natural and sustainable spring water, sourced and bottled locally, and keeps our carbon footprint to a minimum by using LEED-certified bottling plants and shipping our water no more than 500 miles from our springs. In addition, Keeper Springs uses bottles made from 50 percent recycled PET…and is working towards a 100 percent recycled PET bottle. Keeper Springs also supports the most comprehensive recycling legislation and has spent over a decade helping to fight for better regulation, tough penalties and solutions. Keeper Springs is available at beverage retailers in many of the Eastern states, and is expanding distribution on the West Coast. For more information, visit www.KeeperSprings.com.
EcoWatch Daily Newsletter
Stefanie Penn Spear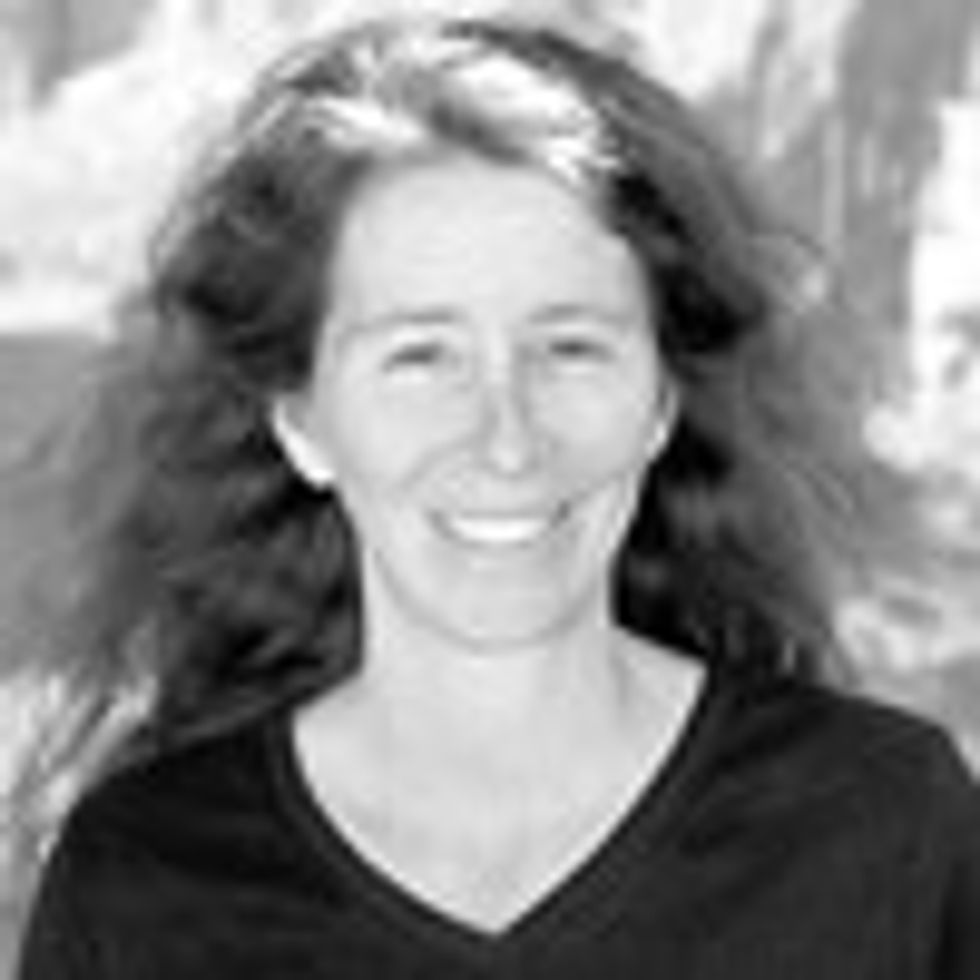 This Thanksgiving, the grassroots environmental movement had many reasons to be thankful. November brought many victories including the delays on the Keystone XL pipeline and fracking the Delaware River Basin. But perhaps what's most exciting to celebrate is the growing collaboration and current momentum of the environmental movement.
I've been working at the grassroots level for more than two decades, and have never seen this degree of unity among people and organizations protecting the Earth. From the leadership of Bill McKibben whose gift to mobilize people is unmatched, to Josh Fox's unwavering dedication to stop fracking, to Annie Leonard's ability to simplify complex issues through The Story of Stuff Project, to the leadership of executive directors like Greenpeace's Phil Radford and Sierra Club's Michael Brune, to the tireless work of Robert F. Kennedy, Jr., it's clear that the modern-day environmental movement is at an all-time high with the ability to create lasting change.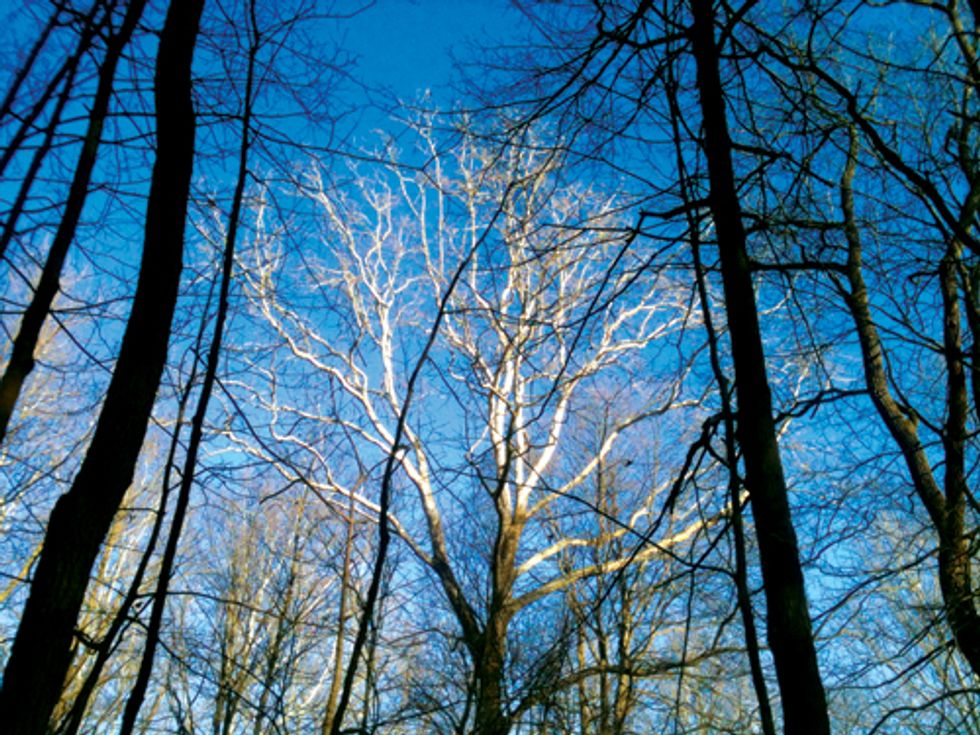 Of course there's plenty of work to be done, including strengthening historic environmental laws like the Clean Water Act and Clean Air Act, passing new legislation like a federal energy bill, getting money out of politics through campaign finance reform, and educating people on ways they can protect human health and the environment.
Hopefully our political leaders will take heed of Australia's recent passage of its landmark clean energy bill that will cap emissions and spur investment in renewable energy, and the International Energy Agency's warning that we need to stop relying on insecure and environmentally unsustainable uses of energy, and adopt bold policies to prevent a world-wide energy crisis.
At EcoWatch, we are at the forefront of these issues by promoting the work of the grassroots environmental movement through this publication and our news service website EcoWatch.org. Visit this site to stay informed on the most important environmental news of the day and help us spread the word to gain even more momentum for this movement.
We all know that collaboration will be the key to our success in providing clean water, fresh air, healthy food and sustainable energy to future generations—noble causes everyone should support.