This website uses cookies to ensure you get the best experience while browsing it. By clicking 'Got It' you're accepting these terms.


The best of EcoWatch, right in your inbox. Sign up for our email newsletter!
Founding Members of World War Zero John Kerry Arnold Schwarzenegger discussed the climate initiative on Meet the Press on Dec. 1.
NBC News / YouTube screenshot
Former Secretary of State John Kerry has put together a group of more than 60 celebrities, politicians and military leaders to launch his World War Zero, an initiative with a mission of "making the world respond to the climate crisis the same way we mobilized to win World War II," as CNN reported.
Former U.S. Secretary of State John Kerry attends Global Table on Sept. 3 in Melbourne, Australia. Daniel Pockett / Getty Images
Former U.S. Secretary of State, John Kerry, argued at a conference in Melbourne that economic and environmental benefits stem from investments in renewable energy, but climate crisis deniers in power risk running humanity off a cliff, as the Guardian reported.
EcoWatch Daily Newsletter
www.youtube.com
By Luis Martinez and Kit Kennedy
In a forceful show of climate leadership, Governors Andrew Cuomo (NY), Jerry Brown (CA), and Jay Inslee (WA) and former Secretary of State John Kerry came together in New York City Wednesday as part of Climate Week to celebrate the progress and growth of the U.S. Climate Alliance, the bipartisan coalition that has grown to 14 states dedicated to meeting the Paris agreement climate goal. The coalition was founded by Cuomo, Brown and Inslee after President Trump announced the U.S. intent to withdraw from Paris.
President Trump may prefer to pretend that climate change isn't real—Gov. Cuomo quipped that the Trump administration is in "the State of Denial"—but these leaders detailed the extraordinary strides they're making, in the absence of White House leadership, to slash greenhouse gas emissions and grow their economies at the same time. For New Yorkers, it's exciting to see Cuomo's leadership on clean energy and climate continue to accelerate, from setting strong renewable energy goals, to a successful push with other Regional Greenhouse Gas Initiative states to further slash carbon emissions, to banning fracking.
Leonardo DiCaprio/Getty
Environmental activist and Oscar-winning actor Leonardo DiCaprio announced that his foundation has awarded $20 million to more than 100 organizations supporting environmental causes.
This is the Leonardo DiCaprio Foundation's (LDF) largest-ever portfolio of environmental grants to date. The organization has now offered more than $80 million in total direct financial impact since its founding in 1998.
U.S. Sec. of State John Kerry, while speaking in New Zealand Nov. 13, vowed to do "everything possible" to prevent president-elect Donald Trump from pulling the U.S. out of the Paris climate agreement.
"I believe the evidence is clear, and the question now that we, this administration, are going to continue to address is how we will implement the Paris Agreement," Kerry said. "And until January 20th when this administration is over, we intend to do everything possible to meet our responsibility to future generations to be able to address this threat to life itself on the planet.
"We will wait to see how the next administration addresses this, but I believe we're on the right track, and this is a track that the American people are committed to because the majority of the American people believe climate change is, in fact, happening and want to see us address it."
On Friday, before heading to New Zealand and the United Nation's COP22 in Morocco, Kerry visited Antarctica to get a firsthand glimpse of the impact climate change is having on the southernmost continent of our planet. He became the highest-ranking U.S. official ever to visit the South Pole.
A U.S. Air Force C-130 cargo plane—carrying U.S. Sec. of State John Kerry—idles at the Williams Skiway in Antarctica. Photo credit: State Department
Sec. Kerry walks away from a U.S. Air Force C-17 cargo plane at the Pegasus Ice Field after arriving in Antarctica. Photo credit: State Department
U.S. Sec. of State John Kerry and his traveling party look at an Adélie penguin after it approached them at a U.S. research station. Photo credit: State Department
An Adélie penguin waddles toward U.S. Secretary of State John Kerry and his traveling party. Photo credit: State Department
A rookery of Adélie penguins in Cape Royds, Antarctica. Photo credit: State Department
A glacier flowing through a section of the McMurdo Dry Valleys. Photo credit: State Department
Sec. Kerry speaks with National Science Foundation Division of Antarctic Sciences Director Scott Borg inside the hut in Cape Royds, Antarctica, where explorer Ernest Shackleton and 14 other men lived in 1908. Photo credit: State Department
Provisions brought by explorer Ernest Shackleton in 1908. Photo credit: State Department
Sec. Kerry signs a guestbook where explorer Ernest Shackleton lived. Photo credit: State Department
The crew walk on volcanic rock near the hut in Cape Royds. Photo credit: State Department

This week, environmentalists called on the State Department to reopen the Keystone XL tar sands pipeline environmental review process. New information from the Department of Energy, the International Energy Agency, industry analysts and refining executives offers new evidence that Keystone XL will, in fact, directly contribute to increased tar sands development, U.S. greenhouse gas emissions and pollution at U.S. refineries, calling into question the original State Department findings.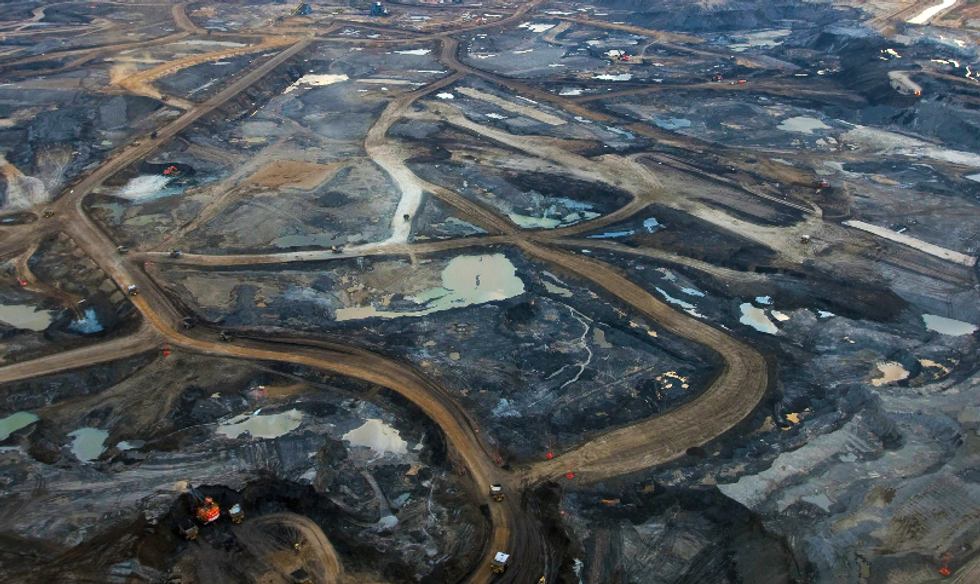 "Since the close of the comment period, evidence of inaccuracies and bias in the State Department's review of Keystone XL has been steadily mounting," says Doug Hayes, Sierra Club attorney. "This new information demonstrates that the review relies on an overly-simplistic, outdated view of a rapidly-changing oil market."
The new data contradicts three primary conclusions by the State Department:
Increased rail shipments of crude oil have the potential to completely replace the capacity of Keystone XL if the pipeline were rejected.
Increasing domestic production of oil will not affect the demand for heavy Canadian crude oil in Gulf Coast refineries.
Canadian crude will not be exported from the Gulf Coast if the pipeline is built.
"The State Department is alone in its conclusion that the Keystone XL pipeline is not fundamental to the prospects of the dirty tar sands industry," says Lorne Stockman, research director at Oil Change International and coauthor of the letter. "State needs to take a careful look at the new evidence that we've compiled in the past several weeks and they will reach the same conclusion that we do: that the Keystone XL pipeline is crucial to the expansion of the tar sands, and that expansion is not in the public interest."
President Obama said his administration will weigh the pipeline's impact on the climate and it will be approved only if "this project does not significantly exacerbate the problem of carbon pollution." Evidence that Keystone XL is the lynchpin for tar sands development detailed in the letter includes:
A Goldman Sachs report that says that rail shipments of tar sands could not replace the proposed pipeline logistically and economically.
Royal Bank of Canada's estimate that denial of Keystone XL would jeopardize $9.4 billion in tar sand development.
U.S. EPA estimates that Keystone XL will add 18.7 million metric tons of carbon pollution per year. And a new U.S. government report increases the estimated social cost of this pollution—related to human health, sea level rise and other natural disasters—by as much as double.
"This recent information paints a clear picture," said Anthony Swift, Natural Resources Defense Council attorney. "The Keystone XL tar sands export pipeline would significantly increase climate emissions while providing few benefits to the United States—it really is an all risk and no reward proposition for the American people."
According to the groups, the State Department is obliged by federal law to analyze and respond to this new data.
Groups who have signed on to the letter include Bold Nebraska, Center for Biological Diversity, National Wildlife Federation, Natural Resources Defense Council, Oil Change International and the Sierra Club.
Visit EcoWatch's KEYSTONE XL page for more related news on this topic.
——-
Recipients of the Nobel Peace Prize are calling for the rejection of the Keystone XL tar sands pipeline. A letter from 10 Nobel Peace Prize winners addressed to both President Obama and Secretary of State Kerry announced by the Nobel Women's Initiative was inspired by the Laureates' concern for the rapidly expanding Canadian tar sands.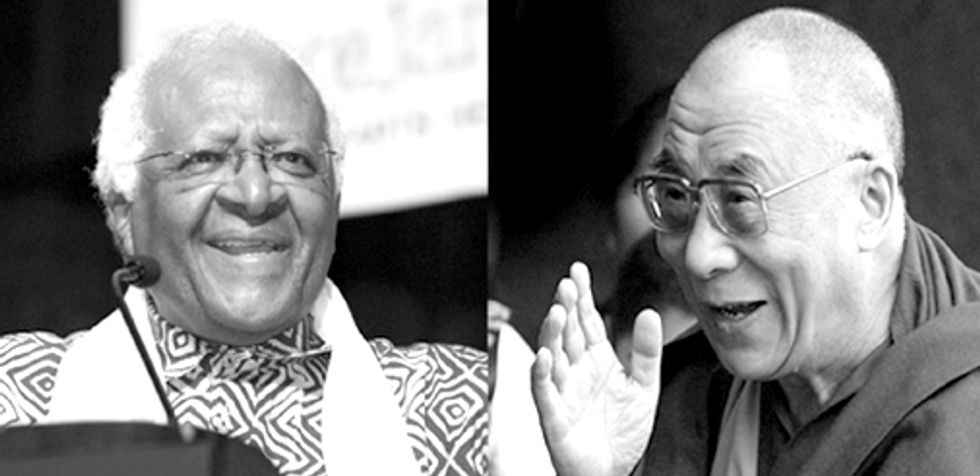 As wildfires burn out of control in Colorado adding to record-breaking weather across the nation, the Laureates said "as leaders who have spoken out strongly on these issues, we urge you, once again, to be on the right side of history and send a clear message that you are serious about moving beyond dirty oil."
The letter sent today followed an earlier letter sent in 2011 also calling for a rejection of Keystone XL. When the great moral leaders of our time, including Archbishop Tutu, call for a rejection of tar sands in the face of catastrophic climate change, it is time for the U.S. to reject the Keystone XL tar sands pipeline, a linchpin enabling the tripling of expansion of this dirty oil. 
Like millions of others, we were buoyed by words in the President's second inaugural address: "We will respond to the threat of climate change, knowing that failure to do so would betray our children and future generations." Mr. President and Secretary Kerry, this is an opportunity to begin to fulfill that promise. While there is no one policy or action that will avoid dangerous climate change, saying "no" to the Keystone XL pipeline is a critical step in the right direction. Now is the time for unwavering leadership.—Nobel Laureates Letter, 2013
The climate impacts of a world that accommodates tar sands expansion are unimaginable. If industry and the Canadian and Albertan governments had their way we would be on track for six degrees centigrade of global warming—triple the two degree limit that the President has promised to avoid.
The International Energy Agency, among many other respected bodies, has found that in order to prevent catastrophic global warming of over two degrees centigrade we must leave two thirds of fossil fuels in the ground.—Nobel Laureates Letter, 2013
In addition to the climate pollution, the tar sands are doing irreversible damage to water, air, land, animals and communities in Northern Alberta and along their pipeline routes where the question of a spill is not if but when.
Recent tar sands oil spills in Kalamazo, MI, and Mayflower, AR, have served as a harsh reminder that shipping the world's dirtiest oil will never likely be safe enough for human health and the environment. —Nobel Laureates Letter, 2013
President Obama and Senator Kerry have both been clear about the urgency and importance of dealing with climate change, and recognizing that as the world's largest polluter, the U.S. is a critical player in ensuring a safe future for generations to come. The Keystone XL tar sands pipeline debate has illustrated the two pathways we face as a country. One locks us into decades of dirty fossil fuels, taking us down a path of negatively affecting millions of lives and livelihoods. And on other pathway we build real energy security based on clean and renewable energy that will protect our economy, our people and future generations.
The Laureates acknowledged the President was under pressure to approve Keystone XL, especially by big oil interests.
We also recognize the pressure from forces in your own country. The Keystone XL pipeline will not benefit or improve the lives of Americans, but nevertheless we understand that the politics of action on climate are not easy. We believe you are the kind of leaders who can stand up to those interests when necessary, to do what is right for the world and for future generations. —Nobel Laureates Letter, 2013
The decision on the Keystone XL tar sands pipeline has emerged as an issue of international interest. It is about standing up to big oil and rejecting the expansion of some of the dirtiest oil on earth. President Obama and Secretary Kerry: It is time to say no to the Keystone XL tar sands pipeline once and for all.
Visit EcoWatch's KEYSTONE XL page for more related news on this topic.
——-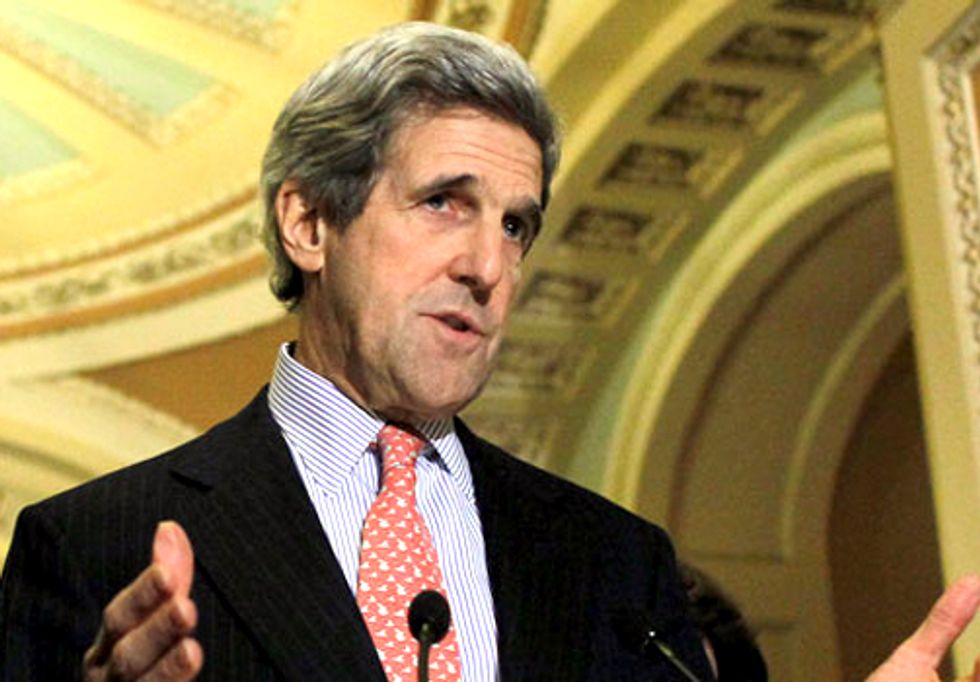 Environmental leaders hosted a press call today to call for a State Department Investigator General investigation of the State Department's flawed Keystone XL review process and to call on Secretary Kerry to halt the review process until that investigation is complete.
The Sierra Club also announced that it had filed a lawsuit in federal court yesterday under the Freedom of Information Act asserting that the State Department is withholding key documents related to the latest Keystone XL Environmental Impact Statement (EIS) and potential conflicts of interest with Environmental Resources Management.
When Secretary Kerry was confirmed as Secretary of State, he inherited a flawed Keystone XL review process. To move forward with the flawed process would contradict Secretary Kerry's long history as a proponent of good government and transparency.
"For decades John Kerry has been a strong defender of good governance," said 350.org Executive Director May Boeve. "We know that as he learns more about how the Keystone environmental analysis was written, he will step in and put a stop to this corrupted process."
Nearly 73,000 people signed petitions asking Secretary Kerry to postpone the final EIS until the Investigator General completes a thorough review of conflict of interest in the State Department's environmental review process of the proposed pipeline. Sierra Club, Friends of the Earth, Oil Change International and Bold Nebraska all contributed signatures to the petition total.
"For the State Department to let Big Oil consultants tell us Keystone XL is safe is like the Surgeon General letting Big Tobacco tell us cigarettes are safe," said Robin Mann, past president of the Sierra Club. "Secretary Kerry can continue to live up to his legacy as a climate champion by demanding a fair report on Keystone XL and urging the President to reject this dirty and dangerous project."
"The State Department should be an honest broker on Keystone XL, not a cheerleader for TransCanada," said Friends of the Earth President Erich Pica. "Secretary Kerry needs to halt the review process and find out how a paid member of the American Petroleum Institute was allowed to write such a critical report and why State Department employees have tried to cover up this company's ties with the oil industry."
"The only way the State Department could produce even a remotely favorable review of this dirty and flawed pipeline is by getting Big Oil's friends to write it for them," said Steve Kretzmann, Oil Change International executive director and founder. "The tens of thousands of people who have joined this campaign are making it clear that we won't stand for this. Secretary Kerry has a key opportunity to reject bad process, to reject Big Oil influence and to reject this dirty pipeline."
ERM, the company contracted by Department of State and paid by TransCanada to draft the EIS, is a member of the American Petroleum Institute and has worked for the oil industry which should have precluded it from getting hired.
"The United States must help lead the world in combating global warming and reducing greenhouse gas emissions," said Sen. Bernie Sanders (I-VT). "It would be incomprehensible to give approval to a tar sands oil project when producing tar sands oil creates more carbon emissions than conventional oil, and when it poses the risk of extremely damaging oil spills."
Visit EcoWatch's KEYSTONE XL page for more related news on this topic.
——-