This website uses cookies to ensure you get the best experience while browsing it. By clicking 'Got It' you're accepting these terms.


The best of EcoWatch, right in your inbox. Sign up for our email newsletter!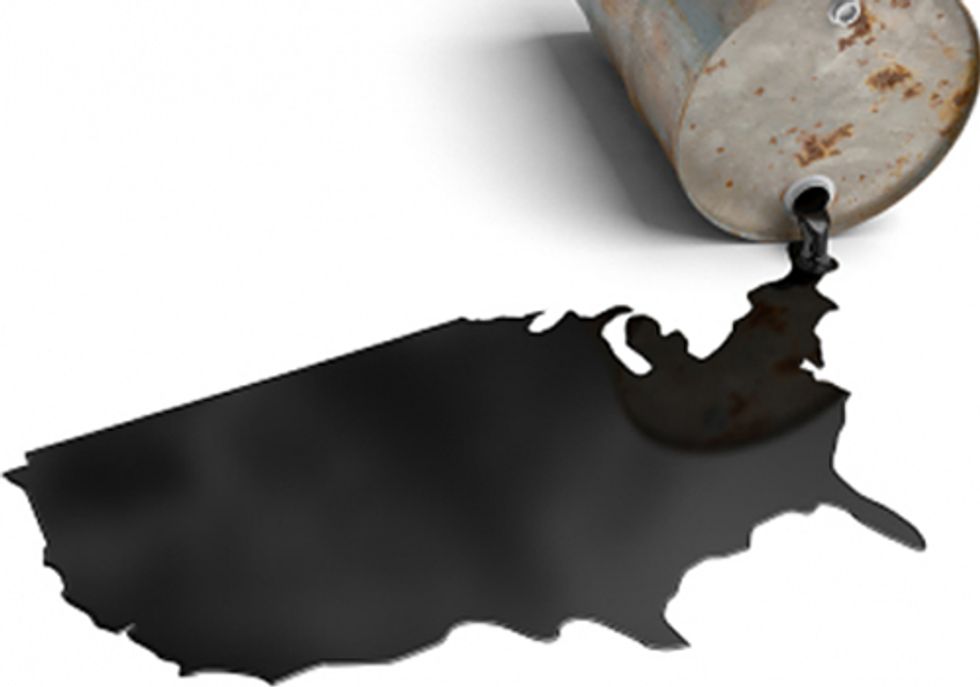 On Jan. 31, Rep. John Mica (R-FL), chairman of the House of Representatives Transportation and Infrastructure Committee, officially introduced a major transportation reauthorization bill. The overall plan for the bill includes proposals to open the Atlantic and Pacific coasts as well as the pristine Arctic National Wildlife Refuge to drilling, and to open landscapes in Colorado, Utah and Wyoming to oil shale extraction. At the same time, it cuts all funding for biking and walking safety and cripples environmental review for transportation projects. On top of this, Speaker of the House John Boehner (R-OH) has said that he would attach approval of the Keystone XL tar sands pipeline to this bill if it were not otherwise immediately approved. John Cross, federal transportation advocate with Environment America, issued the following response:
"Transportation is responsible for one-third of our global warming pollution and two-thirds of our dangerous dependence on oil, but it doesn't have to be this way—we can invest in clean, efficient travel choices such as public transit that will move our nation away from oil and toward a brighter, healthier future. These projects, such as expanded and improved bus and rail systems as well as biking and walking pathways, give commuters the chance to escape our heavily congested highways and choose smarter, cleaner transportation options that clean up our air and get our nation off oil.
 
"The bill introduced by Rep. Mica today in the House of Representatives drives us down to the dead end of too many oil spills, too much air pollution, and destroying the places we love. It reads like a wish list for Big Oil, including:
Deepening our oil dependence—slashing programs for biking and walking safety, while continuing to underfund transit
Destroying our most pristine wilderness areas—drilling in protected places like the Arctic National Wildlife Refuge, and opening development for even dirtier, more hazardous sources of oil like oil shale extraction in Colorado, Wyoming and Utah that will endanger nearby drinking water while destroying landscapes and pumping out air pollution at truly alarming rates
Pumping Toxic Tar Sands into the U.S.—Speaker Boehner has stated that he would attempt to force the approval of the Keystone XL tar sands pipeline through this bill, further deepening our addiction to ever more toxic, high risk forms of oil.
"America needs a smarter, cleaner transportation future, not this destructive proposal that drives us down a road to deeper, more damaging oil dependence. The House of Representatives should reject this bill."
For more information, click here.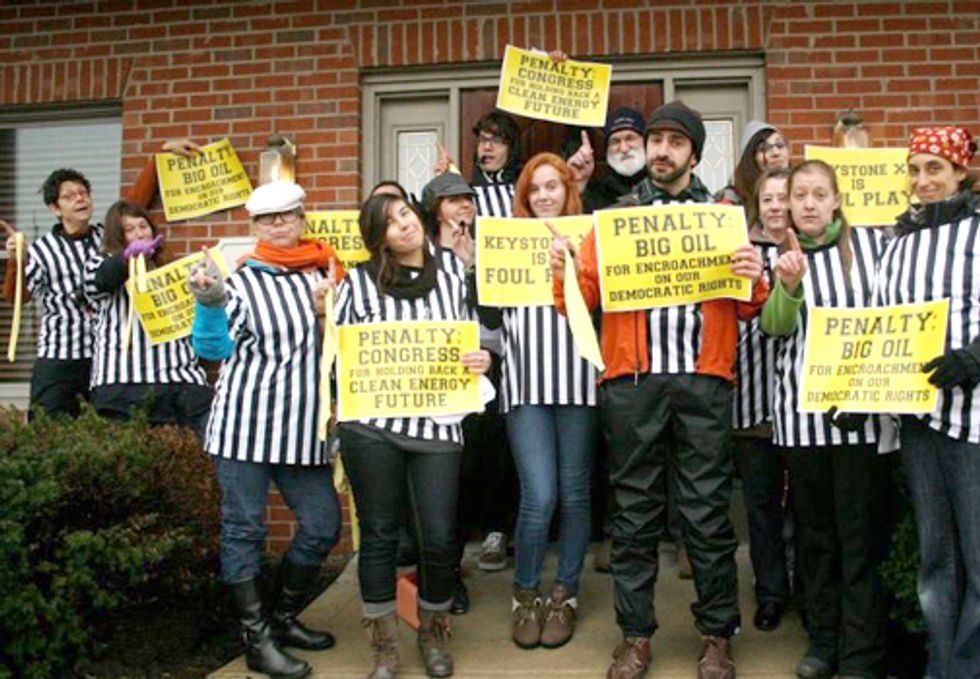 By Danny Berchenko
It's become clear that Speaker of the House, John Boehner, is more interested in filling his pockets with dirty energy's money than in representing his constituents and ensuring ecological and economic security for Americans (and the rest of the planet). So yesterday morning, a group of twenty citizen referees braved the cold and rain to pay his district office in West Chester, Ohio a visit and call foul on his dirty dealings. The office, which is supposed to be open Monday-Friday during normal business hours, was mysteriously closed with no explanation on the door or their answering machine as to why. I guess the Speaker doesn't like being called out for blatant corruption.
Rep. Boehner (R-OH) has taken over 1.1 million dollars from the fossil fuel industry and in turn fights tooth and nail for their interests and against the interests of the American people and the planet. The Speaker invested hundreds of thousands of dollars in Big Oil companies involved with dirty Tar Sands extraction. He then held the payroll tax extension hostage to expedition of the Keystone XL pipeline decision, and is threatening to hold it hostage again to the pipeline's approval. Holding solutions to the climate crisis and relief for the struggling middle class hostage in order to advance his own financial interests is an egregious abuse of the Speaker's power.
So climate and Occupy activists teamed up in West Chester yesterday to blow the whistle on the Speaker's corruption. It's a natural fit for our movements to work together. Occupy is out to end corporate domination of our public policy-making process and obstruction of our democratic rights—to create a level playing-field where we the people have a say in our economic, political and cultural destiny. The climate movement has long had to deal with obstruction of solutions to one of the greatest threats humanity (and all other living species on the planet) has ever faced, by the wealthiest and most powerful industry on Earth. Our struggles are one: end the collusion and corruption that has essentially replaced American democracy with American oligarchy. Establish true democracy in which the voices of the 99% calling for economic justice are heard over the checks flying into representatives pockets from Goldman Sachs and the voices of 99% of the world's scientists calling for an emergency response to the climate crisis are heard over the bribes from fossil fuel industry lobbyists.
Dressed up in referee uniforms and literally blowing whistles and throwing penalty flags, we headed to Speaker Boehner's district office in West Chester, but when we got there the door was locked. We looked inside and could see that no one was home. It was 11am on a Thursday and their morning paper was still on the ground in front of the door. The office is supposed to be open Monday through Friday, except on federal holidays—that's why our tax dollars are paying for this office. This is supposed to be a representative democracy in which we the people are afforded our right to lobby our representatives without having to travel all the way to Washington D.C.—that's the purpose of Rep. Boehner's district office. It concerned us that the office was closed for no apparent reason. It was an insult to the whole of Boehner's constituency.
But then again, the Speaker has already shown us time and time again, most recently through his scheming to push through the Keystone XL pipeline against the will of a vast, diverse movement opposed to the destructive project, that he's perfectly happy to ignore the interests of the American people and to shill for Big Oil and Big Money instead. So why would he want to keep his district office open if he has no respect for real democracy and isn't going to work for his constituents anyway?
We call foul on Boehner and Big Oil for obstruction and corruption of our democracy and we'll keep blowing the whistle on them and other members of congress who sell us out. We'll keep growing this movement and organizing our communities and we won't stop until we see an end to the corruption, an end to the billions in government handouts to the fossil fuel industry, an end to the selling out of our voices and our votes, an end to the destruction of our global climate system, an end to holding back our clean energy future, an end to the struggling of the many so that the few may prosper.
This is our democracy and our future, and we're taking it back!
Stay in touch with 350.org Ohio by joining our Facebook page.
EcoWatch Daily Newsletter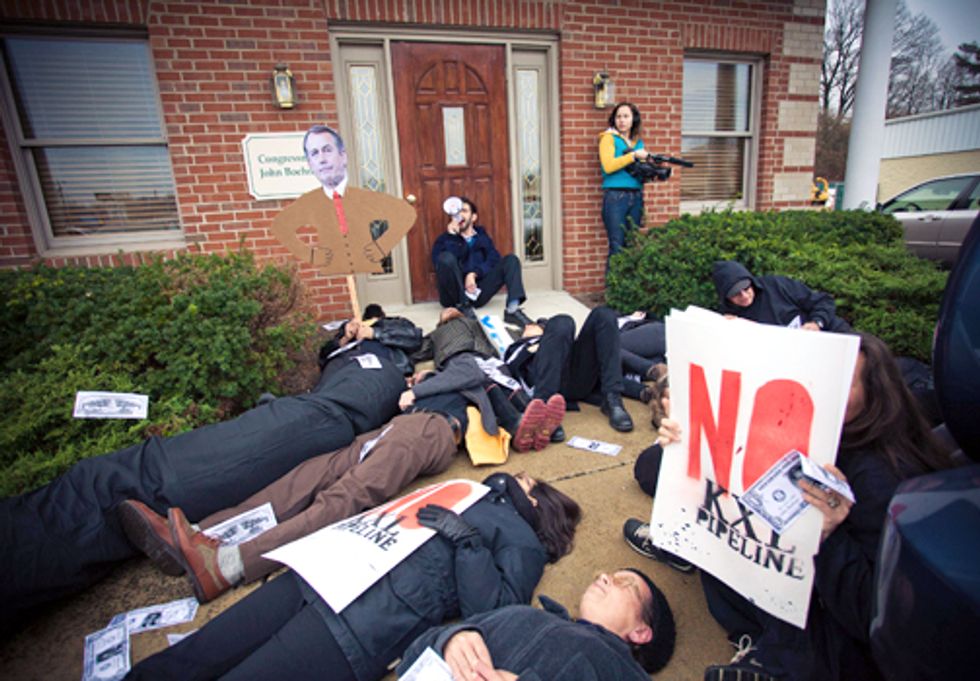 Fed up with House Speaker John Boehner's (R-OH) corporate campaign donor's influence on his policy decisions, activists staged a human oil spill at his office just outside Cincinnati on Dec. 14. Activists believe Boehner's decision to force through the proposed Keystone XL tar sands pipeline is linked to campaign cash from the fossil fuel industry. Speaker Boehner has accepted more than $1.1 million from corporate polluters since 1999.
"John Boehner is using his position to rake in corporate cash at our expense—why else would he try to push through the hugely unpopular and dangerous proposed Keystone XL pipeline?" Asked Sean P. Nolan, CEO and Co-Founder at Reaver Publishing.
Approximately 50 people created the "human oil spill" into Boehner's office as part of an escalating national campaign against the pipeline. Dressed in black, participants used their bodies to represent the potential environmental devastation from the pipeline. If built, it will likely leak toxic tar sands oil over precious farmland and critical aquifers in the heart of our nation. The proposed pipeline has been described as "game over" for the climate by NASA scientist James Hansen.
"Hundreds of Ohioans travelled to Washington, DC, to stop the dangerous Keystone XL tar sands pipeline. Now Boehner is trying to push it through despite mass opposition from his constituents—I'm fed up with politicians doing the bidding of their corporate benefactors," stated Sonnet Gabbard, a teacher and student at University of Cincinnati and an Occupy Cincinnati protester who joined the action.
Boehner announced on Dec. 6, that he was willing to go "to war" over an amendment that would force through the proposed pipeline despite widespread safety concerns and popular outrage.
"The House brings shame on itself when it's members take tens of millions in Big Oil money and then do the industry's bidding. Keystone XL creates no net jobs and pours carbon into the atmosphere—that's why millions across the country opposed it," said Bill McKibben, founder of 350.org, "It's only beneficiaries are the fossil fuel industry and the politicians they support."
This rally is the latest in a months long national grassroots uprising in response to the proposed Keystone XL tar sands Pipeline. The campaign kicked off in August with a two week protest that resulted in more than 1,200 arrests, and in November an event where 10,000 people circled the White House that resulted in President Barack Obama delaying his decision on the pipeline, a move analysts say killed the project.
For more information, visit the Tar Sands Action website by clicking here.