This website uses cookies to ensure you get the best experience while browsing it. By clicking 'Got It' you're accepting these terms.
EcoWatch is one of the nation's leading environmental news sites engaging millions of readers every month. We are at the forefront of uniting all shades of green to ensure the health and longevity of our planet. EcoWatch is leading the charge in using online news to drive fundamental change.
Job Openings
Freelance Social Media Strategist
EcoWatch, a leading environmental media company, seeks a freelance social media strategist with a track record of success to work remotely. Must be a creative thinker who is comfortable working in a CMS. This role includes creating engaging posts for Facebook, Twitter, Instagram and LinkedIn; building on the company's existing social media strategy; developing and maintaining cross-posting partners; and generating social media reports. Interested candidates should send a cover letter and resume with their hourly rate to jobs@ecowatch.com.
If you are interested in an internship, please email bautista@ecowatch.com.

publicsource.org
By John Rogers
A new tool from The Solar Foundation breaks down the latest solar jobs numbers by state, metropolitan area, county and congressional district, and looks at who makes up the solar industry. Here's a taste of what those numbers say, and why they matter.
EcoWatch Daily Newsletter
Closed coal mine in Boone County, West Virginia.
WVPB/ Janet Kunicki
It was supposed to be all about jobs. When the president announced his intent to abandon the Clean Power Plan this spring and then withdraw from the Paris agreement this summer, one of the biggest reasons cited was to protect the coal jobs sustaining communities in places like Appalachia.
There's just one problem. Whatever the White House says, coal jobs are in a terminal decline and whatever cynics claim, it's not some cabal of heartless environmentalists to blame. It's the power industry itself, driven by advances in technology and simple market forces.
Is this what Donald Trump meant when he campaigned on being the "greatest jobs president that God ever created"?
The president celebrated the 70 whole jobs created by the Acosta mine in Somerset County, Pennsylvania, the nation's newest coal mine.
By Ryan Schleeter
Still think the Keystone XL pipeline will create tens of thousands of permanent jobs? Think again.
Despite President Trump's promise last week at a Kentucky rally that "a lot of coal miners are going back to work" as a result of his executive order, most experts, analysts and even coal industry executives caution that the administration's moves to roll back the Clean Power Plan may do little to help bring back jobs.
By Andy Rowell
Earlier this month when Donald Trump cancelled legislation that required oil and gas companies to disclose taxes and other payments to foreign governments, the president said he was "bringing back jobs big-league."
Once again though, the truth is somewhat different. Big Oil's jobs may never be back in the numbers that Trump dreams of.

Since the oil price collapsed, some 440,000 oil industry jobs worldwide have been lost. Of those, the oil industry consultants, Graves, estimates that 40 percent have been in the U.S.; 28 percent in the UK and 10 percent in Canada. Some 100,000 oil jobs were lost in the capital of the oil industry itself, Texas.
According to Bloomberg, somewhere between one-third to one-half of those jobs may never come back. No matter how many alternative facts Trump tries to spin.
For example, some of the world's largest oil services companies—Schlumberger, Haliburton and Baker Hughes—spent more than $3 billion laying workers off in just two years. As OilPrice.com noted "now with prices and business on the mend, none of the services firms seem eager to repeat their mistakes by taking on too many people."
Furthermore, costs have plummeted as the industry has found ways to produce more oil for less. The downturn has forced the industry to look at ways of cutting costs and chief amongst those are labor costs as computerization, automatic and even artificial intelligence takes over manual work. Oilprice.com quotes UBS which estimates that "the U.S. oil industry will only need about half as many workers to suck the same amount of oil out of the ground post-2017 versus pre-2015."
In the Permian Basin, three years ago the industry needed $60 a barrel to break even, now it is $35, well below the current price of about $53. Pioneer Natural Resources, operating in West Texas has added 240 new wells, without one taking on one single new worker.
Even Oilprice.com, which labels itself as the number one website for oil and energy news, admits the "forgotten truth that lies at the heart of the natural resources curse—while oil, natural gas and other resources offer enormous opportunities for wealth and a lot of output for an economy, they actually create relatively few jobs."
A very few of the Big Oil barons may get rich, but the industry itself does not generate many jobs, contrary to anything Trump wants you to believe.
And now the New York Times has explored the theme of evaporating oil and gas jobs in the increasing age of automation:
"As in other industries, automation is creating a new demand for high-tech workers—sometimes hundreds of miles away in a control center—but their numbers don't offset the ranks of field hands no longer required to sling chains and lift iron."
The paper interviews one such worker Eustasio Velazquez who has worked in the industry for more than 10 years, but has recently been laid off again. "I don't see a future. Pretty soon every rig will have one worker and a robot," he said.
Michael Dynan, vice president for portfolio and strategic development at Schramm, a Pennsylvania manufacturer of drilling rigs, told the New York Times: "People have left the industry and they are not coming back. If it's a repetitive task, it can be automated and I don't need someone to do that. I can get a computer to do that."
Photo credit: Walmart / Flickr
U.S. solar employs more workers than any other energy industry, including coal, oil and natural gas combined, according to the U.S. Department of Energy's second annual U.S. Energy and Employment Report.
6.4 million Americans now work in the traditional energy and the energy efficiency sector, which added more than 300,000 net new jobs in 2016, or 14 percent of the nation's job growth.
EcoWatch is one of the nation's leading environmental news sites engaging millions of readers every month. We are at the forefront of uniting all shades of green to ensure the health and longevity of our planet. EcoWatch is leading the charge in using online news to drive fundamental change.
Job Openings
Freelance Reporter

• 3+ years experience as an online news reporter
• Superior editing and writing skills
• Advanced knowledge of content management systems
• Compose 1 to 2 original news posts a day
• Ability to pitch relevant and trending news from credible sources
• Availability in early morning hours, eastern standard time
• Write articles that engage readers and encourage them to share content
• Write engaging and clickable headlines and craft content to go viral
• Expertise with image editing software
• Utilize best practices for SEO
• Must have an acute attention to detail
• Work efficiently during deadline situations
• Exhibit enthusiasm, flexibility and a positive attitude
To apply, email cover letter, resume and three references to jobs@ecowatch.com with the subject line APPLY FREELANCE REPORTER.
If you are interested in an internship, please email bautista@ecowatch.com.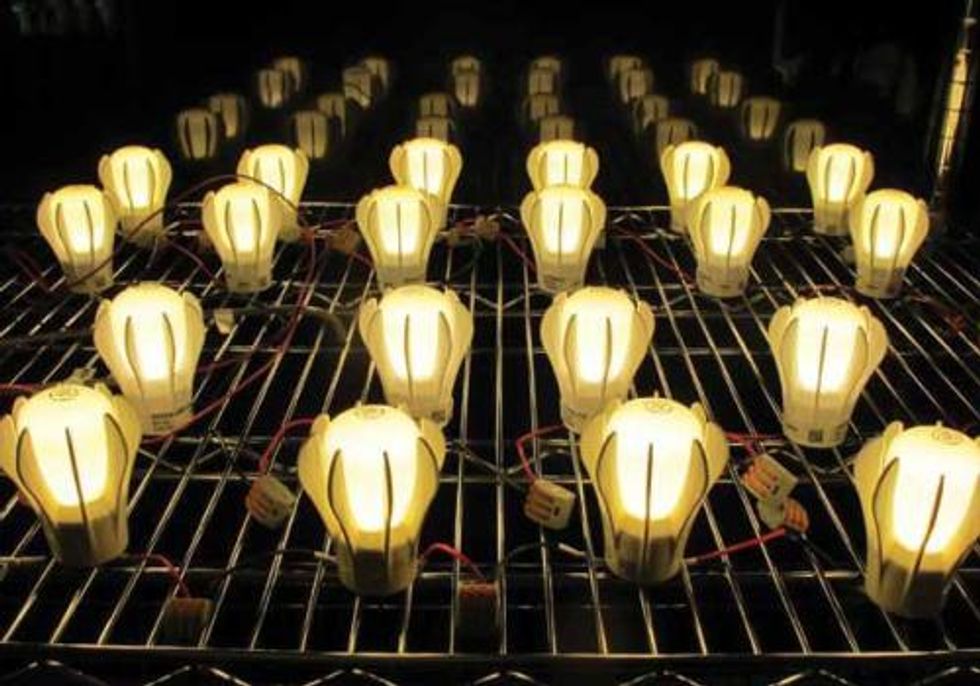 A century after the seeds for the development of the incandescent bulb were planted in Ohio and GE began operations in Nela Park, a new report shines a spotlight on the state's burgeoning advanced lighting industry that is leading global energy efficiency innovations. With more than 4 billion screw-based bulbs being transitioned to new technologies in the United States alone, Ohio's economy stands to gain significantly from the companies leading the change. The state already boasts 1500 manufacturing jobs from the industry with potential for many more to come. The new report Better Bulbs, Better Jobs, released today by the Natural Resources Defense Council, highlights the potential with case studies of large and small job producers across the state.
"If you weren't watching, it might be a surprise to learn that Ohio is a world leader in developing energy efficient lighting," said Dylan Sullivan, staff scientist at the Natural Resources Defense Council and a co-author of the report. "There is huge potential for this industry, but we need to retain Ohio's smart policies to secure future growth. Rolling back the policies that strengthen the market for these innovative products means rolling back jobs just starting to come online all over the state."
The report outlines federal and state policies that are helping to create a market for advanced lighting technologies and includes seven case studies of Ohio companies driving the industry. TCP Lighting in Aurora (near Cleveland) has been central to the development of CFL bulbs, and is now poised to open a manufacturing facility in Ohio. Cincinnati's LSI LED created the fixtures used to light New York's landmark George Washington Bridge. Smaller companies like J&M Electrical Supply and J's Lighting Services, both in Cambridge, are helping manufacturing businesses reduce costs and stay in Ohio by making the transition to more efficient lighting.
In Ohio, the state's existing energy efficiency standard has been hugely impactful. The technologies put in place in 2009 and 2010 as a result of the efficiency standards will save customers over $350 million over their lifetime. And the transition to advanced lighting offers huge benefits outside of Ohio too. The nationwide transition to more efficient lighting means:
• Electric bill savings of more than $12.5 billion per year
• Energy savings equivalent to 30 large power plants
• Reduced pollution, including a 60 percent reduction in mercury emissions from power plants and prevention of approximately 100 million tons of carbon dioxide pollution per year
For more information and to read the full report, click here.
--------
The Natural Resources Defense Council (NRDC) is an international nonprofit environmental organization with more than 1.3 million members and online activists. Since 1970, our lawyers, scientists and other environmental specialists have worked to protect the world's natural resources, public health and the environment. NRDC has offices in New York City, Washington, D.C., Los Angeles, San Francisco, Chicago, Livingston, Montana and Beijing. Visit us at www.nrdc.org.