This website uses cookies to ensure you get the best experience while browsing it. By clicking 'Got It' you're accepting these terms.


The best of EcoWatch, right in your inbox. Sign up for our email newsletter!
An army helicopter delivers FEMA supplies to Puerto Rico after Hurricane Maria last year. Mario Tama / Getty Images
Ahead of the People's Climate March, Senators Jeff Merkley, Bernie Sanders and Ed Markey stood beside movement leaders to introduce legislation that will completely phase out fossil fuel use by 2050. The "100 by '50 Act" outlines a bold plan to support workers and to prioritize low-income communities while replacing oil, coal and gas with clean energy sources like wind and solar.
EcoWatch Daily Newsletter
Scott Pruitt—Donald Trump's controversial pick to head the U.S. Environmental Protection Agency (EPA)—is under fire for his supposed ties to a nonprofit controlled by billionaire oil tycoons, Charles and David Koch.
Scott Pruitt, Donald Trump's nominee to head the EPA, has been known to parrot oil and gas industry talking points.Flickr
POLITICO has received a copy of a letter sent to Pruitt that was signed by six Democratic senators on the Environment and Public Works Committee. The letter raises questions about the Oklahoma attorney general's director status at a nonprofit called the Rule of Law Defense Fund that accepted $175,000 from Freedom Partners, the political arm of the Koch brothers' network.
Freedom Partners has been described as a "dark money umbrella group," likened to a secret bank that disburses contributions from wealthy conservatives.
The senators are requesting names of donors, meeting information, internal emails and other details related to Pruitt's leading role at the Defense Fund, according to POLITICO.
The letter was signed by Sens. Sheldon Whitehouse of Rhode Island, Jeff Merkley of Oregon, Cory Booker of New Jersey, Ed Markey of Massachusetts, Ben Cardin of Maryland and Bernie Sanders (I-Vt.), who caucuses with Democrats.
As POLITICO noted, the Defense Fund is allowed to keep donors secret since it is organized under a special section of the tax code. However, in 2014, it received $175,000 from Freedom Partners.

The letter calls that contribution into question and said that Pruitt's work with the Defense Fund is "troubling," since he may be too close to the very fossil fuel companies he is supposed to regulate as Trump's EPA chief.
The Defense Fund is an offshoot of the Republican Attorneys General Association, itself a group that has deep ties to the fossil fuel industry. A December 2014 New York Times exposé revealed an "unprecedented, secretive alliance" and coordination between Big Oil and the association.
Trump's appointment of Pruitt was met with unprecedented criticism by environmental and health organizations nationwide, being described as a "puppet" of the fossil fuel industry. In 2014, Pruitt was caught sending letters on state government letterheads to President Obama and federal agency heads asserting that the EPA was overestimating the air pollution from drilling for natural gas in Oklahoma. Turns out, the letter was written by lawyers for one of the state's largest oil and gas companies, Devon Energy.
According to POLITICO, the six senators are highlighting Pruitt's links to fossil fuel interests as part of a larger effort to turn moderate senators against his confirmation.

"The confirmation process, starting with your responses to committee questions before your hearing, is an opportunity for you to dispel the notion that the advocacy you have undertaken on environmental issues as Attorney General of Oklahoma has been directed by and for the benefit of the energy industry," the letter states.
As Oklahoma's top legal officer, Pruitt has waged numerous legal wars against the EPA and President Obama's environmental regulations, including the president's signature Clean Power Plan. Trump said Pruitt is "highly respected" and will counter the EPA's "anti-energy agenda that has destroyed millions of jobs."
By Will Fantle
From the U.S. Department of Agriculture (USDA) to foreign policy, Congress, state governments, elections and the courts, the feverish politics of genetically modified foods (GMOs) have infected decision making and dramatically tilted policies towards the desires of Monsanto and the biotech industry.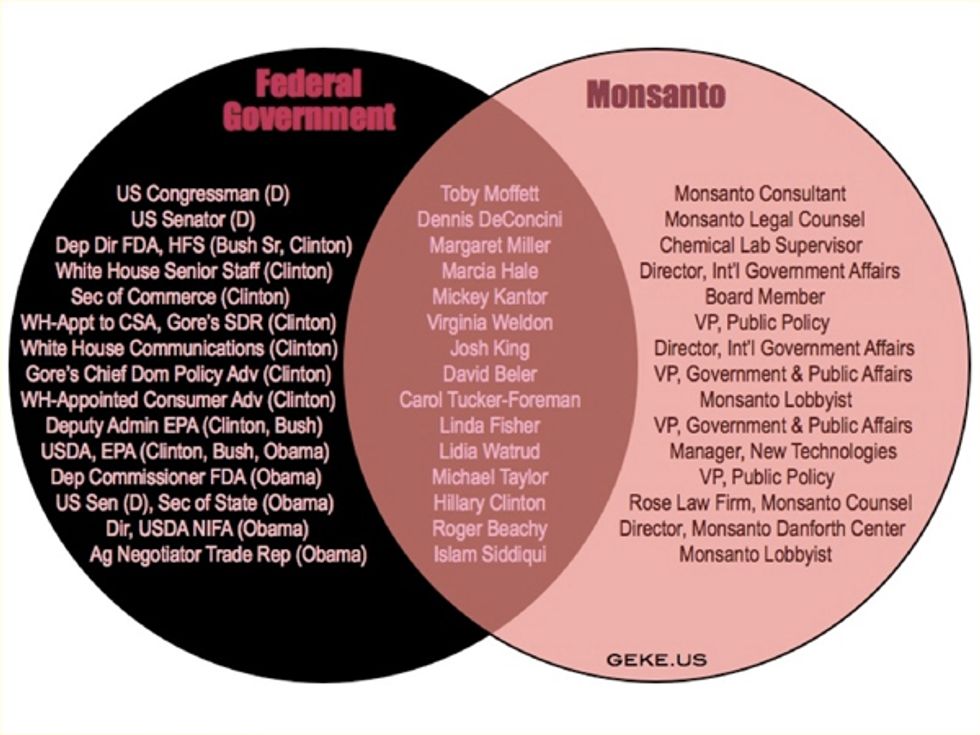 Candidate Barack Obama in 2008 promised change. However, when he came to Washington he appointed former Iowa Governor Tom Vilsack as USDA Secretary. The one-time award winning "Biotech Governor of the Year" has presided over a rapid roll out of new GMO crops and foods. Change he implemented included a series of agency adjustments designed to speed up the approval process for GMOs. Under Vilsack's watch, the agency has never denied the approval of one GMO crop.
Yes, the USDA also brought more attention to the National Organic Program—professional, knowledgeable management, more staffing, more resources. But it's small potatoes compared to the attention afforded biotech. And Vilsack's team has pushed hard for the organic community to swallow a policy of co-existence, the strange view that pollen and DNA recognize fence rows, that rain, winds, birds, insects and other natural forces will refrain from carrying GMO contaminants to non-GMO plants and crops.
Millions of Americans are suspicious of GMO foods for assorted health and environmental reasons. Polling conducted last year by the Mellman Group indicated that nearly 90 percent of Americans would like GMO foods labeled so they can make a choice about what kinds of foods they purchase in the marketplace. Sixty other countries require such labeling.
But Vilsack says no, telling the Farm Bureau at their annual meeting in January, "I know of no health reason connected to GMOs that would require labeling under our current labeling philosophy."
Monsanto and the biotech industry allies spent mightily to narrowly defeat last November's state referendum calling for the labeling of GMO foods sold in California. While labeling advocates decried the misleading and deceptive advertising conducted against the referendum, they were unable to weather the deluge of dollars. Still, the seeds of discontent are spreading. Washington state's voters will have a labeling referendum on the ballot later in 2013. Vermont has passed GMO labeling legislation; Connecticut's Senate overwhelmingly did so as well, as has Maine. Nearly 20 other state legislatures have similar proposals in the works.
"To try to oppose this state by state, that is unsustainable," says Cathy Enright, the executive vice president for food and agriculture for the Biotechnology Industry Organization (BIO), of which Monsanto, DuPont, and Dow Chemical are members.
Seeking to douse the prairie fire, Monsanto—which spends about $6 million annually on lobbying—and its allies are working the fields in Washington, D.C. Their target? The nation's reauthorization of the Farm Bill. Currently winding its way through Congress (as of this writing), an amendment attached to the House Agriculture committee's version, and authored by Rep. Steve King (R-IA), would strip the rights of states to enact labeling laws. The Farm Bill is an essential piece of national legislation that is reauthorized every five years. Once an item gets in the bill, it becomes very difficult to remove. The House and Senate will reconcile differences in their bills, but it is far from certain that either will consider the amputation of state's GMO labeling rights a deal breaker. [Since this was written, the Farm Bill failed to pass the U.S. House.]
Monsanto and their allies also prevailed in a vote in the Senate on an amendment by Sen. Bernie Sanders (I-VT), who wanted to make it clear that states "have the authority" to require the labeling of foods produced through genetic engineering. Sanders' amendment failed 71-27.
While some of the no-votes in the Senate may have come from officials who believe that a national-level regulation is more appropriate, the effort to have the Food and Drug Administration (FDA) do just that is mired axle deep in the muck. The FDA has already said that genetic modification does not materially change the food. But when the deadline passed last year for the agency to respond to a petition requiring GMO food labeling—a petition that contained the signatures of well over a million citizens—their response was that they needed more time to study the matter. Fourteen more months have since passed.
And just so no stone goes unturned, Monsanto is actively pushing state-level legislation in Oregon and elsewhere to override any labeling laws passed by county and municipal governments.
The suppression of dissent in the fertile ground of Washington, D.C., yielded another reward for Monsanto when they snuck a policy rider into an essential appropriations bill earlier this year. Dubbed the Monsanto Protection Act, it swatted down the ability of Monsanto's pesky critics to use judicial review as a brake on questionable regulatory decisions. It allows full speed ahead on the unrestricted sale and planting of genetically modified seeds even when a court finds that they were not properly examined for their impact on farmers, the environment, and human health.
Sen. Roy Blunt (R-MO), from Monsanto's home state of Missouri, authored the controversial rider and then blocked efforts by Sen. Jon Tester (D-MT) and Sen. Jeff Merkley (D-OR) to remove it from the critical governmental operations funding bill.
Tester later told a reporter, "Not only does this ignore the constitutional idea of separation of powers, but it also lets genetically modified crops take hold across this country, even when a judge finds it violates the law." He added that giant multinational agribusiness corporations are treating farmers as "serfs."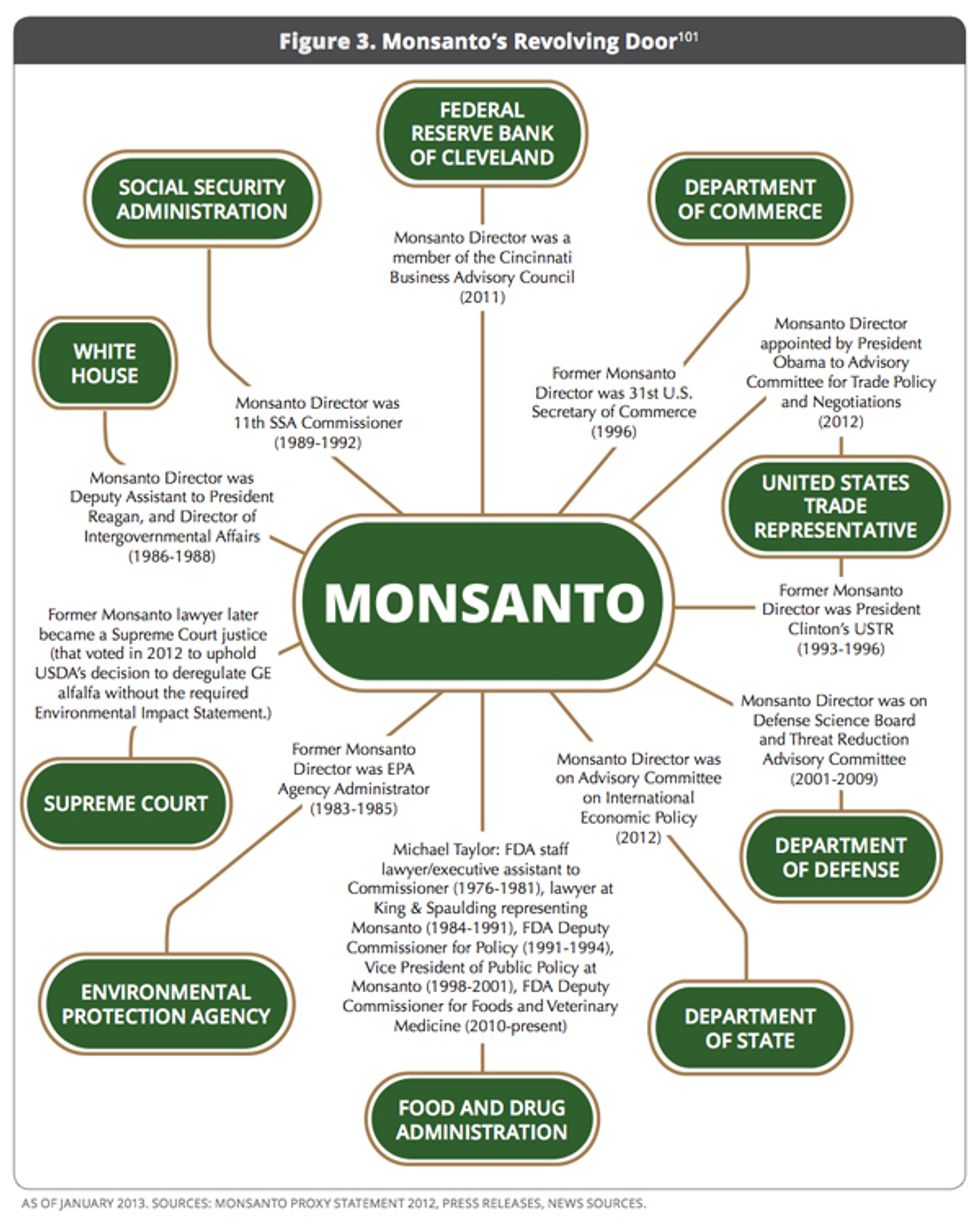 Perhaps it should come as no surprise that Monsanto's power at the federal level is so pervasive. As a recent Food & Water Watch report detailed, board members from the $12 billion company "have worked for the EPA, advised the U.S. Department of Agriculture [USDA] and served on President Obama's Advisory Committee for Trade Policy and Negotiations." Company staff and former employees enjoy a revolving door relationship with jobs and advisory positions in the federal government, at public universities and with trade groups. Even one sitting Supreme Court justice, Clarence Thomas, once worked for Monsanto.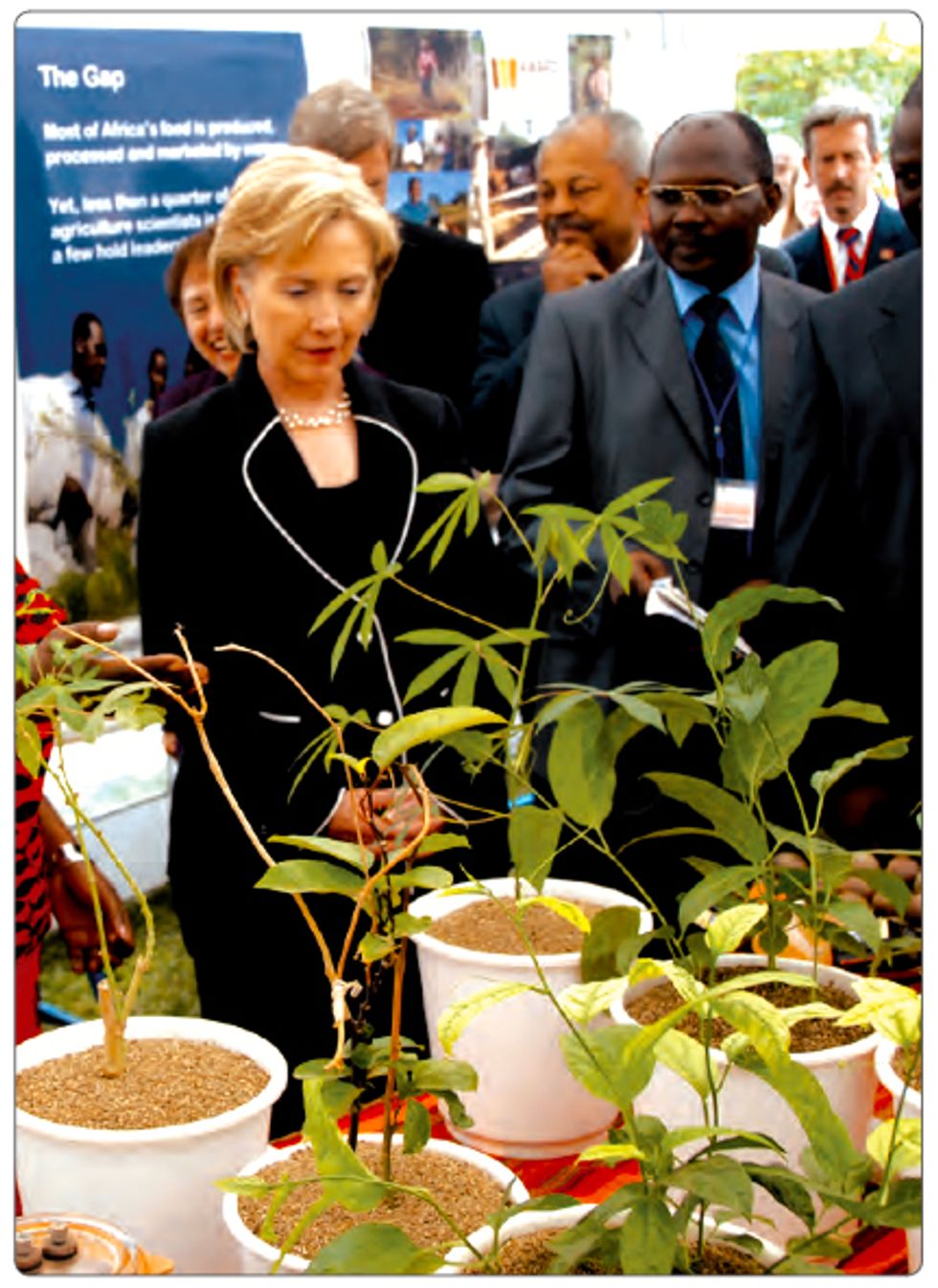 Former Secretary of State Hillary Clinton listens to a presentation on the "genetic improvement" of local crops hosted by the Kenya Agriculture Research Institute. Photo credit: USAID.
Their reach extends far beyond America's shores. Again, according to Food & Water Watch, the State Department works with trade officials to promote GMO crop exports and to force unwilling nations to accept GMO crops and foods. The State Department has engaged in pro-GMO lobbying campaigns in foreign countries, promoted foreign cultivation of GMOs and targeted foreign opinion-makers and reporters with junkets and public events.
Yet signs of cracks in the GMO empire are visible. On May 25, two million people joined March Against Monsanto rallies that were held in more than 400 cities in 52 countries. The growing consumer awareness of GMO foods and crops in the U.S. has sprouted vigorous labeling campaigns across the country with widespread public support for labeling. Even though 90 percent of all corn and soy grown in the U.S. is GMO, with a variety of other crops in the ground or under development, much of the rest of the world has yet to fall under the influence. In fact, just five countries account for 90 percent of total GMO crop production—the U.S., India, Canada, Argentina and Brazil.
The USDA also recently reversed itself and decided to conduct a full environmental impact statement assessing the health and environmental impacts of the next generation of GMO crops. These include, as proposed by Dow and Monsanto, 2,4-D-resistant corn and soybeans and Dicamba-tolerant soy and cotton crops. Still, notes the Center for Food Safety's Andrew Kimbrell, "it remains to be seen whether the agency will undertake the required hard-look analysis of the environmental and economic impacts of these crops."
Reflecting on the importance of a true choice in the marketplace for consumers, the Cornucopia Institute's Codirector Mark Kastel says that "organic food and agriculture offers the only available and verifiable alternative with regulatory oversight from seed to table prohibiting genetically modified organisms in farming and food production."
"Given the astounding influence of Monsanto and their GMO allies on all aspects of our government, it makes Cornucopia's work protecting the integrity of the organic label even more imperative," adds Kastel.
Visit EcoWatch's GE FOODS page for more related news on this topic.
——–