This website uses cookies to ensure you get the best experience while browsing it. By clicking 'Got It' you're accepting these terms.
Baby mountain gorilla. Pixabay
First, the good news. Collaborative conservation efforts have brought "renewed hope" for mountain gorillas and two large whale species, according to today's update from the International Union for Conservation of Nature's (IUCN) Red List of Threatened Species.
The mountain gorilla subspecies moved from "critically endangered" to "endangered" due to anti-poaching patrols and veterinary interventions. In 2008, their population dropped to as low as 680 individuals––but the new estimates reveal that the number of mountain gorillas has increased to more than 1,000 individuals—the highest figure ever recorded for the eastern gorilla subspecies, the IUCN said.
A group of lemurs huddled up, ring tailed lemur, Lemur catta. Justin Lo / Getty Images
Ninety-five percent of Earth's lemur population is threatened, experts warned this week, underscoring their unfortunate position as the world's most endangered primates.
Of the planet's 111 known lemur species and subspecies, 105 can be provisionally evaluated as critically endangered, endangered or vulnerable, a group of primate specialists convened by the International Union for the Conservation of Nature (IUCN) determined.
EcoWatch Daily Newsletter
The royal turtle eggs found by the Wildlife Conservation Society. Wildlife Conservation Society / Facebook
Conservationists have found a nest of a critically endangered turtle with 16 eggs along the Sre Ambel River system near Preah Angkeo village in Cambodia's Koh Kong province, the Wildlife Conservation Society (WCS) announced Monday.
This is the first nest of the southern river terrapin discovered this year. Four local community rangers have been hired to guard the nest until the eggs hatch.
A striped hyena in Gujarat State, India. Hemis / Alamy
By Jason Bittel
The striped hyena gets a bad rap. Not only does much of the world mistake it for its cousin, the spotted hyena—which The Lion King taught us to despise—but its shaggy coat, skittish nature and nocturnal lifestyle have all contributed to the idea that this creature is spooky at best. And at worst?
By International Union for Conservation of Nature
A new International Union for Conservation of Nature (IUCN) report, Explaining ocean warming: causes, scale, effects and consequences, sets out the most recent and comprehensive review to date on this topic and shows a complex story of change in the ocean. This change is underway, often already locked in for many decades to come and has already begun to impact people's lives.
This is no longer a single story of ocean warming challenges to coral reefs, but a rapidly growing list of alarming changes across species at ecosystem scales and across geographies spanning the entire world. It is pervasive change, driven by ocean warming and other stressors already operating in ways we are only beginning to understand, where essential gaps in marine data, systems and capabilities are leaving the world poorly prepared to cope in the future.

Ocean warming may well turn out to be the greatest hidden challenge of our generation. More than 93 percent of the enhanced heating since the 1970s resulting from human activities has been absorbed by the ocean and data show a sustained and accelerating upward trend in ocean warming. The scale of ocean warming depicted in the report is truly staggering: If the same amount of heat that has gone into the top 2 km of the ocean between 1955 and 2010 had instead gone into the lower 10 km of the atmosphere, the Earth would have seen a warming of 36 C.
Compiled for IUCN by 80 scientists in 12 countries, the report explores the impacts of ocean warming on ecosystems and species and on the every-day benefits derived from the ocean—its "goods and services."
Major changes caused by ocean warming and other stressors described in the report include impacts on entire ecosystems from polar to tropical regions, predicted to increase further in scale, stretching from accessible coasts to the deep ocean seabed; entire groups of species such as plankton, jellyfish, fish, turtles and seabirds being driven by up to 10 degrees of latitude towards the Earth's poles to keep within reasonable environmental conditions; loss of breeding grounds for groups such as turtles and seabirds, and impacts on the breeding success of birds and sea mammals; and seasonality shifts by plankton, leading to potential mismatch between plankton species with fish and other marine wildlife.
We now know that the changes in the ocean are happening between 1.5 and 5 times faster than those on land. Such range shifts are potentially irreversible, with great impacts on ecosystems. What this will result in, decades down the line, is less clear. It is an experiment where, rather than being a casual observer in the lab, we have unwittingly placed ourselves inside the test-tube.
The report also describes the inadequacy of current knowledge, capabilities and capacity to adequately study ocean warming and to advise and cope with the associated challenges. The global community is increasingly committing itself to a high-carbon future which it is poorly equipped to understand, let alone cope with. The impacts are already outstripping what is fully understood and the capacity of the global community to act.
The world, perhaps distracted by the bustle of daily issues on land, has been ignoring the impact climate change has been having on the largest living space on the planet—the ocean. The ocean lies at the heart of the climate system and it must now lie at the heart of climate discussions. Through the implementation of the Paris agreement under the United Nations Framework Convention on Climate Change, parties should now consider ocean impacts in the so-called "nationally determined contributions" (NDCs) outlining national best efforts towards a sustainable low carbon future. It is now critical to address atmospheric CO2—the root cause of these and so many other problems—and achieve rapid and significant reductions of what we emit.
The report was launched at the IUCN World Conservation Congress, a key moment to press home the urgency with which such reductions now need to be achieved. We should reflect that we are locking in a worrying warming trend in the ocean, the only ocean we have, on the only world we know, teeming with life. Now is the moment to be wise and act. Future generations will then no doubt thank us for the wisdom of our deeds. In the end, it is perhaps poetic to return to the words of Edward Young: "Be wise today; 'tis madness to defer."
Grauer's gorilla (Gorilla beringei graueri), a subspecies of eastern gorilla, the world's largest ape, and confined to eastern Democratic Republic of Congo, has been listed as Critically Endangered on the IUCN Red List of Threatened Species. The announcement was made at the IUCN World Conservation Congress currently underway in Hawaii.
The IUCN Red List classifies species of the world and documents the threats they are facing. It is recognized as the global standard on the conservation status of species. Critically Endangered status means that a species is considered to be facing an extremely high risk of extinction.
The new designation follows a report earlier this year released by Wildlife Conservation Society (WCS) and Fauna & Flora International (FFI) that showed a shocking collapse of Grauer's gorilla numbers due to illegal hunting and civil unrest.
"We are grateful that IUCN and the Species Survival Commission Primate Specialist Group have accepted our recommendations to upgrade the listing of Grauer's gorilla," Andrew Plumptre, lead author of the revised listing, said. "Critical Endangered status will raise the profile of this gorilla subspecies and bring attention to its plight. It has tended to be the neglected ape in Africa, despite being the largest ape in the world."
Few Grauer's gorillas exist in captivity and if this ape becomes extinct in the wild it will be effectively lost forever. This listing also means that the two gorilla species (eastern and western gorillas) and four gorilla subspecies (two for each species) are all Critically Endangered.
The WCS and FFI surveys documented that Grauer's gorilla has declined by at least 77 percent over the past 20 years using three methods of estimation; the other methods estimated up to a 94 percent decline at specific sites where they have been monitored over time. A decline in 80 percent over the time span of three generations leads to a listing of Critically Endangered status. Twenty years is considered to be only one generation time for these gorillas as they are a long-lived ape.
These apes are therefore declining very rapidly across their range. Only one site, the highland sector of Kahuzi-Biega National Park, has shown an increase over the past 15 years where resources have been invested to protect these apes from hunting. These results have just been accepted for publication in PLoS One, an open source and peer reviewed scientific journal.
The main cause of the decline is hunting for bushmeat, which is taking place around villages and mining camps that have been established by armed groups deep in the forests in eastern DR Congo. The mines are set up in remote areas to provide the financing for weapons to continue the armed struggle by these groups. Being deep in the forest to avoid detection, they are also in the areas where gorillas have tended to survive because of the remoteness and distance from villages and roads. There is no agriculture in these sites, so the miners/rebels can only subsist off bushmeat and gorillas provide more meat than most species per shotgun cartridge and can be tracked fairly easily because they are mainly terrestrial and move in a group, making them particularly vulnerable to hunting.
"The data used to estimate this decline came from park rangers of the DR Congo protected area authority ICCN as well as local communities which are entered in software called SMART (Spatial Monitoring And Reporting Tool)," said WCS DRC project director Deo Kujirakwinja. "It shows the value of such monitoring databases once established and it is vital they continue to be supported to allow us to continue to monitor the gorillas in future."
"The survey results helped us to identify critical sites for the conservation of the remaining gorillas," Richard Tshombe, WCS's country director for DR Congo, said. "We have already started engaging communities in one area to protect the gorillas in the Punia Gorilla Reserve, and we continue to support their conservation in Kahuzi-Biega National Park. In addition, we helped establish the Itombwe Reserve in June 2016 which protects a second important population."
With this new listing, both species and all four subspecies of gorilla (Grauer's, western lowland, Cross River and mountain gorilla) are now considered Critically Endangered; and WCS is working to improve their conservation status across Africa.
Tim Tear, executive director of the WCS Africa Program, emphasized the importance of investing more in conservation.
"Overall, this study has startling news—based on data gathered in very difficult and challenging circumstances," he However, the positive news from Kahuzi-Biega National Park is a beacon of hope. It demonstrates that if we continue to invest in conservation of this gorilla, we can make a difference. This is a wake-up call that demands more investment to support conservation in the field if we are to save this species."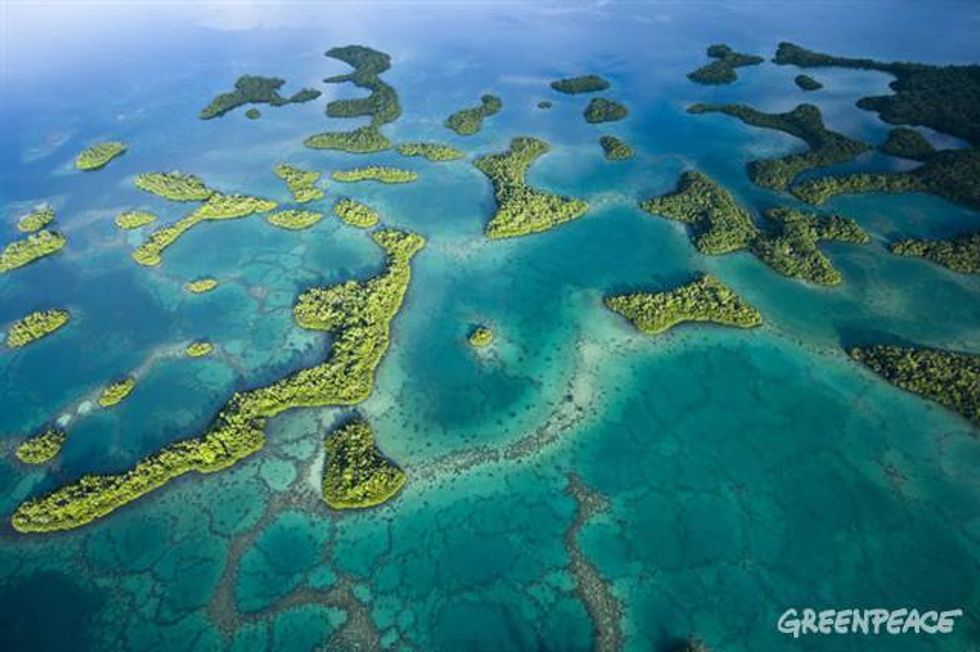 By Nathaniel Pelle
Right now, the Australian government is deciding the fate of Australia's Coral Sea. The countdown is on to protect nearly one million square kilometres of unique coral reefs, atolls and underwater canyons flanking the world-heritage listed Great Barrier Reef.
Just a few weeks back I sailed out of Port Moresby aboard the Greenpeace ship Esperanza, through the Coral Sea and then north into the western and central Pacific Ocean. These are the very same waters my grandfather patrolled as a youth in the Australian Navy during the historic Battle of the Coral Sea in the latter half of World War II.
I remember fondly his striking stories that described swimming alongside warships among remarkable abundances of marine life. His memories recalled sailors at play with swarms of dolphins, turtles, swordfish and large schools of gentle hammerhead sharks. I remember his tales of catching tuna at will with simple handlines dropped lazily from the poopdeck.
Sadly, such abundance is a rare thing to see these days. So it is with a tremendous sense of hope that I have observed the considerable efforts of regional players to preserve these waters and maybe even return them to their past richness.
The latest of these opportunities is the proposal by the Australian government to create the world's largest marine park in the Coral Sea under a once-in-a-generation bioregional planning process.
But it's not all good news—the government's draft plan leaves the majority of species-rich coral reefs, important breeding sites for tuna and marlin, and critical migration routes for turtles and whales, open to fishing. More than 20 important reefs—identified as key biodiversity hotspots—remain outside the no-take zone and are open to potentially damaging activity. Leaving these areas unprotected is a shortsighted move to appease a handful of vocal commercial and recreational fishers. Left unprotected are the crucial spawning grounds for bigeye and yellowfin tuna. This year both species were listed as vulnerable and near-threatened on the International Union for Conservation of Nature's Red List of species at risk of extinction.
For this proposal to achieve its potential, you can add your voice to the call for a genuinely historic sanctuary here.
Australia has stood by regional efforts to protect these species. With Australia's support, Pacific Island nations have banded together to close 4.5 million square kilometres of the high seas to purse seine fishing in order to safeguard their recovery.
Earlier this year, Palau—a nation that thrives on its stunning and incomparable marine ecosystem—declared its entire territorial waters a shark sanctuary and has created a network of marine national parks. The Esperanza is now in Palau assisting with enforcement of their territory. Swimming in these waters, so dense with life, I feel like I've had a taste of what the Pacific was like when my grandfather sailed it. That's what I want for the Coral Sea.
The Marshall Islands followed Palau's lead and look set to be joined by Fiji and the Cook Islands. With every one of these moves, the benefit is multiplied across the region.
It's fantastic that the Coral Sea proposal blocks oil exploration and mining for good and reduces some destructive fishing. But if Australia is to cement itself as a genuine champion of marine protection, and create a sanctuary that provides long-lasting regional benefit, it needs to greatly expand the area of the Coral Sea afforded full protection.
For more information, click here.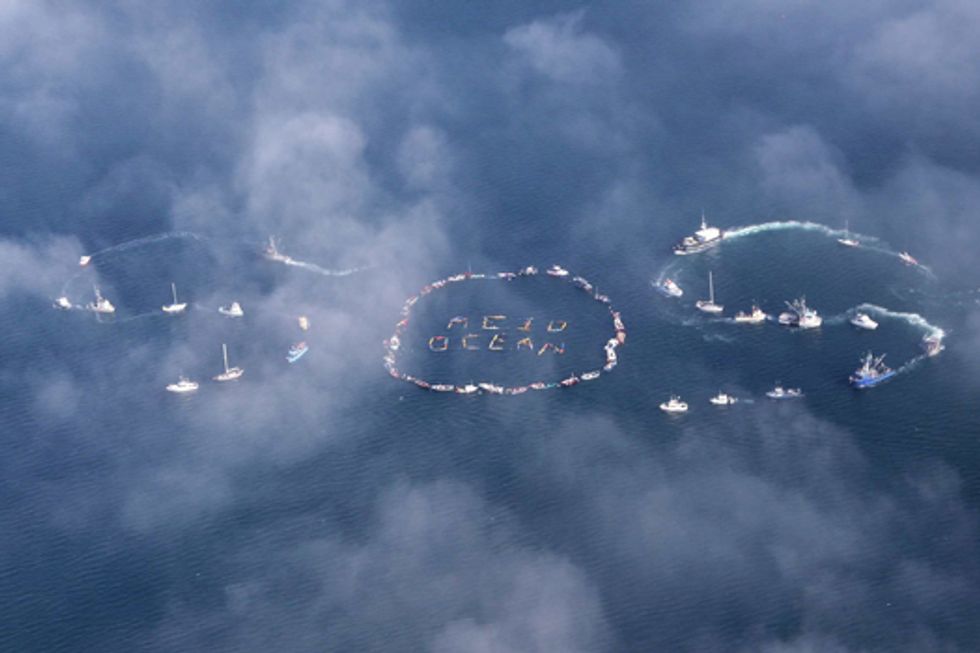 Ocean acidification can no longer remain on the periphery of the international debates on climate change and the environment and should be addressed by the United Nations Framework Convention on Climate Change (UNFCCC) and other global environmental conventions, urges International Union for Conservation of Nature (IUCN) and the International Ocean Acidification Reference User Group (RUG) at the climate change summit in Durban, South Africa.
In the run up to the United Nations Conference on Sustainable Development, which will take place in Rio de Janeiro in June next year (Rio+20), world experts from RUG call for decision makers to urgently address the critical issue of ocean acidification.
"The increasing amounts of carbon dioxide that we emit into the atmosphere every day are changing our oceans, steadily increasing their acidity, and dramatically affecting marine life," says Prof. Dan Laffoley, marine vice chair of IUCN's World Commission on Protected Areas and chair of RUG. "This may also have severe impacts on human life in the future. Only by reducing our CO2 emissions and enhancing the protection of oceans to strengthen their ability to recover, can we effectively address this issue. Policy makers in Durban, and in Rio in June next year, need to recognize this and take appropriate actions."
Reducing greenhouse gas emissions into the atmosphere, particularly CO2, which is the main driver of climate change and the main cause of ocean acidification, is one of the goals of the UNFCCC. But the latest RUG publication calls for a broader strategy to reduce ocean acidification, alongside those tackling other threats to the marine environment such as overfishing and pollution.
According to the experts, although both climate change and ocean acidification are caused by excessive amounts of CO2 emissions, and so should be tackled together, not all approaches used to address the former will be effective in the fight against the latter.
"For example, geoengineering solutions, such as reflecting solar radiation, which are often suggested to deal with climate change, will not address the progressive acidification of the ocean," says Dr. John Baxter of the Scottish Natural Heritage and deputy chair of the RUG. "Both climate change and acidification need to be taken into account when designing solutions to these challenges."
Each year, the ocean absorbs approximately 25 percent of all the CO2 we emit. Its acidity has increased by 30 percent since the beginning of the industrial revolution and acidification will continue at an unprecedented rate in the coming decades. This can have a negative impact on marine organisms, especially the calcifying ones such as shellfish, molluscs, coral reefs and various types of zooplankton and phytoplankton. Increasing ocean acidity requires them to use more energy to build their shells, which has potentially severe ecological consequences. If the current acidification rate continues, it could lead to extinctions of some species and impact others that feed on them.
"Through its ability to absorb large amounts of CO2, the ocean plays a crucial role in moderating the rate and severity of climate change," says Dr. Carol Turley from the Plymouth Marine Laboratory and the knowledge exchange coordinator for the U.K. Ocean Acidification Research Programme, one of the partners of the RUG. "But in many ways our ocean is also a victim of its own success, as this capacity jeopardizes its future health, its biodiversity and its ability to continue to provide us with food and sustainable economic development. Ocean acidification requires urgent and effective action now, before it's too late. The obvious action is to reduce CO2 emissions to the atmosphere."
To view the publication, click here.
For more information, click here.