This website uses cookies to ensure you get the best experience while browsing it. By clicking 'Got It' you're accepting these terms.
Weather destroyed boats in an Italian harbor near Genoa. MARCO BERTORELLO / AFP / Getty Images
Tourists wade through a flooded Piazza San Marco in Venice Monday. MIGUEL MEDINA / AFP / Getty Images
The worst flooding in at least a decade swamped Venice Monday as an exceptionally high tide covered around 70 percent of the iconic island city, the Huffington Post reported.
Venice is the Mediterranean World Heritage Site currently most at risk from flooding due to sea level rise, according to a recent study, and the city even has elevated sidewalks ready in case of high tides, but Monday's waters rose higher than the emergency sidewalks.
EcoWatch Daily Newsletter
Rescuers continue their search for possible survivors of deadly flash flooding in the Raganello river, a popular hiking spot in Civita, in the Calabria region's Pollino national park, on Aug. 21. KONTROLAB / AFP / Getty Images
Ten people were killed and 11 injured in a flash flood that filled a gorge in Italy's Pollino National Park following heavy rains on Monday, The Associated Press reported.
The victims were from two groups of hikers in the Raganello Gorge, which filled with up to 2.5 meters (approximately 8.2 feet) of water, mud and rocks that pushed some bodies as far as 8 kilometers (approximately 5 miles) downstream, BBC News reported.
Air pollution in Paris in December, 2016 as seen from Montmartre.
Tangopaso / Wikimedia Commons
The European Commission confirmed in a statement Thursday that it would pursue legal action against six European countries for exceeding air pollution limits set for 2005 and 2010, Air Quality News reported.
The commission is referring France, Germany, the UK, Italy, Hungary and Romania to the European Court of Justice (ECJ), which could fine them millions of euros if they do not act quickly enough to solve the problem, The Guardian reported.
By Jessica Corbett
Animal rights advocates are celebrating a move by the Italian parliament on Wednesday to, over the next year, phase out the use of all animals in circuses and traveling shows.
"We applaud Italy and urge countries like the U.K. and the U.S. to follow this example and end this cruelty," said Jan Creamer, president of Animal Defenders International, which supported the launch of the bill.
iStock
Roman officials are considering shutting off the water supply to one-third of the city's residents for eight hours per day as early as this weekend, according to reports.
Pixabay
By Marlene Cimons
The Smithsonian Institution calls coralline algae "the unsung architects of coral reefs." These pink-colored seaweed, with a skeletal structure that resembles honeycomb, live in harmony with coral.
They strengthen the corals' foundation by growing over and between gaps in coral reefs, essentially gluing sections of coral together. They provide a surface for baby corals to settle, and serve as food for marine life, including sea urchins, parrot fish and mollusks.
Greenpeace activists in Berlin projected an image of Donald Trump on the U.S. Embassy. Michael Sohn / DPA
Lorenzo Quinn
A vital message has risen up from the Grand Canal in Venice. Two, 5,000 pound hands appear to be gripping the walls of the historic Ca' Sagredo Hotel echoing the warning of experts that say "The Floating City" could sink in as little as 100 years.
A Italian member of parliament has proposed a controversial new bill that would put parents behind bars if they restrict their children to a vegan diet.
The so-called "Savino law" would "stigmatize the reckless and dangerous eating behavior imposed by parents ... to the detriment of minors." Flickr
Elvira Savino of the conservative Forza Italia party wants to send parents to jail if they impose a vegan diet on children aged 16 and under, the Guardian reported (via La Repubblica).
The draft bill states (in Italian) that a vegan diet is "devoid of essential elements for [children's] healthy and balanced growth,"
According to Savino, a diet that eliminates meat or animals products such as eggs or milk can leave children lacking the vitamins necessary for their development such as iron, zinc, B12 and other nutrients.
Under the proposed law, parents would be jailed for a year for raising a child on a vegan diet, up to four years if the child develops a permanent health problem and up to seven years if the child dies as a result of the diet, Reuters reported.
Savino has presented the proposed law in the lower house Chamber of Deputies.
"I have nothing against vegans or veganism as long as it is a free choice by adults," Savino told Reuters.
"I just find it absurd that some parents are allowed to impose their will on children in an almost fanatical, religious way, often without proper scientific knowledge or medical consultation," she added. "Do-it-yourself on these matters terrorizes me."

The measure follows four Italian cases over the last year and a half where malnourished children were hospitalized after being fed a vegan diet. The most recent case happened in June, when a two-year-old girl in serious condition was hospitalized in Genoa. Doctors found she had a lack of the vitamin B12 and low hemoglobin levels. The health problems were possibly linked to the young girl's vegan diet.

Health professionals speculated that the guardians of the hospitalized children did not know how to supplement a vegan diet for a child's dietary needs, BBC reported. For vegan or vegetarian children, it important they take supplements or consume fortified foods for important nutrients.

Savino's bill highlights the spreading belief in Italy of "substantial health benefits" provided by a vegetarian or vegan diet. According to the BBC, there are three rival bills that are trying to implement more vegan and vegetarian options in Italian canteens.

In Italy, the home of cheesy and meaty dishes such as pizza and bolognese, more and more people are demanding organic and high-quality food products which they consider more sustainable and environmentally friendly, Euromonitor found. Not only that, Italians are switching to vegetarianism or reducing their meat consumption at increasing rates, with more than 6 million vegetarians or 10 percent of the country's population—the highest percentage of vegetarianism in the European Union.
Last month, the new mayor of Turin, Chiara Appendino, proposed plans to create Italy's first "vegetarian city." As The Guardian wrote:
According to the [populist Five Star Movement's] 62-page manifesto—which also called for better urban planning and the protection of public land—Turin's new mayor said the endorsement of meat-free and even dairy-free living was fundamental to the protection of the environment, health, and the wellbeing of animals.
It's true that a vegan or vegetarian diet is better for the planet. As EcoWatch Insights writer Dr. David Suzuki pointed out recently, if more people gave up or cut down on their meat consumption, the environment and climate would benefit substantially and would help prevent runaway climate change.
"Animal agriculture produces huge amounts of greenhouse gas emissions, consumes massive volumes of water and causes a lot of pollution," Suzuki wrote.
According to the American Dietetic Association, "appropriately planned" vegan or vegetarian diets "are healthful, nutritionally adequate and may provide health benefits in the prevention and treatment of certain diseases." A plant-based diet has a number of health benefits including lower risk of death from ischemic heart disease, lower low-density lipoprotein cholesterol levels, lower blood pressure, lower rates of hypertension, type 2 diabetes, lower body mass index and lower overall cancer rates than nonvegetarians.
Savino told Reuters she has a 7-year-old son who eats meat "but not too much." Her proposed policy will be discussed by parliamentary committees before going to the chamber for debate possibly later this year.

Environmental groups filed the first ever lawsuit on Wednesday challenging the federal government's financing for the export of Appalachian coal from the U.S. The U.S. government approved this financial support for coal exports without considering the increased toxic air and water pollution that could affect communities near the mines and ports, and along the railways that connect them.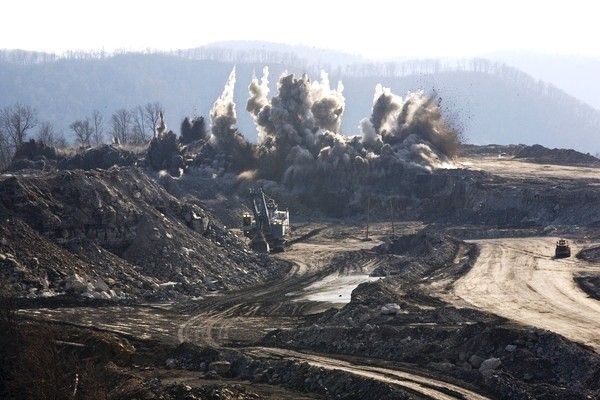 The groups filing the lawsuit charge that the U.S. Export-Import Bank (Ex-Im Bank) violated federal law by providing a $90 million loan guarantee to Xcoal Energy & Resources without reviewing the environmental impacts as required under the National Environmental Policy Act (NEPA). According to Ex-Im Bank, the taxpayer-backed financing, approved May 24, 2012, will help leverage a billion dollars in exports of coal mined in Appalachia. The coal will be shipped from ports in Baltimore, MD, and Norfolk, VA, to markets in Japan, South Korea, China and Italy.
"Ex-Im Bank turned a blind eye to the toxic coal dust, heavy train traffic and disruptive noise that our members living near ports and railways experience on a daily basis," said Diana Dascalu-Joffe, senior general counsel at the Chesapeake Climate Action Network. "People on the frontlines of the U.S. coal export boom deserve to know the risks and to have a say over whether their tax dollars finance it."
The Chesapeake Climate Action Network, Center for International Environmental Law, Friends of the Earth, Pacific Environment, Sierra Club and West Virginia Highlands Conservancy filed the suit, and are represented by Earthjustice.
"The science is clear that mining has profoundly detrimental effects on the environment—including the human communities that are part of that environment," said Cindy Rank, mining committee chair of the West Virginia Highlands Conservancy. "And it's never been more important for the government to comply with NEPA than when federal assistance facilitates the export of a commodity that leaves such a devastating legacy in its wake."
While U.S. coal consumption has declined gradually over the past 10 years, U.S. coal exports have risen. The array of air, water, safety, health, biodiversity and other impacts on local communities and ecosystems—which face a chain reaction of increased mining, rail traffic and port activity—remains woefully unaddressed by state and federal regulators.  
"From the mine mouth to the smokestack, from Appalachia to Beijing, Ex-Im's failure to account for the environmental impacts of U.S. coal exports not only violates the law, but it flies in the face of the agency's own environmental policy and its Carbon Policy," said Michelle Chan, director of economic policy programs at Friends of the Earth.
In 2002, Friends of the Earth filed a lawsuit against Ex-Im Bank, which confirmed the agency's obligation to comply with NEPA and resulted in Ex-Im Bank instituting a Carbon Policy. Paradoxically, even with Ex-Im Bank's Carbon Policy, the agency's support for fossil fuels is soaring.
"Under Chairman Fred Hochberg, the agency's annual fossil fuel financing has grown from $2.56 billion to over $10 billion," said Doug Norlen, policy director for Pacific Environment. "What's more, Hochberg has failed to meet a Congressional directive to provide 10 percent of agency financing to renewable energy and energy efficiency, authorizing just one percent for such exports in 2012."
"The Export-Import Bank's continued investment in coal undermines the spirit of President Obama's recently-announced climate action plan. The plan is a clear commitment to end U.S. public support for overseas coal," added Justin Guay, associate director of the international climate and energy program at the Sierra Club.
The plaintiffs are asking the court to order Ex-Im Bank to prepare an environmental impact statement for the Xcoal loan guarantee. If successful, the case could also require the agency to conduct environmental review of future coal export projects it considers financing.
"Ex-Im's financing of U.S. coal deals violates the United States' obligations and commitments to lead the international community in the fight against climate change," said Alyssa Johl with the Center for International Environmental Law. "These investments seriously undermine the global transition to a clean energy economy."
"The Ex-Im Bank violated the law when it approved financing for coal exports without reviewing the environmental impacts caused by increased coal mining, transport by rail and shipping overseas to Asia," said Sarah Burt, the Earthjustice attorney handling the case.
Visit EcoWatch's COAL EXPORTS page for more related news on this topic.
——–