Activists from across the world came together this past Saturday to be part of a global movement calling for an end to the age of coal and standing together for a clean energy future.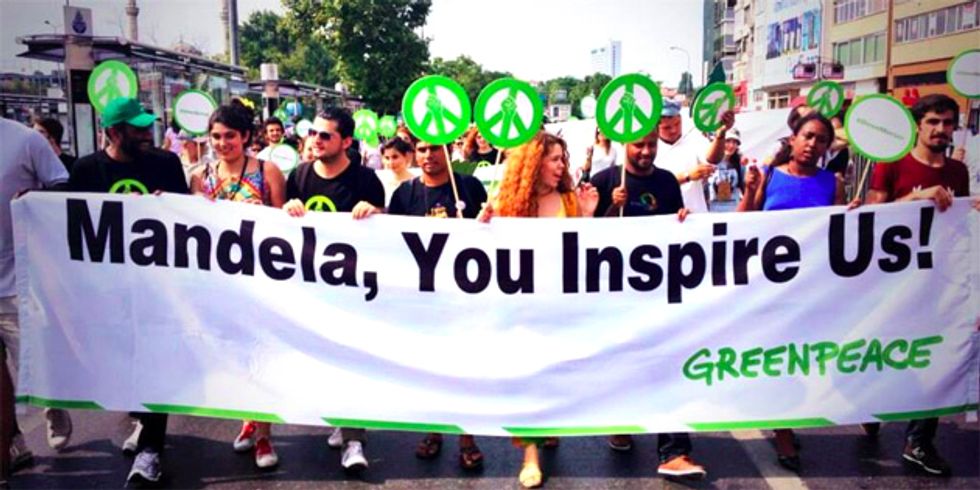 From the U.S. to the Philippines, Australia to Turkey and South Africa to Italy; Local, national and international organizations came together with individuals in the streets to stand against the world's dirtiest form of energy, which has dominated the energy sector for too long.
In Turkey, youth activists from across the globe attending Global Power Shift, joined with local groups in Istanbul, carrying a banner which read "Mandela, You Inspire Us" in tribute to the former South African president, they marched through the city's streets.
Meanwhile in South Africa, more than 100 activists met in Johannesburg's Gandhi Square with a symbolic anti-coal installation calling on the government to unplug coal power.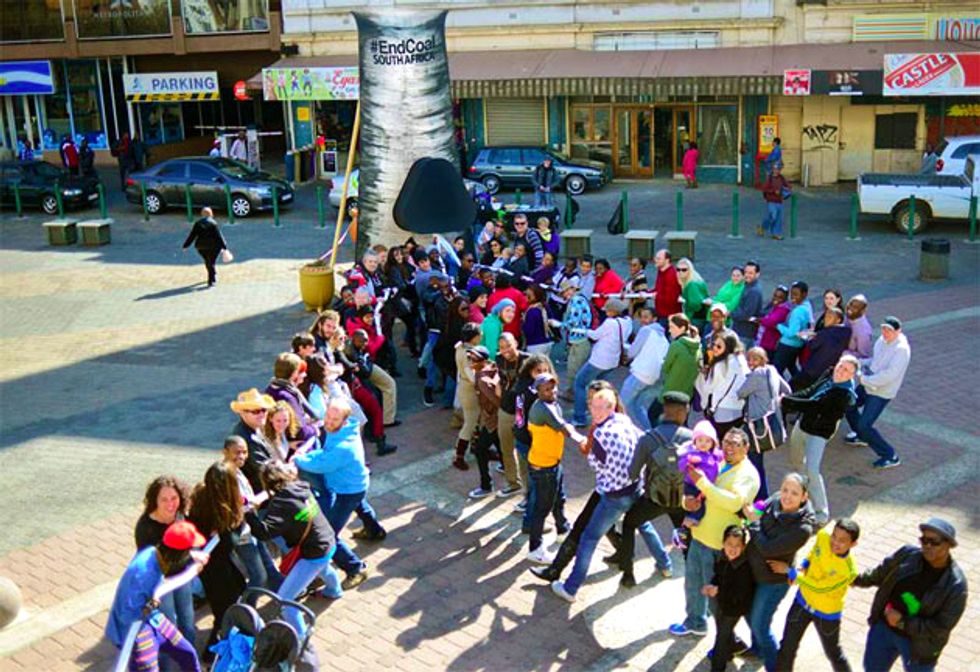 In Italy, Greenpeace activists displayed a huge floating banner reading "No Carbone—Quit Coal" in the sea alongside the Enel coal power station in Civitapvecchia, close to Rome, while an installation on dry land aimed to highlight the human impacts of the coal industry.
And in India, the day of action brought groups together from across the Vidharbha region affected by coal mining to share their frustrations, and come up with ideas on how to help each other to end the age of coal in their communities.
Burning coal remains the biggest contributor to climate change, which is already causing devastation and human suffering around the globe as intense storms, droughts and water shortages hit.
This year, the world passed a historic milestone, as concentrations of greenhouse gases passed the 400 parts per million threshold—reaching levels not seen for 3 million years.
Meanwhile, organizations from the World Bank to the International Energy Agency have warned against the impact that continued investments in fossil fuels would have on the planet, and health professionals continue to warn about the health impacts of coal—what they have named, "the silent epidemic."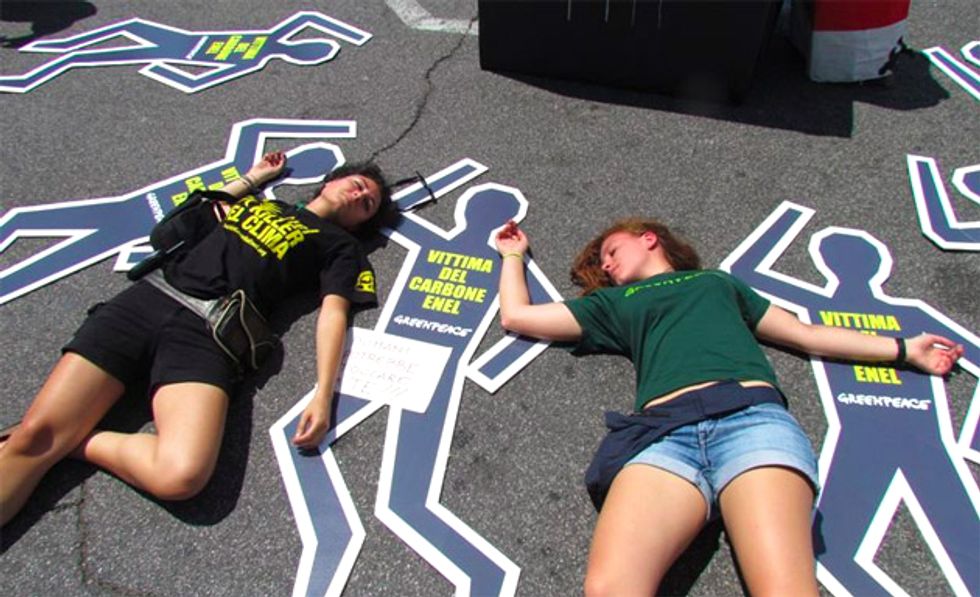 Despite such warnings, 1,200 new coal plants and mega coal mines are planned in countries across the world including China, India, Australia, Indonesia, the U.S., Poland and Germany. If allowed to go ahead, these could push the planet beyond the point of no return.
This weekend, activists showed they would not longer stand by allow the advancement of coal to threaten their futures. Standing together, they called for an end to the use of the dirty fuel and to put pressure on governments to switch to clean, sustainable, renewable energy.
The day of action was supported by a coalition of more than 50 national and international organizations that span the globe, including Greenpeace, 350.org, Avaaz, CoalSwarm.org, Environmental Justice Organisations, Liabilities and Trade, Friends of the Earth International and Sierra Club's International Climate Program.
Visit EcoWatch's COAL and RENEWABLES pages for more related news on this topic.

EcoWatch Daily Newsletter
By Rex Weyler
The citizens of Istanbul now appear in control of Gezi Park, protecting one of the last and most treasured green spaces from conversion to a shopping mall.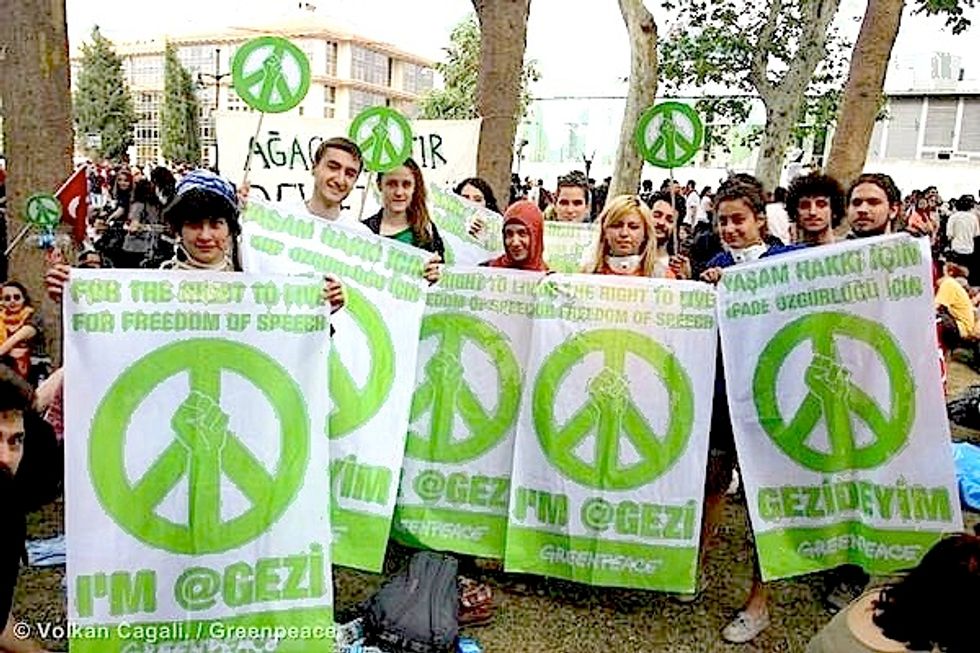 The protest, which began to save the park, became a rally for genuine democracy in Turkey. Prime Minister Recep Tayyip Erdogan's government responded with police violence—beatings, pepper spray, water cannons and tear gas—but could not stop the protests from spreading, exposing Erdogan's persecution of opposition and media censorship. The Gezi Park uprising has become a model of genuine democracy for the world, a line of defiance in the battle to preserve nature and democracy.
When Governments Over-React
Last fall, the Turkish government closed roads into Istanbul center, and announced plans to convert Gezi Park to a shopping mall and military artillery barracks. When construction began in May, Taksim Solidarity activists blockaded bulldozers. Sırrı Süreyya Önder, a Peace & Democracy Party deputy, joined the blockade, invoking parliamentary immunity.
Erdogan dismissed protesters as "marginal extremists."
At dawn on May 30, police raided the park with tear gas and water cannons. They drove about 1,000 citizens from the park, and then burned their tents and possessions.
Calls went out on social media, and 10,000 people arrived at Gezi Park. Police attacked again, injuring hundreds of citizens and three reporters from Reuters, the Hürriyet Daily News and Birgün newspaper. Citizens opened their homes to injured protesters. By evening, 100,000 people had re-occupied the park. That night, the public occupied the historic Bosphorus Bridge that links Europe to Asia.
The uprising spread beyond Istanbul to Ankara, Izmir and more than 70 Turkish cities. Izmir police detained 29 people for sending Twitter messages. The Turkish Doctors' Union reported 4,177 people injured during protests and two deaths.
On Tuesday, June 4, Turkey's Deputy Prime Minister Bülent Arınç apologized for police violence and met with opposition leader Önder, who called the uprising "historic" and announced that "the democratic process would start."
The following day, Arınç met with the original protest group platform, Taksim Solidarity, which delivered the public's demands: Cancel the Gezi park demolition, release arrested citizens, ban tear gas and allow free public assembly and free expression.
Censorship in Turkey
The citizens of Istanbul have now occupied Gezi Park and Taksim Square, staged music and political speakers, and insisted on a new era of genuine democracy in Turkey. Twenty-two year old protester Yesim Polat told Al Jazeera,"Prime Minister Erdogan thinks that he is a sultan. He thinks he can do whatever he wants."
Turkey once represented a modern, secular state that offered religious freedom. Erdogan and his conservative Justice and Development Party (AKP) advocate a return to an Islamic state. Once elected in 2003, Erdogan began arresting opposition voices, Kurdish leaders and journalists and harassing private couples for kissing in public.
Mustafa Akyol, a columnist with the Hürriyet newspaper, told Al Jazeera that journalists are being arrested under an abuse of Turkey's anti-terrorism law. "The great majority of the journalists in jail are people who wrote positive things about the PKK [Kurdish Party]."
In January 2013, Erdogan's police arrested 11 journalists attending an opposition political party meeting, and sentenced five of them to jail, increasing the number of jailed journalists in Turkey to 75. Prior to Gezi Park, freedom of the media had virtually vanished in Turkey.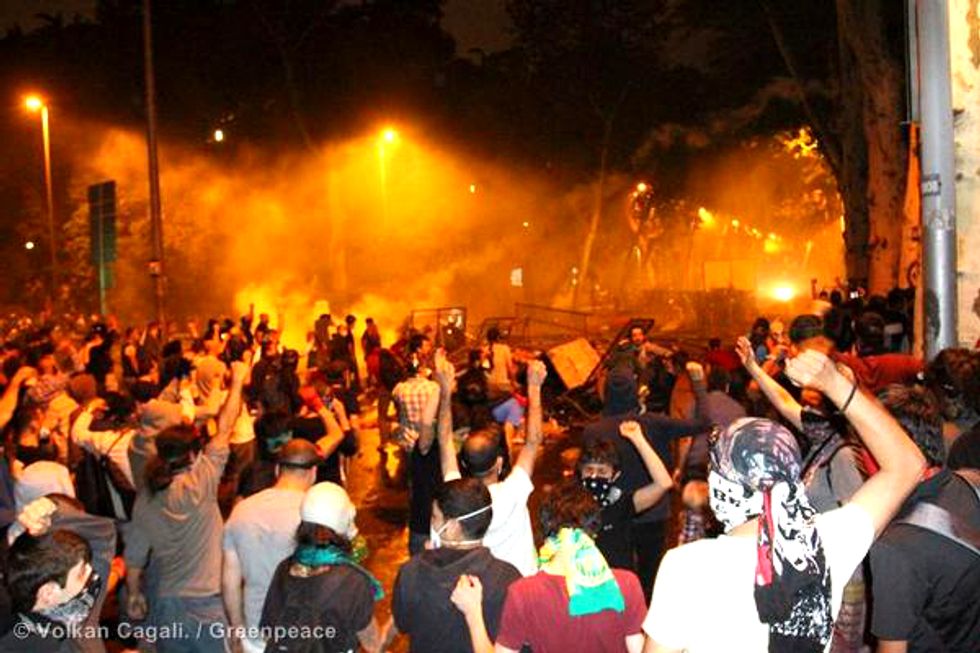 Parks and People
From Amsterdam's Vondelpark and California's People's Park in the 1960s, to Prague's Wenceslas Square and Beijing's Tiananmen Square in 1989, to Cairo's Tahrir Square in 2011, protecting public parks has provided the backdrop for democracy around the world.
In 1970, a group of citizens in Vancouver, Canada—the "Don't Make a Wave Committee," which later became Greenpeace—rallied to save a park entrance in Vancouver. At that time, the Four Seasons Hotel chain announced a plan to construct six towers at the entrance to Vancouver's magnificent, 400 hectare Stanley Park, a waterfront meadow that opened onto a lagoon, where swans nested in the bulrushes and families gathered for picnics.
The story appeared on Vancouver television and in newspapers. Occupiers demanded a public referendum, and Vancouver citizens voted 56 percent in favor of keeping the park entrance, but the by-law required 60 percent for approval. The stand-off continued until the wealthy father of a protestor offered to purchase the property for $4 million. The entrance to Stanley Park was saved and remains a part of Vancouver and Greenpeace heritage to this day.
Solidarity
The Greenpeace office in Istanbul stands on Istiklal Street, leading to Gezi Park. Police officers confronted demonstrators with tear gas and water cannons directly below the office, which remained open night and day, providing shelter to injured protestors. Doctors and medics arrived to offer medical assistance.
On Saturday, June 8, protesters witnessed an unprecedented expression of solidarity as Turkey's rival football fans—from Fenerbahce, Galatasaray, Besiktas and other sports clubs barred from watching matches together because of stadium violence—walked through Istanbul arm-in-arm, wearing each others' team colors.
Gezi Park and the World
Today, Gezi Park has become a mindbomb for the world. The protest over a park became a referendum for democracy. "We are here for our freedom," Nihan Dinc, a 26-year-old publicist, told Al Jazeera. "We are here for a space to breathe."
Journalist Pepi Escobar explains in an Asia Times story why Gezi Park is significant beyond Turkey. Escobar describes the Syria revolution as a "proxy war" between NATO and a new Russia/China alliance. Turkey sits at a strategic point between Europe and Asia, where NATO and western oil companies want a pipeline from the United Arab Emirates, through Saudi Arabia, Syria and Turkey, into Europe. Escobar explains that NATO and the U.S. want Turkey to support their military efforts in Syria to win the pipeline war.
But Gezi Park is important for another reason: The people of Istanbul have shown the world that citizens can stand up to military and police violence with peaceful solidarity.
Like many other plant-based foods and products, CBD oil is one dietary supplement where "organic" labels are very important to consumers. However, there are little to no regulations within the hemp industry when it comes to deeming a product as organic, which makes it increasingly difficult for shoppers to find the best CBD oil products available on the market.
<p>Here you can learn about the importance of organic hemp oil, why it's better for the environment, and which CBD companies actually make trustworthy products with sustainable farming processes. origins which weigh heavily on many consumers who want to buy a product that's produced in the best way possible for not only themselves to ingest, but for the environment as well through sustainable farming methods. </p><h2>What Is CBD Oil?</h2><p>First things first, CBD stands for cannabidiol, and it's a cannabinoid found within cannabis sativa plants. This plant compound is believed to have many potential benefits, and it is primarily derived from hemp plants via a CO2 extraction process. </p><p>Since CBD is extracted from industrial hemp, which contains only trace amounts of THC (the psychoactive component in cannabis plants), this means that CBD won't make you feel high like marijuana, which has much higher levels of THC that causes psychoactive effects. Instead, the effects of CBD are much more subtle and promote a general sense of calm and relaxation in most users.</p><h2>What Makes a CBD Oil Organic?</h2><p>In terms of organic labels, perhaps the most important (and prominent) certification comes from the United States Department of Agriculture (USDA). This government organization has been labeling foods as "organic" for many years, but what exactly does this certification entail? Essentially, a label indicating that a product is "USDA Organic" or "Certified Organic" means that at least 95% of the ingredients are obtained from organic sources.</p><p>For a crop to be considered organic by the USDA, it must be grown without the use of industrial solvents, irradiation, genetic engineering (GMOs), synthetic pesticides, or chemical fertilizer. Instead, farmers rely on natural substances and <a href="https://www.usda.gov/media/blog/2012/03/22/organic-101-what-usda-organic-label-means" rel="noopener noreferrer" target="_blank">mechanical, physical, or biologically based farming</a> techniques to cultivate healthy and organic crops.</p><p>Before the passage of the 2018 Farm Bill, no hemp-derived products could be dubbed as "certified organic" since the hemp plant and its extracts were still categorized as a Schedule I Controlled Substance. However, it's still difficult for CBD companies to obtain a USDA certified organic label for their products due to the legal grey area that still surrounds CBD extracts. </p><p>Because of these challenges, and due to the fact that industrial hemp has only recently become an agricultural crop, very few CBD oils are USDA certified organic. Rather, many CBD products contain hemp extracts from plants that were grown in organic conditions but may not be federally certified.</p><h2>What are the Best Organic CBD Oil Brands?</h2><p><em>Each product featured here has been independently selected by the writer. If you make a purchase using the links included, we may earn commission.</em></p><em><br></em>