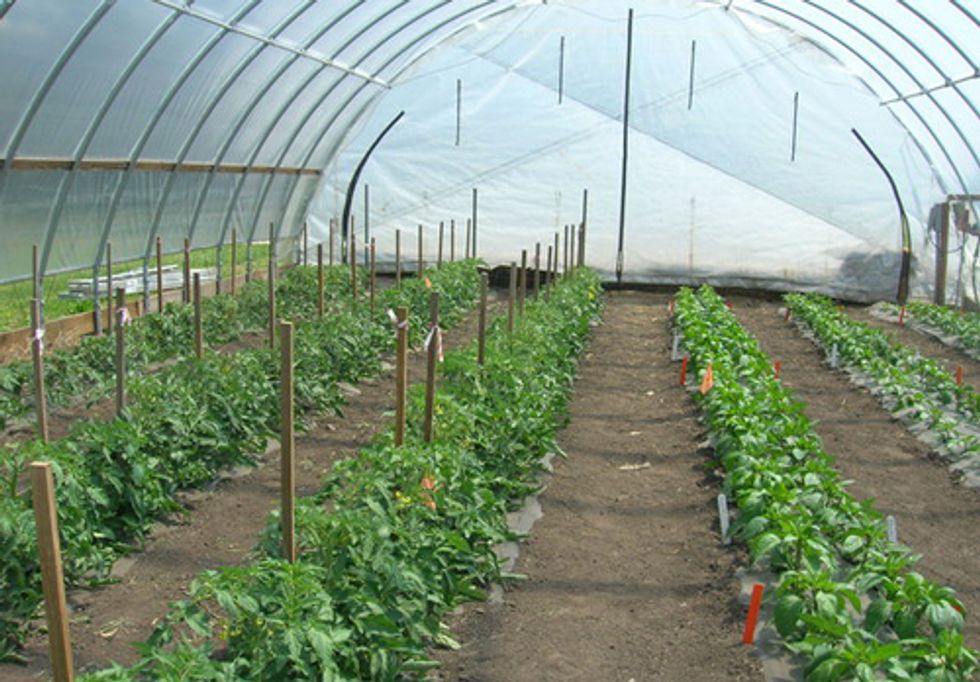 The Leopold Center for Sustainable Agriculture posted on Dec. 20 summaries of nine recently completed projects.
Dave Swenson, an economist at Iowa State University (ISU), measured how increased local food consumption in the Upper Midwest would affect the region's economy in support of the Foodsheds in the Upper Midwest Initiative. One scenario, which assumed that metropolitan demand would drive nearby food production regardless of state boundaries, concluded that fruit and vegetable farms would support 6,694 jobs and produce more than $284 million in labor income in the six-state area. For comparison, the same cropland under conventional agriculture provides 1,892 jobs and just over $42 million in labor income.
Five other projects in the Marketing and Food Systems Initiative focused on building student awareness in the Farm to ISU program; creating a food distribution network for the Northern Iowa Food and Farm Partnership; helping women and Latino farmers develop their business skills; identifying challenges in local foods production; and developing a hands-on graduate class in sustainable agriculture.
Two projects were completed in the Ecology Initiative. Mark Honeyman, ISU animal science professor, compared the energy used to produce Iowa hogs for both conventional confinement systems and bedded hoop barns. On average, production of every pig sold requires the energy equivalent of about six gallons of gasoline, comparing favorably with European systems.
The other ecology project, led by Jennifer Bentley of ISU Extension, considered how fall cover crops and hybrid corn silage can help dairy farmers run profitable and ecologically sound operations.
Finally, a project in the Cross-Cutting Initiative, led by Hannah Lewis of the National Center for Appropriate Technology, studied how to motivate landowners to make their farms available to beginning farmers, particularly immigrants and refugees. The results suggest that beginning farmers need access to training and mentoring programs that will help them demonstrate their competence, while landowners need education on the potential value of small-scale or alternative agriculture.
For the most current research results, click here.
For more information, click here.
—————
The Leopold Center has funded more than 430 competitive grant projects since 1988 under four initiatives—Marketing and Food Systems, Ecology, Policy and Cross-cutting.
EcoWatch Daily Newsletter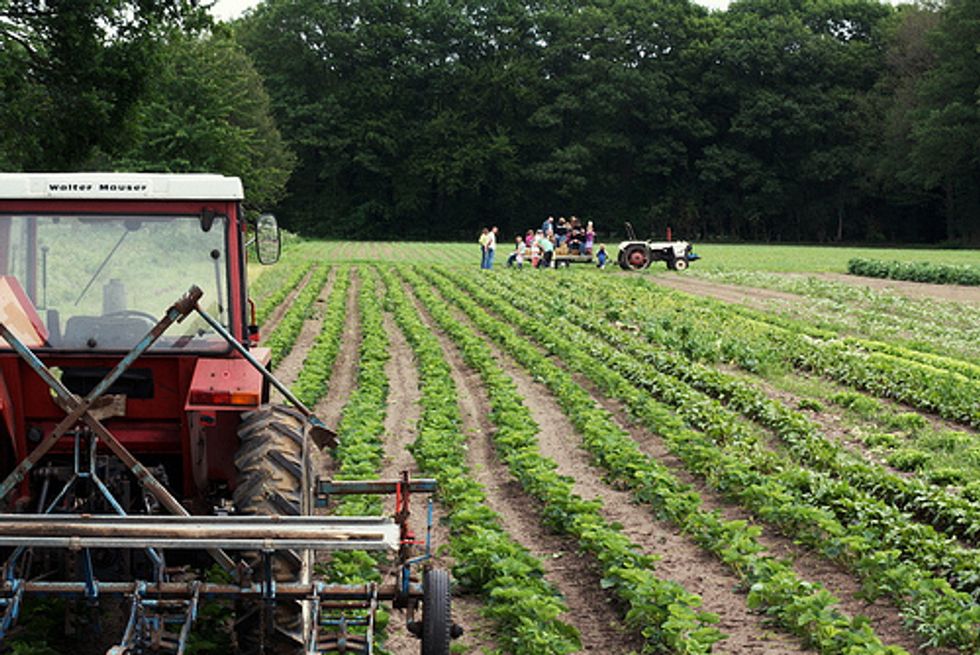 Organic crop systems can provide similar yields and much higher economic returns than a conventional corn-soybean rotation, according to 13 years of data from a side-by-side comparison at Iowa State University's Neely-Kinyon Research and Demonstration Farm.
The Long-Term Agroecological Research Experiment (LTAR) began in 1998 with support from the Leopold Center for Sustainable Agriculture. The LTAR is one of the longest running replicated comparisons in the country. Kathleen Delate, professor in Iowa State University Agronomy and Horticulture, leads the project.
"The transitioning years are the hardest years," Delate said, explaining that the project was originally designed to help farmers make the shift into an organic system. To sell a product as organic, the crop must be raised on land that has received no synthetic chemicals for three years prior to harvest."
The LTAR experiment shows that organic crops can remain competitive with conventional crops even during the three-year transition. Averaged over 13 years, yields of organic corn, soybean and oats have been equivalent to or slightly greater than their conventional counterparts. Likewise, a 12-year average for alfalfa and an 8-year average for winter wheat also show no significant difference between organic yields and the Adair County average.
Organic crops fetch a premium price on the market and eliminate the need for expensive inputs like herbicides and synthetic fertilizers. As a result, they are far more profitable than conventional crops. Craig Chase, interim leader of the Leopold Center's Marketing and Food Systems Initiative and extension farm management specialist, calculated the returns to management—that is, the money left over for family living after deducting labor, land and production costs—for both systems. He based his calculations on actual LTAR data from 1998 to 2004, as well as scenarios modeled with enterprise budgets.
Both methods gave the same result—On average, organic systems return roughly $200 per acre more than conventional crops.
In addition to its profitability, organic agriculture helps build healthy soils. While conventional LTAR plots receive synthetic herbicides, pesticides and fertilizer, organic plots receive only local, manure-based amendments. Total nitrogen increased by 33 percent in the organic plots, and researchers measured higher concentrations of carbon, potassium, phosphorous, magnesium and calcium. The results suggest that organic farming can foster greater efficiency in nutrient use and higher potential for sequestrating carbon.
Delate said they use "a whole suite of practices to manage weeds" in the organic plots, including timely tillage and longer crop rotations. Allelopathic chemicals from rye and alfalfa help keep weed populations under control, as does growing an alfalfa cover crop in winter, which provided cover for beneficial insects and animals.
"I think there's a strong future for organic agriculture," Delate said. "My phone is ringing off the hook. The interest hasn't waned."
When Delate became Iowa State's first specialist in organic agriculture in 1997, the Leopold Center provided start-up funds to develop a program and set up LTAR research plots. The center has provided annual operating funds for LTAR and, in 2010, the work was moved to a competitive grant in the Leopold Center's Cross-Cutting Initiative.
LTAR's findings concur with recently published results from the Rodale Institute's 30-year Farming Systems Trial in Pennsylvania. The Rodale Institute also concluded that organic systems can provide similar yields and greater profits. In addition, they calculated that organic crops required 45 percent less energy, and contributed significantly less to greenhouse gas emissions. Organic corn proved especially profitable during drought years, when its yields jumped up to 31 percent higher than conventional.
Download a brochure about the LTAR project by clicking here. Read the Rodale Institute report by clicking here.
For more information, click here.
Avocado
Increased consumer interest in sustainability has largely driven the expansion of new organic product lines. It's this combination of consumer consciousness and evolved eco-friendly products that has people searching for the best organic mattress.
But there are many brands in this space. We wanted to take a closer look at the Avocado mattress and explore what makes it such a popular pick in the eco-market.
<h2>What should I look for when buying an organic mattress?<br/></h2><p>Whether it's an <a href="http://avocadomattress.n5ka.net/nrJ1V" target="_blank">Avocado mattress</a> or another product from a reputable manufacturer, there are a few things to consider before making a purchase.</p><p>The first thing to know is that accreditation gets a little fuzzy. </p><p>The reality is that not all mattresses claiming to be "natural" or even "organic" will qualify for an official organic label from the United States Department of Agriculture (USDA). </p><p>In order to do so, mattresses must be made up of 95% certified organic materials. </p><p>In addition, no harmful chemicals can be used in the processing or production of the mattress, which is considered a complex finished textile product. </p><p>As you research, you may find that some mattress manufacturers will call their products "organic" because they use a smattering of organic products—but not enough to carry the USDA seal, a practice that's known as "greenwashing."</p><p>To find a mattress that has been certified organic, you'll want to look for accreditations like GOTS (Global Organic Textile Standard).</p><p><br/></p><p class="shortcode-media shortcode-media-rebelmouse-image"> <img type="lazy-image" data-runner-src="https://assets.rebelmouse.io/eyJhbGciOiJIUzI1NiIsInR5cCI6IkpXVCJ9.eyJpbWFnZSI6Imh0dHBzOi8vYXNzZXRzLnJibC5tcy8yNDg1MzAwNy9vcmlnaW4ucG5nIiwiZXhwaXJlc19hdCI6MTYzOTcwOTM1MH0.LFqDzobbjsMxHhtZv3MQ9iOvBSxDwEQF840cDR8Ze9Y/img.png?width=980" id="5dcba" class="rm-shortcode" data-rm-shortcode-id="47f0b3694c23691bb74eb2e4329e6271" data-rm-shortcode-name="rebelmouse-image" /> </p><p><br/></p><p>You can also look for the GOLS (Global Organic Latex Standard) logo.</p><p><br/></p><p class="shortcode-media shortcode-media-rebelmouse-image"> <img type="lazy-image" data-runner-src="https://assets.rebelmouse.io/eyJhbGciOiJIUzI1NiIsInR5cCI6IkpXVCJ9.eyJpbWFnZSI6Imh0dHBzOi8vYXNzZXRzLnJibC5tcy8yNDg1MzAxMC9vcmlnaW4uanBnIiwiZXhwaXJlc19hdCI6MTYxMzIxMzkwOX0.TQWz8NDTzRpr4Q0sDssTj9r1BwV4cRNbgiGtn9wjWrA/img.jpg?width=980" id="73347" class="rm-shortcode" data-rm-shortcode-id="1952e84d562c83064655dd296fdd14aa" data-rm-shortcode-name="rebelmouse-image" /> </p><p>These two standards help to uphold the 95% organic rule.<br/></p><p><span></span>Once you're squared away with certifications, the rest of the buying process is similar to purchasing a traditional mattress. </p><p>First, you'll want to find one that satisfies your desired level of comfort.<br/></p><p>As a rule, many organic mattresses tend to be a bit stiffer, so testing its firmness—either before purchase or during a trial period after you get it home—is in your best interest. </p><p>Lastly, as with most purchases—especially in the organic space—cost is a factor. A goal of bringing home the best eco-friendly mattress money can buy can price some consumers out of the organic market entirely.</p><h2>What makes Avocado the most popular organic mattress?</h2><p>There are two groups that most people will turn to while researching a product: Expert reviewers and fellow consumers. When it comes to picking the best organic mattress, both the pundits and verified customers agree that an Avocado mattress is at or near the top of the list.</p><p><a href="https://www.usnews.com/360-reviews/mattress/avocado" target="_blank">U.S. News & World Report recently gave Avocado the nod</a> in the categories of best mattress, best for back pain, best for stomach sleepers, best firm mattress and best hybrid mattress, citing its ability to provide a more restful night's sleep.</p><p>Avocado mattresses were also named best healthy mattress and <a href="https://www.health.com/home/healthy-home-awards" target="_blank">best organic mattress in Health.com's Healthy Home Awards</a>, <a href="https://www.shape.com/lifestyle/mind-and-body/best-mattress-in-a-box" target="_blank">best mattress in a box for the environmentally conscious by <em>Shape </em>magazine</a> and <a href="https://www.goodhousekeeping.com/home-products/g29892090/best-mattresses/" target="_blank">best organic mattress by <em>Good Housekeeping</em></a>.</p><p><span></span>The brand has also received a <a href="https://help.avocadogreenmattress.com/en_us/can-you-show-me-your-aca-certification-SJOs16UED" target="_blank">certificate of endorsement from the American Chiropractic Association</a>, been <a href="https://www.avocadogreenmattress.com/consumer-reports/" target="_blank">consistently lauded by <em>Consumer Reports</em></a> and touts <a href="https://www.avocadogreenmattress.com/natural-mattress-reviews/" target="_blank">more than 18,000 5-star reviews</a> from real Avocado mattress customers.</p><h3>Corporate Stewardship</h3><p>Peeling the curtain back on the company's operations and mission, it's easy to see why so many people consider Avocado to be the best organic mattress.</p><p>The brand's products are American-made, designed in Hoboken, New Jersey, and manufactured by hand in Los Angeles. </p><p>Its factories are powered by renewable energy, and Avocado ethically harvests wool for products from sheep that it raises while also producing its own natural latex.</p><p>It's because of that commitment to sustainability and eco-friendly practices that the Avocado mattress became the first in the world to achieve net-zero carbon emissions. And earlier this year, the company announced that it now offsets more carbon than it generates. </p><p>It's also important to mention that <a href="http://avocadomattress.n5ka.net/MG32K" target="_blank">Avocado is certified organic by the USDA</a>.</p><p>With a goal of not only providing superior products that promote healthy sleep, Avocado also believes in the power of sustainability and social responsibility—a belief it backs up by donating 1% of all revenues to environmental nonprofits</p><h3><span></span>Quality Products</h3>