This website uses cookies to ensure you get the best experience while browsing it. By clicking 'Got It' you're accepting these terms.
The rosy wolfsnail has devastated native snail populations in the Pacific since it was introduced in the 1950s.
Tim Ross
The introduction of invasive species has been the primary cause of plant and animal extinctions over the past 500 years, a new study from University College London's (UCL) Center for Biodiversity and Environment Research found.
The study, published Monday in Frontiers in Ecology and the Environment, looked at 953 extinctions since 1500 and found that 126 of them, or 13 percent, had been caused entirely by alien species, while 300 were caused partly by the arrival of new species, according to a UCL press release published by EurekAlert!
An invasive Amynthas worm, also known as a crazy snake worm, Asian jumping worm and Alabama jumper Tom Potterfield / Flickr
By Jason Bittel
My wife and I built a house two years ago on a few acres of woodland outside of Pittsburgh. The backyard is full of maples, poplars, briars and common spicebush. Two-lined salamanders and grumpy-looking crayfish wade among the rocks in the small stream that runs down the edge of the property. Deer, raccoon and opossum tracks appear regularly in the snow and mud. Sometimes, my trail-cam even catches a pair of gray foxes as they slink through the night.
EcoWatch Daily Newsletter
Women gather chestnuts in Spain's Genal Valley. Gary John Norman / Photodisc / Getty Images
The Genal Valley in Southern Spain is famous for its sweet chestnuts, and that could give the economically struggling region a huge boost as vegans and vegetarians in Northern Europe develop a taste for Castanea sativa. But a new threat is putting the valley's reputation, and future, at risk, BBC News reported Tuesday.
"We've lost at least 30% of our usual production," farmer Julio Ruiz told BBC News. "It is all the fault of a small wasp."
Swift parrot. Dejan Stojanovic / ANU
Tasmania's swift parrots can't catch a break. Logging has reduced their preferred blue gum breeding habitat by a third in the past 20 years. Sugar gliders, a kind of nocturnal possum introduced in the 1800s, are gobbling up female parrots at an alarming rate. And now, The Guardian reported Tuesday, scientists have found that the skewed male-to-female ratio is changing the mating habits of the endangered species in a way that puts its survival further at risk.
Kyle Penniston with the 17.5-foot-long python. South Florida Water Management District / Kyle Penniston
Earlier this week, a Florida man caught and killed a 17-foot, 5-inch female Burmese python in the Miami-Dade County Everglades.
The South Florida Water Management District (SFWMD) praised Homestead-based hunter Kyle Penniston's record-setting catch for its Python Elimination Program. Weighing 120 pounds, she was certainly a big one and she even bit Penniston's hand before she was shot on Monday night, according to his Facebook post.
A captured Burmese python in the Florida Everglades.
Susan Jewell / USFWS
A diver with Hawaii's Division of Aquatic Resources removes invasive algae from a reef using a "super sucker" vacuum. DAR
The Asian long-horned tick. James Gathany / Centers for Disease Control and Prevention
An invasive tick species was found to have spread to an eighth state Tuesday, when the Maryland Department of Natural Resources announced one was found on a deer in Washington County, The Washington Post reported.
Penguin colony, St. Andrews Bay, South Georgia.
size4riggerboots / Flickr / CC BY-ND 2.0
Following a £10 million ($13.5 million) eradication scheme and nearly a decade of work, South Georgia was officially declared rodent-free on Tuesday, the first time since humans arrived on the island more than 200 years ago.
The British territory is one of the world's last great wildlife areas. There you'll find 98 percent of the world's Antarctic fur seals, half the world's elephant seals and four species of penguins—including King Penguins with around 450,000 breeding pairs. The birdlife includes albatrosses, prions, skua, terns, sheathbills and petrels.
By Mary Hoff
What should we be thinking about when we think about the future of biodiversity, conservation and the environment? An international team of experts in horizon scanning, science communication and conservation recently asked that question as participants in the eighth annual Horizon Scan of Emerging Issues for Global Conservation and Biological Diversity. The answers they came up, just published in the scientific journal Trends in Ecology & Evolution and summarized below, portend both risks and opportunities for species and ecosystems around the world.

"Our aim has been to focus attention and stimulate debate about these subjects, potentially leading to new research foci, policy developments or business innovations," the authors wrote in introducing their list of top trends to watch in 2017. "These responses should help facilitate better-informed forward-planning."
1. Altering Coral Bacteria
Around the world, coral reefs are bleaching and dying as ocean temperatures warm beyond those tolerated by bacteria that live in partnership with the corals. Scientists are eyeing the option of replacing bacteria forced out by heat with other strains more tolerant of the new temperatures—either naturally occurring or genetically engineered. Although the practice holds promise for rescuing or resurrecting damaged reefs, there are concerns about unintended consequences such as introduction of disease or disruption of ecosystems.
2. Underwater Robots Meet Invasive Species
If you think getting rid of invasive species on land is a challenge, you haven't tried doing it in the depths of the ocean. Robots that can crawl across the seafloor dispatching invaders with poisons or electric shock are being investigated as a potential tool for combating such species. The technology is now being tested to control crown-of-thorns starfish, which have devastated Great Barrier Reef corals in recent years and invasive lionfish, which are competing with native species in the Caribbean Sea.
3. Electronic Noses

The technology behind electronic sensors that detect odors has advanced markedly in recent years, leading biologists to ponder applications to conservation. Possibilities include using the devices to sniff out illegally traded wildlife at checkpoints along transportation routes and to detect the presence of DNA from rare species in the environment.
4. Blight of the Bumblebees
We tend to think of pollinating insects as our ecological friends, but in the wrong place nonnative bees can spell trouble instead by competing with native insects, promoting reproduction in nonnative plants and potentially spreading disease. And they're doing just that, thanks to people who transport them internationally for plant-pollination purposes. Out-of-place bumblebees are already spreading through New Zealand, Japan and southern South America, and there is concern they could do the same in Australia, Brazil, Uruguay, China, South Africa and Namibia.
5. Microbes Meet Agriculture
Select bacteria and fungi are emerging as potential agricultural allies for their ability to help kick back pests or stimulate growth in crops. As research advances in this area, questions are being raised about potential implications for nontarget species, ecosystems, soils and more.
Bumblebees imported to pollinate crops are a growing threat to native pollinators around the world. iStock
By Tim Campbell
'Tis the season to spread some holiday cheer, and of course, 'tis always the season to spread aquatic invasive species (AIS) awareness. With some inspiration from Al House, one of our advisory committee members, I put together an AIS version of the classic "The Twelve Days of Christmas." Enjoy not only the song, but some commentary from yours truly!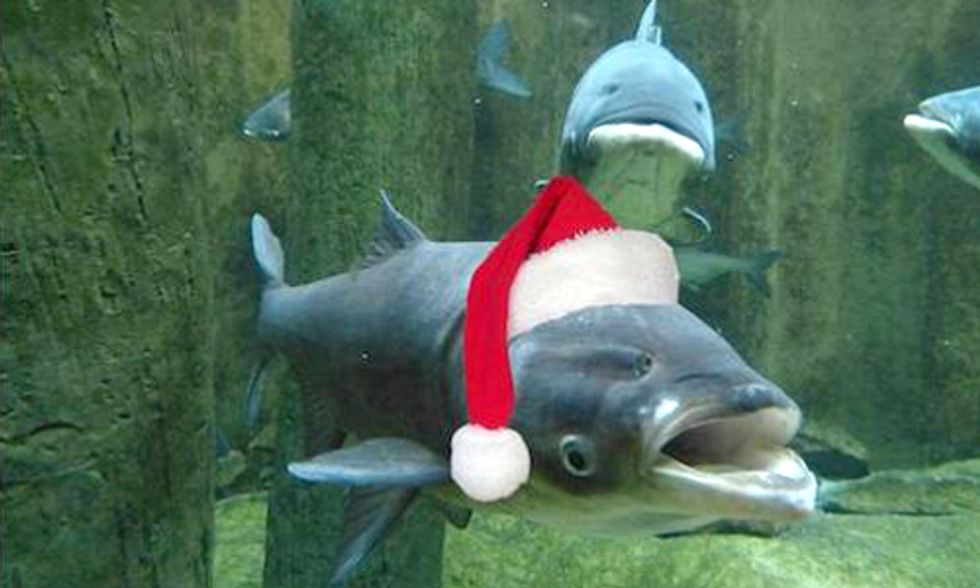 On the twelfth day of Christmas, a canal brought to me: Canals have been a significant source of invasive species into the Great Lakes region. Canals can be an invasion pathway by opening previously unavailable habitat to a species (e.g. alewives, lamprey) or by allowing ships with AIS in their ballast to enter the Great Lakes (e.g. quagga mussels, spiny water flea). In fact, the pathway into the Great Lakes region for nearly all of the invasive species in this jingle can be easily tied to a canal. The only exception is the red swamp crayfish; it likely made its way into Wisconsin via an aquarium release.
Twelve quaggas clogging—Quagga mussels are now the dominant invasive mussel in Lake Michigan. A congener (a member of the same genus) of zebra mussels, the quagga mussel can tolerate colder water and colonize soft substrates. These abilities have helped it colonize most of the benthic habitat in Lake Michigan. Just like zebra mussels, quagga mussels are quite effective at clogging water intake pipes and other infrastructure. Mitigating these impacts has cost Great Lakes residents millions of dollars.
Eleven gobies gobbling—The round goby is very fond of fish eggs. It is a known predator of lake sturgeon and lake trout eggs, and a swarm of round gobies can decimate a smallmouth bass nest. They can also consume zebra and quagga mussels which can cause toxins to move up the food chain, or bioaccumulate. The best ways to prevent future inland round goby invasions is to not use round goby as bait and to not move live fish. This will keep the goby's gobbling ways from spreading to interior lakes.
Ten alewives dying—Alewives are one of the few invasive species that foul Great Lake's beaches throughout the summer. Until the introduction of Pacific salmon, alewives died off in such great numbers that tractors were required to remove them from beaches. Salmon now do a great job controlling alewife numbers, but there are still alewife die-offs due to spawning and temperature related stresses.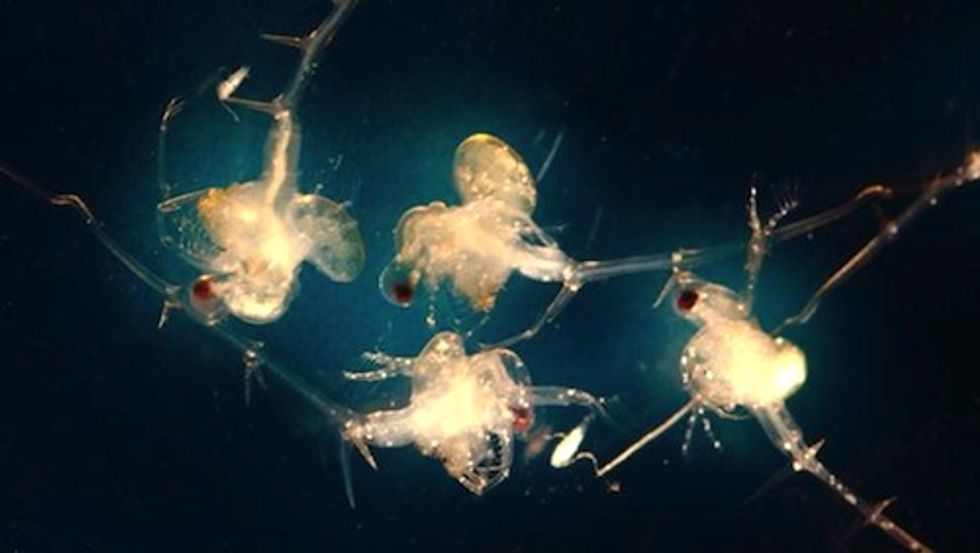 Nine eggs in resting—The spiny waterflea and the fishhook waterflea produce tiny resting eggs that can survive extreme environmental conditions, so it is imperative to make sure that recreational equipment is cleaned to prevent spreading these invasive crustaceans. Luckily, their Wisconsin distribution is currently limited to Lake Michigan, Lake Superior, the Madison Lakes and a few other inland lakes.
Eight shrimp 'a swarming—The bloody red shrimp is one of the Great Lakes more recently discovered ballast invaders. Bloody red shrimp swarms can be incredibly abundant, with swarms up to 1,500 individuals per square meter being documented. Their effects on the Great Lakes are largely unknown, but they may compete for food with young fish, and have been found in the diet of some fish in the Great Lakes. Regardless of the impacts, eight shrimp 'a swarming is a huge underestimate.
Seven carp and counting—There are seven species of non-native carp in the U.S. There are the four collectively known as Asian carp (black, grass, silver and bighead), the common carp, the crucian carp and last but not least, the Prussian carp (a wild version of the goldfish). While the current focus is on the silver and bighead carp, all of these carp cause problems one way or another. Hopefully we won't actually be counting any other carp species soon.
Six lamprey leaping—This is some bad lamprey biology humor. Lampreys are actually poor jumpers, especially when compared to trout and salmon, so a small low-head obstacle or ledge can prevent lampreys from moving further upstream while other fish leap over the obstacle. Thus, physical barriers are one way managers are preventing lampreys from invading more streams in the Great Lakes basin.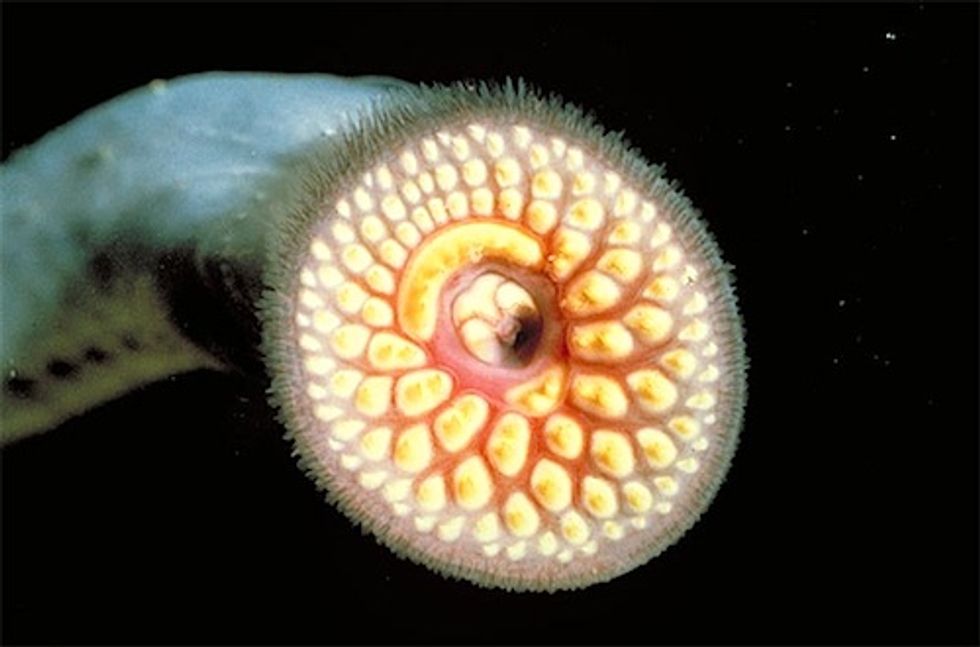 Five boat wash stations—I wish we had five boat wash stations in Wisconsin! Actually, I prefer the term "decontamination station," but since it had too many syllables I took some artistic license and used boat wash station instead. Boat washing can include any steps that clean a boat, but watercraft decontamination steps include AIS removal actions that go beyond draining water and removing vegetation. Often times these steps involve the use of pressure washing equipment. Wisconsin is currently evaluating watercraft decontamination options to determine what decontamination activities make sense in the state. Check out the western U.S. to see where decontamination activities are widely used. Decontamination stations might not always be necessary, especially if you can take part in the third day's gifts.
Four white perch on ice—Icing your catch is another way fishermen can help prevent the spread of invasive species. Many invasive species aren't readily visible to the naked eye, including zebra and quagga mussel veligers, spiny and fishhook waterfleas and viral hemorrhagic septicemia. Icing the day's catch makes it so anglers don't need to transport water and the organisms in it, while also improving table fare. The invasive white perch would go well on ice, as would the yellow perch and any of the other delicious fish species found in Wisconsin. A fish on ice is twice as nice; that's a win-win if I've ever heard one.
Three clean boat steps—Clean. Drain. Dry. Follow those three simple steps to stop aquatic hitchhikers. Not already familiar with the three clean boat steps? Here they are in a little more detail: Clean any weeds, mud and debris from your boat, motor and trailer. Drain any water from the boat, motor, live wells, bait wells and bilge. Dry any equipment that came in contact for more than five days, especially if you will be using it on different waterbody.
Two red swamp crayfish—Two is the number of documented red swamp crayfish populations in Wisconsin. Both populations were detected early and contained. Time will tell if eradication efforts were successful in eliminating this common classroom dissection subject. Similar introductions can be prevented in the future by not releasing unwanted pets and classroom specimens. Not using crayfish as bait can also help prevent future crayfish invasions.
And a carp barrier in the city!—There are actually three electric barrier arrays in the Chicago Sanitary and Ship Canal. Two of the barriers are always on, while the other is on standby to provide emergency backup or to be functional during periods of maintenance. This configuration has prevented radio tagged fish in an Army Corps of Engineers study from moving upstream of the barriers. As long as the electricity remains on, these barriers should prove to be effective at preventing additional silver and bighead carp from entering the Great Lakes until a more permanent solution can be found.
Visit EcoWatch's BIODIVERSITY page for more related news on this topic.