Minke whales dragged aboard the Japanese whaling vessel Nisshin Maru. Customs and Border Protection Service, Commonwealth of Australia
Other commercial whalers include Norway, which has killed more than 14,000 minke whales, and Iceland, which has killed nearly 1,800 whales in defiance of the moratorium, according to the report.
Previous reports have revealed that the Japanese government has an ultimate goal to resume commercial whaling, even though most of its citizens no longer eat whales. Whaling proponents say that hunting the mammals is part of their culture.
Hideki Moronuki, Japan's senior fisheries negotiator and commissioner for the IWC, told the BBC that the country is pushing for the "the sustainable use of whales."
Among its proposals, Japan wants to set up a "Sustainable Whaling Committee" which would create catch-quotas for nations wishing to allow their citizens to hunt healthy whale populations for commercial purposes, according to AFP.
Japan, which says minke and other whale stocks have recovered, will propose setting new catch quotas for species whose stocks are recognized as healthy by the IWC scientific committee.
Japan is also seeking to lower the proportion of votes required to set rule changes to a simple majority of the 89-member IWC, rather than three-quarters.
IWC meeting host Brazil is trying to rally other anti-whaling nations, such ads the European Union, Australia and New Zealand, to sign the "Florianópolis Declaration" that states commercial whaling is a no longer economically necessary and would allow the recovery of all whale populations to pre-industrial whaling levels, according to AFP.
Conservation groups have highlighted significant welfare concerns regarding "inhumane" time to death (TTD) rates after the whales are caught.
Whalers typically use an exploding harpoon to try to kill the animal "instantly"—defined by the IWC as within 10 seconds of being shot.
However, the report from EIA and AWI found that the hunted whales have suffered up to 25 minutes before dying:
Iceland's TTD data in 2014 claimed that 42 died "instantly" while eight whales had to be shot a second time and their median TTD was eight minutes.
Norway recently collected TTD data for 271 minke whales. The median TTD for the 49 whales not registered as instantaneous deaths was six minutes. One whale had to be shot twice, taking 20-25 minutes to die.
Japan's minke whales taken in the offshore North Pacific hunt take an average of two minutes to die, while those in the coastal hunt take over five minutes. Antarctic minkes take an average of 1.8 minutes to die.
Whaling opponents are urging the IWC to reaffirm its international moratorium on commercial whaling.
"If Japan gets its way, it would be a massive victory for those rogue whalers who have time and again defied the international ban on commercial whaling and an absolute disaster for the world's whales," said Clare Perry, EIA's Ocean Campaigns leader in a statement received by EcoWatch.
"Many whale species have not yet recovered from massive overhunting in the past, and they are also facing a wide array of mounting existential threats ranging from climate change to marine pollution by chemicals, plastics and noise," Perry added.
Kate O'Connell, marine wildlife consultant for the Animal Welfare Institute had similar sentiments.
"We're only just beginning to grasp the vital role whales play in maintaining the health of the world's oceans," O'Connell said. "Weakening the ban now would be a fatal mistake, and would open the doors to increased commercial whaling around the world. This cruel and unnecessary industry is a relic of the past that has no place in modern society."
"All other contracting governments to the IWC must step up to vigorously defend the moratorium from this new assault by Japan and its allies," O'Connell concluded.
Japan Kills More Than 120 Pregnant Whales https://t.co/PI5eMQHDAH @SeaShepherd @Oceanwire @savingoceans

— EcoWatch (@EcoWatch)1527638705.0
From Your Site Articles
Related Articles Around the Web
EcoWatch Daily Newsletter
For years, the Japanese government has hunted whales under the name of "scientific research." Now officials are angling to resume commercial whaling at the International Whaling Commission (IWC) meeting this September in Brazil.
At the meeting, officials "will propose setting a catch quota for species whose stocks are recognized as healthy by the IWC scientific committee," Hideki Moronuki, an official in charge of whaling at Japan's fisheries agency, told Agence France-Presse.
Japan is also seeking to lower the proportion of votes required to set catch quotas to a simple majority of IWC membership, rather than three-quarters, Moronuki added.
Commercial whaling was banned internationally in 1986 under the IWC's moratorium. However, Japan launched its "scientific whaling" program in 1987 as a loophole to the moratorium. Japan intends to kill some 4,000 whales over the next decade.
Norway and Iceland are the only other countries that have authorized whaling despite the moratorium.
Japan's controversial hunts have continued despite international protests. Japanese politicians have insisted that the species they hunt, the minke whale, are not endangered and that eating the meat is part of its culture, even though most of its citizens no longer eat it.
This year, like in seasons past, Japanese whaling vessels returned with 333 Minke whales from Antarctic waters, of which 181 were females. Of those, 122 or 67 percent were pregnant. The whalers also took 61 immature males and 53 immature females.
Japan Kills More Than 120 Pregnant Whales https://t.co/PI5eMQHDAH @SeaShepherd @Oceanwire @savingoceans

— EcoWatch (@EcoWatch)1527638705.0
Some of the hunting takes place in Australian whale sanctuaries. In a statement to Fairfax Media, Australia's Department of the Environment and Energy said it was aware of Japan's reported plan to resume whaling and will seek to block its bid.
"Australia will strongly oppose any proposals to overturn the moratorium [on commercial whaling] or change the rules for setting catch limits," the department said.
Humane Society International's Australia chapter commended the Australian government for "remaining steadfast in its opposition to commercial whaling."
Other anti-whaling nations, including New Zealand and most countries in Europe and South and Central America, would similarly be opposed to Japan's purported plans, Fairfax Media reported.
waterlust.com / @tulasendlesssummer_sierra .
Each product featured here has been independently selected by the writer. If you make a purchase using the links included, we may earn commission.
The bright patterns and recognizable designs of Waterlust's activewear aren't just for show. In fact, they're meant to promote the conversation around sustainability and give back to the ocean science and conservation community.
Each design is paired with a research lab, nonprofit, or education organization that has high intellectual merit and the potential to move the needle in its respective field. For each product sold, Waterlust donates 10% of profits to these conservation partners.
Eye-Catching Designs Made from Recycled Plastic Bottles
waterlust.com / @abamabam
The company sells a range of eco-friendly items like leggings, rash guards, and board shorts that are made using recycled post-consumer plastic bottles. There are currently 16 causes represented by distinct marine-life patterns, from whale shark research and invasive lionfish removal to sockeye salmon monitoring and abalone restoration.

One such organization is Get Inspired, a nonprofit that specializes in ocean restoration and environmental education. Get Inspired founder, marine biologist Nancy Caruso, says supporting on-the-ground efforts is one thing that sets Waterlust apart, like their apparel line that supports Get Inspired abalone restoration programs.
"All of us [conservation partners] are doing something," Caruso said. "We're not putting up exhibits and talking about it — although that is important — we're in the field."
Waterlust not only helps its conservation partners financially so they can continue their important work. It also helps them get the word out about what they're doing, whether that's through social media spotlights, photo and video projects, or the informative note card that comes with each piece of apparel.
"They're doing their part for sure, pushing the information out across all of their channels, and I think that's what makes them so interesting," Caruso said.
And then there are the clothes, which speak for themselves.
Advocate Apparel to Start Conversations About Conservation
waterlust.com / @oceanraysphotography
Waterlust's concept of "advocate apparel" encourages people to see getting dressed every day as an opportunity to not only express their individuality and style, but also to advance the conversation around marine science. By infusing science into clothing, people can visually represent species and ecosystems in need of advocacy — something that, more often than not, leads to a teaching moment.

"When people wear Waterlust gear, it's just a matter of time before somebody asks them about the bright, funky designs," said Waterlust's CEO, Patrick Rynne. "That moment is incredibly special, because it creates an intimate opportunity for the wearer to share what they've learned with another."
The idea for the company came to Rynne when he was a Ph.D. student in marine science.
"I was surrounded by incredible people that were discovering fascinating things but noticed that often their work wasn't reaching the general public in creative and engaging ways," he said. "That seemed like a missed opportunity with big implications."
Waterlust initially focused on conventional media, like film and photography, to promote ocean science, but the team quickly realized engagement on social media didn't translate to action or even knowledge sharing offscreen.
Rynne also saw the "in one ear, out the other" issue in the classroom — if students didn't repeatedly engage with the topics they learned, they'd quickly forget them.
"We decided that if we truly wanted to achieve our goal of bringing science into people's lives and have it stick, it would need to be through a process that is frequently repeated, fun, and functional," Rynne said. "That's when we thought about clothing."
Support Marine Research and Sustainability in Style
To date, Waterlust has sold tens of thousands of pieces of apparel in over 100 countries, and the interactions its products have sparked have had clear implications for furthering science communication.
For Caruso alone, it's led to opportunities to share her abalone restoration methods with communities far and wide.
"It moves my small little world of what I'm doing here in Orange County, California, across the entire globe," she said. "That's one of the beautiful things about our partnership."
Check out all of the different eco-conscious apparel options available from Waterlust to help promote ocean conservation.
Melissa Smith is an avid writer, scuba diver, backpacker, and all-around outdoor enthusiast. She graduated from the University of Florida with degrees in journalism and sustainable studies. Before joining EcoWatch, Melissa worked as the managing editor of Scuba Diving magazine and the communications manager of The Ocean Agency, a non-profit that's featured in the Emmy award-winning documentary Chasing Coral.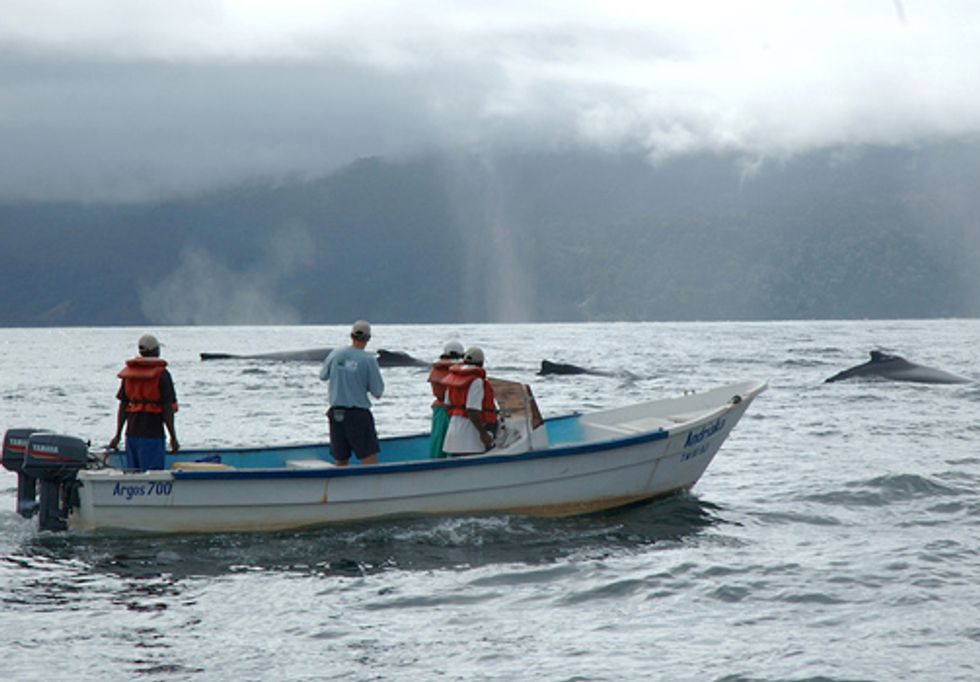 The fate of the world's great whale species commands global attention as a result of heated debate between pro and anti-whaling advocates, but the fate of smaller marine mammals is less understood, specifically because the deliberate and accidental harvesting of dolphins, porpoises, manatees and other warm-blooded aquatic denizens is rarely studied or monitored.
To shed more light on the issue, researchers from the Wildlife Conservation Society (WCS) and Okapi Wildlife Associates have conducted an exhaustive global study of human consumption of marine mammals using approximately 900 sources of information. The main finding—since 1990, people in at least 114 countries have consumed one or more of at least 87 marine mammal species. In addition to this global review, Wildlife Conservation Society scientists work in remote countries around the world to assess and actively address the threat to dolphin populations with localized, applied conservation efforts.
The new global study appears in the most recent edition of Biological Conservation. The authors include Dr. Martin D. Robards of the Wildlife Conservation Society, and Dr. Randall R. Reeves of Okapi Wildlife Associates.
"International bodies such as the International Whaling Commission were formed specifically to gauge the status of whale populations and regulate the hunting of these giants," said Robards, lead author of the new study. "These species, however, represent only a fraction of the world's diversity of marine mammals, many of which are being accidentally netted, trapped, and—in some instances—directly hunted without any means of tracking as to whether these harvests are sustainable."
In order to build a statistically robust picture of human consumption rates of marine mammals around the world, Robards and Reeves started with records on small fisheries focused on small whales (i.e. pilot whales), dolphins, and porpoises from 1975 and records of global marine mammal catches between 1966 and 1975. From there, the authors consulted some 900 other sources and consulted with numerous researchers and environmental managers, an exhaustive investigation that took three years to complete. The team only counted information with actual evidence of human consumption of marine mammals, omitting instances where marine mammals were caught (either intentionally or not) for fishing bait, feed for other animals, medicines, and other uses.
The list of marine mammals killed for human consumption includes obscure species such as the pygmy beaked whale, the South Asian river dolphin, the narwhal, the Chilean dolphin, the long-finned pilot whale, and Burmeister's porpoise. Seals and sea lions are on the list as well, including species such as the California sea lion and lesser known species such as the Baikal seal. The polar bear (a bear that is considered a marine mammal) also makes the list. Three species of manatee and its close relative the dugong, considered a delicacy in some parts of the world, are also widespread targets of human consumption.
Overall, the historical review reveals an escalation in the utilization of smaller cetaceans, particularly coastal and estuarine species since 1970, often caught as accidental "bycatch" in nets meant for fish and other species. Once caught, however, small cetaceans are being increasingly utilized as food in areas of food insecurity and/or poverty, what the authors call "fishing up the food chain."
"Obviously, there is a need for improved monitoring of species such as the Atlantic and Indo-Pacific humpback dolphins and other species," said Dr. Howard Rosenbaum, director of WCS's Ocean Giants Program. "In more remote areas and a number of countries, a greater immediate need is to understand the motivations behind the consumption of marine mammals and use these insights to develop solutions to protect these iconic species that lead to more effective management and conservation."
WCS's Ocean Giants Program works in a number of seascapes of critical importance to small cetaceans in particular. These efforts are focused on the local level to address local impacts on coastal dolphin populations, providing on-the-ground practical conservation actions to compliment the global investigative work highlighted above.
In Congo, Gabon, and Madagascar, WCS conservation scientists Dr. Salvatore Cerchio and Tim Collins are conducting scientific studies to assess the status of impacted dolphin populations, and work with local communities of traditional fishermen to reduce accidental bycatch and deliberate hunting of dolphins. In these regions, the scientists are documenting a worrying trend in increased captures and use of dolphins for food, and they are sometimes also being sold in markets better known for their association with terrestrial bushmeat.
In response, Cerchio and the WCS Madagascar team have worked with local communities to establish a local conservation association composed of fishermen, local traditional laws protecting dolphins, and development of community-based whale and dolphin watching as an alternative livelihood. On the other side of the African continent, the coasts of Gabon and Congo represent one of the last strongholds for the rare Atlantic humpback dolphin. Catches by fishermen in Gabon are extremely rare, but groups of dolphins that cross the border (a finding of recent WCS work) risk capture in coastal gillnets set by artisanal fisherman. "The Atlantic humpback dolphin may well be the rarest mammal in the Congo basin region," said Tim Collins. "Unfortunately, few have ever heard of it, least of all the fisherman eating them out of existence."
For more information, click here.