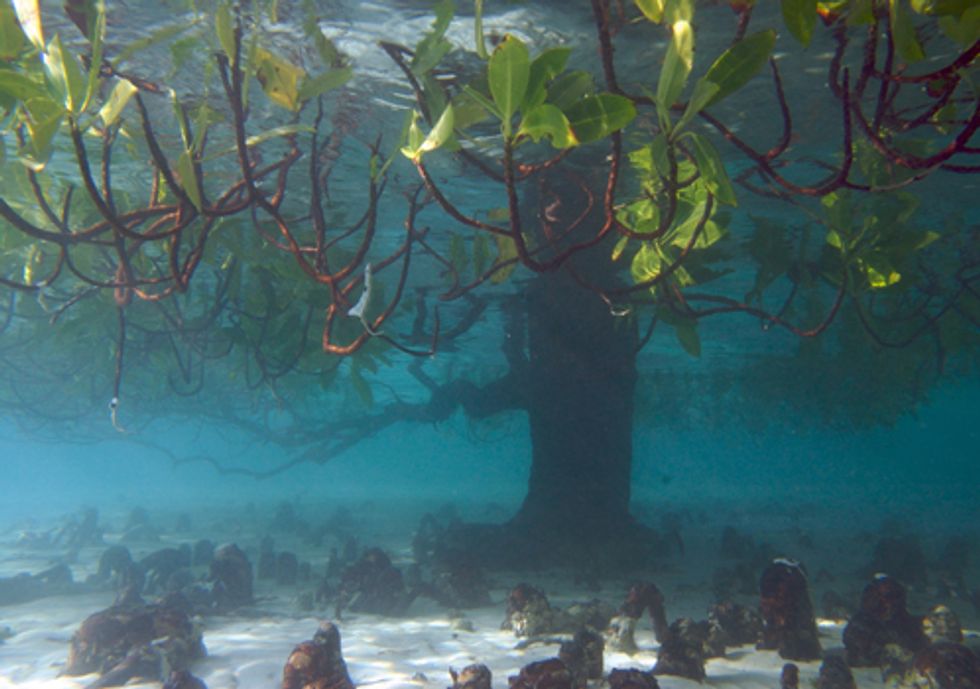 The critical role of coastal ecosystem management in curbing climate change and the need to fully integrate it in climate change and biodiversity policies were the focus of the Blue Carbon—Managing Coastal Ecosystems for Cimate Change Mitigation Symposium that  took place in the European Parliament in Brussels, Jan. 12.
"Preserving and restoring coastal and marine ecosystems should be fully integrated in all climate change mitigation strategies and biodiversity policies at the international and European level," argued Struan Stevenson, member of the European Parliament and chair of the symposium.
Pia Bucella, director in DG Environment, European Commission urged the European Parliament, as the political arm of the European Union, to raise the profile and encourage the integration of coastal blue carbon-based activities, such as the conservation and restoration of these systems, in climate change policies.
Blue carbon is the carbon stored by coastal and ocean ecosystems. A square mile of coastal ecosystems such as mangroves, seagrasses and tidal marshes, which can be found all over the world except Antarctica, can store and remove more carbon from oceans and the atmosphere than a square mile of mature tropical forests.
But coastal and marine ecosystems are facing some serious threats from pollution, coastal activities and unsustainable management practices. Speakers at the symposium warned that the continued disappearance of coastal ecosystems will have a negative impact on climate change—when lost, they stop sequestering CO2 and release the carbon they have been storing for centuries.
"A single 100g shrimp cocktail that is unsustainably produced through mangrove clearance can have a carbon footprint equivalent to 40 liters of gasoline," said Dr. Boone Kaufman, a professor at the Department of Fisheries and Wildlife, Oregon State University.
"Blue carbon provides new, compelling reasons to urgently prevent the loss of marine and coastal ecosystems and biodiversity," said Dan Laffoley, vice chair of the International Union for Conservation of Nature (IUCN) World Commission on Protected Areas—Marine. "It's not just about marine habitats or species, but also about the hidden value they have for humankind. Increasing the restoration and sustainable management of these critically important ecosystems through strong political leadership and ambitious actions is a necessary prerequisite for successful climate change strategies."
"We need to employ a targeted strategy that prioritizes the conservation of specific, high-carbon coastal zones," said Dr. Emily Pidgeon, senior director of Strategic Marine Initiatives at Conservation International. "The challenge we face is to show how these ecosystems provide a service, acting as a carbon sponge, and that their conservation does not stand as a roadblock to development or food production."
Bringing together high level international and European policy makers and experts, the symposium was held back to back with the second workshop of the International Blue Carbon Policy Working Group.
The International Blue Carbon Policy Working Group is part of the Blue Carbon Initiative, the first integrated programme focused on mitigating climate change by conserving and restoring coastal marine ecosystems globally. The initiative is lead by Conservation International, IUCN, and the Intergovernmental Oceanic Commission of United Nations Educational Scientific and Cultural Organization, working with partners from national governments, research institutions, nongovernmental organizations, coastal communities, intergovernmental and international bodies and other relevant stakeholders.
For more information, click here.
EcoWatch Daily Newsletter
The first ever International Union for Conservation of Nature (IUCN) mobile application developed together with Nokia is now available for consumer use and ready to be downloaded from the Nokia Store. The free-for-download app is the result of a partnership between Nokia and SOS (Save Our Species), a global species conservation fund to protect threatened species and their habitats.
The app, Fantastic World of Frogs, is an image gallery of frogs for the Nokia N9 Smartphone and allows users to view spectacular photos of frogs, discover their habitat in the Colombian rainforest, and learn more about these incredible creatures. Additionally, users can learn about conservation breakthroughs that the corresponding SOS-sponsored project—protecting and restoring key sites for globally threatened amphibians—in partnership with Conservation International (CI), delivered. The app highlights Conservation International's (CI) work with their local non-governmental organization partner, Fundación ProAves, in the biodiversity hotspot Chocó of Colombia.
Users of the IUCN Smartphone app can also enjoy the adventures of conservation hero Robin Moore, project leader and Programme Manager of IUCN's Amphibian Specialist Group and amphibian conservation officer at CI. Amphibians are the most threatened group of vertebrates in the world, with more than 41 percent threatened with extinction, according to the IUCN Red List of Threatened Species. The goal of the new app is to drive awareness of the plight of frogs and introduce users to the diversity of Colombian frog species.
Nokia is lead sponsor of SOS and, in addition to supporting conservation projects, helps raise awareness of the importance of species protection by the use of innovative mobile technology. SOS aims to build a global coalition in order to halt the loss of biodiversity, and they invite other innovative businesses across all industries to join in the initiative.
Key Issues
"Frogs are sensitive barometers of environmental health," says Robin Moore, project leader and programme manager of IUCN's Amphibian Specialist Group. "As a group they are heavily threatened by habitat loss, and combining photography with technology is a fun way of highlighting our approach to protecting critical habitats with a behind-the-scenes look at conservation in action."
"Amphibians provide many important services to humans such as controlling insects that spread disease and damage crops—they also form a beautiful group of animals harboring an amazing diversity of colors, making them outstanding ambassadors for wildlife conservation, says Jean-Christophe Vié, deputy director of IUCN's Global Species Programme and SOS Director. "We need targeted conservation to protect these species. Fantastic World of Frogs is an amazing tool that helps us promote amphibian preservation."
"We were the first company to join the SOS initiative. We believe that mobile applications offer a fantastic opportunity to raise awareness on environmental issues. This new app is a great way to teach people about the importance that frogs have in the ecosystem," says Outi Mikkonen, director, Stakeholder Engagement at Nokia.
For more information, click here.
CBD, one of the many compounds found in the cannabis plant, has been getting a lot of attention recently. Some of it good and some of it bad. Increasingly, people in the UK are turning to CBD oils for help in relieving pain, anxiety, sleep and a host of other health issues.
<p>While CBD is gaining in popularity, and more products are becoming available on the high street and online, there is little scientific research to back the claims made by CBD product manufacturers. That's why if you're going to buy CBD oil it is important to understand what you're purchasing and to choose products from brands that lab test their products and make the results available to customers.</p><p>To help you find the best CBD oil available in the UK, we've done all the hard work and created a list of the best CBD oil brands and products that are available online for you to choose from.</p><p>To create this list of CBD oil producers and sellers, we've:</p><ul class="ee-ul"><li>Spoken with over 100 different producers</li><li>Tested over 50 products for potency, quality and accuracy of labelling</li><li>Tried every product on the list</li></ul><p>It is important to note that the details for the products listed here are not intended for diagnosing, treating, curing or preventing any particular disease. If you take prescription medicines you should speak to your GP or other healthcare professional before you take CBD oil about possible drug on drug interactions.</p><p>In this buyer's guide to CBD oils in the U.K., you'll find:</p><ul class="ee-ul"> <li>A list of the brands we trust most</li><li>A price comparison chart to help you find the best value CBD oil</li><li>The potential benefits that you can derive from CBD oil</li><li>CBD dosage recommendations.</li><li>How to pick the best CBD oil for your needs</li></ul><p>CBD oil works differently for everyone and just because something works well for a friend or colleague doesn't necessarily mean it'll be as effective for you. Fortunately, there are many options out there to choose from. The CBD market is growing fast, however, quality can vary between brands, which is why we have conducted our own research to compile a list of CBD products that we think are the best.</p><p>We've tested CBD oils for taste, consistency, cannabinoid profile, value, and accuracy of lab test results to compile our list of the best CBD oils available online today.</p><p>We update our list each month as we test more brands and find new products our readers may like. Our readers also provide feedback on the brands they've tried and like or don't rate so much. We take our readers' feedback into consideration when we make our Buyer's Guides.</p><p>We also work directly with many of the leading CBD brands to bring you their latest offers and discounts, so it's worth checking back to see how you can continue to get the best value CBD oils for your money.</p><h2>The Best CBD Oils in the U.K.</h2>