Oklahoma has had a whole lot of shaking going on during the last six years. Seismic activity in the state has risen dramatically, from just more than a dozen earthquakes recorded back in 2008 to more than 100 in 2013. And here we are only halfway through 2014, and already the number of Oklahoma quakes with a magnitude of 3.0 or higher has surpassed the number of such earthquakes in California—a state famous for its big temblors.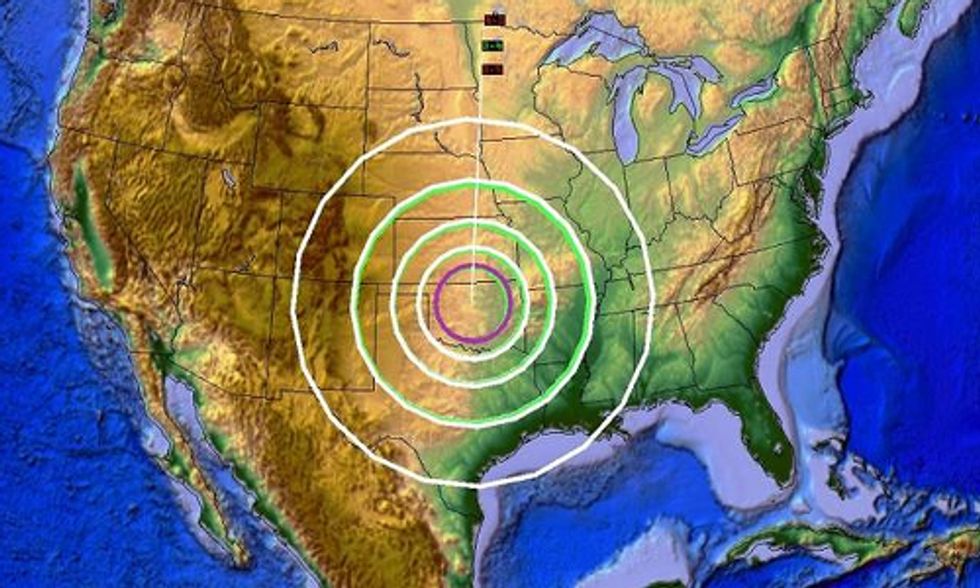 What on Earth (or under it) could be causing the Sooner State to rumble like this? A new study, published last week in the journal Science, suggests that a common byproduct of oil and gas drilling may be to blame.
In the process of extracting oil and gas, energy companies also end up extracting a lot of underground water: for every quart of oil yielded, in fact, as much as a gallon of water gets sucked up out of the ground. Because this wastewater is salty, drillers can't simply dump it into the nearest freshwater stream; instead, they typically inject it back into the formation, via deep wells that can extend anywhere from one to three miles below ground. Unfortunately, the study's authors have found, these wastewater injections can agitate long-dormant faults, causing them to slip—and trigger an earthquake.
A number of previously published studies (you can read a few here, here and here) have shown strong correlations between wastewater injection wells and increased seismic activity. But by synthesizing the most sophisticated hydrological models with the latest seismological data, the authors of this most recent study have arrived at our clearest understanding yet of how, exactly, the act of injecting water into the ground might physically result in an earthquake.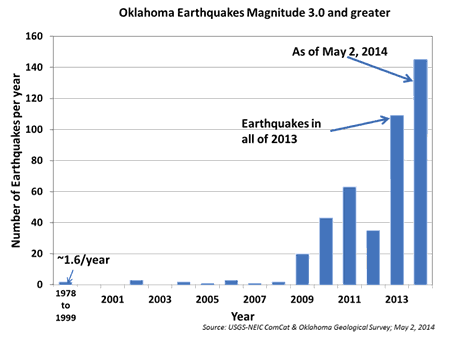 According to the researchers, only a handful of Oklahoma's 10,000 wells—roughly 90 of them where drillers have routinely been pumping wastewater below the surface—may account for the state's biggest cluster of earthquakes. (Within 25 miles of these well sites, more than 100 earthquakes have been recorded.) Although the study doesn't prove, conclusively, that the wells induced those earthquakes, the data does strongly support that suspicion.
"The main purpose of this study was to try to understand the physics of the system better, particularly the linkage between wastewater injection and observed seismicity," says co-author Shemin Ge, a hydrogeologist at the University of Colorado, Boulder. Through this understanding, she and her partners are hoping to identify and promote best practices—such as making sure that a site isn't too close to a fault before any drilling begins, or limiting the amount of water injected into a well.
The size of Oklahoma's oil and gas industry has nearly doubled since 2004. But it's not the only state where earthquake activity is rising at same time that oil and gas development are surging: Colorado, Texas, Arkansas and Ohio have also been feeling the Earth move a lot more than usual. Even so, nearly half of all the earthquakes that took place in the central and eastern U.S. between 2008 and 2013 occurred in Oklahoma.
The quakes have cracked foundations and buckled highways. Last October, the state's insurance commissioner began encouraging homeowners to buy earthquake insurance—a purchase that, up until now, has probably made a lot more sense to residents of Temecula than Tulsa. Now some nervous Oklahomans are calling for a moratorium on wastewater injection wells, taking a cue from their neighbors in Arkansas, who in 2011 issued a ban of their own on any underground wastewater disposal within 1,150 square miles of a major geologic fault.
"We don't fully understand what the hazard implications of [wastewater injection] are," says Bill Ellsworth, a U.S. Geological Survey geophysicist who knows a thing or two about earthquakes. (He's published more than 100 studies on them—though he wasn't a part of this most recent study). Still, Ellsworth says, "this type of research is an important direction for people working in this field to be perusing."
Can't argue with that. In the meantime, Okies, take a few earthquake tips from your friends on the West Coast (and maybe get that insurance).
This article was originally posted in Natural Resources Defense Council's OnEarth. 
EcoWatch Daily Newsletter
By Laura Beans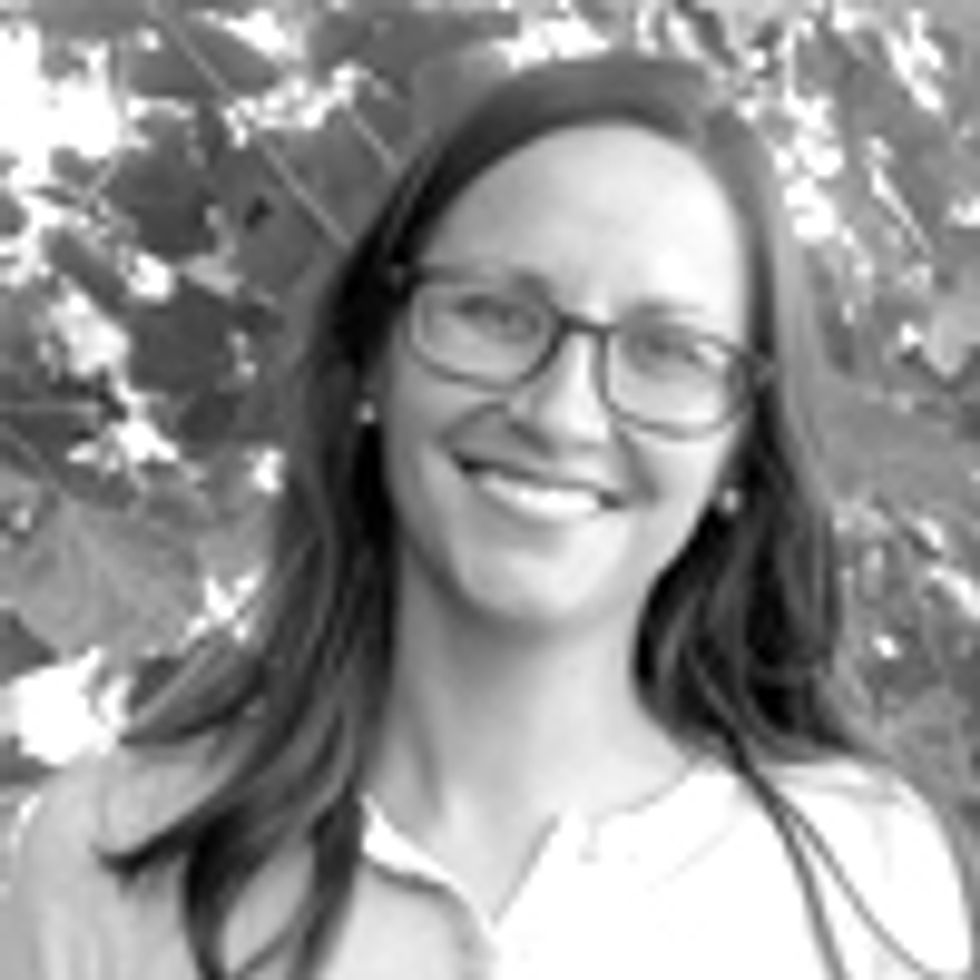 The increased rates of earthquakes occurring in the central and eastern U.S over the past few years is a growing cause of concern. Two recent reports delve into the probability of man-made, wastewater induced earthquakes.
According to the U.S Geological Survey (USGS), more than 300 earthquakes above a magnitude 3.0 occurred from 2010-2012, compared with a much lower national average rate of 21 earthquakes per year observed from 1967-2000. The USGS also found that the increase in seismic activity coincides with the injection of wastewater in deep disposal wells. Much of this is a byproduct of oil and gas production which uses the process of fracking for extraction. The fracking wastewater is disposed of into wells specifically designed and approved for this purpose.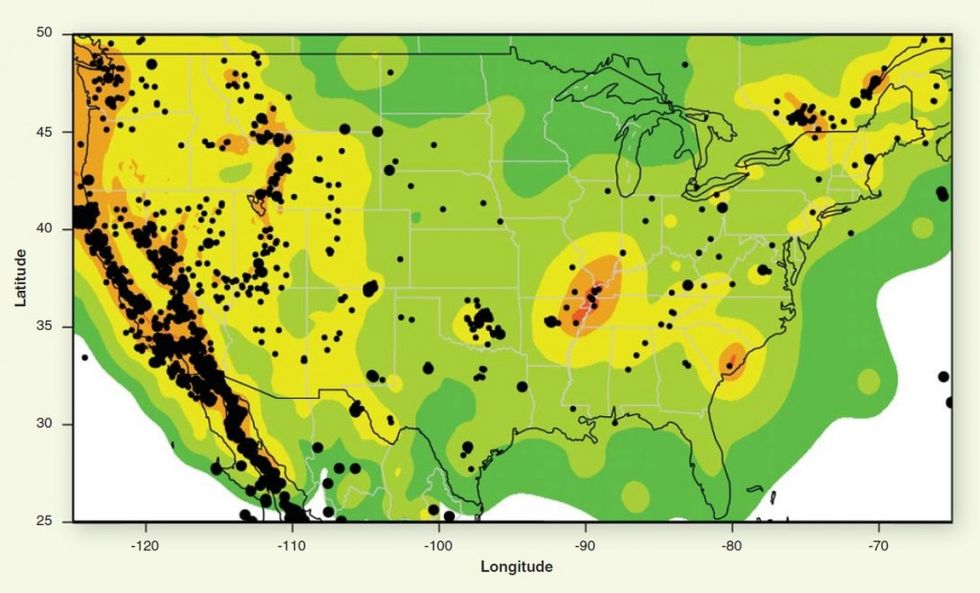 The journal Science published a report Thursday, concluding that powerful earthquakes thousands of miles away can trigger swarms of minor quakes near wastewater-injection well sites like those used in oil and gas recovery, sometimes followed months later by quakes big enough to destroy buildings.
What seems to happen is that wastewater injection leaves local faults "critically loaded," or on the verge of rupture. Even weak seismic waves from faraway quakes are therefore enough to set off a throngs of small quakes in a process called "dynamic triggering."
Geologists have known for 50 years that injecting fluid underground, by the impoundment of water in reservoirs, surface and underground mining, can increase pressure on seismic faults and make them more likely to slip. The result is an induced quake.
The "natural gas boom" of recent years has been linked to an increase in small to moderate earthquakes. According to Rueters, seismologists at Columbia University say they have identified three earthquakes—in Oklahoma, Colorado and Texas—that were triggered at injection-well sites by major quakes a far distance away.
The seismic waves from an 8.8 quake in Maule, Chile, in February 2010 triggered a 4.1 magnitude quake in Prague, OK—site of the Wilzetta oil field—some 16 hours later. Months of smaller tremors in Oklahoma ensued, and then on Nov. 6, 2011, a 5.7 magnitude quake—the largest yet associated with wastewater injection—hit the city of Prague. It destroyed 14 homes, buckled a highway and injured two people.
"The fluids [in wastewater injection wells] are driving the faults to their tipping point," said Nicholas van der Elst of Columbia's Lamont-Doherty Earth Observatory who led the study. 
Before the advent of injection wells, triggered earthquakes were a purely natural phenomenon. Now, according to the Science paper, triggered quakes can occur where human activity has weakened faults.
Visit EcoWatch's FRACKING and FRACKING WASTEWATER pages for more related news on this topic.
——–

Early scientific analysis predicted that the risks associated with hazardous waste injection wells would be negligible. Unfortunately, experience has indicated that disposing of hazardous waste deep underground has been linked to water contamination, destroyed ecosystems, toxic leaks and earthquakes.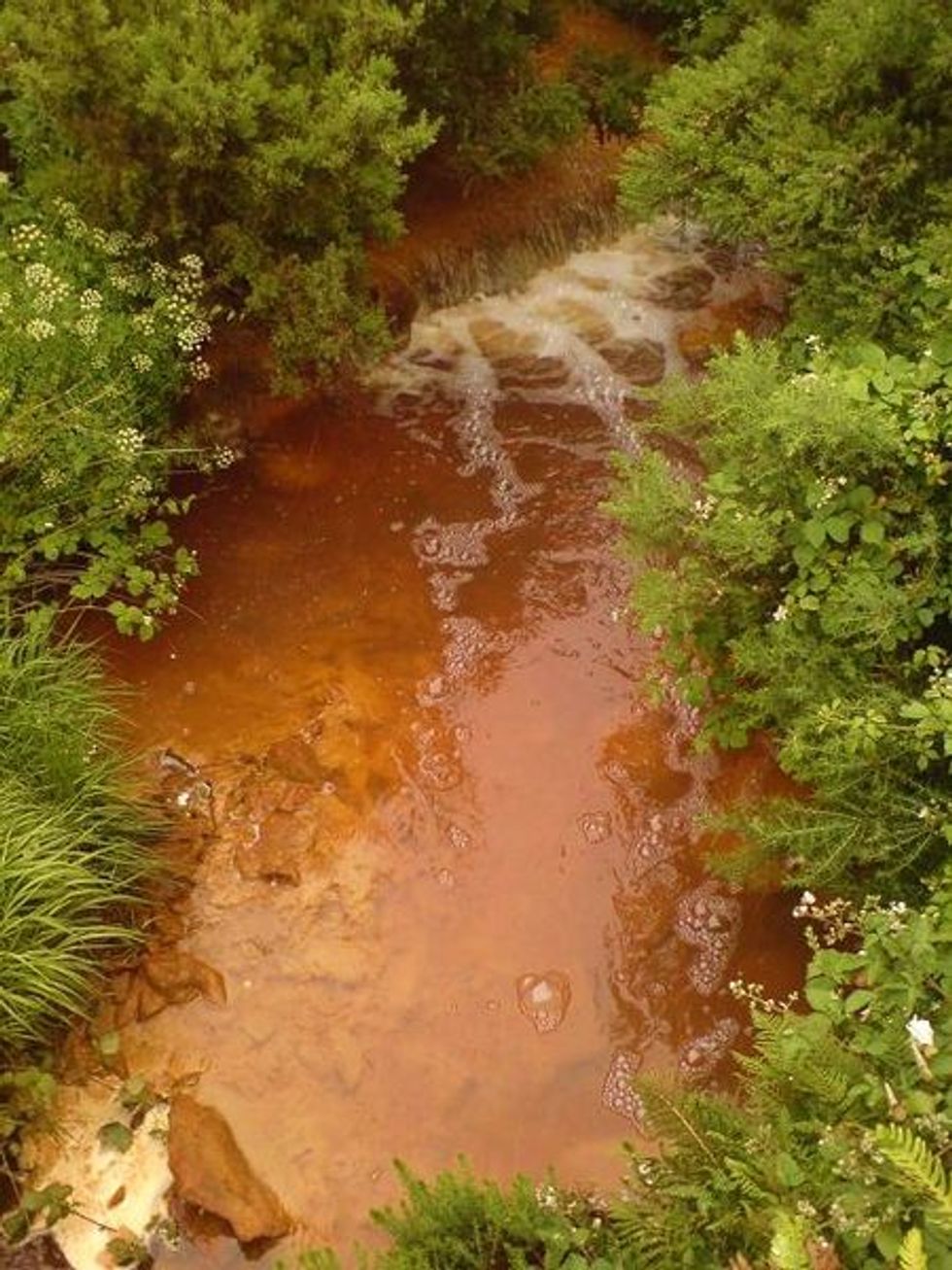 Now we are learning that there is a difference between scientific analysis and scientific evidence.
In a recent extensive report by ProPublica, John Apps, leading geoscientist, who advises the Department of Energy for Lawrence Berkeley National Labs, said that the science used to go forward with disposal wells was not sound.
"Every statement is based on a collection of experts that offer you their opinions. Then you do a scientific analysis of their opinions and get some probability out of it. This is a wonderful way to go when you don't have any evidence one way or another ... But it really doesn't mean anything scientifically," said Apps.

Perhaps the scientific projections behind the disposal well operations would be sound under ideal conditions: uniform rock structure, stability of toxic materials, predictable reactions and seismic activity. But, scientists say, no amount of speculation can take into account all of the variables of deep underground environments.
"Geology," according to geologist Ronald Reese, "is never what you think it is."
Only practical data and experimental research can offer any insight into the possible risks of hazardous waste injection wells. And since many disposal wells have gone unmonitored for years, regulators are unable to make informed decisions about their safety.
According to ProPublica, the U.S. Environmental Protection Agency (EPA) "has not counted the number of cases of waste migration or contamination in more than 20 years."
Up until the 1960s, most toxic waste was deposited in lakes and rivers, which led to obvious, unbearable pollution of ecosystems and drinking water in the U.S. As an answer to this pressing problem, oil companies developed hazardous waste injection wells as a solution.
Disposal wells use high-pressure pumps to force toxic and non-toxic waste down cement and steel pipelines to dumping zones about two kilometers deep in the Earth. Wells can be shallower if the waste is less offensive. The waste is then released into the porous rock beneath several layers of Earth. 
The idea, according to a recent report in the Scientific American, is that "underground waste is contained by layer after layer of impermeable rock. If one layer leaks, the next blocks the waste from spreading before it reaches groundwater. The laws of physics and fluid dynamics should ensure that the waste can't spread far and is diluted as it goes."
Each disposal well could deposit more than millions of gallons of waste into the ground using tremendous force. Once the waste is deposited, it is not tracked and scientists have no real idea of how far it can travel.
The ProPublica report points out that, "rock layers aren't always neatly stacked as they appear in engineers' sketches. They often fold and twist over on themselves. Waste injected into such formations is more likely to spread in lopsided, unpredictable ways."
In light of recent research and evidence of leakage, hydrologist Tom Myers says that more knowledge is needed to understand the implications of deep disposal wells as "natural faults and fractures are more prevalent than commonly understood."
Scientific projections were unable to foresee the ways that injection wells would impact the environment. The three major ways are:
Water
In many cases, liquid waste has traveled horizontally and migrated up to ground water through abandoned water and oil wells. This unanticipated phenomenon has been linked to hundreds of water contamination cases throughout the U.S. and Canada. 
There are currently thousands of unplugged and abandoned wells in the U.S. and Canada. In 1989, the U.S. General Accounting Office (GAO) investigated and concluded that current safeguards aren't preventing contamination from injected oil and gas wastes. Their report states specifically that "brines from Class II wells can enter drinking water supplies directly, through cracks and leaks in the well casing, or indirectly through nearby wells."
Canada, too, has had its share of disposal well-related contamination due to insufficient research. The Canadian government blames events like the contamination of groundwater in Lambton Count, Ontario, in 1977 on a "lack of knowledge." According to Environment Canada, "[d]isposal wells were constructed and waste injected following the regulations and best knowledge at the time. However, it was not realized that waste fluids would migrate to the surface through abandoned oil and groundwater wells, causing a major problem that still exists today."
Earthquakes
Even basic regulations are supposed to include a seismic survey within a two-mile radius of the designated drilling area. Yet, "in 1961, a 12,000-foot well was drilled at the Rocky Mountain Arsenal, northeast of Denver, [CO], for disposing of waste fluids from the Arsenal's chemical weapons operations. Injection commenced March 1962, and an unusual series of earthquakes erupted in the area shortly after." According to the U.S. Geological Survey, over the course of time that the Rocky Mountain Arsenal waste dumping practice went on, the area sustained a dozen earthquakes.
The earthquakes were prompted by the destabilization of a seismic fault line due to the drilling of the well and the pressure of materials being forced into the ground. The Arsenal stopped injection operations Nov. 26, 1967, after a 5.0 magnitude earthquake rocked the area a few months earlier.
This isn't an isolated case.
In 2011, A magnitude 5.7 earthquake rocked the area surrounding Prague, OK. Scientists say the "largest earthquake in Oklahoma history was likely triggered by a waste injection well." According to a report in National Geographic, "[a]s pressure builds in these disposal wells, it pushes up against geological faults, sometimes causing them to rupture, setting off an earthquake."
In a report released by the scientific journal Geology earlier this year, "Significant earthquakes are increasingly occurring within the continental interior of the United States." These quakes are being directly linked with injection well operations.
Land Value
In Texas, many farmers are unable to use their land for farming or livestock due to contamination. Texas is riddled with abandoned and unplugged oil wells, which play a role in the leaks caused by injection wells.
The abandoned wells present a pathway for injected wastes to migrate upward into ground water and onto farmland. If a field is flooded by an injection well leak, the land is not suitable for farming of any kind. The resale value of the land is also affected.
As ProPublica reports, in 2003, "Ed Cowley of the EPA got a call to check out a pool of briny water in a bucolic farm field outside Chico, TX. Nearby, he said, a stand of trees had begun to wither, their leaves turning crispy brown and falling to the ground." 
The pool of water was due to a salt-water leak from a nearby injection well. Salt-water brine is used in various oil production techniques [fracking] and is known to contain dangerous chemicals like benzene. "It was frustrating," Crowley said. "If your water goes, what does that do to the value of your land?"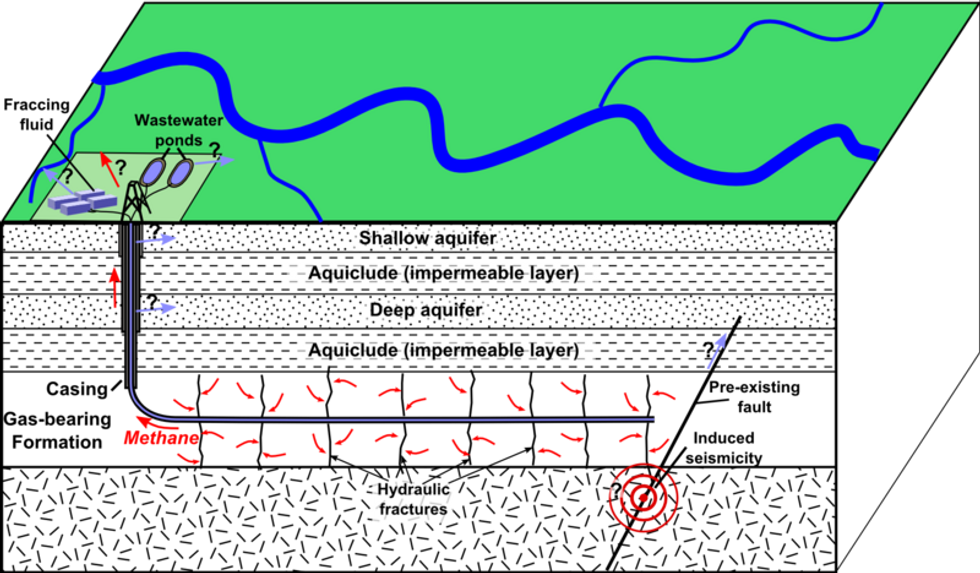 A major contributor to the deficit of knowledge surrounding waste injection wells could be the lack of sufficient monitoring and documentation. And this negligence doesn't appear to be accidental. In the 1980's, an abundance of leak and water contamination reports brought waste injection well regulations into consideration with federal regulators proposing stricter rules. At the time the oil and gas industry complained they couldn't afford to uphold such high standards of inspection. The amount of money needed to conduct the inspections would force them to close down they said.
Oil and gas exploration and production waste is now exempt from federal hazardous wastes regulations in the U.S. 
According to ProPublica, "[o]perators are required to do so-called 'mechanical integrity' tests at regular intervals, yearly for Class 1 wells and at least once every five years for Class 2 wells. In 2010, the tests led to more than 7,500 violations [in the U.S.], with more than 2,300 wells failing. In Texas, one violation was issued for every three Class 2 wells examined in 2010."
In some cases, operators aren't required to comply with what regulations do exist. Many operational wells were built before current regulations were put into place. These "grandfathered" wells are not, and will not be, subject to the same regulations as new wells.
Even with new wells, the standards are not being met. According to the GAO, new permits are being issued "without evidence that the pressure tests were conducted."
Inspection regulations in place are habitually ignored or sidestepped. Perhaps because regulations are, according to some experts, "outdated at this point."
Visit EcoWatch's FRACKING WASTEWATER page for more related news on this topic.
——–

HOW IS YOUR COMMUNITY'S WATER IS SOURCED?
Today, grassroots leaders in Ohio called out state leaders for failing to protect Ohioans from solid radioactive waste from hydraulic fracturing (fracking). According to local citizens groups, Gov. Kasich's budget bill will provide inadequate protection from low-level radioactive waste (LLRW), and therefore constitutes a handout to the oil and gas industry. They are asking the state to require the oil and gas industry to properly dispose of LLRW.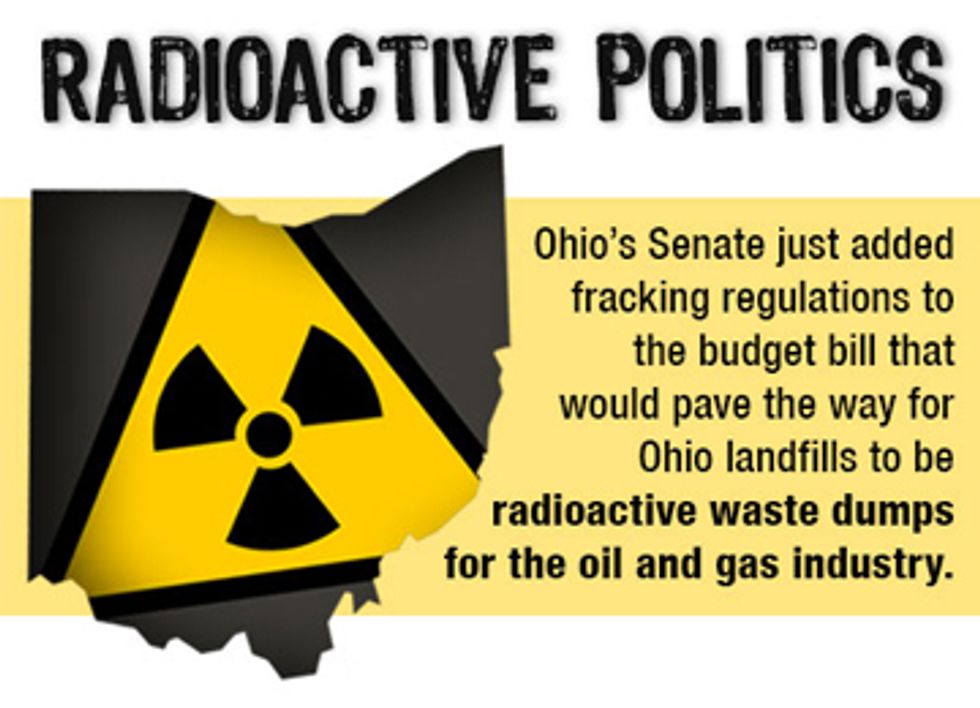 "The regulations represent yet another concession to the oil and gas industry at the expense of Ohioans' health and safety," says Alison Auciello, an organizer for Food & Water Watch. "Governor Kasich and our regulators are billing the proposal as a way to monitor and keep radioactive waste from landfills. But the legislation will indeed do the opposite of the claims made by the administration. Even worse, it gives a false sense of security that we are being protected. Disposal of radioactive waste should be considered a grave matter, not an ill-informed side note to the budget bill."
 
"The General Assembly is playing a word game to remake lethally radioactive waste into 'drilling cuttings' in order to allow drillers to dump their mountain of garbage on the cheap," said Terry Lodge, an attorney for the opposition working group. "They're replacing scientific fact with magical thinking and endangering public health, water, land and air—all for profit. By implementing these standards, they will violate federal standards. This will not stand."
 
"The radiation inherently present in shale gas drilling waste is a very serious concern. Whether disposed via injection wells, dumped into landfills or discharged into our Ohio surface waters from waste water plants, our state appears to be targeted as a regional radiation sacrifice zone," asserted Chris Borello, for Concerned Citizens of Stark County. "But once let out into our environment, this carcinogenic and long-lived toxin will leave Ohioans at risk forever. The proposal in the Ohio budget is an outdated, substandard criteria misleadingly contrary to what the National Academy of Science, the U.S. EPA [Environmental Protection Agency] and what 37 other states cite as the protective definition concerning this form of radiation. If enacted, Ohio will recklessly allow much of this radiation to be swept under the rug, posing an ongoing threat to the health of residents."
 
"Through the chosen definitions, this legislation exempts much radioactive and toxic material from any testing or tracking. Add oil-based substances, like benzene, to this concoction and the Governor and Ohio regulators think this waste can be used for 'any manner authorized as a beneficial use.' This is bad policy and endangers the health of Ohioans," said Vanessa Pesec, president of the Network for Oil and Gas Accountability and Protection.
 
"Ohio learned an important lesson in the 1990s when we were considering placing a low level radioactive waste landfill in the state for medical and research waste. We learned that if you take a small amount of radioactive waste and mix it with a large volume of regular wastes, you end up with a large volume of radioactive waste," said Julie Weatherington-Rice, senior scientist at Bennett & Williams Environmental. "Somehow, our legislature and our administration have forgotten this vital, basic radiological lesson. Water soluble wastes like radium, uranium and radon gas just leach out anyway, leaving behind the rest of the radioactive elements to contaminate wherever our current government chooses to put them. You either learn from history, or you repeat the mistakes again and again."
Visit EcoWatch's FRACKING page for more related news on this topic.
——–
Sign the petition today, telling President Obama to enact an immediate fracking moratorium:

Residents, activists and community leaders held coordinated actions across New Jersey yesterday to pressure legislative leaders into acting on the Fracking Waste Ban Bill. Notably, they collected and delivered more than 17,000 petition signatures in support of the measure to Assembly Speaker Oliver and Assembly Minority Leader Bramnick.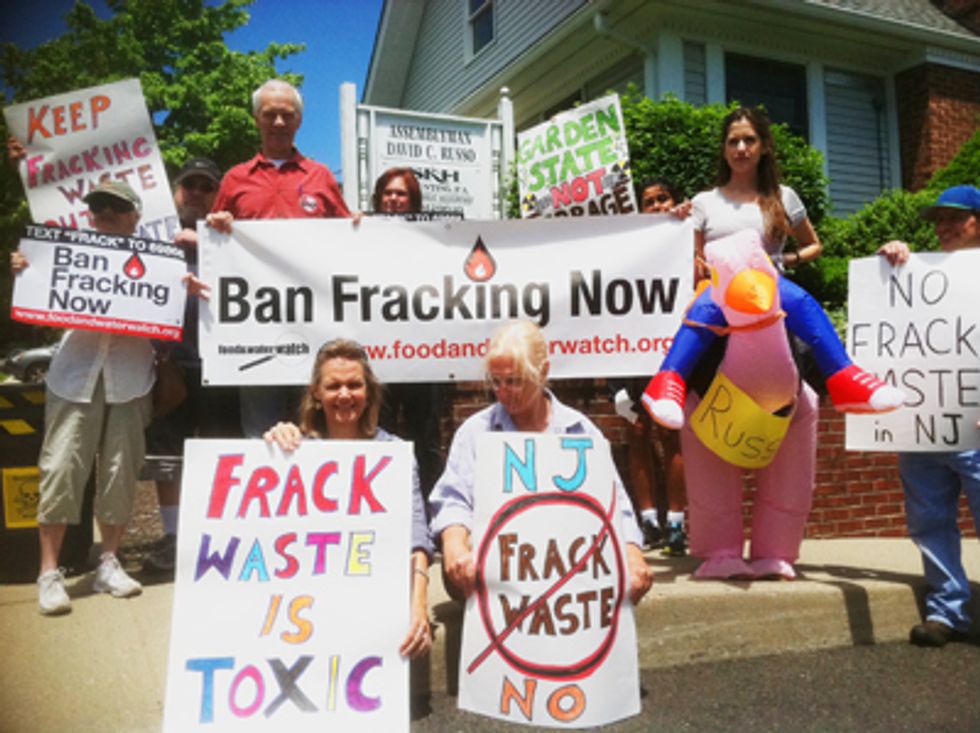 The Fracking Waste Ban Bill would protect residents by banning the disposal, treatment and discharge of toxic waste created through the process of fracking, a highly controversial natural gas drilling method. The legislation was passed with overwhelming bipartisan support last year but was vetoed by the governor in September. At various rallies today, activists dressed as ostriches, urging Oliver and Bramnick not to "bury their heads in the sand" but instead take immediate action to protect state residents.
"It's very simple—the people of New Jersey want this veto overridden, and they're expecting legislative leaders to act now," said Jim Walsh, regional director of Food & Water Watch. "There's nothing more important than the health and safety of New Jersey families, and an inundation of toxic fracking waste into our state would threaten that."
New Jersey's wastewater treatment facilities are not designed to handle the toxins found in fracking wastewater and cannot remove all the toxics before discharging the waste into public waterways. Fracking waste is exempted from critical federal protections regulating the disposal of hazardous waste and toxic materials.
"This is the most important clean water issue New Jersey has faced since the passage of the Clean Water Act 40 years ago. If we had fracking waste stored here when Sandy hit a disaster would have become an environmental nightmare," said Jeff Tittel, director of New Jersey Sierra Club. "We already have enough toxic sites and polluted water, we do not need to create more through fracking waste. We need the legislature to stand up for clean water and against special interests by voting to override the veto."
Analysis from the non-partisan Office of Legislative Services confirms the constitutionality of the legislation, directly refuting the governor's claims to the contrary. A recent study from Stony Brook University finds that the greatest risk of contamination of drinking water and environmental pollution from the fracking process occurs during the wastewater disposal period.
"The legislature took a stand to protect our drinking water and communities from frack waste pollution with the passage of the Frack Waste Ban Bill. With the governor's veto, the bill will die unless the legislature stands up again," said Tracy Carluccio, deputy director of Delaware Riverkeeper Network. "We need all those who voted to prohibit the dumping of this waste to vote again to override the veto to prevent the pollution and health impacts that will result from this radioactive material."
"This is an important vote—to protect our drinking water, to avoid enabling climate disruption in a post-Sandy New Jersey, and to bring hope to citizens that their representatives will put partisan politics aside and do the right thing," said Dave Pringle, campaign director of New Jersey Environmental Federation. "It's one thing to vote the right way when your vote's not needed, but it's another when your vote will be the difference maker."
Visit EcoWatch's FRACKING page for more related news on this topic.
——–
Sign the petition today, telling President Obama to enact an immediate fracking moratorium: