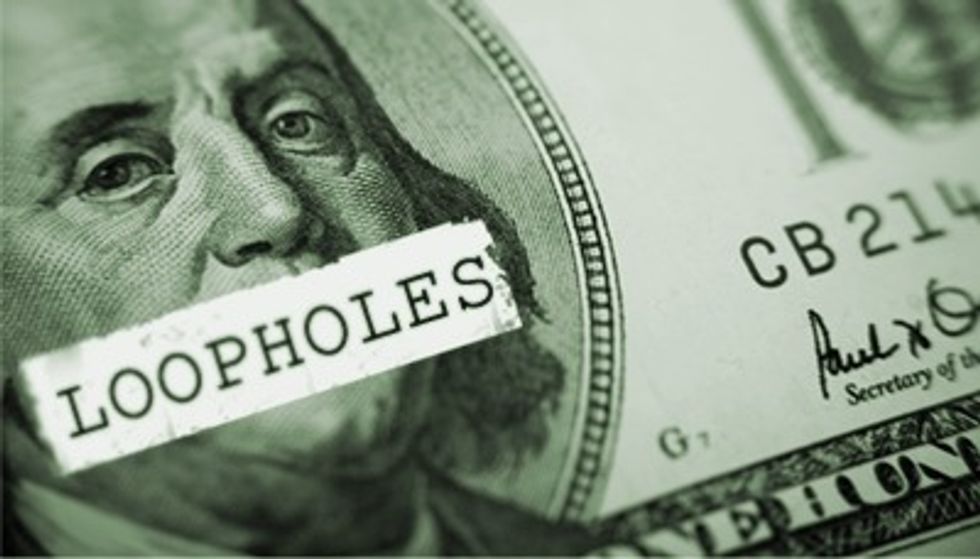 Fracking is now responsible for 90 percent of domestic oil and gas production, with thousands of wells popping up across the nation. The number of wells is expected to skyrocket during the next two decades.
The Resource Conservation and Recovery Act (RCRA) of 1976 requires the safe disposal of solid waste and hazardous materials. In 1980, RCRA was amended to exempt waste from the production and development of oil and natural gas ("exploration & production" waste), and so these fracking wastes are not considered hazardous as a result.
Today, U.S. Rep. Cartwright (D-PA) introduced the Closing Loopholes and Ending Arbitrary and Needless Evasion of Regulations (CLEANER) Act. The legislation aims to eliminate a hazardous waste exemption that was added onto the RCRA in 1980. That amendment, which exempted oil and gas companies from having hazardous waste disposal standards, would be removed under the CLEANER Act.
Rep. Cartwright explained:
Under current federal law, oil and gas companies do not even have to test their waste to see if it is toxic, leaving us with no way of knowing what is being disposed of and how it is being treated. It is time oil and gas companies comply with existing minimum standards and oversight. RCRA is meant to protect the public and the environment from hazardous waste. Toxins pose health and environmental risks no matter what industry produces them. It's time to hold oil and natural gas producers to the same standards that other industries have complied with for over 30 years.
Today the task of regulating disposal of these wastes is currently left to states, with mixed results. For example due to numerous complaints in Ohio, the U.S. Environmental Protection Agency (EPA) is conducting an investigation of the Ohio Department of Natural Resources who is responsible for issuing disposal permits for these wastes to be injected underground in Ohio. The Columbus Dispatch recently reported that Ohio injected more than 14 million barrels of fracking waste into disposal wells in 2012, and more than 8 million came from other states.
In addition, Kathryn Hanratty, director of water affairs for the People's Oil & Gas Collaborative- Ohio, stated:
Many communities in Ohio are allowing spreading of oil and gas waste products on roads for dust control assuming that some government authority must have tested them and deemed them safe. However, this waste is not tested and it is very likely to run off into our streams and lakes. We hope that our U.S. Representatives such as Representative Joyce and Ryan will cosponsor this legislation to ensure protection of our water and the health and safety of the people of Ohio.
Visit EcoWatch's FRACKING page for more related news on this topic.
——–
EcoWatch Daily Newsletter
The U.S. Environmental Protection Agency (EPA) is moving back its timeline for release of its study on the impact of hydraulic fracturing from 2014 to 2016, the agency announced this week at the Shale Gas: Promises and Challenges conference in Cleveland, OH.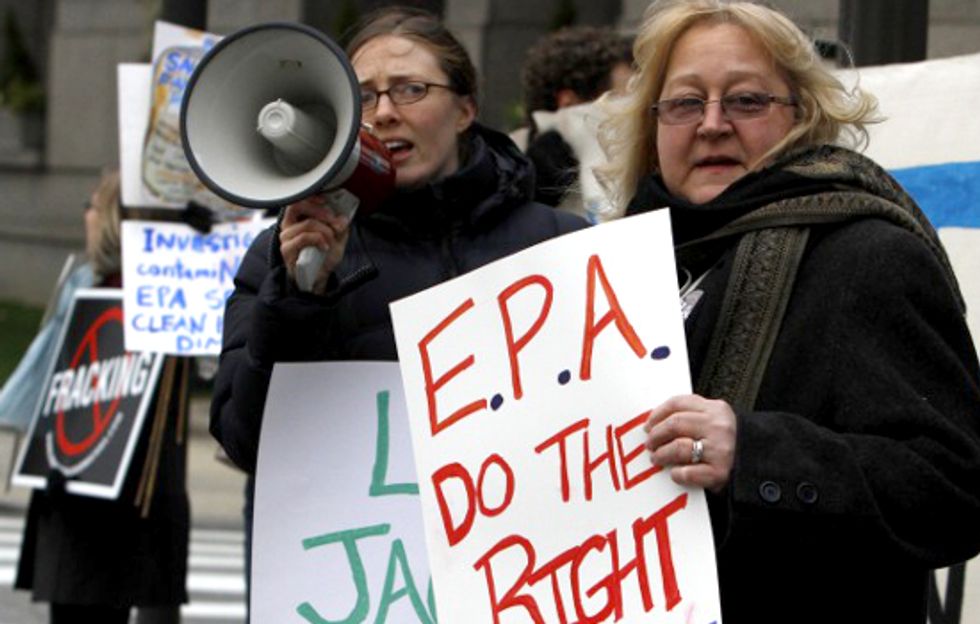 The study, aimed at assessing the threats fracking poses to groundwater supplies and air quality, began in 2010 under the direction of Congress. The intent was to create a thorough assessment of the drilling method so states could make informed decisions on whether to ban fracking or regulate the industry.
With the study's release still years away, some observers question whether it will mean much at all, as the industry is likely to continue its takeover. Horizontal drilling is already taking off in North Dakota, Pennsylvania, Colorado and Ohio, to name a few. Just this week, Illinois enacted a new law welcoming the industry into the southern portion of the state.
In June 2012, there were more than 680,000 fracking wells throughout the country, according to a Scientific American report—and there's no sign of it slowing down. By 2018, North America's daily supply of oil will be 3.9 million barrels higher than it was in 2012, according to the International Energy Agency.
This expansion of the industry will happen before the EPA study can provide guidance on the possibility of water contamination from the fracking process, which injects a combination of water, chemicals and silica sand deep into the earth to break up formation where oil is locked. The concern is that, once injected, those chemicals will seep into the groundwater supply.
"In 10 to 100 years we are going to find out that most of our groundwater is polluted," Mario Salazar, a former EPA engineer, told Scientific American. "A lot of people are going to get sick, and a lot of people may die."
For some, it's more than a concern—it's a reality. According to EPA's coordinator of hydraulic fracturing research, Jeanne Briskin, 1,000 chemicals have already been identified as those commonly used in the drilling process.
Without adequate understanding of what is happening and what the consequences are, particularly related to water supplies, a release date of 2016 could be too little, too late.
In the meantime, federal and state governments are attempting to put regulations in place, yet not everyone is convinced they're doing enough to protect Americans.
Just last month, the Obama administration said it would force oil companies to disclose chemicals used in the drilling process. However, the requirement came with a loophole: The contents of the fracking fluid will be disclosed through the industry-run FracFocus.org, which doesn't require companies to reveal chemicals that are considered "trade secrets."
Visit EcoWatch's FRACKING page for more related news on this topic.
——–
Sign the petition today, telling President Obama to enact an immediate fracking moratorium:

waterlust.com / @tulasendlesssummer_sierra .
Each product featured here has been independently selected by the writer. If you make a purchase using the links included, we may earn commission.
The bright patterns and recognizable designs of Waterlust's activewear aren't just for show. In fact, they're meant to promote the conversation around sustainability and give back to the ocean science and conservation community.
Each design is paired with a research lab, nonprofit, or education organization that has high intellectual merit and the potential to move the needle in its respective field. For each product sold, Waterlust donates 10% of profits to these conservation partners.
Eye-Catching Designs Made from Recycled Plastic Bottles
waterlust.com / @abamabam
The company sells a range of eco-friendly items like leggings, rash guards, and board shorts that are made using recycled post-consumer plastic bottles. There are currently 16 causes represented by distinct marine-life patterns, from whale shark research and invasive lionfish removal to sockeye salmon monitoring and abalone restoration.

One such organization is Get Inspired, a nonprofit that specializes in ocean restoration and environmental education. Get Inspired founder, marine biologist Nancy Caruso, says supporting on-the-ground efforts is one thing that sets Waterlust apart, like their apparel line that supports Get Inspired abalone restoration programs.
"All of us [conservation partners] are doing something," Caruso said. "We're not putting up exhibits and talking about it — although that is important — we're in the field."
Waterlust not only helps its conservation partners financially so they can continue their important work. It also helps them get the word out about what they're doing, whether that's through social media spotlights, photo and video projects, or the informative note card that comes with each piece of apparel.
"They're doing their part for sure, pushing the information out across all of their channels, and I think that's what makes them so interesting," Caruso said.
And then there are the clothes, which speak for themselves.
Advocate Apparel to Start Conversations About Conservation
waterlust.com / @oceanraysphotography
Waterlust's concept of "advocate apparel" encourages people to see getting dressed every day as an opportunity to not only express their individuality and style, but also to advance the conversation around marine science. By infusing science into clothing, people can visually represent species and ecosystems in need of advocacy — something that, more often than not, leads to a teaching moment.

"When people wear Waterlust gear, it's just a matter of time before somebody asks them about the bright, funky designs," said Waterlust's CEO, Patrick Rynne. "That moment is incredibly special, because it creates an intimate opportunity for the wearer to share what they've learned with another."
The idea for the company came to Rynne when he was a Ph.D. student in marine science.
"I was surrounded by incredible people that were discovering fascinating things but noticed that often their work wasn't reaching the general public in creative and engaging ways," he said. "That seemed like a missed opportunity with big implications."
Waterlust initially focused on conventional media, like film and photography, to promote ocean science, but the team quickly realized engagement on social media didn't translate to action or even knowledge sharing offscreen.
Rynne also saw the "in one ear, out the other" issue in the classroom — if students didn't repeatedly engage with the topics they learned, they'd quickly forget them.
"We decided that if we truly wanted to achieve our goal of bringing science into people's lives and have it stick, it would need to be through a process that is frequently repeated, fun, and functional," Rynne said. "That's when we thought about clothing."
Support Marine Research and Sustainability in Style
To date, Waterlust has sold tens of thousands of pieces of apparel in over 100 countries, and the interactions its products have sparked have had clear implications for furthering science communication.
For Caruso alone, it's led to opportunities to share her abalone restoration methods with communities far and wide.
"It moves my small little world of what I'm doing here in Orange County, California, across the entire globe," she said. "That's one of the beautiful things about our partnership."
Check out all of the different eco-conscious apparel options available from Waterlust to help promote ocean conservation.
Melissa Smith is an avid writer, scuba diver, backpacker, and all-around outdoor enthusiast. She graduated from the University of Florida with degrees in journalism and sustainable studies. Before joining EcoWatch, Melissa worked as the managing editor of Scuba Diving magazine and the communications manager of The Ocean Agency, a non-profit that's featured in the Emmy award-winning documentary Chasing Coral.