Bamboo Coral from Mytilus Seamount, NOAA
By Jon Queally
Defenders of ocean habitats celebrated Friday after a federal court upheld a lower court ruling defending the right of the U.S. executive branch to set aside marine areas as national monuments.
Citing the authority found under the Antiquities Act of 1906 to establish marine national monuments, the U.S. Court of Appeals in the District of Columbia sided against a lawsuit brought by large fishing industry interests that challenged President Barack Obama's designation of the Northeast Canyons and Seamounts Marine National Monument, which encompasses 4,913 square miles of the Atlantic Ocean off the nation's northeast coast, as a protected area.
Conservation groups like the Natural Resources Defense Council (NRDC) and the Conservation Law Foundation (CLF)—which had intervened in the case—applauded the court's ruling.
"Today's decision is a clear victory for our oceans and for the Atlantic's only marine national monument," said Peter Shelley, Senior Counsel at CLF. "This decision upholds protections for one of the most fragile and scientifically important areas in the North Atlantic from destructive activities like oil drilling and industrial fishing. Safeguarding the Northeast Canyons and Seamounts ensures that we are leaving a proud legacy for the people of New England."
Victory for the ocean: Today's US Appeals Court decision upheld protections for the Northeast Canyons and Seamounts Marine National Monument, keeping endangered species and rare corals safe from oil drilling, industrial fishing, and other harms. https://t.co/Af8lQ4Ehma

— Conservation Law Foundation (@CLF) December 27, 2019
Kate Desormeau, senior attorney for the NRDC, also celebrated the ruling as a victory.
"Like one of America's very first national monuments, the Grand Canyon, the Northeast Canyons and Seamounts is a natural treasure," Desormaeu said in a statement. "It provides habitat for a wide range of species, from endangered whales to Atlantic puffins to centuries-old deep-sea corals."
The court's decision, she added, "affirms that presidents have the authority to protect marine areas like this for the benefit of current and future generations. Preserving ocean areas like this one will be absolutely key to ensuring the resilience of our oceans in a changing climate."
Reposted with permission from Common Dreams.
EcoWatch Daily Newsletter
Industrial fishing takes place across more than 55 percent of the world's oceans, according to a new study published in Science.
Fishing is vital for food security and livelihoods across the globe, yet the extent of industrial fishing has remained largely unknown. Now, a team of researchers has tried to solve this problem by using the Automatic Identification System (AIS), an automatic ship-tracking system that uses satellite and land-based receivers to monitor a ship's location, originally designed to help prevent ship collisions.
To see where and when fishing takes place, the researchers tracked 77,000 industrial ships, including more than 75 percent of large-sized commercial vessels, using 22 billion AIS positions from 2012 to 2016.
"It was an immense effort to organize and process the AIS data, and then build complex machine learning algorithms," said lead author David Kroodsma, the director of research and development at Global Fishing Watch, a collaborative non-profit supported by Oceana, SkyTruth and Google. "Global Fishing Watch and our partners have been working on this for several years."
Shrimp trawler off Galveston, Texas, August 1986Photo by Robert K. Brigham / NOAA / Flickr
The resulting global maps revealed that industrial fishing vessels operated across more than 55 percent of the ocean, or over 200 million square kilometers (77 million square miles), in 2016 alone. That's higher than the proportion of land (34 percent) used in agriculture or grazing, the researchers wrote.

The dataset also showed that in 2016, commercial ships spent 40 million hours fishing and covered more than 460 million kilometers (286 million miles), equivalent to traveling to the moon and back nearly 600 times. While most countries fished predominantly within their own exclusive economic zones, five nations—China, Spain, Taiwan, Japan and South Korea–accounted for more than 85 percent of observed fishing in the high seas (part of the oceans not within any country's jurisdiction).
The researchers could also identify the kind of fishing gear the ships used. They found that longline fishing, which uses lines with evenly placed baited hooks, was the most widespread, seen in 45 percent of the ocean. By contrast, the team detected purse seine vessels, which use large dragnets, in 17 percent of the ocean, and trawlers in about 9 percent.
"Like some other fisheries colleagues, I was surprised that the AIS data coverage was as complete as the authors have demonstrated and that it was possible to determine which vessels are fishing," said Reg Watson, professor of fisheries and ecological modeling at the University of Tasmania, Australia, who was not involved in the study. "Other studies I have been part of have shown the intensity of global fishing and the satellite data confirms this."
AIS tracks, recorded by satellites, of a trawler (blue line), a purse seiner (green line) and longliner (red line)GIF by Global Forest Watch
The data also revealed that global fishing patterns were strongly linked to holidays and fishing closures. For instance, Chinese vessels showed massive dips in fishing activities during government-mandated seasonal fishing bans and around Chinese New Year. In contrast, many non-Chinese vessels reduced fishing over the Christmas and New Year holidays.

"This dataset provides such high-level resolution on fishing activity that we can even see cultural patterns, such as when fishermen in different regions take time off," co-author Juan Mayorga of the University of California, Santa Barbara, said in a statement.
Using the AIS data does have a few limitations, though. Most small fishing vessels do not have AIS, for example, which means that only larger industrial fishing vessels can be tracked, Kroodsma said. "AIS can also be turned off, although we think this affects a minority of fishing vessels, and we account for this in our study," he said. "Moreover, while satellite AIS reception is good across most of the globe, there are a few places, such as in southeast Asia, where reception is poor. Regulation on AIS use also varies by country, so you must take care to interpret different results from different countries."
The global maps are freely available to the public, and show a near real-time view of fishing vessels and fleets from around the world.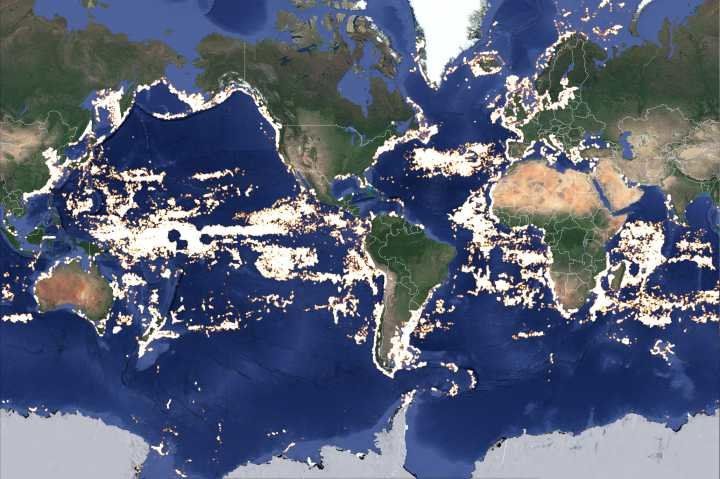 globalfishingwatch.org
"By making this data public, we are providing governments, management bodies and researchers with the information needed to make transparent and well-informed decisions to better regulate fishing activities and reach conservation and sustainability goals," Mayorga said.
Watson said innovation was key for the future of fishing. "Though not intended for this purpose, the satellite data available to ensure the safety of ships can be very useful to map fishing but only after much clever processing," he said. "This AIS data and other data from satellites will become increasingly important for monitoring fishing effort.
"I am already working with the authors to develop better global maps of fisheries catch and effort," he added. "This is an excellent and valuable global initiative. We are only starting the process and it will be quite some time before we can observe all fishing from space but we need to start."
Fishing hours by country in 2016 Graph by Global Fishing Watch
Reposted with permission from our media associate Mongabay.

From Your Site Articles
Related Articles Around the Web
waterlust.com / @tulasendlesssummer_sierra .
Each product featured here has been independently selected by the writer. If you make a purchase using the links included, we may earn commission.
The bright patterns and recognizable designs of Waterlust's activewear aren't just for show. In fact, they're meant to promote the conversation around sustainability and give back to the ocean science and conservation community.
Each design is paired with a research lab, nonprofit, or education organization that has high intellectual merit and the potential to move the needle in its respective field. For each product sold, Waterlust donates 10% of profits to these conservation partners.
Eye-Catching Designs Made from Recycled Plastic Bottles
waterlust.com / @abamabam
The company sells a range of eco-friendly items like leggings, rash guards, and board shorts that are made using recycled post-consumer plastic bottles. There are currently 16 causes represented by distinct marine-life patterns, from whale shark research and invasive lionfish removal to sockeye salmon monitoring and abalone restoration.

One such organization is Get Inspired, a nonprofit that specializes in ocean restoration and environmental education. Get Inspired founder, marine biologist Nancy Caruso, says supporting on-the-ground efforts is one thing that sets Waterlust apart, like their apparel line that supports Get Inspired abalone restoration programs.
"All of us [conservation partners] are doing something," Caruso said. "We're not putting up exhibits and talking about it — although that is important — we're in the field."
Waterlust not only helps its conservation partners financially so they can continue their important work. It also helps them get the word out about what they're doing, whether that's through social media spotlights, photo and video projects, or the informative note card that comes with each piece of apparel.
"They're doing their part for sure, pushing the information out across all of their channels, and I think that's what makes them so interesting," Caruso said.
And then there are the clothes, which speak for themselves.
Advocate Apparel to Start Conversations About Conservation
waterlust.com / @oceanraysphotography
Waterlust's concept of "advocate apparel" encourages people to see getting dressed every day as an opportunity to not only express their individuality and style, but also to advance the conversation around marine science. By infusing science into clothing, people can visually represent species and ecosystems in need of advocacy — something that, more often than not, leads to a teaching moment.

"When people wear Waterlust gear, it's just a matter of time before somebody asks them about the bright, funky designs," said Waterlust's CEO, Patrick Rynne. "That moment is incredibly special, because it creates an intimate opportunity for the wearer to share what they've learned with another."
The idea for the company came to Rynne when he was a Ph.D. student in marine science.
"I was surrounded by incredible people that were discovering fascinating things but noticed that often their work wasn't reaching the general public in creative and engaging ways," he said. "That seemed like a missed opportunity with big implications."
Waterlust initially focused on conventional media, like film and photography, to promote ocean science, but the team quickly realized engagement on social media didn't translate to action or even knowledge sharing offscreen.
Rynne also saw the "in one ear, out the other" issue in the classroom — if students didn't repeatedly engage with the topics they learned, they'd quickly forget them.
"We decided that if we truly wanted to achieve our goal of bringing science into people's lives and have it stick, it would need to be through a process that is frequently repeated, fun, and functional," Rynne said. "That's when we thought about clothing."
Support Marine Research and Sustainability in Style
To date, Waterlust has sold tens of thousands of pieces of apparel in over 100 countries, and the interactions its products have sparked have had clear implications for furthering science communication.
For Caruso alone, it's led to opportunities to share her abalone restoration methods with communities far and wide.
"It moves my small little world of what I'm doing here in Orange County, California, across the entire globe," she said. "That's one of the beautiful things about our partnership."
Check out all of the different eco-conscious apparel options available from Waterlust to help promote ocean conservation.
Melissa Smith is an avid writer, scuba diver, backpacker, and all-around outdoor enthusiast. She graduated from the University of Florida with degrees in journalism and sustainable studies. Before joining EcoWatch, Melissa worked as the managing editor of Scuba Diving magazine and the communications manager of The Ocean Agency, a non-profit that's featured in the Emmy award-winning documentary Chasing Coral.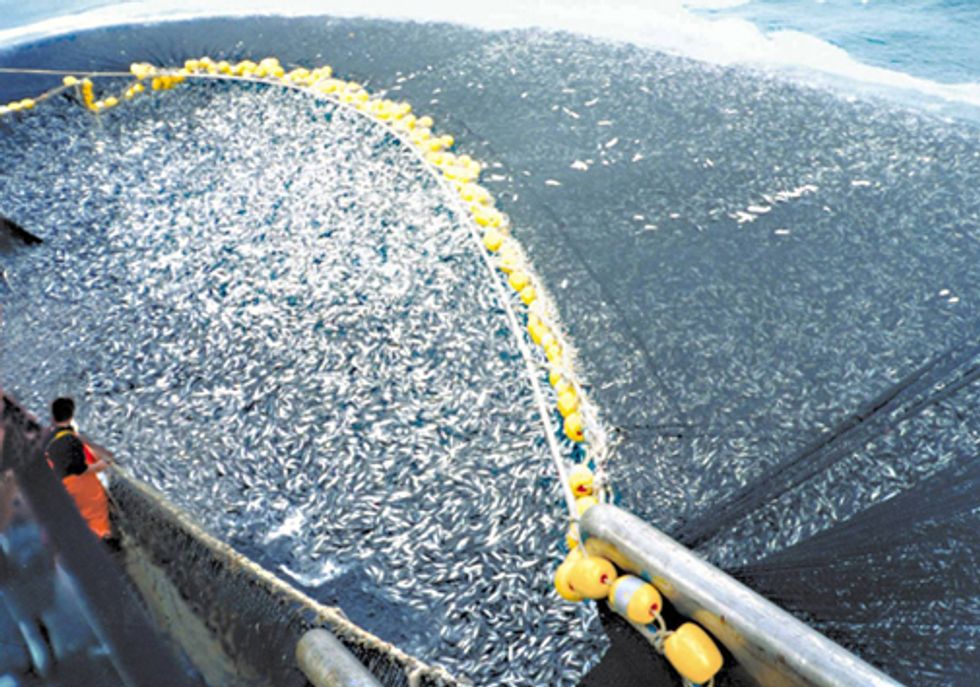 Asian, European and Latin American fleets have devastated fish stocks in the southern Pacific, once among the world's richest waters, a new investigation by the International Consortium of Investigative Journalists (ICIJ) has found.
Governments with the power to stop the plunder have stalled for years, and no binding rules are in place. The result—Stocks of jack mackerel are down 90 percent to less than 3 million metric tons in just two decades. The oily fish is a staple in Africa, but people elsewhere are unaware that it is in their forkfuls of farmed salmon. Jack mackerel is a vital component of fishmeal for aquaculture.
Today, industrial fleets bound only by voluntary restraints compete in what amounts to a free-for-all in open waters from the west coast of South America across much of the southern Pacific.
Daniel Pauly, oceanographer of University of British Columbia, sees the jack mackerel crisis as an alarming indicator of progressive collapse in all oceans. "This is the last of the buffaloes," he told ICIJ. "When they're gone, everything will be gone ... This is the closing of the frontier."
Delegates from at least 20 countries will gather Jan. 30 in Chile's capital of Santiago to seek more progress toward the elusive goal of curbing this plunder.
Among the investigation's findings:
As other fisheries are pushed to their limits, giant trawlers have moved southward toward the edge of Antarctica to catch the fish that are left. Many are aided by government subsidies.
National interests and geopolitical rivalry have blocked efforts, since 2006, to create and ratify a regional fisheries management organization that can impose binding legal measures to rescue jack mackerel from further collapse.
In Chile, a handful of companies controlled largely by wealthy families own rights to 87 percent of the jack mackerel catch. With government backing they have secured unrealistically high quotas—beyond what scientists recommend to save the stock.
In Peru, the world's second largest fishing nation, widespread cheating at fishmeal plants allows companies to overfish and evade taxes. An ICIJ analysis reveals that at least 630,000 tons of anchoveta—worth nearly $200 million when reduced to fishmeal for aquaculture—"vanished" over two and a half years.
The Last Fish: Plunder in the South Pacific is the latest installment of Looting the Seas, a multi-year investigation looking at forces that are rapidly emptying oceans of fish. The stories are published in partnership with media around the world, including the International Herald Tribune, Le Monde (France), South China Morning Post (Hong Kong), El Mundo (Spain), Trouw (The Netherlands), and the investigative journalism centers IDL-Reporteros (Peru) and CIPER (Chile). A documentary co-produced with London-based tve is planned to air on BBC World TV News in the spring.
Read the full investigation by clicking here
For more information, click here.
—————
The International Consortium of Investigative Journalists is a global network of reporters who collaborate on in-depth investigative stories. Founded in 1997, ICIJ was launched as a project of the Center for Public Integrity to extend the Center's style of watchdog journalism, focusing on issues that do not stop at national frontiers. With 160 members in 61 countries, ICIJ is dedicated to investigating cross-border crime, corruption, and the accountability of power. Backed by the Center and its computer-assisted reporting specialists, public records experts, fact-checkers and lawyers, ICIJ reporters and editors provide real-time resources and state-of-the-art tools and techniques to journalists around the world.
The Center for Public Integrity is a nonprofit, nonpartisan, and independent digital news organization specializing in original investigative journalism on significant public policy issues. Since 1990, the Washington, D.C.-based Center has released more than 500 investigative reports and 17 books to provide greater transparency and accountability of government and other institutions. It has received the George Polk Award and more than 50 other major journalism awards, including honors from Investigative Reporters and Editors, Online News Association, Overseas Press Club, Society of Environmental Journalists, and Society of Professional Journalists.