A comprehensive analysis of the U.S. meat, egg and dairy industries in 2008 excoriated  producers for their business practices. A new assessment of progress since then says industrial livestock production remains just as destructive, and little has been done to address any of the problems.
The 
report
, from
Johns Hopkins University Center for a Livable Future
(CLF), says the problems identified in 2008—which included non-therapeutic use of antimicrobials in food animal production, liquid farm waste and intense and inhumane animal practices—have worsened. The CLF report blames an "assault on reforms" in Congress and finds the U.S. Department of Agriculture (USDA), Food and Drug Administration (FDA) and Congress have acted "regressively" in policymaking on industrial food animal system issues.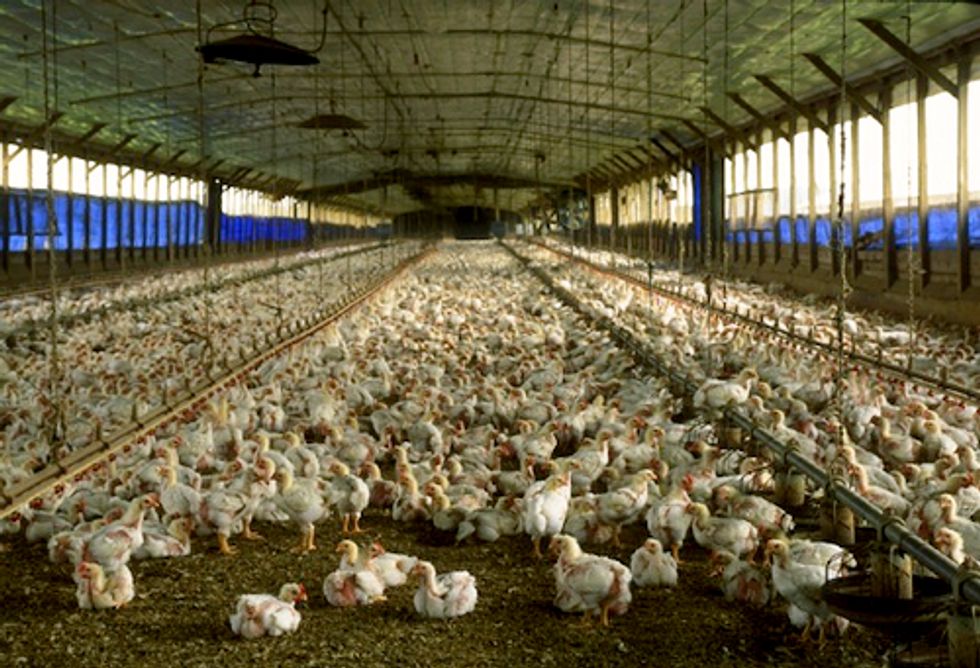 "There has been an appalling lack of progress," Robert S. Lawrence, CLF director, said in a
press release
. "The failure to act by the USDA and FDA, the lack of action or concern by the Congress and continued intransigence of the animal agriculture industry have made all of our problems worse."
The CLF report says that despite the continual emergence of new scientific evidence demonstrating the severity of the threats posed by the industrial meat, dairy and egg processes, remarkably little has actually been done to address any of the problems.
"If the last five years has shown us anything, it is that the public is more engaged than ever in the food system," said Governor John Carlin, chair of the commission. "The results of this analysis show that our policymakers are really not listening to their constituents."
Ban the non-therapeutic use of antimicrobials in food animal production to reduce the risk of antimicrobial resistance to medically important antibiotics and other antimicrobials.
Define non-therapeutic use of antimicrobials as any use in food animals in the absence of microbial disease or documented microbial disease exposure.
Treat industrial farm animal production as an industrial operation and implement a new system to deal with farm waste, especially liquid waste systems, to replace the inflexible and broken system that exists today and to require permitting of more operations.
Phase out the most intensive and inhumane production practices (such as gestation crates, restrictive veal crates and battery cages) within a decade to reduce the risk of industrial farm animal production to public health and improve animal well-being.
Aggressively enforce the existing anti-trust laws applicable to food animal production and, where needed, pass additional laws to provide a level playing field for producers.
Increase funding for, expand and reform animal agriculture research.
"In 2008, the recommendations were heralded by many in the agriculture community, the agencies and Congress as the catalyst they needed to make vital changes to a food supply that has been criticized as unsustainable and in some cases unsafe," said Bob Martin, PCIFAP executive director. "Inaction was inexcusable five years ago, now it is unconscionable."

EcoWatch Daily Newsletter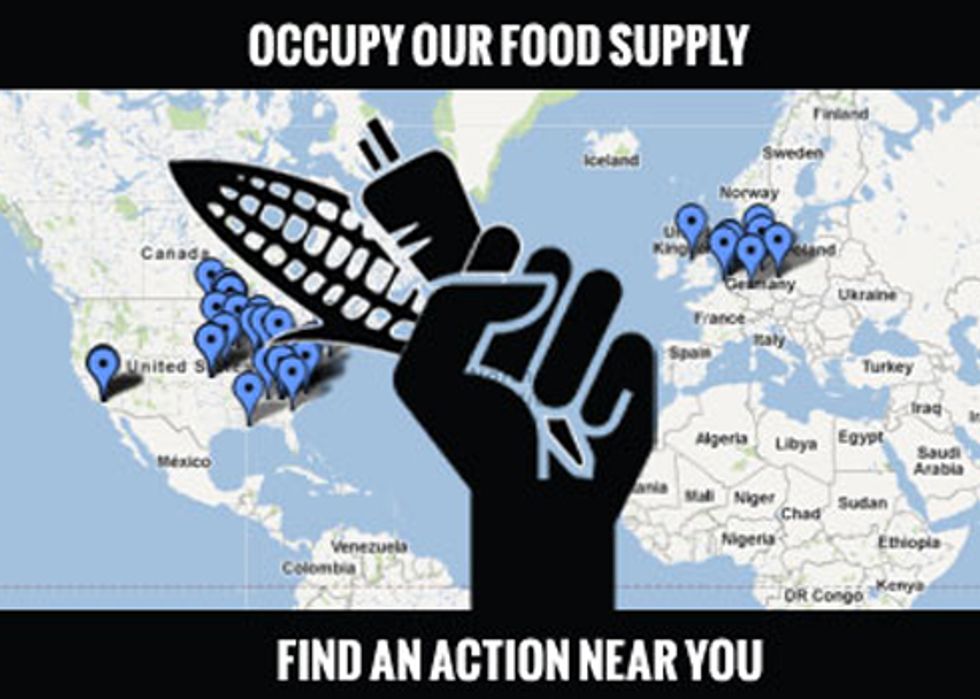 On Feb. 27, an unprecedented alliance of more than 60 Occupy groups and 30 environmental, food and corporate accountability organizations will join together for Occupy our Food Supply, a global day of action resisting the corporate control of food systems.
The call to Occupy our Food Supply, facilitated by Rainforest Action Network, is being echoed by prominent thought leaders, authors, farmers and activists including the Indian environmentalist Vandana Shiva, Food Inc.'s Robert Kenner, music legend Willie Nelson, actor Woody Harrelson, and authors Michael Pollan, Raj Patel, Anna Lappe, Gary Paul Nabhan, and Marion Nestle, among others. (See quotes in release below). The central theme uniting this diverse coalition is a shared sense of urgency to resist the corporate consolidation of food systems and create socially and environmentally just local solutions.
"Nothing is more important than the food we eat and the family farmers who grow it," said Willie Nelson, founder and president of Farm Aid. "Corporate control of our food system has led to the loss of millions of family farmers, destruction of our soil, pollution of our water and health epidemics of obesity and diabetes. We simply cannot afford it. Our food system belongs in the hands of many family farmers, not under the control of a handful of corporations."
From Brazil, Hungary, Ireland, and Argentina to dozens of states in the U.S., thousands of people will be participating in the Feb. 27 global day of action.  Participants will be reclaiming unused bank-owned lots to create community gardens; hosting seed exchanges in front of stock exchanges; labeling products on grocery store shelves that have genetically engineered ingredients; building community alliances to support locally owned grocery stores and resist Walmart megastores; and protesting food giants Monsanto and Cargill.
"Occupy our Food Supply is a day to reclaim our most basic life support system—our food—from corporate control. It is an unprecedented day of solidarity to create local, just solutions that steer our society away from the stranglehold of industrial food giants like Cargill and Monsanto," said Ashley Schaeffer, Rainforest Agribusiness campaigner with Rainforest Action Network (RAN).
Never have so few corporations been responsible for more of our food chain. Of the 40,000 food items in a typical U.S. grocery store, more than half are now brought to us by just 10 corporations. Today, three companies process more than 70 percent of all U.S. beef—Tyson, Cargill and JBS. More than 90 percent of soybean seeds and 80 percent of corn seeds used in the U.S. are sold by just one company—Monsanto. Four companies are responsible for up to 90 percent of the global trade in grain. And one in four food dollars is spent at Walmart.
The overwhelming support for Occupy our Food Supply underscores the unity between farmers, parents, health care professionals, human rights activists, food justice advocates and food lovers around the world who are increasingly viewing their concerns as different manifestations of the same underlying problem—a food system structured for short term profit instead of the long term health of people and the planet.
Supporting groups include—Bay Localize, Berkeley Association for Animal Advocacy, Biosafety Alliance, California Food and Justice Coalition, Chiapas Support Committee, Family Farm Defenders, Food Democracy Now, Food First, National Family Farms Coalition, PAN (Pesticide Action Network), Pesticide Watch, Planting Justice, Organic Consumers Association, Occupy Big Food, Occupy Claremont, Occupy Cargill, Occupy DC, Occupy Delaware, Occupy Denver, Occupy Farms, Occupy for Animal Rights, Occupy Fort Lauderdale, Occupy Food, Occupy Gardens Toronto, Occupy Jacksonville, Occupy Maine, Occupy MN/Seeds of Change, Occupy Monsanto, Occupy Philly (Occupy Vacant Lots), Occupy Portland, OWS-Food Justice, OWS Puppets, OWS Sustainability, Occupy Santa Cruz, Occupy SF Environmental Justice Working Group, and Occupy the Food System- Oakland, among many others.
For the full list of supporters and more information on the events planned for Occupy our Food Supply, click here.
Vandana Shiva, Indian physicist and internationally renowned activist, adds—"Our food system has been hijacked by corporate giants from the seed to the table. Seeds controlled by Monsanto, agribusiness trade controlled by Cargill, processing controlled by Pepsi and Philip Morris, retail controlled by Walmart—is a recipe for Food Dictatorship. We must Occupy the Food system to create Food Democracy."
Raj Patel, activist, academic and author of The Value of Nothing, reflects—"It's hard for us to imagine life without food corporations because they've made our world theirs. Although we think food companies make food for us, in almost every way that matters, we—and our planet—are being transformed to suit food companies. From their marketing to children and exploitation of workers to environmental destruction in search of profit, the food industry represents one of the most profound threats to sustainability we face today."
Occupy Wall Street's Sustainability and Food Justice Committees issued this statement in support of #F27—"On Monday, February 27th, 2012, OWS Food Justice, OWS Sustainability, Oakland Food Justice & the worldwide Occupy Movement invite you to join the Global Day of Action to Occupy the Food Supply. We challenge the corporate food regime that has prioritized profit over health and sustainability. We seek to create healthy local food systems. We stand in Solidarity with Indigenous communities, and communities around the world, that are struggling with hunger, exploitation, and unfair labor practices." 
"On this day, in New York City, community gardeners, activists, labor unions, farmers, food workers, and citizens of the NYC metro area, will gather at Zuccotti Park at noon, for a Seed Exchange, to raise awareness about the corporate control of our food system and celebrate the local food communities in the metro area." 
Marion Nestle, professor and author of What to Eat and Food Politics: How the Food Industry Influences Nutrition and Health, said—"While the food industry digs in to fight public health regulations, the food movement will continue to attract support from those willing to promote a healthier and more sustainable food system. Watch for more young people going into farming and more farmers' markets, farm-to-school programs, school meal initiatives, and grassroots community efforts to implement food programs and legislate local reforms. There is plenty of hope for the future in local efforts to improve school meals, reduce childhood obesity, and make healthier food more available and affordable for all."
Rukaiya Rofiq, director of the human rights organization Yayasan SETARA Jambi in Indonesia, said—"It is encouraging to see Americans connecting the dots between the food choices they make at a grocery store and the serious impacts those choices have here in Southeast Asia. When an additive like palm oil is used to make cheap crackers and cookies it gives companies a green light to expand palm plantations at all costs which is why we see community member homes bulldozed when they fight expansion, Indigenous land rights ignored, and natural rainforests completely decimated. Invisible companies like Cargill, who are profiting off the backs of Indonesians, must be held accountable in the countries they call home." 
Michael Ableman, farmer and founder of the Center for Urban Agriculture in Goleta, California, said—"We are focusing on what we are for, as much as what we are against. We are re-occupying our soils with life and fertility and our communities with good food. We are working to rebuild the real economy, one based on soil and seeds and sunlight and individuals and communities growing together."
For more information, click here.
waterlust.com / @tulasendlesssummer_sierra .
Each product featured here has been independently selected by the writer. If you make a purchase using the links included, we may earn commission.
The bright patterns and recognizable designs of Waterlust's activewear aren't just for show. In fact, they're meant to promote the conversation around sustainability and give back to the ocean science and conservation community.
Each design is paired with a research lab, nonprofit, or education organization that has high intellectual merit and the potential to move the needle in its respective field. For each product sold, Waterlust donates 10% of profits to these conservation partners.
Eye-Catching Designs Made from Recycled Plastic Bottles
waterlust.com / @abamabam
The company sells a range of eco-friendly items like leggings, rash guards, and board shorts that are made using recycled post-consumer plastic bottles. There are currently 16 causes represented by distinct marine-life patterns, from whale shark research and invasive lionfish removal to sockeye salmon monitoring and abalone restoration.

One such organization is Get Inspired, a nonprofit that specializes in ocean restoration and environmental education. Get Inspired founder, marine biologist Nancy Caruso, says supporting on-the-ground efforts is one thing that sets Waterlust apart, like their apparel line that supports Get Inspired abalone restoration programs.
"All of us [conservation partners] are doing something," Caruso said. "We're not putting up exhibits and talking about it — although that is important — we're in the field."
Waterlust not only helps its conservation partners financially so they can continue their important work. It also helps them get the word out about what they're doing, whether that's through social media spotlights, photo and video projects, or the informative note card that comes with each piece of apparel.
"They're doing their part for sure, pushing the information out across all of their channels, and I think that's what makes them so interesting," Caruso said.
And then there are the clothes, which speak for themselves.
Advocate Apparel to Start Conversations About Conservation
waterlust.com / @oceanraysphotography
Waterlust's concept of "advocate apparel" encourages people to see getting dressed every day as an opportunity to not only express their individuality and style, but also to advance the conversation around marine science. By infusing science into clothing, people can visually represent species and ecosystems in need of advocacy — something that, more often than not, leads to a teaching moment.

"When people wear Waterlust gear, it's just a matter of time before somebody asks them about the bright, funky designs," said Waterlust's CEO, Patrick Rynne. "That moment is incredibly special, because it creates an intimate opportunity for the wearer to share what they've learned with another."
The idea for the company came to Rynne when he was a Ph.D. student in marine science.
"I was surrounded by incredible people that were discovering fascinating things but noticed that often their work wasn't reaching the general public in creative and engaging ways," he said. "That seemed like a missed opportunity with big implications."
Waterlust initially focused on conventional media, like film and photography, to promote ocean science, but the team quickly realized engagement on social media didn't translate to action or even knowledge sharing offscreen.
Rynne also saw the "in one ear, out the other" issue in the classroom — if students didn't repeatedly engage with the topics they learned, they'd quickly forget them.
"We decided that if we truly wanted to achieve our goal of bringing science into people's lives and have it stick, it would need to be through a process that is frequently repeated, fun, and functional," Rynne said. "That's when we thought about clothing."
Support Marine Research and Sustainability in Style
To date, Waterlust has sold tens of thousands of pieces of apparel in over 100 countries, and the interactions its products have sparked have had clear implications for furthering science communication.
For Caruso alone, it's led to opportunities to share her abalone restoration methods with communities far and wide.
"It moves my small little world of what I'm doing here in Orange County, California, across the entire globe," she said. "That's one of the beautiful things about our partnership."
Check out all of the different eco-conscious apparel options available from Waterlust to help promote ocean conservation.
Melissa Smith is an avid writer, scuba diver, backpacker, and all-around outdoor enthusiast. She graduated from the University of Florida with degrees in journalism and sustainable studies. Before joining EcoWatch, Melissa worked as the managing editor of Scuba Diving magazine and the communications manager of The Ocean Agency, a non-profit that's featured in the Emmy award-winning documentary Chasing Coral.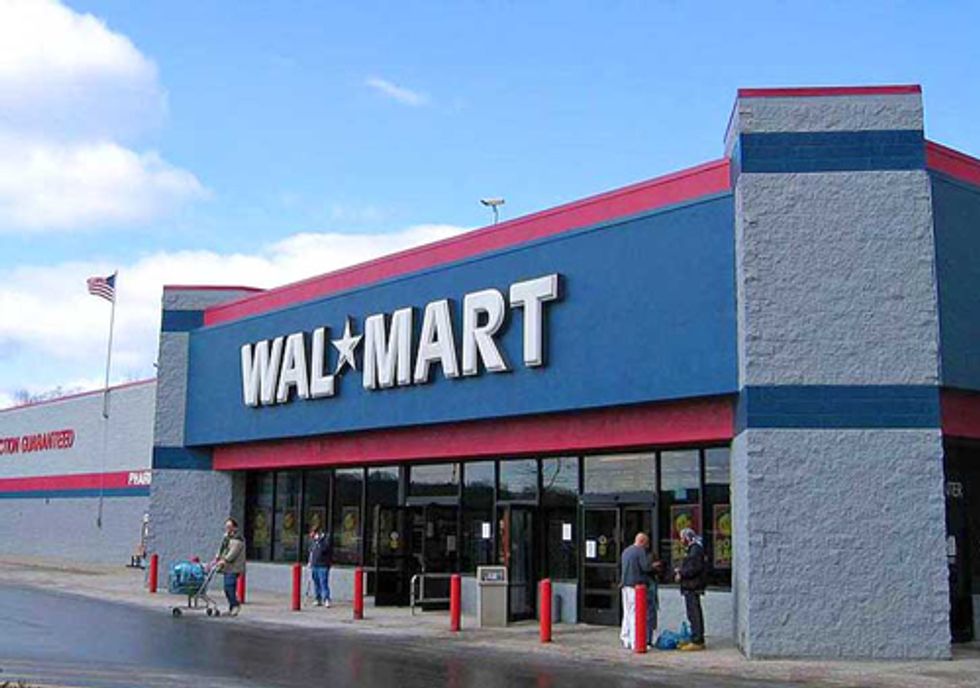 As Walmart releases its fourth quarter earnings on Feb. 21, Food & Water Watch released a report analyzing the rift between Walmart's marketing claims and the true impact the company has on the food system. Why Walmart Can't Fix the Food System finds that Walmart's recent high-profile initiatives to bring healthier fare to food deserts, expand healthy food offerings including local and organic food, and be environmentally sustainable are merely window dressing to divert attention away from the company's business model, which squeezes farmers, workers and processors, and drives food production to become more consolidated and industrialized.
"From press conferences with the First Lady, to promises to buy local produce, to the 'Great For You' healthy labeling scheme they just announced, Walmart's PR machine has been on overdrive for the past couple years as it tries to polish its tarnished image," said Wenonah Hauter, executive director of Food & Water Watch. "The truth is, Walmart is still the retail giant that exploits its workers and suppliers to undercut all other competition, which leaves consumers with a lot less choice. Unless it changes its business model, Walmart cannot help us move towards a more sustainable food system."
Walmart is the biggest company in the U.S. with 2010 sales of $419 billion, a little over half of that coming from grocery sales. In the past 12 years since it began selling food alongside other retail products, Walmart has become the largest food retailer in the U.S. One out of every three dollars spent on groceries in the U.S. goes to Walmart.
Food isn't just good business for Walmart—it's the cornerstone of the company's public relations offensive. The report analyzes Walmart's ambitious campaign to convince skeptical local governments and communities that the company can alleviate the problem of food deserts—low-income areas with little access to fresh food. Contrary to the company's claims, report explains that Walmart's motivation is to break through the strong community opposition that has successfully blocked Walmart from many urban markets including New York, Los Angeles, and until 2006, Chicago.  
"Plunking down a big-box store in the middle of a community with a lack of access to healthy food will not solve this complicated problem," said Hauter. "Selling fruit and vegetables is one step, but all communities, especially those that are struggling financially, will be better served for the long term by local businesses that put money back into the community by paying livable wages and buying from local and regional suppliers and farmers whenever possible."
Walmart's other good food pledges such as buying local, offering more organic foods and being environmentally responsible are probed in the report, which describes Walmart's business model of driving down costs at every step in the supply chain without consideration for the costs to employees, food producers and the environment.
To conclude, the report advises local governments to seek better solutions to increase communities' access to healthy food and encourages the federal government to investigate Walmart's anticompetitive practices and its impact on the food chain—and adapt food and farm policy that strengthens regional food systems and food assistance programs that will provide healthy, affordable food to all communities.
On Thursday, Feb. 23, a press conference will be held on the steps of City Hall in New York City in conjunction with the Walmart-Free NYC campaign. Food & Water Watch's Executive Director Wenonah Hauter will speak alongside national and local community and labor leaders who will also be available for interviews.
To read the full report, click here.
For more information, click here.
By Andrew Gunther
Forgive me if you don't see me jumping for joy at the U.S. Food and Drug Administration's (FDA) recent announcement that it intends to limit the use of a specific group of antibiotics in livestock production.
While the FDA's decision to curb the use of cephalosporins in food animal production beginning April 2012 has been hailed as positive step in the right direction, I'd say it's more a shuffle forwards—and a very reluctant one at that.
"We believe this is an imperative step in preserving the effectiveness of this class of important antimicrobials that takes into account the need to protect the health of both humans and animals," said Michael R. Taylor, the FDA's deputy commissioner for foods, in the FDA press release. Now, as regular readers of my post will already know, I am passionate about the urgent need to curb the misuse of antibiotics in intensive farming systems. So what's my problem with the FDA's recent actions? After all, surely this is good news?
As various commentators—including Tom Philpott and Mary McKenna—have already pointed out, I am afraid that cephalosporins are nothing but small fry when it comes to overall antibiotic use in intensive farming. During 2009 alone, the FDA revealed that 80 percent of all antibiotics produced in the U.S. were used for animals—that's an incredible 28,820,000 pounds out of the 36,080,000 pounds produced. Yet cephalosporins amounted to just over 91,000 pounds of this total—less than half of one percent of all antibiotics used in the U.S. The FDA's latest figures also reveal that cephalosporin use has decreased even further during 2010 to just over 51,000 pounds. To make matters even worse, the FDA's announcement is actually a (less strict) rehash of proposals that were first announced in 2008, and which were immediately recalled after the usual uproar from the intensive farming industry lobby.
So what's the real outcome of the FDA's recent action? Well, certainly some positive media fluff for the FDA for appearing to take a stand by banning a minor antibiotic that was clearly already losing favor within the industry, yet a minimal impact on the day-to-day workings of the intensive farming industry. A cozy coincidence? I wish it was.
This rather insignificant move forward comes after a preemptive, giant leap backwards made Dec. 22, 2011, just as most of us were focusing on the upcoming holiday period. Notably without any accompanying press release or media fanfare in this instance, the FDA quietly announced in the Federal Register that it was withdrawing its long-standing intention to compel intensive farms to limit certain uses of the key antibiotics penicillin and tetracyclines for food-producing animals—an objective originally set in motion more than 30 years ago when government FDA scientists first began to fully appreciate the risks to human health from the laissez-faire non-therapeutic use of antibiotics in industrial farming.
We all know the story since then—over the years, the FDA has time and again cowed down to powerful political and legal pressure from the multi-billion dollar intensive farming industry lobby and its paid-up politicians, as antibiotic use in farming continued to spiral out of control in the pursuit of ever-cheaper protein and ever-increasing profit—not to mention the impact of intensification on animal welfare, our health and the environment. In its recent announcement the FDA warns that while it has not "ruled out" future regulatory action, it will instead "focus its efforts for now on the potential for voluntary reform and the promotion of the judicious use of antimicrobials in the interest of public health." I bet Big Ag's CEOs are quaking in their boots.
Voluntary reform? Call me a cynic, but the FDA has got to be kidding. Despite decades of mounting evidence and the emergence of a global scientific consensus that the routine non-therapeutic use of medicinally important antibiotics on industrial farms across the world is leading to the development of life-threatening multiple antibiotic-resistant bacteria, the powerful U.S. intensive farming lobby continues to aggressively dismiss the science and deny any possible risks to human health—just as the tobacco industry did in the 1970s.
While the FDA's announcement of limitations for the use of cephalosporins in food animal production might well be a small step in the right direction, the FDA continues to show that it has no teeth when it comes to ensuring that the intensive farming industry puts human health before profit, so that these vital medicines can remain effective for as long as possible. Even the Government Accountability Office recently concluded that key government agencies—including the FDA—are simply not doing enough to combat the growing threat of antibiotic resistant bacteria to public health, and that "antibiotic use in food animals contributes to the emergence of resistant bacteria that may affect humans." Far from being the proud industry watchdog working on behalf of U.S. citizens, the sad reality is that the FDA is happy to play the role of Big Ag's lapdog.
For more information, click here.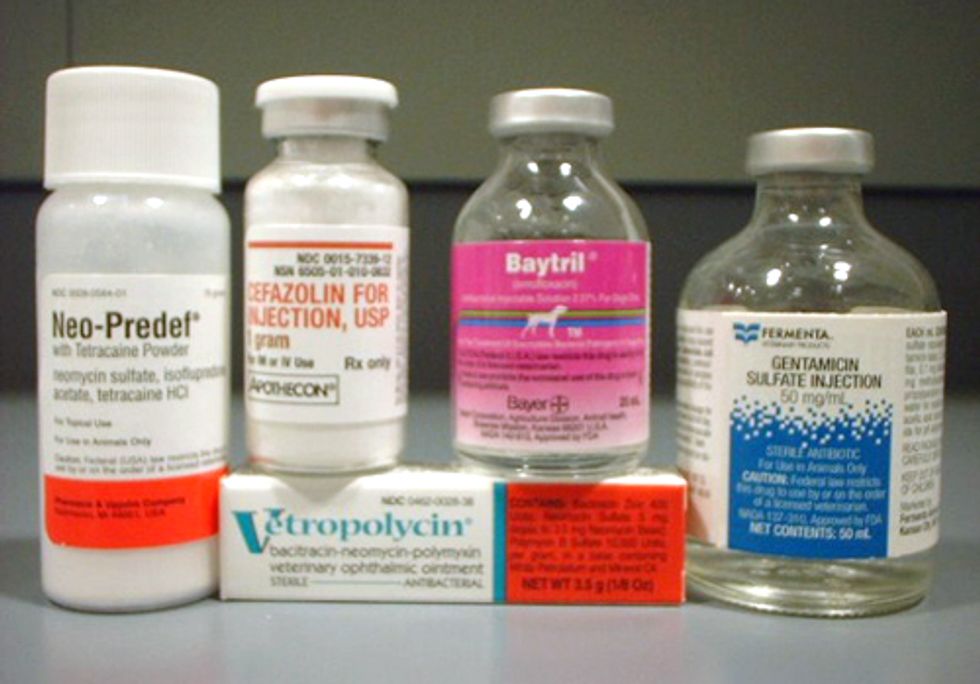 The Pew Campaign on Human Health and Industrial Farming praised the U.S. Food and Drug Administration (FDA) Jan. 4 for limiting the use of cephalosporins in food animal production.
Cephalosporins are vital treatments for children suffering from infection. Unlike other antibiotics, such as fluoroquinolones and tetracyclines, they carry no warnings or precautions for pediatric use. They also are important medicines for treating people suffering from bacterial meningitis and infections of the bone, urinary tract, and upper respiratory system, as well as those associated with cancer.
 
"We applaud FDA's move," said Laura Rogers, project director of the Pew Campaign on Human Health and Industrial Farming. "This restriction is a victory for human health, as it will help ensure we can still rely on cephalosporins to treat life-threatening infections today and in the future."
 
Although FDA has approved cephalosporins to treat some infections in food animals, the drugs often are administered in ways not specifically approved by the agency. Its rule will apply to such extralabel use of cephalosporins in meat and poultry production, which multiple studies have linked to the emergence of cephalosporin-resistant bacteria that can infect people.
 
If cephalosporins continue to be overused on industrial farms, these drugs will lose their effectiveness. As a result, many human infections will become more difficult to treat, leading to more deaths and higher health care costs.
"Today's action is a good first step," added Ms. Rogers, "and we encourage FDA to issue guidelines expeditiously that restrict the overuse and misuse of other critical antibiotics on industrial farms."
In 2010, officials from FDA, the U.S. Department of Agriculture, and the Centers for Disease Control and Prevention testified before Congress that there was a definitive link between the uses of antibiotics in food animal production and the crisis of antibiotic resistance in humans. In addition, many medical organizations including the American Medical Association, the American Academy of Pediatrics and the World Health Organization warn that this practice is putting human health at risk.
 
To ensure additional human antibiotics work when we need them, the Pew Campaign on Human Health and Industrial Farming also urges Congress to pass the Preservation of Antibiotics for Medical Treatment Act (H.R. 965, S. 1211).
A 60-day public comment will follow FDA's announcement, during which Pew will submit a formal response to the agency.
For more information, click here.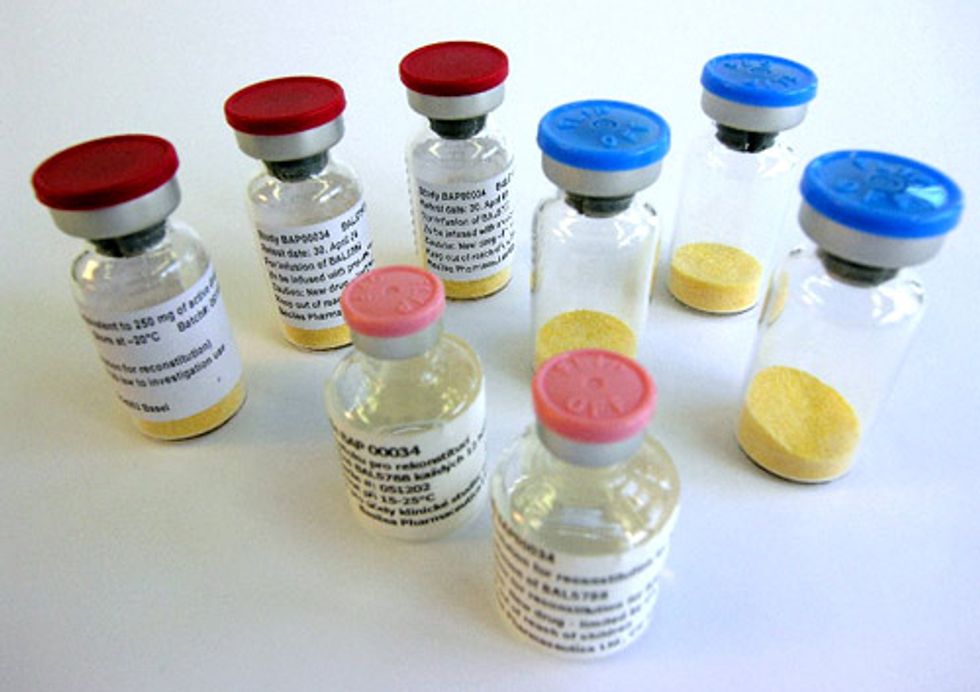 The Center for Food Safety (CFS) applauded the U.S. Food and Drug Administration (FDA) Jan. 4 for pre-releasing its long awaited prohibition on the extra-label use of cephalosporin drugs in food-producing animals. Cephalosporin drugs are an essential tool in both human and animal medicine, but mounting evidence has linked extra-label use of these drugs to the development and spread of cephalosporin-resistant organisms.
"This is a critical win for consumers, food safety advocates and the medical community," said Andrew Kimbrell, executive director for the Center for Food Safety. "But it's high time that FDA wakes up to the dangers that non-therapeutic uses of all antibiotics pose to our health and the safety of our food supply," Kimbrell said.
Cephalosporins are a vitally important class of antibiotics used most often in the treatment of serious Salmonella infections but also used to treat many other serious infections. The announcement Jan. 4 comes more than three years after the FDA first published an order prohibiting for the extra-label uses in food-producing animals of these drugs. That order was then withdrawn by the FDA before it could go into effect, citing the need for additional review of the public comments it received.
In its notice Jan. 4, FDA said that it plans to publish the Final Rule in the Federal Register on Jan. 6 announcing the prohibition of the extra-label use of cephalosporin drugs in food-producing animals. The Final Rule will go into effect 90 days from being published in the Federal Register and FDA will accept public comments for 60 days following the Federal Register notice. FDA's Final Rule will continue to allow approved label uses of these drugs for food producing animals as long as they are done in a safe and effective manner.
"The extra-label ban is just the first of many actions that FDA must make in order to better protect the public from the dangers of antibiotic-resistance," said Paige Tomaselli, staff attorney for the CFS. "Losing the effectiveness of critically important antibiotics as a result of our own misuse would be a catastrophic loss for modern medicine," added Tomaselli.
In August 2010, more than 180,000 citizens sent letters to the FDA responding to the agency's request for comments on rules governing the judicious use of antibiotics on industrial farms. Those letters joined dozens of scientific experts and public interest organizations calling on FDA to tighten oversight and curtail misuse and overuse of antibiotics on industrial farms. In its comments to the FDA, CFS thanked FDA for initiating discussion on the critical issue but expressed deep concern that its measures would not be voluntarily implemented and that regulation mandating immediate action is required instead. Further, in the absence of a clear timeline and strict goals, CFS stressed that the agency's approach lacked the urgency that this critical issue demands.
For more information, click here.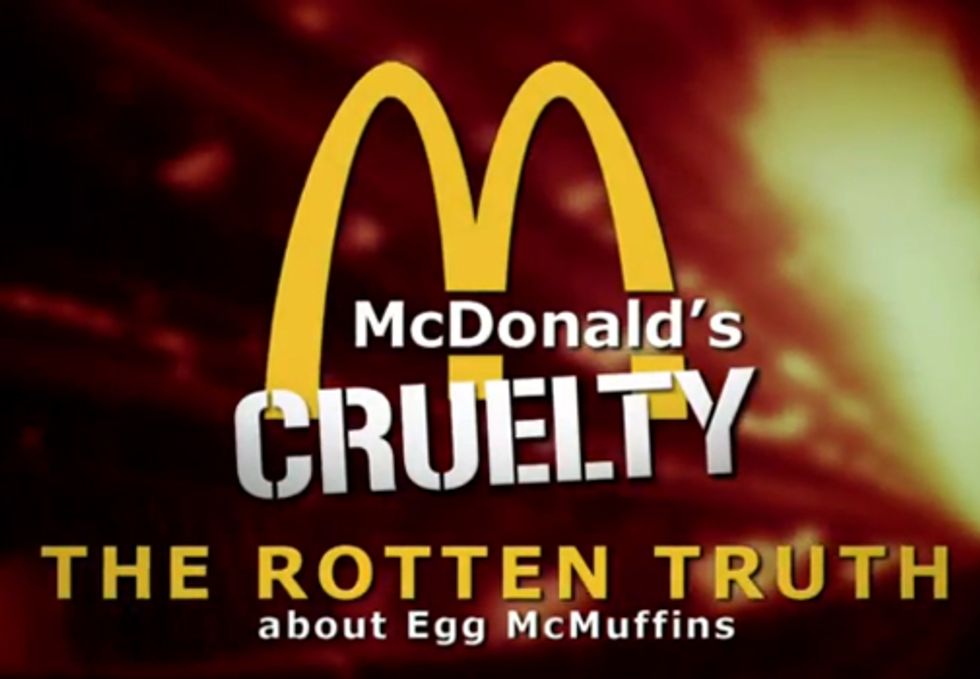 McDonald's has just discovered bigger isn't always better. McDonald's—one of the nation's largest egg purchasers—has just dropped one of the biggest egg producers in the U.S. after undercover filming showed abuse of chicks and hens at facilities in Iowa, Minnesota and Colorado.
Sparboe Farms of Litchfield, Minnesota produces 300 million eggs per year in shell, liquid, frozen and dried form. The company supplies retailers and food service outlets across 26 states. The undercover filming showed disturbing abuse of chicks and older hens at several of the company's farms.
In addition to this undercover video, Sparboe Farms recently received a warning letter from the U.S. Food and Drug Administration that said inspectors found "serious violations" at five Sparboe facilities of federal regulations meant to prevent Salmonella. The warning said eggs from those facilities had been "prepared, packed, or held under insanitary conditions whereby they may have become contaminated with filth, or whereby they may have been rendered injurious to health."
McDonald's is finding out that there is a price to be paid for dealing with industrial egg producers like Sparboe. By their very design these industrial systems fail to meet the needs of the hens, protect the consumer from health problems such as Salmonella, and provide farm workers with a safe and positive working environment.
Following the horrific recall of more than half a billion eggs in Iowa last year—where significant failings in basic management of the hens and their environment led to serious Salmonella risk—this is another scandal in an industry that seems incapable of regulating itself. As Animal Welfare Approved (AWA) pointed out at the time, recent research has shown a direct correlation between flock size and confinement and the presence of Salmonella—basically the bigger the flock and the more confined, the greater the risk of infection. It is also well documented that caged systems inherently lead to poor animal welfare. A standard industry cage forces birds to live in an area smaller than a sheet of paper. The natural stress response to such close confinement is pecking and cannibalism, a problem which the industry has "solved" by removing all or parts of the birds' beaks. This type of band-aid approach is especially disturbing given that science has already shown pasture-based systems to resolve this issue.
As McDonald's is discovering, part of the problem with the industrial farming model is that big agribusiness puts production in the hands of very small group of producers—leaving consumers and birds vulnerable to disease and abuse with limited options of alternative products. There must be a point at which McDonald's, Target and other retailers of eggs look beyond their corporate bottom line and see the future.
It may surprise you to know that McDonald's has some experience of better and more sustainable sourcing—McDonald's Europe that is, not McDonald's U.S. Over 95 percent of all eggs used by McDonald's across 21 European countries are either free-range or cage free "barn" eggs. McDonald's in the U.K. says that in 2009 they used more than 91 million free-range (pastured) eggs on their breakfast menu, and that all the eggs for their sauces and the breakfast menu were sourced from British farmers. In addition, the hens are all fed non-GM feed, and the company estimates that the egg farmers have planted nearly half a million trees on pastured laying hen ranging and foraging areas to provide shade and shelter for the hens, thereby improving the environment on the farms. McDonald's Europe is committed to reaching a 100 percent non-caged egg supply by 2012.
McDonald's Europe is working with companies that see the farmers and their birds and animals as an important and integral part of their business, not just figures on a balance sheet. This model of production is providing 100 percent pastured eggs in one country and a growing majority of non-caged egg in another 20 countries. This is the result of a committed effort on the part of McDonald's to learning how to stimulate demand, manage distribution and to set real, monitored and achieved targets for improvement. The success of this model shows that the lessons have been learned. Why then can McDonald's in the U.S. not learn from its European operation?
There are many farmers in America who are willing and able to step up and provide these pastured eggs for companies like McDonald's, if only the company were seriously interested. In a joint statement Nov. 22, John Boyd of the National Black Farmers Association and Andrew Gunther of Animal Welfare Approved invited executives of McDonald's to start the conversation and to make a commitment to move away from unhealthy and abusive caged eggs. The alternative is out there. We challenge McDonald's to start looking for it.
For more information, click here.