This website uses cookies to ensure you get the best experience while browsing it. By clicking 'Got It' you're accepting these terms.


The best of EcoWatch, right in your inbox. Sign up for our email newsletter!
Indian Point Energy Center is a three-unit nuclear power plant station located in Buchanan, New York, just south of Peekskill. Tony Fischer / Wikipedia
By Joseph Mangano
In the late 1970s, the rate of new thyroid cancer cases in four counties just north of New York City—Westchester, Rockland, Orange and Putnam counties—was 22 percent below the U.S. rate. Today, it has soared to 53 percent above the national rate. New cases jumped from 51 to 412 per year. Large increases in thyroid cancer occurred for both males and females in each county.
That's according to a new study I co-authored which was published in the Journal of Environmental Protection and presented at Columbia University.
Closing Indian Point Reduces Risk of Nuclear Accidents
Energy
By Matthew McKinzie
New York's Gov. Andrew Cuomo announced today that the two reactors at Indian Point Energy Center would close in the coming years, in large part due to safety concerns and the risk of a nuclear accident. The original 40-year operating licenses for the Indian Point Unit 2 and Unit 3 reactors both expired in the past three years, and today's announcement means they are now scheduled to close in 2020 and 2021, respectively, which will reduce the risk of a nuclear accident at the facility 24 miles north of New York City.
This is especially good news for the safety of the nearly 20 million people who live within 50 miles of the two aging reactors.
"Thanks to Governor Cuomo for his tireless and tenacious efforts to close Indian Point," Riverkeeper Vice Chairman Robert F. Kennedy, Jr. told EcoWatch.

"The agreement marks a milestone in America's historic transition from a dirty, dangerous energy system to clean, safe, wholesome, local and patriotic power supply. It is a victory for the Hudson fishery, for public safety and for the New York economy."
Located in such a densely-populated area, a severe nuclear accident at Indian Point would be a high consequence event. And over the years, numerous operational problems (tritium leaks, transformer fire and damaged reactor vessel bolts) and external threats (9/11, Hurricane Sandy, an underlying earthquake fault, and the construction of the nearby Algonquin natural gas pipeline) have called into question the safety of operating Indian Point.

Indian Point Energy Center Location MapNRDC
Today's announcement also means the electricity generation from the two reactors will be replaced with safe, renewable and truly clean energy resources like wind, solar and energy efficiency that don't pollute the air and harm our health.
Following the Fukushima accident in Japan, the Natural Resources Defense Council (NRDC) issued a report on the potential consequences of a severe nuclear accident at Indian Point. Our analysis considered two potential accident scenarios: radiation release from Indian Point on the scale of the 2011 Fukushima accident, and radiation release from Indian Point on the scale of the 1986 Chernobyl accident. NRDC's findings for these two scenarios are summarized as follows:
An accident at Indian Point Unit 3 on the scale of Fukushima Daiichi could require the sheltering or evacuation of as many as 5.6 million people due to a fallout plume blown south to the New York City metropolitan area. People in the path of the plume would be at risk for receiving a whole-body radiation dose greater than 1 rem, which for an average individual results in a 0.3 percent increase in risk of premature death from cancer. An accident of this scale would require the administration of stable iodine to more than six million people (where people would be at risk for receiving a thyroid radiation dose greater than 10 rad).
An accident at Indian Point Unit 3 approaching the scale of Chernobyl involving a full reactor core melt could put people in New York City at risk for receiving a whole-body radiation dose greater than 25 rem, resulting in a 7 percent increase in risk of premature death from cancer for an average individual. An accident of this scale would require the administration of stable iodine throughout the New York City metropolitan area, and put thousands at risk for radiation sickness in and near the Hudson Valley. If conditions sent the plume toward Manhattan, the island would be inhabitable due to radioactivity.
However, disconnecting Indian Point from the electric grid is only the beginning of the process of reactor decommissioning, which also includes the long-shuttered Unit 1, which was closed in 1974 due to defects in the stainless steel piping used to help keep the reactor cool.
To reach the important goal of restoring the environment in this piece of the Hudson Valley, the state must also develop a plan to safely manage the plant's spent nuclear fuel—rods that have been stored onsite since the plant's first unit went online in the 1960s-- while the United States continues to wait for the siting of its deep geologic repository. That step must come next.
Given Indian Point's troubled history and external threats, the decision to close the plant in the near term is the right one and will help safeguard millions of New Yorkers in the years to come.
My colleagues Kit Kennedy and Jackson Morris will be posting another blog shortly with an overview of the Indian Point closure agreement including clean energy replacement power options for New York State.
Reposted with permission from Natural Resources Defense Council.
EcoWatch Daily Newsletter
In a unanimous decision, the New York State Court of Appeals Monday upheld a state agency's right to review applications for renewal of federal licenses to operate two Indian Point nuclear power plants for another 20 years, delivering a setback to the facilities' owner, Mississippi-based Entergy Nuclear.
Indian Point nuclear plants.Daniel Case / Wikimedia
Indian Point's two remaining operating reactors reached the end of their original 40-year operating licenses in September 2013 and December 2015.
New York state Gov. Andrew Cuomo and former Sec. of State Hillary Clinton have argued for closing down the plants due to its proximity to the New York metropolitan area. Twenty million people live within a 50-mile radius of Indian Point, which lies along the east bank of the Hudson River, about 30 miles north of New York City. The Ramapo Fault system, which saw a 3.8-magnitude earthquake in 1985, lies near the plant.
"This is a monumental day," Paul Gallay, president of New York-based Riverkeeper, said. "This decision effectively stops the Nuclear Regulatory Commission from re-licensing Indian Point."
The New York Department of State had asserted its right to review Entergy's applications under the Coastal Management Program. Entergy argued that it was exempt. In its decision, the Court of Appeals wrote, "Entergy's current application for a license to operate the Indian Point nuclear reactors for an additional 20 years is a new federal action, involving a new project, with different impacts and concerns than were present when the initial environmental impact statements were issued over 40 years ago."
"Today's unanimous decision by the Court of Appeals reaffirms the state's authority to review Entergy's federal applications to continue its operation at Indian Point," Gov. Cuomo said. "The Department of State already concluded that the Indian Point relicensing application is inconsistent with New York's long-standing Coastal Management Program requirements and will continue to use this program to protect New York's coastline. Indian Point is antiquated and does not belong on the Hudson River in close proximity to New York City, where it poses a threat not only to the coastal resources and uses of the river, but to millions of New Yorkers living and working in the surrounding community."
In recent years, the aging plants have had their share of trouble. In 2010, 600,000 gallons of radioactive steam were released into the atmosphere and radioactive water leaked into the groundwater earlier this year. A transformer blew up in 2010 and another failed in 2015, causing a shutdown of Reactor 3.
"This is a happy day for New Yorkers, for the Hudson, and for the safety and security of our country," Robert F. Kennedy, Jr, president of Waterkeeper Alliance, said. "Indian Point is the oldest, most dilapidated, mismanaged and dangerous nuclear power plant in America."
Environmental concerns have dogged the Indian Point facility since the first plant, now decommissioned, opened in 1962. Hudson River water cools the reactors, killing about one billion small fish and fish larvae each year as they are sucked into the cooling system.
"Today's decision represents a major victory for the continued health and productivity of our state's environment," New York Attorney General Eric T. Schneiderman said. "Among our most important laws are those that protect sensitive ecosystems, including New York's lower Hudson River and its natural resources. The court has now made it clear that policies protecting New York's critical coastal resources are a necessary factor in considering whether to relicense the Indian Point facility."
According to Gallay, closing Indian Point wouldn't cause a hardship for electricity users. Electric power needs can readily be met by a combination of other regional power plants, existing surpluses and growing solar power installations in the state.
"Indian Point is not needed to provide energy to the New York Metropolitan Area," Gallay told EcoWatch today. "It is not safe to continue operating. And this ruling effectively bars federal relicensing of Indian Point. It's time to close Indian Point and take advantage of the safe, sustainable energy future that awaits New York."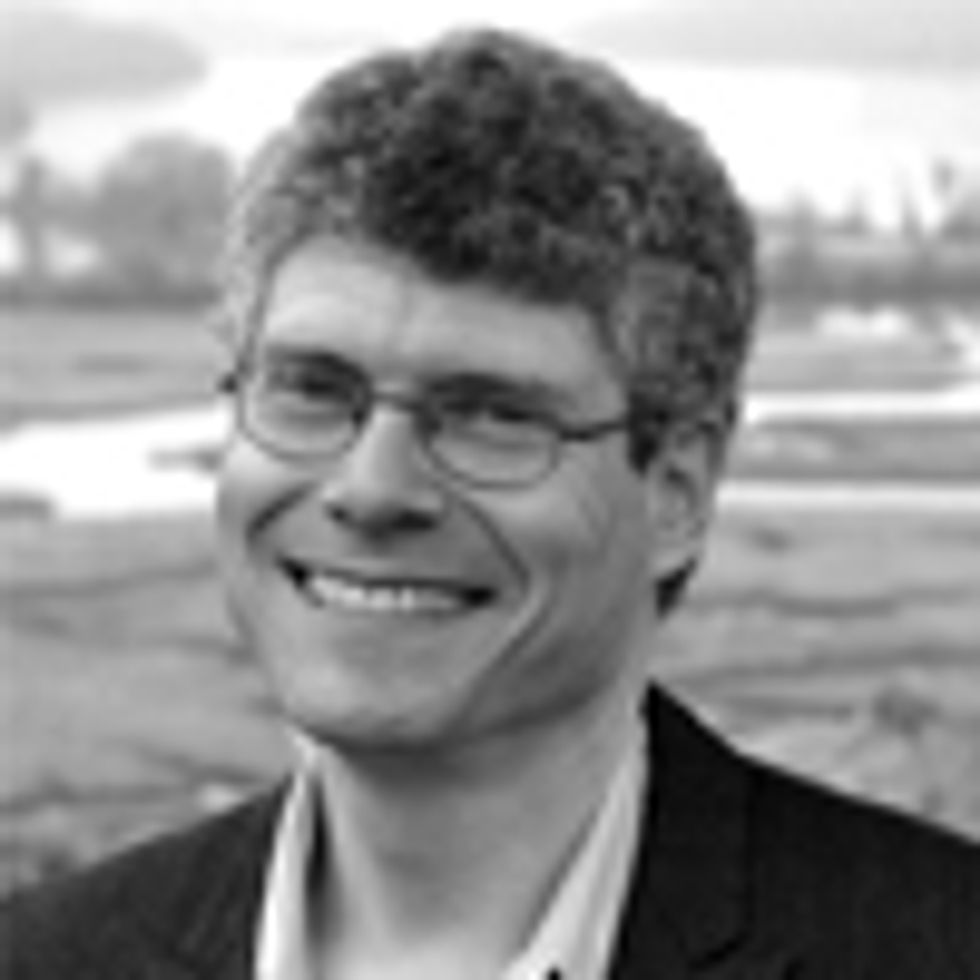 Andy Revkin of the NY Times has been one of Indian Point's most prominent supporters, but he seems to have growing doubts about NYC's aging nuclear neighbor to the north.
On June 12, Revkin published an entry on his influential online NY Times blog, DotEarth, with the provocative title Indian Point's Tritium Problem and the N.R.C.'s Regulatory Problem.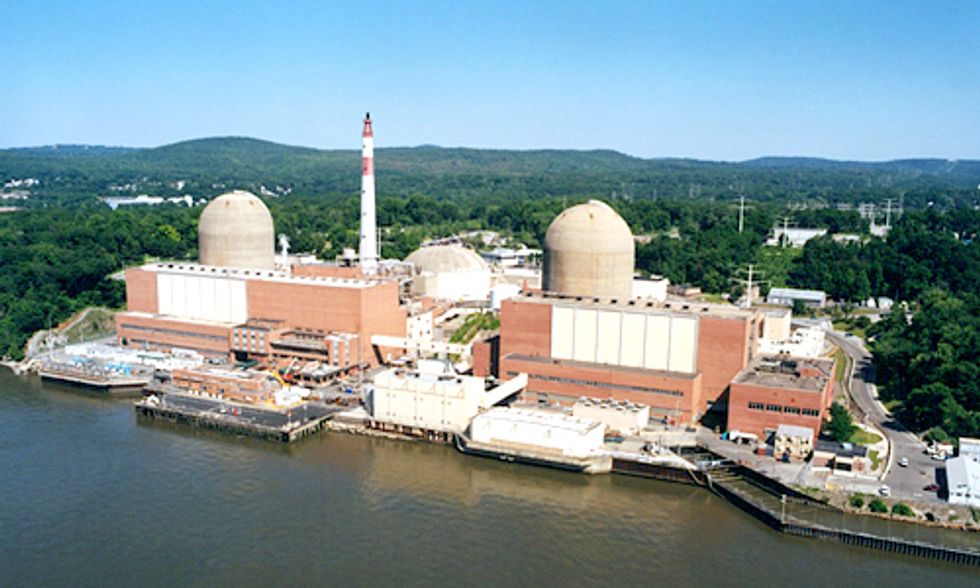 Revkin refers to recent increases in observed levels of radioactive tritium in the groundwater beneath Indian Point, adjacent to the plant's spent fuel pools. He asked the Nuclear Regulatory Commission (NRC) for comment about this disturbing news and also queried David A. Lochbaum, director of the Nuclear Safety Project at the Union of Concerned Scientists.
That's where things got interesting.
Revkin wrote that he "agree[s] with Lochbaum on the need for significant changes in [nuke plant] oversight" and quotes Lochbaum as saying, "The N.R.C. should enforce its regulations or change its name…"
Lochbaum is far from the most famous expert to observe that the NRC is a paper tiger, not a real regulator. That honor belongs to our President, Barack Obama, who said, in 2007, The NRC is a "moribund agency. It's become captive of the industry that it regulates."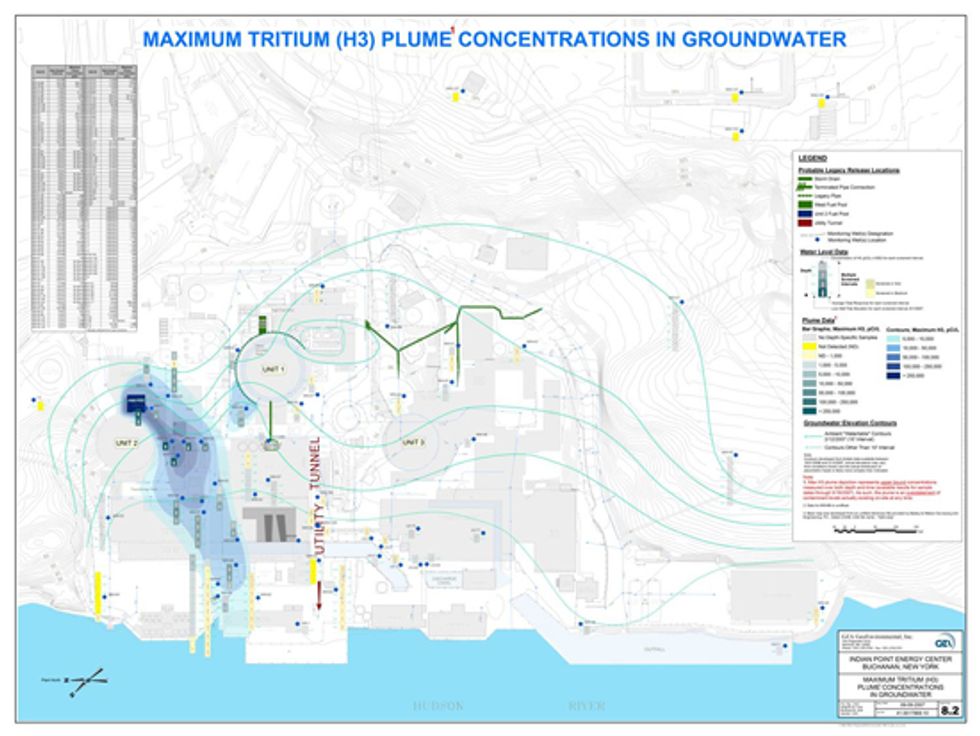 Revkin sent me his essay and I asked him, in reply, "If the NRC is not an effective regulator (which you seem to believe they are not) we should close Indian Point until NRC becomes effective, right? After all, a facility this dangerous should not be in operation without strong regulatory oversight, should it?"
Revkin wrote back almost immediately, and said:
"Why i disagree:
1) no difference in tritium etc risks if shut down.
2) fuel going nowhere whether decommissioned or not.
3) more opportunity to incent best practices etc if company has an interest in keeping things going?"
I showed this response to a number of people who observed that it really ducks the core issue: Does NRC's unreliability require closure of Indian Point? So, I pressed on, with responses to Revkin on each of his three proposed reasons why closure is not required.
1) no difference in tritium etc risks if shut down.
I responded to this by saying, "Tritium leaks are the just tip of the iceberg. Shutting down Indian Point would eliminate other, far more catastrophic operational risks associated with the plant's age and lack of effective regulation (like failure to inspect more than 5% of the plant per year, the presence of corroded underground piping, and lax oversight of poor security)."
2) fuel going nowhere whether decommissioned or not. 
Here, I pointed out that, "If Indian Point is shut down rather than relicensed, we would avoid the creation of an additional thousand tons of highly-radioactive spent fuel that will significantly increase the risk in an accident or attack. Plus, one unavoidable, ongoing risk—the presence of orphaned spent nuclear fuel—is no reason to prolong a second, avoidable risk—unsafe operation of poorly-regulated 40-year old nuclear reactors."
3) more opportunity to incent best practices etc if company has an interest in keeping things going? 
This one really struck me as naive. So, I observed: "Without a reliable regulator, Entergy has repeatedly gamed the system rather than implement best practices. For example: when the fireproofing insulation on cables supplying power to the reactors were found to be vastly substandard, Entergy did not replace the cables with satisfactory new ones—they asked NRC for a variance which was dutifully granted."
I closed with:
"Forgive the presumption, Andy, but perhaps your conclusion that we should let Indian Point continue to operate without effective regulation is driven by your concerns about carbon loading. These concerns do not change the fact that Indian Point is at the end of its 40 years of intended use; in close proximity to 18 million people and two earthquake faults that have led NRC to rank the plant as the U.S. nuke facility most at risk for meltdown due to earthquake; that Indian Point has no viable evacuation plan; that its spent fuel pools have five times as much nuclear waste in them as they were designed to hold; and, that the NRC is an unreliable regulator … Riverkeeper believes that we cannot allow our village to be placed at such real and significant risk of destruction in an attempt to save it from climate disruption."
When I didn't hear back from Revkin [he's usually very prompt in writing back; like me, I think he enjoys this sort of give and take], I pressed him for a reply, and he said he'd been offline and would have a look.
It's been a week and still no reply from Revkin. Is he processing? Deciding whether to let the other shoe drop and call for closure?
More likely, he has just moved on.
Meanwhile, one of America's oldest, most dangerous nuke plants continues to be overseen by a regulator only the industry has faith in. If Andy Revkin can't explain why this is acceptable to him, doesn't it mean he's finally crossed the line from journalist to apologist, when it comes to Indian Point?