This website uses cookies to ensure you get the best experience while browsing it. By clicking 'Got It' you're accepting these terms.


The best of EcoWatch, right in your inbox. Sign up for our email newsletter!
By Joe Roman
One of the most important global conservation events of the past year was something that didn't happen. For the first time since 2002, Iceland — one of just three countries that still allow commercial whaling — didn't hunt any whales, even though its government had approved whaling permits in early 2019.
A view from the top of Ok volcano in Iceland, where the Okjokull glacier used to be located. Drepicter / Getty Images Plus
Officials, activists and scientists gathered in Iceland Sunday for the funeral of the nation's first glacier to fall victim to the climate crisis.
EcoWatch Daily Newsletter
Text from the plaque that will mark the site where Ok glacier once was. Rice University
By Andrea Germanos
A climate change victim in Iceland is set to be memorialized with a monument that underscores the urgent crisis.
Minke whales dragged aboard the Japanese whaling vessel Nisshin Maru. Customs and Border Protection Service, Commonwealth of Australia
Iceland's multi-millionaire rogue whaler Kristján Loftsson and his company Hvalur hf have resumed their slaughter of endangered fin whales in blunt defiance of the international ban on commercial whaling.
The hunt is Iceland's first in three years and marks the start of a whaling season that could see as many as 239 of these majestic creatures killed.
U.S. Department of Agriculture / Flickr / CC BY 2.0
Even if you try to avoid buying plastics, you might be surprised to find it lurks in many common food and beverage containers, including tin cans, disposable coffee cups and even tea bags.
On Wednesday, however, the environmental group A Plastic Planet debuted the world's first "Plastic Free Trust Mark" to help shoppers know that their products are packaged entirely without the non-biodegradable material, which harms marine life and has entered the larger food chain.
A fin whale surfacing in Greenland. Aqqa Rosing-Asvid / CC BY 2.0
By Kitty Block
Iceland seems to be the most confused of nations when it comes to whales. On the one hand it attracts international tourists from all over the world to go out and see whales as part of their encounters with Iceland's many natural wonders. On the other hand it kills whales for profit, with some portion of the kill even being fed to some of the same tourists in restaurants and cafes.
Benjamin Drummond
The UK supermarket Iceland has announced it will remove palm oil from all its own brand products by the end of the year due to the belief there is no such thing as "sustainable" palm oil.
Earth's abundant inner heat, or geothermal energy, has incredible potential as a renewable energy source. For traditional geothermal projects, hot rocks produce steam for turbines. Over in Iceland, however, a consortium of researchers and companies want to dig much, much deeper into Earth's crust in order to explore the renewable energy potential of molten magma.
Iceland is drilling the world's hottest hole to harness energy from molten magmaFlickr
The Iceland Deep Drilling Project (IDDP) is drilling a 5-kilometer (3.1-mile) hole into old lava flows in the Reykjanes, a region in southwest Iceland filled with geothermal sites. Once drilling is complete by the end of 2016, the Nordic nation will be home to the hottest hole in the world with temperatures between 400 and 1,000 degrees Celsius (or 752-1,832 degrees Fahrenheit), according to New Scientist.
This effort is being led by Icelandic energy companies such as Hitaveita Sudurnesja, Landsvirkjun and Orkuveita Reykjavíkur, as well as the National Energy Authority of Iceland.

Since Aug. 12, the IDDP's rig—actually named "Thor"—has been drilling deep into a landward extension of the Mid-Atlantic Ridge, an underwater mountain range that extends above sea level through the center of Iceland.

"People have drilled into hard rock at this depth, but never before into a fluid system like this," Albert Albertsson, assistant director of a geothermal energy company involved in the project, explained to New Scientist.

At this depth, seawater that has penetrated the ocean bed has not only been superheated by magma, it's also highly pressurized (more than 200 times atmospheric air pressure). The team expects to find water in the form of "supercritical steam," aka "dragon water," which is neither liquid nor steam but holds more heat energy than both.
Albertsson said that a well capable of harnessing this steam has an energy capacity of 50 megawatts, about 10 times more than a conventional geothermal well. Theoretically, IDDP's new well could power 50,000 homes compared to the 5,000 homes powered by a single geothermal well.

"If they can get supercritical steam in deep boreholes, that will make an order of magnitude difference to the amount of geothermal energy the wells can produce," Arnar Guðmundsson from Invest in Iceland, a government agency that promotes energy development, told New Scientist.
If this project this sounds a little dicey, as Motherboard explained, this isn't the first time IDDP has tapped into Icelandic lava power:
"In 2009, an IDDP rig located in Krafla, northeast Iceland, accidentally struck a magma reservoir just over a mile underground. Excited about the prospects of new geothermal energy, the project partnered with Iceland's National Power Company, and installed a perforated steel casing at the bottom of the well. This successfully allowed the flow of magma to create superheated, extremely pressurized steam at temperatures exceeding 800°F—at the time, a world record for geothermal heat.

"Power created by the Krafla borehole was never fed back into the grid, and the project was shuttered in 2012 after a critical valve needed repairing."
"In the future, the success of this drilling and research project could lead to a revolution in the energy efficiency of high-temperature geothermal areas worldwide," said Wilfred Elders, a professor emeritus of geology at the University of California, Riverside who was involved in an earlier IDDP project.
According to DeSmogBlog, New Zealand, Indonesia, the Philippines, the U.S. and Mexico already have commercial geothermal plants.

Iceland, known for its numerous bubbling hot springs and geysers, already heats up to 90 percent of its homes and supplies about a third of its electricity with geothermal.
By Karen Stillerman
As a food lover and an agriculture geek, I frequently plan vacations around what there is to eat. This summer, I traveled to Iceland, ostensibly to admire its breathtaking scenery and ride its tough little horses. As a bonus, I escaped a couple weeks of DC's stifling heat. But of course, I also took the opportunity to see (and taste) this unique country's equally unique food and agriculture system up close. Here are my observations.
Weird Food is Just the Beginning

Icelanders are known for eating some very strange things. Nothing is stranger than hákarl or fermented shark, which I did not sample. Not because it sounds thoroughly disgusting—though it really does—but because sharks have been dangerously overfished around the world and I couldn't guarantee the sustainability of this delicacy. Or at least that's what I told myself. Ditto for whale, another traditional food, though one most Icelanders don't eat much today. I had no such convenient excuse for not trying pickled rams' testicles…
I did eat skyr, which is not yogurt (though I'm not entirely sure why not.) And I enjoyed salty Icelandic licorice enrobed in milk chocolate, though this proved to be a flavor combination my colleagues in the office did not appreciate for some reason. (Sorry, folks. At least I didn't bring back hákarl.)
But beyond these novelties lie a cuisine and food production systems that are closely tied to the local land and waters and influenced by past and present sustainability challenges.
Icelanders Grow (and Eat) What They Can
Iceland is a large volcanic island located just south of the Arctic Circle. As such, it's subject to some pretty serious climatic, geographic and geologic challenges. Though winter temperatures in Reykjavik—the world's more northerly capital—are moderated by the Gulf Stream, Icelandic summers are still quite cool. So while its coastal waters and rivers provide a bounty of fish and seafood, the island's volcanic soils are thin and much of its interior is covered by lava fields, mountains and glaciers, which is pretty limiting for agriculture.
Still, about 3.8 percent of the labor force worked in agriculture as of 2006 (the latest stats I found). According to the Farmers Association of Iceland, top crops include cold-lovers you might expect: potatoes, turnips, carrots and cabbage. Rhubarb does well in the climate and you can find it in gardens and escaped into the countryside from abandoned homesteads.
What you wouldn't expect are Icelandic tomatoes. But with a midnight sun shining above and the island's famous geothermal heat radiating from below, Iceland does indeed produce tomatoes (as well as peppers and even bananas!) in greenhouses. I got a chance to see these in Hveragerði, which is home to many hot springs and a horticultural college.
More than crops, though, Iceland's vast land resources are well-suited for grass and grazing animals, most notably sheep. There are some 800,000 sheep in Iceland, an astonishing number considering the human population of the entire country currently stands at just 332,000. The large national sheep herd explains why nearly every restaurant in Reykjavik offers its own variation on homey kjötsúpa or lamb soup. (Every one I tried was delicious.)
But I wondered, are all those sheep sustainable?
A Troubled Environmental History and an Uncertain Future
Iceland was first settled by Nordic explorers (aka Vikings) more than 1,100 years ago and it's thought that about 25 percent of the island was forested. But those forests were decimated for firewood and timber and the grasslands overgrazed by sheep, cattle and horses. About 30 percent of the country has been classified as man-made desert. (This 2007 NPR story features Icelandic soil scientists working to restore the environment and is worth a listen.)
Today, Iceland has a national strategy for sustainability and is carefully cultivating its image as an ecotourism mecca. As part of my horseback trip, I had the unique opportunity to stay a night on an Icelandic sheep farm and to chat a bit with the farmer.
Aðalsteinn Sigurðarson (it's a mouthful, so he goes by Alli, pictured here on the left) operates a 6,600-hectare farm (about 16,308 acres) near the city of Egilsstaðir in eastern Iceland. His great-great-grandfather bought the land in 1922 and his family has farmed there ever since. Alli's parents retired to Egilsstaðir a few years ago and none of his sisters opted to stay on the farm. Though they come and help out on weekends, he's basically managing the place by himself. The farm, called Vaðbrekka, was profiled by Forbes in 2014.
Vaðbrekka is located at 400 meters (about 1,300 feet) above sea level. (See this amazing aerial photo of the place. My group rode our horses down out of the mountains to the left one evening and crossed the river to get there.)
Alli told me proudly that there is only one farm in Iceland that is higher and farther from the coast. His flock ranges from 300 sheep in the wintertime to more than 800 during the summer.
Though I was there in July, the only sheep I saw were two hand-raised orphan lambs loitering outside Alli's back door. The rest of the flock was high up in the hills, grazing on the rich summer grasses. Alli told me his fields produce enough hay to keep the sheep fed when they come back down to the barn for the long winter.
It was hard for me to gauge the sustainability of this operation, though it seemed idyllic.
My colleague and agroecologist Marcia DeLonge studies the sustainability of grazing, mostly in the context of beef cattle here in the U.S. We know that cattle and sheep can damage fragile grasslands if not managed correctly and that they produce heat-trapping methane emissions that pose a problem for our planet. At the same time, as Marcia has written, well-managed grazing can be a better alternative to croplands in many ecosystems and can even add carbon to the soil and provide other environmental benefits.
Like Marcia, scientists in Iceland are studying the best ways to manage grazing in that country. Aided by science and science-based public policies, I hope farmers and ranchers in that country and in my own can find the right balance. Our future depends upon it.
Related Articles Around the Web
By Martin Williams and Erika Rosenthal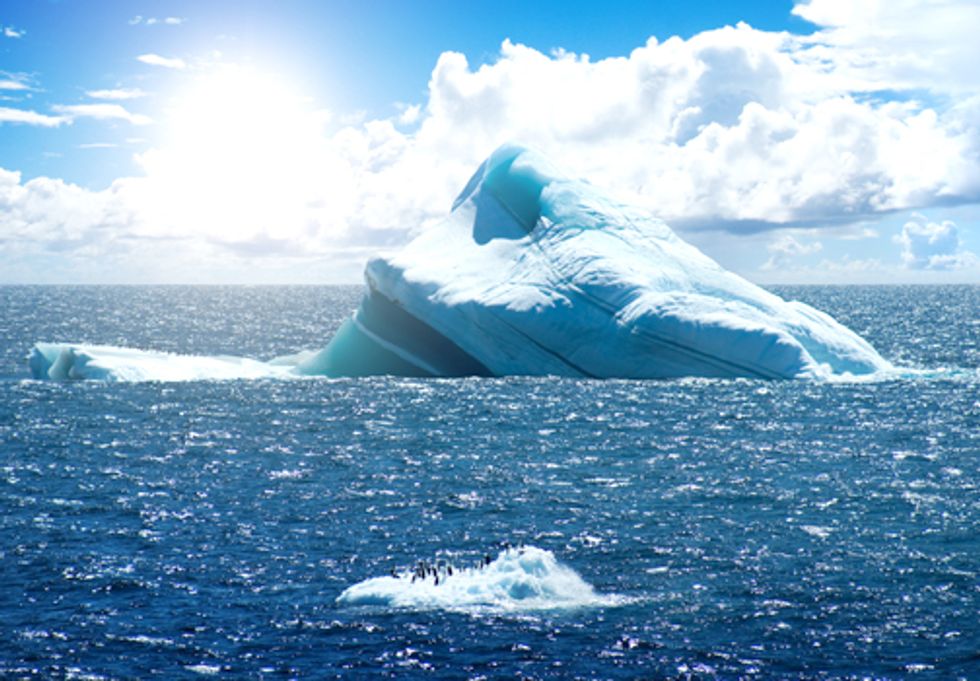 Photo courtesy of Shutterstock
Arctic nations have an extraordinary opportunity to show global leadership to slow regional warming and melting by embracing a proposal to launch talks on an agreement to reduce emissions of the climate pollutant black carbon. Arctic environment ministers have the power to send a strong signal to the Arctic Council when they gather Feb. 5 and Feb. 6 in Jukkasjärvi, Sweden—only the second time ever—acknowledging black carbon reductions as a priority for regional environmental protection.
The Arctic is warming twice as fast as the rest of the planet. Last year was a record melt year for both summer sea ice and land glaciers, e.g. the Greenland Ice Sheet, with grave implications for Arctic peoples and biodiversity, and for low-lying nations and communities around the world. Scientists named 2012 the "Goliath melt year" observing melting on more than 90 percent of the mammoth Greenland Ice Sheet's surface; sea ice retreated to half the size it was when measurements began in 1979.
While carbon dioxide (CO2) reductions remain the backbone of efforts to limit the long term consequences of climate change in the Arctic and globally, its 100-year atmospheric lifespan means CO2 reductions alone cannot avert further potentially devastating warming and melting in the Arctic in the near term. Rapid reductions in emissions of short-lived climate forcers, including black carbon, a component of fine particle pollution, and methane have been identified as the most effective strategy to slow warming and melting in the Arctic over the near term, giving the cultures and biodiversity of the region more time to adapt and slowing the rise of sea levels by reducing continental ice melting.
Arctic states have a special responsibility since black carbon is a more potent climate forcing agent when emitted from within or near the Arctic because particles have a greater chance of settling on Arctic ice and snow, amplifying warming and melting. A seminal paper published recently by a multinational team of scientists, Bounding the role of black carbon in the climate system, states that black carbon has "twice the climate impact reported in previous assessments" and ranks black carbon as the "second most important human emission …; only carbon dioxide is estimated to have a greater forcing …"
Black carbon reductions are important for health as well as climate. It is a component of fine particulate pollution that is emitted by diesel engines, residential wood heating and some industries, and is associated with over a million premature deaths each year from respiratory and heart disease.
The Convention on Long-range Transboundary Air Pollution (CLRTAP) has led the way. In May 2012 CLRTAP, of which all eight Arctic states are parties, became the first multilateral agreement to address black carbon. Amendments to the Convention's Gothenburg Protocol establish emissions standards for fine particulate matter and urge Parties to "… seek reductions from those source categories known to emit high amounts of black carbon, to the extent it considers appropriate." These measures were adopted based on the recognition that reduction of black carbon will "… improve air quality, provide significant public health benefits, and provide regional climate benefits by protecting the Arctic and glaciated mountainous regions, in particular from accelerated rates of melting of ice, snow and permafrost."¹
While groundbreaking, CLRTAP's emissions ceilings don't apply until 2020 and the black carbon reductions goals are voluntary. Arctic nation leadership is urgently needed to complement and accelerate black carbon efforts under CLRTAP. The Arctic Council's own work [Task Force] on SLCF and the UNEP Integrated Assessment have shown that black carbon actions by the eight Arctic nations—using available technologies and known practices—can have a significant temperature impact in the region. Time is of the essence—the UNEP assessment showed that emissions reductions before 2030 will have the greatest impact—and Arctic Council nations are better positioned to lead having studied science-based mitigation opportunities in two working groups for more than four years.
An Arctic regional agreement on black carbon, under the auspices of the Arctic Council, would be a much needed step to complement and advance implementation of commitments under CLRTAP, and do more in the region where it is most critical, both to protect the health and ecosystems in the Arctic, and to slow sea level rise. Logical, complementary steps for an Arctic nation instrument on black carbon could start with agreement to submit black carbon emissions inventories, based on CLRTAP guidelines soon to be finalized; to track regional trends and identify mitigation opportunities; and establish a mechanism for reporting and joint consultation on national mitigation action through the Arctic Council. Additional measures that should be considered for inclusion in a regional black carbon instrument include the adoption of a common, circumpolar vision for black carbon emissions reductions and the development of national mitigation action plans for black carbon. A mechanism for technology transfer and finance to facilitate enhanced mitigation action may also be appropriate.
Arctic nations took on a special commitment, in the founding declaration of the Arctic Council, for "… the protection of the Arctic environment, including the health of Arctic ecosystems, maintenance of biodiversity in the Arctic region and conservation and sustainable use of Arctic resources." In recent years, the Arctic Council has become a platform for the negotiation of regional agreements to help fulfill that pledge, the first on Search and Rescue (2011) and the second, to be signed this year, on oil spill preparedness and response. A decision by the Council to launch negotiations on black carbon reductions in the Arctic would be a welcome complement to the advances under CLRTAP, and an important step for nations of the region to fulfill their commitments to protect the extraordinary peoples, biodiversity and ecosystems of the region. The time for Arctic nations' leadership on black carbon is now.
Visit EcoWatch's CLIMATE CHANGE page for more related news on this topic.
--------
Martin Williams is a professor at King's College London and serves as chair of the Executive Body of the Convention on Long-range Transboundary Air Pollution (CLRTAP). The article reflects his personal views only, not any policy of the CLRTAP. Erika Rosenthal is an attorney with the public interest environmental law firm, Earthjustice.  Both participated in the UNEP Integrated Assessment of Black Carbon and Tropospheric Ozone.