This website uses cookies to ensure you get the best experience while browsing it. By clicking 'Got It' you're accepting these terms.


The best of EcoWatch, right in your inbox. Sign up for our email newsletter!
Mexico's president-elect Andrés Manuel López Obrador said he will end the use of hydraulic fracturing, or fracking, once he enters office on Dec. 1.
"We will no longer use that method to extract petroleum," the populist politician said Tuesday at a press conference, as quoted by the Associated Press.
By Tara Lohan
An explosion at a nearby gas drilling well pad jostled John Pitcock awake around 4 a.m. Sunday morning.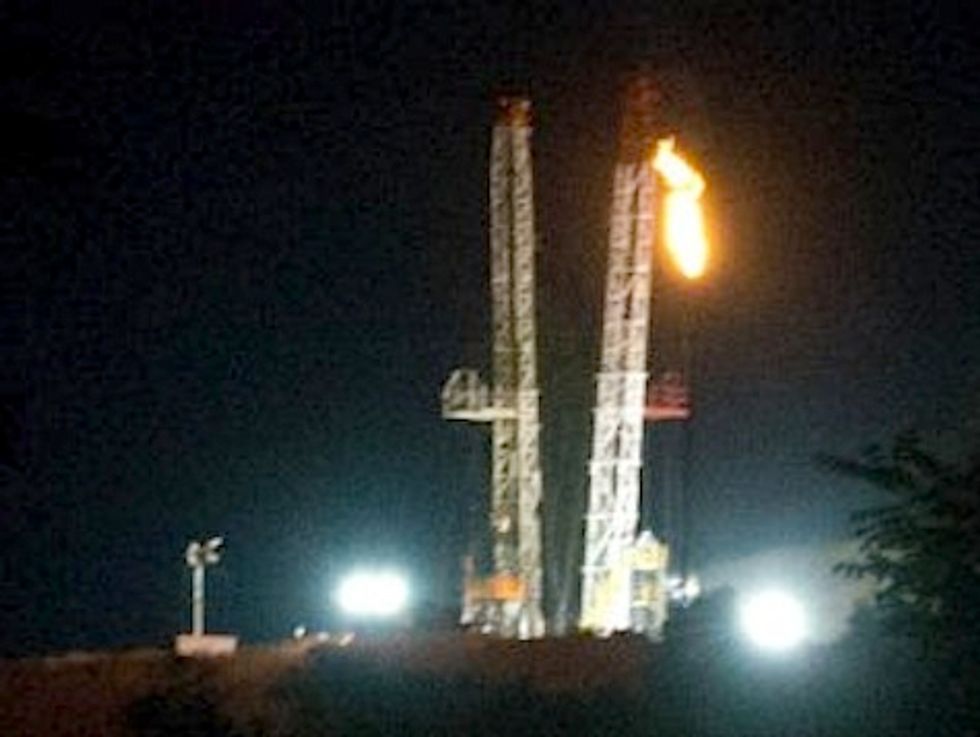 Pitcock and his wife Diane moved with their sons from the Baltimore, MD, area to rural New Milton, WV, in Doddridge County nearly a decade ago to enjoy a quiet country life.
But when drilling companies began tapping the underlying Marcellus Shale in the area for natural gas reserves using high-volume horizontal hydraulic fracturing—or fracking—their peaceful country life disappeared. 
The Pitcocks have been plagued by noise, lights, dust, emissions and truck traffic after a neighbor leased his land to a drilling company, which has erected several well pads on the land adjacent to their property. Over the last year trees have been clear cut, miles of roads built through their rural neighborhood, and drilling has begun. On Friday, July 5, I visited their home and witnessed gas being flared from a well through the night—the light illuminated their front yard from a ridge top about 2,000 feet away. 
John Pitcock reported that the well continued to flare through the next day and night and another well beside it was loudly venting gas on and off. What became a nuisance turned to a real fright during the early morning hours of Sunday as John describes:
The Pitcocks were initially told (after driving off their property to find employees working nearby and emergency response officials) that they needed to evacuate, but were later told it was optional and they could remain.  
Since then conflicting reports have emerged about the number of workers injured and the severity of their injuries at the well pad, which is officially called the Hinterer 2H well on the Ruddy Alt pad and is operated by Antero Resources. The West Virginia Gazette-Mail reported at least seven injured and four or five workers were flown to West Penn Burn Center in Pittsburgh.
The West Virginia Department of Environmental Protection (DEP) and the Doddridge County director of emergency services did not return phone calls as of publication. While the cause of the fire hasn't been determined, writing for the Gazette-Mail, David Gutman explained that this is not the first safety issue that Antero has had recently:
Last August a spark at an Antero-owned well in Harrison County ignited methane gas several hundred feet underground, causing a fireball and a fire that burned for about an hour. Three workers were injured in that fire.
DEP cited Antero for failure to maintain well control for that incident.
DEP has cited Antero for 17 violations of state code in the past three years. Those have been primarily environmental violations—for things like failing to prevent waste runoff, failure to report discharges and contaminating waterways.
One violation, from Jan. 4, warned, "Imminent danger water supplys [sic] threatened by allowing pollutants to escape and flow into the waters of the state."
In June of last year Antero was drilling using water in Harrison County when they accidentally repressurized some old water wells, causing several geysers, one about 10 feet high, that flooded one nearby home and several garages.
In March 2011, state regulators shut down an Antero gas well in Harrison County after mud contaminated with drilling chemicals spilled into a nearby stream.
John Pitcock says that he doesn't think companies should be drilling in this manner in proximity to people's homes.
Visit EcoWatch's FRACKING pages for more related news on this topic.
——–
EcoWatch Daily Newsletter
Watch The Daily Show's John Oliver interview Gasland Director Josh Fox on his new film, Gasland Part II, which elaborates on the government's role in promoting the fossil fuel industry's practice of hydraulic fracturing (or fracking) for natural gas and oil. Exposing the grave warning signs coming from U.S. "energy sacrifice zones," Fox warns of the systemic corruption with regard to our regulatory agencies and industry influence. He also discusses the technical and engineering problems of the fracking process and the effects of methane emissions being worse for climate change than coal. Gasland Part II will debut nationally on HBO, Monday, July 8 at 9 p.m. EST.
Visit EcoWatch's FRACKING page for more related news on this topic.
——–
Some homeowners living near shale gas wells appear to be at higher risk of drinking water contamination from stray gases, according to a new Duke University-led study, Increased Stray Gas Abundance in a Subset of Drinking Water Wells Near Marcellus Shale Gas Extraction.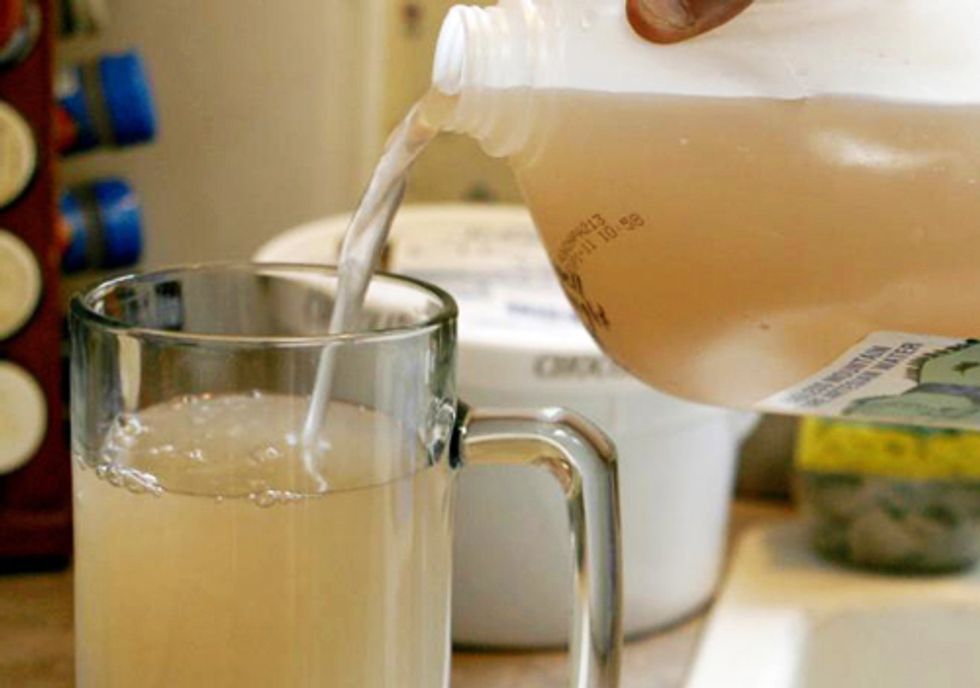 The scientists analyzed 141 drinking water samples from private water wells across northeastern Pennsylvania's gas-rich Marcellus Shale basin.
They found that, on average, methane concentrations were six times higher and ethane concentrations were 23 times higher at homes within a kilometer of a shale gas well. Propane was detected in 10 samples, all of them from homes within a kilometer of drilling.
"The methane, ethane and propane data, and new evidence from hydrocarbon and helium content, all suggest that drilling has affected some homeowners' water," said Robert B. Jackson, a professor of environmental sciences at Duke's Nicholas School of the Environment. "In a minority of cases the gas even looks Marcellus-like, probably caused by poor well construction."
The ethane and propane data are "particularly interesting," he noted, "since there is no biological source of ethane and propane in the region and Marcellus gas is high in both, and higher in concentration than Upper Devonian gases" found in formations overlying the Marcellus shale.
The scientists examined which factors might explain their results, including topography, distance to gas wells and distance to geologic features. "Distance to gas wells was, by far, the most significant factor influencing gases in the drinking water we sampled," said Jackson.
The team published its peer-reviewed findings this week in the online Early Edition of the Proceedings of the National Academy of Sciences.
Shale gas extraction—a process that includes horizontal drilling and hydraulic fracturing—has fueled concerns in recent years about contamination of nearby drinking water supplies.
Two previous Duke-led studies found direct evidence of methane contamination in water wells near shale-gas drilling in northeastern Pennsylvania, as well as possible hydraulic connectivity between deep brines and shallow aquifers. A third study, conducted with U.S. Geological Survey scientists, found no evidence of drinking water contamination from shale gas production in Arkansas. None of the studies found evidence of current contamination by hydraulic fracturing fluids.
The new study is the first to offer direct evidence of ethane and propane contamination.
"Our studies demonstrate that the integrity of gas wells, as well as variations in local and regional geology, play major roles in determining the possible risk of groundwater impacts from shale gas development. As such, they must be taken into consideration before drilling begins," said Avner Vengosh, professor of geochemistry and water quality at Duke's Nicholas School.
"The new data reinforces our earlier observations that stray gases contaminate drinking water wells in some areas of the Marcellus shale. The question is what is happening in other shale gas basins," Vengosh said.
"The helium data in this study are the first in a new tool kit we've developed for identifying contamination using noble gas geochemistry," said Thomas H. Darrah, a research scientist in geology, also at Duke's Nicholas School. "These new tools allow us to identify and trace contaminants with a high degree of certainty through multiple lines of evidence."
Co-authors of the new study are Nathaniel Warner, Adrian Down, Kaiguang Zhao and Jonathan Karr, all of Duke; Robert Poreda of the University of Rochester; and Stephen Osborn of California State Polytechnic University. Duke's Nicholas School of the Environment and the Duke Center on Global Change funded the research.
Visit EcoWatch's FRACKING page for more related news on this topic.
——–
Sign the petition today, telling President Obama to enact an immediate fracking moratorium: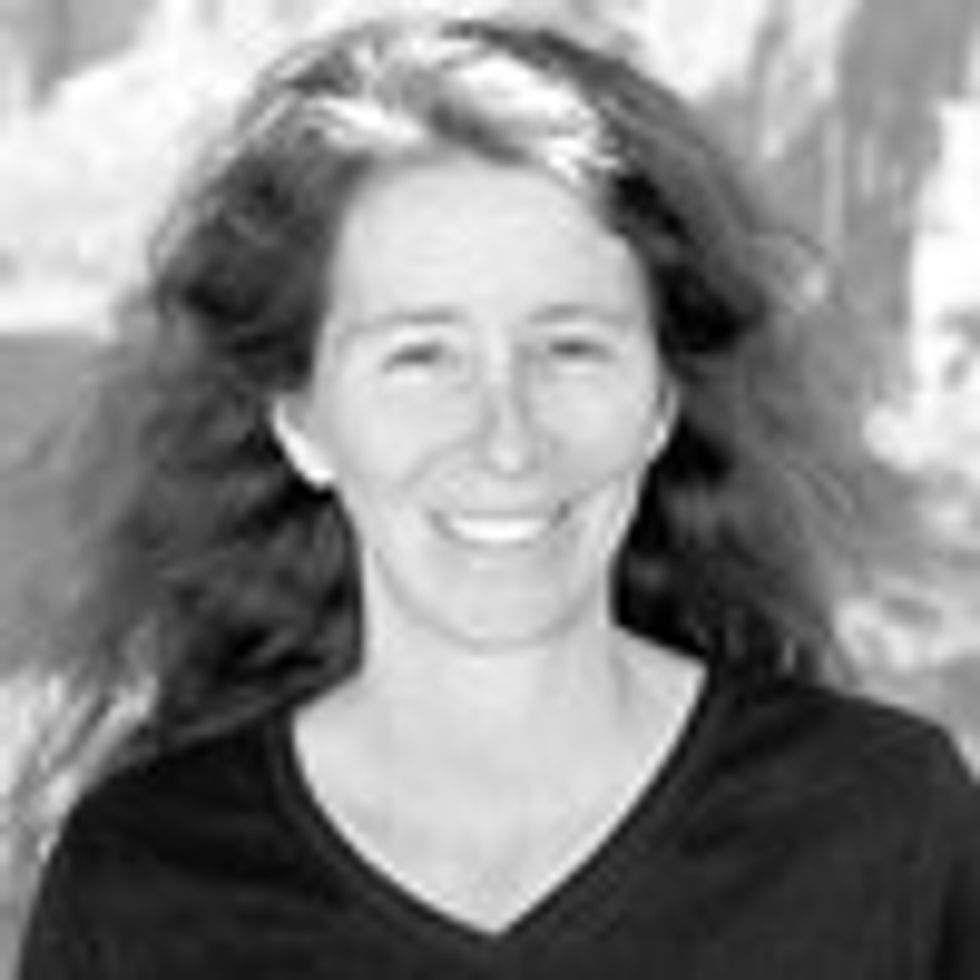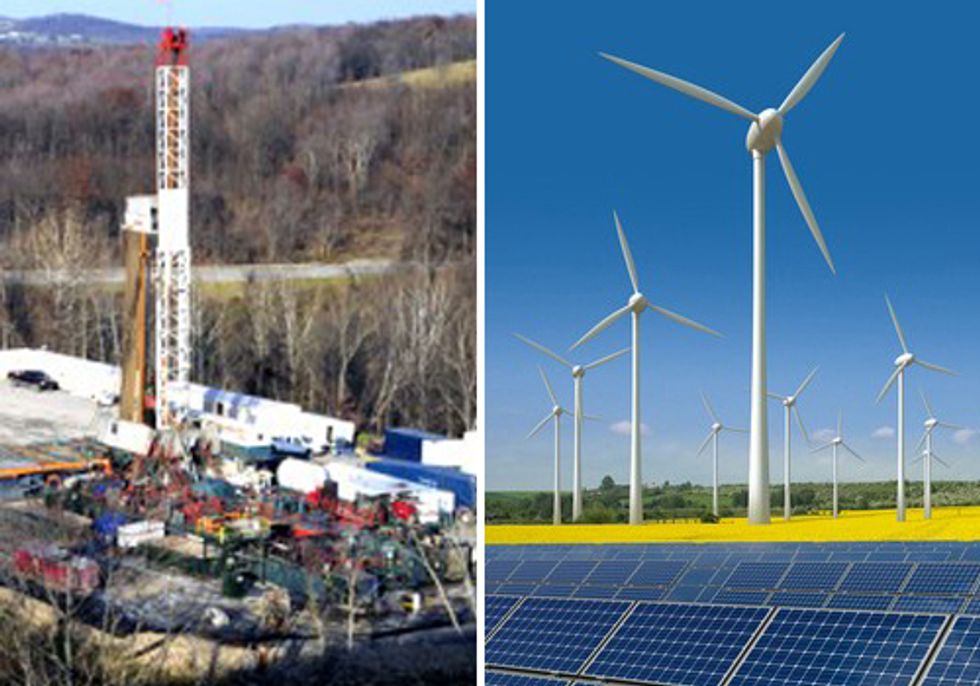 It's virtually impossible these days to read, listen to or watch a news program that doesn't mention hydraulic fracturing, or fracking. Nearly every day, EcoWatch posts at least one article on fracking and last week was no different.
Big news last week was the announcement by the U.S. Environmental Protection Agency (EPA) that it's delaying from 2014 to 2016 the release of its study on the impact of fracking. In 2010, at the request of Congress, the U.S. EPA was mandated to conduct a study to better understand potential impacts of fracking on drinking water and groundwater. The scope of the research is to include the full lifespan of water in fracking.
The delay of this report is significant because many local and state governments have placed a moratorium on fracking while waiting for guidance from the U.S. EPA on the impacts of oil and gas extraction. Communities in states where fracking is already taking place—including Ohio, Pennsylvania, Colorado, Wyoming and North Dakota—are greatly concerned by the delay as reports of water and air contamination, earthquakes and health problems, as well as issues with the disposal of toxic radioactive fracking wastewater, abound.
Wyoming residents had a lot to say regarding the delay of the U.S. EPA report. On June 21, Pavillion-area landowners and environmental groups condemned Gov. Mead's (R-WY) announcement that the state is assuming control from the U.S. EPA on the investigation into groundwater contamination by fracking-enabled oil and gas development near Pavillion.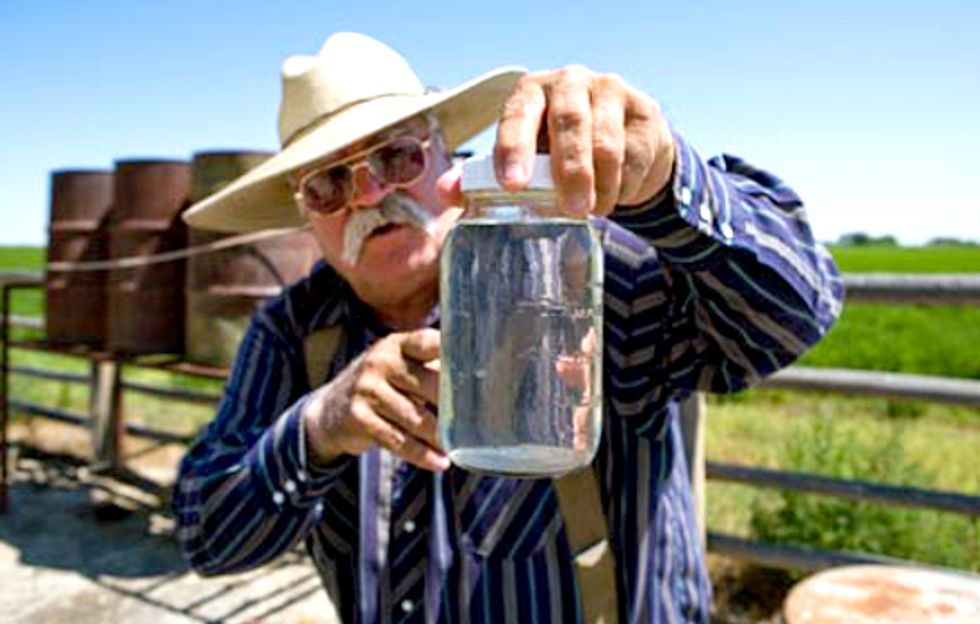 A TckTckTck article last week detailed how the oil and gas industry is demanding unprecedented amounts of water for hydraulic fracturing, even as severe drought impacts communities nationwide. Ceres reported on the pinch being felt by state regulators who are scrambling to keep the water flowing to the thirsty oil and gas industry, while not shortchanging farmers, municipalities and growing populations.
Last week, clean water activists and representatives from Clean Water Action, Sierra Club, Delaware Riverkeeper Network and Berks Gas Truth gathered in the Pennsylvania State Capitol to call on Gov. Corbett (R-PA) to speak publicly on the extent of water contamination from fracking for natural gas in the state.
Legislatively there was good news and bad news. The good news came out of Boulder, CO, where local residents rejoiced at the decision of the Boulder County Commission to enact a new moratorium on fracking for 18 months. The bad news came out of Illinois where Gov. Quinn signed into law a statewide fracking bill. According to the Southern Illinoisans Against Fracturing our Environment, the Illinois fracking bill—SB1715—was negotiated behind closed doors, and was not based on scientific study, but rather on what was politically possible, regardless of science.
More than 3,000 New Yorkers rallied last week to send a message to Gov. Cuomo and state legislators to reject fracking and lead the nation in renewable energy.
A game-changing report came out last week by Alberta, Canada-based environmental consultant Jessica Ernst who released the first comprehensive catalog and summary compendium of facts related to the contamination of North America's groundwater sources resulting from the fracking.
Food & Water Europe launched a new website to challenge the fossil fuel industry's spin that shale gas can be safely extracted. The website, NGSFacts.com, takes issue with industry's denial of strong links between shale gas extraction and water contamination in the U.S.
As each day brings more fracking news, I hope more people are educating themselves on the impacts of fossil fuel extraction on human health and the environment, including climate change and the well-being of future generations. As 3,000+ New Yorkers put it so well last week, we are at a crossroads. Are we going to continue to pollute the planet with dirty fossil fuels, or are we going to once and for all support a sustainable energy future and embrace energy efficiency and renewable energy?
Visit EcoWatch's FRACKING page for more related news on this topic.
——–
Sign this petition telling President Obama to enact an immediate fracking moratorium:

Sign this petition telling Congress to Expedite Renewable Energy:

By Emily Saari
The impacts of 2013's severe drought are apparent across the nation in forests, on farms and on once snowy peaks. Meanwhile, the oil and gas industry is demanding unprecedented amounts of water for hydraulic fracturing, better known as fracking.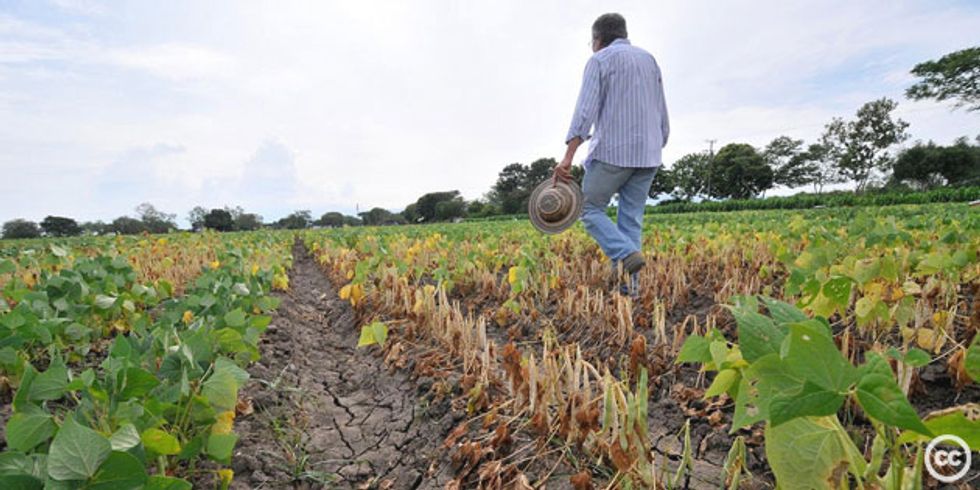 Fourth-generation Colorado farmer Kent Peppler told the Associated Press (AP) that he is fallowing some of his corn fields this year because he can't afford to irrigate the land for the full growing season, in part because deep-pocketed energy companies have driven up the price of water.
"There is a new player for water, which is oil and gas. And certainly they are in a position to pay a whole lot more than we are," Peppler said.
In a normal year, Peppler would pay anywhere from $9 to $100 for an acre-foot of water in auctions held by cities with excess supplies. But these days, energy companies are paying some cities $1,200 to $2,900 per acre-foot.
In seven states, including Colorado, Oklahoma, Texas and Wyoming, the vast majority of the counties where fracking is occurring are also suffering from drought, according to an AP analysis of industry-compiled fracking data and the U.S. Department of Agriculture's official drought designations.
The persistent U.S. drought wreaked havoc on American agriculture, raising food prices and forcing farmers to make record high insurance claims on lost profits for 2012.
As farmers struggle to make ends meet, limited fresh water reserves across the country are being diverted for fracking. The fossil fuel industry has identified deposits of oil and gas within shale rock formations deep underground, formerly inaccessible. In this new, "unconventional" drilling process, water mixed with sand and chemicals is injected into horizontal wells running through the shale. The injection cracks apart the rock, releasing the oil and gas and allowing it to rise to the surface for extraction.
Fracking requires enormous quantities of water. Estimates put water usage at between 3 and 5 million gallons per fracking of a single well, and each well can be fracked several times.
According to information accessed in 2012 from industry-backed FracFocus, a national fracking chemical registry managed by the Ground Water Protection Council and Interstate Oil and Gas Compact Commission, states have already seen more than 65 billion gallons of water used in 26,339 fracking operations.
In 2011, in a district in west Texas, the share of water resources used by fracking well sites jumped from 25 percent in 2010 to 40 percent in the first half of 2011. In Michigan, regulators granted a permit for a drilling company, Encana Oil and Gas, to use more than 21 million gallons of water at a single well in 2012. Repeatedly siphoning off these quantities of water for fracking can be a hardship for municipalities with limited capacity to augment their local water supplies—supplies that must also provide drinking and irrigation water for residents.
Water use by the fracking industry isn't comparable to water use by homeowners or farmers' agricultural needs. When used for household or agricultural purposes, often the water can eventually return to the ground to replenish aquifers, rivers and streams through the hydrological cycle.
On the other hand, after water has been used for fracking, much of it remains trapped deep underground in the wells. Wastewater that bubbles up to the surface is contaminated—both with the chemicals used in fracking and with heavy metals picked up from the shale rock formation—and must be stored away from drinking water sources.
The options for storage are limited: it can be impounded in reservoirs or injected underground. If it were to be treated and returned to the environment, it would need to be trucked to an industrial treatment facility, because municipal wastewater treatment facilities are not properly equipped to remove the chemicals in fracking wastewater. In reality, a large portion of the water used in fracking is left underground and becomes effectively lost.
Renewable energy sources don't have the same demands on water supplies. Solar and wind power use no water to capture energy and can peacefully coexist with agriculture. When it comes to generating electricity, for every 1,000 kilowatt-hours produced, solar thermal technology uses around 3,500 liters of water. In comparison, fossil fuels use 28,400 liters, more than eight times more. Solar photovoltaic and wind energy both consume less than 4 liters per kilowatt-hour of energy produced.
The nation faces a future made uncertain by the impacts of extreme heat, drought and wildfires exacerbated by climate change. Renewable energy generation not only cuts the greenhouse gas emissions that cause climate change, it doesn't tax water reserves, which are quickly becoming a limited and precious resource.
Visit EcoWatch's FRACKING page for more related news on this topic.
——–

Sign the petition today, telling President Obama to enact an immediate fracking moratorium:

Alberta-based environmental consultant Jessica Ernst just released the first comprehensive catalog and summary compendium of facts related to the contamination of North America's ground water sources resulting from the oil and gas industry's controversial practice of fracking.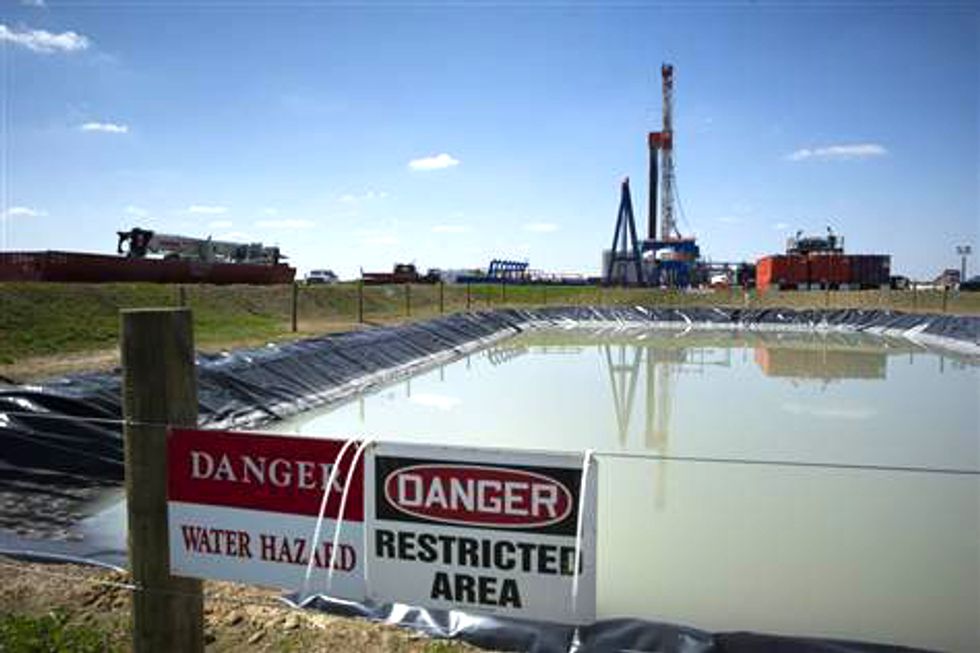 Based on research collected over many years, the 93-page report, Brief Review of Threats to Groundwater from the Oil and Gas Industry's Methane Migration and Hydraulic Fracturing, looks to be a game-changing document, providing little wiggle room for private industry and government spokespeople advocating fracking's immunity from public concern, criticism and liability.
Ever since the pioneering days of coalbed methane fracking experiments in southeast and southwest U.S. in the late 1970s, and through subsequent and evolving grandiose technical stages of widespread experimenting with fracking in the U.S. and Canada, the deep-pocketed inter-corporate industry has consistently fought and influenced both government and citizenry by burying the truth about its cumulative impacts to the environment and human health through confidentiality agreements, threats, half-truths and deceptions. This catalog, devoted primarily to the theme of groundwater impacts, helps to shine the light upon a behemoth circus of utter pitch black darkness.
"Jessica Ernst has made a strong case," notes Will Koop, B.C. Tap Water Alliance coordinator. "Her collection provides excellent and technically friendly working tools, enabling the public to draw their own conclusions from the critical information. This is not just an invaluable document for North Americans, but for the world."
Visit EcoWatch's FRACKING page for more related news on this topic.
——–
Sign the petition today, telling President Obama to enact an immediate fracking moratorium:

Southern Illinoisans Against Fracturing Our Environment (SAFE) is horrified at the decision of the Illinois General Assembly, and Gov. Quinn, to put the water, air, soil, health and economic future of Southern and Central Illinois at risk from horizontal fracking. In the words of Tabitha Tripp of SAFE, "It's a very sad time for Illinois. We have to fight our own government to keep our children and grandchildren safe from harm."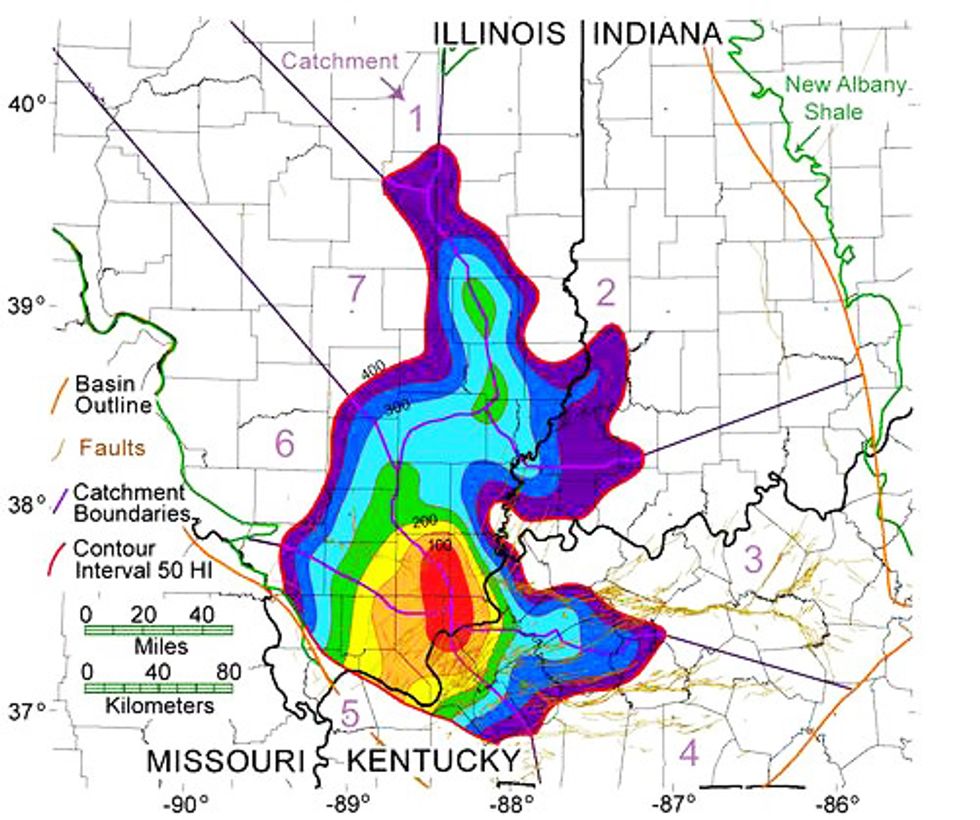 SB1715 was negotiated behind closed doors, and was not based on scientific study, but rather on the question of what was politically possible, regardless of science. The resulting bill is woefully inadequate to protect Illinois residents from the known harms horizontal fracking has brought to residents across America. It also represents a denial of basic democracy for the residents of Illinois.
 
Josh Fox, in a House Executive Committee Hearing May 21, pleaded with Illinois legislators to visit Pennsylvania to see what horizontal fracking has done to families there. Illinois legislators refused this extremely reasonable, common sense request. Not one of these elected officials has ever visited a fracking site.
 
SAFE strongly opposes fracking and will continue to work with other groups opposed to fracking, advocate for victims and push for a ban, until the practice is banned. We will pursue every avenue possible and will never stop fighting for a ban.
 
SAFE worked tirelessly to promote a fracking moratorium so that scientific studies could be considered, along with water usage and local issues. The Illinois General Assembly refused to consider this common sense approach. Obviously, campaign contributions are more important than the health and safety of the people they serve. It is a sad day for democracy, and for the future of Illinois.
Visit EcoWatch's FRACKING page for more related news on this topic.
——–
Sign the petition today, telling President Obama to enact an immediate fracking moratorium: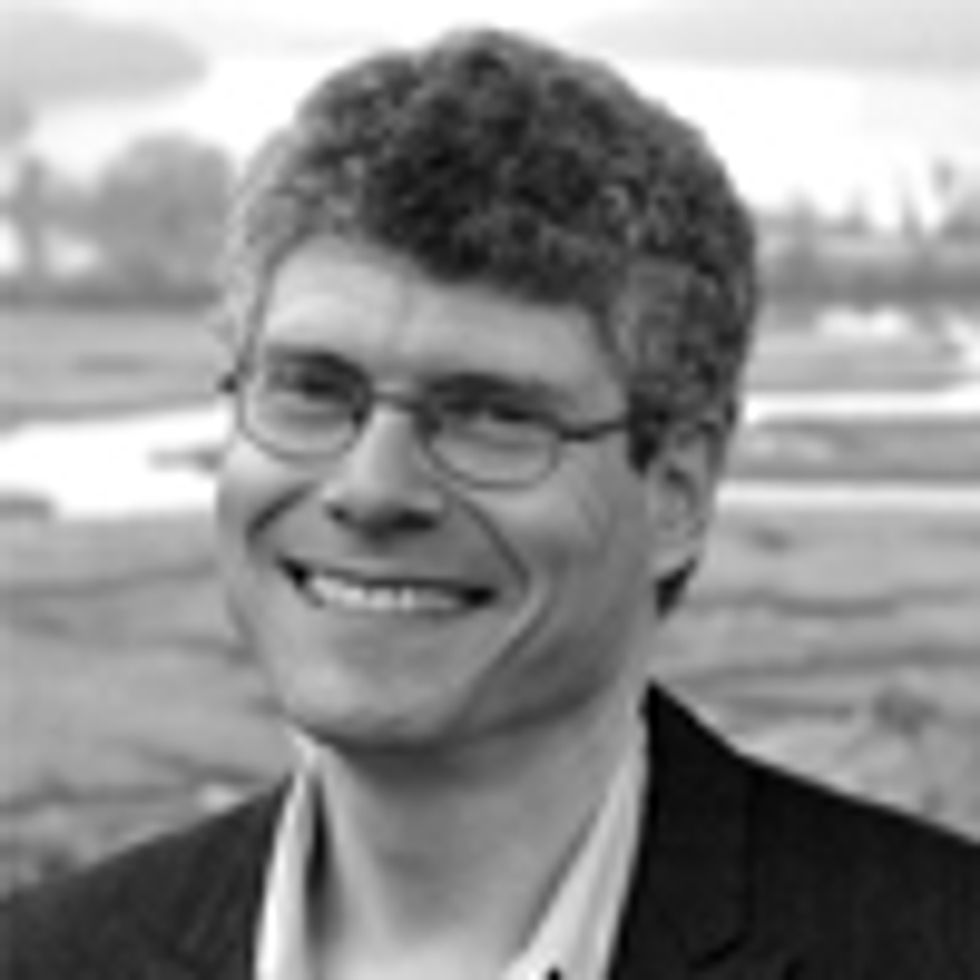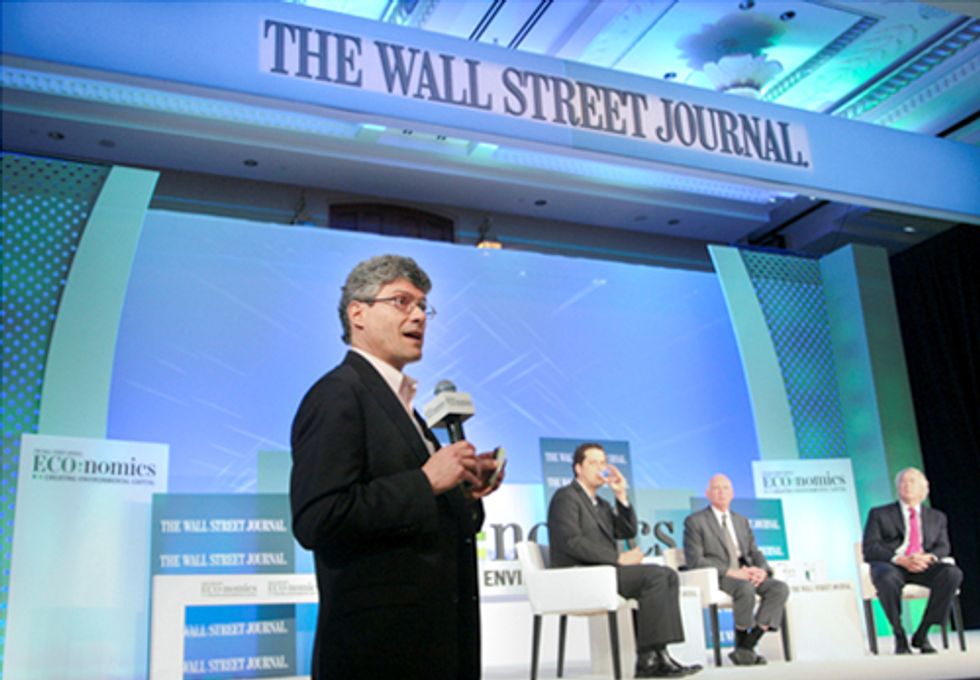 It's like some in the gas industry are living in a different universe from the rest of us, when it comes to the risks from shale gas extraction via fracking. Call it the "Spin Zone."
At a Wall Street Journal conference last week, Chesapeake Energy CEO Aubrey McClendon told attendees he's unaware of any problems resulting from the thousands of fracking wells drilled in Fort Worth, Texas in recent years. McClendon peevishly referred to the fracking-related air pollution concerns I raised at the conference as "environmental nonsense."
Well, read on. Then decide who's talking "nonsense":
In December 2011, the Texas Commission on Environmental Quality (TCEQ) reported that oil and gas operations in the Dallas-Fort Worth region emit more smog-causing volatile organic compounds (VOCs) than all cars, trucks, buses and other mobile sources in the area combined. This wasn't true before the fracking boom: TCEQ's data shows that VOCs from oil and gas production have increased 60 percent since 2006.
Ozone, a corrosive gas that can exacerbate asthma and other respiratory diseases, is created when VOCs from petroleum operations mix with heat and sunlight. In 2011, Dallas-Fort Worthviolated federal ozone standards on more days than anywhere else in Texas. Dallas-Fort Worth is a "particularly extreme" example of higher air pollution in Texas, according to David Allen, a chemical engineering professor and state air-quality program director.
In 2010, TCEQ found elevated levels of benzene around 21 gas fields out of the 94 it tested in the Barnett Shale. According to TCEQ toxicologist Shannon Ethridge, their monitors in the Barnett Shale pulled up "some of the highest benzene concentrations we have monitored in the state."
In Texas, which had about 93,000 natural-gas wells in 2011, up from around 58,000 a dozen years ago, a hospital system in six counties with some of the heaviest drilling, including the Barnett Shale region, found that "children in the community ages 6-9 are three times more likely to have asthma than the average for that age group in the State of Texas." According to Baylor University, in 2009, childhood asthma rates in the Tarrant County area of the Barnett were more than double the national average, prompting a new study to evaluate asthma and pollution sources.
Up north in the Mountain States, the problem is just as serious:
According to a 2012 study from the Colorado School of Public Health, cancer risks were 66 percent higher for residents living less than half a mile from oil and gas wells than for those living farther away, with benzene being the major contributor to the increased risk. This same study reminds us that chronic exposure to ozone, prevalent at gas production sites, can lead to asthma and pulmonary diseases, particularly in children and the aged.
A recent study by the National Oceanic and Atmospheric Administration (NOAA) found elevated levels of methane coming from well sites in Northeastern Colorado. NOAA scientists say initial results from another study show high concentrations of butane, ethane and propane in Erie, east of Boulder, where hundreds of natural-gas wells are operating." "We are finding a huge amount of methane and other chemicals coming out of the natural-gas fields," said Russell Schnell, a NOAA scientist in Boulder. NOAA estimates that gas producers in this area are losing about 4 percent of gas to the atmosphere -- not including losses in the pipeline and distribution system.
Levels of ozone in Wyoming's fracking country are higher than in Los Angeles (Wyoming levels have been as high as 124 parts per billion, two-thirds higher than the federal EPA's maximum healthy limit). In 2009, Wyoming's environmental agency concluded "that elevated ozone at the Boulder [Wyoming] monitor is primarily due to local emissions from oil and gas (O&G) development activities: drilling, production, storage, transport, and treating."
Finally, let's not forget the 2011 Duke University study proving that drinking water wells near fracking sites have 17 times more methane than wells not located near fracking, and that this extra methane has a chemical fingerprint which shows it's coming from deep drilling. Fracking operations have generated billions of gallons of radiation-laced toxic wastewater that weren't managed properly and fracking has forced families to abandon their homes after they were poisoned by dangerous levels of arsenic, benzene and toluene.
Most drillers remain in deep denial, routinely choosing to circle the wagons rather than acknowledge environmental and public health problems. As one Wall Street Journal conference blogger pointedly observed, after I suggested that the gas companies deny problems and demonize critics, McClendon's next move was, well, to deny and demonize. To be fair, other pro-fracking conference panelists like former Pennsylvania Gov. Ed Rendell were somewhat more critical of the industry, arguing that the gas companies must accept blame for rushing fracking and relying on "cowboy" drillers.
In the end, conference attendees weren't buying the drillers' "don't worry, just keep buying more of our gas" message. After my and McClendon's mini-debate, an astonishing 49 percent of this business-friendly audience said that we need federal regulation of the gas industry. Only 7 percent thought the answer to our problems lies with self-regulation by the frackers.
Fracking and its impact on public health, in particular our children's health, is a serious issue that calls for swift action -- action that the gas industry repeatedly tries to block. In New York, for example, the industry recently helped kill a legislative proposal for a public health impact assessment which hundreds of medical professionals had joined community activists and environmentalists in supporting.
Let the gas companies continue to deny fracking's proven link to air and water pollution. The public isn't buying their spin. They know where the "nonsense" is coming from.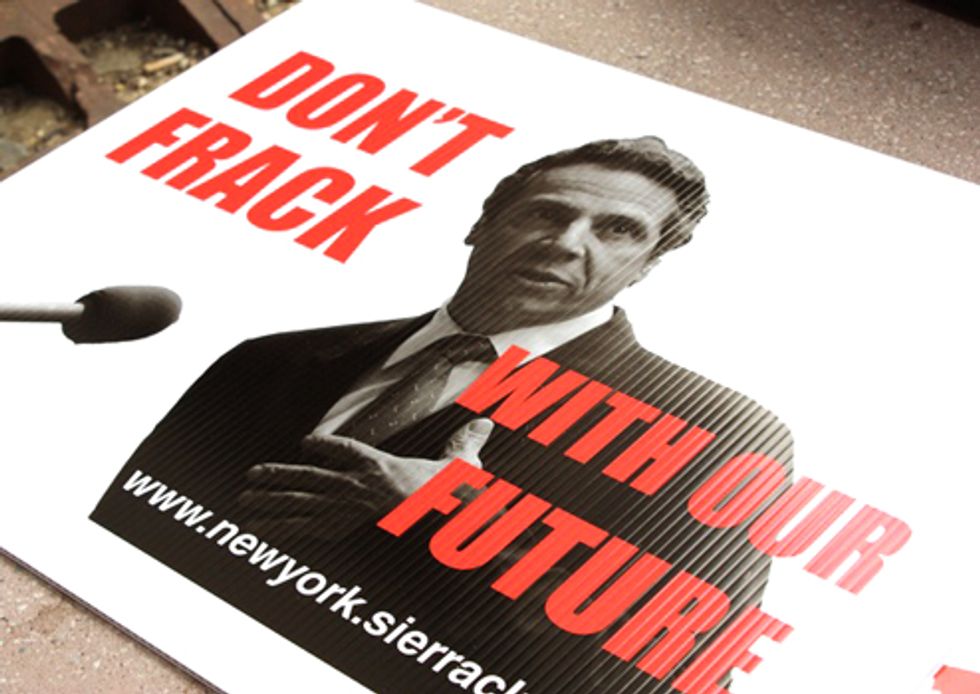 The U.S. Geological Survey (USGS) has warned New York state regulators that their plan to allow drilling and hydraulic fracturing for natural gas in the Marcellus Shale could endanger private water wells, municipal aquifers and New York City's drinking water supply.
The assessment of the USGS, widely regarded as impartial and authoritative on drilling issues, intensifies pressure on Gov. Andrew Cuomo (D-NY) not to proceed with a drilling plan drafted by the New York State Department of Environmental Conservation. Cuomo has pledged to "let the science and the facts make the determination, not emotion and not politics."1
The U.S. Environmental Protection Agency (EPA) has separately written New York regulators arguing that they are ill-equipped to regulate a boom in shale gas drilling and have limited financial means to enforce the numerous new regulations they have proposed. The EPA has raised additional concerns, among them, that the state has understated the severity of radioactive pollution associated with drilling and doesn't know how such contaminants would be disposed of.
Officials at the Department of Environmental Conservation are now considering whether to modify their plan to address the federal agencies' reservations and about 60,000 letters from local governments, independent scientists, gas drillers, property owners, environmental groups and other interested citizens. Once the state agency has concluded its review, which could wind up as soon as this spring, the issue goes to Cuomo's desk.
The stakes for New York taxpayers are enormous. The Department of Environmental Conservation has estimated that if New York City's drinking water supply is contaminated by drilling, cleaning up the water would require a water filtration plant costing at least $8 billion, with a yearly operating expense of $200 million.2 Even then, city officials have said there is no guarantee that the water could be purified. If water supplies of other population centers are tainted, the cleanup costs would soar higher.
As now written, the state plan projects that tens of thousands of natural gas wells could spring up along the New York portion of the Marcellus Shale, a vast underground formation that stretches along the Appalachian chain as far south as Kentucky. Most of the wells are likely to deploy a relatively new shale-drilling process called high volume hydraulic fracturing and horizontal drilling, which typically involves injecting millions of gallons of water laced with chemicals into the ground under high pressure, aiming to crack shale rock and release natural gas trapped in small pockets.
The USGS, the federal government's expert on the geology and hydrology of oil and gas drilling, advised New York regulators that their plan is flawed in several respects. Among them:
The state's proposal to prohibit drilling inside a 500-foot buffer around aquifers that supply major municipal water systems "is one-size-fits-all and may provide only partial protection to these aquifers."3
 
A similar 500-foot buffer for private water wells and springs "affords limited protection" and "does not take local geohydrologic conditions and topographic setting into account." The USGS added that "changes brought about by drilling, including water quality changes, can be felt rapidly at significant distance from a disturbance—especially if a domestic well is [downhill] of a well pad."4
 
Pressurized fracturing fluids could migrate through underground faults and impact an underground aqueduct that carries drinking water to New York City. The USGS said that "the possibility of damage to the aqueduct from hydraulic-fracturing operations is an issue of concern" and deserves more study.5
 
A map displayed in the state's draft plan "grossly under-represents the number and extent of [natural] faults in the Appalachian Basin of New York" where shale gas drilling would occur. Ground that is riddled with underground faults could channel pollution from drilling into underground aquifers.6
 
"Only scattered and incomplete information is available" on underground freshwater sources that could be polluted by shale gas drilling. The USGS said the state plan should require drilling companies to maintain detailed logs that would identify and protect these aquifers.7
Drilling too close to water sources
The USGS went to some lengths to dispute the state agency's premise that drilling could be safely conducted 500 feet from water supplies. The federal agency said that in some cases, it might be necessary to prohibit drilling within five square miles of aquifers to avoid polluting them.8
The USGS position is bolstered by documented cases in Colorado, Ohio and Pennsylvania, where natural gas and related contaminants have polluted underground water supplies at distances much greater than 500 feet.
In 2004, Canada-based Encana Corp. improperly cemented and hydraulically fractured a well in Garfield County, Colo. The state found that the poor cementing caused natural gas and associated contaminants to travel underground more than 4,000 feet laterally. As a result, a creek became contaminated with dangerous levels of carcinogenic benzene. The state of Colorado fined Encana a then-record $371,200. Despite more than seven years of cleanup efforts, as of last September, three groundwater monitoring wells near the creek still showed unsafe levels of benzene.9
 
In 2007, a natural gas well fractured by Ohio Valley Energy Systems Corp. in Bainbridge, Ohio, caused natural gas to contaminate 23 nearby water wells, two of which were more than 2,300 feet from the drilling site.10
 
In 2009, several natural gas wells drilled by Houston-based Cabot Oil and Gas Corp. in Dimock, Penn., polluted water wells used by at least 19 families, according to the state Department of Environmental Protection. Cabot has disputed the finding. At least three of the water wells were farther than 1,000 feet from the gas wells. For about two years, the Pennsylvania DEP ordered the company to deliver water to the families. Last December, Cabot stopped the deliveries after the DEP ruled that the company had met its obligations under a state order. Affected families were forced to scramble for new sources of water. Filmmaker Josh Fox, actor Marc Ruffalo and others donated bottled water that met some of the families' needs. The federal EPA recently found dangerous contaminants in well water in Dimock and ordered a resumption of water deliveries for four of the families. Pennsylvania officials have declined to extend public water lines to the affected families, estimating the cost at $12 million.11
New York City water aqueduct threatened
The USGS concluded that under the state plan, hydraulic fracturing fluids could reach and damage New York City's West Delaware Aqueduct, an underground tunnel that brings drinking water to the city from reservoirs in the Catskill Mountains. Naturally occurring fractures "may potentially provide pathways for the migration of pressurized fluids over significant distances," the USGS wrote. It suggested that the state's proposal to require site-specific permits in a 1,000-foot zone around the aqueduct might prove inadequate.12 The USGS focused only on threats to the West Delaware Aqueduct, one of several underground aqueducts that carry water to New York City from the Marcellus Shale region.
An earlier assessment commissioned by New York City's Department of Environmental Protection (DEP) also concluded that drilling might endanger the West Delaware Aqueduct and other tunnels that carry the city's water, for reasons similar to those cited by the USGS. The city's DEP found that naturally occurring underground pathways near the tunnels "can extend up to seven miles laterally and up to 6,000 feet in depth." It added:
"The vertical and lateral persistence of these features in conjunction with the potential for failed casings or other unforeseen occurrences could result in significant surface and subsurface contamination of fresh water aquifers, as illustrated by incidents in other well fields, most notably documented in Garfield County, Colorado (migration of toxic formation material through subsurface fractures) and Dimock, Pennsylvania (migration of natural gas to the surface via improperly cased wells). Similar mechanisms could permit migration of material into the fresh water aquifers that comprise the NYC West-of-Hudson watersheds and present potential risks to water quality and tunnel lining integrity."13
Based on this assessment, the city agency recommended several preventive measures, including barring drilling within seven miles of several aqueducts and a drilling ban within two miles of other water tunnels.14
Underground faults, water supplies unmapped
The USGS raised serious questions about the state's significant undercount of natural faults throughout the gas-rich Marcellus Shale formation. If drilling and hydraulic fracturing were permitted directly underneath faults, the federal agency said, contaminants could flow upward into underground aquifers. It noted that there are generally far more natural faults in bedrock overlying the Marcellus Shale than elsewhere.15
In a study that focused on the Marcellus Shale in New York and Pennsylvania and was published last year by the National Academy of Sciences, researchers from Duke University reported finding levels of natural gas an average of 17 times higher in water wells close to active natural gas wells than in water wells in non-active drilling areas. The most likely cause, they said, was leaky well casings, but they also raised the possibility that some gas migrated through "extensive fracture systems" in rock above the shale formations. Another factor, they said, might be gas migration through many older, un-cased wells abandoned during 150 years of drilling in Pennsylvania and New York.16
USGS urges better reporting
The USGS said that the depths of underground drinking water sources are not well documented and must be established so that drilling companies can design casing and cementing to prevent migration of gas or saltwater into underground drinking water supplies. The agency faulted New York state regulators for failing to require drilling companies to map underground fresh water and salt water sources and, as well, shallow gas formations before they drill extensively. It called these determinations critical to the design and installation of effective casing and cementing.17
Cuomo should emulate Maryland's O'Malley
The USGS assessment makes clear that New York is not ready for shale gas drilling on any level. Given Cuomo's commitment to science, it is hard to see how he could come to a different conclusion. Cuomo should halt the state's drilling plan and let scientists like those at USGS continue their work so that New Yorkers can know whether high volume hydraulic fracturing and horizontal drilling can be conducted safely before drilling begins.
That's essentially the approach Maryland Gov. Martin O'Malley has taken. His administration has embarked on a detailed study of potential drilling impacts, to be finished by 2014. Until then, O'Malley has committed not to allow gas drilling companies to deploy this controversial technique in Maryland's portion of the Marcellus Shale.18
Meanwhile, the EPA is conducting a nationwide study on hydraulic fracturing's impact on water and a separate inquiry in Pavillion, Wyo., where the agency concluded in a draft report that hydraulic fracturing likely contaminated groundwater on which the community relies for its drinking water and agricultural needs.
By proceeding with drilling in the face of warnings by USGS, the EPA and other experts, "Cuomo would be betting nothing of significance will go wrong," Albany Times-Union columnist Fred LeBrun wrote in a Jan. 15, 2012, column. "Given the enormity of the possibilities, that's a dumb bet."19
Will Cuomo make a multi-billion-dollar gamble with the state's drinking water and the health of New Yorkers? The upside, in the form of jobs and revenues from gas production, is modest. The downside, if anything goes wrong, is incalculable. Why chance it?
For more information, click here.
—————
1. Thomas Kaplan, Millions Spent in Albany Fight to Drill for Gas, New York Times, Nov. 26, 2011.
2. See NYDEC SGEIS, supra note 9, at 6-47.
3. U.S. Geological Survey, New York Water Science Center, Comments on the Revised Draft Supplemental Generic Environmental Impact Statement 6 (2012).
4. See id., at 7.
5. See id., at 20.
6. See id., at 10.
7. See id., at 1.
8. USGS, supra note 3, at 6-7.
9. URS Corp., Phase I Hydrogeologic Characterization of the Mamm Creek field Area in Garfield County (2006), http://cogcc.state.co.us/ (follow links for "Library" and then "Piceance Basin") (prepared for Bd. of County Comm'rs, Garfield County, Colo.); Colo. Oil & Gas Conservation Comm'n, Order No. 1V-276 (Sept. 16, 2004), http://cogcc.state.co.us/ (follow link for "Orders").
10. Ohio Dep't of Natural Res., Report on the Investigation of the Natural Gas Invasion of Aquifers in Bainbridge Township of Geauga County, Ohio 6, 46-7 (2008); Bair, E. Scott, et al., Expert Panel Technical Report, Subsurface Gas Invasion Bainbridge Township, Geauga County, Ohio 3-113 (2010), http://www.ohiodnr.com/mineral/bainbridge/tabid/20484/default.aspx (submitted to Ohio Dep't of Natural Res., Div. of Mineral Res. Mgmt.); Ohio Dep't of Natural Res., Order Number 2009-17 (Apr. 14, 2009) (see attachments A, B).
11. Consent Order & Settlement Agreement in re Cabot Oil & Gas Corp. (Dep't Envtl. Prot. Dec. 15, 2010); Consent Order & Settlement Agreement in re Cabot Oil & Gas Corp. (Dep't Envtl. Prot. Nov. 4, 2009); Laura Legere, DEP Drops Dimock Waterline Plans; Cabot Agrees to Pay $4.1M to Residents, Scranton Times-Tribune, Dec. 16, 2010, http://thetimes-tribune.com/news/gas-drilling/dep- drops-dimock-waterline-plans-cabot-agrees-to-pay-4-1m-to-residents-1.1077910. Laura Legere, Outside Groups Deliver Water as Sides Spar over Drilling, Scranton Times-Tribune, December 7, 2011.
12. See USGS, supra note 3, at 19-20. N.Y. City Dep't of Envtl. Prot., Final Impact Assessment Report, Impact Assessment of Natural Gas Production in the New York City Water Supply Watershed 39-40 (2009) [hereinafter NYCDEP]. N.Y. State Dep't. Envtl. Conservation, Supplemental Generic Envtl. Impact Statement on the Oil, Gas and Solution Mining Regulatory Program, Well Permit Issuance for Horizontal Drilling and High-Volume Hydraulic fracturing to Develop the Marcellus Shale and other Low-Permeability Gas Reservoirs ES-6 (2011) [hereinafter NYDEC SGEIS].
13. NYCDEP, supra note 9, at 39-40 (2009).
14. See id., at D-3. Paul Rush, Dep. Commissioner, Bureau of Water Supply, N.Y. City Dep't of Envtl. Prot., Before the New York City Council, Committee on Envtl. Prot., Sep. 22, 2011. N.Y. City Dep't of Envtl. Prot., Comments on the Revised Draft Supplemental Generic Environmental Impact Statement on the Oil, Gas and Solution Mining Regulatory Program 2 (2012).
15. See USGS, supra note 3, at 9.
16. Stephen G. Osborn, et al., Methane Contamination of Drinking Water Accompanying Gas-Well Drilling and Hydraulic Fracturing, 108 PNAS 8172-76, 8175 (2011), http://www.pnas.org/content/108/20/8172.
17. USGS, supra note 3, at 1.
18. Martin O'Malley, Governor of Maryland, Executive Order 01.01.2011.11, The Marcellus Shale Safe Drilling Initiative, June 6, 2011. Accessed online February 20, 2012 at http://www.governor.maryland.gov/executiveorders/01.01.2011.11.pdf.
19. Fred LeBrun. The Keys to the Kingdom, Albany Times-Union, Jan. 15, 2012, at D1.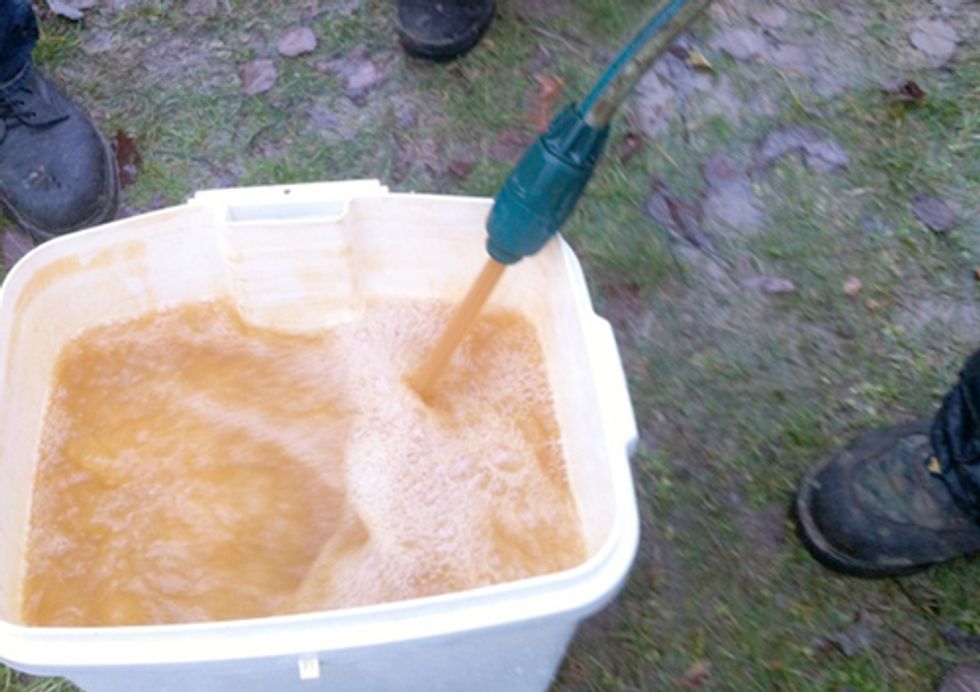 By Iris Marie Bloom
"I don't know what I'm going to do," John "Denny" Fair said yesterday as he watched a water company worker pour out hundreds of gallons of clean fresh water onto the cold ground and remove the water tank under orders from Rex Energy. "Everybody had good water a year ago," Fair said, referring to his own water and that of neighboring families who reported that their water changed color after Rex began drilling and fracking in Conoquenessing Township, Butler County, Pa.
Rex has admitted that two of their Conoquenessing gas wells had casing failures in late 2010, shortly before Conoquenessing families, in an area called the Woodlands, reported that their water changed abruptly in January 2011.
Marcellus Outreach Butler is collecting water for at least 11 families and will confront Rex Energy on March 1 at its office in the town of Butler at 4 p.m., demanding that Rex reinstate clean water supplies for all the families. That address is 407A West Jefferson Street, Butler, Pa. 16001. Participants will first gather at 3:30 p.m. at the Butler Farmer's Market in Butler, Pa. between Race St. and Shore St.
Denny Fair, unemployed, receives aid from neighbors for electricity and meals from a food bank, according to the Pittsburgh Times-Tribune's Timothy Puko. The water from Fair's well, pictured here, ran orange-brown. "Personally, I wouldn't drink it," commented Diane Sipe of Marcellus Outreach Butler, who was on the scene yesterday. Fair does odd jobs and is unable to afford either replacement water or a water filtration system, he said.
Most vulnerable families hit hardest
Several families fought hard to keep their water tanks, called "water buffaloes," but families without means have no alternative to using water which appears to be contaminated, making gas drilling impacts most severe for the most vulnerable families. Two people with disabilities live at the property where Rex Energy ordered the water company to remove its water buffalo one day early, according to Marcellus Outreach Butler organizer Diane Sipe. Sipe said that one Connoquenessing family which depended on a water buffalo provided by Rex Energy until this week is now staying with relatives, unable to care for their newborn with a limited water supply.
In addition to residents' complaints about contaminated well water, Rex Energy drilling, fracking, gas processing and waste handling operations have fouled the air and surface waters, according to multiple sources. Pennsylvania Fish and Boat Commission Officer Nestor said last week that the Commission is now investigating a dozen drilling mud spills, which impacted a dozen different creeks in the Connoquenessing watershed just since December, 2011. Workers have reported rashes and boils on their skin when working with drilling mud, according to Susquehanna County resident Rebecca Roter; the boils diminish or disappear only during weeks off.
Protecting Our Waters began raising funds last week to help provide clean replacement water for the families, but has only raised $910 so far towards the cost of supplying twelve families with water for drinking, showering, washing dishes and laundry.
For more information, click here.