Flooded battery park tunnel is seen after Hurricane Sandy in 2012.
CC BY 2.0
President Trump has long touted the efficacy of walls, funneling billions of Defense Department dollars to build a wall on the southern border. However, when the U.S. Army Corps of Engineers (USACE) released a study that included plans for a sea wall to protect New Yorkers from sea-level rise and catastrophic storms like Hurricane Sandy, Trump mocked it as ineffective and unsightly.
Now, six-weeks after plans for a sea wall drew the President's derision, the federal government abruptly decided to halt the project, according to The New York Times.
The sudden announcement from USACE to indefinitely postpone plans for a sea wall surprised some of its own officials, local politicians and environmental activists, all of whom see a mounting threat to New York City from the climate crisis, as The New York Times reported. The USACE official in charge of the project said it was very unusual to lose funding after more than three years of work on the project and millions of dollars spent.
"This doesn't happen," Robert Freudenberg, vice president for energy and environment at the Regional Plan Association, an urban research and advocacy group, said to The New York Times. "This is an in-progress study."
Furthermore, the surprise announcement that USACE did not receive the necessary funds in its raises questions about political interference in its work plan for 2020 raises speculation that the President's whims led to the shortage of funding. Officials did not say whether or not President Trump's tweet led to the shortage of funding, as The New York Times reported.
Six weeks ago, on Jan. 18, after USACE created five possible proposals to reduce storm flooding during large coastal weather events, President Trump attacked the most expensive plan, which called for a sea barrier with retractable gates that would stretch from New Jersey to Queens.
"A massive 200 Billion Dollar Sea Wall, built around New York to protect it from rare storms, is a costly, foolish & environmentally unfriendly idea that, when needed, probably won't work anyway. It will also look terrible. Sorry, you'll just have to get your mops & buckets ready!" Trump tweeted.
New York was not the only Democratic-leaning area to lose funding for a project that would protect its citizens from floodwaters. Recently, similar projects in Baltimore, Rhode Island, and New Jersey also lost funding. A senior administration official said, "it is required that these studies have a reasonable cost and scope. These particular ones did not," as The New York Times reported.
"We can only speculate, but I think the tweet gives a clue as to the reason" for the suspension, Freudenberg said to The New York Times. "This is a president who gets good headlines for his base out of acting against 'blue' states, and there's a disturbing pattern of stalling or trying to end projects that are important to the Northeast."
Cancelling the project has left New York and New Jersey in a lurch since it stripped the two states of their best chance at procuring federal money to address coastal flooding.
"There is no other study underway at this scale that could give federal dollars to protect our people, our businesses and our ecosystems," Scott Stringer, New York City's comptroller, said to The New York Times.
EcoWatch Daily Newsletter
Pump Train in Cranberry Street Tunnel after Hurricane Sandy. MTA New York City Transit / Leonard Wiggins /
Wikimedia
In 2012, Superstorm Sandy wreaked havoc on New York City's transportation system. Storm surge pushed a flood of seawater into vehicle tunnels, railyards, ferry terminals, and subway lines.
"Hurricane Sandy was a big wake-up call for the city," says Susanne DesRoches, New York's deputy director of infrastructure and energy.
She says after the storm, subway tunnels and stations had to be pumped out. Electrical systems needed to be cleaned, repaired, and tested. In some places, it took weeks to get up and running again.
As seas rise and weather gets more extreme, the risks from flooding only grow. So New York is working to make its massive transportation system more resilient.
"We're looking at major flood protection systems across the subway network, the airports, and our vehicular tunnels that go in and out of Manhattan," DesRoches says.
For example, the city has installed huge floodgates at the entrances of two tunnels. A steel floodwall will soon protect the Coney Island railyard, and the city's working on ways to seal off subway station entrances and vents.
It's a multi-billion-dollar effort, but DesRoches says the next time a natural disaster hits, New York expects to be better prepared.
Reposted with permission from Yale Climate Connections.
waterlust.com / @tulasendlesssummer_sierra .
Each product featured here has been independently selected by the writer. If you make a purchase using the links included, we may earn commission.
The bright patterns and recognizable designs of Waterlust's activewear aren't just for show. In fact, they're meant to promote the conversation around sustainability and give back to the ocean science and conservation community.
Each design is paired with a research lab, nonprofit, or education organization that has high intellectual merit and the potential to move the needle in its respective field. For each product sold, Waterlust donates 10% of profits to these conservation partners.
Eye-Catching Designs Made from Recycled Plastic Bottles
waterlust.com / @abamabam
The company sells a range of eco-friendly items like leggings, rash guards, and board shorts that are made using recycled post-consumer plastic bottles. There are currently 16 causes represented by distinct marine-life patterns, from whale shark research and invasive lionfish removal to sockeye salmon monitoring and abalone restoration.

One such organization is Get Inspired, a nonprofit that specializes in ocean restoration and environmental education. Get Inspired founder, marine biologist Nancy Caruso, says supporting on-the-ground efforts is one thing that sets Waterlust apart, like their apparel line that supports Get Inspired abalone restoration programs.
"All of us [conservation partners] are doing something," Caruso said. "We're not putting up exhibits and talking about it — although that is important — we're in the field."
Waterlust not only helps its conservation partners financially so they can continue their important work. It also helps them get the word out about what they're doing, whether that's through social media spotlights, photo and video projects, or the informative note card that comes with each piece of apparel.
"They're doing their part for sure, pushing the information out across all of their channels, and I think that's what makes them so interesting," Caruso said.
And then there are the clothes, which speak for themselves.
Advocate Apparel to Start Conversations About Conservation
waterlust.com / @oceanraysphotography
Waterlust's concept of "advocate apparel" encourages people to see getting dressed every day as an opportunity to not only express their individuality and style, but also to advance the conversation around marine science. By infusing science into clothing, people can visually represent species and ecosystems in need of advocacy — something that, more often than not, leads to a teaching moment.

"When people wear Waterlust gear, it's just a matter of time before somebody asks them about the bright, funky designs," said Waterlust's CEO, Patrick Rynne. "That moment is incredibly special, because it creates an intimate opportunity for the wearer to share what they've learned with another."
The idea for the company came to Rynne when he was a Ph.D. student in marine science.
"I was surrounded by incredible people that were discovering fascinating things but noticed that often their work wasn't reaching the general public in creative and engaging ways," he said. "That seemed like a missed opportunity with big implications."
Waterlust initially focused on conventional media, like film and photography, to promote ocean science, but the team quickly realized engagement on social media didn't translate to action or even knowledge sharing offscreen.
Rynne also saw the "in one ear, out the other" issue in the classroom — if students didn't repeatedly engage with the topics they learned, they'd quickly forget them.
"We decided that if we truly wanted to achieve our goal of bringing science into people's lives and have it stick, it would need to be through a process that is frequently repeated, fun, and functional," Rynne said. "That's when we thought about clothing."
Support Marine Research and Sustainability in Style
To date, Waterlust has sold tens of thousands of pieces of apparel in over 100 countries, and the interactions its products have sparked have had clear implications for furthering science communication.
For Caruso alone, it's led to opportunities to share her abalone restoration methods with communities far and wide.
"It moves my small little world of what I'm doing here in Orange County, California, across the entire globe," she said. "That's one of the beautiful things about our partnership."
Check out all of the different eco-conscious apparel options available from Waterlust to help promote ocean conservation.
Melissa Smith is an avid writer, scuba diver, backpacker, and all-around outdoor enthusiast. She graduated from the University of Florida with degrees in journalism and sustainable studies. Before joining EcoWatch, Melissa worked as the managing editor of Scuba Diving magazine and the communications manager of The Ocean Agency, a non-profit that's featured in the Emmy award-winning documentary Chasing Coral.
Extreme weather events supercharged by climate change in 2012 led to nearly 1,000 more deaths, more than 20,000 additional hospitalizations, and cost the U.S. healthcare system $10 billion, a new report finds.
The study, published Tuesday in the journal GeoHealth, looks at the health impacts of 10 climate-related events across 11 states that year, including Superstorm Sandy, Lyme disease outbreaks in Michigan, extreme heat in Wisconsin, and wildfires in Colorado. Two-thirds of the costs from these events were paid for by Medicare and Medicaid.
"There is a real cost in terms of human health," study author Wendy Max told reporters Wednesday. "Our study is the first to put a price tag on these costs, [but] this is just the tip of the iceberg—we know this is an underestimate." (
For a deeper dive:
Earther, NJ Spotlight, Bloomberg Quint, Carbon Brief, Vijay Limaye and Wendy Max analysis
For more climate change and clean energy news, you can follow Climate Nexus on Twitter and Facebook, and sign up for daily Hot News.
From Your Site Articles
Related Articles Around the Web
Nearly 2 million people have been urged to evacuate along the East Coast and more than 12 million are under hurricane watch or warning, after Hurricane Matthew strengthened overnight with winds reaching 125 mph.
The official NHC forecast for Matthew as of 5 pm EDT Wednesday, October 5, 2016.WunderBlog
The storm is forecast to impact Florida today, possibly as a Category 4 storm. If it makes landfall, it would be the most powerful storm since Hurricane Wilma in 2005 to do so, and could cause as much as $15 billion in economic disruption.
Is #ClimateChange to Blame for More Intense #Hurricanes & #Typhoons? https://t.co/WaSDbxme0X @ClimateReality @algore https://t.co/EkTailZ6LG

— EcoWatch (@EcoWatch)1455735346.0
This morning, the National Hurricane Center warned of "life-threatening inundation during the next 36 hours along the Florida east coast and Georgia coast."
Matthew has caused at least 26 deaths across the Caribbean.
Complete destruction in Baracoa, Cuba from a combination of extreme wind and storm surge. Sad situation here.… https://t.co/TT97XbhEEA

— Mike Theiss (@Mike Theiss)1475677472.0
For a deeper dive:
News: NBC, CNN, BBC, USA Today, Fox News, Reuters, New York Times $, AP, NPR, Climate Central, Mashable.
Commentary:AP, Seth Borenstein Q&A; ThinkProgress, Joe Romm column; Forbes, Marshall Shepherd column; Grist, Scott Dodd column; New York Times, John Schwartz Q&A $; Discover Magazine, Tom Yulsman column; Pacific Standard, Eric Holthaus op-ed; Miami Herald editorial.
Background: Climate Signals

For more climate change and clean energy news, you can follow Climate Nexus on Twitter and Facebook, and sign up for daily Hot News.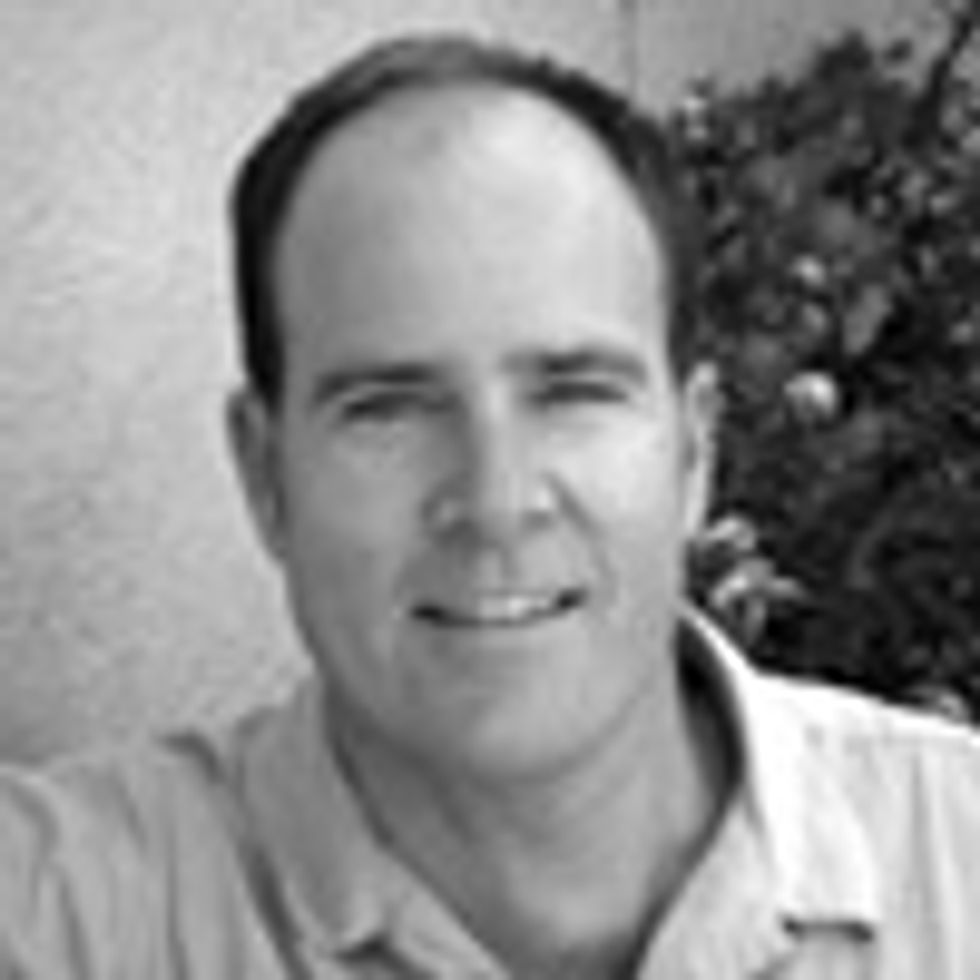 A year has passed since Sandy, the second-costliest storm in U.S. history, slammed into the Eastern Seaboard, causing $65 billion in damage. On the day of this unhappy anniversary, though, we can't really say the disaster is behind us. Thousands of families are still unable to return to their homes. Some people have lost everything, including the hope of getting it back.
The destruction from Sandy wasn't even the only extreme-weather disaster during the past year. Colorado is still reeling from a triple whammy of drought, wildfires and then unprecedented floods that forced thousands more to evacuate their homes.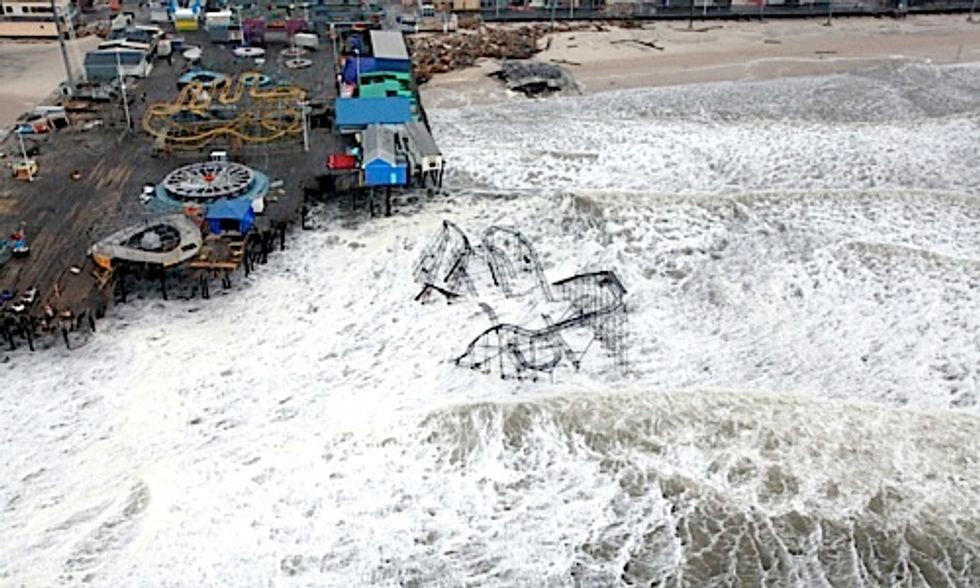 What's going on? These terrible events are consistent with what climate scientists have told us to expect from a warmer climate: wetter—and therefore more powerful—storms in some places; hotter, prolonged droughts in others. Our planet is a complicated and surprisingly sensitive system. Radically altering inputs such as the amount of greenhouse gases in the atmosphere is like letting a toddler randomly start flipping switches in the cockpit of an in-flight 747. How many switches do you think can be safely flipped? I'd hate to find out.
Although nothing could justify the devastation and heartbreak caused by Sandy in the East or by the fires and floods in the West, there has been one positive result. We've reached a tipping point in public concern about climate disruption. No longer does this issue seem like something that will happen in a distant future and to someone else. Even if we haven't experienced extreme weather firsthand, we know someone who has.
What can we do about it? First, we have to kick that kid out of the cockpit. We need to reduce and ultimately eliminate the carbon pollution that is altering our atmosphere and disrupting our climate. We've made progress, too. Last year, greenhouse gas emissions reported to the U.S. Environmental Protection Agency (EPA) by polluters reached their lowest level in almost 20 years. At the same time, clean-energy technologies like wind and solar are growing exponentially—faster than anyone could have guessed just a few years ago.
And yet, it's still not fast enough. The disaster that is runaway climate pollution won't begin to subside until we stop burning fossil fuels entirely and start running our economy on 100 percent clean energy. We can do that, too, but it won't happen through wishful thinking. We need to act. President Obama's climate action plan, although not perfect, includes the first-ever action by the EPA to limit climate-disrupting carbon emissions from their single biggest source: power plants. While standards for gas plants still need to be strengthened, the new standards would clean up new coal power plants, and the agency is planning to propose similar standards for existing power plants next year.
No one can stop the next superstorm, mega wildfire, or 1,000-year flood. But we can get behind stopping the pollution that's disrupting our climate.
Visit EcoWatch's CLIMATE CHANGE page for more related news on this topic.
On the eve of the anniversary of Hurricane Sandy, a new report released from Ceres outlines the rising costs to American taxpayers for federal programs that provide flood insurance, crop insurance, wildfire protection and disaster relief. The report documents government losses from extreme weather events exacerbated by climate change, and provides instruction on combating future costs.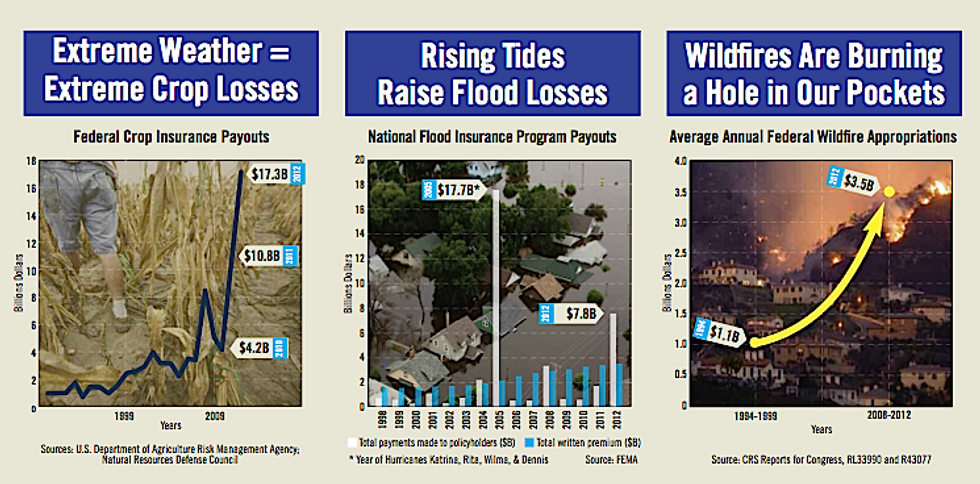 The report, Inaction on Climate Change: The Cost to Taxpayers, warns that these losses and the taxpayer price tag that accompanies them will become more pronounced unless government programs are reformed to encourage more resilient, protected practices in the face of a changing climate.
"Taxpayer costs from climate change are getting bigger and bigger," said Ceres President Mindy Lubber. "Last year's extreme weather events alone cost every American more than $300 apiece, or $100 billion altogether—most of it to pay for federal crop, flood, wildfire and disaster relief."
Yet, our public disaster relief and recovery programs have been slow to recognize that worsening climate impacts will drive up future losses to unsustainable levels. Instead of encouraging behavior that reduces risks from extreme weather events, these programs are encouraging behavior that increases these risks—such as agricultural practices that increase vulnerability to drought and new development in hurricane- and wildfire-prone areas."
The report includes recommendations such as:
Improving transparency and accounting of the costs of extreme weather events to disaster relief and recovery programs.
Boosting research to understand how climate change will impact these programs.
Requiring recipients of federal relief and recovery assistance to adopt more stringent building codes and prohibit development in vulnerable areas.
Find ways to increase the level of private insurance market participation to reduce pressure on government relief and recovery programs—only about 50 percent of the damages in the U.S. caused by extreme weather events are privately insured.
"Taxpayers should be outraged that their tax dollars are incentivizing high risk behavior that increases federal disaster costs," said Steve Ellis, vice president of Taxpayers for Common Sense, speaking at a media briefing today. "Especially in light of increased risks in the future, policymakers need to reorient federal policies to encourage mitigation and pre-respond to the disasters we know we face. The report's recommendations in this regard warrant close consideration. Every dime spent on disaster responses should help ensure we don't have to spend that dime in the future."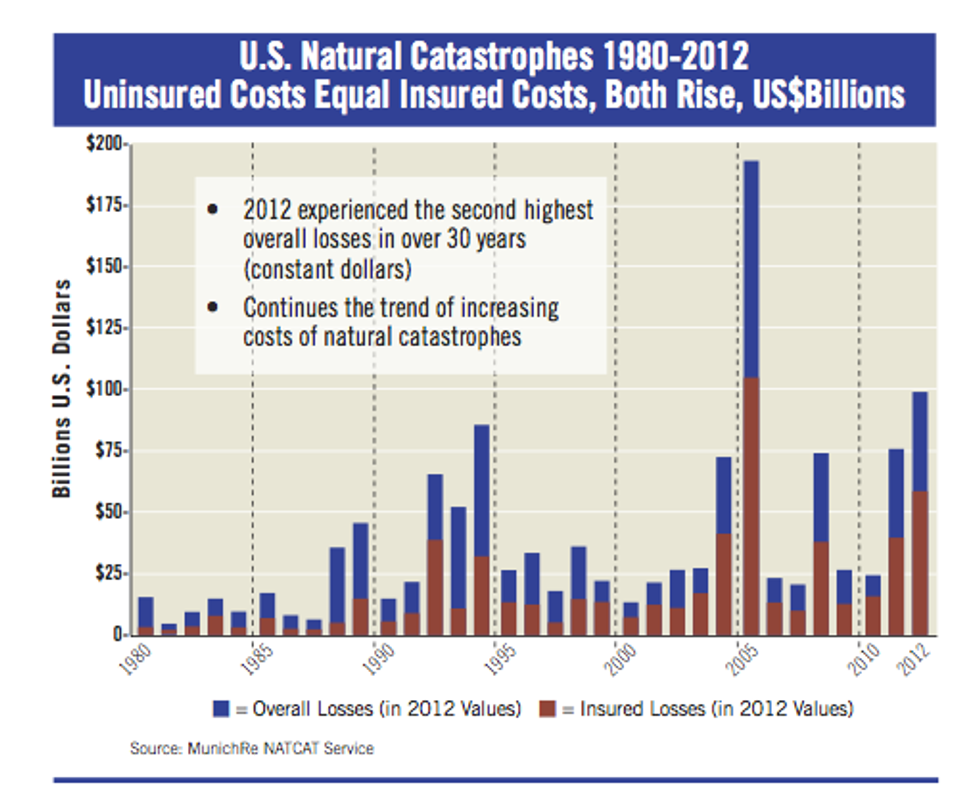 According to Ceres, the report makes specific recommendations for the National Flood Insurance Program (NFIP), Federal Crop Insurance Program (FCIP), disaster assistance and wildfire protection programs. Among those:
NFIP: Implement the Biggert-Waters Act reforms, including phasing in higher insurance premium rates that better reflect risks and incorporating climate change risks into flood plain maps, loss models and insurance premium rate setting.
FCIP: Institute a pilot program to offer lower insurance premiums to farmers who adopt farming practices that increase resiliency to drought and other weather extremes, such as sustainable soil management practices.
Disaster Assistance: Budget for reasonable foreseeable annual costs of natural disaster assistance and reduce reliance on ad hoc funding; require that states use a percentage of federal assistance to make public infrastructure more resistant to extreme weather events.
Wildfire Protection: Allocate substantially more federal and state resources to wildfire prevention measures and adopt and enforce state and local regulations that require wildfire risk reduction actions, such as broader use of setback requirements. 
"The report shows that dealing with climate change doesn't require large-scale schemes or a total restructuring of our global economy," said Eli Lehrer, president of the R Street Institute. "The ideas outlined here are the basis of a true 'no-regrets' strategy for dealing with a significant problem."
In the past 20 years, the total loss exposure of state-run insurance plans has risen 1,550 percent—from about $40 billion in 1990 to more than $600 billion in 2010. The report documents the skyrocketing loss exposure of the state-run insurance plans—especially pronounced in extreme weather-prone states such as Florida and Texas. Steps are needed to reform those programs, according to the report, such as charging insurance premium rates that truly reflect risks and incorporating climate change risks into insurance premium rate-settings. 
"The Ceres report rightly focuses on the need for forward looking risk assessment and the use of natural barriers to reduce property loss and loss of life," added Franklin Nutter, president of the Reinsurance Association of America.
Visit EcoWatch's CLIMATE CHANGE page for more related news on this topic.
One year ago tomorrow, Hurricane Sandy hit the East Coast, illustrating the link between extreme weather and climate change.
But even though extreme weather events from droughts to wildfires have become more frequent, most insurers aren't preparing for climate change at all. This is especially alarming in the face of Congress' decision in July to slash the subsidies for federal flood insurance.
The costs of climate change can be felt in places such as Breezy Point, Queens, NY, where a Hurricane Sandy storm surge set off a fire a year ago tomorrow. The fire decimated more than 100 homes.
Construction is under way to rebuild the homes destroyed in the fire.  But with the loss of federal flood insurance subsidies, many residents now worry that rising insurance rates could make rebuilding too expensive.
These financial challenges are not going away as the effects of climate change, including intense and more frequent storms, are predicted to only get worse, residents say.
"I'm very concerned about what seems to be the intensity of weather patterns happening," said one resident. "I think you'd have to be an idiot not to believe in global warming or climate change or to think it's not happening."
Below is a video from Climate Desk that tells the residents' stories.
Overall, out of a sea of over 25,350 comments submitted to the Liberty Liquified Natural Gas (LNG)—Port Ambrose docket, only 16 comments supported industrialization of the ocean. This broad opposition to Liberty LNG's Port Ambrose came from concerned citizens across the U.S. whose input was solicited by the Maritime Administration and the U.S. Coast Guard as part of the federal government's project review process.
Since the close of the public comment period on Aug. 22, Clean Ocean Action has been documenting and sorting through comments to quantify the overwhelming opposition. Environmental concerns topped the list of reasons for opposing Port Ambrose with threats to marine life, water pollution and air pollution imminent with the construction and operation of the port.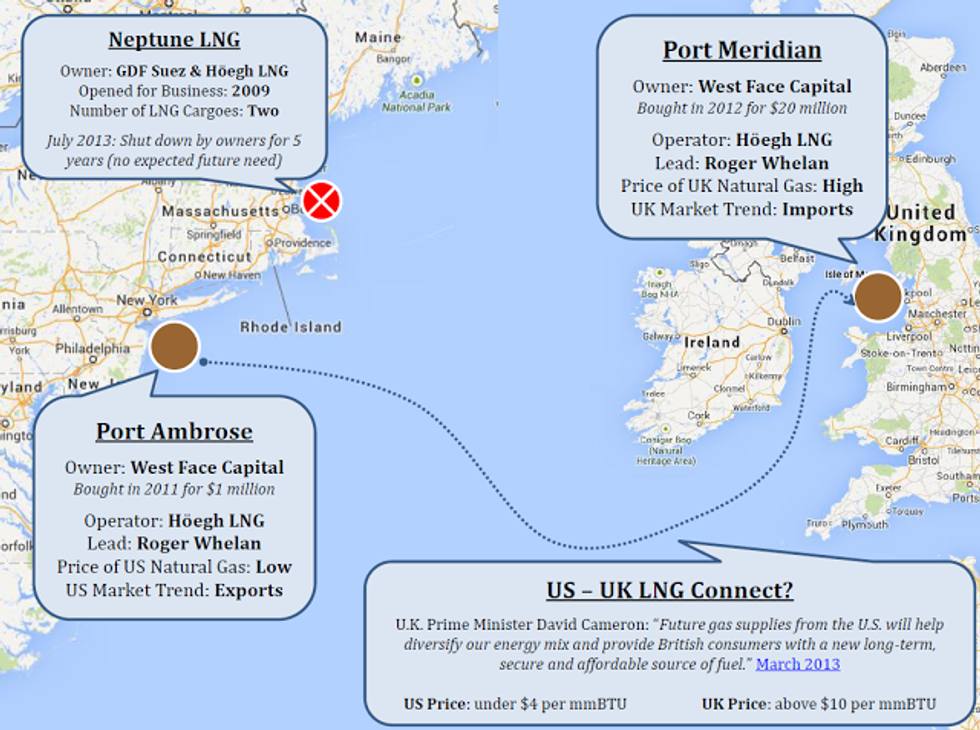 "We're not going to trade the future of the ocean, or for that matter the planet, for dirty, cheap energy; not on our watch," proclaimed Rav Freidel, director of Concerned Citizens of Montauk.
In addition, "the partial shutdown of the federal government has shuttered the Coast Guard office handling Port Ambrose, yet the fast tracking of the project continues," said Jill Wiener of Catskill Citizens for Safe Energy, that submitted more than 5,400 letters opposing Port Ambrose. "When Coast Guard officials return to work, they should immediately extend the 240 day project review period to account for the days lost to political gridlock."
"The fact that a whole month after the public comment period had closed the federal government is still uploading letters and comments speaks to how opposed to this project the public really is," stated Catie Tobin, an advocacy and education fellow with Clean Ocean Action.
Skepticism regarding the number of jobs that will be created and the desire of Liberty LNG to export natural gas were also major concerns raised. By Liberty's own projections, just six permanent jobs would be created for manning the port, even though impacts to tourism, fisheries, renewable energy jobs and commerce would be put on the line. Although the company claims the port will be used solely for imports, the overwhelming majority of project scoping comments argued that it will eventually lead to exports and increased fracking—two impacts that should be analyzed front and center.
"This project will adversely impact people throughout the region because there seems to be little doubt that if Port Ambrose is built it will be used to exported shale gas, and that means increased fracking in Pennsylvania and Ohio, and it could well open up New York State to fracking," said Bruce Ferguson of Catskill Citizens for Safe Energy.
"After all that the Jersey and Long Island shores have been through since Hurricane Sandy, the last thing coastal residents need now is the prospect of a huge natural gas disaster looming just offshore," said Eastern Region Director of Food & Water Watch, Jim Walsh. "Further, this proposal will undoubtedly lead to gas exportation, which would require more dangerous and destructive fracking here at home; it's not fair to the residents of our region." 
"If energy independence is our national goal, then neither imports nor exports are in our national interest," said Bob Bennekamper, concerned citizen from Brick Township, NJ.
Environmental, economic and security concerns were raised by Gov. Christie (R-NJ) when he vetoed Liberty Natural Gas's last attempt to construct an LNG facility offshore in 2011, and reaffirmed his veto for an alternate location (Port Ambrose's current proposed location) in 2012. Both Gov. Christie and Gov. Cuomo (D-NY) can veto the current project, which is governed by the federal Deepwater Port Act. Groups are now mobilizing to put pressure on both Governors to veto.
"Given the myriad reasons this Port shouldn't be built, the scores of data gaps, inadequate studies and outdated energy analyses identified by thousands of concerned citizens across the nation, the federal agencies reviewing this proposal should stop officially processing the application until these questions are answered," said Sean Dixon, coastal policy attorney with Clean Ocean Action, who, with other organizations in this coalition, has submitted multiple requests to the federal government for a "stopped clock" on this proposal's review.
Under the Deepwater Port Act, application review, once initiated, is only open for public involvement for a 240 day clock.
"We're over 100 days into this Port's processing, yet the 'clock' wasn't stopped on this project before the federal government shut-down," continued Dixon. "This is a significant failure in good governance that will lead to the voice of the public being curtailed and ignored."
Visit EcoWatch's LNG page for more related news on this topic.
——–

By Kieran Cooke
A worldwide survey commissioned by the multinational insurance group Swiss Re to assess public attitudes towards risk has shown that climate change is ranked high on the list of people's concerns.
The survey, conducted on behalf of Swiss Re by the Gallup polling organization, involved 22,000 people aged 15 years  and older across five continents. People were asked what concerns them most—whether it's the economy, aging, climate change, natural disasters, energy issues or questions about food supplies.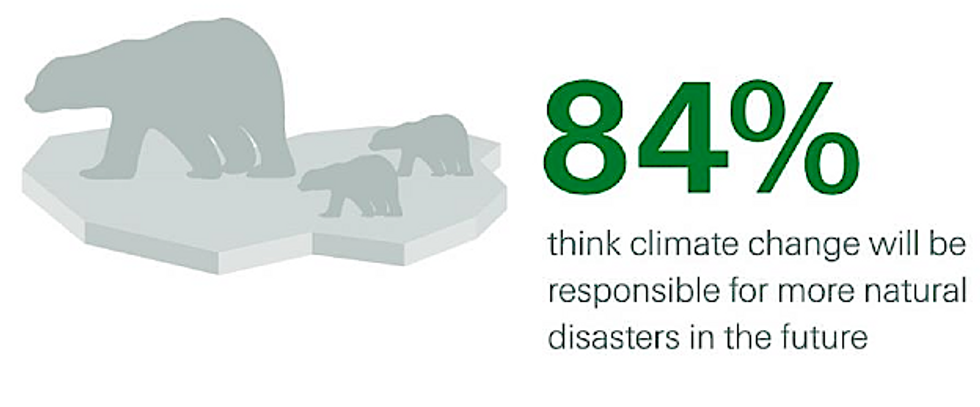 While almost all respondents expressed fears about the economic future in their countries, concern about climate change and natural disasters was also widespread, with 84 percent of respondents anticipating climate change being responsible for more natural disasters in the future.
Swiss Re says a majority of respondents also said they feel threatened by the risk that climate change poses to their communities. Most said they would be willing to shoulder some of the financial burden of dealing with future risks, but felt that governments should do more to meet the challenges of climate change.
The policy of governments does not fully address the risks faced today and by future generations, respondents said. In particular, more than 90 percent of those surveyed want to see governments doing more to ensure more efficient energy use.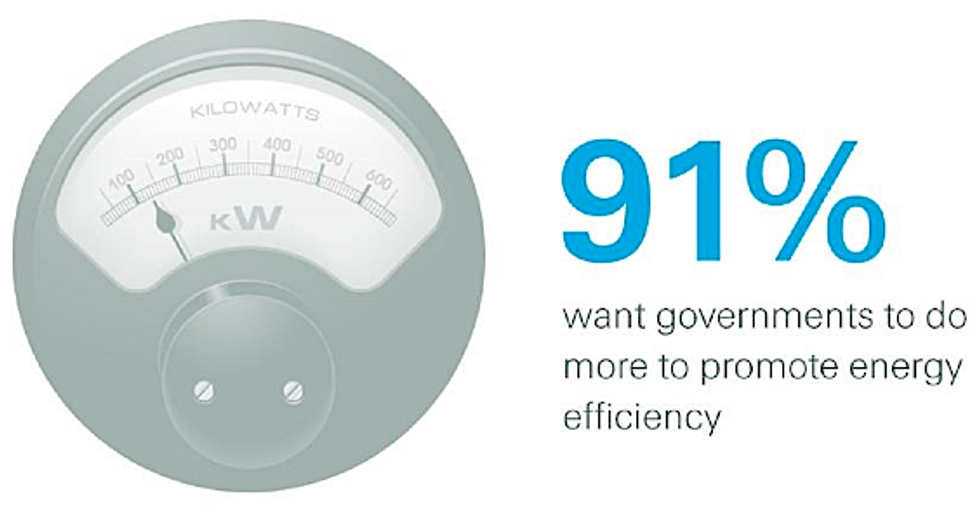 "These findings show that individuals are willing to take as much responsibility as their leaders," says David Cole, chief risk officer at Swiss Re, which commissioned the survey to mark the company's 150th anniversary.
"The findings are a call for better co-operation between government and the private sector," Cole continued. "It's vital to prepare systematically for the future and make societies more resilient. That's where Swiss Re also plays a key role with its risk expertise."
Large insurance companies such as Swiss Re are deeply involved in assessing the economic costs associated with changes in climate, insuring against a wide range of climate-related events that include flooding, storm damage, drought and crop failure.
Hurricane Sandy, which hit the Caribbean region and the east coast of the U.S. in October last year, is estimated to have caused $19 billion worth of damage in New York City alone.
The U.S. accounts for a large slice of the world's insurance market. Aon Benfield, a global reinsurance group, estimates that the cost of Hurricane Sandy, combined with losses incurred by the serious drought in the states of the Midwest in 2012, reached $100 billion—a figure representing more than 65 percent of total worldwide insured losses last year.
With such gargantuan sums involved, it is little wonder that insurance companies—and their shareholders—are acutely aware of the financial risks posed by climate change. Earlier this year, shareholders of insurance companies in parts of the U.S. successfully lobbied for insurers to reveal the extent of their preparedness for events related to climate change.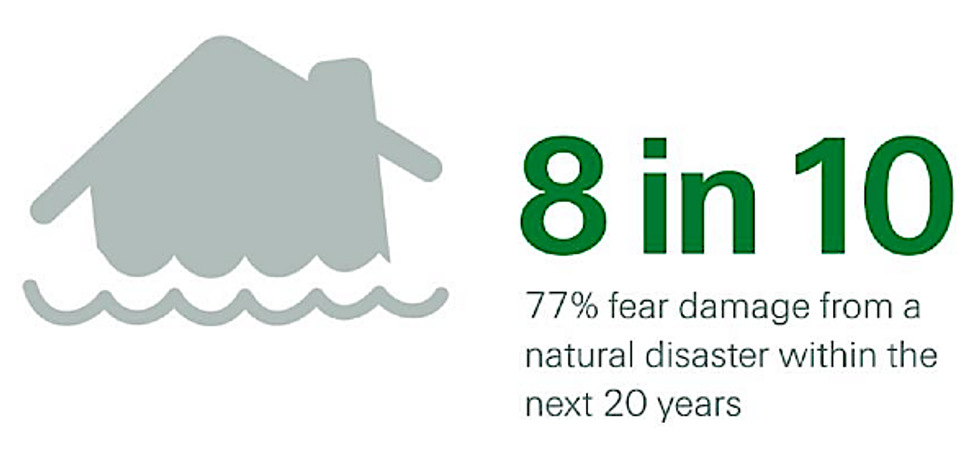 Later this month, the Intergovernmental Panel on Climate Change (IPCC) is due to release the first parts of its latest assessment report. Insurance companies are sure to focus special attention on the IPCC's likely scenarios for sea level rise —and the estimates of costs involved, particularly to coastal cities.
A recent World Bank study suggested that, by 2050, costs related to flooding brought about by a combination of sea level rise and extremes of heat, windstorms and rain in the world's coastal cities could rise to $1 trillion per year. Flood damage in just four cities—New Orleans, New York and Miami in the U.S. and Guangzhou in southern China—would account for nearly half of that sum.
Visit EcoWatch's CLIMATE CHANGE page for more related news on this topic.
——–
By Yotam Marom
I suppose it wasn't really until I was standing on the west side of Hoboken, NJ, in water and oil up to my thigh, that climate change really made sense. And it wasn't until I was out organizing on New York City's outer beaches after Hurricane Sandy that I understood my sluggishness on climate justice was nothing short of climate change denial.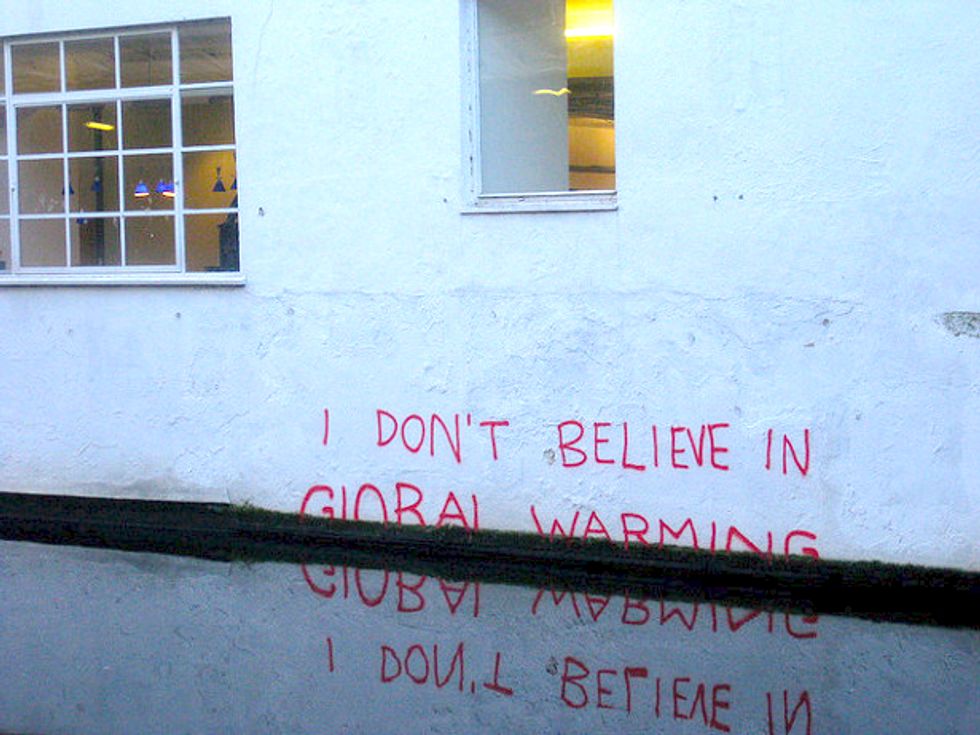 It seems like everywhere we turn, we're being fed the same old climate Armageddon story. You've heard it, I'm sure: If we continue to be dependent on fossil fuels, hundreds of gigatons of carbon dioxide will continue to pour into the atmosphere, the temperature will rise above 2 degrees Celsius and we're done. There will be a biblical cocktail of hurricanes, floods, famines, wars. It will be terrifying, awful, epic and, yes, as far as any reputable scientist is concerned, those projections are for real.
I call this narrative the Armageddon Complex, and my own denial was a product of it. I spun all sorts of stories to keep the climate crisis out of my life, ranging anywhere from "it can't be that bad" to "if it is that bad, there's nothing I can do about it," and "it's not my role. That's for climate activists; I'm a different kind of activist."
I did not act alone, but rather as part of a culture of climate denial among activists, who are already plagued by a tendency to see our work as separate issues vying for attention. The Armageddon Complex tells us that climate activism is about some far-off date, not about the pressing and time-sensitive needs that people around us experience in their day-to-day struggles. It pounds into us the idea that the crisis is more titanic than any other, so if we're going to do anything about it, we have to do everything. Most of us won't put off the pressing needs of our families and communities for something we abstractly understand is going to happen later, and most of us aren't willing to drop the other pieces of our lives and our movement to do everything, because we already feel like we're doing everything and barely scraping by as it is. So we deny.
Unfortunately, there is a lot of truth to this story: The crisis is gargantuan and it's getting worse. Ultimately only a fundamental social, political, economic and personal transformation is going to get us out of this mess.
But that's not the whole story. Climate Armageddon isn't a Will Smith movie about what happens in 10 years when all hell breaks loose. Climate change is already here: Hurricanes that land on families, rising tides that flood homes, oil spills that drown communities and countless other disasters. These are caused by the same economic and political systems responsible for all the other crises we face—crises in which people are displaced from land, families are ripped out of homes, people lose their jobs, students sink into debt and on and on.
Defeating climate change doesn't have to mean dropping everything to become climate activists or ignoring the whole thing altogether. The truth is exactly the opposite: We have to re-learn the climate crisis as one that ties our struggles together and opens up potential for the world we're already busy fighting for.
Climate Moment, Not Climate Movement
In addition to the hurricane were important voices that forced me to confront my denial. Naomi Klein has argued that resisting climate change is a once-in-a-lifetime opportunity to win the world we've wanted all along; the proponents of climate change are the same enemies that the Occupy movement and its counterparts around the world have already marked. Vandana Shiva pushes us to see that the intersecting crises of food, climate and economy are all based on a common theme of debt, while George Monbiot reminds us that the oil profiteering that ruins our climate would be impossible were it not for the insidious relationship between money and politics. These connections mean that the homeowners and activists around the U.S. putting their bodies on the line to fight foreclosure, the students occupying their universities to fight tuition hikes, the activists fighting for campaign finance reform, the countless who stand up to war—these struggles are our best shot at a climate movement that can really win.
But I learned those same lessons, too, from people in struggle. Farmers in the Brazilian Landless Workers Movement fighting for their land are not so different from the Lubicon Cree in Northern Alberta, Canada, standing in the way of the Keystone XL pipeline that poisons their water, or the residents in Atlanta, GA, trying to win their homes back from the banks. The working-class white West Virginians resisting fracking are in the same boat as the families in Far Rockaway whose kids' lungs are infected from living in moldy homes after Hurricane Sandy. They have a lot in common with those in the South Bronx who have been fighting against pollution caused by big business for decades, or the mothers in Detroit who are building urban gardens to cope with food deserts. They're not so different from the Indian women fighting Monsanto, or those resisting wars fought for oil and on and on the connections go. We're all connected by the climate crisis, and the opportunities it opens for us.
The fight for the climate isn't a separate movement, it's both a challenge and an opportunity for all of our movements. We don't need to become climate activists, we are climate activists. We don't need a separate climate movement; we need to seize the climate moment. Ultimately, our task is to create moments for our various movements that allow us to continue our different battles while also working in solidarity to strike at the roots of the systems beneath the symptoms.
Think Turkey and Brazil. Think Arab Spring, and the uprisings against austerity all over Europe. Think the student movements from Quebec to Chile. Think Occupy. These were collective uprisings that drew lines and demanded that people decide which side they were on. It's our role to prepare for these kinds of "which side are you on?" moments for the climate by training and practicing, by re-focusing on the issues that connect us, by building institutions that can support us in long-term struggle. We don't stop our other organizing or drop the many other pieces of our lives; we organize the people with whom we already stand in order to seize these moments when they come—to tell stories, take spaces and challenge enemies of the climate.
Learning From Hurricanes
In the New York City neighborhood of Far Rockaway, climate justice is common sense. What I had only read articles and books about before, I learned a thousand times over from people on the front lines of climate crisis after Hurricane Sandy.
As part of Occupy Sandy and the Wildfire Project, I joined the relief effort, which quickly became an organizing project—training, political education and supporting the growth of a group that is now active across the Rockaways. Between contesting the city's vision for a recovery, fighting against stop-and-frisk and organizing against gentrification, the working-class, multiracial Far Rockaway Wildfire group knows that their task is about more than relief from a hurricane—it is also to deal with the crises that existed before the hurricane and the systems underlying them.
The fight is about winning back the social safety net that has been slashed by the same economic and political elite who profit from fossil fuels. It's about the wages that have shrunk as elites have profited, about the jobs working people have lost as the bosses have been bailed out. It's about ensuring sustainable mass transit so people can get to work. It's about affordable housing, a need that existed before the storm, made worse now by the threat of disaster capitalist schemes to knock down projects and replace them with beach-front condos. It's about contesting a political system that uses moments of crisis to further disenfranchise working people and people of color. It's about overturning an economic system that is wrecking the planet while turning a profit for the most powerful, putting 40 percent of the wealth of this country into the hands of one percent of the population. It's about creating alternatives in our communities, while fighting to make those alternatives the norm.
When you're out on those beaches in Far Rockaway it's clear that there isn't any far-off climate Armageddon to wait for. The hurricanes are already smashing down around us, and they're the same hurricanes as the ones we have fought all along—systems like capitalism, white supremacy and patriarchy that shape one another and all the values and institutions that govern our lives. By fighting those systems, we're already the seeds of the climate movement we've been dreaming of. We only need to overcome our denial, find points of intersection in our struggles and prepare for those moments in which people finally sit down or stand up in the critical intersections of human history. It won't be long now.
Visit EcoWatch's CLIMATE CHANGE page for more related news on this topic.
———
Yesterday, environmental groups including Clean Ocean Action, Food & Water Watch and Edison Wetlands Association blasted the offshore Port Ambrose Liquefied Natural Gas (LNG) facility at a press conference just before the public hearing at the New Jersey Expo and Convention Center in Edison, NJ. The groups cited reasons to reject this project including, threats to tourism, commerce and the marine environment, the connection to hydraulic fracturing, also known as fracking, the deficiencies in the application and the fact that an identical project was vetoed by Gov. Christie. Hundreds of citizens attended and spoke out against the project at the public hearing as well, with momentum building in opposition to Port Ambrose following last night's public hearing in Long Beach, NY.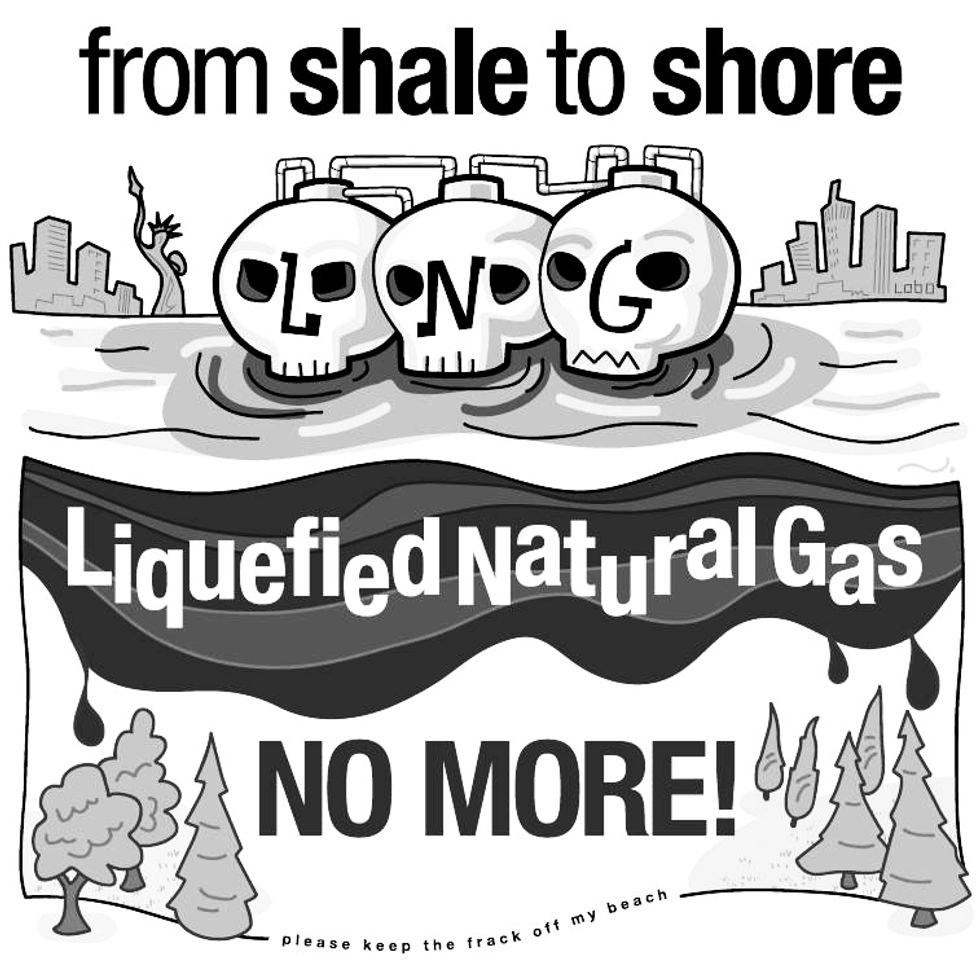 Surfrider Foundation
.
"I am proud that so many residents came and spoke out yesterday. I repeat my demand that the public be provided more information, more time for comment, more hearings and more opportunity to be heard," stated Nassau County Legislator David Denenberg (D-Merrick). "This project has security, economic, commercial and environmental concerns that must be discussed and dealt with before closing off public comment and moving to the next step," stated Mr. Denenberg.
 
The Port Ambrose LNG facility has been proposed off the coast of Long Branch, NJ, and 17 nautical miles south of Jones Beach, NY. The project is the same proposal that New Jersey Gov. Chris Christie vetoed. The only difference is the name. The project, if licensed, would allow both exports and imports of natural gas, resulting in accelerated hydro-fracking in the region and higher energy costs.
 
While the application is for an import facility, existing Department of Energy approvals have authorized up to 40 percent of our domestically-produced natural gas to be exported to certain nations around the world, and more approvals are in the pipeline for exports to the rest of the globe. Opponents of the project say any LNG facility will be for both import and export and it will create demand for fracking, via exports.
 
"This proposed LNG facility has the capability to destroy our Garden State. New Jersey is one the most densely populated areas in the country and our Jersey Shore generates millions of dollars through summer recreation alone," said Dana Patterson, Edison Wetlands Association's program supervisor. "Our communities must not be put at risk so a precarious facility can operate for pure profit without consideration for our water quality, diverse sea life, thriving fisheries or health and safety of our residents," she explained.
 
"The last thing our still suffering Sandy damaged New Jersey Shore needs is an LNG export facility. We know the process of fracking to extract the gas destined for export risks our drinking water, air and ocean as it is not even regulated," said ocean advocate and paddler Margo Pellegrino. "With this proposed terminal we increase this risk to our own drinking water and ocean, our own health, and pay more for our own 'home grown' energy as prices skyrocket with European demand for our dirty fuel. To say the idea of such a facility anywhere on the East Coast, but especially here in this most trafficked of all waterways is a 'bad idea' is an extreme understatement," added Pellegrino.
 
"Port Ambrose would require a massive investment in dirty fossil fuels and fracking at a time when the threat of climate change demands we switch to truly clean energy," said Matt Smith, an organizer with Food & Water Watch, a consumer advocacy organization. "In this post-Superstorm Sandy era, New Jersey residents are saying no to fossil fuels, no to fracking and no to this ill-concieved hazard to our air, water and climate," stated Smith.
 
"Liberty Natural Gas, an unknown and well-connected foreign company is using their significant money, lobbyists and influence to bring this floating disaster to our region. By holding this hearing in Edison, NJ, the Maritime Administration is trying to ignore the Jersey Shore, which is why we are hosting a 'Citizens' Hearing' tomorrow in Sea Bright, NJ," explained Cindy Zipf, executive director of Clean Ocean Action. "Citizen's voices unable to get to Edison can come and testify and the comments will be officially submitted for the record," said Zipf.
 
The citizens' hearing, organized by Clean Ocean Action, is tonight in Sea Bright, NJ, at the Sea Bright Public Beach, 1099 Ocean Ave., Sea Bright, NJ 07760. There will be an informational open house from 4:30 - 5:30 p.m. and the hearing will be from 6 - 8 p.m. Comments made at this hearing will be submitted to the federal government.
Visit EcoWatch's LIQUEFIED NATURAL GAS and FRACKING pages for more related news on this topic.
———
SHARE YOUR THOUGHTS BELOW: Do you feel misled upon learning the plans to export LNG since officials have long claimed that fracking for natural gas will create energy independence?
———

Ocean warming from climate change could make some parts of the world "uninsurable," according to a new report from global insurance trade body, the Geneva Association.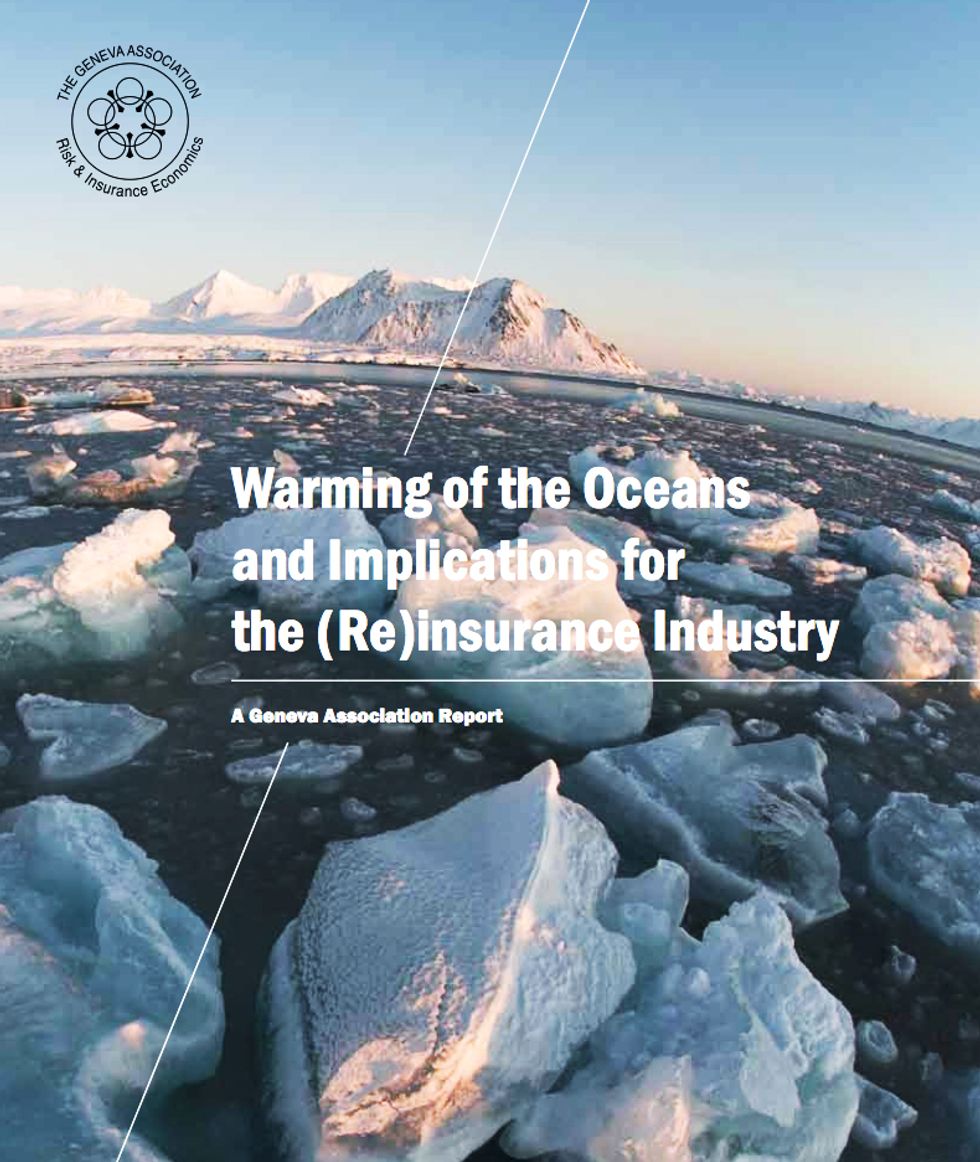 It warns that the speed at which global oceans are warming is threatening the industry's ability to sell affordable policies around the world, with parts of the United Kingdom (UK) and the U.S. state of Florida already facing "a risk environment that is uninsurable."
And these areas are unlikely to be the last that will experience such problems.
But in the UK, hundreds of thousands of homeowners in areas at high risk of flooding will still be able to insure their properties, after the government struck a deal with the industry.
The deal—introduced as part of the government's new water bill—comes just weeks before the current agreement is set to expire and follows lengthy negotiations with the Association of British Insurers.
The agreement will cap flood insurance premiums, linking them to council tax bands so that people in high risk areas will know the maximum they will have to pay, while a levy on all UK household insurers will be used to create a fund to cover claims for people in high-risk homes.
The new bill also includes plans to increase competition in the water market and improve drought resilience. Meanwhile the government announced an extra £370 million of flood protection funding for 2015-2016 and committed to increase funding each year to 2020—adding to the £2.3 billion they say is currently earmarked for flood defenses.
There has been rising friction in recent years between the insurance industry and governments around the world who are struggling to shore up flood protection.
The Geneva Association—which is overseen by executives from some of the world's largest insurance firms—warns that governments will have to step up their action to protect their towns from the effects of climate change.
Warming oceans have already locked-in shifts in climate, even if countries' attempts to reduce greenhouse gases proved successful.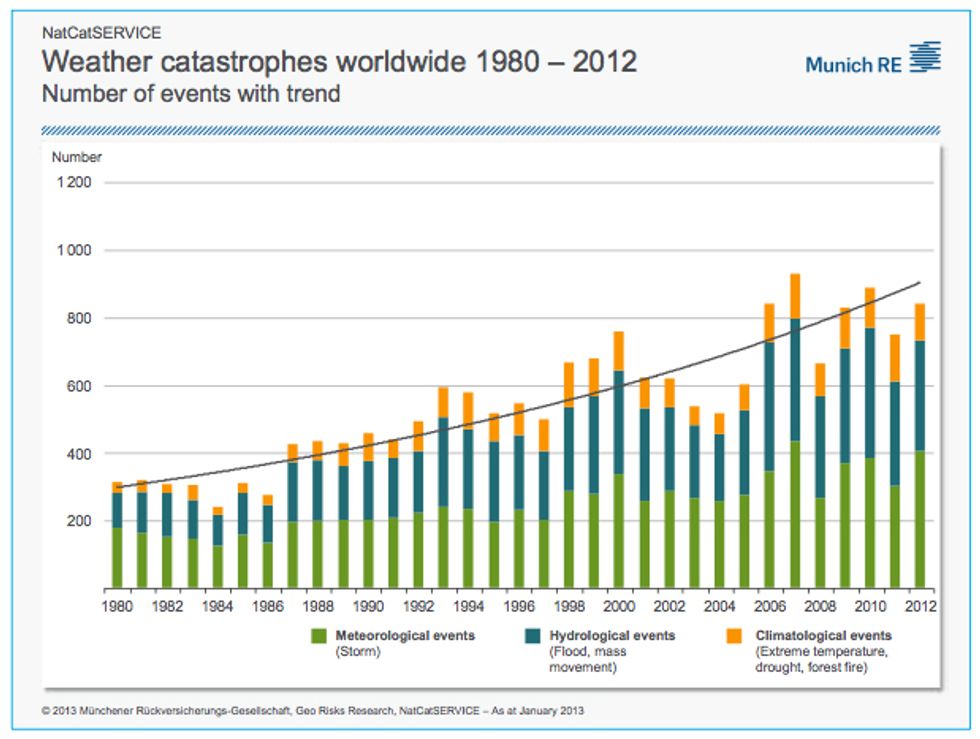 John Fitzpatrick, secretary general of the Geneva Association said:
Given that energy from the ocean is a key driver of extreme events, ocean warming has effectively caused a shift towards a "new normal" for a number of insurance relevant hazards. This shift is quasi irreversible—even if greenhouse gas (GHG) emissions completely stop tomorrow, oceanic temperatures will continue to rise.
 As oceans warm, they expand, contributing to rise sea levels. Melting ice sheets and glaciers are also contributing.
The average global sea has risen nearly 20cm  over the past century—with faster rises seen in more recent years. In its most recent report in 2007, the Intergovernmental Panel on Climate Change estimated that the sea levels rose an average of 1.8mm per year from 1961 to 1993 and 3.1mm from 1993 to 2003.
As well as rising sea levels, scientists believe warmer oceans contribute to an increase in evaporation from the surface of the seas, leading to heavier rains and the potential for more storms.
Such factors may have contributed to Hurricane Sandy, which hit New York and New Jersey last year, costing the U.S. economy about $65 billion, warns the Geneva Association.
Earlier this month, New York Mayor Michael Bloomberg announced a $20 billion plan to protect the city from future storms including building flood walls, levees and gates as well as funding for flood proofing measures for property owners and hospitals.
The number of weather catastrophes, including storms, heatwaves and forest fires have risen from around 300 a year in 1980 to around 900 in 2012, according to figures from reinsurer, Munich Re.
The new report calls on governments to invest more in flood defenses and tighten building restrictions in risky locations to mitigate the fallout of extreme weather hazards. They warn of the growing trend for an increasing number, and value, of properties being built along waterways and coastlines—pushing up the cost when disaster hits.
Visit EcoWatch's CLIMATE CHANGE page for more related news on this topic.