This website uses cookies to ensure you get the best experience while browsing it. By clicking 'Got It' you're accepting these terms.


The best of EcoWatch, right in your inbox. Sign up for our email newsletter!
Two women cry after arriving at the Port of Palm Beach on the cruise ship Grand Celebration on Sept. 7 in West Palm Beach, Florida. ProtectionSaul Martinez / Getty Images
By Julia Conley
Hundreds of Bahamian refugees were ordered off a ferry headed for Ft. Lauderdale, Florida from Freeport in the Bahamas days after Hurricane Dorian pummeled the islands, leaving at least 44 people dead and tens of thousands without homes.
On Monday, Hurricane Willa was is in the eastern Pacific, on a path towards Mexico's Pacific coast. NOAA
Thousands were evacuated from Mexico's Pacific coast Monday as Hurricane Willa is expected to make landfall as a "life-threatening" Category Four storm Tuesday afternoon, Reuters reported.
EcoWatch Daily Newsletter
Northern Haiti is reeling after a 5.9 magnitude earthquake on Saturday and a 5.2 magnitude aftershock on Sunday.
"I urge the population to keep calm," Haitian President Jovenel Moïse tweeted Saturday. "The [disaster] risk management system and the regional branches of the Civil Protection are on standby to assist the inhabitants of the affected areas."
There is growing evidence that man-made climate change is contributing to individual extreme weather and climate events, according to the latest analysis by the World Meteorological Organization (WMO).
Global five-year average temperature anomalies (relative to 1961–1990) for 2011– 2015. World Meteorological Organization
The report, released at COP22 in Marrakech, finds that greenhouse gas emissions raise the probability of extreme heat events as much as 10 times or more. The report also noted that 2011-2015 was the hottest five-year period on record with 2016 on track to become the hottest year on record.
Among the worst extremes, a 2011-12 drought and famine in the Horn of Africa killed more than 250,000 people and Typhoon Haiyan in the Philippines killed 7,800 in 2013, the WMO said.
"The Paris agreement aims at limiting the global temperature increase to well below 2 degrees Celsius and pursuing efforts towards 1.5 degrees Celsius above pre-industrial levels," said WMO Secretary-General Petteri Taalas in a press release.
"The effects of climate change have been consistently visible on the global scale since the 1980s: rising global temperature, both over land and in the ocean; sea-level rise; and the widespread melting of ice," Taalas said. "It has increased the risks of extreme events such as heatwaves, drought, record rainfall and damaging floods."
For a deeper dive:

AP, Reuters, Politico Pro, Mashable, Huffington Post, BusinessGreen
For more climate change and clean energy news, you can follow Climate Nexus on Twitter and Facebook, and sign up for daily Hot News.
By Brendan Karet
As millions evacuate the East Coast of Florida in preparation for Hurricane Matthew, which has already been responsible for more than 113 deaths across the Caribbean, the curator of the most widely read conservative website, Matt Drudge, irresponsibly peddled a conspiracy theory that federal officials have exaggerated the danger posed by Hurricane Matthew "to make exaggerated point on climate."
On Oct. 6, Drudge claimed "the deplorables" were wondering if the government was lying about the intensity of the deadly hurricane and also questioned the legitimacy of the National Hurricane Center's data:

Drudge also used his website, one of the most widely read sites on the internet, DrudgeReport.com to put Florida residents in danger and push the conspiracy theory with a banner titled "STORM FIZZLE? MATTHEW LOOKS RAGGED!," alongside links titled "IT'S A 4?" and "RESIDENTS NOT TAKING SERIOUSLY..."
In direct contrast to Drudge, Republican Florida Gov. Rick Scott warned those in the hurricane's path that "this storm will kill you," while Sen. Marco Rubio (R-FL) described the storm as "dangerous." Fox News host Shepard Smith warned Floridians that if they did not evacuate "you and everyone you know is dead" and that "you can't survive it," while The National Weather Service for Melbourne, Florida warned residents that the storm was "LIFE-THREATENING" and "more impacting than Hurricane David and 2004 hurricanes!":

Drudge joined Rush Limbaugh in peddling irresponsible conspiracy theories about the hurricane, placing their audience in danger. Earlier, Limbaugh downplayed the storm by ranting about "politics in the forecasting of hurricanes because there are votes" and previously claimed the National Hurricane Center is "playing games" with "hurricane forecasting" to convince viewers of climate change.

Update: Conspiracy theorist and Trump ally Alex Jones retweeted Matt Drudge, expressing support and agreement with his dangerous hurricane conspiracy while adding the white supremacist "altright" hashtag:
Reposted with permission from our media associate Media Matter for America.
By Bob Henson
After barreling across the Caribbean and through the Bahamas, Hurricane Matthew backed off from an immediate U.S. landfall on Thursday night, and odds were rising that the system might not come fully ashore before looping out to sea over the weekend. In its 11 p.m. EDT advisory, the National Hurricane Center kept Matthew's top sustained winds at 130 mph, making it a minimal Category 4 storm.
Hurricane Hunters found that Matthew's central pressure had dropped to 937 millibars on Wednesday night. Together with radiometer-derived surface winds of 125 mph, it was clear that Matthew remained a potent hurricane, despite its somewhat disheveled appearance on satellite. At 2 a.m. EDT Friday, NHC downgraded Matthew to a Category 3 storm, with top sustained winds of 120 mph.
Figure 1. Enhanced infrared satellite image of Hurricane Matthew as of 12:45 am EDT Friday, Oct. 7.NOAA/NESDIS
Figure 2. WU depiction of NEXRAD radar from 1:15 am EDT Friday, October 7, 2016. The predominant outer eyewall and its intense thunderstorms (yellow band just east of Port Saint Lucie) was slowly edging toward the Florida coast.
Eyewall to eyewall
Over the course of Thursday afternoon and evening, Matthew ended up with dual, concentric eyewalls—an outer one, about 10 miles wide, and an inner one, about 70 miles wide, where the strongest winds were focused. The development of dual eyewalls often heralds an eyewall replacement cycle (ERC), in which the inner eyewall collapses and the outer one gradually contracts. Matthew appeared ripe for an ERC on Thursday evening, and that process appeared to be underway late Thursday night, as a reconnaissance summary at 12:15 a.m. EDT Friday reported a single closed eyewall, about 55 miles wide.
Figure 3. Observations gathered by a Hurricane Hunter flight through Matthew Wednesday night into early Thursday. The emergence of a single large eyewall can be seen in the extended period between wind peaks (blue trace) at around 0342Z (11:42 p.m. EDT Wednesday).tropicaltidbits.com
Figure 4. Official NHC forecast for Matthew as of 11 pm EDT Thursday, Oct. 6. The unusual look of the "cone" is because of the nearly complete loop that Matthew is predicted to carve out in the next five days.
A coast-scraping track that could still cause major trouble
What was always recognized as a possibility—that Matthew would never quite make landfall on the Florida coast—emerged as the most likely outcome on Thursday night, as reflected in the 11 p.m. NHC outlook (see Figure 4 above). Matthew's track out of the Bahamas was angled just far enough north of northwest to keep the center rolling more or less parallel to the Florida coast. Provided that Matthew carries out the gradual curve to the right expected late Friday through Saturday, its center will likely remain between about 20 and 50 miles off the coast, perhaps all the way to Charleston, South Carolina, by Saturday night.
This path would be enough to keep Matthew's inner core and its top sustained winds offshore, which is very good news in terms of limiting the most severe wind damage. On the down side, Matthew's outer eyewall—which will likely be packing streaks of 60 to 90 mph sustained winds—will probably edge onto or just inland from the coast early Friday. If Matthew's center remains offshore as the hurricane churns north and northeast toward Georgia, then its outer eyewall may be slower to weaken. People along the Florida coast from around Melbourne northward can expect several hours of high wind on Friday, fierce enough at times to topple trees and power lines. If not catastrophic (thankfully!), such damage may end up being far more widespread on this type of coast-scraping path than it would have been with a hurricane slamming onshore at a right angle.
Hurricane-force winds are possible as far north as coastal Georgia and southern South Carolina later on Friday, but the primary threat here will be high water—the most deadly aspect of U.S. hurricanes. Because of the gradual expansion of Matthew's wind field, its direction of motion, and the largely concave geometry of the coastline, barrier islands and inlets from north FL to southern SC remain at risk of major storm surge even if Matthew remains offshore. Late Thursday night, NHC was projecting the potential for coastal inundations of 7 to 11 feet from Sebastian Inlet, Florida, to Edisto Beach, South Carolina, including parts of the St. Johns River between the coast and Jacksonville. Breaking waves of up to 20 - 25 feet are possible atop the coastal surge.
Time and again in recent years, we've seen hurricanes weaken in terms of peak winds as they approach the coast, yet push far more water onshore than residents expected. This is one reason why the Saffir-Simpson scale no longer directly relates its strength categories to storm surge: peak winds near the center are an unreliable index to how much surge a hurricane may actually produce. Even if Matthew weakens and stays offshore as projected, surge levels in some areas (especially far north Florida and Georgia) may be the highest observed in many decades, and I fear that many coastal residents will underestimate this risk.
Figure 5. Projected 3-day rainfall totals from 8:00 p.m. EDT Thursday, Oct. 6, to 8 p.m. Sunday, Oct. 9. NOAA/NWS Weather Prediction Center
Very heavy rainfall is the other water-related threat that still looms large with Matthew. Widespread totals in the 10" to 15" range are projected to fall within about 50 miles of the coast from far north Florida to southeast North Carolina (see Figure 5). The southeast half of the Carolinas can expect 3" to 10" amounts. This may be enough to cause extensive flooding, especially where 10" - 15" of rain has fallen in the last three weeks. With winds potentially gusting to 40 - 50 mph, we can expect extensive tree loss and power outages.

If Matthew fails to make landfall on Friday, or if it does come ashore below Category 3 strength, the remarkable and unprecedented U.S. "drought" in major hurricane landfalls will continue. The last hurricane to strike the U.S. with Category 3 winds was Wilma, in October 2005—nearly 11 years ago.

Beyond the Carolinas
Long-range models agree in turning Matthew gradually seaward from the Carolinas over the weekend, and it now appears that the wacky loop-de-loop solution presented by the models a couple of days ago will materialize, at least in some form or fashion. The path shown in Figure 3 above is one of the most precise and elegant circles I've ever seen in a five-day NHC forecast. By Tuesday, Matthew is predicted to be heading southwestward, back into the northern Bahamas. Matthew will almost certainly be a far weaker system by this point—most likely a tropical storm. It's certainly possible that Matthew will end up crossing Florida at some point next week.
Figure 6. Enhanced infrared satellite image of Hurricane Nicole as of 12:45 am EDT Friday, Oct. 7.
Nicole is now a Category 2 hurricane
Quietly gathering strength while Matthew hogged the spotlight, Hurricane Nicole has become a respectable storm in its own right. Nicole's top sustained winds were bumped up to 105 mph at 11 p.m. EDT Wednesday, making it a strong Category 2 hurricane. Located about 340 miles south of Bermuda, Nicole was stationary, embedded in weak steering currents and in no hurry to head anywhere. Matthew may draw close enough to Nicole early next week to bring the Fujiwhara effect into play, which would tend to push Nicole to the north and Matthew toward the south—consistent with the motions now expected for both systems, although larger-scale steering will probably be the main factor at work.

NHC's Eric Blake provided an interesting climatological tidbit in his Thursday night discussion on Nicole: "This is the first time since September 10, 1964 that two Category 2 (or stronger) hurricanes have occurred simultaneously in the Atlantic basin west of 65W. Interestingly, those hurricanes in 1964, Dora and Ethel, were in similar positions as Matthew and Nicole are now."
Reposted with permission from our media associate Weather Underground.
Nearly 2 million people have been urged to evacuate along the East Coast and more than 12 million are under hurricane watch or warning, after Hurricane Matthew strengthened overnight with winds reaching 125 mph.
The official NHC forecast for Matthew as of 5 pm EDT Wednesday, October 5, 2016.WunderBlog
The storm is forecast to impact Florida today, possibly as a Category 4 storm. If it makes landfall, it would be the most powerful storm since Hurricane Wilma in 2005 to do so, and could cause as much as $15 billion in economic disruption.
This morning, the National Hurricane Center warned of "life-threatening inundation during the next 36 hours along the Florida east coast and Georgia coast."
Matthew has caused at least 26 deaths across the Caribbean.
For a deeper dive:
News: NBC, CNN, BBC, USA Today, Fox News, Reuters, New York Times $, AP, NPR, Climate Central, Mashable.
Commentary:AP, Seth Borenstein Q&A; ThinkProgress, Joe Romm column; Forbes, Marshall Shepherd column; Grist, Scott Dodd column; New York Times, John Schwartz Q&A $; Discover Magazine, Tom Yulsman column; Pacific Standard, Eric Holthaus op-ed; Miami Herald editorial.
Background: Climate Signals

For more climate change and clean energy news, you can follow Climate Nexus on Twitter and Facebook, and sign up for daily Hot News.

By Jeff Masters
Powerful Hurricane Matthew made landfall on the southwestern tip of Haiti near 7 a.m. EDT Tuesday as a Category 4 storm with 145 mph winds. Matthew's extreme rains, large storm surge and Category 4 winds are likely to be catastrophic for Haiti.
Figure 1. Infrared satellite image of Hurricane Matthew as it made landfall over the southwestern tip of Haiti at 7:19 am EDT Oct. 4, 2016.wunderground.com
The hurricane is the third strongest one ever recorded in the impoverished nation, and their strongest hurricane in 52 years. The only Haitian hurricanes stronger than Matthew were two Category 4 storms with 150 mph winds: Hurricane Cleo of 1964 and Hurricane Flora of 1963. The last major hurricane to make a direct hit in Haiti was Category 3 Hurricane David of 1979, which crossed over the nation from east to west with 115 mph winds.
We don't have many weather stations in Haiti, so it is difficult to say what the conditions are on the ground. A personal weather station (PWS) on the south coast Haiti at Aquin, about 70 miles east of Matthew's landfall, recorded a wind gust of 59 mph at 6:50 a.m. EDT Tuesday. A PWS near Port-Au-Prince, Haiti recorded about 1.70" of rain during the 36-hour period ending at 7 a.m. EDT Tuesday. At the Port-Au-Prince airport, top winds on Tuesday as of 8 a.m. EDT were 34 mph, gusting to 52 mph.

An Air Force hurricane hunter aircraft arrived at Matthew's center near 8 a.m. EDT Tuesday, when the eye was over land. The plane did not fly directly into the center of the eye, since that would have risked penetrating through extreme turbulence over land, but the aircraft was able to measure a central pressure of 944 mb at the edge of the eye. The peak winds measured by their SFMR instrument were 135 mph, so Matthew was definitely a solid Category 4 storm at landfall.

Satellite loops on Tuesday morning showed that the encounter with land had weakened the storm, with the eye much less distinct. Light wind shear of 5 - 10 knots is affecting the storm, and Matthew is over warm ocean waters of 29°C (84°F) and has plenty of moisture to work with—70 - 75 percent relative humidity at mid-levels of the atmosphere, as analyzed by the SHIPS model.
NRL Tropical Cyclone Page
Figure 2. Microwave image of rainfall rates in Hurricane Matthew from the F-16 polar orbiting satellite taken at 5:02 a.m. EDT Oct. 4, 2016. At the time, Matthew was a Category 4 storm with 145 mph winds. Rainfall amounts in excess of 1"/hour (orange colors) were occurring along the coasts of Haiti and the Dominican Republic.

Extreme Rains Near the Haiti/Dominican Republic Border
Extreme rains from Matthew are a huge concern for the entire island of Hispaniola, thanks to an unusual area of extra spin and low pressure that has been embedded on the east side of Matthew's circulation for days. This feature began rotating ashore over southern Haiti and the Dominican Republic early Monday morning, and continues to affect the Dominican Republic this morning. The mountainous terrain of the island has caused tremendous uplift to the thunderstorms moving ashore, resulting in extremely intense rainfall. A personal weather station (PWS) in Cabo Rojo, on the southern coast of the Dominican Republic near the border with Haiti, recorded 22.89" of rain on Monday, including a remarkable 5.33" in the hour from 6 to 7 a.m. An additional 3.73" fell on Tuesday as of 8 a.m. EDT, for a storm total of 26.62". While PWS data is often suspect, these are believable rainfall amounts based on the satellite presentation of Matthew.

Intensity Forecast for Matthew
Landfall in Haiti on Tuesday morning and on eastern Cuba on Tuesday evening will disrupt the hurricane, and could cause it to weaken by one Saffir-Simpson category, to a Category 3 storm. However, Matthew is a very large and well-organized storm, and it may take it only a day to recover from its disruption. The latest SHIPS model forecast predicts that wind shear will remain light to moderate, 5 - 15 knots, through Friday. Ocean temperatures will be very warm, between 29 - 30° C (84 - 86°F) and the heat content of the ocean will be high to very high, which argues for intensification of Matthew. Our top three intensity models—the HWRF, LGEM, and SHIPS models—were predicting on Tuesday morning that Matthew would be at Category 3 or 4 strength through Friday.
Track Forecast for Matthew
The significant westward shift in computer model guidance on Hurricane Matthew that occurred yesterday is holding, and we now have increased confidence that Matthew will bring severe impacts to the Southeast U.S. coast from South Florida to Cape Hatteras, North Carolina.

Matthew will continue northwards after clearing the southwest tip of Haiti Tuesday morning, then make a second landfall in eastern Cuba at about 6 pm EDT Tuesday. Matthew will turn north-northwest and then northwest on Wednesday, and traverse The Bahamas from southeast to northwest Wednesday morning through Thursday morning. In their 5 a.m. EDT Tuesday Wind Probability Forecast, NHC gave highest odds of hurricane-force winds in The Bahamas to Great Exuma (57 percent), New Providence (46 percent), and Grand Bahama (37 percent).

Late Thursday morning, Matthew will be very close to the coast of South Florida, and is expected to turn more to the north-northwest, almost parallel to the coast, at that time. The latest 00Z and 06Z Tuesday runs of our top two models for predicting hurricane tracks—the GFS and European models—did not show a Florida landfall, but brought the hurricane so close to Florida—within 50 miles—that most of the coast of Florida from West Palm Beach to Daytona Beach would experience sustained winds of at least 50 mph, if these forecasts verified. Keep in mind that the diameter of NHC's cone of uncertainty two days into the future is about 100 miles; the cone is about 130 miles across three days into the future. On average, about two-thirds of all hurricanes stay within the cone, but some hurricanes are tougher to predict than others, and Matthew certainly falls into that category. Thus, it would not be a surprise to see Matthew make landfall in Florida.
Two of the four members of the Euro "high-probability" cluster—the ensemble forecasts that most closely match the operational run—depicted Matthew making landfall on Florida's East Coast near West Palm Beach on Thursday. In their 5 a.m. EDT Tuesday Wind Probability Forecast, NHC gave highest odds of hurricane-force winds in Florida to Ft. Pierce (22 percent), West Palm Beach (21 percent), and Cocoa Beach (19 percent). Update: At 11 a.m. EDT Tuesday, NHC placed the Florida coast from Deerfield Beach to the Volusia/Brevard county line under a Hurricane Watch, with a Tropical Storm Watch in effect southward from south of Deerfield Beach to the Seven Mile Bridge in the Florida Keys, including Lake Okeechobee.
Climate Forecast Applications Network (CFAN)
Figure 3. Track forecasts from the four European model ensemble members [gray lines] that most closely match the operational run [red line] during the first 72 hours, starting at 00Z Tuesday, Oct. 4, 2016. The red line is a version of the 00Z Tuesday operational model track that has been adjusted and calibrated using a proprietary technique to account for systemic model errors, and shows Matthew barely missing landfall along the Southeast U.S. coast. All four of the ensemble forecasts showed Matthew making landfall in the U.S., in Florida or South Carolina (though one looked like an improbable outlier, with a looping track off the coast.) The high-probability cluster (grey lines) perform better than other ensemble members at forecast times of five days and beyond.

Matthew is expected to turn more to the north and then north-northeast on Friday, which will keep the storm very close to the coasts of Georgia, South Carolina, and North Carolina. At this time, our top models suggest that the greatest probability for a U.S. landfall by Matthew is in South Carolina on Friday night or North Carolina on Saturday morning. In their 5 a.m. EDT Tuesday Wind Probability Forecast, NHC was giving the coast of Georgia, South Carolina, and southern North Carolina 3 - 7 percent chances of receiving hurricane force winds. However, I expect those probabilities to rise significantly by tomorrow, given the latest model data.

After its closest approach to the coast of North Carolina, we have a number of reliable models predicting that Matthew will continue north-northeast and hit New England on Sunday, with eastern Massachusetts being at greatest risk. Landfall in New England would very likely not be at hurricane strength, due to the potential for Matthew to pass over a lot of land before getting there. The risk to New England is not clear at this point, though, since we have some model guidance predicting a more northeasterly path for Matthew, keeping the center of the storm several hundred miles east off the Northeast U.S. coast.

Reposted with permission from our media associate WunderBlog.
An 80-mph Category 1 hurricane made landfall at in Florida late last night, causing heavy rains, widespread storm surge and power disruptions for more than 150,000 residents.
This is the first hurricane to make landfall in the state in 11 years. Storm surge is estimated to have reached as high as 9 feet in some places. The National Hurricane Center expects storm rainfall totals of 5 to 10 inches across the southeastern U.S., with isolated totals reaching upwards of 15 inches and has warned of "life-threatening inundation" along the Gulf Coast of Florida for next 24 hours.
According to Jeff Masters and Bob Henson at WunderBlog:
By later in the weekend, Hermine may regain some of its tropical characteristics. Computer models indicate it will slow down Sunday into Monday and perhaps even carry out a tightly looping path east of the Delmarva and south of Long Island, NY. Ocean temperatures are more than 2°C above average in this region. This may be warm enough to allow Hermine's winds to restrengthen close to hurricane force near its center by Monday or Tuesday, regardless of whether it is classified as a tropical or post-tropical storm by that point. Even if it does become post-tropical, NHC will continue issuing advisories on Hermine as long as it remains a significant threat to land.
The official track forecast for Hurricane Hermine as of 11 pm EDT Thursday. Hermine's dramatic slowdown is evident in the period from Sunday to Tuesday.WunderBlog
Hermine highlights the risks associated with hurricanes in a warming world. Near record-warm ocean temperatures in the Gulf of Mexico evaporated near-record amounts of water into the atmosphere for Hermine. Sea levels in northwest Florida have risen nearly a foot in the past decades, increasing the threat of storm surge and flooding.
For a deeper dive:
News: NPR, ABC News, BBC, CNN, Charlotte Observer, LA Times, NBC News, Washington Post, Mashable, New York Times, Reuters
Commentary: Pacific Standard, Eric Holthaus column
Background: Climate Signals
For more climate change and clean energy news, you can follow Climate Nexus on Twitter and Facebook, and sign up for daily Hot News.
Climate deniers are gloating that the California wildfire season isn't as bad as seasons past or as predicted in the spring, although that's probably small comfort to the families being evacuated from homes in Orange County near the Cleveland National Forest this weekend. And the fire season isn't over, and neither is the hot, dry weather with temperatures in the triple digits.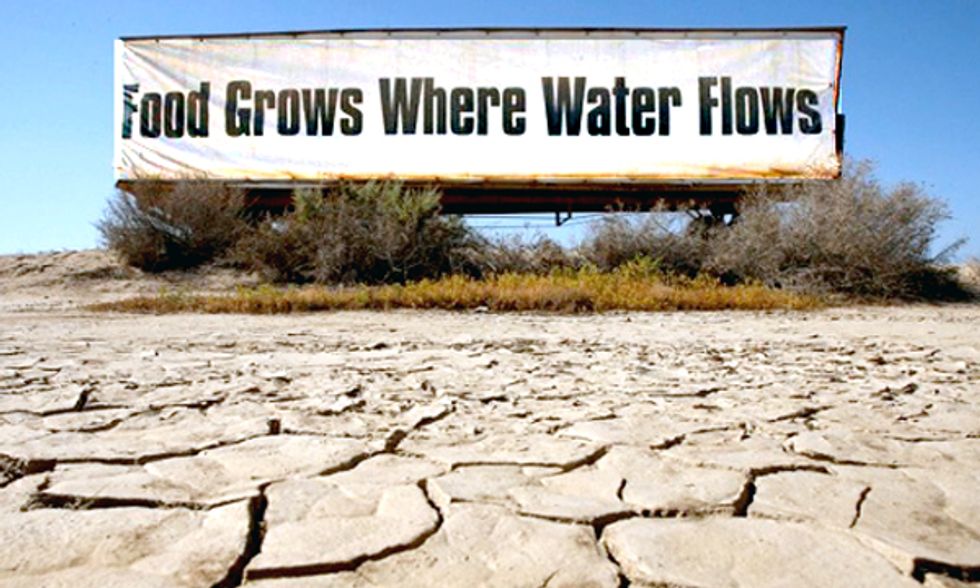 The drought continues its negative impacts on California communities and agriculture. An NBC news report last week said California could lose a quarter of its rice crop. Almond farmers are struggling, and so are organic dairy farms.
There's plenty of other evidence from up and down the Pacific coast that demonstrates ample cause for concern about climate impacts. Washington State, for instance, is enduring one of its worst forest fire seasons.
The Washington Olympian reports, "This year's record-setting season of wildfires in Washington has burned six times as many acres as usual, state officials said Wednesday.  As of the end of August, wildfires had burned a total of about 363,000 acres throughout the state, state forester Aaron Everett said. In the past five years, the average amount of acres burned per year was only about 61,000, he said. 'It's been a staggering year, and a great challenge,' Everett said."
And while California swelters and Washington burns, Mexican resort areas like Cabo San Lucas are being hammered by Hurricane Odile, the most powerful hurricane on record to hit the Baja California peninsula. Flights were cancelled and cruise ships redirected, as the storm left shattered glass, debris, and heavy damage to the area's hotels in its wake, despite being downgraded from Category 4 to Category 1 storm. Flash floods and mudslides could still follow.
We normally hear more about the Atlantic hurricane season, but the year's hurricane season in the eastern Pacific has been a heavy one, with Odile the 15th hurricane formed there so far. The record rainfall in Phoenix last week resulted from the remnants of the previous hurricane.
As the UN's Intergovernmental Panel on Climate Change (IPCC) said in its report Climate Change 2013, "Changes in many extreme weather and climate events have been observed since about 1950. It is very likely that the number of cold days and nights has decreased and the number of warm days and nights has increased on the global scale. There are likely more land regions where the number of heavy precipitation events has increased than where it has decreased."
Residents of the Pacific Coast don't need a report to tell them that.
YOU MIGHT ALSO LIKE
Stunning Photos Reveal Intensity of Wildfire Season's Early Start
Obama Attributes Washington State Wildfires to Climate Change
Last night, as Hurricane Iselle moved closer to Hawaii, threatening the state with its worst storm in 22 years, MSNBC's The Ed Show weighed in on four current abnormal weather events.
Crises from Toledo's drinking water ban due to toxic algae to severe drought in California point to one thing, according to host Ed Schultz: "Severe weather is on the rise for a reason: climate change."
Meanwhile, as wildfires in the western U.S. rage out of control, prompting three states to declare emergencies, House Republicans refuse to approve funding for wildfires and instead "sued the president and went on vacation."
"Unfortunately there is a party in this country that refuses to acknowledge that the problem even exists…" said Schultz. "Everyone but science-denying Republicans knows what's happening. It's climate change. But we as a country seem to be in denial."
Although the science is denied by more than 100 members of Congress—which Schultz describes as a "do-nothing Congress telling us we're on our own: get your own drinking water, fight your own fires," possible solutions are discussed with Rep. John Garamendi (D-Cal) and Tiernan Sittenfeld of League of Conservation Voters.
The segment of The Ed Show included a viewer poll: Should climate-denying republicans be forced to take a basic earth science course? So far 96 percent of respondents have responded "yes." What do you think?
You Might Also Like
Fire and Ice: What I Did On My Summer Vacation
NASA: Earth Could Warm 20 Percent More Than Earlier Estimates
Methane Blow-Holes Sign of Runaway Climate Change?