Thanks to the Environmental Working Group (EWG) for sharing their New Year's resolution for cosmetic manufacturers: Shed bad actor ingredients in cosmetics that disrupt the hormone system, cause allergies and may accelerate skin cancer.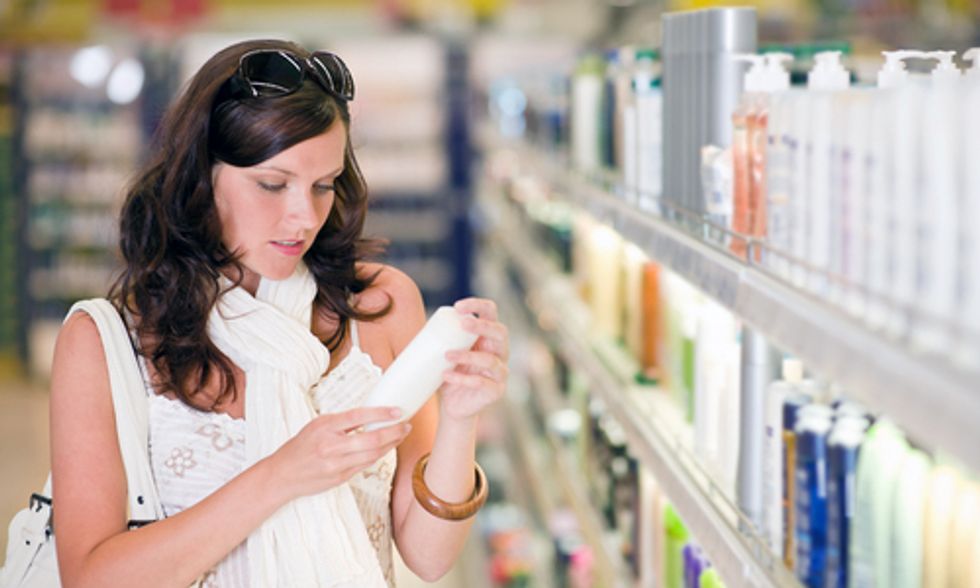 Photo courtesy of Shutterstock
1. Phthalates 
Scientific studies link phthalate exposure to reproductive abnormalities in baby boys, reduced testosterone and sperm quality in men and early puberty in girls. Animal experiments underscore their toxicity to the reproductive system. Where might you encounter these pernicious chemicals? In some cosmetics fragrance mixtures. Since the law doesn't require full disclosure, you have no way to know when phthalates lurk in that bottle of lotion. To be on the safe side, buy unscented personal care products.
2. Formaldehyde releasers
Some cosmetics chemicals are designed to react with water in the bottle to generate a little formaldehyde, a preservative, to keep the product from growing mold and bacteria. But formaldehyde is a potent allergen which the U.S. Department of Health and Human Services and the World Health Organization consider carcinogenic. Formaldehyde releasers include DMDM hydantoin, imidazolidinyl urea, diazolidinyl urea, and quaternium-15. Where do you find them? Shampoos, conditioners, bubble bath and other personal care products—even those intended for children. A 2010 study found that nearly one fifth of cosmetic products contained a formaldehyde releaser. Johnson & Johnson, a personal care products giant, is phasing out formaldehyde releasers under pressure from health advocates. We hope other cosmetics makers will follow Johnson & Johnson's lead.
3. Parabens
Parabens are used as preservatives in some cosmetic products, but so-called "long-chained" parabens can act as estrogens and disrupt hormone signaling. A recent study by scientists at the Harvard School of Public Health linked one type of paraben to impaired fertility in women.  Johnson & Johnson agreed to stop using most parabens in 2012, but they can still be found in numerous cosmetics. Read the labels carefully to spot products that contain parabens, especially the long-chained varieties—propylparaben, isopropylparaben, butylparaben and isobutylparaben.
4. Triclosan and triclocarban
Triclosan is a bacteria-killing chemical used in Colgate Total toothpastes (to prevent gingivitis), liquid hand soaps, body washes, clothing, cutting boards and other household goods. It has been shown to interfere with thyroid signaling and male and female sex hormone signaling. Triclocarban is the active ingredient in some antibacterial bar soaps. Researchers have linked it to reproductive abnormalities in laboratory animals. Last month, the federal Food and Drug Administration (FDA) announced that these chemicals should not be considered safe or effective in antibacterial soaps and body washes and gave manufacturers time to substantiate their claims or phase them out of the market. Already, Johnson & Johnson and Proctor & Gamble have pledged to rid their personal care products of triclosan. We hope to see other companies do the same.
5. Retinyl palmitate and retinoic acid
Retinoic acid is used in anti-aging skin creams. Retinyl palmitate, a related chemical, is added to roughly one-quarter of the sunscreens in EWG's Guide to Sunscreens database. U.S. government scientists have found that these chemicals speed the development of cancerous lesions on sun-exposed skin. The results suggest that people who go out in the sun while wearing retinyl palmitate creams and sunscreens may be at an increased risk for skin cancer. Instead of restricting these chemicals immediately, the FDA has ordered additional testing. EWG recommends that you avoid products containing retinoic acid and retinyl palmitate.
6. Hair straighteners with formaldehyde or formaldehyde-like chemicals
Some hair straighteners can contain as much as 10 percent pure formaldehyde. The cosmetic industry's own scientific advisory board has warned against formaldehyde-based hair straighteners. The federal Occupational Safety and Health Administration has issued warnings and fines to numerous salons that use them, exposing their workers to intense, and potentially cancer-causing, formaldehyde fumes.  Some nations ban formaldehyde-based hair straighteners. Yet some small companies persist in making and selling them to unwitting consumers, and the FDA has failed to take punitive action. People who want to straighten their hair or undergo a "smoothing" treatment should find out if the salon uses a product containing formaldehyde, also called methylene glycol. If it does, avoid it.
Lead acetate in men's hair dye 
Lead acetate in some men's hair dyes, such as "Grecian Formula" products, can increase the body's lead level. Because lead is a potent neurotoxin, lead acetate has been banned in Canada and the European Union. The FDA should restrict lead acetate in hair dyes. In the meantime, consumers can use EWG's Skin Deep database to find lead-free hair dyes.
One more New Year's resolution: the FDA and Congress should develop tougher requirements for proving cosmetic chemicals are safe before coming to market. All too often, products are on the market for years before scientists catch up with possible hazards in their formulations. Once hazards are suspected, the FDA moves at a snail's pace in regulating potentially harmful ingredients. Responsible manufacturers can voluntarily remove these ingredients and we hope they will. Ultimately, it's up to consumers to read labels, vote with their pocketbooks and force the market to change for the better.
Visit EcoWatch's HEALTH page for more related news on this topic.

EcoWatch Daily Newsletter
University of Missouri researchers have found that 11 chemicals commonly used in fracking for oil and natural gas are endocrine disruptors, while water near hydraulic fracturing drilling sites had greater hormone-disrupting properties than in areas without drilling.
Endocrine disruptors interfere with the body's endocrine system, which controls numerous body functions with hormones such as the female hormone estrogen and the male hormone androgen. Exposure to endocrine-disrupting chemicals has been linked by other research to cancer, birth defects and infertility.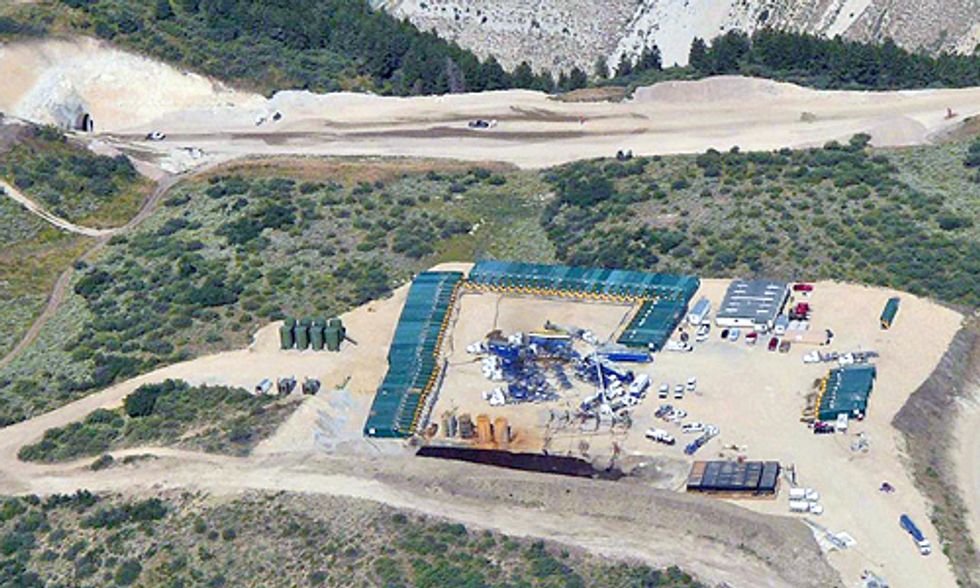 "More than 700 chemicals are used in the fracking process, and many of them disturb hormone function," researcher Susan Nagel, Ph.D, associate professor of obstetrics, gynecology and women's health at the University of Missouri School of Medicine said in a media release. "With fracking on the rise, populations may face greater health risks from increased endocrine-disrupting chemical exposure."
The study involved two parts. The research team performed laboratory tests of 12 suspected or known endocrine-disrupting chemicals used in hydraulic fracturing, and measured the chemicals' ability to mimic or block the effects of the reproductive sex hormones estrogen and androgen. They found that 11 chemicals blocked estrogen hormones, 10 blocked androgen hormones and one mimicked estrogen.
The researchers also collected samples of ground and surface water from several sites, including:
Accident sites in Garfield County, CO, where hydraulic fracturing fluids had been spilled.
Nearby portions of the Colorado River, the major drainage source for the region.
Other parts of Garfield County, CO, where there had been little drilling.
Parts of Boone County, MO, which had experienced no natural gas drilling
The water samples from drilling sites demonstrated higher endocrine-disrupting activity that could interfere with the body's response to androgen and estrogen hormones. Drilling site water samples had moderate-to-high levels of endocrine-disrupting activity, and samples from the Colorado River showed moderate levels. In comparison, the researchers measured low levels of endocrine-disrupting activity in the Garfield County, CO, sites that experienced little drilling and the Boone County, MO, sites with no drilling.
"Fracking is exempt from federal regulations to protect water quality, but spills associated with natural gas drilling can contaminate surface, ground and drinking water," Nagel said. "We found more endocrine-disrupting activity in the water close to drilling locations that had experienced spills than at control sites. This could raise the risk of reproductive, metabolic, neurological and other diseases, especially in children who are exposed to endocrine-disrupting chemicals."
The study, "Estrogen and Androgen Receptor Activities of Hydraulic Fracturing Chemicals and Surface and Ground Water in a Drilling-Dense Region," will be published in the journal Endocrinology.
Visit EcoWatch's FRACKING page for more related news on this topic.

boonchai wedmakawand / Moment / Getty Images
Delta-8 THC is a cannabis product that has become a bestseller over the past few months, as many consumers find they can legally purchase it from CBD retailers. Its proponents say that Delta-8 THC will give you a nice little buzz, minus some of the more intense feelings (including paranoia) that are sometimes associated with marijuana.

Delta-8 THC is being marketed as a legal option for consumers who either don't live in a state with legal cannabis, or are a little apprehensive about how traditional psychoactive THC products will affect them. But is it all it's cracked up to be? Let's take a closer look, exploring what Delta-8 THC is, how it differs from other THC products, and whether it's actually legal for use.
<h2>What is Delta-8 THC?</h2><p>To better understand <a href="https://www.nytimes.com/2021/02/27/health/marijuana-hemp-delta-8-thc.html" target="_blank">Delta-8 THC</a>, it helps to cover some basics about THC and cannabis.</p><p>Cannabis plants come chock full of different <a href="https://www.nccih.nih.gov/health/cannabis-marijuana-and-cannabinoids-what-you-need-to-know" rel="noopener noreferrer" target="_blank"><em>cannabinoids</em></a>. These are naturally-occuring chemical compounds that bind with receptors throughout your body. They can offer a wide range of mental, emotional, and physical effects; indeed, the healing and therapeutic properties marijuana or <a data-linked-post="2648563694" href="https://www.ecowatch.com/strongest-cbd-oil-2648563694.html" target="_blank">CBD products</a> offer can be attributed to cannabinoids.</p><p>One of the most common cannabinoids is what's known as Delta-9 THC. Simply put, this is the part of marijuana that gets you "high." It's worth noting that Delta-9 THC remains illegal in many states, except for in the most minute doses, and is still illegal at the federal level. CBD products are made with trace amounts of THC, ensuring that consumers can enjoy positive health effects in a perfectly legal way, without the risk of getting high.</p><p>On a chemical level, <a href="https://www.nytimes.com/2021/02/27/health/marijuana-hemp-delta-8-thc.html" rel="noopener noreferrer" target="_blank">Delta-8 THC</a> is not too different from Delta-9 THC; the distinction comes down to just a few molecules. But those molecules make a big practical impact: Delta-8 THC will give you a buzz, but the psychoactive effects are considerably milder than with Delta-9 THC.</p><p>More specifically, many cannabis enthusiasts report that Delta-8 THC helps them feel good but also leaves them relatively clear-headed; and, it doesn't produce the anxiety or jitteriness that often characterize a Delta-9 THC high.</p><p>Additionally, because of the way the law is written regarding Delta-9 THC, some CBD companies now sell Delta-8 THC products in places where traditional cannabis is still illegal.</p><h2>What's the Difference Between Delta-9 THC and Delta-8 THC?</h2><p>Here are the primary differences to note between Delta-9 and Delta-8 THC:</p><ul class="ee-ul"><li>Delta-9 THC is the primary psychoactive ingredient found in marijuana. In other words, it's the part that gets you high.</li><li>Though some states have found workarounds, Delta-9 THC is still illegal under federal law.</li><li>Delta-8 THC is also found in the cannabis plant, though it's not quite as powerful or as well-known. </li><li>Delta-8 THC is milder in its psychoactive effects. And, it's not <em>technically </em>illegal under current law.</li></ul><p>These are just a few of the key distinctions to keep in mind. Delta-8 THC is popular among consumers who want a smoother high, and don't want to violate federal law.</p><h2>Is Delta-8 THC Legal?</h2><p>We noted that Delta-8 THC is not <em>technically </em>illegal. Here, we need to get into some of the nuanced legal considerations that surround this substance.</p><p>First of all, there are plenty of cannabis companies that actively promote Delta-8 THC as a legal way to get high. Again, that's technically true, but is still a point of debate for some.</p><p>For one thing, it's not explicitly listed as an illegal substance. While federal laws, and some state laws, specifically ban Delta-9 THC, Delta-8 THC is never mentioned. More to the point, though, many proponents will cite the<a href="https://www.usda.gov/farmbill" rel="noopener noreferrer" target="_blank"> 2018 Farm Bill</a>. This law legalized several industrial hemp products on a national level, including CBD.</p><p>The Farm Bill also includes some fairly nuanced positions regarding THC. In summary, the law says that hemp and cannabis-derived products are legal so long as they contain less than 0.3 percent Delta-9 THC.</p><p>With that said, some lawyers contend that Delta-8's heyday may soon come to an end. That's because the Farm Bill clears it only so long as it's derived directly from hemp; most of the Delta-8 THC products sold today aren't made from hemp, but rather from synthetically-altered CBD.</p><p>Some of these issues are a little fuzzy, and <a href="https://www.rollingstone.com/culture/culture-features/delta-8-thc-legal-weed-explained-1113859/" rel="noopener noreferrer" target="_blank">the legal future of Delta-8 THC</a> remains a little uncertain. For now, though, many experts would argue that it is legal to purchase.</p><h2>What Kinds of Delta-8 THC Products Are Available?</h2><p><em>Each product featured here has been independently selected by the writer. If you make a purchase using the links included, we may earn commission.</em></p><p>If you're looking to try Delta-8 THC products, you'll certainly find plenty of different products. Dispensaries and legal cannabis stores currently have a trove of products that use this cannabinoid. Some examples include:</p><ul class="ee-ul"><li>Vape cartridges, tinctures, and capsules.</li><li>Beverages made with Delta-8 THC, including some seltzers.</li><li>Edibles, including Delta-8 THC gummy bears, chocolate bars, and more.</li></ul><p>The cannabis industry has really been running with Delta-8 THC, finding creative ways to bring it to market. And chances are, even more products will be springing up in the weeks and months to come. </p><p>It's very important to note that you should only purchase Delta-8 THC products from reputable brands and established cannabis retailers. We do not recommend purchasing any products that contain Delta-8 THC from gas stations or vape shops. If you are looking for a reputable place to explore these products, here are a few brands that we trust and recommend:</p>
<img class="rm-lazyloadable-image rm-shortcode" type="lazy-image" data-runner-src="https://assets.rebelmouse.io/eyJhbGciOiJIUzI1NiIsInR5cCI6IkpXVCJ9.eyJpbWFnZSI6Imh0dHBzOi8vYXNzZXRzLnJibC5tcy8yNjAzNjAyMy9vcmlnaW4uanBnIiwiZXhwaXJlc19hdCI6MTYzMTMxMjAyNX0.wRpb_E9ZFZFNgkYsYh6cleNbTezo16rUeTmifcP_yCk/img.jpg?width=980" id="60683" width="400" height="400" data-rm-shortcode-id="32630bf41fd6909a232194b540c570eb" data-rm-shortcode-name="rebelmouse-image" />
nuleafnaturals.com
<p><a href="https://nuleafnaturals.com/product/full-spectrum-delta-8-thc-oil-30mg-ml/" target="_blank" rel="noopener noreferrer">NuLeaf Naturals Full Spectrum Delta 8 THC Oil</a> is made from organic hemp and organic virgin hemp seed extract. It's available in a 150 mg bottle and a 450 mg bottle, which both provide 15 mg of Delta 8 THC per serving. This formula is also available in a soft gel.</p>
<img class="rm-lazyloadable-image rm-shortcode" type="lazy-image" data-runner-src="https://assets.rebelmouse.io/eyJhbGciOiJIUzI1NiIsInR5cCI6IkpXVCJ9.eyJpbWFnZSI6Imh0dHBzOi8vYXNzZXRzLnJibC5tcy8yNjAzNjE2Ni9vcmlnaW4uanBnIiwiZXhwaXJlc19hdCI6MTY2OTcwNTgzM30.opm4l5-rSqV1HfvrbVE16EEVZvqxI42xgqnsQfL9p2M/img.jpg?width=980" id="2c749" width="400" height="400" data-rm-shortcode-id="a678e76d8cd5e13bae95d9c3ae664b85" data-rm-shortcode-name="rebelmouse-image" />
botanyfarms.com
<p>The <a href="https://www.botanyfarms.com/product/delta-10-thc-vape-cartridge/?aff=14" target="_blank">Botany Farms Delta-10 THC Vape Cartridge</a> actually contains both Delta-10 and Delta-8 THC.This is designed to provide the desired effects of Delta-8 THC but without the drowsiness. They also offer a vape cartridge with a 1:1 concentration of <a href="https://www.botanyfarms.com/product/delta-10-delta-8-thc-vape-cartridge/?aff=14" target="_blank">Delta-8 THC</a> and Delta-10 THC. Note that while vape products can be used to aid in smoking cessation, we do not recommend vaping or smoking because of the negative health effects they can cause.</p>
<h2>What are the Pros and Cons of Delta-8 THC?</h2><p>As you consider whether Delta-8 THC is worth your time, it may be helpful to weigh the pros against the cons.</p><p><strong>Pros</strong></p><p>Let's start with some of the positives:</p><ul class="ee-ul"><li>Delta-8 THC does have psychoactive effects, but it's a milder effect than with traditional Delta-9 THC.</li><li>Delta-8 THC is currently legal and widely accessible in multiple states.</li><li>There are a wide number of products that use Delta-8 THC.</li></ul><p><strong>Cons</strong></p><p>Now, a few of the downsides.</p><ul class="ee-ul"><li>Delta-8 THC isn't quite as commonplace as other cannabis products, including CBD, and some of the options on the market are expensive.</li><li>While this substance is technically legal, there are plenty of uncertainties over its legal future. It's something you want to keep in mind.</li><li>As a relatively new product, Delta-8 THC products are not regulated by the FDA and there is not independent testing in place to verify that it is safe or pure.</li></ul><p>As with any cannabis product, Delta-8 THC has its pros and cons. As you seek the cannabis product that's best for you, it's largely a matter of personal preference.</p><p>Also note that smoking, vaping, or otherwise imbibing any kind of cannabis-related product can carry some medical risks and negative health consequences. If you have any specific concerns, we recommend consulting with your doctor before you try any Delta-8 THC product.</p><p><em><strong>Josh Hurst </strong></em><em>is a journalist, critic, and essayist. He lives in Knoxville, TN, with his wife and three sons. He covers natural health, nutrition, supplements, and clean energy. His writing has appeared in Health, Shape, and Remedy Review.</em></p>