Some homeowners living near shale gas wells appear to be at higher risk of drinking water contamination from stray gases, according to a new Duke University-led study, Increased Stray Gas Abundance in a Subset of Drinking Water Wells Near Marcellus Shale Gas Extraction.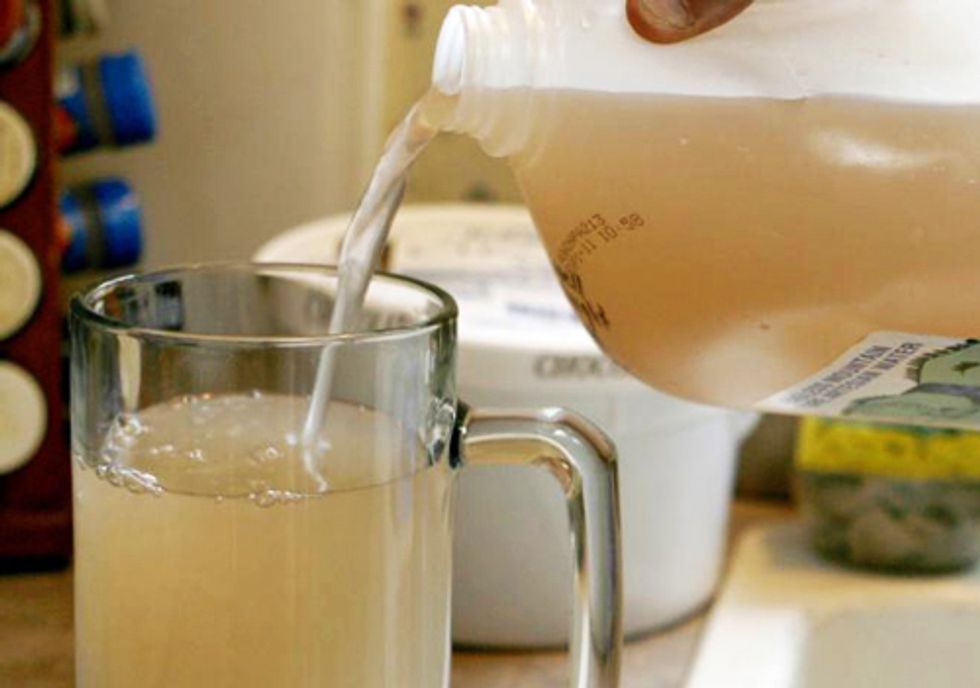 The scientists analyzed 141 drinking water samples from private water wells across northeastern Pennsylvania's gas-rich Marcellus Shale basin.
They found that, on average, methane concentrations were six times higher and ethane concentrations were 23 times higher at homes within a kilometer of a shale gas well. Propane was detected in 10 samples, all of them from homes within a kilometer of drilling.
"The methane, ethane and propane data, and new evidence from hydrocarbon and helium content, all suggest that drilling has affected some homeowners' water," said Robert B. Jackson, a professor of environmental sciences at Duke's Nicholas School of the Environment. "In a minority of cases the gas even looks Marcellus-like, probably caused by poor well construction."
The ethane and propane data are "particularly interesting," he noted, "since there is no biological source of ethane and propane in the region and Marcellus gas is high in both, and higher in concentration than Upper Devonian gases" found in formations overlying the Marcellus shale.
The scientists examined which factors might explain their results, including topography, distance to gas wells and distance to geologic features. "Distance to gas wells was, by far, the most significant factor influencing gases in the drinking water we sampled," said Jackson.
The team published its peer-reviewed findings this week in the online Early Edition of the Proceedings of the National Academy of Sciences.
Shale gas extraction—a process that includes horizontal drilling and hydraulic fracturing—has fueled concerns in recent years about contamination of nearby drinking water supplies.
Two previous Duke-led studies found direct evidence of methane contamination in water wells near shale-gas drilling in northeastern Pennsylvania, as well as possible hydraulic connectivity between deep brines and shallow aquifers. A third study, conducted with U.S. Geological Survey scientists, found no evidence of drinking water contamination from shale gas production in Arkansas. None of the studies found evidence of current contamination by hydraulic fracturing fluids.
The new study is the first to offer direct evidence of ethane and propane contamination.
"Our studies demonstrate that the integrity of gas wells, as well as variations in local and regional geology, play major roles in determining the possible risk of groundwater impacts from shale gas development. As such, they must be taken into consideration before drilling begins," said Avner Vengosh, professor of geochemistry and water quality at Duke's Nicholas School.
"The new data reinforces our earlier observations that stray gases contaminate drinking water wells in some areas of the Marcellus shale. The question is what is happening in other shale gas basins," Vengosh said.
"The helium data in this study are the first in a new tool kit we've developed for identifying contamination using noble gas geochemistry," said Thomas H. Darrah, a research scientist in geology, also at Duke's Nicholas School. "These new tools allow us to identify and trace contaminants with a high degree of certainty through multiple lines of evidence."
Co-authors of the new study are Nathaniel Warner, Adrian Down, Kaiguang Zhao and Jonathan Karr, all of Duke; Robert Poreda of the University of Rochester; and Stephen Osborn of California State Polytechnic University. Duke's Nicholas School of the Environment and the Duke Center on Global Change funded the research.
Visit EcoWatch's FRACKING page for more related news on this topic.
——–
Sign the petition today, telling President Obama to enact an immediate fracking moratorium: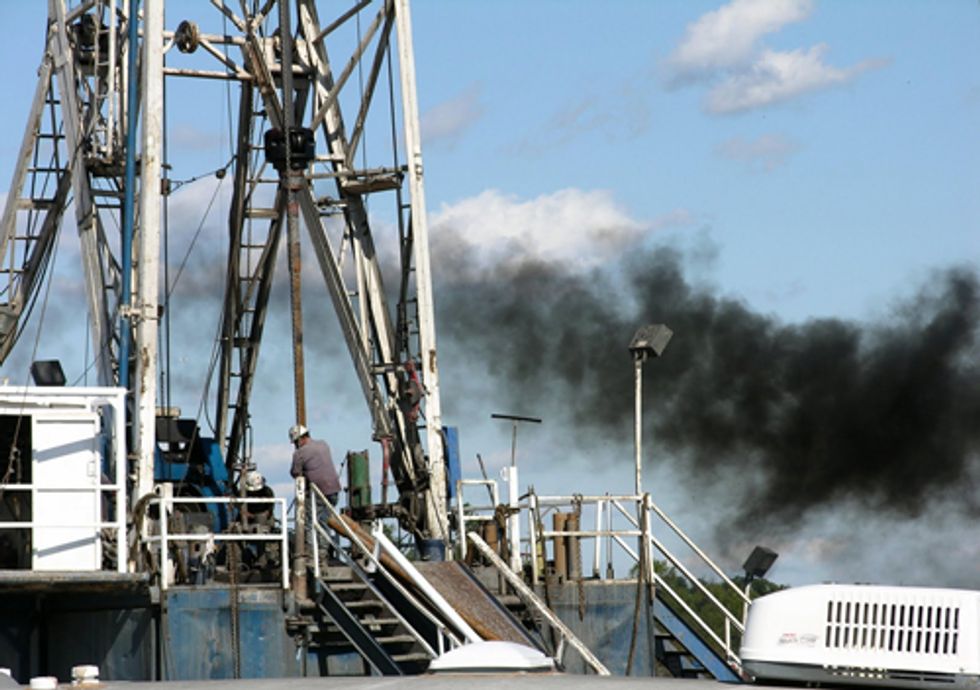 By Andy Rowell
The hype surrounding the U.S. gas industry continues to grow as America moves ever closer to its cherished dream of energy independence.
On Feb. 7, Bloomberg reported that "the U.S. is the closest it has been in almost 20 years to achieving energy self-sufficiency, a goal the nation has been pursuing since the 1973 Arab oil embargo triggered a recession and led to lines at gasoline stations."
On the surface, at least, America's recent gas revolution is great news for people worried about energy security and jobs. Domestic oil output is said to be the highest in eight years.
And as Bloomberg reports, "The U.S. is producing so much natural gas that, where the government warned four years ago of a critical need to boost imports, it now may approve an export terminal."
So America is moving from an importer to having so much gas it has a gas glut. Bloomberg reports that so great is the gas boom that the U.S. could even become the world's top energy producer by 2020.
Other media outlets are full of stories of even more unexplored basins that could have huge gas reserves too.
As any regular reader of this blog will know, the expansion in gas production isn't without a hugely controversial downside—fracking—which has been shown to cause widespread water contamination and ever minor earthquakes.
Ironically, Bloomberg points out that gas glut is forcing down the gas price which is also making the use of alternative energy sources such as solar, wind and nuclear power less attractive. Still, says Bloomberg, "those concerns probably won't be enough to outweigh the benefits of greater energy independence."
But there is another major downside about gas that the oil industry doesn't want you to know about. One which has major ramifications for climate change.
Proponents of natural gas have long argued it is a "clean" fossil fuel, cleaner than oil and a great transition fuel that bridges our addiction to fossil fuels as we head towards renewable energy sources.
But gas may not be as clean as the industry would like you to believe, due to high leakage of methane.
As Nature reported on Feb. 7—"When U.S. government scientists began sampling the air from a tower north of Denver, Colorado, they expected urban smog—but not strong whiffs of what looked like natural gas. They eventually linked the mysterious pollution to a nearby natural-gas field, and their investigation has now produced the first hard evidence that the cleanest-burning fossil fuel might not be much better than coal when it comes to climate change."
Nature reports that researchers at the National Oceanic and Atmospheric Administration (NOAA) and the University of Colorado, Boulder, estimate that gas producers in an area known as the Denver-Julesburg Basin are losing about 4 percent of their gas to the atmosphere, and this does not include potential losses in the pipeline and distribution system, which could also be significant.
This is more than double official estimates by the industry. As Nature argued, "And because methane is some 25 times more efficient than carbon dioxide at trapping heat in the atmosphere, releases of that magnitude could effectively offset the environmental edge that natural gas is said to enjoy over other fossil fuels."
"If we want natural gas to be the cleanest fossil fuel source, methane emissions have to be reduced," argues Gabrielle Pétron, an atmospheric scientist at NOAA and at the University of Colorado in Boulder, and first author on the study, currently in press at the Journal of Geophysical Research. "I think we seriously need to look at natural gas operations on the national scale."
For more information, click here.
EcoWatch Daily Newsletter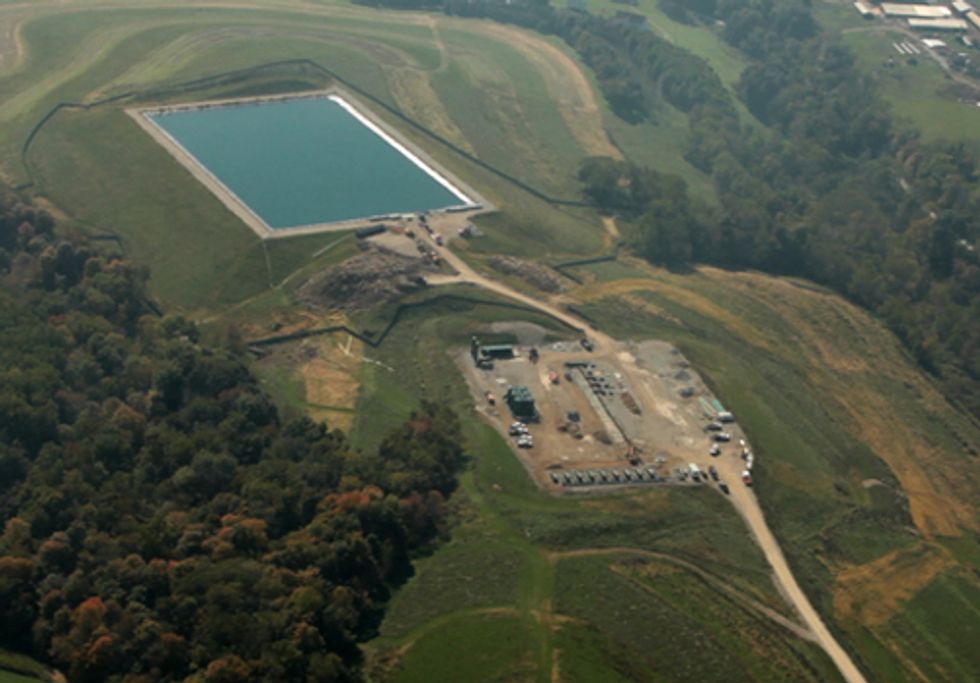 We all know that the affordability, efficiency, and sustainability of cleaner, greener energy will be a major challenge for this century. Some have called natural gas a better and cleaner energy source. Yet, even if we set aside this hot air, the process of extracting the gas (called hydraulic fracturing or fracking) proves problematic for both environmentalists as well as those in proximity to the wells. This article covers five major problems with fracking, based on two SnagFilms from the After the Gas Rush series, you can view by clicking here.
1. Water Pollution
The fracking process involves pumping large quantities of water, chemicals, and sand deep underground. This process produces a huge amount of pressure, which both extracts the natural gas and forces much of the water back to the surface.
The major concern with polluted water is that the salts, radium, other heavy metals, and benzene (a carcinogenic and flammable chemical) are forced back up to the surface with the rest of the wastewater. For efficiency, fracking companies want to reuse this wastewater and they subsequently treat the water so that the excess waste does not plug up parts of the well. Consequently, the products that have been removed (radium, and some other heavy metals) are disposed of. However, the water that gets reused still contains salts and benzene. The water is then pumped back underground, endangering aquifers.
 2. Proximity to Residential Areas—Fumes and Earthquakes
In addition to the risk of water contamination for those near fracking sites, wells also produce excess gases, which are either simply released into the air or burned upon their release. These fumes both leave an odor as well as present the possibility of negative health effects for those in proximity to the wells. Such effects include dizziness, confusion, and nasal bleeding. There is also growing evidence to support the theory that fracking can produce minor earthquakes within the vicinity of fracking wells. This may not be as surprising as it sounds considering the amount of pressure (around 8,000 pounds per square inch) that the gas extraction process exerts on shale rock deep beneath the surface.
 3. Property Rights
It is often the case that when someone buys a property, his or her rights do not extend to the subterranean levels where fracking companies aim to extract natural gas. These multinational companies purchase/lease the mineral rights to the land, and thus they legally are allowed to accesses those minerals through drilling as long as they pay damages to the surface owner (these damages are often do not satisfactorily cover the actually property loss, as average Americans find themselves up against massive corporate interests). Additionally many leases do not require companies to compensate landowners for water contamination. Many American landowners, farmers, and families are thus placed at the mercy of drilling companies who can legally exercise their mineral rights largely regardless of what lays on the surface.
4. Lack of Governmental Regulation
Aside from the government's lack of regulations on carbon emissions, the disposal of fracking waste products needs better oversight. As noted, the wastewater that rises to the surface during fracking is treated and then reused. After treatment, the waste that is extracted from the wastewater is placed in a landfill, as it is exempt from federal regulations pertaining to toxic waste. This lack of regulation does not recognize the fact that such waste can be extremely dangerous for the environment. As described, the cancerous and flammable benzene, other heavy metals, radium, and corrosive salts remain in the waste. However, regardless of how dangerous these chemicals may be, it is not treated as hazardous waste. If the waste is treated as normal garbage, then these toxic materials may endanger people's health and the environment's wellbeing for years to come.
5. Industry Growth
Compounding all of these factors is the fact that the natural gas industry is ballooning. In After the Gas Rush, Roshini Thinakaran states that in Pennsylvania alone 50,000 new wells will be permitted to be drilled over the next two decades. The result of this will be both an explosion in the burning of natural gas as well as in water contamination. One million gallons of toxic wastewater will be produced by each well within the first thirty days of its operation. One can only imagine the degree of environmental damage these wells may have after only a year's time. Similar expansion is also occurring in states such as New York, West Virginia and Ohio.
Below is SnagFilms's After the Gas Rush series. In the films, Roshini Thinakaran leads us into Pennsylvania to see how fracking affects the environment and the lives of those living within the vicinity of fracking wells. We invite you to watch the films here or at snagfilms.com and share them with others interested in the subject.
To see After the Gas Rush, click here.
For more information, click here.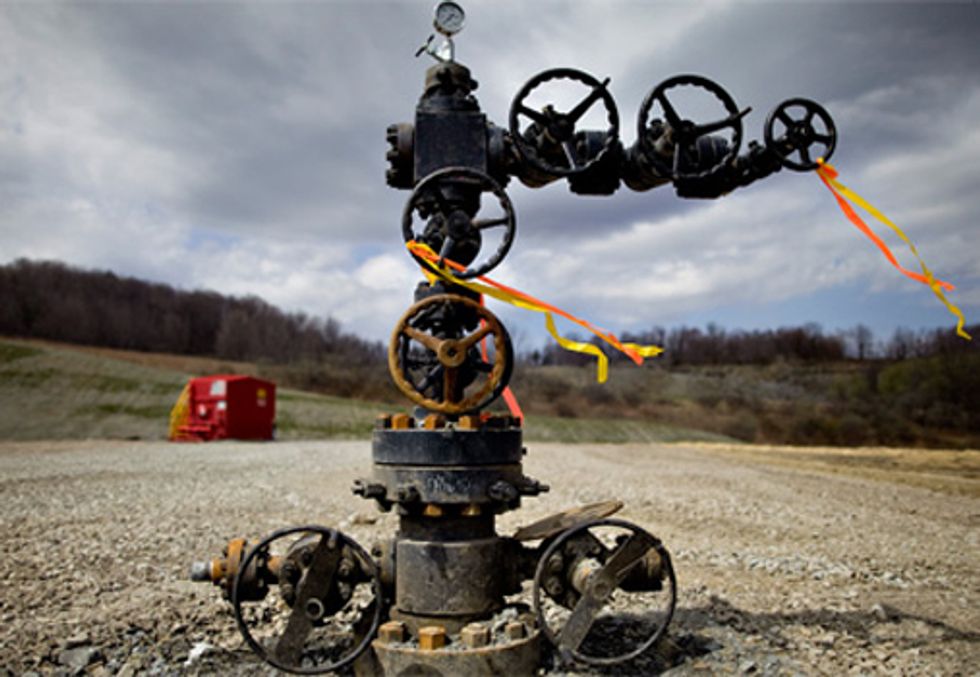 By Andy Rowell
In a decision that will both dismay and worry environmental campaigners and communities facing fracking across Europe, the European Commission has concluded that existing laws are adequate to cover the controversial drilling technique.
A new report undertaken for the European Commission by the Belgian law firm Philippe & Partners, argues that there is no need for more environmental legislation concerning fracking until it reaches commercial scale.
"Neither on the European level nor on the national level have we noticed significant gaps in the current legislative framework, when it comes to regulating the current level of shale gas activities," the study says.
However, in words that are meant to reassure people, the report continued: "However, this is no reason for complacency, since this assessment explicitly refers to the current level of experience and scale of operations as can be expected during the exploration phase."
Although the study was finished last November, it has only just been released by the commission. It also just covered four countries—Sweden, Poland, France and Germany.
But the report argues that activities relating to exploration of shale gas are already subject to EU and national laws and regulations, such as the Water Framework Directive, the Groundwater Directive and the Mining Waste Directive. The use of chemicals is covered by the REACH (Registration, Evaluation, Authorisation and Restriction of Chemical substances) regulation.
"It is a new technology and we do not have a specific legislation on shale gas, because it is so new," said Marlene Holzner, European commission spokesperson on energy. "So the study only says that the existing regulations are applicable for shale gas, that the tool is there and has only to be applied."
Ironically this report is at odds with another report submitted last summer to the commission, which was written for the European Parliament's Committee on Environment, Public Health and Food Safety.
That report called for "consideration to be given to developing a new directive at European level regulating all issues in this area comprehensively." The report, entitled Impacts of shale gas and shale oil extraction on the environment and human health also recommended that for fracking, "all chemicals to be used should be disclosed publicly, the number of allowed chemicals should be restricted and its use should be monitored."
But of course, by the time fracking gets to a commercial scale it could well be too late to monitor all the chemicals being used and to rush in EU-wide legislation, especially given the time it takes to draft legislation and then get it past the EU's various respective bodies.
Meanwhile, there would be huge financial and other pressure from the oil industry to carry on drilling without having to wait for further regulations. It is a scenario that many communities in America are finding to their cost.
The new report will be used by the oil industry as a green light to carry on fracking. Poland, where the fracking revolution is occurring full steam ahead, is planning to begin commercial shale gas production in two years' time. So if laws are to be implemented at the EU level to cover commercial drilling, that needs to happen now.
Not every country in the EU is fracking mad, though.
A couple of weeks ago, thousands of Bulgarians protested against fracking over fears it could poison underground water, trigger earthquakes and pose serious public health hazards. Protestors rallied in more than six Bulgarian cities calling for a fracking moratorium.
"I am opposed because we do not know what chemicals they will put in the ground. Once they poison the water, what shall we drink?" said Olga Petrova, 24, a student who attended a protest in Sofia.
Days later, Bulgaria's National Assembly voted to impose an indefinite fracking ban in the country. France also banned fracking last July, while in Britain fracking has caused minor earthquakes.
Who's going to draft a law to stop that happening again?
For more information, click here.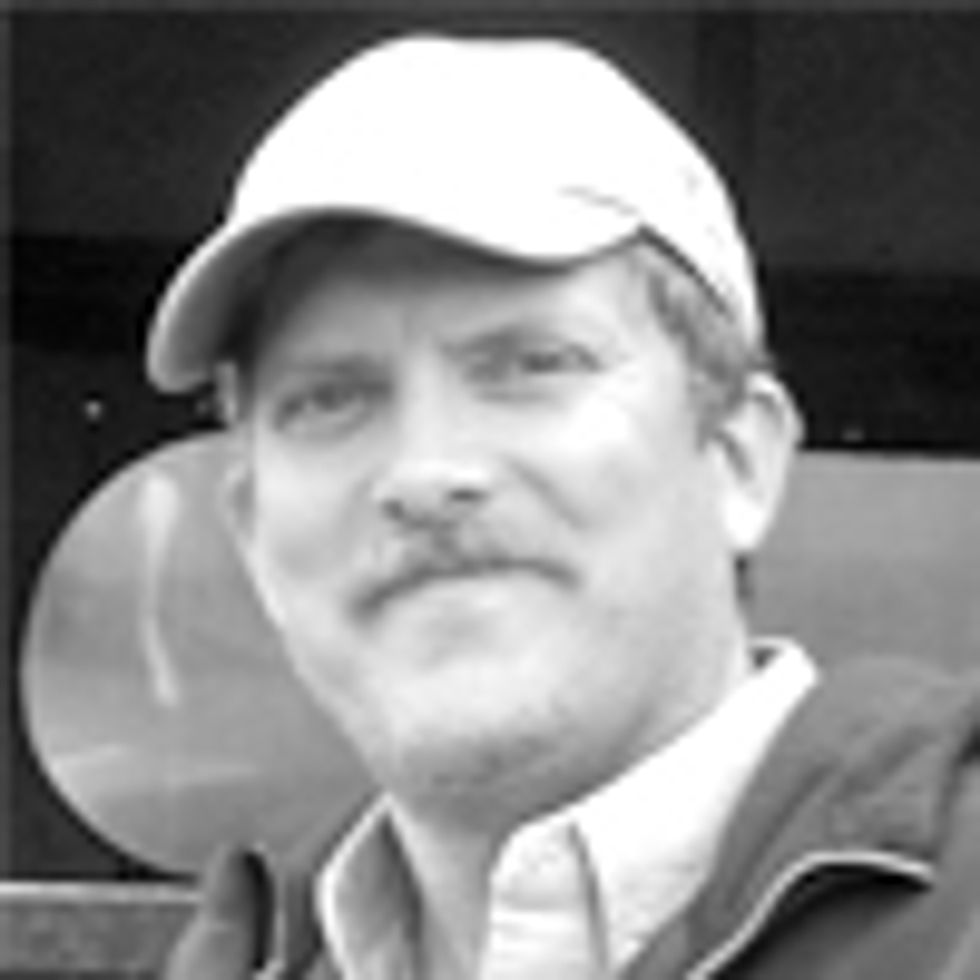 In 1954, Lewis Strauss, then chairman of U.S. Atomic Energy Commission, famously predicted that "Our children will enjoy in their homes electrical energy too cheap to meter ... "  Of course he also (in the same speech) predicted that world hunger would disappear and that we would find a cure for aging. Not surprisingly, folks didn't pay much attention. 
Then in 1964, President Lyndon Johnson announced a major "breakthrough" in nuclear energy. It seemed, due to this breakthrough, that Strauss' vision of a nuclear-powered world was just around the corner. The fact that there had been no breakthrough did not stop the press (around the globe) from reporting this "fact"—and as a result, orders of nuclear power plants surged. 
Just the "idea" of an abundant supply of low-cost fuel was enough.  The fact that the idea was a myth, would not affect governmental decision making for another decade or so.
Now, fast forward to 2011. Amid tremendous fanfare, the natural gas industry has announced the "discovery" of vast, enormous, huge, unlimited gas deposits located in the Northeastern U.S., locked in the Marcellus and Utica shale deposits. With the advent of hydraulic fracturing and horizontal drilling techniques—it  will now be possible to tap these vast resources, effectively doubling our nation's natural gas reserves.
As a result of these announcements, state legislatures across the region have moved quickly to eliminate regulations and barriers that might otherwise delay access to this energy resource. State parks have been opened to allow drilling. Community colleges rush to provide training to support this new and expanding "career path." 
As with nuclear power, it may be decades before we come to understand if this is truly a "breakthrough," or simply another announcement of a breakthrough that wasn't.
How much gas is there, anyway?
In August of 2011, the U.S. Geological Survey issued a report where they lowered previous estimates of recoverable natural gas located in the Marcellus shale deposits from 410 trillion cubic feet, to 84 trillion cubic feet—a reduction of 80 percent of the earlier estimate that caused all the excitement. 
Now, 84 trillion cubic feet is still a lot of gas, but many geologists have since begun to express doubts about even these projections. They cite the fact that the methods of extracting the gas (hydraulic fracturing and horizontal drilling) are relatively new and untested. They also note that wells of this type seem (where they have been used) to produce for only a very short period of time.
In fact, industry experts estimate that output from fractured wells drops by 81 percent after just two years of production—a much faster rate of decline than is seen in traditional natural gas wells.
Even internal U.S. Energy Information Administration documents released by the New York Times indicated that officials within the government were concerned by the "irrational exuberance" of the gas industry regarding these deposits. They note that the profitability projected by the well fields reflect those found in only the most productive wells, and that the industry is using "overly optimistic models" for their projections.
Noted oil-industry geologist Kenneth Deffeyes, in his book Beyond Oil, observed that naturally fractured shale gas deposits have been a source of natural gas since the early 1800s. These are not new sources. But, he argues, that the very nature of the rock makes it a much less efficient storage device of natural gas than, say, sandstone. This is why they have not been widely developed before now.
Given the stone's inherent structural limitations, Deffeyes states simply that "fractured shales are not a candidate for solving a major portion of our energy needs."
How much does it cost to get at the stuff?
Those who advocate hydraulic fracturing as the future of natural gas will face further problems. 
The international financial services company Credit Suisse conducted a detailed study to find just how much it costs to produce natural gas in North America. They found that production costs have more than doubled over the past decade (still looking primarily at "conventional" sources), topping $8 per MMBtu (million British Thermal Units of energy) in 2008.   
At the same time, the natural gas industry has argued that recent "innovations" have dramatically reduced the cost of getting gas out of the ground. But what has been innovative, it appears, is their method of accounting. 
When the government relaxed rules stating that gas reserves no longer needed to be independently verified—most gas producers instantly doubled their stated reserves. On paper it appeared that the cost of getting the gas was cut in half.  In reality (as Credit Suisse found), the costs (that were actually increasing) just appeared to be lower as they were spread over larger (and yet to be seen) estimated amounts of natural gas that might one day (fingers crossed) be extracted from each well.
Another study, conducted by the University of Pittsburgh in 2011, found that gas obtained from wells that use hydraulic fracturing costs approximately 90 percent more than gas from more traditional wells. Other industry analysts simply state that the cost from these "unconventional" sources will add a dollar or two per MMBtu to production costs. 
The Pitt study found that the average cost of developing a well that utilized hydraulic fracturing was approximately $7.6 million in direct costs (others place that cost as high as $10.5 million per well)—as compared with $4 to $5 million for more traditional wells. 
If these non-industry numbers are to be believed, it appears that the cost of producing natural gas from a new well using hydraulic fracturing will average around $9-$10 per MMBtu. Yet, for the past two years the wellhead price of natural gas (the price producers get) has hovered below $4 per MMBtu.
So if the price of natural gas is only $4 and the industry needs to sell the product for over $10 to make any money—how can this be? Aren't they loosing $6 on every sale?  Won't they go out of business?
Ah, if only business were that logical. 
Not all Gas is created Equal
First, it is important to understand that the $10 plus price point is for every NEW (marginal) bit of gas produced. Existing wells that were constructed when costs were much less are still producing relatively cheap natural gas. Some older well fields are still producing at costs less than $1 per MMBtu. Others are producing in the $2-$3 range.  So those operations are still profitable, even at $4 natural gas prices. 
In for a Penny, in for a Pound
Another complicating factor is that gas field speculators may already have spent a great deal (sunk costs) on a well field back when prices seemed to justify the investment. The cost of lease rights, geological surveys, infrastructure development (such as roads and rigs) and the like may already have been spent. So looking at the situation today, the investor is faced with a couple of choices. 
She can abandon the project and simply write off her investment (which might be substantial)—or go ahead and finish the project. If she only needs to invest another $3.50 per MMBtu to begin producing, then it may make sense (from today's perspective) to continue even if she has to sell the gas at $4 per MMBtu (of course, hoping the price will go up over time).
I'll Gladly Pay you Tuesday for a Hamburger Today:
Natural gas is a commodity, and as such, is bought and sold in future's markets (such as Henry's Hub). 
Within these markets, you could, for example, purchase gas that you intend to use right away (called the "spot market").  This would be similar to buying a loaf of bread at the grocery store. They tell you the price, you pay it—then take the bread home and eat it.
Or you might try to lock in a price for some date in the future. For example, currently the price of natural gas is under $4 per MMBtu. If you feel that price is going to go up, you might contract with a supplier to buy his gas in 2014.  You haggle a bit (because at this point you are both just guessing as to what the "spot" price will be in two years). Perhaps you settle on a price of $5.50 per MMBtu. If the price in two years is higher than that—you win (and make some money). If it is lower, you end up paying a higher price for the gas than you would have if you had waited and paid the spot market price.
Large consumers and suppliers of natural gas use this system to protect themselves against wild swings in prices ("hedging" their bets, so to speak). For example, a steel mill that consumes vast amounts of natural gas may be willing to pay a bit of a premium to lock in costs for several years—because rapid price increase might put them out of business (and besides, it makes accounting so much easier).
Sellers may also want to lock in future prices. Back during the summer of 2008, the price of natural gas approached $12 per MMBtu. A smart supplier at that time might have signed contracts for delivery in 2011 at a price of, say $8 per MMBtu. The buyer may have felt she was getting a great deal, locking in a price at two-thirds the then current market price. 
The seller delivers the contract (the gas) in 2011 and is paid $8 per MMBtu at a time when the spot price is only $4 per MMBtu. Well done you. And this was in fact done (or variations of this dance) many times over. But these contracts last only a few years (nobody is willing to speculate too far into the future), so these lucrative futures contracts are expiring. 
So a well that was producing at a breakeven cost of $7 per MMBtu might still be profitable (if the owner had locked in a good futures contract), even though the spot market price is well below the breakeven cost. But now that the futures contract has been filled—the well may no longer be profitable.
Dare I say it?  The Gas Bubble
As we have seen recently with the Internet Bubble and the Housing Bubble—irrational exuberance that is not based on sound economics leads, eventually, to some pretty ugly outcomes. But trying to convince someone who is completely caught up in the moment is (at the risk of another pun)—like shouting down a well. 
But clearly, if you are really losing $4 to $6 on every sale of natural gas—in the long term, you simply cannot sustain that business (and no, you can't make it up in volume). So, what will be the result?
Well, traditionally, gas companies have simply shut down wells until the price rises to profitable levels. And we may see some of this happening. However, much of the current stock value of these companies are tied up in their rosy projections. Cutting production may dim their appeal and nobody whose quarterly bonus is tied to stock performance wants to see that. So, production may stay strong until the economics force it to collapse under its own weight. 
Also, at the moment many large oil companies have determined that natural gas is the fossil fuel of the future. They are investing literally billions of dollars in this "new" industry—so may be willing to take a loss ... for a while.
Inevitably, we will see a dramatic rise in gas prices. If prices rise once again to the $12 per MMBtu level last seen four years ago—then, problem solved (for those producing gas through hydraulic fracturing).  Except ... is it really?
Enter, Renewables
Natural gas does not live in a vacuum. 
In recent years, the cost of renewable energy has decreased dramatically. In 2010 the average cost of a photovoltaic (PV) installation dropped 30 percent. In 2011 it did it again. What was once a high-cost energy alternative is becoming increasingly affordable. Today, for the first time, it is cheaper in much of the nation to install solar panels on your home than to continue to pay the retail cost of electricity.
Oil billionaire T. Boone Pickens famously (over the past several years) first announced plans for a huge wind energy farm in Texas—then dropped those plans when natural gas prices plummeted. He stated before a Senate hearing that his wind energy project was simply uneconomical when natural gas cost only $4 per MMBtu. But when the price rises to $6 per MMBtu, he stated—then wind energy becomes the low cost alternative. 
Should natural gas prices rise—at $10 per MMBtu (the price at which new hydraulic fracturing wells become economic), natural gas becomes a very expensive energy alternative.  Over the long haul—will people continue to use it?
In Summary
So the U.S. natural gas industry is faced with some difficult alternatives and an uncertain future. Traditional supplies are rapidly running out. Many industry experts point to data that indicates that as much as 70 percent of the conventional U.S. natural gas reserves have already been exhausted. So the industry's only alternative is to tap into the unconventional (and vast) reserves such as those found in shale deposits.
However, this unconventional gas is difficult and expensive to recover. So in order for it to be profitable, gas producers must either reduce costs or increase the price for their product. 
Reducing the cost of production (in reality, not on paper) is difficult given the nature of how this gas must be extracted and will likely be made even more difficult as increasing environmental regulations and restrictions are put in place. 
And increasing costs (which will be the inevitable consequence of a declining supply) will make natural gas less and less appealing to consumers who will turn to lower cost alternatives (such as wind and solar).   awmakers might want to take a closer look at the economics of the industry before betting our energy future on shale gas.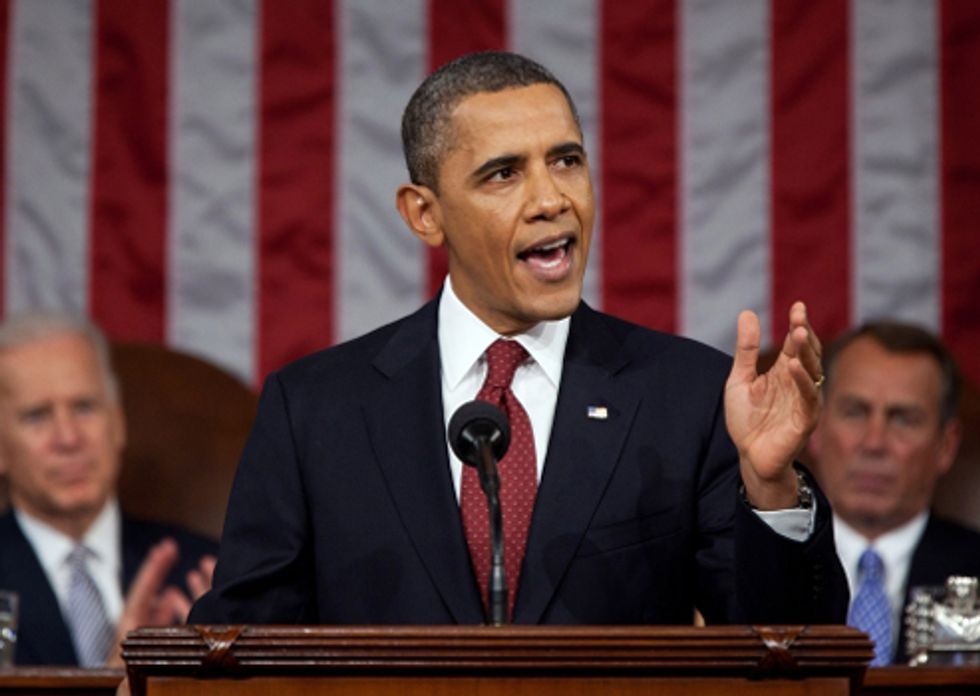 During the 2012 State of the Union address, President Obama appeared ready to throw the full support of his administration behind the expansion of natural gas drilling operations throughout the country, largely ignoring the outrage and worry expressed by those in affected communities.
Heather White, Environmental Working Group's (EWG) chief of staff and general counsel issued this statement:
"We welcome the president's leadership that natural gas companies should disclose the chemicals they are injecting during drilling operations on public lands. But, that isn't going to be enough to satisfy grassroots outrage about the David versus Goliath battles in which local communities find themselves pitted against giant drilling companies. People are worried about their water, their health and the value of their property after drilling. They are beset by frenzied leasing requests from natural gas "land men" and in some cases, experiencing drilling-related earthquakes. These communities have deep, long-term concerns about the environmental and financial impacts of natural gas drilling in key battleground states like Ohio, Pennsylvania, Virginia, Colorado and North Carolina. Yet it seems to us the White House has missed this political reality in its fervor over natural gas drilling.
"We're alarmed that President Obama cited the industry's inflated job numbers and natural gas supply numbers and that he used fracking as an example of a government success story when his administration has launched at least two studies into the safety of the gas drilling and hydraulic fracturing.
"The banking industry has set a powerful example of what can happen when, as the president said, 'regulators had looked the other way, or didn't have the authority to stop bad behavior.' The natural gas industry enjoys exemptions from major environmental laws like the federal Clean Water Act and Safe Drinking Water Act. We can't let these big, unregulated conglomerates determine our sense of fair play or our energy future.
"This natural gas policy may undermine what the president says is the most important mission of our time—'the basic American promise that if you worked hard, you could do well enough to raise a family, own a home, send your kids to college, and put a little away for retirement.' Ask the folks with whom EWG has spoken—and they'll tell you what happened to them—unregulated fracking destroyed that promise."
In a report entitled Gas Drilling Doublespeak, published last month, EWG documented that gas drilling companies routinely warned their investors of a litany of possible disasters—such as leaks, spills, explosions, bodily injury and even death—but regularly failed to mention these risks when persuading landowners to sign leases for drilling rights.
For more information, click here.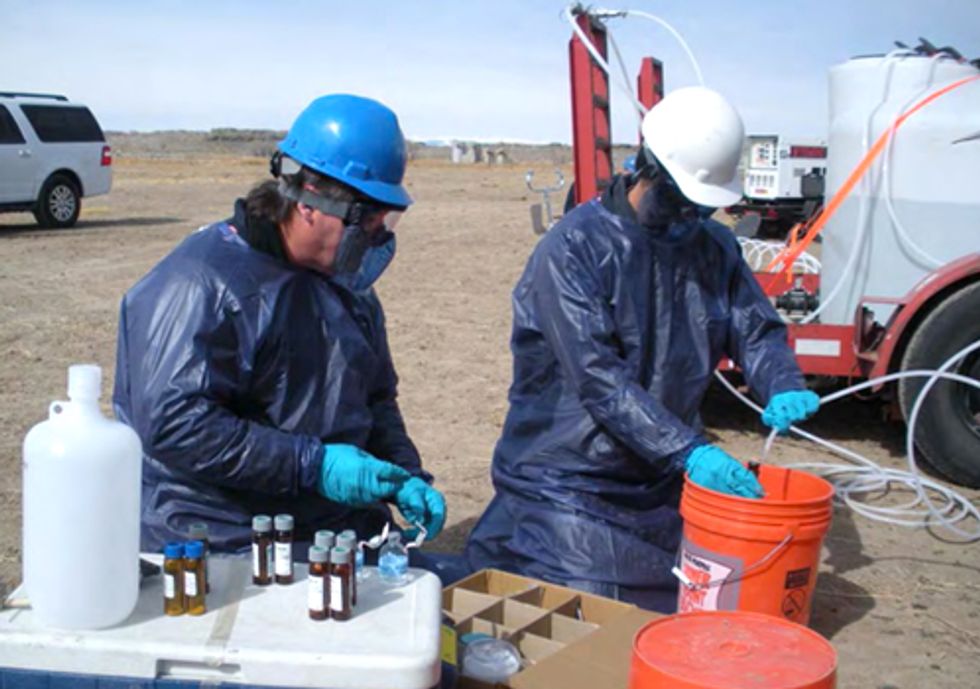 On Jan. 17, Pavillion Area Concerned Citizens (PACC) denounced attacks from the oil and gas industry and the state of Wyoming in a letter to the U.S. Environmental Protection Agency (EPA) regarding its investigation of contaminated drinking water wells in Pavillion, Wy. EPA test results show that hazardous chemicals, commonly used in oil and gas development, contaminated the wells. 
Powder River Basin Resource Council (PRBRC) and Earthworks' Oil and Gas Accountability Project applauded PACC for its letter and launched a national sign on letter campaign urging the EPA to continue with its rigorous investigation and to identify the cause of the contamination.
In December 2011, the U.S. EPA released the draft report of its scientific investigation into the connection between oil and gas development and contamination of drinking water wells. After initial testing in August 2010, the Agency for Toxic Substances and Disease Registry (ATSDR) urged residents not to drink their water or use it for cooking. If the U.S. EPA's draft is finalized with its current conclusions, it will definitively refute the oil and gas industry's claim that hydraulic fracturing has never contaminated drinking water wells.
"Pavillion residents made continual requests for help from the state of Wyoming and industry before seeking assistance from EPA to address the contamination issues. For over 10 years the state refused to help us. That's when we went to the EPA. Now it appears the state is joining the industry in fighting this study tooth and nail," said John Fenton, Powder River Basin Resource Council board member and chair of Pavillion Area Concerned Citizens.
EnCana Oil & Gas USA, which owns and operates more than 200 gas wells in the Pavillion area, denies that drilling is to blame for the contamination, stating that many of the toxins "occur naturally." On Jan. 6, EnCana sent a letter demanding that the U.S. EPA suspend the public comment period on the report claiming that the agency didn't give the company copies of all the data it used to compile the report. Also last week, the Petroleum Association of Wyoming and Wyoming Water Development Commission accused the EPA of not following its own water-testing protocols by holding several water well samples two days too long before conducting tests.
 
PACC, PRBRC and Earthworks' Oil & Gas Accountability Project have long fought to require the regulation of fracking and full and public disclosure of the chemicals used in drilling operations.
"These accusations are a political ploy to cover-up the results and bring a halt to the study," said Gwen Lachelt, director of Earthworks' OGAP. "We've seen this time and again with industry shirking responsibility and the government turning its back on the people who bear the impact of energy development in our country," Lachelt stated.
"The EPA is conducting a scientifically sound investigation of the contamination in the Pavillion area," said Wilma Subra, chemist, president of Subra Company, and board member of the State Review of Oil & Natural Gas Environmental Regulations (STRONGER). "Holding the samples for a longer time did not compromise the results. If anything, longer hold times make the results less likely to indicate contamination," Subra stated.
 
"The American public needs to see this for what it is, a planned assault to undermine the Pavillion study and smear the EPA," said Deb Thomas with Powder River Basin Resource Council. "EnCana did get one thing right. The state of Wyoming should hold their own testing events to the same standards they're demanding from EPA. The state's test results should publicly release all critical information, including all the report-related raw data. That would allow all parties and citizens to understand what regulated and non-regulated chemicals are being found in our drinking water and aquifers."
The area under investigation just east of Pavillion is home to about 160 residents in the middle of the Wind River Indian Reservation, 150 miles east of Grand Teton National Park. Residents share their farming operations with more than 200 oil and gas wells that surround their homes. Toxic chemicals were found in nearly 9 out of every 10 wells sampled. In monitor wells drilled by the U.S. EPA, benzene, a cancer-causing chemical, was found at 50 times the limit safe for human health along with numerous other toxic chemicals including 2-BE, a chemical used in fracking operations. Through the years contamination has been suspected, EnCana supplied and halted drinking water service to residents. In 2011, EnCana tried to sell its entire Pavillion/Muddy Ridge gas field to Legacy Oil & Gas out of Midland, Texas. Legacy backed out of the sale in late November.
For more information, click here.

On Jan. 11, 2012, the U.S. Environmental Protection Agency (EPA) submitted its comments on New York State's revised draft Supplemental Generic Environmental Impact Statement (dSGEIS) and the proposed state regulations and general permit for horizontal drilling and high-volume hydraulic fracturing—better known as fracking—to develop the Marcellus Shale and other low-permeability gas reservoirs.
The U.S. EPA found that the emerging plan to regulate natural gas drilling in the gas-rich Marcellus Shale needs to go further to safeguard drinking water, environmental sensitive areas and gas industry workers. According to the New York State Department of Environmental Conservation (DEC), the U.S. EPA's comments were among an estimated 40,000 received during a four-month comment period on its proposed plan to regulate the environmental risks of drilling.
According to the comments submitted by the U.S. EPA, to free the gas trapped in the Marcellus and other shale formations, drillers pump millions of gallons of water mixed with sand and chemicals deep underground under pressure. The wastewater can get into drinking water by being disposed of at sewage treatment plants. The comments go on to say, that New York's current permitting system for water treatment plants doesn't include limits on pollutants frequently contained in drilling wastewater, such as radionuclides, which can cause cancer at high levels.
The U.S. EPA said it needs to be more closely involved in analyzing and approving any treatment plant's application to accept drilling wastewater. And while the DEC's proposed rules suggest limits on radioactive elements such as radium, the U.S. EPA said it's not clear who would be "responsible for addressing the potential health and safety issues" related to radiation exposure.
The DEC listed a number of out-of-state treatment plants as potential recipients, but due to capacity limits, the U.S. EPA warned that these plants can't handle more wastewater.
What to do with this wastewater is a problem in many states. In Pennsylvania, the Monongahela River, which provides drinking water to 350,000 people, became contaminated in 2009 after the state greatly increased its high-volume hydraulic fracturing industry without a secure plan on how to manage the wastewater.
In Ohio, the chemical-laced fracking wastewater generated in Ohio and other states, including New York and Pennsylvania, is being injected into wells about 9,000 feet deep. On New Year's Eve, the Youngstown, Ohio area, home to many of these injection wells, experienced a 4.0 magnitude earthquake that is believed by experts to be caused by high-pressure liquid injection of fracking wastewater. The Dec. 31 earthquake was the eleventh that region had experience since March 2011.
Health risks to workers close to wastewater and other potentially radioactive materials, including the large amounts of soil and mud unearthed by drilling, concerns the U.S. EPA. "At a minimum, the human health risks to the site workers from radon and its decay products should be assessed along with the associated treatment technologies such as aeration systems or holding for decay," the agency wrote.
Right now all eyes are on the DEC as their final ruling will greatly impact what other states decide to do concerning regulation of this highly-controversial industry. According to Judith Enck, the U.S. EPA regional administrator who issued the agency comments, New York "will help set the pace for improved safeguards across the country."
Stay tuned to EcoWatch.org and our Fracking Page as we'll keep you up-to-date on the DEC ruling and other fracking news.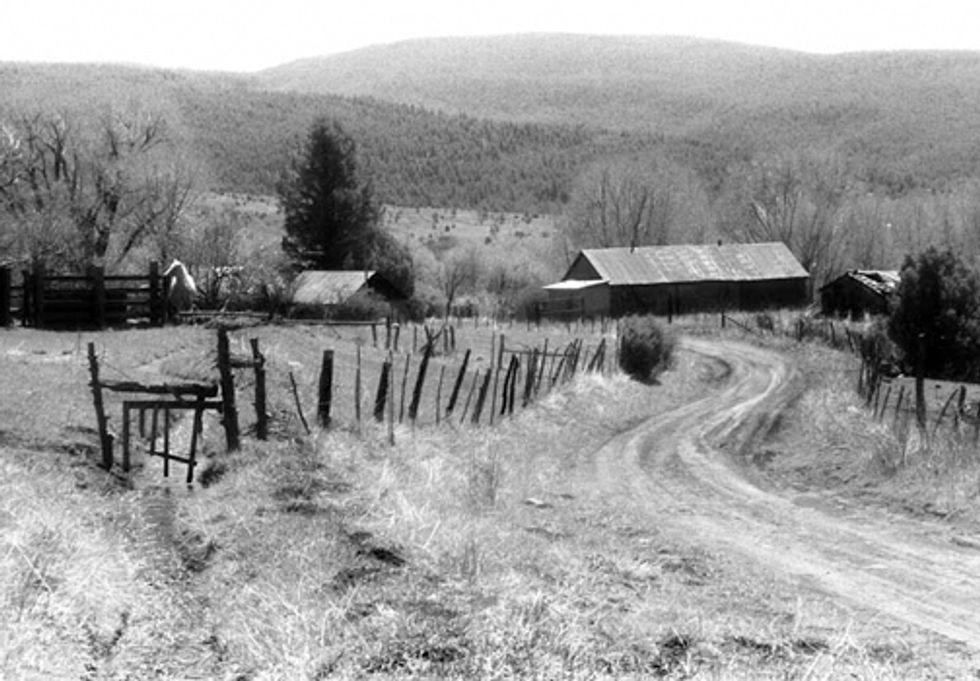 By Kathleen Dudley
What is it that holds this county apart from other places in this vast landscape? The silence at dawn and dusk when all is still, when my awareness of my breath and heartbeat alert me to my aliveness? Is it possibly the prolonged dry and windy seasons that tear and strew everything about with hell's might?
Or could it be the baking heat that draws insects to our parched fields and gardens when that is the last assault we can bear? Or is it the people who have lived here, then and now, who made their mark so deeply into the heart and soul of this land we call Mora County, New Mexico?
Could the land and the people be what is bringing about my own spiritual evolution and awakening my thirst for all that this community has valued for generations?
In a land of mountains, forests, fertile wet valleys and vast open plains, these Hispanic and Indigenous Jicarilla Apache people hold onto their ancestral values and nurture the old ways in spite of the onslaught of the 21st century. This has been a stunning glimpse for me into what I would call the mastery of self-determination and a healing gift for mankind.
Mora County's population is 5,200 with 67 percent of its residents Spanish-speaking, who live in small community villages on ranches and farms. It is a place where people barter and help one another because this is a community that understands its connection to one another, as well as their relationship to the land.
All 1,944 square miles of the county's rural landscape is unadulterated by industrial development, making it one of the last few places in the U.S. where a land-based culture has yet to look into the eyes of corporate industry.
But that is all about to change if Royal Dutch Shell has its way and industrializes this landscape for its hidden natural gas and the money it will bring them. But the citizens of Mora County appear to be aware of what could happen if the oil companies, who currently hold more than 144,000 acres of mineral leases, begin to drill.
They have heard from San Juan County, New Mexico ranchers, who like themselves, are caretakers of their ancestral lands, who have told them that if Mora County citizens "let the oil companies start their engines here, it will be all over for them" and that they would be "lucky to get a job as a dog catcher" or to safely drink their well water, let alone breathe clean air. 
Most of the oil and gas wells that are proposed for Mora County would use the method of hydraulic fracturing, better known as fracking. Fracking is a means of natural gas extraction employed in deep natural gas well drilling. Once a well is drilled, millions of gallons of water, sand and toxic chemicals are injected, under high pressure, into a well. The pressure fractures the shale and props open fissures that enable natural gas to flow more freely out of the well.
The outrage over fracking for the people of Mora County reflects their understanding of all that natural gas development entails. Folks from Farmington, New Mexico, where more than 14,000 operating oil and gas wells have turned their once agricultural land into an industrial zone, speak about the proliferation of prostitution, amphetamine labs, housing shortages, arrests, and high asthma and cancer rates among children. Other reports reveal that in Pavilion, Wyoming, the aquifers now contain benzene, 2-BE and other carcinogenic chemicals where natural gas drilling is taking place. In these communities, there is often a significant rise in the cost of living that ultimately displaces local people from their land.
The people in Mora County understand what is at stake. The bottom line is our knowledge that the local culture will fade as their language is displaced and their ancestral adobes are ploughed under and built over with high rises and country homes in the mad frenzy to welcome the fossil fuel development.
Not unlike other communities, there is caution about how to move forward in the midst of such an affront. However, a citizen committee presented the three-member Mora County Commission with the Mora County Community Water Rights and Local Self-Government Ordinance in September 2011, which was modeled after Pittsburgh, Pennsylvania's CELDF rights-based ordinance that bans oil and gas drilling and fracking. It contains a "Community Bill of Rights," exerting people's inalienable rights to clean water, air, land, health and safety. And, at the core of the ordinance, it exerts the right to local self-government and prohibits harm by industry and writes out corporate "personhood."
This ordinance is outside the box of U.S. corporate-government intention, and today, more than 140 communities have passed these ordinances into law. With the brilliance of the Community Environmental Legal Defense Fund (CELDF), who developed and crafted these community rights-based ordinances, Mora County is exerting their rights to continue to protect all that has been long valued, and to stand in solidarity with the communities across the U.S. who have passed these before them.
Will what has continued to hold the people to their rural landscape and culture in Mora County weather the onslaught of this current corporate-government siege? Will the commission exert their authority on behalf of their ancestors and children? While this land holds sacred the water, people, air and animals, it will take the courage and moral compasses of each the Mora Commissioners to protect these ancestral rights.
For more information, click here.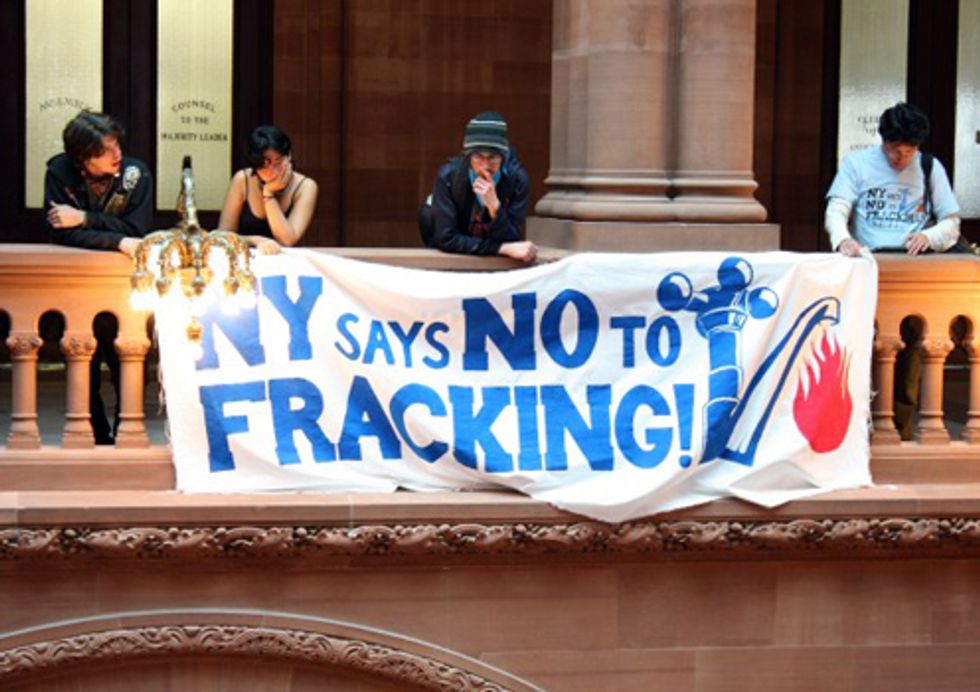 By Kate Sinding
Used with permission of NRDC - Switchboard
Jan. 11 marks the last official moment for New Yorkers across the state to speak up and have their opinions heard about the current proposal for the expansion of fracking here. The public comment period for the state's environmental impact study (known by its full name as the revised draft Supplemental Generic Environmental Impact Statement, or RDSGEIS) and proposed regulations on fracking is coming to a close.
As the deadline approaches, Natural Resources Defense Council (NRDC) is putting the finishing touches on more than 500 pages of detailed technical and legal comments—both from scientific experts and our own expert legal staff—to add to the more than 20,800 comments the state has received so far, and the thousands more expected tomorrow. (A link to our full comments will be made available as soon as they are submitted.) 
Although it would be impossible to give a complete rundown of what we will be submitting, I wanted to share just a few of our top-line takeaways.
First and foremost, although there were some notable improvements and it's clear that the Department of Environmental Conservation (DEC) has done some hard work since the last review, there are still significant deficiencies in both the impact study and the regulations, demonstrating that the state is not prepared to move forward with fracking.
The bottom line—when you rush, you make mistakes, and that is exactly what happened here. Not only are critical analyses still missing and/or incomplete, but the decision to release the impact study together with the draft regulations has resulted in many of the proposed mitigation measures getting lost in translation.
Since July, we've gathered a team of experts—covering the fields of hydrology, geology, toxicology, petroleum engineering, water quality, air quality, health and others—who have provided an in-depth review and critique of the state's findings and have likewise confirmed that there are significant parts of the review where the state needs to go back, re-do the review properly, and reissue it for public review and comment.
On top of the issues we have previously identified, this in-depth technical analysis has identified a host of additional deficiencies. Here are just five of our most pressing new concerns, each one of which, on its own, demonstrates that the environmental review process is far from complete:
There's no plan at all to deal with toxic wastewater.  The wastewater generated from fracking operations is among the worst our expert toxicologist has ever seen. Yet the state has absolutely no plan whatsoever for how the vast amounts of toxic wastewater expected from fracking operations would be managed.  We've seen the impacts of improper wastewater management elsewhere—including contaminated rivers from treatment in municipal sewage plants in Pennsylvania and earthquakes from improper deep well injection in Ohio—and it is inexcusable for the state not to have some plan in place before allowing new fracking here.
The scope of the action is too broad. The current version of the impact study and proposed regulations purport not only to address fracking in the Marcellus shale region, but also shale formations such as the much deeper Utica Shale, yet the study only directly looks at the impacts of drilling in the Marcellus. As our experts point out, every shale formation is different, and so are the environmental concerns with developing different regions. Separate shale formations demand their own environmental reviews. Until that happens, drilling in these other formations should be off the table.
Health risks are omitted entirely. There's next to zero exploration of the health impacts fracking could have on New Yorkers. Yet it is increasingly recognized that a full health impact assessment is a critical component of a thorough examination of the potential risks of fracking. Just last Thursday, the nation's top environmental health expert called out the need for comprehensive new analysis of the health risks of fracking.
Flawed socio-economic analysis doesn't calculate negative impacts. The state itself has acknowledged that it needs to re-do its socio-economic analysis because of glaring omissions. Most significantly, while overstating potential economic benefits, the report includes only seven pages out of more than 250 on the potential negative economic impacts, when we know that there are real and substantial economic risks associated with fracking.
Fracking could be allowed in flood zones and other critical vulnerable areas. The analysis fails to consider how the effects of climate change could result in fracking operations taking place in major flood plains, including places that were under water during Hurricane Irene last year. This presents serious pollution risks, particularly as drilling is proposed to occur in and around flood-prone communities.
Over and over, we've told the state to slow down, yet the Fracking Express keeps barreling forward. Gov. Andrew Cuomo (D-NY) rushed to push out the environmental impact study and proposed regulations after only six months in office, and the result is huge gaps in the proposed regulatory program. These are gaps that would make moving forward with new fracking not only dangerous, but contrary to the purpose of the environmental law that requires the study's creation (the New York State Environmental Quality Review Act, aka SEQRA).
We recognize that there is significant pressure from industry to move forward, but taking the time to undertake a complete, legally sufficient consideration of the impacts of fracking is not too much to ask when the risks involved could have grave, lasting—if not permanent—effects on New Yorkers and communities statewide. One needs only to look next-door to Pennsylvania to see that's true. Fracking is the biggest environmental issue facing New York in a generation, and Gov. Cuomo must stay true to his word that he will not authorize any new fracking unless the risks have been properly and fully evaluated, and necessary safeguards identified and implemented.
For more information, click here.