By Janet Cotter
There's been a lot of "noise" recently about how genetically engineered (GE) crops can help "feed the world" and that they can help agriculture in a climate-affected world. But are these promises real or just hype?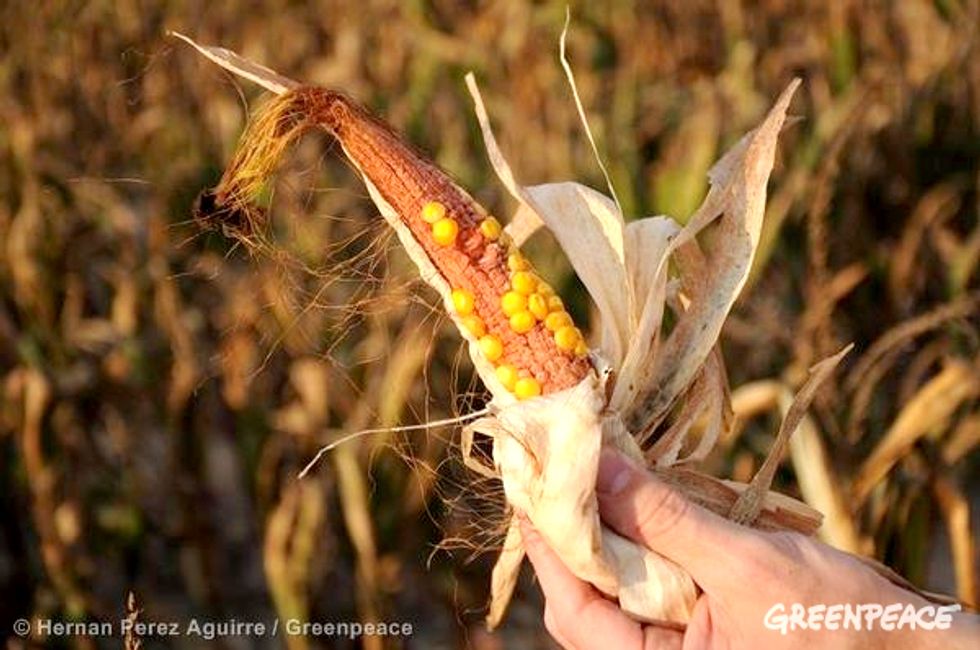 If we look at recent studies, they actually highlight the failures of GE technology to deliver on its promises, and the mounting evidence that agricultural productivity is better served by a focus on ecological agriculture1. For instance, the latest study by the University of Canterbury, New Zealand found that:
Despite the claims that GE might be needed to feed the world, we found no yield benefit when the United States was compared to West Europe, other economically developed countries of the same latitude which do not grow GE crops.
This is not altogether surprising as there simply are no GE crops designed to increase yield. They do not exist.
The majority of currently existing GE crops—for example Monsanto's "Roundup Ready" GE soya—are herbicide tolerant, which allow herbicides to be sprayed liberally, killing all plants apart from the GE crop. This is not good for biodiversity because it affects animals such as birds2 and insects3 by reducing the abundance of plants that they feed on. This might also include bees, adding pressure to already declining populations.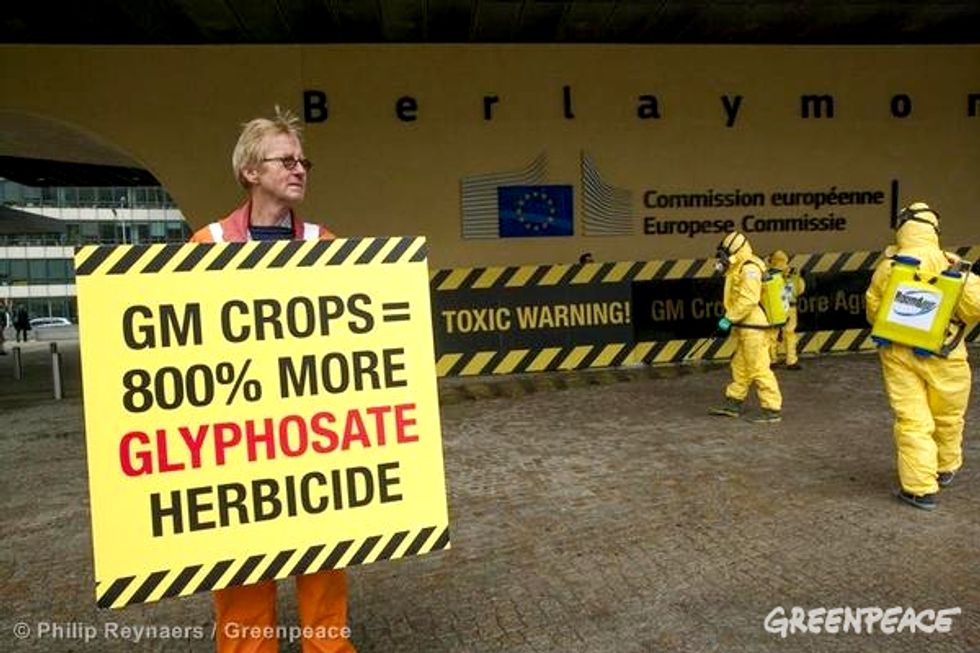 The remainder of GE crops are mostly insect resistant and produce their own pesticide (for example GE Bt corn). These are also not good for biodiversity as these GE crops can kill other insects such as butterflies4. Problems of insect resistance5 and other, secondary6 insect pests, mean that farmers have to continue spraying pesticides with GE Bt crops. With GE crops, farmers are still on the pesticide treadmill.
The reality is that the promised "beneficial" GE crops are stuck at the development stage in the lab. The reason is that scientists are finding that the traits we need to help crops to cope with climate change (e.g. heat tolerance) or increased nutrition (e.g. enhanced vitamins) are actually quite complex and controlled by several genes. Genetic engineering is a crude technology and is no match the tightly controlled network regulating gene expression in cells. For example, "Golden" rice, a GE rice variety, is still in development after 20 years, largely because of the complexity of the genetic engineering.
Meanwhile, advances in conventional breeding mean that several of the crops promised by genetic engineering are already in farmer's fields. For example, both flood and drought tolerant rice are already in farmer's fields and drought resistant maize is available in many parts of Africa where it's needed. Nutrient enhanced crops also exist already—without using genetic engineering but a more sustainable solution is to improve access to a healthy and diverse diet.
It's clear that GE crops are not capable of producing the crops that farmers and consumers need, whilst the quiet revolution in conventional breeding techniques is already producing these crops.
GE crops are stuck with two simple traits: herbicide tolerance and insect resistance. These do not help to "feed the world", but pose threats to human and animal health, as well as biodiversity.
Visit EcoWatch's GE FOOD page for more related news on this topic.
1 Heinemann, JA et al. 2013. Sustainability and innovation in staple crop production in the US Midwest, International Journal of Agricultural Sustainability: DOI:10.1080/14735903.2013.806408
1 Jacobsen SE et al.2013. Feeding the world: genetically modified crops versus agricultural biodiversity. Agronomy for Sustainable Development: DOI 10.1007/s13593-013-0138-9
1 Quist DA et al. 2013. Hungry for Innovation: pathways from GM crops to agroecology. Ch. 19 in: European Environmental Agency (EEA) Late lessons from early warnings: science, precaution, innovation. Vol. 2. EEA Report no 1/2013 pp. 490-517
2 Heard MS et al. 2003a. Weeds in fields with contrasting conventional and genetically modifies herbicide-tolerant crop – I. Effects on abundance and diversity. Philosophical Transactions of The Royal Society London B 358: 1819-1832; Heard MS et al. 2003b. Weeds in fields with contrasting conventional and genetically modified herbicide-tolerant crops. II. Effects on individual species. Philosophical Transactions of The Royal Society London B 358: 1833-1846
3 Pleasants JM & Oberhauser KS 2012. Milkweed loss in agricultural fields because of herbicide use: effect on the monarch butterfly population. Insect Conservation and Diversity doi: 10.1111/j.1752-4598.2012.00196.x
4 Dively GP et al. 2004. Effects on monarch Butterfly larvae (Lepidoptera: Danaidae) after continuous exposure to Cry1Ab expressing corn during anthesis. Environmental Entomology 33: 1116-1125
5 Tabashnik B et al. 2013. Insect resistance to Bt crops: lessons from the first billion acres. Nature Biotechnology 31: 510-521
6 Catangui MA & Berg RK 2006.Western bean cutworm, Striacosta albicosta (Smith) (Lepidoptera : Noctuidae), as a potential pest of transgenic Cry1Ab Bacillus thuringiensis corn hybrids in South Dakota Environmental Entomology 35 1439-1452

EcoWatch Daily Newsletter
waterlust.com / @tulasendlesssummer_sierra .
Each product featured here has been independently selected by the writer. If you make a purchase using the links included, we may earn commission.
The bright patterns and recognizable designs of Waterlust's activewear aren't just for show. In fact, they're meant to promote the conversation around sustainability and give back to the ocean science and conservation community.
Each design is paired with a research lab, nonprofit, or education organization that has high intellectual merit and the potential to move the needle in its respective field. For each product sold, Waterlust donates 10% of profits to these conservation partners.
Eye-Catching Designs Made from Recycled Plastic Bottles
waterlust.com / @abamabam
The company sells a range of eco-friendly items like leggings, rash guards, and board shorts that are made using recycled post-consumer plastic bottles. There are currently 16 causes represented by distinct marine-life patterns, from whale shark research and invasive lionfish removal to sockeye salmon monitoring and abalone restoration.

One such organization is Get Inspired, a nonprofit that specializes in ocean restoration and environmental education. Get Inspired founder, marine biologist Nancy Caruso, says supporting on-the-ground efforts is one thing that sets Waterlust apart, like their apparel line that supports Get Inspired abalone restoration programs.
"All of us [conservation partners] are doing something," Caruso said. "We're not putting up exhibits and talking about it — although that is important — we're in the field."
Waterlust not only helps its conservation partners financially so they can continue their important work. It also helps them get the word out about what they're doing, whether that's through social media spotlights, photo and video projects, or the informative note card that comes with each piece of apparel.
"They're doing their part for sure, pushing the information out across all of their channels, and I think that's what makes them so interesting," Caruso said.
And then there are the clothes, which speak for themselves.
Advocate Apparel to Start Conversations About Conservation
waterlust.com / @oceanraysphotography
Waterlust's concept of "advocate apparel" encourages people to see getting dressed every day as an opportunity to not only express their individuality and style, but also to advance the conversation around marine science. By infusing science into clothing, people can visually represent species and ecosystems in need of advocacy — something that, more often than not, leads to a teaching moment.

"When people wear Waterlust gear, it's just a matter of time before somebody asks them about the bright, funky designs," said Waterlust's CEO, Patrick Rynne. "That moment is incredibly special, because it creates an intimate opportunity for the wearer to share what they've learned with another."
The idea for the company came to Rynne when he was a Ph.D. student in marine science.
"I was surrounded by incredible people that were discovering fascinating things but noticed that often their work wasn't reaching the general public in creative and engaging ways," he said. "That seemed like a missed opportunity with big implications."
Waterlust initially focused on conventional media, like film and photography, to promote ocean science, but the team quickly realized engagement on social media didn't translate to action or even knowledge sharing offscreen.
Rynne also saw the "in one ear, out the other" issue in the classroom — if students didn't repeatedly engage with the topics they learned, they'd quickly forget them.
"We decided that if we truly wanted to achieve our goal of bringing science into people's lives and have it stick, it would need to be through a process that is frequently repeated, fun, and functional," Rynne said. "That's when we thought about clothing."
Support Marine Research and Sustainability in Style
To date, Waterlust has sold tens of thousands of pieces of apparel in over 100 countries, and the interactions its products have sparked have had clear implications for furthering science communication.
For Caruso alone, it's led to opportunities to share her abalone restoration methods with communities far and wide.
"It moves my small little world of what I'm doing here in Orange County, California, across the entire globe," she said. "That's one of the beautiful things about our partnership."
Check out all of the different eco-conscious apparel options available from Waterlust to help promote ocean conservation.
Melissa Smith is an avid writer, scuba diver, backpacker, and all-around outdoor enthusiast. She graduated from the University of Florida with degrees in journalism and sustainable studies. Before joining EcoWatch, Melissa worked as the managing editor of Scuba Diving magazine and the communications manager of The Ocean Agency, a non-profit that's featured in the Emmy award-winning documentary Chasing Coral.