This website uses cookies to ensure you get the best experience while browsing it. By clicking 'Got It' you're accepting these terms.


The best of EcoWatch, right in your inbox. Sign up for our email newsletter!
Complaints of crop damage from the powerful and volatile weedkiller dicamba have increased rapidly around the country.
According to weed scientist and University of Missouri associate professor Kevin Bradley, 17 state governments are investigating more than 1,400 official complaints of dicamba-related injuries this year covering 2.5 million acres.
Tinker Creek filled with sudsy water following chemical spill. WSLS 10 reporter Rob Manch/ Twitter
About 165 gallons of an agricultural-use chemical leaked into a Roanoke-area creek over the weekend, resulting in fish kill estimated in the tens of thousands, Virginia officials announced Monday.
The chemical was identified as Termix 5301, a type of surfactant (detergent-like substance) added to herbicide and pesticide products before application, according to the Virginia's Department of Environmental Quality (DEQ).
EcoWatch Daily Newsletter
Mike Mozart / Flickr
By Katherine Paul
California is officially adding glyphosate, the key ingredient in Monsanto's Roundup herbicide, to the state's list of chemicals and substances known to cause cancer.
Before we dive into the weeds in terms of what the listing does and doesn't mean, and may or may not lead to, let's take a moment to recognize that this is a landmark decision in the ongoing battle against Monsanto's flagship weedkiller.
A new study led by scientists from the Arctic University of Norway has detected "extreme levels" of Roundup, the agricultural herbicide manufactured by Monsanto, in genetically engineered (GE) soy.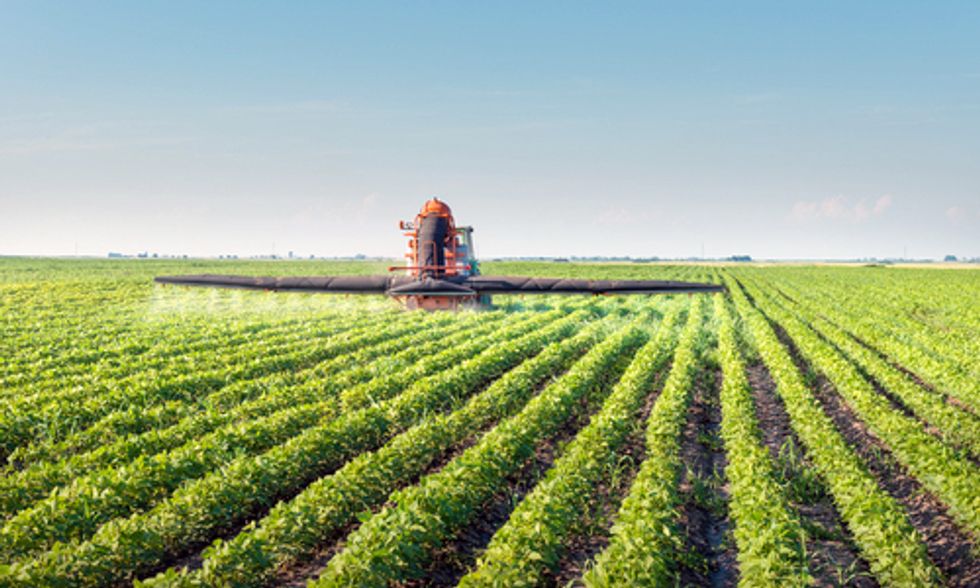 Photo credit: Shutterstock
The study, coming out in June's issue of Food Chemistry and available online, looked at 31 different soybean plants on Iowa farms and compared the accumulation of pesticides and herbicides on plants in three categories: GE "Roundup Ready" soy, conventionally produced (not GE) soy, and soy cultivated using organic practices. They found high levels of Roundup on 70 percent of GE soy plants.
Crop scientists have genetically engineered soy to survive blasts of Roundup so farmers can spray this chemical near crops to get rid of weeds. But some so-called "super weeds" resistant to Roundup have developed. In turn, some farmers use yet more Roundup to try to kill those hardy weeds. This leads to more Roundup chemicals being found on soybeans and ultimately in the food supply.
Who says when Roundup contamination can be considered "extreme?" Monsanto itself. In 1999, the chemical giant defined an "extreme level" of the herbicide as 5.6 milligrams per kilogram of plant weight.
Astonishingly, the Norwegian scientists found a whopping nine milligrams of Roundup per kilogram, on average. What it boils down to is this: every time we eat GE soy we are taking a dose of Roundup with it. This is alarming, because Roundup has been found to be hazardous to human health and sometimes kills human cells. The authors conclude:
This study demonstrated that Roundup Ready [GE]-soy may have high residue levels of glyphosate […] and also that different agricultural practices may result in a markedly different nutritional composition of soybeans […] Lack of data on pesticide residues in major crop plants is a serious gap of knowledge with potential consequences for human and animal health.
Other research has detected Roundup residues in animals and people.
A study led by German researchers found high concentrations of glyphosate, the active ingredient in Roundup, in the urine of dairy cows and humans. This study, published in January in the journal Environmental & Analytical Toxicology, concluded that "the presence of glyphosate residues in both humans and animals could haul the entire population towards numerous health hazards."
Big Ag wants us to believe that there is no difference between GE and conventional crops, but mounting research tells us that just isn't true.
--------
YOU MIGHT ALSO LIKE
Monsanto's Roundup Found in 75% of Air and Rain Samples
Brazil Seeks Ban on Monsanto Herbicide Due to Alarming Toxicity Risks
Supreme Court Denies Family Farmers the Right to Self-Defense From Monsanto Lawsuits
-------- 
Given its size and scope, when Monsanto pushes back, it usually gets what it wants.
That's why organizations like Food Democracy Now! want people to divest from the seed giant and it's also why Sri Lanka is postponing its ban of the active ingredient in the company's top-selling herbicide, Roundup.
Less than a month ago a Sri Lankan minister told reporters that glyphosate would be immediately removed from the country's marketplace because it was the main cause of a kidney disease epidemic. Suddenly, the country isn't so sure about that.
"There is no evidence that glyphosate complexes effectively with arsenic, cadmium, or other nephrotoxic metals," Thomas Helscher, director of corporate affairs at Monsanto, told the Center for Public Integrity. "Glyphosate is actually a relatively poor chelator for heavy metals when compared to pharmacological chelation agents."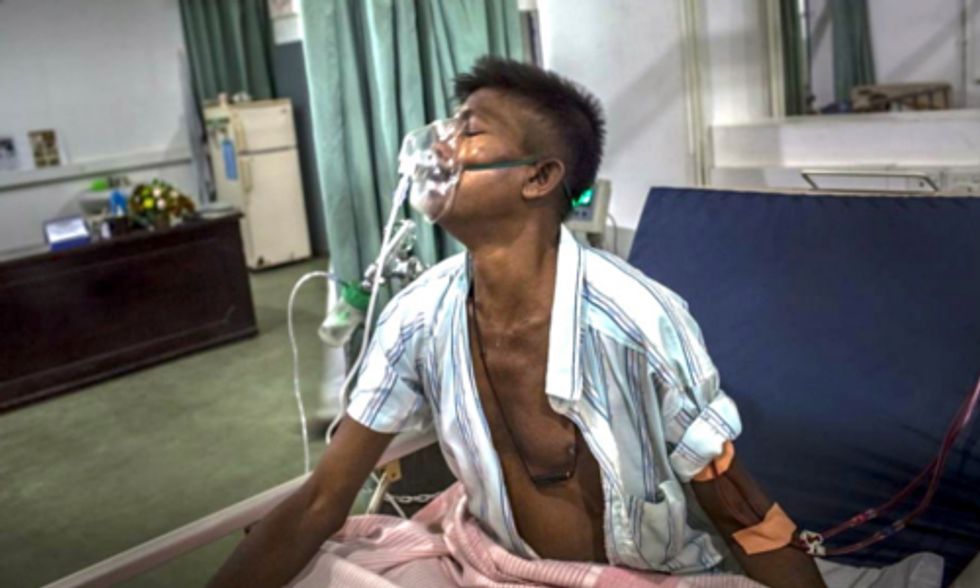 A previous Sri Lankan study by the World Health Organization detected glyphosate and cadmium, along with other pesticides and heavy metals, in kidney patients' urine and in areas impacted by the disease, which also include Central America and India. Initially, Sri Lanka's government believed scientist Dr. Channa Jayasumana's theory that glyphosate bonds with toxic metals in the environment like cadmium and arsenic to create compounds consumed in food and water that do not break down until reaching the kidney.
But now, the government has received complaints from Monsanto, other agrochemical producers and Sri Lankan officials like Registrar of Pesticides, Dr. Anura Wijesekara, all of which have led to halting the ban. Additionally, Director General of Agriculture Dr. Rohan Wijekoon told The Island that the Pesticides Technical Committee has requested a meeting with President Mahinda Rajapaksa about the "far-reaching repercussions" of the ban.
"It is an interesting hypothesis, but we don't have any evidence for it," Wijesekara told the Center for Public Integrity. "[The ban] will affect the tea plantations and also the [rice] paddy cultivation drastically."
A European glyphosate task force also continues suggesting there is no true link to the kidney disease.
Still, an average of 13 people per day had been dying of kidney failure in Sri Lanka prior to Jayasumana's study. The kidney disease was prevalent in at least 89 agrarian divisions in Sri Lanka.
"Glyphosate acts as a carrier or a vector of these heavy metals to the kidney," Jayasumana said.
A 2012 Monsanto study suggested that glyphosate a less potent chelator for heavy metals like calcium, manganese and iron than other plant compounds, but U.S. Geological Survey hydrologist Paul Capel begs to differ.
"As far as I know, there are no other common herbicides that would have this same sort of strength of interactions with metals," he said.
He added that glyphosate was also likely to bond with cadmium. However, Jayasumana's data that could link glyphosate to cadmium or arsenic have yet to published, though preliminary tests of well water consumed by Sri Lankan kidney patients found glyphosate with high levels of calcium and other metals.
——–
YOU ALSO MIGHT LIKE
How You Might Be Investing in Monsanto's Toxic Legacy Without Realizing It
Sri Lanka Bans Monsanto Herbicide After Report Suggests Link to Deadly Kidney Disease
Study Connects Monsanto's Roundup to Fatal Kidney Disease Epidemic
——–
By Janet Cotter
There's been a lot of "noise" recently about how genetically engineered (GE) crops can help "feed the world" and that they can help agriculture in a climate-affected world. But are these promises real or just hype?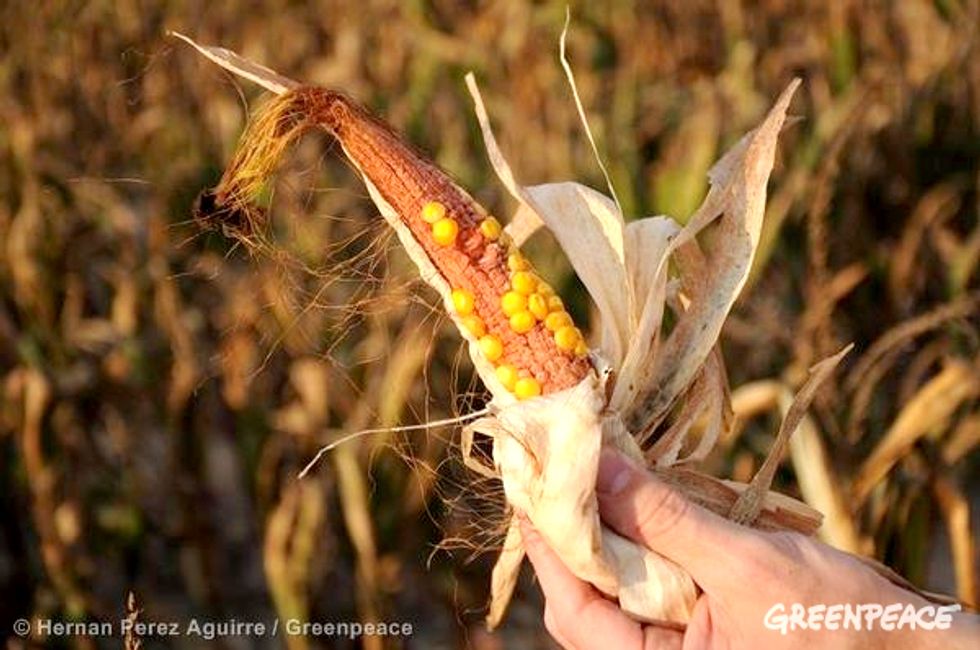 If we look at recent studies, they actually highlight the failures of GE technology to deliver on its promises, and the mounting evidence that agricultural productivity is better served by a focus on ecological agriculture1. For instance, the latest study by the University of Canterbury, New Zealand found that:
Despite the claims that GE might be needed to feed the world, we found no yield benefit when the United States was compared to West Europe, other economically developed countries of the same latitude which do not grow GE crops.
This is not altogether surprising as there simply are no GE crops designed to increase yield. They do not exist.
The majority of currently existing GE crops—for example Monsanto's "Roundup Ready" GE soya—are herbicide tolerant, which allow herbicides to be sprayed liberally, killing all plants apart from the GE crop. This is not good for biodiversity because it affects animals such as birds2 and insects3 by reducing the abundance of plants that they feed on. This might also include bees, adding pressure to already declining populations.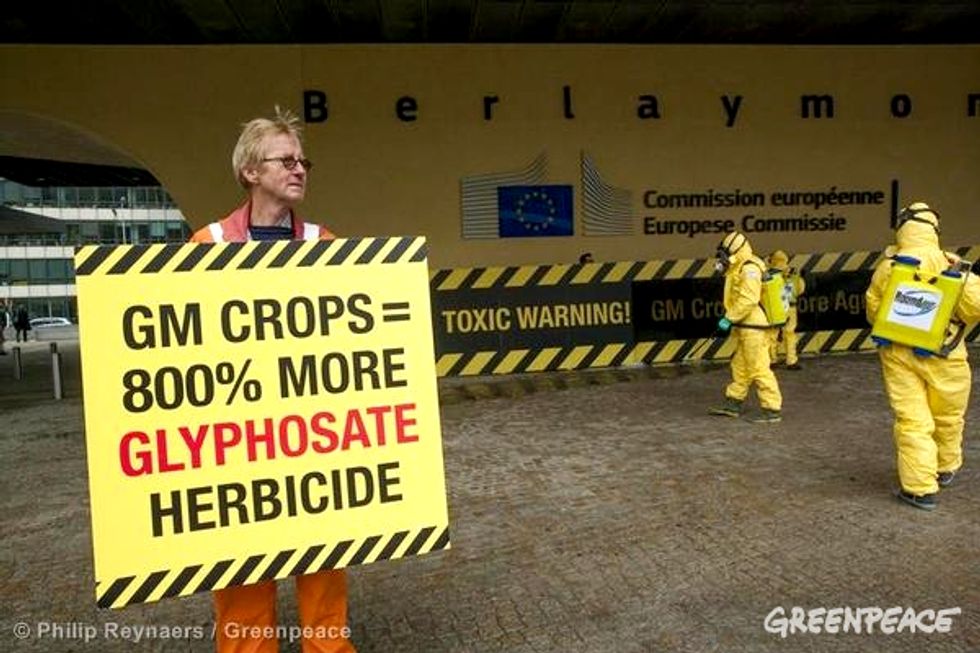 The remainder of GE crops are mostly insect resistant and produce their own pesticide (for example GE Bt corn). These are also not good for biodiversity as these GE crops can kill other insects such as butterflies4. Problems of insect resistance5 and other, secondary6 insect pests, mean that farmers have to continue spraying pesticides with GE Bt crops. With GE crops, farmers are still on the pesticide treadmill.
The reality is that the promised "beneficial" GE crops are stuck at the development stage in the lab. The reason is that scientists are finding that the traits we need to help crops to cope with climate change (e.g. heat tolerance) or increased nutrition (e.g. enhanced vitamins) are actually quite complex and controlled by several genes. Genetic engineering is a crude technology and is no match the tightly controlled network regulating gene expression in cells. For example, "Golden" rice, a GE rice variety, is still in development after 20 years, largely because of the complexity of the genetic engineering.
Meanwhile, advances in conventional breeding mean that several of the crops promised by genetic engineering are already in farmer's fields. For example, both flood and drought tolerant rice are already in farmer's fields and drought resistant maize is available in many parts of Africa where it's needed. Nutrient enhanced crops also exist already—without using genetic engineering but a more sustainable solution is to improve access to a healthy and diverse diet.
It's clear that GE crops are not capable of producing the crops that farmers and consumers need, whilst the quiet revolution in conventional breeding techniques is already producing these crops.
GE crops are stuck with two simple traits: herbicide tolerance and insect resistance. These do not help to "feed the world", but pose threats to human and animal health, as well as biodiversity.
Visit EcoWatch's GE FOOD page for more related news on this topic.
1 Heinemann, JA et al. 2013. Sustainability and innovation in staple crop production in the US Midwest, International Journal of Agricultural Sustainability: DOI:10.1080/14735903.2013.806408
1 Jacobsen SE et al.2013. Feeding the world: genetically modified crops versus agricultural biodiversity. Agronomy for Sustainable Development: DOI 10.1007/s13593-013-0138-9
1 Quist DA et al. 2013. Hungry for Innovation: pathways from GM crops to agroecology. Ch. 19 in: European Environmental Agency (EEA) Late lessons from early warnings: science, precaution, innovation. Vol. 2. EEA Report no 1/2013 pp. 490-517
2 Heard MS et al. 2003a. Weeds in fields with contrasting conventional and genetically modifies herbicide-tolerant crop – I. Effects on abundance and diversity. Philosophical Transactions of The Royal Society London B 358: 1819-1832; Heard MS et al. 2003b. Weeds in fields with contrasting conventional and genetically modified herbicide-tolerant crops. II. Effects on individual species. Philosophical Transactions of The Royal Society London B 358: 1833-1846
3 Pleasants JM & Oberhauser KS 2012. Milkweed loss in agricultural fields because of herbicide use: effect on the monarch butterfly population. Insect Conservation and Diversity doi: 10.1111/j.1752-4598.2012.00196.x
4 Dively GP et al. 2004. Effects on monarch Butterfly larvae (Lepidoptera: Danaidae) after continuous exposure to Cry1Ab expressing corn during anthesis. Environmental Entomology 33: 1116-1125
5 Tabashnik B et al. 2013. Insect resistance to Bt crops: lessons from the first billion acres. Nature Biotechnology 31: 510-521
6 Catangui MA & Berg RK 2006.Western bean cutworm, Striacosta albicosta (Smith) (Lepidoptera : Noctuidae), as a potential pest of transgenic Cry1Ab Bacillus thuringiensis corn hybrids in South Dakota Environmental Entomology 35 1439-1452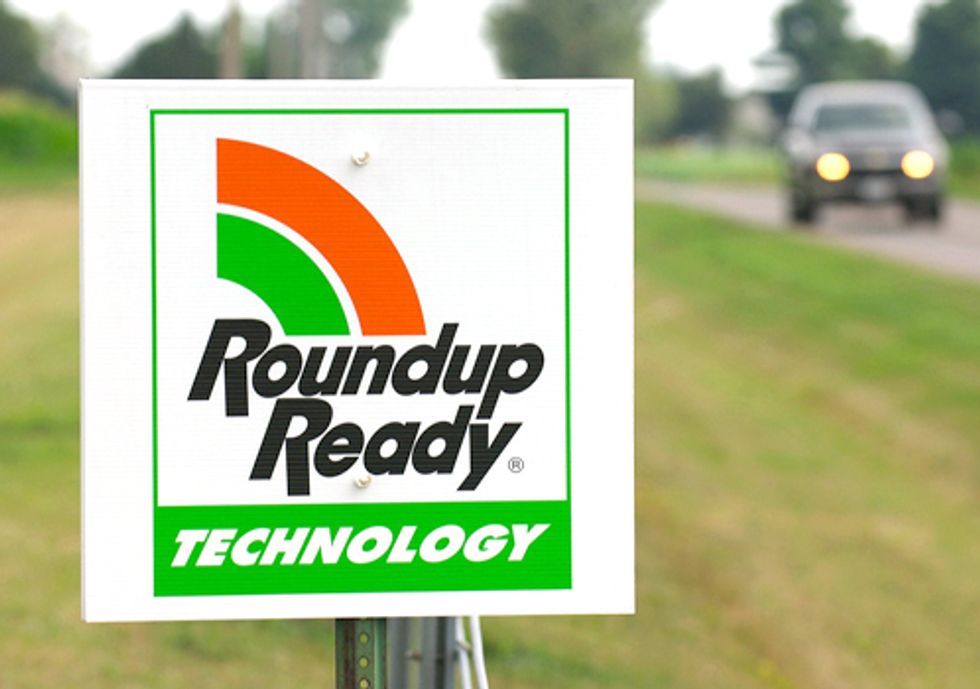 The U.S. Department of Agriculture (USDA) is currently deciding whether or not to approve an application by Dow Chemical for its controversial genetically engineered (GE) corn crop that is resistant to the highly toxic herbicide 2,4-D—one of the main ingredients in Agent Orange.
On Feb. 22, just five days before the close of the comment period, the USDA extended the public comment period on this issue until the end of April 2012. The Center for Food Safety (CFS), the nation's leading organization in the fight against GE crops, was one of the groups that requested this extension from USDA, and we are pleased the agency responded accordingly. If approved, CFS has vowed to challenge USDA's decision in court, as this novel GE crop provides no public benefit and will only cause serious harm to human health, the environment, and threaten American farms.
"Dow's 'Agent Orange' corn will trigger a large increase in 2,4-D use—and our exposure to this toxic herbicide—yet USDA has not assessed how much, nor analyzed the serious harm to human health, the environment, or neighboring farms," said Andrew Kimbrell, executive director of the Center for Food Safety. "This novel corn will foster resistant weeds that require more toxic pesticides to kill, followed by more resistance and more pesticides—a chemical arms race in which the only winners are pesticide/biotechnology firms."
If approved, millions of acres of "Agent Orange" corn could be planted as early as next year, raising concern for its adverse health impacts. 2,4-D was one of the main ingredients in Agent Orange, the chemical defoliant used by the U.S. in the Vietnam War. Agent Orange was contaminated with dioxins, a group of highly toxic chemical compounds, which are responsible for a host of serious medical conditions—from diabetes to cancer to birth defects—in Vietnam veterans as well as Vietnamese and their children. Industry's own tests show that 2,4-D is still contaminated with dioxins.
"Many studies show that 2,4 D exposure is associated with various forms of cancer, Parkinson's Disease, nerve damage, hormone disruption and birth defects," said Dr. Amy Dean, an internal medicine physician and president-elect of the American Academy of Environmental Medicine. "Because it poses significant health risk, exposure should not be increased, but significantly reduced to protect the public's health."
2,4-D drift and runoff also pose serious risk for environmental harm. Because it is such a potent plant-killer, 2,4-D can harm animals by killing the plants they depend on for habitat and food. The U.S. Environmental Protection Agency and the National Marine Fisheries Service have found that 2,4-D is likely having adverse impacts on several endangered species, even now. 2,4-D is currently used to control weeds primarily in cereal grains and lawns. Its use in corn has been extremely limited. USDA's approval of 2,4-D resistant GE corn will increase the overall use of this toxic herbicide, worsening these impacts and likely placing many other species at risk.
American farmers are also rightly concerned that the introduction of 2,4-D resistant corn will threaten their crops—2,4-D drift is responsible for more episodes of crop injury than any other herbicide. "In my experience, 2,4-D is an herbicide that can and does drift considerable distances to damage neighboring crops," said Indiana farmer Troy Roush. "We can expect greatly increased use of 2,4-D with Dow's new corn, and that could wreak havoc with soybeans, tomatoes, and other crops my neighbors and I grow."
The advent of Dow's 2,4-D resistant corn is a clear indication that first-generation genetically engineered, herbicide-resistant crops—Monsanto's Roundup Ready (RR) varieties—are rapidly failing. RR crops, which comprise 84 percent of world biotech plantings, have triggered massive use of glyphosate (Roundup's active ingredient) and an epidemic of glyphosate-resistant weeds. These resistant "superweeds" are regarded as one of the major challenges facing American agriculture.
Dow now falsely suggests that 2,4-D crops (2,4-D soybeans and cotton are also under development) are the solution to weed resistance. Far from solving the problem, however, a peer-reviewed study recently published in the prestigious journal Bioscience, entitled Navigating a Critical Juncture for Sustainable Weed Management, suggests that these new GE crops will pour oil on the fire, triggering an outbreak of still more intractable weeds resistant to both glyphosate and 2,4-D.
USDA's public comment period on 2,4-D resistant corn is open until April 27th. Comments may be submitted to the agency through CFS's action link by clicking here.
For more information on 2,4-D corn, see CFS's two-page fact sheet and more extensive Food Safety Review.
For more information, click here.
—————
The Center for Food Safety is a national, nonprofit, membership organization founded in 1997 to protect human health and the environment by curbing the use of harmful food production technologies and by promoting organic and other forms of sustainable agriculture.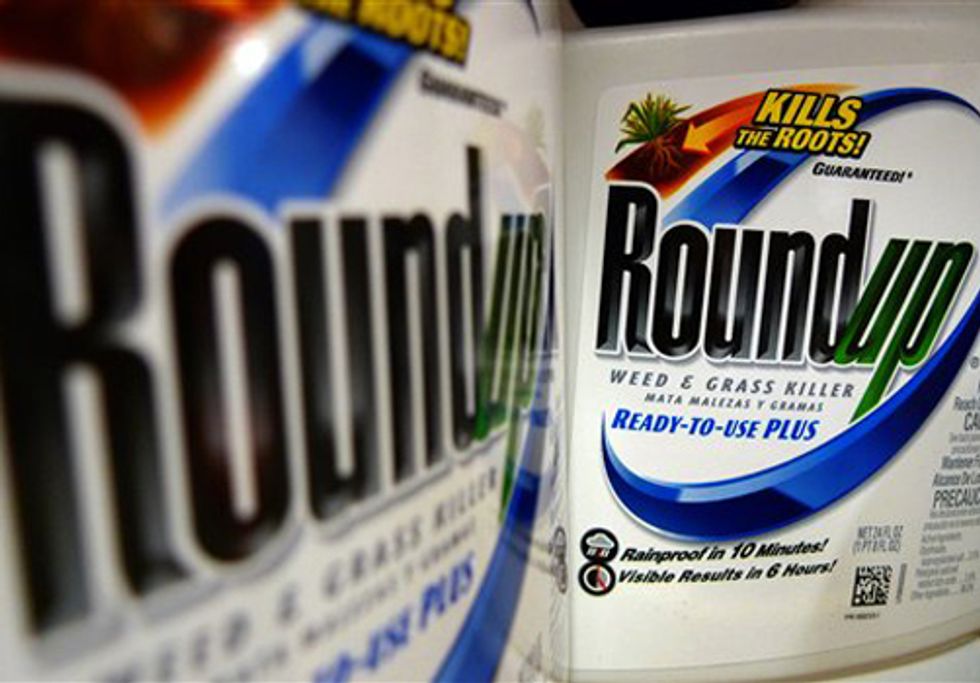 A French court has found U.S. chemical giant Monsanto Co. guilty of pesticide poisoning in the case of a French farmer who became ill after exposure to one of the company's herbicides, according to Reuters. The case is significant in that it sets precedent for other cases alleging pesticide poisoning or negligence in reporting of potential effects on human health resulting from pesticides. The court has said it will seek an expert opinion regarding the farmer's losses in order to determine the appropriate amount of damages he should be rewarded.
The case stems from an incident in which the farmer, Paul Francois, inadvertently inhaled Monsanto's Lasso pesticide when cleaning his sprayer tank on his farm in southern France in 2004. He then began experiencing memory loss, headaches, and stammering, among other neurological problems. This led to his decision to file suit against Monsanto, asserting that the company did not provide adequate warnings on the product label that would indicate these symptoms could result from exposure. The court agreed with Mr. Francois, stating that, "Monsanto is responsible for Paul Francois's suffering after he inhaled the Lasso product … and must entirely compensate him," according to Agence France-Presse (AFP).
Lasso is a general herbicide for grasses and some broadleaf weeds whose active ingredient is alachlor. Before Roundup, Lasso was one of Monsanto's biggest products and became one of the most widely used of any pesticide in the U.S. in the 1980s. Alachlor is a highly toxic chemical that is widely considered an endocrine disruptor and has been linked to kidney and liver damage as well as birth and developmental defects. It is classified by the U.S. Environmental Protection Agency (EPA) as likely to be carcinogenic in high doses. Nonetheless, it remains registered for use through the U.S. In 1987, the state of Massachusetts attempted to ban the chemical, but was fought by Monsanto, which successfully convinced the state's pesticide board to make alachlor a restricted use chemical instead of banned. The chemical was banned throughout the European Union in 2007, including in France, where the Francois incident occurred. It is registered for use in the U.S.
Numerous other cases have been filed seeking damages from chemical companies due to pesticide poisonings, but they have often suffered because of the difficulty of linking chemical exposure to a particular person's chronic illness. However, the Francois case was able to demonstrate that it was in fact the pesticide that caused harm because it was linked to a specific incident involving acute exposure, rather than long terms effects after repeated, chronic exposure. The problem with trying to prove cases regarding chronic exposure was summarized by another farmer, who told Reuters, "It's like lying on a bed of thorns and trying to say which one cut you."
A lawyer for Monsanto said the company was disappointed with the decision and that it will explore appealing to a higher court.
Monsanto and its products are currently involved in several other lawsuits, largely stemming from its line of herbicide tolerant "Roundup Ready" crops. A lawsuit filed by the Public Patent Foundation on behalf of family farmers, seed businesses, organic agricultural organizations, and environmental groups (including Beyond Pesticides) seeks to prevent the chemical company from asserting its patents and suing farmers who are unwittingly found to have incidental amounts of patented herbicide-tolerant seeds in their fields. Oral arguments in this case were heard last month.
Beyond Pesticides is also a plaintiff in another lawsuit involving genetically engineered crops led by attorneys for the Center for Food Safety (CFS), Earthjustice, and farm and environmental groups. The lawsuit filed against the U.S. Department of Agriculture (USDA) argues that the agency's 2011 unrestricted approval of Monsanto's genetically engineered alfalfa is unlawful. For more information on genetically engineered crops, see Beyond Pesticides' webpage.
Chemical companies' argument that people in the U.S. do not have a right to sue for damages associated with registered pesticides lost in the U.S. Supreme Court in 2005 in Bates et al v. Dow AgroSciences LLC. The Supreme Court ruled that citizens damaged by pesticides have the right to sue producers of these toxic products, finding that federal pesticide law does not offer adequate protection from "manufacturers of poisonous substances." Dow Chemical Company, supported by the Bush administration at the time, argued that, because its products are registered by EPA, chemical manufacturers should be shielded from litigation.
For more information, click here.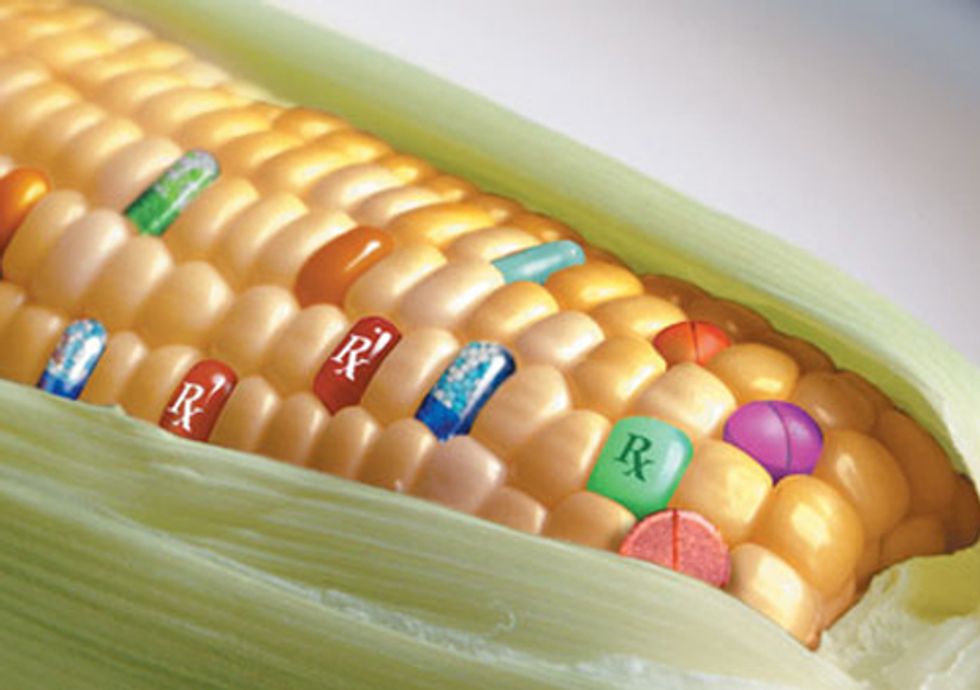 Monsanto's marketing efforts would have you believe that its product line—centered around genetically engineered (GE) seeds and the chemicals used to grow them—is a silver bullet to addressing the world's food and agricultural challenges. And this sales pitch has been extremely effective—so effective, in fact, that even well-educated elected officials, anti-hunger advocates, and everyday people often assume that such an approach is the only option to prevent hunger, reduce pollution, and adapt to climate change. These misconceptions in turn drive important policy decisions, including research priorities and allocation of taxpayer dollars.
The Union of Concerned Scientists' Eight Ways Monsanto Fails at Sustainable Agriculture rebuts these myths and demonstrates that the company's practices are actually holding back the development and expansion of better, cheaper, science-based ways of achieving results for farmers, consumers, and the environment.
But we don't have $120 million to spend on lobbying and PR efforts like Monsanto does to help us get attention to this critical issue—and that's where you come in. We need your help to set the record straight on Monsanto and its products' shortcomings, and give sustainable agriculture a fighting chance. Help change the conventional wisdom, one tweet or Facebook post at a time. And if you're not on Twitter or Facebook, you can help spread the word here.
Eight ways Monsanto fails at sustainable agriculture—What's your "favorite"?
1. Promoting Resistance
Monsanto's RoundupReady and Bt technologies lead to resistant weeds and insects that can make farming harder and reduce sustainability.
2. Increasing Herbicide Use
Roundup resistance has led to greater use of herbicides, with troubling implications for biodiversity, sustainability and human health.
3. Spreading Gene Contamination
Engineered genes have a bad habit of turning up in non-GE crops. And when this happens, sustainable farmers—and their customers—pay a high price.
4. Expanding Monoculture
Monsanto's emphasis on limited varieties of a few commodity crops contributes to reduced biodiversity and, as a consequence, to increased pesticide use and fertilizer pollution.
5. Marginalizing Alternatives
Monsanto's single-minded emphasis on GE fixes for farming challenges may come at the expense of cheaper, more effective solutions.
6. Lobbying and Advertising
Monsanto outspends all other agribusinesses on efforts to persuade Congress and the public to maintain the industrial agriculture status quo.
7. Suppressing Research
By creating obstacles to independent research on its products, Monsanto makes it harder for farmers and policy makers to make informed decisions that can lead to more sustainable agriculture.
8. Falling Short on Feeding the World
Monsanto contributes little to helping the world feed itself, and has failed to endorse science-backed solutions that don't give its products a central role.
Got other ideas for how Monsanto fails at sustainable agriculture? Tweet your response with the hashtag #MonsantoFail.
For more information, click here.