This website uses cookies to ensure you get the best experience while browsing it. By clicking 'Got It' you're accepting these terms.


The best of EcoWatch, right in your inbox. Sign up for our email newsletter!
Children's books about the environment. U.S. Air Force photo / Karen Abeyasekere
Reading, writing, arithmetic ... and climate science. That doesn't have the same ring as the "three Rs" of education, but Connecticut could one day require the subject to be on the curriculum, The Associated Press reported.
A Connecticut state lawmaker is pushing a bill to mandate the teaching of climate change in public schools throughout the state, starting in elementary school.
EPA Administrator Scott Pruitt speaking at the 2017 Conservative Political Action Conference in National Harbor, Maryland.
Gage Skidmore / CC BY-SA 2.0
Newly released emails show that the U.S. Environmental Protection Agency (EPA) under Scott Pruitt has routinely been in contact with one of the most prominent climate denier groups, the AP reported this weekend.
EcoWatch Daily Newsletter
iStock
In a rebuke to efforts by the Heartland Institute and at least 10 state legislatures, a large majority of Americans believe climate change should be taught in schools, the Yale Program on Climate Change Communication (YPCCC) reported Wednesday.
When the YPCCC asked Americans, "Should schools teach our children about the causes, consequences, and potential solutions to global warming?", a national average of 78 percent either somewhat or strongly agreed that they should.
Gina Loudon and administrator of the U.S. Environmental Protection Agency Scott Pruitt speaking at the 2017 Conservative Political Action Conference (CPAC) in National Harbor, Maryland. Gage Skidmore
By Ashley Braun
On a Monday morning at the end of October, Rob Ross asked a group of Earth scientists and educators a question: How many of them had received copies of the Heartland Institute book Why Scientists Disagree About Global Warming?
You could feel an immediate sense of frustration in the air. Roughly half of them raised their hands. The Heartland Institute is a Chicago-based think tank that rejects the scientific consensus that humans are changing the climate and has received funding from the conservative billionaire Koch brothers and fossil fuel industry.
Four Democratic senators sent a letter to Education Sec. Betsy DeVos this week calling out her support of President Trump's decision to pull out of Paris.
Twitter / @CityLightsUF
By Daisy Simmons
When Kelsey Singer, a student at Cedar Ridge High School in Round Rock, Texas, learned about a book her teacher had received in the mail—Why Scientists Disagree About Global Warming—she was perplexed and intrigued. Just who was responsible for what she considered to be a misinformation campaign?

By Brenda Ekwurzel
I have had the thrill of sharing the latest discoveries in the classroom with students who asked probing questions, when I was a faculty member of a university. That journey of discovery is one that parents and family members delight in hearing about when students come home and share what they have found particularly intriguing.
The Heartland Institute is trying to nurture the next generation of climate change deniers.
The conservative and libertarian think tank has sent out 25,000 copies of the organization's book, Why Scientists Disagree About Global Warming, and an accompanying 10-minute DVD to 25,000 science teachers this month, according to a Frontline report. The book argues that climate change is not settled science.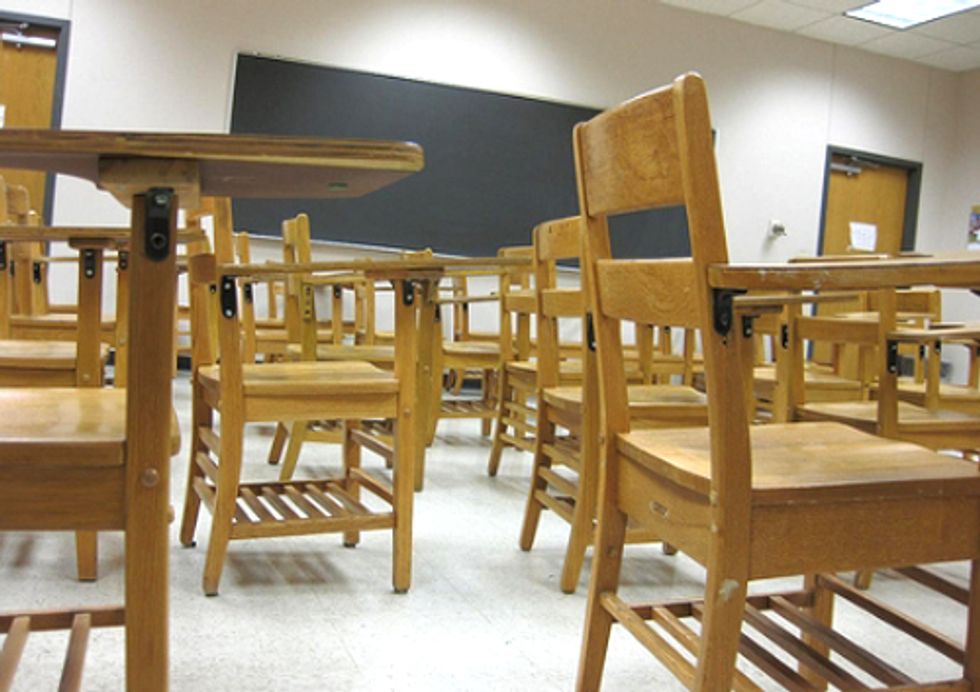 By Richard Littlemore
An energy industry public relations man and lobbyist with no background in climate science has infiltrated Carleton University in the Canadian capital of Ottawa, teaching a course on climate change denial that other Carleton professors describe as "a source of embarrassment to the institution."
Tom Harris, who originally trained as a mechanical engineer, has been a strategist for the climate change denial industry for at least a decade. A favourite presenter misrepresented as a PhD at the Heartland Institute's regular climate change denial conferences, Harris has worked directly for companies like the international PR giant APCO Worldwide and for energy industry lobby firms such as Toronto's High Park Group. More recently, he has launched or led at least three phony "grassroots organizations"—energy industry front groups that promote confusion or denial in climate science.
Now, Harris is teaching at Carleton, passing on a mix of climate denial mythology and flat out fiction, telling students that the planet isn't really warming, that (if it is), humans aren't to blame, that (if they are) if might be a good thing and that, regardless, it's just too complicated for mere scientists to figure out. ("The climate problem is so difficult that we might never solve it.")
Harris's ridiculous claims have been laid bare in a new report by the Canadian Committee for the Advancement of Scientific Skepticism (CASS), which has gone through videotapes of lectures from Climate Change: An Earth Sciences Perspective (ERTH2402), identifying 142 errors, exaggerations or outright prevarications.
The CASS report states:
"We have documented a large number of examples where the science that is taught is at least incomplete if not incorrect. There are a number of examples where Harris cites studies that were later rebutted …, and still more where he appears to have missed key publications … and this may indicate that he is unaware of the current scientific literature and prevailing scientific opinion."
The existence of this course represents a coup for the climate change denial movement, which as documented with the release of internal documents from the Chicago-based Heartland Institute, has been trying to infiltrate the U.S. school system with a K-12 curriculum promoting the notion that climate change is not real, not caused by humans or just too confusing to understand. (Heartland, a prominent proponent on behalf of its tobacco industry sponsors, has, in fact, been promoting climate disinformation in schools for many years.)
In the Carleton course, Harris has promoted a series of irrelevant, misleading or flagrantly incorrect bromides, including:
"The only constant about climate is change."
"Carbon dioxide is plant food."
"There is no scientific consensus about climate change causes."
"Prepare for global cooling."
"Climate science is changing quickly."
Notwithstanding, Harris has proved to be a popular teacher, who readily gives out high marks to the students most willing to parrot the denier line that he and his (often industry-associated) guest lecturers promote.
I know a guy who knows a guy
One of the biggest problem that CASS reported in trying to assess the content in Harris's course is that he generally does not refer to primary sources—to references in peer-reviewed literature against which his contentions can be tested. Instead, he constantly tells students that he has been in personal or email contact with prominent scientists who have given him information—the vast majority of which is dubious, outdated, unsupported by science or simply wrong.
The CASS report offers the possibility that Harris is merely incompetent—that he has got the science wrong purely because he is out of his realm of expertise. But the authors also note the coincidence that "all the mistakes (Harris makes) support his thesis of no climate change effects."
More likely, it seems, for someone who has made his living dissembling about climate change on behalf of energy industry company-funded front groups, Harris has taken that campaign into the classroom with a disregard for the science and evidence that is somewhere between reckless and irresponsible.
There will almost inevitably be an argument about whether someone like Harris deserves protection under the principles of academic freedom—and certainly legitimate academics should be free to pursue their own course of study and to make whatever arguments they can support.
The question here is whether an institution such as Carleton can be forgiven for employing an instructor with no relevant credentials and significant and obvious economic conflicts. And, if Carleton is going to wrap Harris in a cloak of academic freedom—if the university is prepared to defend an industry front man's right to dilute the university's credibility by promoting views that are demonstrably incorrect and obviously grounded in a corporate agenda to deceive—then that should be a signal to prospective students and parents that they may want to exercise the freedom to choose a real university, one that values the accuracy of its curriculum and the integrity of its (other) faculty.
The full report, with references, is available by clicking here.
To see a selection of some of the 142 points of disinformation identified in the CASS report and responses to rectify those claims, view Richard Littlemore's entire piece by clicking here.
By Andy Rowell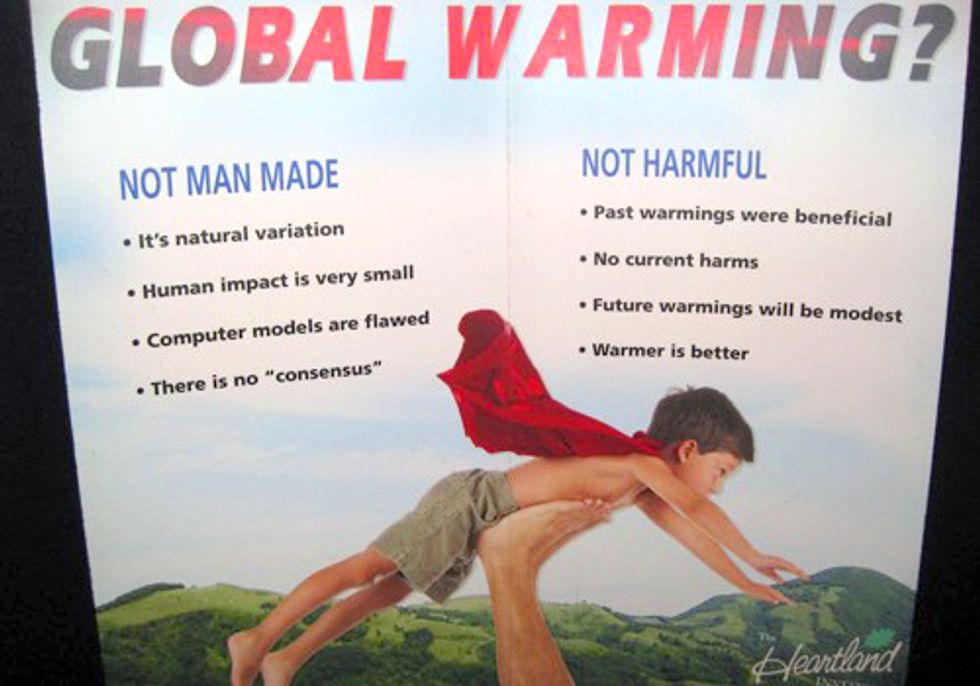 It was not probably the Valentine's present the leading climate skeptic organization, the Heartland Institute, was expecting.
But after years of exploiting ClimateGate and leaks from climate scientists, on Feb. 14 they were on the receiving end of their very own leak.
The climate denial watch-dog, DeSmogBlog, has leaked details of Heartland's strategy and funding documents exposing the heart of the climate denial machine.
The documents confirm what many people have suspected for a while—That Heartland not only receives money to fund its own climate skeptic work, but it also funds other leading skeptics, such as Craig Idso, who gets $11,600 per month and Fred Singer who receives $5,000 per month, plus expenses.
Heartland is also spending a whopping $388,000 for a team of skeptics to undermine the findings of the UN climate body—the Intergovernmental Panel on Climate Change.
One of the documents leaked is Heartland's Fundraising plan for this year, which exposes some of the world's best known companies, such as Altria (parent company of Philip Morris) Bayer, Eli Lilly, General Motors, GlaxoSmithKline, Microsoft, Pfizer and Time Warner, as funding the climate denial movement.
The Fundraising plan also reveals that the Koch Brothers are once again funding the Institute's global warming disinformation campaign. Up until Feb. 14 it was thought that the last funding was more than a decade ago.
One leaked document, the January 2012 Confidential Memo—2012 Heartland Climate Strategy states: "We will also pursue additional support from the Charles G. Koch Foundation. They returned as a Heartland donor in 2011 with a contribution of $200,000. We expect to push up their level of support in 2012 and gain access to their network of philanthropists, if our focus continues to align with their interests. Other contributions will be pursued for this work, especially from corporations whose interests are threatened by climate policies."
So here is confirmation in writing what many people have known for years—that the Heartland Institute is effectively acting as a front group for big oil and energy, raising money from companies which are threatened by climate policies, so that it can essentially do their dirty work in undermining legislation that threatens their corporate bottom line.
And in that sense, the boys from Heartland are guns for hire.
And this is where it gets interesting. The documents show that Heartland's climate change denial machine is chiefly funded by one donor, who is just called "Anonymous." Their identity is not disclosed in the confidential documents. But the accounts reveal that this one donor has donated $13 million to Heartland's climate denial work over five years, with another $1 million planned this year.
For one person to have such a huge influence on a key climate skeptic think tank is both interesting and worrying. For years the climate skeptics have operated to clear double standards. On the one hand they have repeatedly argued that climate scientists must be transparent with their work and have inundated them with Freedom of Information requests, but at the same time they have refused to come clean over who funds them.
Surely it is now beholden on the Heartland to come clean and tell everyone who their "key Anonymous Donor" is?
In the interests of transparency and credibility, it is the least the Heartland Institute can do.
For more information, click here.