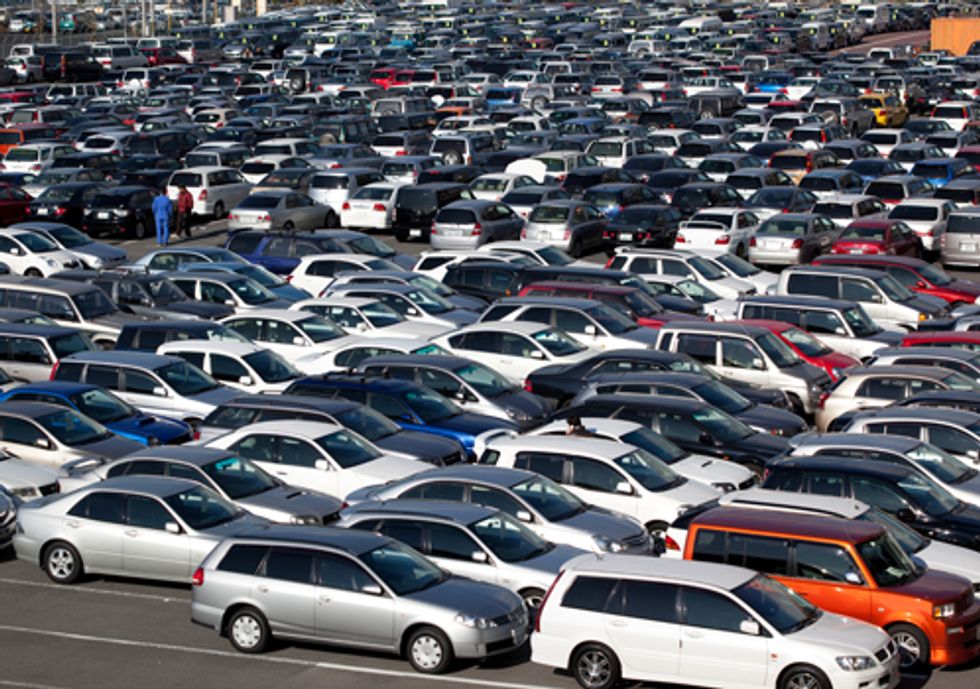 Today, cars and trucks are nearly everywhere. In the U.S., there are more automobiles than there are licensed drivers to drive them.
Altogether, the planet is home to more than a billion vehicles of all sorts, and experts predict that by 2020 there will be more than two billion, of which half will be automobiles.
Smog, carbon pollution and oil dependence
These cars and trucks, as helpful as they are in moving people and cargo, also create a range of environmental challenges. In the U.S., on-road vehicles contribute about a third of the country's smog-producing air pollution. The transportation sector is responsible for approximately 27 percent of America's greenhouse gas emissions.
It is also a leading cause of America's dependence on oil and consumes about 70 percent of the oil we use in this country. More than half of that is consumed by cars and trucks.
Threat to water and wildlife
Vehicles also contribute to water pollution through the oil and other fluids they leak onto roadways—fluids that inevitably wash off into storm drains, rivers and bays.
The nearly 4 million miles of public streets and highways in this country have eaten into wildlife habitat, and where wildlife still exists, those roads create migration impediments and hazards.
One survey found 21 listed threatened species were under greatest threat from road impacts.
Our goal—to make engines cleaner and safer
Our challenge is to find solutions to make those cars and trucks and other vehicles less polluting, and the way we use them less damaging to the planet.
Take action
What will it take to cure our dangerous and unhealthy addiction to oil and reduce the threat of runaway global warming?
Stronger fuel economy and greenhouse gas standards for American cars and trucks are essential—and your email right now to the Obama administration supporting their landmark new standards for cleaner cars and trucks can help us all take a huge step forward.
Public comments are due by Feb. 13. Take action today—stand up for better gas mileage, less oil and a safer climate future.
Thank you for your activism and support.
For more information, click here.
EcoWatch Daily Newsletter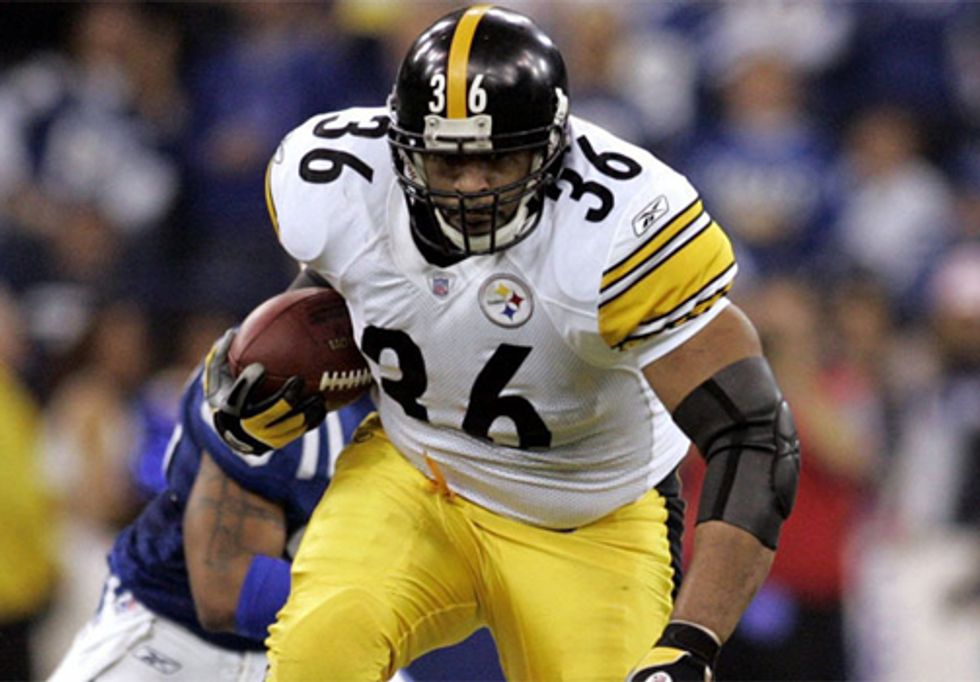 Retired National Football League (NFL) legend Jerome Bettis met with U.S. Environmental Protection Agency (EPA) Administrator Lisa P. Jackson Dec. 15, before meeting with members of Congress on behalf of the Clean Air Council (CAC) to advocate for the EPA's clean air rules. Bettis, an asthmatic, was joined by Katie Feeney, policy analyst at CAC, to discuss the health benefits of clean air in advance of the release of EPA's Utility MACT, or Mercury and Air Toxics Standards, expected to be issued in the next few days. The rule, which would require the first nationwide reductions of hazardous emissions of mercury, lead, arsenic and acid gases from coal-fired power plants, would save up to 17,000 lives and prevent 120,000 cases of aggravated asthma a year, according to the EPA.
Mr. Bettis, nicknamed "The Bus," urged that no delay or legislation be passed to prevent the lifesaving rule from going into effect. He will be meeting with:
EPA Administrator Lisa P. Jackson
Sen. Robert Casey (D-PA)
Congressman John Dingell (D-MI)
Congressman Mike Doyle (D-PA)
"I am excited to join the Clean Air Council, whose mission is to protect everyone's right to breathe clean air, in meeting with elected officials to talk about an issue that I am so personally connected to," said Jerome Bettis. "I've been involved with asthma education for a number of years. When I learned how vital the clean air rules are to people's health, and realized how polluted air exacerbates my asthma, I knew I had to speak out. The Toxics Rule will save thousands of lives, including the lives of children, across the country. I can't imagine a more worthy cause."
According to the EPA, the rule will also avoid 12,000 hospital visits, 4,500 cases of chronic bronchitis, 11,000 nonfatal heart attacks, 12,200 hospital and emergency room visits, 220,000 cases of respiratory symptoms and 850,000 days when people miss work annually. In Bettis' native Michigan, 1,056 pollution-related deaths, 487 hospital admissions and 1,097 heart attacks will be avoided through the implementation of EPA's clean air rules. In his adopted home state of Pennsylvania, the numbers are even more staggering, with 2,510 pollution-related deaths, 1,016 hospital admissions and 2,298 heart attacks being avoided.
Bettis was diagnosed with asthma at 15, and has struggled with it ever since, including suffering from a traumatic life-threatening attack during a nationally televised game in 1997. He was an active advocate for asthma awareness during his playing career and continues to speak out about the issue. In particular, he has focused on helping children who have asthma learn to cope with it.
Dirty air leads to severe medical issues, including hundreds of premature deaths annually caused by heart, respiratory and lung problems. For those with asthma and other respiratory problems—who already experience breathing difficulty—high ozone days can lead to further respiratory distress, and even hospitalization. On ozone action days the air can irritate the respiratory systems, causing symptoms such as coughing, throat irritation, and chest tightness. Lung function is reduced, air intake can feel strained, and breathing, especially outside, can become shallow, rapid and uncomfortable.
Despite the significant progress that has been made in reducing air emissions in the last 20 years, the American Lung Association says more than 175 million people—or nearly six out of 10 Americans—live in areas with unhealthy levels of air pollution.
"We're thrilled and honored that Jerome Bettis has agreed to join with the Clean Air Council to advocate for the timely implementation of the Utility MACT," said Joseph Otis Minott, Esq. of the Clean Air Council. "As an outspoken advocate for asthma awareness, he recognizes that this issue is important beyond the beltway—it is a living room issue that will benefit everyone, especially asthmatics."
"My goal is for the members of Congress we meet with to understand just how important these rules are to people's health, and that they need to be implemented as soon as possible," concluded Bettis.
Bettis was joined by Feeney and Dr. Sue Tierney, managing principal at the Analysis Group and former assistant secretary for policy at the U.S. Department of Energy, at a press conference.
For more information, click here.
—————
Clean Air Council is a member-supported, nonprofit environmental organization dedicated to protecting everyone's right to breathe clean air. The Council works through public education, community advocacy, and government oversight to ensure enforcement of environmental laws.
The Jerome Bettis "Bus Stops Here" Foundation is a non-profit 501 (c) (3) organization whose mission, is to improve the overall quality of life for troubled and underprivileged children by offering the opportunities to help them succeed in life. The Foundation believes that the first step towards self-sufficiency must consist of a strong moral foundation. On this foundation, self-esteem, responsibility, education and ultimately, employability are built. The Foundation's contribution to youth consists primarily of providing a climate where they feel wanted and accepted by peers and adults and where they are assisted in acquiring and applying the skills related to meeting their goals. Through the hard work of the Foundation, we are presenting possibilities and creating opportunities. We are trying to change old perceptions to create a "right here, right now attitude".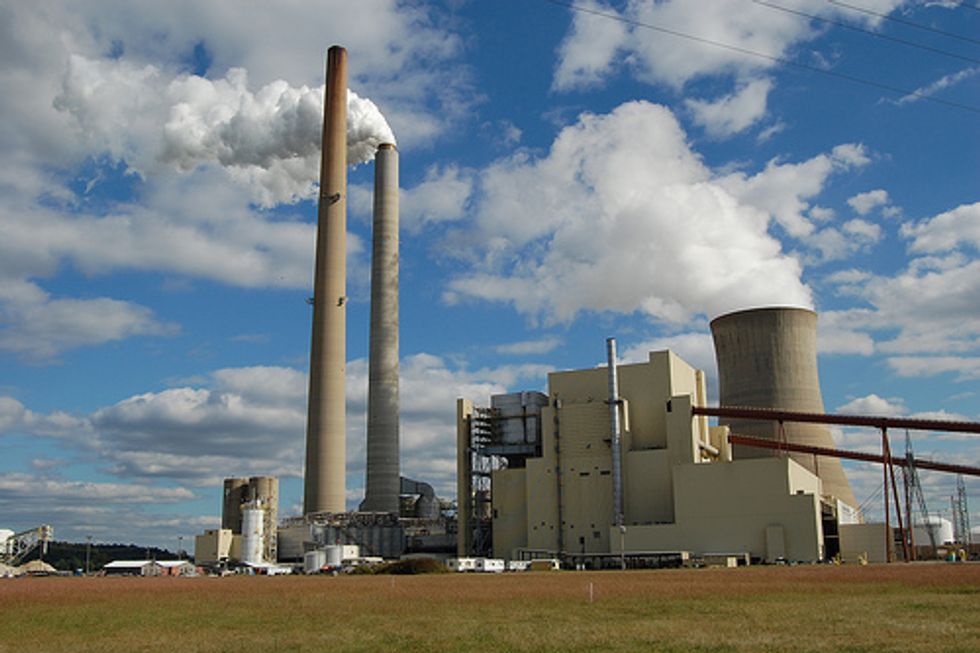 In response to a WildEarth Guardians' lawsuit, three massive coal-fired power plants in Oklahoma are being faced with two choices—clean up, or convert to clean energy.
Under a plan finalized Dec. 13 by the U.S. Environmental Protection Agency (EPA), three of the states' dirtiest and oldest coal-fired power plants will be required to reduce harmful air pollution by 95 percent within five years, or otherwise convert to natural gas or other cleaner power sources. You can view a map of these power plants by clicking here.
The plan promises significant benefits for public health and the environment.
"This is a big step forward for clean, breathable air in Oklahoma," said Jeremy Nichols, Climate and Energy Program director for WildEarth Guardians. "It also emphasizes the need to move toward cleaner energy sources."
Coal-fired power plants in Oklahoma already take a disproportionate toll on health and the environment. Estimates indicate that every year, these plants contribute to 111 premature deaths and other illnesses at a cost of more than $1 billion (see the Clean Air Task Force report here). The EPA estimates that every year, Oklahoma coal-fired power plants degrade visibility in pristine areas such as the Wichita Mountains Wilderness Area, which is located in the southwestern portion of the state, making the area three times hazier than normal.
The EPA's plan was spurred by a lawsuit filed by WildEarth Guardians that challenged the EPA's failure to ensure air pollution from a number of states, including Oklahoma, protects downwind states. As part of this lawsuit, EPA agreed to finalize a clean air plan by June 21, 2011.
The new plan responds in three significant ways:
It approves an Oklahoma plan to reduce nitrogen oxide and particulate matter emissions from its coal-fired power plants. Oklahoma's plan would reduce smog and haze forming nitrogen oxide emissions by more than 27,000 tons annually, equal to taking 1.4 million passenger vehicles off the road.
It disapproves of Oklahoma's plan to reduce sulfur dioxide from coal-fired power plants. Oklahoma's plan fell short of ensuring enough sulfur dioxide pollution was reduced in time to meet Clean Air Act requirements.
It adopts a federal plan that would require the use of scrubbers to reduce sulfur dioxide emissions from three coal-fired power plant units in Oklahoma—two units at Oklahoma Gas and Electric's 1,716 megawatt Muskogee plant in Muskogee County and two units at the company's 1,138 megawatt Sooner plant in Noble County, and two units at American Electric Power's 946 megawatt Northeastern plant in Rogers County. The plan would reduce sulfur dioxide emissions by 95 percent from these coal-fired plants and require these reductions to be achieved within three years.
The EPA's plan rejected a proposal by Oklahoma that would have allowed the state's coal-fired power plants to avoid installing scrubbers in exchange to committing to convert to cleaner natural gas by 2026. The plan does not foreclose on the ability of the power plants to convert to natural gas, but makes clear that such conversions would need to happen more quickly.
In total, 3,800 megawatts of coal-fired electricity would be cleaned up or repowered.
"The door is open for clean energy, but we can't sacrifice our clean air to get there," said Nichols. "EPA's plan leaves Oklahoma utilities a reasonable choice—either convert to clean energy sooner, or clean up their pollution."
For more information, click here.