By James R. Elliott and Scott Frickel
Philadelphia's hip Northern Liberties community is an old working-class neighborhood that has become a model of trendy urban-chic redevelopment. Crowded with renovated row houses, bistros and boutique shops, the area is knit together by a pedestrian mall and a 2-acre community garden, park and playground space called Liberty Lands.
First-time visitors are unlikely to realize they're standing atop a reclaimed Superfund site once occupied by Burk Brothers Tannery, a large plant that employed hundreds of workers between 1855 and 1962. And even longtime residents may not know that the 1.5 square miles of densely settled land around the park contains the highest density of former manufacturing sites in Philadelphia.
<p> Over the past 60 years, more than 220 factories operated in this same small area. Nearly all did business before the mid-1980s, when the U.S. Environmental Protection Agency (<a href="http://www.ecowatch.com/tag/epa">EPA</a>) started <a href="https://www.epa.gov/toxics-release-inventory-tri-program/30th-anniversary-toxics-release-inventory-tri-program" target="_blank">requiring businesses to report releases of toxic materials</a>.</p><p> In our book, <a href="https://www.russellsage.org/publications/sites-unseen" target="_blank">Sites Unseen,</a> we set out to discover how many such former sites exist and why, over time, they simultaneously seem to proliferate and disappear from view. The data we collected from state manufacturing directories dating back to the 1950s don't tell us whether specific addresses we found are presently contaminated. But they do provide richly textured maps of where and for how long hazardous industrial activities operated in four very different cities—New Orleans, Minneapolis, Portland and Philadelphia. Our findings strongly suggest that these and many other American cities now face a legacy hazardous waste problem they don't even know they have.</p> <p class="shortcode-media shortcode-media-rebelmouse-image"> <img type="lazy-image" data-runner-src="https://assets.rebelmouse.io/eyJhbGciOiJIUzI1NiIsInR5cCI6IkpXVCJ9.eyJpbWFnZSI6Imh0dHBzOi8vYXNzZXRzLnJibC5tcy8xOTAyMTk1OS9vcmlnaW4uanBnIiwiZXhwaXJlc19hdCI6MTY0ODgwODg3NH0.DjQVJjDmUY26adl2c41UIRO3qeBJMKRwaHsV2nXeVFM/img.jpg?width=980" id="6bbde" class="rm-shortcode" data-rm-shortcode-id="33b6b9888eb155b245a2783ab7066430" data-rm-shortcode-name="rebelmouse-image"> <small class="image-media media-caption" placeholder="add caption...">The Crescent Brass and Pin Company manufactured nails and plumbing supplies in this building in Detroit from 1905 through 1984. </small><small class="image-media media-photo-credit" placeholder="add photo credit..."> <a href="https://en.wikipedia.org/wiki/Crescent_Brass_and_Pin_Company_Building#/media/File:Crescent_Brass_and_Pin_Company_Building_-_Detroit_Michigan.jpg" target="_blank">Andrew Jameson / Wikimedia</a>, <a href="http://creativecommons.org/licenses/by-sa/4.0/" target="_blank">CC BY-SA</a></small></p> <p><strong>Hazardous Waste Legacies<br></strong></p><p> According to <a href="https://iaspub.epa.gov/triexplorer/tri_release.chemical" target="_blank">data recently released by the EPA</a>, in 2017 industrial facilities (excluding mining operations) released 1.1 billion pounds of hazardous waste at the point of production or "on site." That number is an understatement, because government records rely on voluntary reporting and exclude smaller manufacturing facilities that also pollute. And there is virtually no public documentation of similar releases before the 1980s. </p><p> To investigate the scope and scale of this problem, we identified relic and active sites from state manufacturing directories, which can be found in public libraries nationwide. These guides are largely untapped sources of information about where manufacturing activities occurred, for how long, and what each facility produced. In each city we analyzed, we were surprised to learn that government databases ostensibly designed to identify hazardous sites actually captured less than 10 percent of historically existing manufacturing sites. </p><p> Through follow-up surveys, we learned that 95 percent of relic manufacturing sites are used today for activities other than hazardous industry. We found coffee shops, apartments, restaurants, parks, child care centers and much more at these locations. These patterns corroborate processes which we now suspect drive both the spread of contaminated urban lands and the concealment of their past uses.</p> <p class="shortcode-media shortcode-media-rebelmouse-image"> <img type="lazy-image" data-runner-src="https://assets.rebelmouse.io/eyJhbGciOiJIUzI1NiIsInR5cCI6IkpXVCJ9.eyJpbWFnZSI6Imh0dHBzOi8vYXNzZXRzLnJibC5tcy8xOTAyMTk3Ny9vcmlnaW4ucG5nIiwiZXhwaXJlc19hdCI6MTY2MDg3NDg4Nn0.v4MjN5NEZ-_KGKTJETkQx8-aIw3cUPNyARH7FA99Jj0/img.png?width=980" id="fb41a" class="rm-shortcode" data-rm-shortcode-id="3976fc94e3d42b3607b028ea02cc4fd3" data-rm-shortcode-name="rebelmouse-image"> <small class="image-media media-caption" placeholder="add caption...">Hazardous industrial sites in Houston's Inner Loop zone, bounded by Interstate 610. Sites marked 'o' were active sites in 2015; those marked 'x' are relic and largely uninvestigated sites where industrial activities took place between 1950 and 2010.</small><small class="image-media media-photo-credit" placeholder="add photo credit..."> James Elliott and Scott Frickel, <a href="http://creativecommons.org/licenses/by-nd/4.0/" target="_blank">CC BY-ND</a></small></p> <p><strong>Erasing Sites' History<br></strong></p><p> Like other businesses, most hazardous industrial facilities operate for a time, then go out of business or move their operations elsewhere. This constant turnover is an ongoing, fundamental feature of urban economic development. And because urban land is limited and valuable, those lots typically are redeveloped for non-industrial uses when they become available. </p><p> Our data show that hazardous industrial sites turn over every eight years, on average. This means that an individual lot can be redeveloped multiple times, sometimes over the span of just a few decades. For example, one Portland, Oregon address that we investigated housed a neon sign and sheet metal fabricator during the 1950s, then the office of a dry bulk trucking company, and is now a doggy day care center. </p><p> These interlocking processes of land use and reuse have far-reaching environmental impacts that social scientists are only beginning to recognize. Lot by lot, small but ongoing changes in urban land uses spread <a href="https://www.ecowatch.com/tag/toxics">toxins</a> across urban areas. At the same time, pressures for redevelopment often cover up the evidence. </p><p> In these ways, large, long-lived industrial sites, like the former Burk Brothers Tannery in Philadelphia, represent the tip of the iceberg of urban industrial activities and resulting contamination. Government agencies typically identify and clean up these large, visible sites that are known or widely suspected to be contaminated. And often they offer developers <a href="https://theconversation.com/cleaning-up-toxic-sites-shouldnt-clear-out-the-neighbors-74741" target="_blank">incentives to build on them</a>, including <a href="https://www.hklaw.com/publications/brownfields-redevelopment-initiatives-03-01-2003/" target="_blank">liability waivers</a>. </p><p> All the while, thousands of smaller, less prominent but potentially polluted sites go unnoticed, contributing to a much more systemic environmental risk.</p> <p class="shortcode-media shortcode-media-youtube"> <span style="display:block;position:relative;padding-top:56.25%;" class="rm-shortcode" data-rm-shortcode-id="0c0526e2b285875e1fcb21f11ac98894"><iframe type="lazy-iframe" data-runner-src="https://www.youtube.com/embed/HvprdMZsIus?rel=0" width="100%" height="auto" frameborder="0" scrolling="no" style="position:absolute;top:0;left:0;width:100%;height:100%;"></iframe></span> <small class="image-media media-caption" placeholder="add caption...">Gowanus Canal Goes From Toxic To Trendy</small> <small class="image-media media-photo-credit" placeholder="add photo credit..."> <a href="https://youtu.be/HvprdMZsIus" target="_blank">youtu.be</a> </small> </p> <p><strong>Look Back to Move Forward<br></strong></p><p> Based on the research we did for our book, we believe the problem of relic industrial waste is far greater and more vexing than many scholars, regulators and developers appreciate. And this complexity has important implications for environmental justice and the question of who lives, works and plays in neighborhoods burdened by relic industrial contaminants. Communities can't set priorities for cleaning up contaminated land until they identify relevant sites. </p><p> Environmental justice studies that use more limited government data on hazardous sites provide consistent evidence that polluting industries and environmental hazards are <a href="https://theconversation.com/flints-water-crisis-is-a-blatant-example-of-environmental-injustice-53553" target="_blank">more frequently imposed on poor and minority communities</a>. But our findings suggest that, over time, risks also accumulate over broader areas—including white working-class neighborhoods of yesteryear, lower-income and minority neighborhoods that superseded them, gentrifying areas such as Philadelphia's Northern Liberties that are now selectively following, and whatever comes after that. </p><p> It is a basic social fact of urban life that industrial hazards accumulate and spread relentlessly. The sooner this problem is recognized, the sooner Americans can reclaim their cities and the environmental regulatory systems that are designed to ensure our collective well-being. </p><p> One way forward is for regulatory agencies to undertake historical investigations of relic industrial sites, using the same publicly available sources that we have used. Concerned citizens and neighborhood groups can do so as well, and the DIY User's Guide at the end of our book describes how to do it.</p> <p class="shortcode-media shortcode-media-twitter_embed"> </p><div id="66763" class="rm-shortcode" data-rm-shortcode-id="YC5MMC1576664005"><blockquote class="twitter-tweet twitter-custom-tweet" data-twitter-tweet-id="996391170317127680" data-partner="rebelmouse"><div style="margin:1em 0">This is completely outrageous. Trump Admin. Blocked Toxic Chemicals Study Fearing 'Public Relations Nightmare'… https://t.co/ypdlpmMFLe</div> — Enviro Voter Project (@Enviro Voter Project)<a href="https://twitter.com/Enviro_Voter/statuses/996391170317127680">1526393141.0</a></blockquote></div> <p></p> <p><em>James R. Elliott is a professor of sociology at Rice University.<br></em><em>Scott Frickel is a professor of sociology and environment and society at Brown University.<br></em><em>Disclosure statement: James R. Elliott receives funding from the National Science Foundation. Scott Frickel receives funding from the National Science Foundation and the National Institute of Environmental Health Sciences.</em></p><p><em></em><em>Reposted with permission from our media associate <a href="https://theconversation.com/what-lies-beneath-to-manage-toxic-contamination-in-cities-study-their-industrial-histories-104897" target="_blank">The Conversation</a>.</em></p><script async="async" data-counter="https://counter.theconversation.com/content/104897/count?distributor=republish-lightbox-advanced" id="theconversation_tracker_hook" src="https://theconversation.com/javascripts/lib/content_tracker_hook.js" type="text/javascript"></script>
From Your Site Articles
Related Articles Around the Web
EcoWatch Daily Newsletter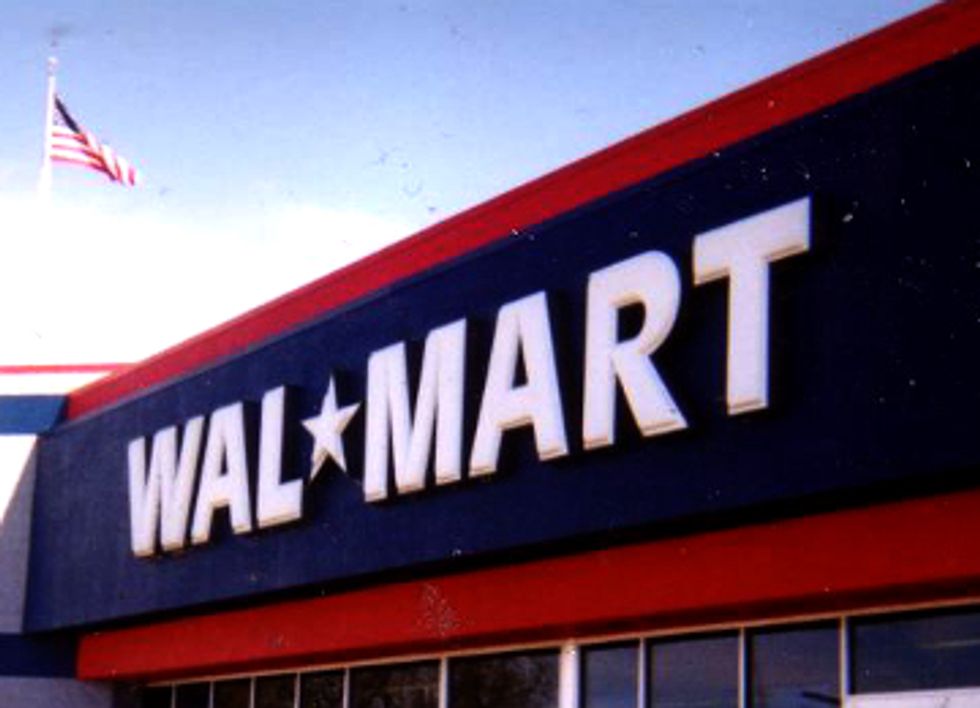 Last week Wal-Mart Stores, Inc. plead guilty in cases filed by federal prosecutors in Los Angeles and San Francisco to six counts of violating the Clean Water Act by illegally handling and disposing of hazardous materials at its retail stores across the U.S., including pouring pesticides down the drain. The Bentonville, AR, based company also plead guilty in Kansas City, MO, to violating the Federal Insecticide, Fungicide and Rodenticide Act (FIFRA) by failing to properly handle pesticides that had been returned by customers at its stores across the country.
As a result of the three criminal cases brought by the Justice Department, and the related civil case filed by the U.S. Environmental Protection Agency (EPA), Wal-Mart will pay approximately $81.6 million for its unlawful conduct. Coupled with previous actions brought by the states of California and Missouri for the same conduct, Wal-Mart will pay a combined total of more than $110 million to resolve cases alleging violations of federal and state environmental laws. According to the Kansas City Star, the company stated that the fines and penalties would "not be material to its financial position."
"By improperly handling hazardous waste, pesticides and other materials in violation of federal laws, Wal-Mart put the public and the environment at risk and gained an unfair economic advantage over other companies," said Ignacia S. Moreno, assistant attorney general for the Justice Department's Environment and Natural Resources Division.
"Today, Wal-Mart acknowledged responsibility for violations of federal laws and will pay significant fines and penalties, which will, in part, fund important environmental projects in the communities impacted by the violations and help prevent future harm to the environment."
FIFRA Violations
From 2006 to 2008, the company sent more than 2 million pounds of damaged containers of pesticides and other hazardous products to a third-party management company, Greenleaf, in Neosho, MO. The products were then mixed together and offered for sale to customers without the required registration, ingredients or use information, which constitutes a violation of FIFRA. Greenleaf was under contract with Wal-Mart to recycle pesticide products, but lacked the necessary FIFRA registrations to mix, repackage and relabel some of the pesticides. Greenleaf also did not have the capacity to handle all the products sent to it by Wal-Mart, resulting in significant releases of hazardous substances. Greenleaf was also convicted of a FIFRA violation and paid a criminal penalty of $200,000 in 2009.
Pursuant to the plea agreement filed in Missouri and accepted by U.S. District Judge John T. Maughmer, Wal-Mart agreed to pay a criminal fine of $11 million and to pay another $3 million to the Missouri Department of Natural Resources, which will go to that agency's hazardous waste program and will be used to fund further inspections and education on pesticide regulations for regulators, the regulated community and the public. In addition, Wal-Mart has already spent more than $3.4 million to properly remove and dispose of all hazardous material from Greenleaf's facility.
"This tough financial penalty holds Wal-Mart accountable for its reckless and illegal business practices that threatened both the public and the environment," said Tammy Dickinson, U.S. Attorney for the Western District of Missouri.
"Truckloads of hazardous products, including more than 2 million pounds of pesticides, were improperly handled under Wal-Mart's contract. Today's criminal fine should send a message to companies of all sizes that they will be held accountable to follow federal environmental laws," Dickinson continued. "Additionally, Wal-Mart's community service payment will fund important environmental projects in Missouri to help prevent such abuses in the future."
In conjunction with the company's guilty pleas in the three criminal cases, Wal-Mart has agreed to pay a $7.628 million civil penalty that will resolve civil violations of FIFRA and Resource Conservation and Recovery Act. In addition to the civil penalties, Wal-Mart is required to implement a comprehensive, nationwide environmental compliance agreement to manage hazardous waste generated at its stores. The agreement includes requirements to ensure adequate environmental personnel and training at all levels of the company, proper identification and management of hazardous wastes, and the development and implementation of environmental management systems at its stores and return centers. Compliance with this agreement is a condition of probation imposed in the criminal cases.
Clean Water Act Violations
In California, Wal-Mart plead guilty to six misdemeanor counts of negligently violating the Clean Water Act. According to documents filed in U.S. District Court in San Francisco, from a date unknown until January 2006, Wal-Mart did not have a program in place and failed to train its employees on proper hazardous waste management and disposal practices at the store level. As a result, hazardous wastes, including pesticides, were either discarded improperly at the store level—including being put into municipal trash bins or, if a liquid, poured into the local sewer system—or they were improperly transported without proper safety documentation to one of six product return centers located throughout the U.S.
The six criminal charges were filed by the U.S. Attorney's Office in Los Angeles and San Francisco (each office filed three charges), and the two cases were consolidated in the Northern District of California, where the guilty pleas were formally entered before U.S. Magistrate Judge Joseph C. Spero. As part of a plea agreement, Wal-Mart was sentenced to pay a $40 million criminal fine and an additional $20 million that will fund various community service projects, including opening a $6 million Retail Compliance Assistance Center that will help retail stores across the nation learn how to properly handle hazardous waste.
"As one of the largest retailers in the United States, Wal-Mart is responsible not only for the stock on its shelves, but also for the significant amount of hazardous materials that result from damaged products returned by customers," said Melinda Haag, U.S. Attorney for the Northern District of California.
"The crimes in these cases stem from Wal-Mart's failure to comply with the regulations designed to ensure the proper handling, storage and disposal of those hazardous materials and waste. With its guilty plea today, Wal-Mart is in a position to be an industry leader by ensuring that not only Wal-Mart, but all retail stores properly handle their waste."
Wal-Mart owns more than 4,000 stores nationwide that sell thousands of products which are flammable, corrosive, reactive, toxic or otherwise hazardous under federal law. The products that contain hazardous materials include pesticides, solvents, detergents, paints, aerosols and cleaners. Once discarded, these products are considered hazardous waste under federal law.
These criminal cases are a result of investigations conducted by the FBI and the EPA, which received substantial assistance from the California Department of Substance and Toxics Control and the Missouri Department of Natural Resources. In Missouri, the case was prosecuted by Deputy U.S. Attorney Gene Porter and ENRD Senior Trial Attorney Jennifer Whitfield of the Environmental Crimes Section of the Environment and Natural Resources Division (ENRD). In California, the cases were prosecuted in Los Angeles by Assistant U.S. Attorney Joseph O. Johns and in San Francisco by Assistant U.S. Attorney Stacey Geis.
Visit EcoWatch's CLEAN WATER ACT pages for more related news on this topic.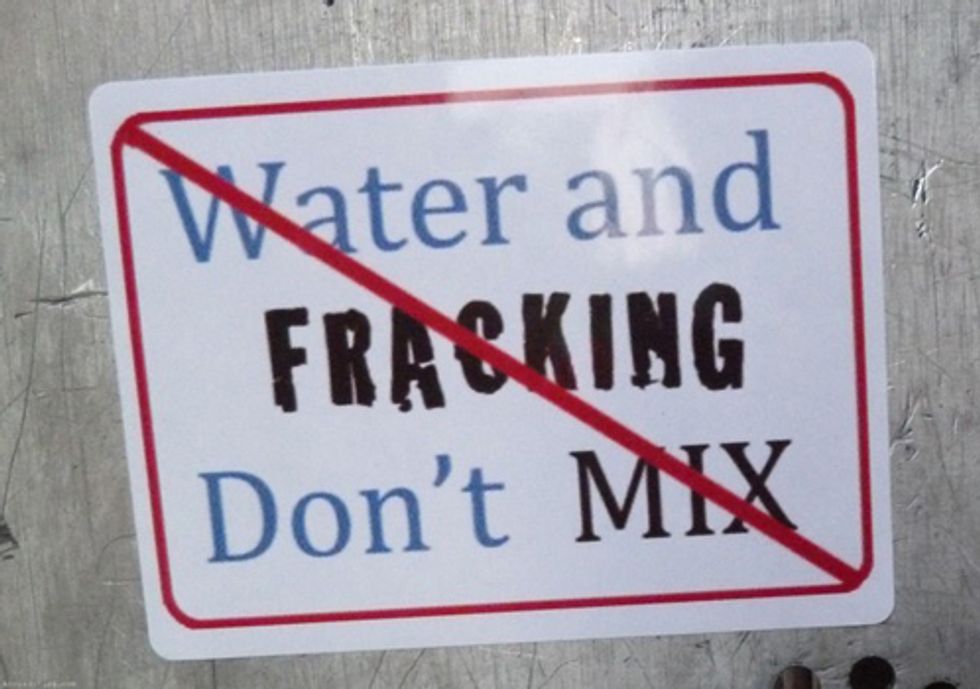 The U.S. Environmental Protection Agency's (EPA) detection of arsenic, a known human carcinogen, barium and other contaminants in the well water of homes near natural gas drilling operations in Dimock Township, Pa., should prompt a nationwide investigation of drilling-linked water pollution.
"EPA and other officials must move quickly to ensure these families have an adequate source of clean water," said Dusty Horwitt, senior counsel with Environmental Working Group (EWG). "This finding confirms what Dimock residents have said for months—that the Pennsylvania Department of Environmental Protection should have never allowed Cabot to end deliveries of clean water."
Last month, EWG published a report called Gas Drilling Doublespeak that found that Dimock residents, among other people in gas-rich areas, were not warned of risks to their water supplies when they were approached to lease their land for drilling.
EPA officials in Philadelphia announced they would deliver clean water to the four affected households and conduct broader testing at about 60 more homes in south-central area Susquehanna County. Cabot Oil & Gas Corp., the Houston-based company that began drilling for gas in the area in 2008, delivered water to the households under a 2010 consent agreement but stopped Nov. 30 after state regulators determined that Cabot had met its obligations.
According to an EPA action memo, agency scientists found the four households' well water contaminated with arsenic and other hazardous substances "at levels that present a public health concern." Some of these "are not naturally found in the environment," EPA officials said, and may have been released by drilling activities. Among the toxic substances found in the well water, according to the EPA:
Arsenic, classified by the US government and World Health Organization as a known human carcinogen, an element sometimes found in "elevated concentrations" in groundwater because of drilling;
Barium, a common constituent of drilling fluids; long-term ingestion at high levels can cause kidney damage
Phthalates, a synthetic plastic chemical and probable human carcinogen, according to EPA
Glycol compounds common in drilling fluids and associated with damage to kidneys, the nervous system, lungs, heart, testicular damage and anemia
Manganese, an naturally occurring element that can damage the nervous system at high levels
Phenol, found in some drilling fluids; at high levels can cause irregular heartbeat, liver damage and skin burns
Sodium, compounds found in some drilling fluids, at high levels can cause high blood pressure
Federal officials said that although the investigation has not been completed, they have concluded, based on samplings to date, that a "chronic health risk exists" for the wells in question.
"These results also show that the families ultimately need a permanent source of healthy water, which the state has so far failed to deliver," Horwitt said. "Cabot should bear the cost of providing this, not the taxpayers."
For more information, click here.
—————
Environmental Working Group is a nonprofit research organization based in Washington, D.C. that uses the power of information to protect human health and the environment.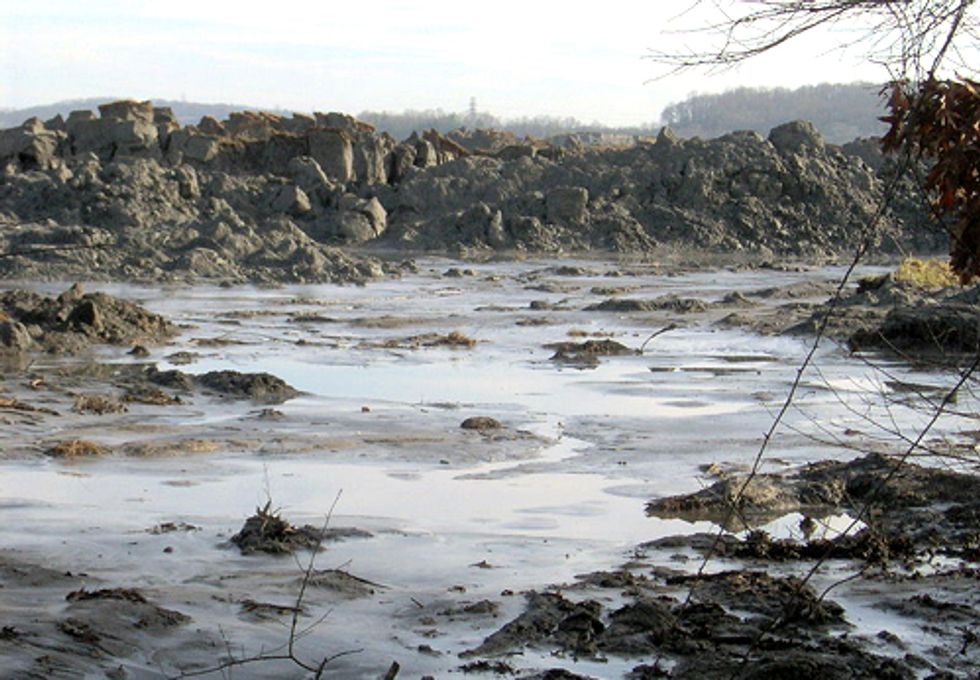 Three years after the coal ash spill in Kingston, Tn., the U.S. has not yet established standards to curb the threat to public health and waterways posed by unstable or leaking ash ponds at coal-fired power plants. Meanwhile, the volume of toxic metals in the ash that power plants dumped in ponds rose 9 percent in 2010, the most recent year for which information is available.
According to an analysis by the Environmental Integrity Project (EIP)—"… the most recent data from the U.S. Toxics Release Inventory show that disposal in these big ponds was higher in 2010 than it has been since 2007, the year before the TVA (Tennessee Valley Authority) spill.  Yet EPA's proposal to set standards for safe disposal—which included a plan to close down ash ponds within five years—has gone nowhere."
In 2010, power plants reported using coal-ash pond dump sites to dispose of wastes containing 113.6 million pounds of toxic metals or metal compounds, a category that includes arsenic, chromium, lead, and other pollutants that are hazardous in small concentrations and difficult to remove from the environment once released. That reflects a 9 percent increase in pond disposal since 2009, and is higher than the total reported in 2008.
In an indication of how power plants vary when it comes to coal-ash dump sites, EIP found that 20 facilities account for more than half (57 million pounds) of the toxic metals contained in power plant waste and disposed of in surface impoundments in 2010. Four of these are in Alabama, three in Georgia, and two in Missouri.  Just ten states accounted for three quarters of total pond disposal in 2010, including (from lowest to highest)—Alabama, Georgia, Illinois, Kentucky, Missouri, Ohio, Indiana, North Dakota, Minnesota and Michigan.
"Not only are coal ash impoundment levels rising, rather than dropping, but we are seeing efforts by some in Congress to thwart EPA efforts to protect the health of Americans from toxic coal ash dump sites," said EIP Director Eric Schaeffer. "EPA proposed in June of 2010 to require the closure of surface impoundments within five years. If the agency manages to issue a final rule before the end of 2012, that ban would take effect at the end of 2017, a full nine years after the TVA spill. In view of the hazards these ash ponds present, that seems long enough."
The concentration of arsenic or other metals in ash or scrubber sludge can vary, based on the source of the coal and the effectiveness of air pollution control devices in removing these contaminants from stack gases. An increase in reported disposal volumes for these metals can mean either a rise in concentration of toxic metals in coal combustion waste, or an increase in the volume of waste containing these metals, or both.
Most surface impoundments are unlined, which means that the toxins in the ash are more likely to seep through the bottom of these ponds and into groundwater or nearby rivers and creeks. The limited amount of monitoring data shows that this is already happening at many sites that have used surface impoundments for ash disposal for decades.
On Dec. 13, 2011, EIP released monitoring data from state files showing that a total of 20 additional coal ash dump sites causing groundwater and soil contamination in 10 states—Florida, Georgia, Illinois, Indiana, Iowa, Kentucky, Nevada, South Carolina, Tennessee and Texas—have been uncovered around the U.S. Previous EIP reports identified similar contamination at 70 other sites across the country.
The full text of the new EIP analysis is available online by clicking here.
For more information, click here.
—————
The Environmental Integrity Project is a nonpartisan, nonprofit organization established in March of 2002 by former EPA enforcement attorneys to advocate for effective enforcement of environmental laws. EIP has three goals—(1) to provide objective analyses of how the failure to enforce or implement environmental laws increases pollution and affects public health; (2) to hold federal and state agencies, as well as individual corporations, accountable for failing to enforce or comply with environmental laws; and (3) to help local communities obtain the protection of environmental laws.