This website uses cookies to ensure you get the best experience while browsing it. By clicking 'Got It' you're accepting these terms.


The best of EcoWatch, right in your inbox. Sign up for our email newsletter!
500 students, faculty, alumni, and community members march though Harvard Yard at the "The Tide Is Turning" rally. 350.org
Kathryn "Kat" Taylor, a member of the Harvard Board of Overseers and wife of billionaire climate activist Tom Steyer, made an unprecedented public call on Harvard University to divest from fossil fuel stocks.
The action comes after the university's $37.1 billion endowment—the world's largest academic fund—reported a lackluster 8.1 percent return that reflected "deep structural problems" that will take years to turn around, its endowment manager said.
EcoWatch Daily Newsletter
NASA
By Tim Radford
Two U.S. scientists have solved the hypothetical puzzle of the century: how to explain the reported climate "hiatus" and reconcile two different ways of predicting the global temperature by 2100.
They say they now know why computer simulations and the forecasts made by a study of the historical record don't seem to agree.
In an effort to cool the atmosphere, Harvard University will inject aerosols 12 miles into the atmosphere, leading the charge on the largest geoengineering study to ever take place.
Winds of change … a storage system for energy generated by renewables is closer to being realized. Photo credit: Sheila Sund / Flickr
By Kieran Cooke
It is the holy grail of the renewable energy sector—a cheap and efficient battery system that can store energy generated by renewables such as wind and solar.
These days there are few who doubt the potential of renewables, except those diehards on the extreme of the fossil fuel industry.
According to the International Energy Agency (IEA)—the main body monitoring developments in the global energy sector—renewables are surging ahead.
Investment in Renewables

In 2015, investments in oil and gas—fossil fuels that, along with coal, are the main drivers of global warming—declined by 25 percent, while energy produced from renewables rose by 30 percent.
Renewables are becoming increasingly competitive with fossil fuels in many sectors: According to the IEA, in the five years to the end of 2015 the price of solar energy dropped by 80 percent and wind power by a third.
Fast-developing countries—China and India, in particular—are investing millions of dollars in the renewable sector.
The big problem with renewables development has been storage. In order to operate a commercially viable power plant, a reliable flow of fuel is needed. In the case of oil, coal or gas this is relatively straightforward as supplies can quickly be replenished.

In the case of nuclear, as long as there is a readily available supply of uranium isotopes, power can continue to be generated.
Solar and wind power supply is far more varied—dependent on sunshine and wind speeds—and cannot be stored or used in the same way as so-called conventional fuels.
For years, scientists have struggled to develop storage systems capable of handling the peaks and troughs of renewable power so that an even supply can be guaranteed.
Researchers at the John A. Paulson School of Engineering and Applied Sciences at Harvard University in the U.S. said in an article published in ACS Energy Letters that they have now developed a long-lasting flow battery capable of storing renewable power that­ could operate for up to 10 years, with minimum maintenance required.
A flow battery is a cross between a conventional battery and a fuel cell. Flow batteries store energy in liquid solutions in external tanks and are regarded as one of the primary ways of storing renewable energy. The bigger the tanks, the more energy can be stored.
But flow batteries are costly. Most use expensive polymers that can cope with the potent chemicals inside the battery.
Battery Capacity
The battery's components and materials, such as membranes and electrolytes, have to be frequently replaced in order to retain capacity.
The Harvard team modified molecules used in the electrolyte solutions to make them soluble in water and so vastly increase the battery's ability to retain power.
"Because we were able to dissolve the electrolytes in neutral water, this is a long-lasting battery that you could put in your basement," said Roy Gordon, a professor of chemistry and materials science and a leading member of the research team.
"If it spilled on the floor, it wouldn't eat the concrete and, since the medium is non-corrosive, you can use cheaper materials to build components of the batteries, like the tanks and pumps," Gordon added.
Reducing the cost of the battery is vital. The U.S. Department of Energy said that in order to make stored energy from wind and solar competitive with fossil fuels, a battery needs to be able to store energy for less than $100 per kilowatt hour.
"If you can get anywhere near this cost target then you can change the world," said Michael Aziz, another lead researcher in the battery project and a professor of materials and energy technologies at Harvard.
"It becomes cost effective to put batteries in so many places—this research puts us one step closer to reaching that target," said Aziz.
Reposted with permission from our media associate Climate News Network.
By Tim Radford
Scientists in the U.S. think they may be on the track of a new kind of battery technology that could store huge reserves of energy.
One of the great problems of renewable energy generators such as photovoltaic cells and wind turbines is that they can't respond to demand.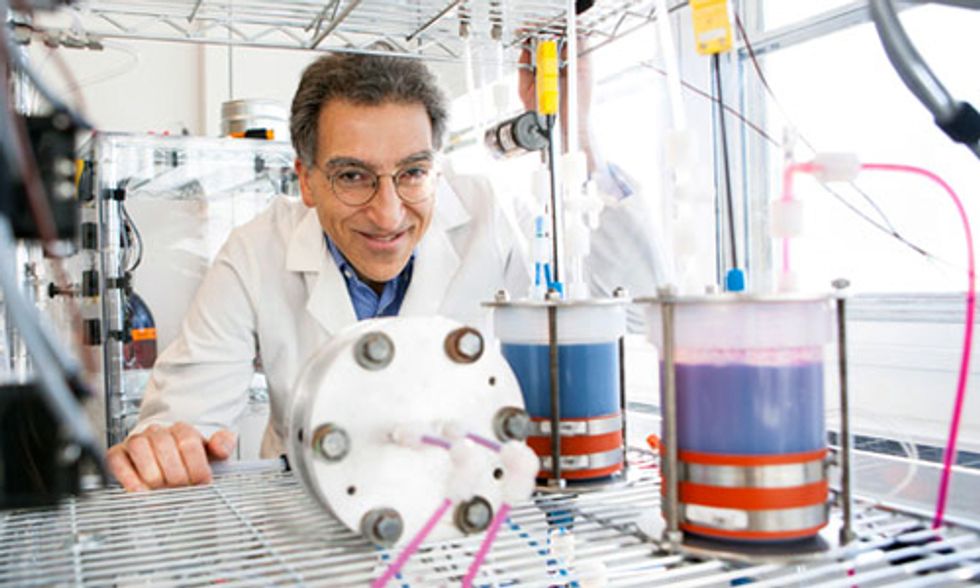 When the sun is out, nobody needs so much heating and lighting, so the electricity goes to waste. In theory, surplus energy could be saved for hours of darkness or when the winds drop, but at a prohibitive cost. But Michael Aziz of Harvard University in Boston and colleagues report in nature that they have tested what is, quite literally, a solution to the problem.
A common low-cost organic chemical found in crude oil and in living things could, once dissolved in water, be used to fuel a flow battery, into which surplus energy could flow when the winds are high and the sun is shining and everybody has gone surfing, and then deliver stored power when everybody goes home at night time and switches on the light and the cooking stove.
In a flow battery, two solutions of electro-active compounds are made to flow through electrodes in an electro-chemical cell: they react at the electrodes and generate electricity. A membrane separates the two solutions, but lets through charge-carrying ions.
Promising start
The strength of a flow battery is that the electro-chemical conversion hardware and the tanks in which the solutions are stored are kept separately, so that the amount of energy that can be stored is limited only by the size of the tanks.
The downside is that, until now, such systems have depended on expensive electrolytes such as vanadium dissolved in sulphuric acid or even more expensive catalysts such as palladium. Professor Aziz and his colleagues did it with a quinone dissolved in water and very dilute acids, and without a catalyst.
A quinone is a simple benzene-based compound that comes in many forms and from many sources. The quinone in the Harvard trial was almost identical to one found in the garden crop rhubarb.
The flow battery under test delivered promising power density and good current efficiency. The test kit, however was only two square centimeters. The whole process is about 1,000 times faster than the rival vanadium system, so batteries could be charged and discharged so much more swiftly. The next stage is to scale the system up, and keep it running for many thousands of cycles to demonstrate its capabilities.
Not there yet
There is a long way to go. Safety considerations remain. The chemistry, too, could be improved. The dream is of a flexible system that could be used in large projects and small.
It could sit in the basement of a home and store the energy collected by solar panels on the roof. Or buried tanks could store the surplus energy from a whole wind farm. The authors say that the use of organic molecules rather than metals holds the promise of massive electrical storage at greatly reduced cost.
"You could theoretically put this on any node on the grid. If the market price fluctuates enough, you could put a storage device there and buy electricity to store it when the price is low and sell it back when the price is high", said Aziz.
"The intermittent renewable storage problem is the biggest barrier to getting most of our power from the sun and the wind. A safe and economical flow battery could play a huge role in our transition from fossil fuels to renewable electricity.
"I'm excited that we have a good shot at it."
Visit EcoWatch's RENEWABLES page for more related news on this topic.