However, less than two weeks after the announcement, the climate science and policy institute Climate Analytics took aim at these ambitions in a new briefing titled "Why geoengineering is not a solution to the climate problem," which goes as far as recommending a global ban on solar geoengineering.
The group's briefing warns about the dangers of proceeding with solar radiation management (SRM) in particular.
The basic idea behind SRM is to release particles into the earth's stratosphere, the atmospheric layer approximately 6–30 miles above the surface, where they would then reflect some of the sun's light (and heat) away from Earth, resulting in atmospheric cooling.
Scientists to pilot geoengineering 'sun dimming' trial next year - Times https://t.co/vGyMNBpSAS https://t.co/pLe8k4jBPf

— ECIU (@ECIU)1543662121.0
Harvard's scientists working on this concept point to the particles released by volcanic eruptions as real-world examples of how it might work. One such example is the 1991 eruption of Mount Pinatubo in the Philippines, an event which released large amounts of sulfur dioxide into the stratosphere.

According to NASA, after Mount Pinatubo's eruption, "Over the course of the next two years strong stratospheric winds spread these aerosol particles around the globe," which led to a temporary global cooling of about 1° Fahrenheit over the following 15 months. The Harvard team plans to investigate calcium carbonate, a common calcium supplement and antacid, as a potential particle to use instead of sulfur dioxide.
Proposed solar radiation management using a tethered balloon to inject sulfate aerosols into the stratosphere Hughhunt, CC BY-SA 3.0
Despite this parallel, why is Climate Analytics warning against solar radiation management? For a long list of reasons, including the potential for some pretty disastrous consequences.

1. Solar Radiation Management Doesn't Address the Real Issue
Earth's climate is warming because humans are pumping large amounts of greenhouse gases into the atmosphere, with carbon dioxide from fossil fuel-burning topping that list. As Climate Analytics notes, solar radiation management "does not address the drivers of human-induced climate change." Instead, the briefing says, this geoengineering approach "would mask warming temporarily" in a best-case scenario, while representing a fundamental and "potentially dangerous" threat to the earth's basic climate operations.
As Mt. Pinatubo's eruption showed, the basic concept behind the Harvard team's proposal certainly has the potential to cool the planet, but Climate Analytics notes the many sizable and unique risks to attempting solar radiation management on a long-term, global scale.
Critics of solar radiation management—and there are many—note that one of the biggest risks of this approach is that it becomes a distraction from the primary goal of decarbonizing the global economy in order to address the root cause of climate change.
A recent in-depth piece from In These Times quotes a document from the group Hands Off Mother Earth, which opposes solar geoengineering:
"Geoengineering perpetuates the false belief that today's unjust, ecologically, and socially devastating industrial model of production and consumption cannot be changed and that we therefore need techno-fixes to tame its effects."

Even David Keith, one of the Harvard scientists working on solar radiation management, shares the concern that this work could distract from the required efforts to reduce global carbon emissions.
"One of the main concerns I and everyone involved in this have, is that Trump might tweet 'geoengineering solves everything — we don't have to bother about emissions.' That would break the slow-moving agreement among many environmental groups that sound research in this field makes sense," Keith said in 2017, according to The Guardian.
After scientists' recent announcement of a very short timeline for the world to drastically cut carbon emissions, some are viewing solar radiation management as a way to allow for continued fossil fuel use while hoping for "techno-fixes" to avert global catastrophe.
2. Risks Far Outweigh Potential Reward
In a world where even predicting the weather is more difficult due to climate change, it isn't hard to fathom that changing the global climate quickly could have many unknown consequences. But as Climate Analytics points out, there are plenty of known risks and concerns surrounding solar radiation management, including the following:
Weather System Changes: According to the Climate Analytics briefing: "Solar radiation management would alter the global hydrological cycle," which means changes to global weather patterns, including monsoon activity. Tweaking monsoon activity may not bode well for many people around the world. "These [monsoon] rains not only play a vital role in food security and exports, but also provide essential water for the very large, and often already vulnerable, populations," states the briefing.
Ocean Acidification: Another negative impact of increased atmospheric carbon dioxide is the acidification of the oceans. Reflecting away sunlight does nothing to address this problem fundamentally caused by excess carbon dioxide.
Global Agriculture: While increasing atmospheric carbon dioxide concentrations can be beneficial up to a point for some plants, that benefit likely would be canceled out by the reduction in actual sunlight reaching plant life, which is necessary for photosynthesis.
Decreased Renewable Energy Production: As with agriculture, lower levels of sunlight reaching the earth's surface would reduce solar power production. And changing the global climate and weather could also alter wind power potential.
3. Geopolitical and Catastrophic Risks
While purposefully altering the global atmosphere would be an unprecedented project in both scale and impact, the endeavor actually would not cost very much and could be done unilaterally by one country. Solar radiation management would likely affect different parts of the world in different ways, some positively and some negatively.
New Security Beat: Panelists Call for Creation of World Commission to Handle Solar Radiation Management https://t.co/xyoWQAyxtI

— Climate Engineering (@Climate Engineering)1544193212.0
The Climate Analytics briefing highlights this potential: "SRM will strongly alter the climate system producing 'winners' and 'losers' in different regions and with different levels of deployment. It could therefore become a source of massive conflict between nations."

This potential for geopolitical conflict is one reason Climate Analytics is calling for a global ban on solar radiation management.
Another reason is because the group views the approach as a grand form of "kicking the can"—that is, the can leaking too many greenhouse gases—down the road. And once solar radiation management is deployed on a global scale, it has to continue even in the event of grave consequences because stopping the program would induce something known as "termination shock."
Climate Analytics predicts that termination shock—the result of stopping an SRM program once begun—would result in "very rapid and large-scale planetary warming" that could occur "on a timescale of months."
Geoengineering and Sun Dimming
With Harvard leading solar geoengineering field tests and the long-term support of people such as Microsoft billionaire Bill Gates, the idea that "techno-fixes" will save the planet from climate catastrophe isn't going away. Especially with major media outlets such as CNN running headlines suggesting these approaches could be "the answer to global warming."
Going out for......Dim Sun? Who is joining me!!?? https://t.co/54qywPmb5F

— Director Questlove (@Director Questlove)1543048346.0
The answer to global warming has been around for more than fifty years. The head of the American Petroleum Institute spelled out part of this solution at an industry conference in 1965 in which he said, "There is still time to save the world's peoples from the catastrophic consequence of pollution, but time is running out."

The solution he acknowledged then was "an alternative nonpolluting means of powering automobiles, buses, and trucks."
While the world has far less time to act than in 1965, the solution to global warming remains more of a political challenge than a technological one.
Reposted with permission from our media associate DeSmogBlog.
From Your Site Articles
Related Articles Around the Web
EcoWatch Daily Newsletter
500 students, faculty, alumni, and community members march though Harvard Yard at the "The Tide Is Turning" rally. 350.org
Kathryn "Kat" Taylor, a member of the Harvard Board of Overseers and wife of billionaire climate activist Tom Steyer, made an unprecedented public call on Harvard University to divest from fossil fuel stocks.
The action comes after the university's $37.1 billion endowment—the world's largest academic fund—reported a lackluster 8.1 percent return that reflected "deep structural problems" that will take years to turn around, its endowment manager said.
Taylor, whose six-year term on the elected board will be ending this spring, wrote in an op-ed that as her last act, she is calling on University President-elect Lawrence S. Bacow and the Harvard Corporation, the university's highest governing body, "to adopt ethical investment principles."
"At a minimum," she is asking the endowment arm of the university, Harvard Management Company, "to divest from fossils fuels to prevent the end of life as we know it through cascading climate-driven disasters."
"This single act would not only take steps to address the existential crisis of our time, but it would allow the University to lead its peers, as few, if any, American universities thus far have taken this important moral stance," Taylor said.
The Harvard alumna ('80) joins a growing chorus of students, faculty, alumni and community members criticizing Harvard's portfolio that contains fossil fuel companies. The 70,000-member organization Divest Harvard demands that the Ivy League institution immediately divest direct holdings from the top 200 publicly traded fossil fuel companies.
"Many more experts than I have advocated for Harvard's leadership to take the responsible action of divesting. For instance, more than 200 Harvard faculty members, including top scientists in the field, have called on the University to divest from fossil fuel corporations," Taylor said.
According to 350.org, a major campaigner in the global fossil free movement, more than 800 institutions, including universities, religious and medical groups, have joined the divestment movement to date.
"The movement to divest is large and thoroughly mainstream, comprised of many other top schools, cities, including New York City, as well as the Church of England and some pension funds," Taylor noted. "Their commitments to divest over the next few years now cover over $6 trillion in assets. So, our request, with these august endorsements, is not radical—but recalcitrance is."
Empire State Building Shines Green After NYC's Decision to Take on Fossil Fuel Industry https://t.co/dIrFKQphDd… https://t.co/bSpAKYVNaz

— EcoWatch (@EcoWatch)1515805243.0
In a stunning conclusion, Taylor said:
I am not going public with this call to action lightly or to be impolite. I have tried everything else—diplomatically in the background with other Overseers and outspokenly but behind closed doors in plenary. But this is too important for me to remain silent. It's because I love Harvard that I am compelled to speak with all the force of my position before it extinguishes. Harvard once refused to divest from companies doing business with apartheid South Africa in spite of a moral movement on campus. I marched in the student protests in 1980 and received the same disregard we are dishing out to our future leaders now. After ten years of dismissal, and the election of no less than Bishop Tutu to the Board of Overseers, Harvard finally reversed itself. Let's not repeat this mistake.
It's time for Harvard to stop owning climate change. We can make money ethically, with more resilient returns too. We don't just get profit from what we finance in this life, we endorse the activities underlying that profit—there is nowhere to hide from that. It is because we love our country and its most respected institutions that we call out the highest standards to which they must live.
While Harvard has not fully dropped its fossil fuel holdings, last year the elite college indicated it was "pausing" investments in minerals and oil and gas.
Colin Butterfield, the head of natural resources at the Harvard Management Company, said at the time that climate change is a "huge problem" and "I clearly feel that we are stealing from the future generations."
From Your Site Articles
Related Articles Around the Web
waterlust.com / @tulasendlesssummer_sierra .
Each product featured here has been independently selected by the writer. If you make a purchase using the links included, we may earn commission.
The bright patterns and recognizable designs of Waterlust's activewear aren't just for show. In fact, they're meant to promote the conversation around sustainability and give back to the ocean science and conservation community.
Each design is paired with a research lab, nonprofit, or education organization that has high intellectual merit and the potential to move the needle in its respective field. For each product sold, Waterlust donates 10% of profits to these conservation partners.
Eye-Catching Designs Made from Recycled Plastic Bottles
waterlust.com / @abamabam
The company sells a range of eco-friendly items like leggings, rash guards, and board shorts that are made using recycled post-consumer plastic bottles. There are currently 16 causes represented by distinct marine-life patterns, from whale shark research and invasive lionfish removal to sockeye salmon monitoring and abalone restoration.

One such organization is Get Inspired, a nonprofit that specializes in ocean restoration and environmental education. Get Inspired founder, marine biologist Nancy Caruso, says supporting on-the-ground efforts is one thing that sets Waterlust apart, like their apparel line that supports Get Inspired abalone restoration programs.
"All of us [conservation partners] are doing something," Caruso said. "We're not putting up exhibits and talking about it — although that is important — we're in the field."
Waterlust not only helps its conservation partners financially so they can continue their important work. It also helps them get the word out about what they're doing, whether that's through social media spotlights, photo and video projects, or the informative note card that comes with each piece of apparel.
"They're doing their part for sure, pushing the information out across all of their channels, and I think that's what makes them so interesting," Caruso said.
And then there are the clothes, which speak for themselves.
Advocate Apparel to Start Conversations About Conservation
waterlust.com / @oceanraysphotography
Waterlust's concept of "advocate apparel" encourages people to see getting dressed every day as an opportunity to not only express their individuality and style, but also to advance the conversation around marine science. By infusing science into clothing, people can visually represent species and ecosystems in need of advocacy — something that, more often than not, leads to a teaching moment.

"When people wear Waterlust gear, it's just a matter of time before somebody asks them about the bright, funky designs," said Waterlust's CEO, Patrick Rynne. "That moment is incredibly special, because it creates an intimate opportunity for the wearer to share what they've learned with another."
The idea for the company came to Rynne when he was a Ph.D. student in marine science.
"I was surrounded by incredible people that were discovering fascinating things but noticed that often their work wasn't reaching the general public in creative and engaging ways," he said. "That seemed like a missed opportunity with big implications."
Waterlust initially focused on conventional media, like film and photography, to promote ocean science, but the team quickly realized engagement on social media didn't translate to action or even knowledge sharing offscreen.
Rynne also saw the "in one ear, out the other" issue in the classroom — if students didn't repeatedly engage with the topics they learned, they'd quickly forget them.
"We decided that if we truly wanted to achieve our goal of bringing science into people's lives and have it stick, it would need to be through a process that is frequently repeated, fun, and functional," Rynne said. "That's when we thought about clothing."
Support Marine Research and Sustainability in Style
To date, Waterlust has sold tens of thousands of pieces of apparel in over 100 countries, and the interactions its products have sparked have had clear implications for furthering science communication.
For Caruso alone, it's led to opportunities to share her abalone restoration methods with communities far and wide.
"It moves my small little world of what I'm doing here in Orange County, California, across the entire globe," she said. "That's one of the beautiful things about our partnership."
Check out all of the different eco-conscious apparel options available from Waterlust to help promote ocean conservation.
Melissa Smith is an avid writer, scuba diver, backpacker, and all-around outdoor enthusiast. She graduated from the University of Florida with degrees in journalism and sustainable studies. Before joining EcoWatch, Melissa worked as the managing editor of Scuba Diving magazine and the communications manager of The Ocean Agency, a non-profit that's featured in the Emmy award-winning documentary Chasing Coral.
NASA
By Tim Radford
Two U.S. scientists have solved the hypothetical puzzle of the century: how to explain the reported climate "hiatus" and reconcile two different ways of predicting the global temperature by 2100.
They say they now know why computer simulations and the forecasts made by a study of the historical record don't seem to agree.
The good news is that scholarly conflict may have been resolved. The bad news is that, if carbon dioxide levels in the atmosphere are permitted to double, then the average global temperatures could reach 4.5°C by the century's end, or even up to 6°C.
The debate may seem entirely academic, if only because 197 nations of the world undertook to contain global warming to "well below" 2°C by the end of the century by drastically reducing the consumption of fossil fuels.
Not enough
But collectively, the national plans so far proposed do not look likely to meet this target, and the U.S. has threatened to withdraw from the undertaking anyway. So there remains a "what-if" case to settle a long-standing conflict.
And the conflict is this: examine the earth's climate over millions of years, and reconstruct greenhouse gas levels, and you get a prediction that says if carbon dioxide in the atmosphere—for most of human history it has been 280 parts per million—doubles, then the average global temperatures will rise by between 1.5°C and 4.5°C. Use computer simulations, and you get much the same result.
But when you examine the results of temperature measurements taken since the thermometer was invented, and extrapolate, the answer is a bit different: 1°C to 3°C.
A new study in the journal Science Advances proposes a simple solution: the predictions based on recent historical evidence do not take into account all the natural cycles of long-term warming and cooling. Factor those in, and the circle can be squared.
Apparent pause
Research like this offers a glimpse of science in action. Scientists are never happy when prediction and observation don't match. For years, they have worried away at what has become known as the "so-called hiatus" or apparent pause in the rate of global warming in the first dozen or so years of this century.
In fact the world continued to warm, but the rate of warming was significantly slower than that measured in the last two decades of the 20th century.
Some argued that the world had warmed, but all the heat had gone into the oceans. Others argued that any apparent slowdown could only be fleeting and global warming would accelerate again. Yet a third school maintained that the pause was entirely illusory, and that even if there was a pause it would have no effect on long-term predictions.
These competing explanations were in themselves evidence that the mismatch of data and prediction bothered the climate boffins.
Avoiding extremes
For much the same reason, researchers have tried to find what might be called the extreme hypothetical limits to climate change: for instance, could carbon dioxide levels fall so low the planet would entirely freeze? (The answer is, so far, no).

Could the greenhouse gas levels get so high that the oceans could boil dry? The answer is, in theory yes: the earth could become up to 60°C hotter than it is now, and uninhabitable, but mercifully, only in theory.
So the outcome of the latest study is an academic confirmation that different patterns and rates of warming play into the big picture. Land, for instance, warms faster than ocean. Most of the land surface of the planet is in the northern hemisphere. So there is a good reason why global warming is, or seems, uneven.
"The historical pattern of warming is that most of the warming has occurred over land, in particular over the northern hemisphere," said Cristian Proistosescu, who made the study at Harvard University.
"This pattern of warming is known as the fast mode—you put CO2 in the atmosphere and very quickly after that, the land in the northern hemisphere is going to warm."
But the warming of the Southern Ocean, swirling around Antarctica, and the Eastern Equatorial Pacific proceed at a different pace, and with changes in cloud cover which complicate the calculations. So Proistosescu and his co-author worked on the mathematics necessary to resolve their little local difficulty.
"The models simulate a warming pattern like today's, but indicate that strong feedbacks kick in when the Southern Ocean and Eastern Equatorial Pacific eventually warm, leading to higher overall temperatures than would simply be extrapolated from the warming seen to date," said Peter Huybers, an earth and planetary scientist at Harvard, and the other author.
The message is that the slow mode matters, but only in the long term. What can be measured now, and recently, does not necessarily indicate how things will end up eight decades on.
"Historical observations give us a lot of insight into how climate changes and are an important test of our climate models," said Huybers, "but there is no perfect analogue for the changes that are coming."
Reposted with permission from our media associate Climate News Network.
In an effort to cool the atmosphere, Harvard University will inject aerosols 12 miles into the atmosphere, leading the charge on the largest geoengineering study to ever take place.
The first two "small-scale" dispersals will consist of water and calcium carbonate—two naturally occurring aerosols that regulate Earth's radiation balance. The idea is to mimic a volcanic eruption, which has been shown in previous studies to have some offsetting effects to atmospheric temperature. Scientist plan to have this first step completed by 2022.
If the first stage is successful, a limestone compound would then be used, which scientists believe will act as a shield against incoming solar radiation and not deplete the ozone layer.
The project was launched following a major conference in Washington, DC last week. Funding for this effort is being provided by Bill Gates and other foundations. This massive $20 million project is believed to be the last hope to combat climate change, or could become the drastic measure for scientists if all other climate action fails.
"[It's] a terrifying prospect," Frank Keutsch, Harvard professor and lead scientist, said. "At the same time, we should never choose ignorance over knowledge in a situation like this."
But, there is cause for concern. Mimicking an eruption could be fatal, such as the Mount Tambora eruption in 1815, which caused disease, crop failure and ultimately famine, killing more than 200,000 people. There is a lot of uncertainty about a project at this level and the vast majority of scientists disagree with the approach, saying it is not thought out and could be catastrophic.

Scientists at the Helmholtz Centre for Ocean Research in Kiel, Germany, studied five geoengineering schemes and concluded they're "either relatively ineffective with limited warming reductions, or they have potentially severe side effects and cannot be stopped without causing rapid climate change."
And, as David Suzuki warned, "These unintended consequences come partly from our tendency to view things in isolation, without understanding how all nature is interconnected. We're now facing the most serious unintended consequence ever: climate change from burning fossil fuels. Some proposed solutions may also result in unforeseen outcomes."
Geoengineering is Not the Answer to Climate Change | EcoWatch http://t.co/RcnPhbsqfr @DavidSuzuki #ENVIRONMENT #NATURE #SAVETHEPLANET

— Doug Marr (@Doug Marr)1396599234.0
Likewise, Friends of the Earth climate and energy program director, Ben Schreiber said, "The side effects of geoengineering interventions are unknown and untested. One country's experiments, therefore, could have devastating effects on other countries and the global climate system."
Nonetheless, Wagner and his team are sticking by their plans. Janos Pasztor, Ban Ki-moon's assistant climate chief at the UN who now leads a geoengineering governance initiative, said the particles injected and their effects will be minimal. Pasztor strongly believes that the window of opportunity to turn the climate around is "practically gone" at this point.
Regardless of the debate, what comes of this study will be either a real lesson or a huge failure.
"It is appropriate that we spend money on solar geoengineering research," said Kevin Anderson, the deputy director of the Tyndall Centre for Climate Change Research. "But we also have to aim for 2C with climate mitigation and act as though geoengineering doesn't work, because it probably won't."
Winds of change … a storage system for energy generated by renewables is closer to being realized. Photo credit: Sheila Sund / Flickr
By Kieran Cooke
It is the holy grail of the renewable energy sector—a cheap and efficient battery system that can store energy generated by renewables such as wind and solar.
These days there are few who doubt the potential of renewables, except those diehards on the extreme of the fossil fuel industry.
According to the International Energy Agency (IEA)—the main body monitoring developments in the global energy sector—renewables are surging ahead.
Tesla Unveils World's Largest Battery Storage Plant to Reduce Reliance on Fossil Fuels https://t.co/W3aeuloNN1 @BusinessGreen @CleanTec

— EcoWatch (@EcoWatch)1485900918.0
Investment in Renewables

In 2015, investments in oil and gas—fossil fuels that, along with coal, are the main drivers of global warming—declined by 25 percent, while energy produced from renewables rose by 30 percent.
Renewables are becoming increasingly competitive with fossil fuels in many sectors: According to the IEA, in the five years to the end of 2015 the price of solar energy dropped by 80 percent and wind power by a third.
Fast-developing countries—China and India, in particular—are investing millions of dollars in the renewable sector.
China Leaves U.S. in Dust With $361 Billion Renewable Energy Investment https://t.co/4GfhGZhcyX @BusinessGreen

— EcoWatch (@EcoWatch)1483871415.0
The big problem with renewables development has been storage. In order to operate a commercially viable power plant, a reliable flow of fuel is needed. In the case of oil, coal or gas this is relatively straightforward as supplies can quickly be replenished.

In the case of nuclear, as long as there is a readily available supply of uranium isotopes, power can continue to be generated.
Solar and wind power supply is far more varied—dependent on sunshine and wind speeds—and cannot be stored or used in the same way as so-called conventional fuels.
For years, scientists have struggled to develop storage systems capable of handling the peaks and troughs of renewable power so that an even supply can be guaranteed.
Researchers at the John A. Paulson School of Engineering and Applied Sciences at Harvard University in the U.S. said in an article published in ACS Energy Letters that they have now developed a long-lasting flow battery capable of storing renewable power that­ could operate for up to 10 years, with minimum maintenance required.
A flow battery is a cross between a conventional battery and a fuel cell. Flow batteries store energy in liquid solutions in external tanks and are regarded as one of the primary ways of storing renewable energy. The bigger the tanks, the more energy can be stored.
But flow batteries are costly. Most use expensive polymers that can cope with the potent chemicals inside the battery.
Battery Capacity
The battery's components and materials, such as membranes and electrolytes, have to be frequently replaced in order to retain capacity.
The Harvard team modified molecules used in the electrolyte solutions to make them soluble in water and so vastly increase the battery's ability to retain power.
"Because we were able to dissolve the electrolytes in neutral water, this is a long-lasting battery that you could put in your basement," said Roy Gordon, a professor of chemistry and materials science and a leading member of the research team.
"If it spilled on the floor, it wouldn't eat the concrete and, since the medium is non-corrosive, you can use cheaper materials to build components of the batteries, like the tanks and pumps," Gordon added.
Reducing the cost of the battery is vital. The U.S. Department of Energy said that in order to make stored energy from wind and solar competitive with fossil fuels, a battery needs to be able to store energy for less than $100 per kilowatt hour.
"If you can get anywhere near this cost target then you can change the world," said Michael Aziz, another lead researcher in the battery project and a professor of materials and energy technologies at Harvard.
"It becomes cost effective to put batteries in so many places—this research puts us one step closer to reaching that target," said Aziz.
Reposted with permission from our media associate Climate News Network.
By Tim Radford
Scientists in the U.S. think they may be on the track of a new kind of battery technology that could store huge reserves of energy.
One of the great problems of renewable energy generators such as photovoltaic cells and wind turbines is that they can't respond to demand.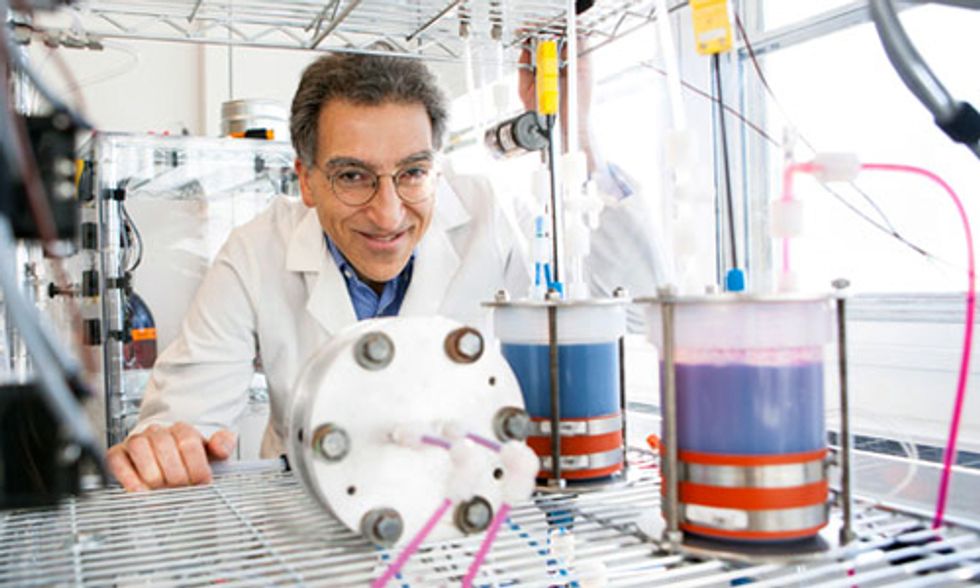 When the sun is out, nobody needs so much heating and lighting, so the electricity goes to waste. In theory, surplus energy could be saved for hours of darkness or when the winds drop, but at a prohibitive cost. But Michael Aziz of Harvard University in Boston and colleagues report in nature that they have tested what is, quite literally, a solution to the problem.
A common low-cost organic chemical found in crude oil and in living things could, once dissolved in water, be used to fuel a flow battery, into which surplus energy could flow when the winds are high and the sun is shining and everybody has gone surfing, and then deliver stored power when everybody goes home at night time and switches on the light and the cooking stove.
In a flow battery, two solutions of electro-active compounds are made to flow through electrodes in an electro-chemical cell: they react at the electrodes and generate electricity. A membrane separates the two solutions, but lets through charge-carrying ions.
Promising start
The strength of a flow battery is that the electro-chemical conversion hardware and the tanks in which the solutions are stored are kept separately, so that the amount of energy that can be stored is limited only by the size of the tanks.
The downside is that, until now, such systems have depended on expensive electrolytes such as vanadium dissolved in sulphuric acid or even more expensive catalysts such as palladium. Professor Aziz and his colleagues did it with a quinone dissolved in water and very dilute acids, and without a catalyst.
A quinone is a simple benzene-based compound that comes in many forms and from many sources. The quinone in the Harvard trial was almost identical to one found in the garden crop rhubarb.
The flow battery under test delivered promising power density and good current efficiency. The test kit, however was only two square centimeters. The whole process is about 1,000 times faster than the rival vanadium system, so batteries could be charged and discharged so much more swiftly. The next stage is to scale the system up, and keep it running for many thousands of cycles to demonstrate its capabilities.
Not there yet
There is a long way to go. Safety considerations remain. The chemistry, too, could be improved. The dream is of a flexible system that could be used in large projects and small.
It could sit in the basement of a home and store the energy collected by solar panels on the roof. Or buried tanks could store the surplus energy from a whole wind farm. The authors say that the use of organic molecules rather than metals holds the promise of massive electrical storage at greatly reduced cost.
"You could theoretically put this on any node on the grid. If the market price fluctuates enough, you could put a storage device there and buy electricity to store it when the price is low and sell it back when the price is high", said Aziz.
"The intermittent renewable storage problem is the biggest barrier to getting most of our power from the sun and the wind. A safe and economical flow battery could play a huge role in our transition from fossil fuels to renewable electricity.
"I'm excited that we have a good shot at it."
Visit EcoWatch's RENEWABLES page for more related news on this topic.