This website uses cookies to ensure you get the best experience while browsing it. By clicking 'Got It' you're accepting these terms.


The best of EcoWatch, right in your inbox. Sign up for our email newsletter!
Northern Haiti is reeling after a 5.9 magnitude earthquake on Saturday and a 5.2 magnitude aftershock on Sunday.
"I urge the population to keep calm," Haitian President Jovenel Moïse tweeted Saturday. "The [disaster] risk management system and the regional branches of the Civil Protection are on standby to assist the inhabitants of the affected areas."
A family near Utuado, Puerto Rico received food and water at the only room they had left after Hurricane Maria destroyed their home. U.S. Department of Agriculture / Flickr
By Chelsey Kivland and Anne Sosin
Around the world, the health care debate often revolves around access.
Dr. Tedros Adhanom Ghebreyesus, head of the World Health Organization, recently announced, "All roads lead to universal health coverage." Discussions for how to translate this vision into a road map for action is central to the agenda of the WHO's executive board meeting this week in Geneva.
EcoWatch Daily Newsletter
The mountains of Haiti. PO2 Daniel Barker / DVIDS
The tropical Caribbean island of Haiti is a paradise with a rich, fascinating history, natural wonders and diverse cultural offerings. It has also been named by some as the next big thing in regional tourism.
But ecotourism in particular could become important for Haiti, with its rich land and sea biodiversity. Globally, the business of ecotourism generates more than $600 billion a year and is connected to hundreds of thousands of jobs.
By Jeff Masters
Powerful Hurricane Matthew made landfall on the southwestern tip of Haiti near 7 a.m. EDT Tuesday as a Category 4 storm with 145 mph winds. Matthew's extreme rains, large storm surge and Category 4 winds are likely to be catastrophic for Haiti.
Figure 1. Infrared satellite image of Hurricane Matthew as it made landfall over the southwestern tip of Haiti at 7:19 am EDT Oct. 4, 2016.wunderground.com
The hurricane is the third strongest one ever recorded in the impoverished nation, and their strongest hurricane in 52 years. The only Haitian hurricanes stronger than Matthew were two Category 4 storms with 150 mph winds: Hurricane Cleo of 1964 and Hurricane Flora of 1963. The last major hurricane to make a direct hit in Haiti was Category 3 Hurricane David of 1979, which crossed over the nation from east to west with 115 mph winds.
We don't have many weather stations in Haiti, so it is difficult to say what the conditions are on the ground. A personal weather station (PWS) on the south coast Haiti at Aquin, about 70 miles east of Matthew's landfall, recorded a wind gust of 59 mph at 6:50 a.m. EDT Tuesday. A PWS near Port-Au-Prince, Haiti recorded about 1.70" of rain during the 36-hour period ending at 7 a.m. EDT Tuesday. At the Port-Au-Prince airport, top winds on Tuesday as of 8 a.m. EDT were 34 mph, gusting to 52 mph.

An Air Force hurricane hunter aircraft arrived at Matthew's center near 8 a.m. EDT Tuesday, when the eye was over land. The plane did not fly directly into the center of the eye, since that would have risked penetrating through extreme turbulence over land, but the aircraft was able to measure a central pressure of 944 mb at the edge of the eye. The peak winds measured by their SFMR instrument were 135 mph, so Matthew was definitely a solid Category 4 storm at landfall.

Satellite loops on Tuesday morning showed that the encounter with land had weakened the storm, with the eye much less distinct. Light wind shear of 5 - 10 knots is affecting the storm, and Matthew is over warm ocean waters of 29°C (84°F) and has plenty of moisture to work with—70 - 75 percent relative humidity at mid-levels of the atmosphere, as analyzed by the SHIPS model.
NRL Tropical Cyclone Page
Figure 2. Microwave image of rainfall rates in Hurricane Matthew from the F-16 polar orbiting satellite taken at 5:02 a.m. EDT Oct. 4, 2016. At the time, Matthew was a Category 4 storm with 145 mph winds. Rainfall amounts in excess of 1"/hour (orange colors) were occurring along the coasts of Haiti and the Dominican Republic.

Extreme Rains Near the Haiti/Dominican Republic Border
Extreme rains from Matthew are a huge concern for the entire island of Hispaniola, thanks to an unusual area of extra spin and low pressure that has been embedded on the east side of Matthew's circulation for days. This feature began rotating ashore over southern Haiti and the Dominican Republic early Monday morning, and continues to affect the Dominican Republic this morning. The mountainous terrain of the island has caused tremendous uplift to the thunderstorms moving ashore, resulting in extremely intense rainfall. A personal weather station (PWS) in Cabo Rojo, on the southern coast of the Dominican Republic near the border with Haiti, recorded 22.89" of rain on Monday, including a remarkable 5.33" in the hour from 6 to 7 a.m. An additional 3.73" fell on Tuesday as of 8 a.m. EDT, for a storm total of 26.62". While PWS data is often suspect, these are believable rainfall amounts based on the satellite presentation of Matthew.

Intensity Forecast for Matthew
Landfall in Haiti on Tuesday morning and on eastern Cuba on Tuesday evening will disrupt the hurricane, and could cause it to weaken by one Saffir-Simpson category, to a Category 3 storm. However, Matthew is a very large and well-organized storm, and it may take it only a day to recover from its disruption. The latest SHIPS model forecast predicts that wind shear will remain light to moderate, 5 - 15 knots, through Friday. Ocean temperatures will be very warm, between 29 - 30° C (84 - 86°F) and the heat content of the ocean will be high to very high, which argues for intensification of Matthew. Our top three intensity models—the HWRF, LGEM, and SHIPS models—were predicting on Tuesday morning that Matthew would be at Category 3 or 4 strength through Friday.
Track Forecast for Matthew
The significant westward shift in computer model guidance on Hurricane Matthew that occurred yesterday is holding, and we now have increased confidence that Matthew will bring severe impacts to the Southeast U.S. coast from South Florida to Cape Hatteras, North Carolina.

Matthew will continue northwards after clearing the southwest tip of Haiti Tuesday morning, then make a second landfall in eastern Cuba at about 6 pm EDT Tuesday. Matthew will turn north-northwest and then northwest on Wednesday, and traverse The Bahamas from southeast to northwest Wednesday morning through Thursday morning. In their 5 a.m. EDT Tuesday Wind Probability Forecast, NHC gave highest odds of hurricane-force winds in The Bahamas to Great Exuma (57 percent), New Providence (46 percent), and Grand Bahama (37 percent).

Late Thursday morning, Matthew will be very close to the coast of South Florida, and is expected to turn more to the north-northwest, almost parallel to the coast, at that time. The latest 00Z and 06Z Tuesday runs of our top two models for predicting hurricane tracks—the GFS and European models—did not show a Florida landfall, but brought the hurricane so close to Florida—within 50 miles—that most of the coast of Florida from West Palm Beach to Daytona Beach would experience sustained winds of at least 50 mph, if these forecasts verified. Keep in mind that the diameter of NHC's cone of uncertainty two days into the future is about 100 miles; the cone is about 130 miles across three days into the future. On average, about two-thirds of all hurricanes stay within the cone, but some hurricanes are tougher to predict than others, and Matthew certainly falls into that category. Thus, it would not be a surprise to see Matthew make landfall in Florida.
Two of the four members of the Euro "high-probability" cluster—the ensemble forecasts that most closely match the operational run—depicted Matthew making landfall on Florida's East Coast near West Palm Beach on Thursday. In their 5 a.m. EDT Tuesday Wind Probability Forecast, NHC gave highest odds of hurricane-force winds in Florida to Ft. Pierce (22 percent), West Palm Beach (21 percent), and Cocoa Beach (19 percent). Update: At 11 a.m. EDT Tuesday, NHC placed the Florida coast from Deerfield Beach to the Volusia/Brevard county line under a Hurricane Watch, with a Tropical Storm Watch in effect southward from south of Deerfield Beach to the Seven Mile Bridge in the Florida Keys, including Lake Okeechobee.
Climate Forecast Applications Network (CFAN)
Figure 3. Track forecasts from the four European model ensemble members [gray lines] that most closely match the operational run [red line] during the first 72 hours, starting at 00Z Tuesday, Oct. 4, 2016. The red line is a version of the 00Z Tuesday operational model track that has been adjusted and calibrated using a proprietary technique to account for systemic model errors, and shows Matthew barely missing landfall along the Southeast U.S. coast. All four of the ensemble forecasts showed Matthew making landfall in the U.S., in Florida or South Carolina (though one looked like an improbable outlier, with a looping track off the coast.) The high-probability cluster (grey lines) perform better than other ensemble members at forecast times of five days and beyond.

Matthew is expected to turn more to the north and then north-northeast on Friday, which will keep the storm very close to the coasts of Georgia, South Carolina, and North Carolina. At this time, our top models suggest that the greatest probability for a U.S. landfall by Matthew is in South Carolina on Friday night or North Carolina on Saturday morning. In their 5 a.m. EDT Tuesday Wind Probability Forecast, NHC was giving the coast of Georgia, South Carolina, and southern North Carolina 3 - 7 percent chances of receiving hurricane force winds. However, I expect those probabilities to rise significantly by tomorrow, given the latest model data.

After its closest approach to the coast of North Carolina, we have a number of reliable models predicting that Matthew will continue north-northeast and hit New England on Sunday, with eastern Massachusetts being at greatest risk. Landfall in New England would very likely not be at hurricane strength, due to the potential for Matthew to pass over a lot of land before getting there. The risk to New England is not clear at this point, though, since we have some model guidance predicting a more northeasterly path for Matthew, keeping the center of the storm several hundred miles east off the Northeast U.S. coast.

Reposted with permission from our media associate WunderBlog.
By Meg Wilcox
Read any article about Haiti's environment and you'll encounter the same grim statistic, that 98 percent of the country is deforested. That's hard to fathom. How could a country possibly have only two percent tree cover?

Death by a Thousand Cuts, a 2016 film that tells the tale of a brutal murder related to Haiti's charcoal trade, shines a light on the forces behind the nation's dismal environmental state.
Trucks carrying bags of wood charcoal, the major cooking fuel source for Haitians and a key driver of deforestation.Patrick Dessources
Beyond the legacy left by the French, grinding poverty is a root cause, with per capita income in Haiti just $828 in 2014. Two-thirds of Haitians are subsistence farmers and the vast majority cook their food with wood charcoal. Charcoal production fuels deforestation, which leads to soil erosion, loss of productive agricultural land and a vicious cycle of poverty.

An estimated 50 percent of Haitian topsoil in fact has been washed away, irreparably damaging farmland and contributing to crop losses of up to 70 percent in recent years.
But, wait, what does this have to do with your chocolate bar?
Chocolate, of course, comes from cocoa, which grows on trees. It needs shade and that means cocoa farms are often found in forests, at the base of mountains. Cocoa is, surprisingly, Haiti's third largest export crop. In fact, if you visit Haiti's verdant cocoa region in the north, near Cap-Haïtien, that 98 percent deforestation statistic belies what you'll see.
Cocoa grows in Creole Gardens, rare forested areas in Haiti. Pictured are Nocelyn Preval aka "Chiquito," a worker at a cocoa processing facility and cocoa farmer Merviel Chilmise.
In northern Haiti, some 4,000 smallholder farmers harvest cocoa in agroforestry systems called creole gardens. Garden is an understatement, as these dense tangles of vegetation are forests with larger coconut, breadfruit, mango and avocado trees that tower over and offer shade to the smaller cocoa trees, as well as food for the farmers. Smaller banana trees are also intercropped into the system.
Cocoa farms are one of the few places in Haiti with standing trees and cocoa farmers have incentive to protect that greenery. Pierre Daniel Phelizor, for example, a cocoa farmer of 15 years, told me that his favorite pastime is planting new trees and that he runs a small nursery, selling cocoa, breadnut and mango trees to other farmers. Phelizor does not sell his trees to the ubiquitous charcoal traders.
Pierre Daniel Phelizor, Haitian cocoa farmer says he's "doing real business with his cocoa trees" now that he's selling into the specialty chocolate market.
So what does this have to do with your choice of chocolate bar? Bear with me.

One way to fight deforestation is to expand the production of cocoa and other tree crops in Haiti, like mango and avocado—and at the same time also help improve Haitian's lives and keep them from turning to the lucrative charcoal trade in the first place.
Fermented cocoa beans drying at Produits de Iles S.A.(PISA), a private cocoa processing company in the north of Haiti.
"In terms of reforesting the country, cocoa is one of the best crops you can use," said Ralph Denize, of FOMIN (Multilateral Investment Fund) in a phone call. FOMIN is partnering with Catholic Relief Services, a financier Root Capital and the Swiss Government to help expand and strengthen Haiti's cocoa industry.
Haiti currently exports only 4,000 metric tons of cocoa per year, a big drop from its peak of 20,000 metric tons in the 1960s and far less than neighboring Dominican Republic, which exported 70,000 metric tons in 2014.
Gilbert Gonzales, inside the cocoa fermentation facility at the company he founded Produits de Iles S.A. (PISA), in the north of Haiti.
Revitalizing the industry is one way to help expand Haiti's forest cover.

And here is where your choice of chocolate bar comes in.
The vast majority of Haiti's cocoa beans are sold and exported in their raw, unprocessed state for mass-produced chocolate. Farmers earn very little for that and it's one of the reasons why cocoa production has dropped in Haiti. A quasi-monopoly buyer has also kept prices paid to Haitian farmers low.
Fermented or processed, beans are what dark chocolate and specialty chocolate bars are made from and they can earn farmers up to twice as much.
To date, however, there are scant few fermentation processing facilities in the country where Haitian farmers can bring their beans.
Now different players in the cocoa industry are working to expand that fermentation capacity, from private companies and farmer cooperative associations to specialty chocolate manufacturers and financiers. They aim to rebuild Haiti's cocoa industry while providing farmers with a better life.
Taza Chocolate's single origin Haitian chocolate bar.
"Moving from unfermented to fermented cocoa is about keeping the value added in the country," Denize told me.

And that in turn motivates farmers like Phelizor to take good care of their trees. Phelizor says in fact that he is "doing real business with his cocoa trees" now that he's selling into the specialty market.
If you buy a standard issue milk chocolate bar, you're likely eating a blend of cocoa beans from different countries, with a lot of sugar and fillers to boot. If you buy what's known as a "single origin," specialty chocolate bar you can actually select where the cocoa beans were grown. And if you're a chocolate connoisseur, you can pick the flavor, as each origin has distinctive notes, much like wine and coffee.
You can do that now for Haiti, which happens to produce an exquisite chocolate flavor, with fruity notes, owing to its prized cocoa varietals. The first chocolate manufacturer in the U.S. to produce and market a single origin bar, with 84 percent Haitian cocoa beans, is Taza Chocolate. Taza is the pioneer, but we can expect to see more chocolate bars marketed with Haitian cocoa, as Uncommon Cacao, a broker that sells to many specialty chocolate manufacturers, has recently entered Haiti's market.
So the next time you buy a chocolate bar, think about choosing one made with Haitian cocoa and make a small contribution toward helping to reforest the country while improving impoverished farmers lives.
My last image of Haiti: a faded guard tower standing amidst a dry and desolate landscape, blocking the way to green mountains beyond.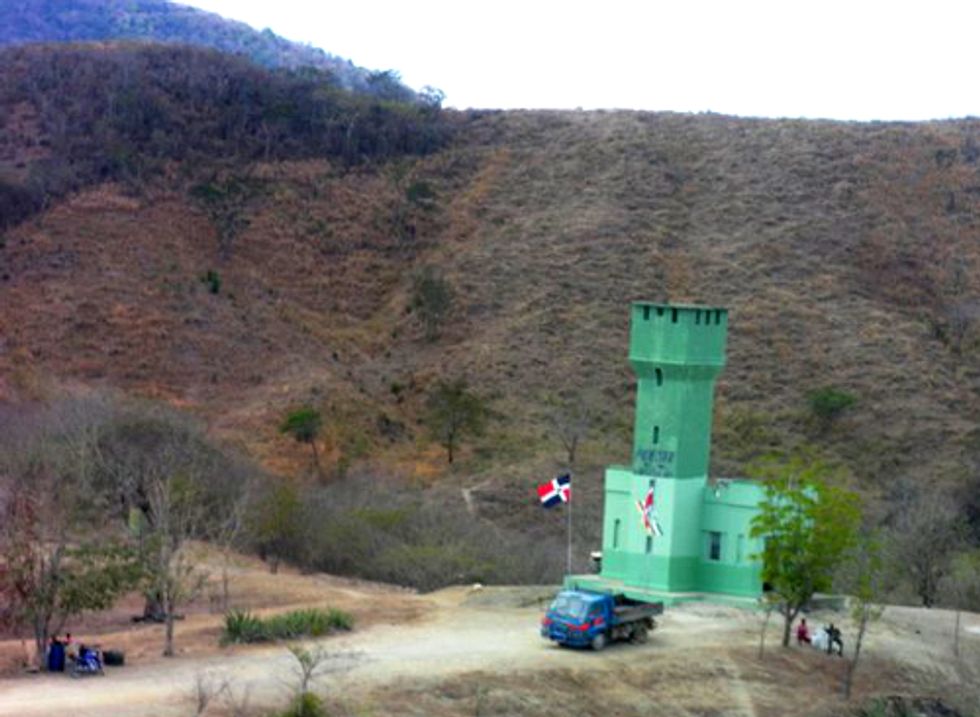 Haitian border tower.
Traveling over roads that were nothing more than rutted ditches and dried creek beds, we were heading for the Haitian border. Our plans to fly out of Port-au-Prince that morning had been derailed by news that Aristide, Haiti's former ruler, had decided to return from exile. Hoping to avoid election turmoil and possible violence in the Haitian capital, we decided to attempt a dusty, daring escape out through the Dominican Republic (DR) instead.
I had witnessed desperation in Haiti: arid soils, food scarcity, disease, malnutrition and polluted drinking water. However, driving into the forested mountains of the DR, I finally realized what Haiti had truly lost. It had lost its green: the green of life, the green that meant water and food and hope.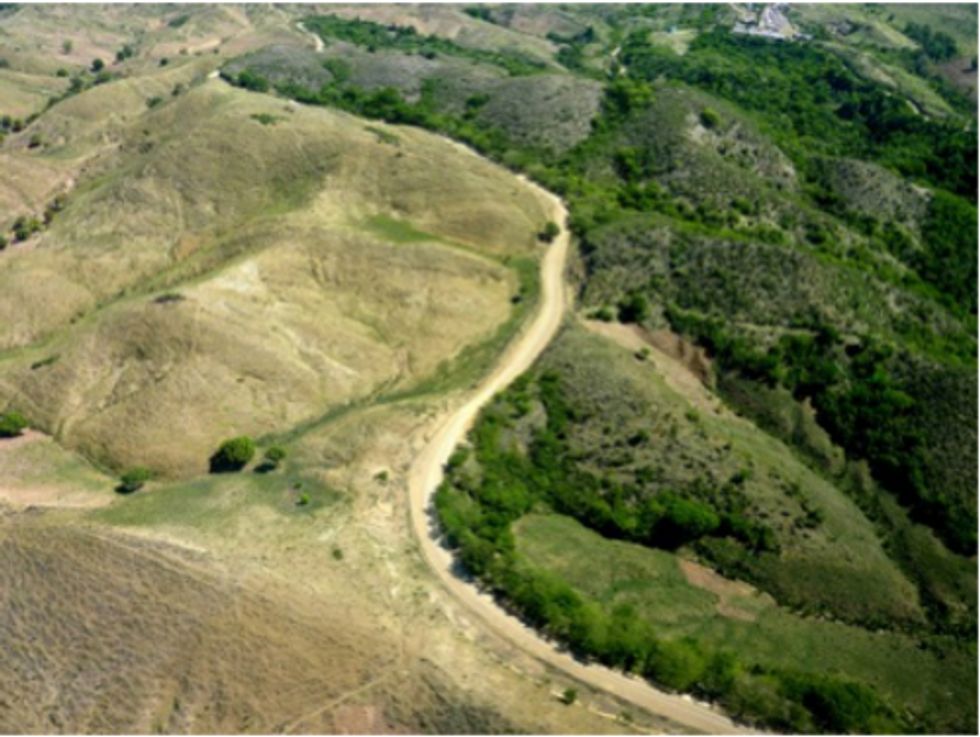 Satellite image of the Haitian/Dominican border.
In the late 1600s, France took over the western part of the island of Hispaniola from Spain, dividing the island into what is now Haiti and the DR. Like a science experiment gone wrong, the border now demarks not only linguistic differences, but also an entirely different quality of life. In 1960, both countries experienced essentially the same rainfall patterns and enjoyed the same geography, availability of natural resources and land productivity. The countries had nearly the same per capita real GDP. 
However, by 2005, the DR's per capita real GDP had increased threefold, while Haiti's had plummeted. Now, the average person in the DR can expect to live a full 10 years longer than their neighbor in Haiti. The percentage of the population below the minimum level of dietary energy consumption is 44.5 percent in Haiti, compared to 15.4 percent in the DR. The probability of dying under the age of 5 per 1,000 births in Haiti is 76, while in DR, the number is less than half of that. The DR has become a magnet for tourism, while Haiti has become a social, political and economic tragedy. What happened?
In 1950, forest clearing for plantations and wood exports in Haiti had largely ended, but wood harvesting for charcoal continued. A mere 30 years later, forest cover had diminished from 25 percent of the total land area to a meager 10 percent. It decreased again to 4 percent of the land by 1994.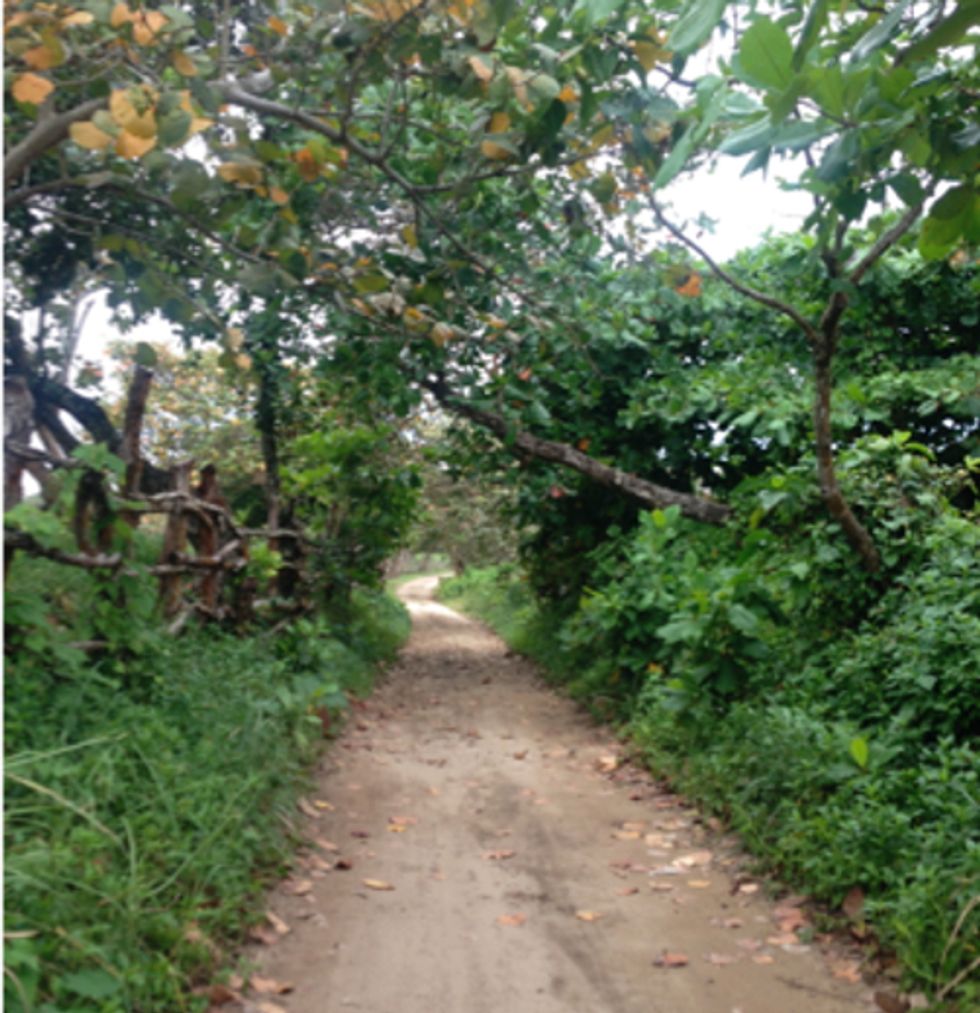 Forested coastal path in the Dominican Republic.
Across the border, the DR initially suffered from deforestation as well. Tree cover plummeted from 75 percent of the land in 1922 to 12 percent by the 1980s. However, massive reforestation programs and a conscious shift to alternative energy sources (besides charcoal) allowed the trees to rebound. The nation established 13 national parks and restricted access to important forest reserves. Today, forest covers 28 percent of the country.
So what was the connection between the dying children I held in my arms in Hinche, Haiti and dusty landscape that they lived in? What was the relationship between the tropical forest and the avocados in the fruit markets of the DR? Why would I leave one country in tears, and the other with memories of bachata music and Corona beer? The answer is simple: trees bring life.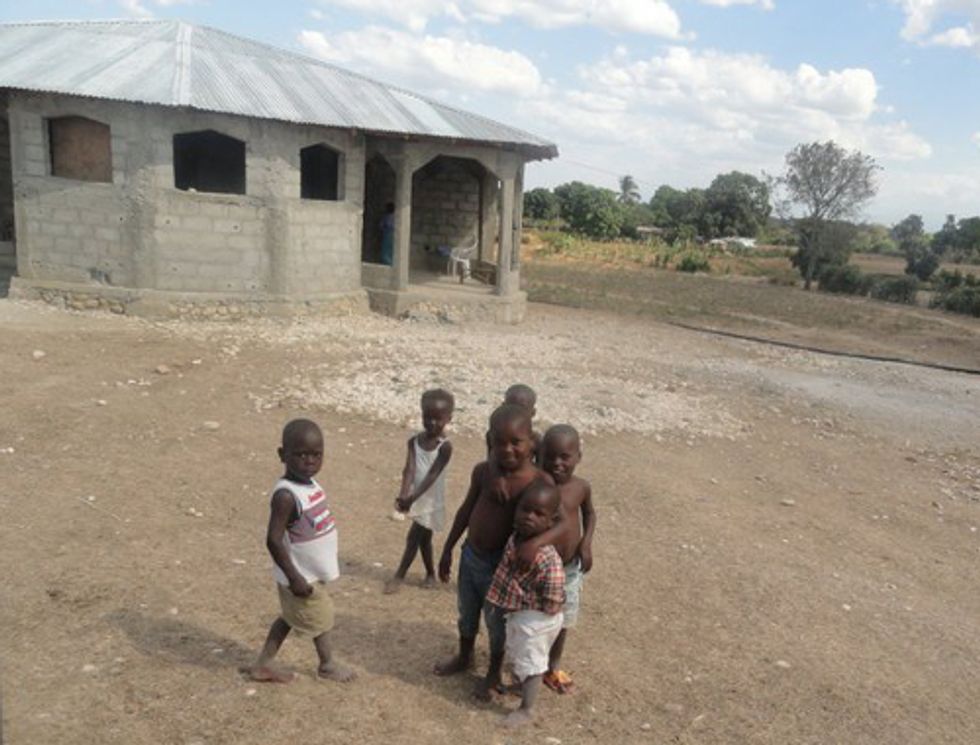 Children from Hinche, Haiti.
Forests prevent soil erosion. Sturdy trunks slow winds. Roots hold the soil in place and improve soil permeability. They allow water to percolate into underground aquifers, decreasing surface water runoff. Leaves lessen the impact of heavy rains and reduce flooding. Dead trees, leaves and bark add organic matter to the topsoil, completing nutrient cycles and replenishing the land. Forests act as natural buffers as well, slowing floodwaters and shielding the coast from hurricane surges. In 2004, Hurricane Jeanne killed more than 3,000 people in Haiti, while the DR lost 19. While other factors undoubtedly contributed to these numbers, the ability of forested coasts and watershed areas to mitigate hurricane damage is undeniable.  
The United Nations estimates that "50% of the (Haitian) topsoil has been washed away into the ocean" and that damaged lands have become "irreclaimable for farming purposes." Although nearly 60 percent of the Haitian people work in the agricultural sector, the country still must import nearly half of its food. Even so, nearly 30 percent of Haitian children endure chronic malnutrition.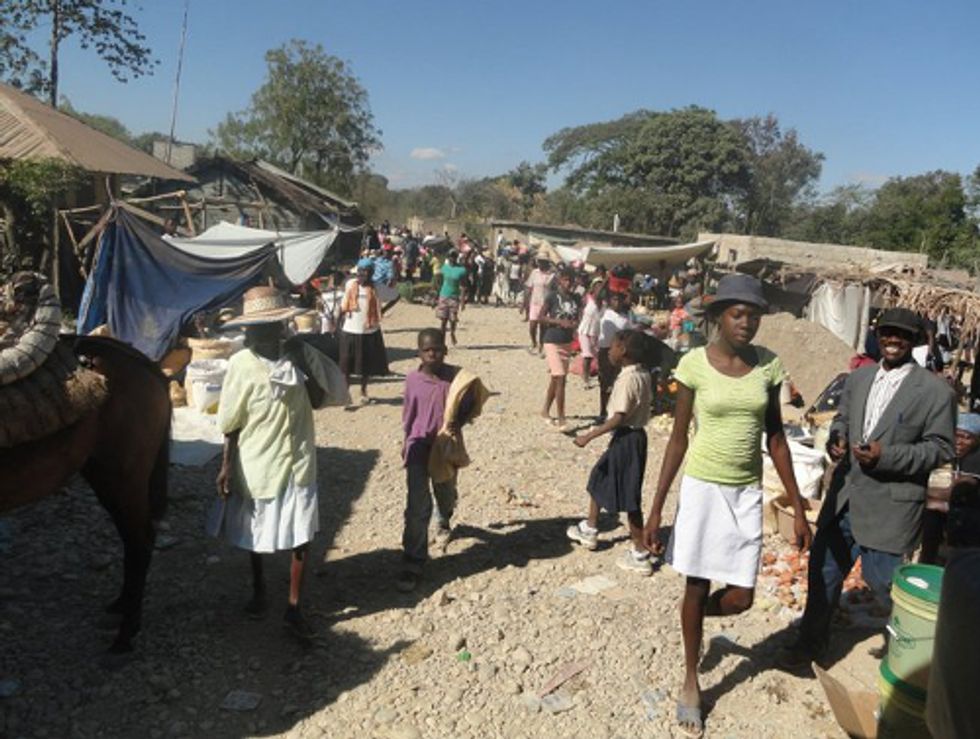 Haitian market in Hinche, Haiti.
While Haiti has also suffered from serious political strife since 1960, environmental degradation remains one of its greatest challenges. We cannot continue to view environmental policies as counter to economic growth and human happiness, but as necessary to achieve them. Climate change and an ever-increasing population mean that decisions have to be made now. And the time to think sustainably has come.
——–
YOU MIGHT ALSO LIKE
Extreme Weather Risk Index Unveiled at UN Climate Talks
What Version of the Hunger Games Will Become Our Reality?
——–
GMO OMG tells the story of a father's discovery of genetically modified organisms (GMOs) through researching the symbolic act of poor Haitian farmers burning Monsanto's gift of 475 tons of hybrid corn and vegetable seeds after the devastating earthquake of January 2010.
After a journey to Haiti to learn why hungry farmers would burn seeds, the real awakening of what has happened to our food in the U.S., what we are feeding our families and what is at stake for the global food supply unfolds in a trip across the U.S. and other countries in search of answers.
Are we at a tipping point? Is it time to take back our food?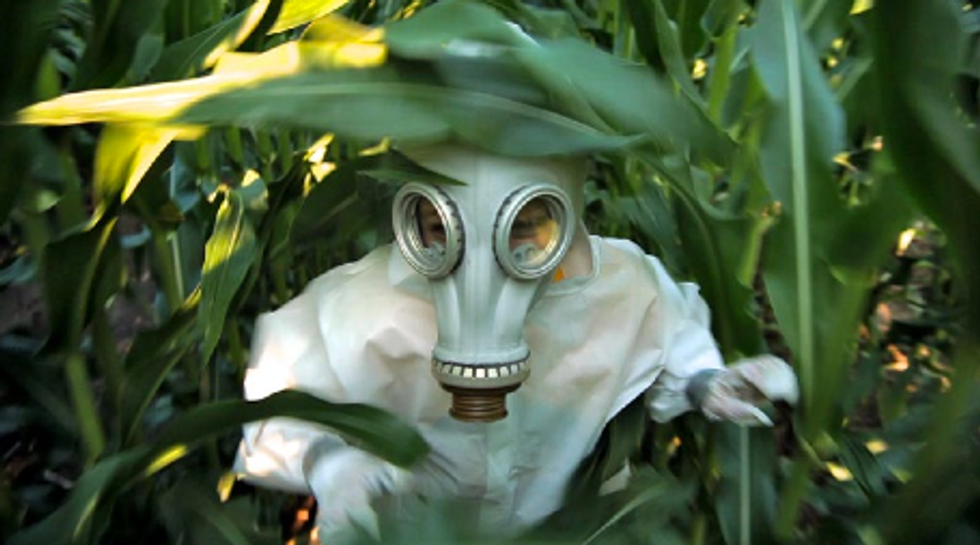 The encroaching darkness of unknown health and environmental risks, seed take over, chemical toxins and food monopoly meets with the light of a growing resistance of organic farmers, concerned citizens and a burgeoning movement to take back what we have lost. By the simple act of feeding ourselves, we unwittingly participate in the largest experiment ever conducted on human beings.
Massive agrochemical companies like Monsanto (Agent Orange) and Dow (Napalm) are feeding us GMOs that have never been fully tested and aren't labeled. This small handful of corporations is tightening their grip on the world's food supply—buying, modifying and patenting seeds to ensure total control over everything we eat. We still have time to heal the planet, feed the world and live sustainably.
Visit EcoWatch's GE FOODS page for more related news on this topic.
———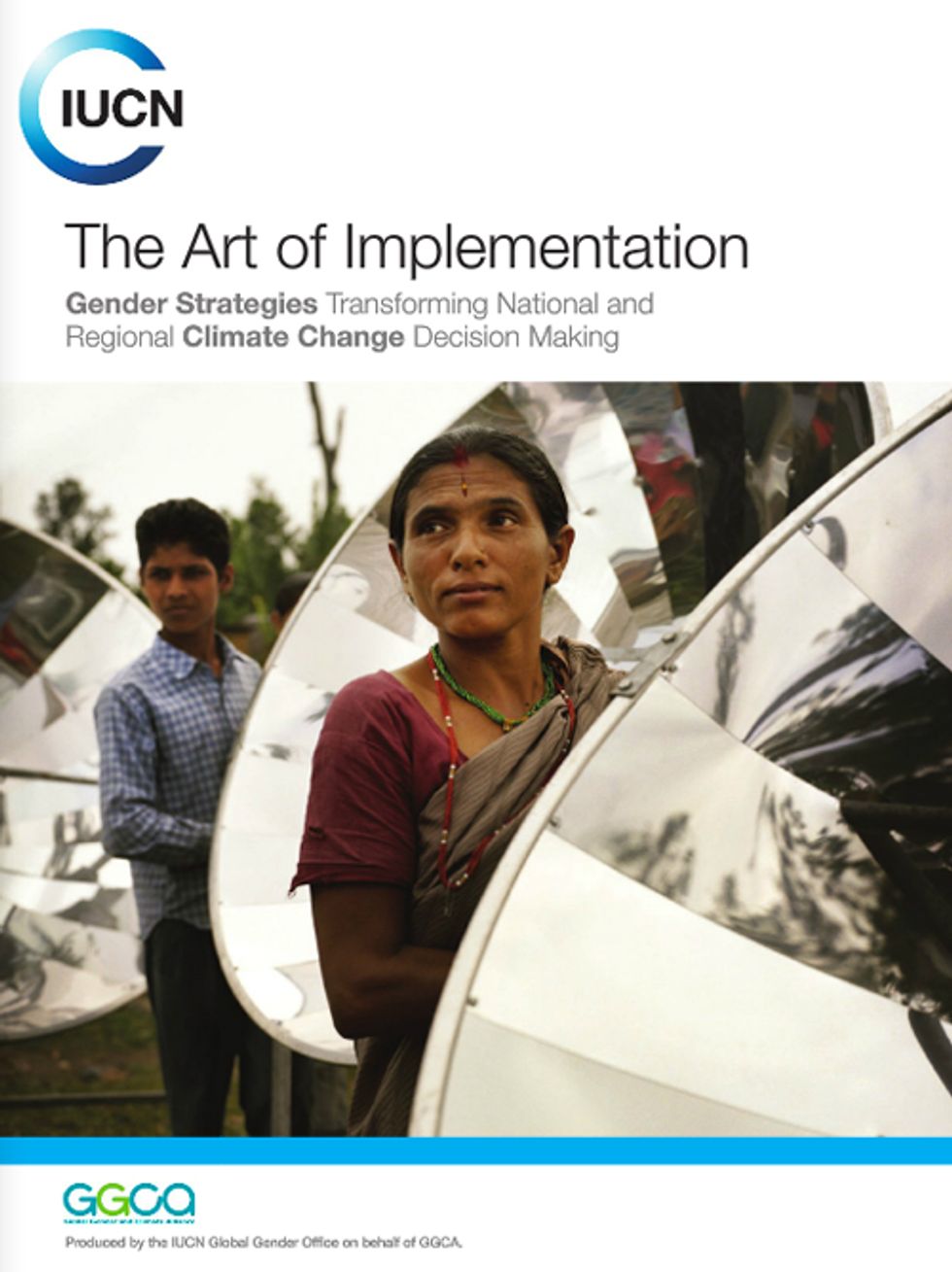 A new International Union for Conservation of Nature (IUCN) publication outlining action plans for women to help them adapt to climate change and minimize its impact has been launched at the 18th Conference of the Parties to the United Nations Framework Convention on Climate Change in Doha, Qatar.
A water taxi network owned and operated by women on the Nile that reduces emissions and provides fast, reliable public transport in a gridlocked Cairo transport system; a recycling project that empowers women as green entrepreneurs in Kathmandu; women-environmental whistleblowers on the coast of Liberia that assist the government in the collection of meteorological data to forecast the weather, acting as an early-warning system for storms and reporting environmental offenses; a carbon-footprint program run by community women and poetry singers in temples in Jordan and Nepal that communicate climate change messages. These are just a few innovative examples included in the book.
The Art of Implementation: Gender Strategies Transforming National and Regional Climate Change Decision Making focuses on the development of climate change and gender action plans—steps to be taken by women to adapt to climate change and minimize its impact. The publication includes a synthesis of strategies and action plans developed by the IUCN Global Gender Office on behalf of the Global Gender and Climate Alliance (GGCA) in Mozambique, Jordan, Egypt, Tanzania, Nepal, Haiti, Panama, Costa Rica, Liberia, the Arab League of States and the Central American Region. It also outlines the methodology used by IUCN.
"A critical step in the development of these action plans is the need to anchor global agreements within national contexts so as to take action on climate change at the local and national level, whilst harnessing the power of women in the process," says Lorena Aguilar, IUCN's Senior Global Gender Adviser. "The strategies and action plans represent a country's intention to empower and respond to the needs of the often invisible 'other half' of the population in the context of climate change. They link national and global policy in a concrete manner, communicate the importance of gender in climate action and frame women as agents of change—and not merely as a 'vulnerable' group."
The book outlines actions designed to adapt to climate change and minimize its impact that can be taken by women and other players in a variety of sectors covering topics as diverse as agriculture and food security, forests and REDD+, water, energy, health, urbanization, integrated coastal management, waste management, tourism, land use and disaster risk management. Each section also includes clear objectives, actions and indicators and identifies the specific institutions responsible for their implementation and delivery.
The action plans provide a comprehensive framework for the development of projects and their implementation, which has been agreed on by governments, UN institutions, contributing country partners, academia, the private sector and civil society, among others.
"Climate change will undermine the very foundation of socioeconomic development and will increase inequality and poverty," says Tarja Halonen, Former President of Finland and main funding partner to the project. "It will have a serious impact on the livelihoods of poor women in developing countries, as the increasing droughts and storms will affect agriculture and water resources, which are often the responsibility of women."
Until recently, policy responses at the global or national level did not reflect this reality. For more than twenty years, gender equality was absent from the United Nations Framework Convention on Climate Change (UNFCCC) and in decision-making by its Conference of the Parties and Subsidiary Bodies. Few National Adaptation Programs of Action (NAPAs) or national communications submitted by Parties to the UNFCCC addressed gender issues in a comprehensive manner, and some did not mention gender considerations at all.
Following several years of advocacy, capacity building, and building awareness, governments have now agreed multilaterally that gender equality is a key component in achieving climate change goals. Since 2008, more than 60 official gender references have entered the UNFCCC negotiation text, and the final outcomes of the Cancun (2010) and Durban (2011) conferences included eight and seventeen references to gender, respectively.
With these global mandates in place, the urgent next step is to turn them into action and determine how to design climate change policies that address these issues.
Visit EcoWatch's CLIMATE CHANGE page for more related news on this topic.